Ultimate Callout Challenge 2022: The Truck Pull Remains The Deciding Factor, and Final Results
Since its inception, the overall winner of Ultimate Callout Challenge has been determined by the truck pull. The finale event on Day 3, a torture test for any vehicle—let alone one that's primarily set up to compete at the drag strip and on the dyno—is the wildcard contest at U.C.C. This is because, while you might know how much power your truck can lay down on the dyno or how quick it can sprint through the eighth-mile, you never know how far you'll go in the dirt. Track conditions, gear selection, power application, tire choice, sled speed and a host of other factors all play into a successful performance in the dirt—and you only get one crack at it. There are no second attempts, no do-overs and also no excuses.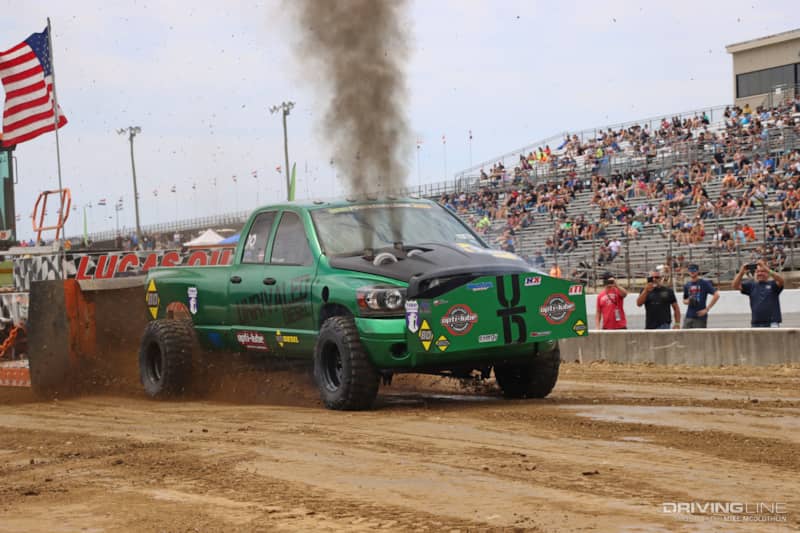 While all of the above still applies, there was a twist this year, and one that we presume will remain on the books going forward. For 2022, U.C.C. competitors were permitted to bring a second, specialized vehicle in to compete, such as a truck purpose-built to hook to the sled. For many competitors, this rule change allowed them to focus on building a truck that could excel on the track and aboard the dyno while a dedicated puller could be hauled in to do the dirty work on Day 3. Without this rule change, we might not have seen 4-second eighth-miles or 3,000rwhp on the rollers, or at least so many drivers swinging for the fences in the first two events. So did it have an effect on the final outcome? Absolutely. The dedicated pullers present at U.C.C. were the difference makers in the final standings and you'll see what we mean below.
Truck Pull Trim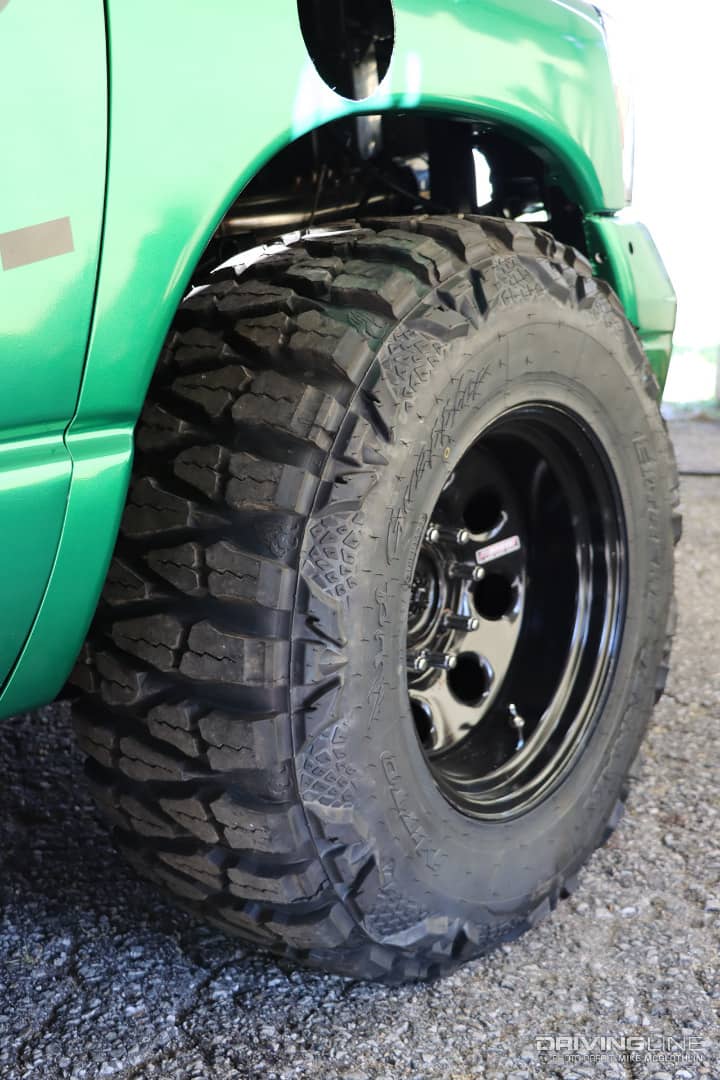 Despite the new rule allowing team's a second competition vehicle, there are still purists who think one truck can and should be built to survive all three events at U.C.C. In 2022, Turba Tom Borrell, Dave Martin, Eric Merchant, Chris Patterson and Robby Garcia all put together trucks that competed in and survived all three events. Here, Chris Patterson's '07 Dodge has been fitted with the 35x12.50R17 Nitto Mud Grapplers that would dig the truck to a 274.58-foot finish later in the day.
Chris Patterson: 274.58 ft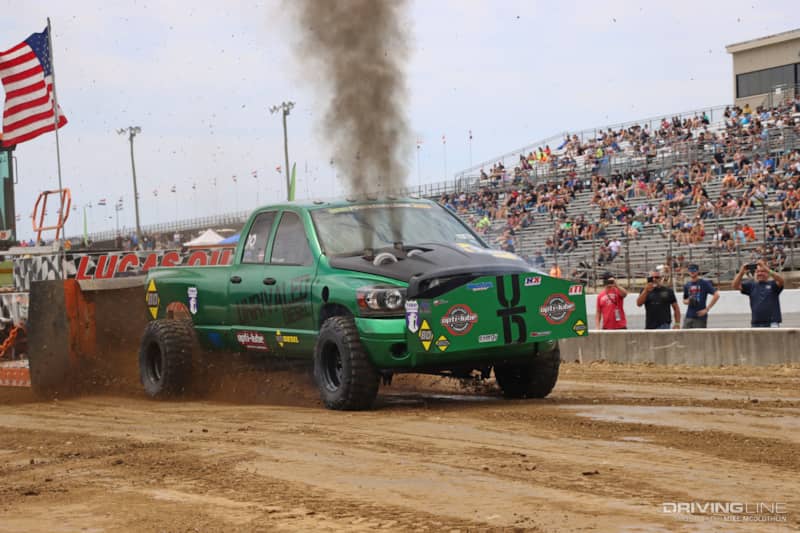 Out on the track, Chris Patterson's hook was strong and smooth. No longer did his truck become unsettled like it had at previous events. His successful pull was the direct result of Patterson and his crew reinforcing the frame the night before his hook. In his own words, "sure it added weight on the wrong end (of the truck), but it fixed the bouncing!" On top of that, all of Patterson's Yukon Gear & Axle additions allowed for all six wheels to keep digging. His 274.58-foot hook was good for a Ninth Place finish in the truck pull and secured him the Fourth Place overall spot at U.C.C. 2022.
Brian Shew: 308.88 ft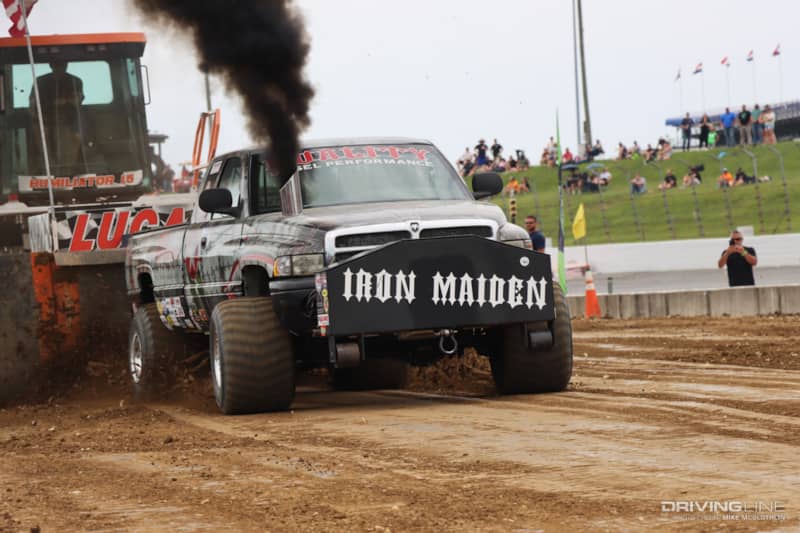 In terms of what traditional pulling rules amount to, the U.C.C. truck pull is essentially a no holds barred affair. Competitors can use nitrous oxide, run dual rear wheels, any size turbo and whatever tire(s) they think will best get the job done. For the Quality Diesel Performance team, cut tires were installed on its Limited Pro Stock class Dodge coined Iron Maiden and the change definitely paid off for driver Brian Shew, who has a lot of experience in the dirt. Thanks to Shew's driving, the aggressive tire'd second-gen Cummins clawed its way to a winning distance of 308.88 feet—the only truck to surpass the full pull mark.
Chris Buhidar: 296.35 ft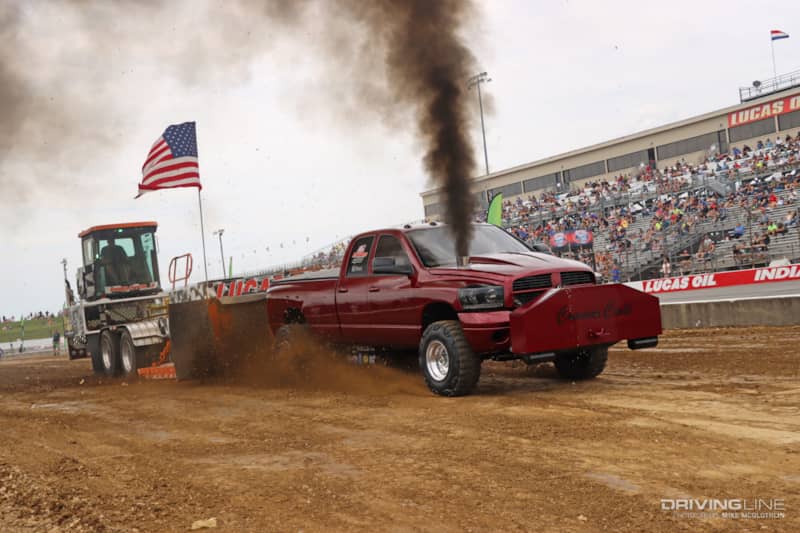 Chris Buhidar and the Truck Source Diesel team took full advantage of having a purpose-built puller hook for them and enlisted the help of Tim Tuttle and his Common Cents Dodge. Like Shew, Tuttle is a regular on the Limited Pro Stock truck pulling scene (also known as the 3.0 smooth bore class, a name that identifies the turbo size and type). Without changing much (if anything) in his 8,000-pound, Cummins-powered Ram's setup, Tuttle moved the sled a respectable 296.35 feet, which earned Buhidar the third best distance on the day.
Josh McCormack: 274.23 ft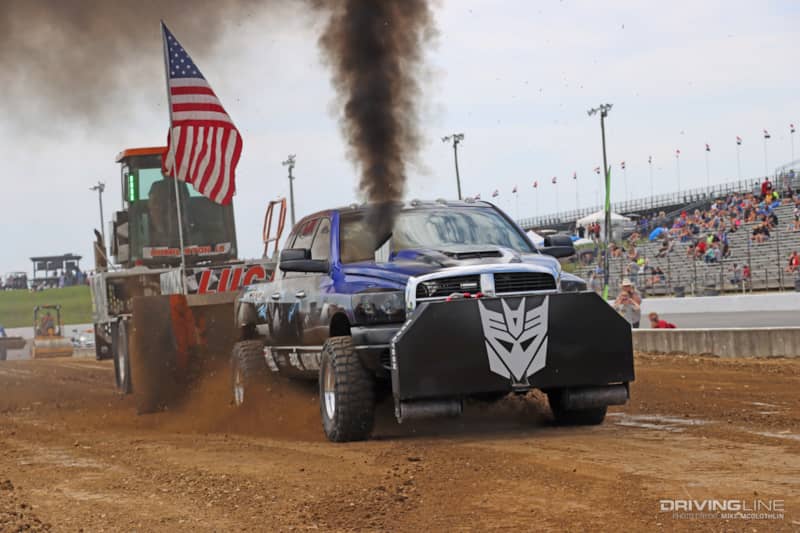 Teaming up with Josh McCormack was Jason Wayman, owner and driver of the strong-running Mega Cab Dodge known as Megatron. Like the previous two specialized trucks, Wayman's is also a Limited Pro Stock/3.0 smooth bore truck. With a summer-long points chase on the horizon for this steed, it was a great full-effort practice hook for Wayman while at the same time helping McCormack put more points on the board.
Dave Martin: 238.05 ft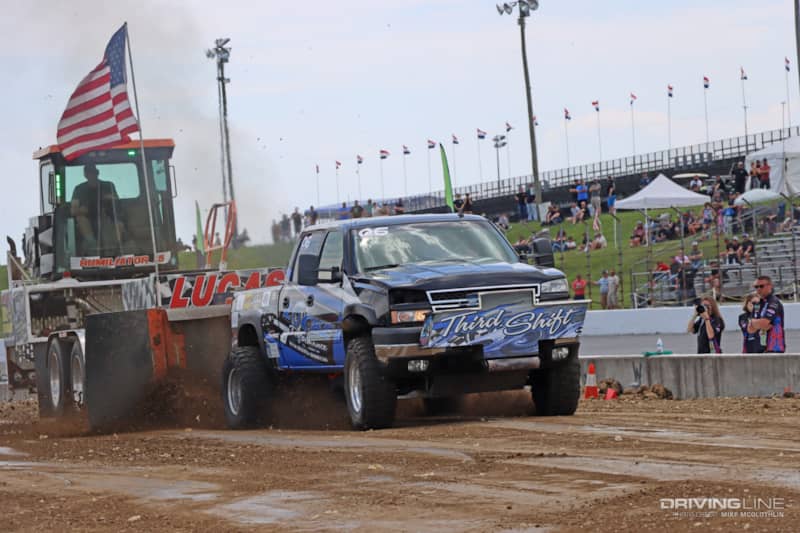 Driving the same truck he'd piloted through the eighth-mile (in 6.43 seconds) and strapped to the dyno (and made 1,490 hp with), Dave Martin moved the sled 238.05 feet before being brought to a halt. Campaigning a truck that not only competes in but survives all three events is a major point of pride for many U.C.C. competitors. Believe it or not, Martin's Duramax is still street driven, and even spends its winters plowing snow.
Justin Zeigler: 291.47 ft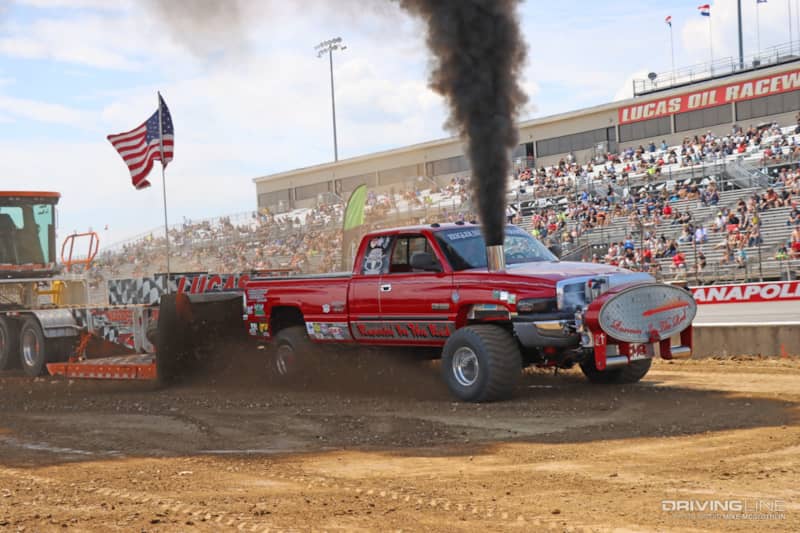 With a U.C.C. title defense on the line, Justin Zeigler called in a favor from Calvin Miller, the owner of one of the most powerful pulling trucks in the country. Miller's Runnin' In The Red second-gen Cummins competes in the Super Stock category, where multiple turbos are allowed, Sigma pumps rule the roost and 3,000 hp or more is required to win. Despite his late hook on a track that was losing its bite, Miller still lugged the sled 291.47 feet. The Fourth Place pull would seal the deal for Zeigler winning back-to-back U.C.C. titles.
Derek Rose: 283.82 ft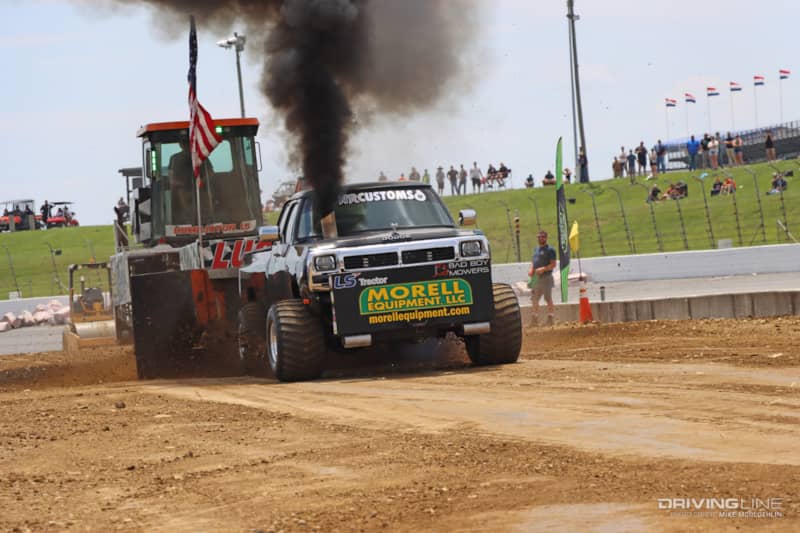 On behalf of Derek Rose, Kevin Morell attached his cut tire first-gen Cummins to the sled and attempted to pull it off the track. In order for Rose to overtake Zeigler in points, Morell needed to travel 17 feet further than Miller's Super Stock truck had gone. In the end, Morell's 283.82-foot effort was a solid performance but not enough to get past Zeigler's points lead. Rose wound up taking Second Place overall.
U.C.C. 2022 Results
| | | | | |
| --- | --- | --- | --- | --- |
| Competitor: | Drag Race (E.T.): | Dyno (hp & lb-ft):  | Sled Pull (feet): | Total Points: |
| Justin Zeigler | 4.997 (900.600) | 3,336 hp/3,642 lb-ft (1,073.585) | 291.47 (749.41) | 2,723.595 |
| Derek Rose | 4.73.7 (952.600) | 2,621 hp/3,677 lb-ft (968.985) | 283.82 (726.46) | 2,648.045 |
| Tony Burkhard | 4.96 (908.000) | 2,486 hp/3,076 lb-ft (855.892) | 281.64 (719.92) | 2,483.812 |
| Chris Patterson | 5.488 (802.400) | 2,614 hp/3,611 lb-ft (957.862) | 274.58 (698.74) | 2,459.002 |
| Chris Buhidar | 5.565 (787.000) | 2,368 hp/3,146 lb-ft (848.431) | 296.35 (764.05) | 2,399.481 |
| Josh McCormack | 5.608 (778.400) | 2,342 hp/2,908 lb-ft (807.800) | 274.23 (697.69) | 2,283.890 |
| Ben Francis | 6.515 (597.000) | 2,389 hp/3,581 lb-ft (918.631) | 281.29 (718.87) | 2,234.501 |
| Wade Minter | 5.458 (808.400) | 1,759 hp/2,416 lb-ft (642.477) | 281.17 (718.51) | 2,169.387 |
| Turba Tom Borrell | 5.456 (808.800) | 1,858 hp/2,645 lb-ft (692.923) | 250.64 (626.92) | 2,128.643 |
| Dmitri Millard | 5.610 (778.000) | 1,994 hp/2,286 lb-ft (658.600) | 241.73 (600.19) | 2,036.790 |
| Brian Shew | 6.443 (611.400) | 1,604 hp/2,430 lb-ft (620.877) | 308.88 (801.64) | 2,033.917 |
| Charlie Fish | 5.564 (787.200) | 1,624 hp/1,691 lb-ft (510.154) | 267.05 (676.15) | 1,973.504 |
| Dave Martin | 6.433 (613.400) | 1,490 hp/2,324 lb-ft (586.969) | 238.05 (589.15) | 1,789.519 |
| Eric Merchant | 7.139 (472.200) | 1,270 hp/1,919 lb-ft (490.769) | 297.00 (766.00) | 1,728.969 |
| Robby Garcia | 6.774 (545.20) | 1,561 hp/2,152 lb-ft (571.415) | 223.93 (546.79) | 1,663.405 |
More From

Driving Line
Truck pulling experience always pays off on the last day of U.C.C. competition, as was evident in last year's finale in the dirt, available for your viewing pleasure right 

here

.