Unkillable Diesels: BMW's M57 I-6
Who knew the power plant that was supposed to be the fuel-sipping option of the engine lineup would end up being such a hot-rod? If you like diesels and BMWs, you know that we're talking about the M57, an inline-six 3.0L with a boatload of performance potential. If you're not into either, you're about to receive a free education on a rare gem from the Bavarian automaker. It's common-rail injected, features a unique sequential turbo system and sports a bottom end that can handle three times the factory horsepower and torque rating. It was available stateside in 335d and X5 form.
Boasting large-beam, forged-steel connecting rods, head bolts that can keep a head gasket alive at more than 70-psi of boost and fuel economy that can approach 40-mpg if you're careful, it's no wonder BMW's M57 has a growing aftermarket following. As a bonus, the ZF 6HP transmission it comes attached to is extremely tough. For everything you ever wanted to know about this little Bavarian beast, keep reading.
The BMW M57: Sequential Turbo'd, Clean-Burning And Underrated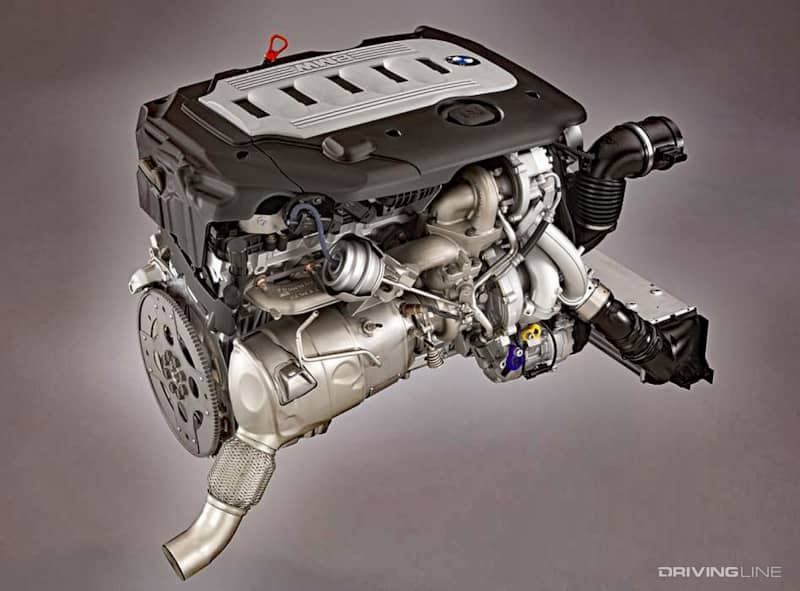 BMW's M57 diesel made its U.S. debut back in '09 in either 335d sedan or X5 SUV form. The direct-injection inline-six displaces 182 cubic inches (3.0L) thanks to a 3.31-inch bore and a 3.54-inch stroke. It produced 265 hp at 4,200 rpm and 425 lb-ft at 1,750 rpm off the showroom floor, but timeslips showing low 14-second passes at speeds in excess of 95 mph in various 335d's revealed that the M57 was slightly underrated from the factory. Quick spool up and a power curve that holds strong until 5,000 rpm comes courtesy of its unique sequential turbo system. More on that later.
Robust Innards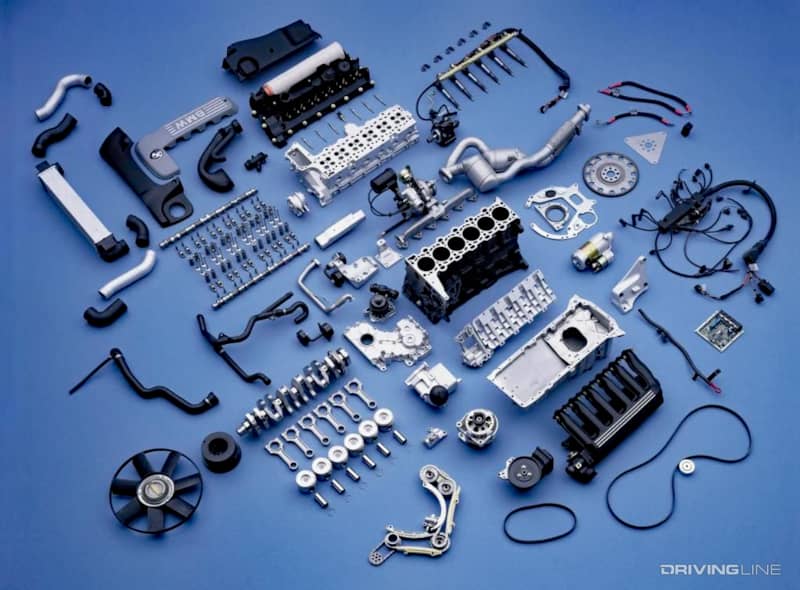 Within the M57's aluminum block you'll find a forged-steel crankshaft secured via 2-bolt main caps. A lot of the M57's ability to handle huge torque comes from its forged-steel connecting rods. The rod beams are twice the size of what you'll find in BMW's N54, the gas-powered twin-turbo 3.0L that produced 402 hp. The meaty rods are fitted with cast-aluminum, direct injection pistons with steel ring lands and the engine is topped off with a composite intake manifold. The only hard-part change that's required before pursuing big power with an M57 is a performance valve spring swap, as retaining the factory versions can lead to valve float and valve creep when forced to cope with higher rpm and boost levels.
Big Boost? Not A Problem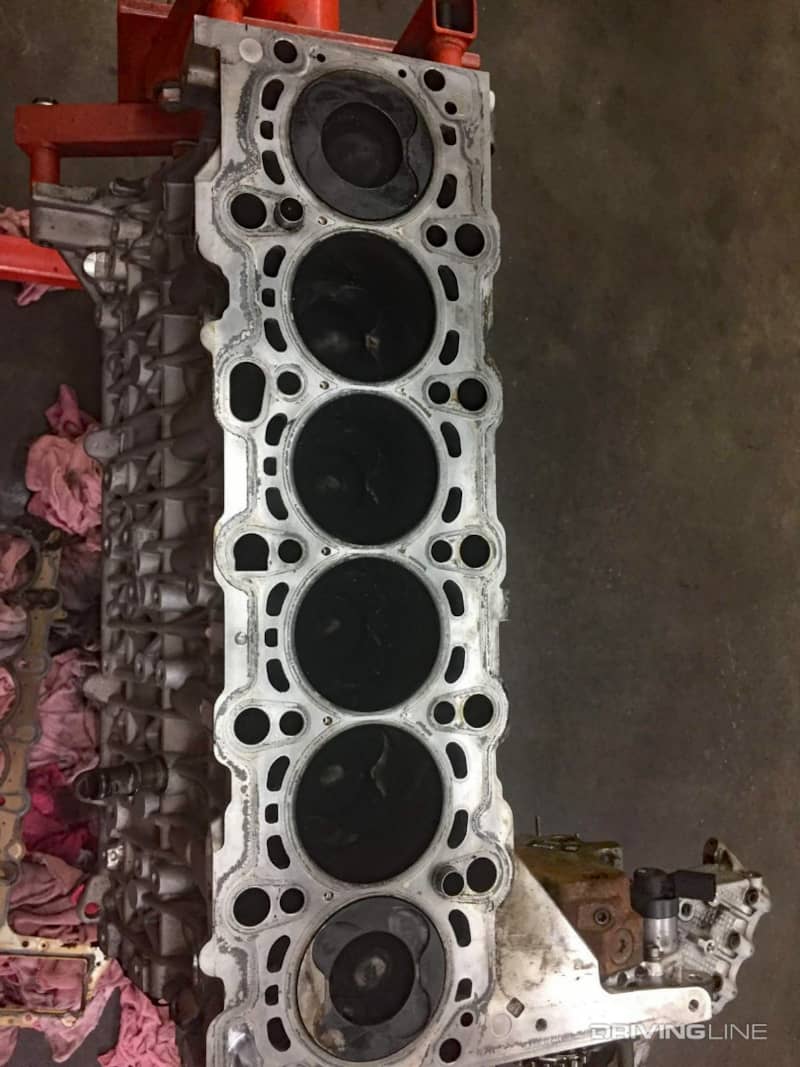 While earlier versions of the M57 used a cast-iron block, it's believed that every stateside 3.0L came with an aluminum crankcase, as well as an aluminum 4-valve cylinder head. As you can see, the head fastens to the block by way of four head bolts per cylinder. We know it's not like a B-series Cummins, DT466 or other heavy-duty diesel that utilizes six bolts per cylinder, but the 12mm diameter fasteners on the M57 provide deep thread engagement within the block and have proven capable of handling an incredible 75-psi of boost without stretching.
Chain-Driven, Overhead Cams
The overhead cam design of the M57 is chain driven, rather than belt-driven. But although the engine isn't gear-driven (what most diesel lovers prefer), a chain drive does offer more peace of mind than a traditional cog-style timing belt, especially in higher horsepower applications. To our knowledge, the factory timing chain will hold the line at power levels of 650 to 700-whp and 1,000-plus lb-ft of torque.
A Familiar Face: The Bosch CP3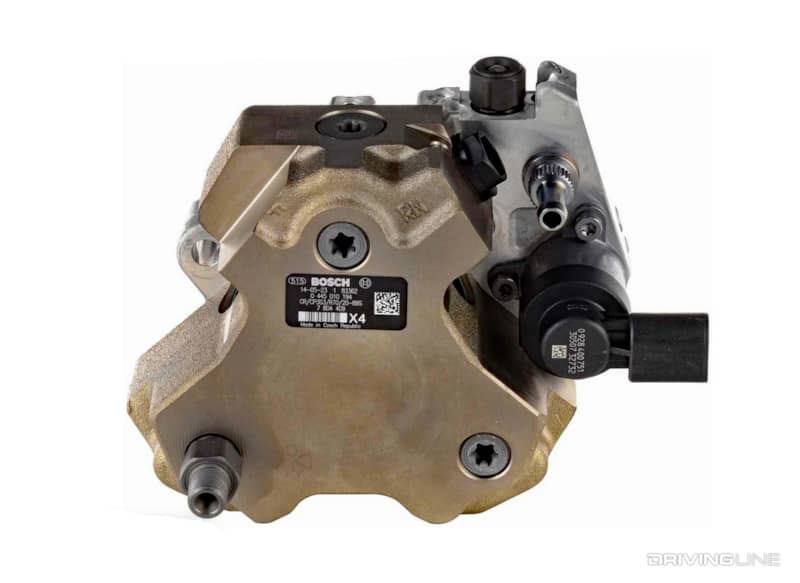 High-pressure, electronically controlled common-rail injection brings both low emissions and tremendous horsepower potential to the table on the M57. Supplied by Bosch, the injection system utilizes the R70 model CP3 high-pressure fuel pump, capable of producing 23,200-psi worth of rail pressure, and fast-firing, multi-event piezo injectors. For reference, the CP3 (although a slightly different model) was found on the '01-'10 6.6L Duramax V-8 and the '03-'18 6.7L Cummins and has proven highly reliable. With a second CP3 in the mix to support a set of larger injectors, the '09-'11 335d sedan platform can belt out just under 700-whp and over 1,000 lb-ft. Those numbers were achieved by the M57 gurus at Santjer Performance, thanks to the company's own dual CP3 kit being combined with a set of 100-percent over injectors from S&S Diesel Motorsport.
Techy Turbo Arrangement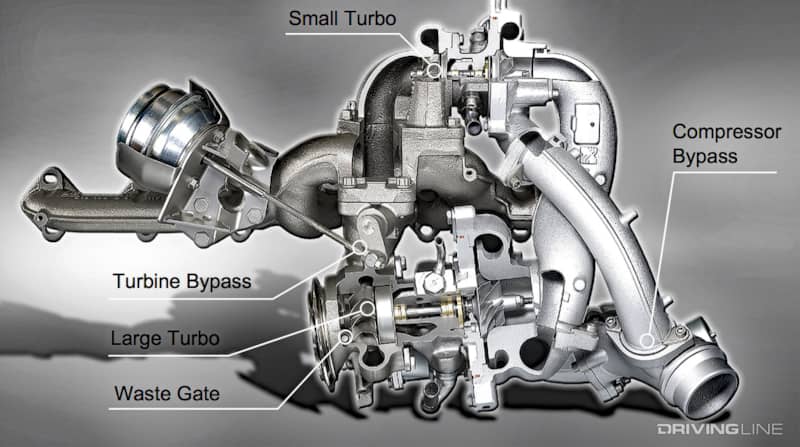 Not only is the M57's OEM sequential turbocharger configuration unique, but the turbos are extremely tough. In the arrangement, a BorgWarner K26 serves as the low-pressure unit while a smaller, BorgWarner K39 positioned on the exhaust manifold gets things rolling as the high-pressure charger. At low engine speed, the low-pressure turbo sees virtually no exhaust flow, allowing the high-pressure unit to get the vehicle moving. At high rpm, a bypass valve opens, allowing the K26 to come up to full song while simultaneously keeping the high-pressure unit (K39) humming along at close to 100-percent. The low-pressure turbo (K26) is also wastegated to prevent overspeed scenarios from occurring.
Swirl Flap Failure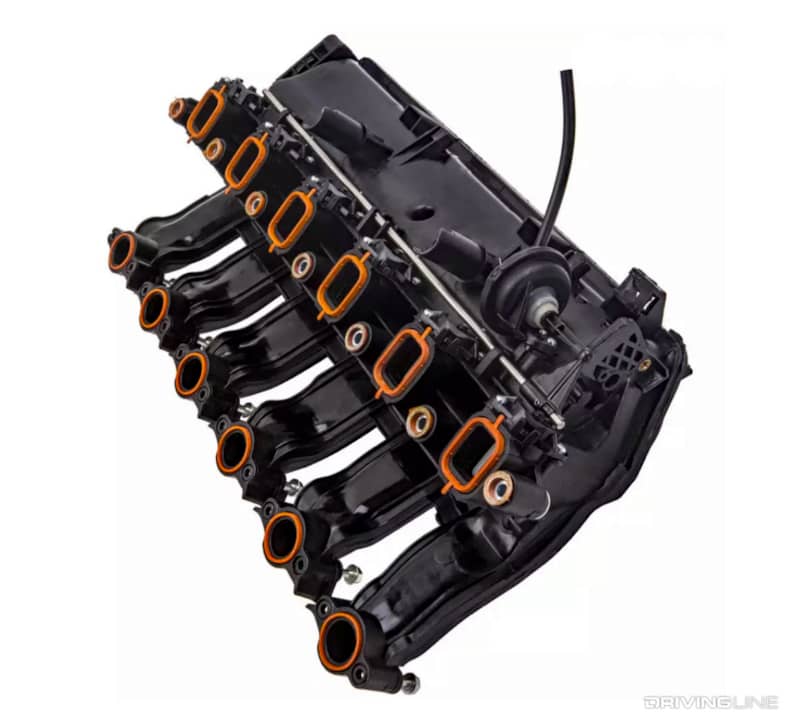 Because no engine is indestructible, we would be remiss without mentioning the M57's Achilles' heel. From the factory, swirl flaps were integrated into the intake manifold to aid engine efficiency and promote optimal fuel economy. However, they are known to deteriorate over time and the flap itself (or the screw that holds it in place) can break off and enter the cylinder head. At that point you've got a catastrophe on your hands (damaged head, valves or even pistons). Not to worry, the swirl flaps are relatively easy to remove and it's the first step most M57 enthusiasts take when modifying the engine for more power.
More From

Driving Line
Ready to read up on one of the toughest I-6 diesels ever produced? From million-mile longevity to 4,000hp capability, the 

DT466

 

is positively legendary.