What's It Like Trading Drifting for Off-Road Ultra4 Racing? Vaughn Gittin Jr. Finds Out
For most, a trip out to watch King of The Hammers is action enough. Drifting pro Vaughn Gittin Jr. packed a ton more action into his first King of The Hammers – he showed up, raced it, and placed 10th!
For those less familiar with off-road racing's toughest one-day race, not just anyone finishes King of The Hammers much less places in the top 10. Many of the competitors are crossing their fingers just to grab a finish in a race that historically has only about a 15% finish rate.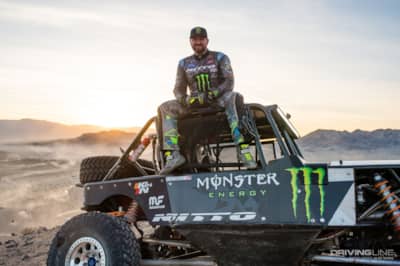 Landing on the lakebed just a day before the big race, Vaughn Gittin Jr. stepped in an Ultra4 car for the first time and got a crash course in off-road racing from two-time KOH winner, Loren Healy. For Vaughn, this was his first off-road driving experience save for racing motocross as a teenager and mobbing UTVs through East Coast trails. Having watched a few videos from King of The Hammers and meeting Loren and the Campbell's at various Nitto events, he jumped at the opportunity to join in the race. The fact that he'd be getting behind the wheel in a car he was unfamiliar with and tackling terrain that most car enthusiasts would consider undrivable only made it more alluring and badass!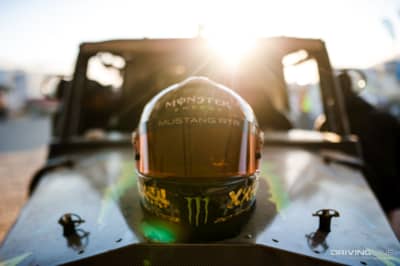 You'd think blasting through a drift course inches from competitors would be teeth-clenching enough, but Vaughn confessed, "I have never had the words 'holy shit' go through my mind so much when looking at the obstacles we had to overcome." Curious to hear more of Vaughn's thoughts on drifting versus off-road racing and how his day went, we sat down for an interview. Here's what he had to say: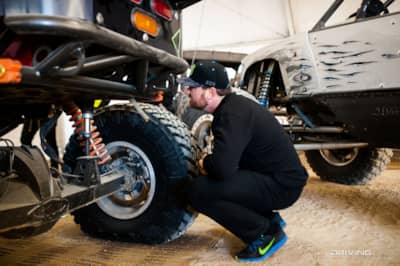 VGJ: "The experience went kind of like this: I jumped in the truck, he walked me through how to get it in high and low and walked me through the process of how the truck works, and we headed out to the desert. Once we drove the desert a little bit he took me to one of the old qualifying spots which was a waterfall… a straight up and down ledge. And I thought, 'Yeah I get it, haha. I'm the new guy. No. Where are we really gonna practice?' And he was like, 'No, go up that.' So I put it in 4WL and he helped me with the angle of how to approach it and sure enough, it went up.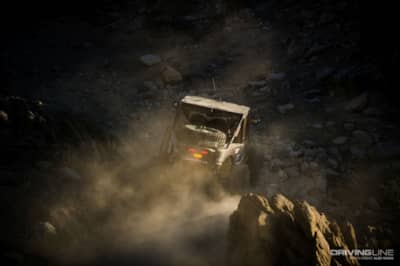 "After that insanity, Bailey Cole jumped in the passenger seat and I went up Chocolate Thunder with him a couple times. The first time I got to the base of Chocolate Thunder I was like… I didn't know where to start. You look up this hill and it's all these jagged and gnarly rocks. You wouldn't even want to walk up this thing.  Once I started and got movement, it all just sort of clicked. The line just comes to you. Everyone told me, 'Make sure you keep the tires on top of the rocks.' So I just kept that in mind and chose my line accordingly and made it up.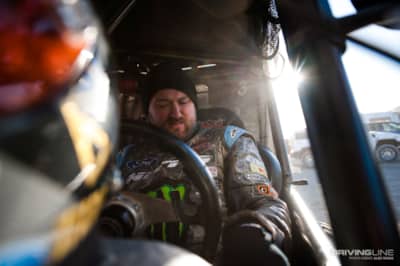 "I realized that what drifting over the past 12 years has taught me - the really good feel of the vehicle, the weight transfer, the feel of traction – it translated to this so perfectly. Two completely different animals, but the control and feeling that you're looking for when you're behind the wheel of a drift car, or even a road race car, translates right to this. In drift, I'm feeling grip with the tires spinning at 100 mph. Whereas with this, it was about using throttle control trying not to spin the tires and keeping traction at all times. I don't really know how to explain it, except, that I was fully out of my comfort zone attacking these insane obstacles and using my instinct and driving experience toward that. After practice I felt really good, but I knew that there was so much in store for us the next day."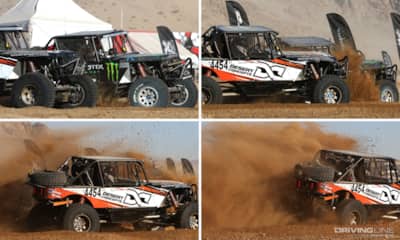 With mere hours of off-roading under his belt, race day dawned. Vaughn would be competing in Ultra4's 4800 Legends class during the Smittybilt Every Man Challenge in a spec-built buggy by Jimmy's 4x4 running on Nitto Tire Trail Grapplers. Starting dead last in that day's 110-car lineup, Vaughn tore off the line and got a jump on the guy starting next to him. From there, it was finishing, having fun, and keeping all four Nitto Tires on the ground he was focused on. Vaughn notes, "I'm aggressive when it comes to drifting, so I definitely toned myself down and kept saying to myself, 'Don't break this thing, we've got to finish the race.'"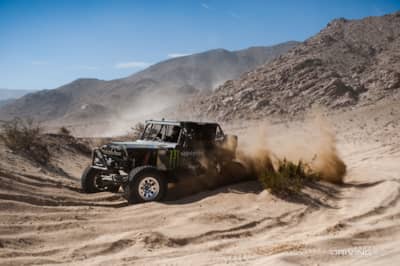 After driving lap 1, the open desert section, Vaughn had two laps through the rocks to tackle. Navigating via GPS on almost 200 miles of terrain he's never seen, Vaughn learned to work as a team with his co-driver – which is a good thing because Vaughn was both unfamiliar with Johnson Valley and at the same time had never GPS-navigated during a race. There was a moment when communications equipment lost signal and Vaughn estimates they lost 30 minutes from getting on the wrong trail. "We were in a ravine and it was clear that there were no tracks, and I actually got a little bit nervous. If you get lost out there… it's going to be a little while until somebody might find you. It was a little sketchy, but we prevailed," remarks Vaughn.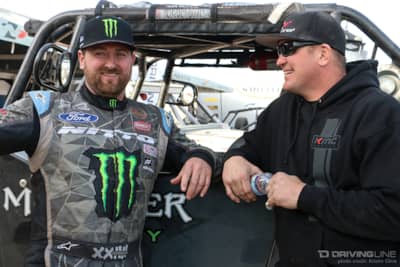 Other than the radio communications failure, there were no mechanical issues for the day. Following advice from pros like Loren Healy, Shannon Campbell, and Casey Currie to, "Make sure you keep the tires on top of the rocks," Vaughn kept moving forward on the difficult trails. He recounts, "I really see why so many people come to this race and don't finish – if you hit a jagged rock with your axle or something else, it'll ruin your day. So I was trying to be really smart and attack the obstacles as needed. There were some super sketchy situations on a few things we climbed. We did use the winch a couple of times and I did almost flip once. I got jammed up and went to back up and then started tilting over. It went over center and I thought, 'Yep, we're done,' and then it just came back and stopped at the perfect 50/50 weight balance point. I yanked to the left and gassed it to get back out. I thought for sure that had ruined our day, but luck chimed in."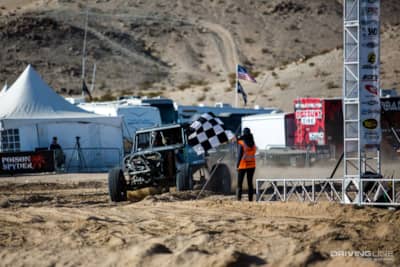 Before he knew it, Vaughn was coming through the finish line 6 hours and 44 minutes after he started. "It's really nice setting goals and achieving them," exclaims Vaughn. "For me personally, to come to King of The Hammers for the first time and achieve every goal that I set out to achieve, that felt great. I'm super grateful to have such good advisors and help out there. Without any question between the co-drivers/Healy's team and having some badass tires that could get through it all, it was the reason why we had such a successful event. And it was fun as shit!"
Wondering if all that fun made Vaughn want to come back and race Ultra4 again? He laughs, "I have a lot of stuff going on! I love driving and I want to continue to explore every opportunity I can, to do new things. I would absolutely love to do that again next year. I think just simply by pre-running we would save two hours."
Now having raced Ultra4, NASCAR and Trans-Am we asked what's next on his bucket list…
VGJ: "I definitely want to do a short course race in a real truck, I think either PRO4 or PRO2 would be fun. I'd also like to do a stage rally. I've driven some close to rally-prepped vehicles, but I think racing a stage rally would be a lot of fun. When I say that I'm a 'professional funhaver' it's true to my core. All I want to do is drive and have fun and make sure that everyone around me and my fans are also having a good time. So that's what I'm about and any opportunities that can challenge me – win, lose, draw, or succeed – I'm down for it."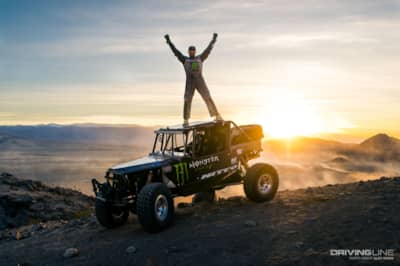 We can't wait to see what Vaughn Gittin Jr. is up to next and we're hoping that come next February we'll see him racing out on the lakebed again!