Wheeling at Death Valley Mine Trail
An overnight camping trip out on Death Valley Mine Trail to Dawson Camp and beyond led to some fun wheeling, mine exploring and seeing the sky ablaze under Joshua Trees in the Mojave National Preserve.
Getting to Death Valley Mine Trail
With the name Death Valley Mine, you would think this abandoned mine and camp would be found further north in the National Park with the same name, but the Death Valley Mine is on the northeast slope of the New York Mountains in the Mojave National Preserve.
The trailhead off Kelso-Cima Road can be difficult to spot because railroad tracks run alongside the road, and the trailhead is on the other side of the tracks. The unmarked turn is right at the point that Kelso-Cima Road becomes Morning Star Road at 35.237526 -115.499031. On maps it may show as Cima Road, but don't confuse it with the paved Cima Road, or Kelso-Cima Road, or Brandt-Cima Road. Turn west onto the unmarked dirt trail.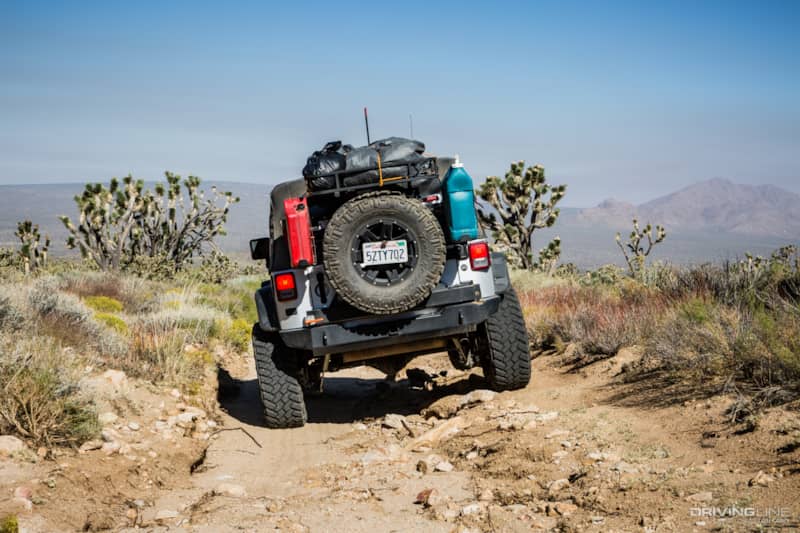 If You Find a Desert Tortoise…
There is a sign warning that Desert Tortoises are protected and that it is illegal to touch or move them unless they are in imminent danger of being killed. While it may seem unharmful to approach tortoises, doing so can endanger their life. Reason being, tortoises can store water in their bladders for up to a year, so if you scare one it may void its bladder. Unable to replenish the lost water supply can lead to death. Watch this National Park video to learn the correct way to move a tortoise in case you run into one needing moved on the trail.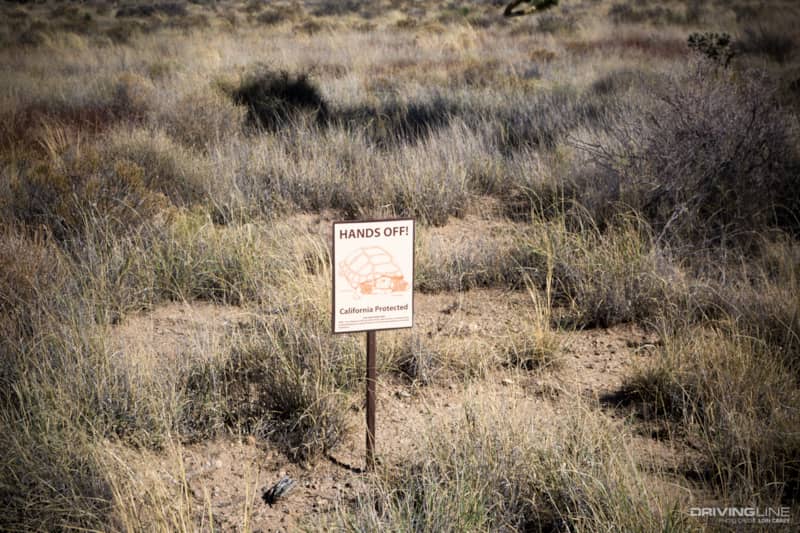 Trail Conditions and History
The trail to the mine is straightforward and easy. It's a typical desert route of sand and some rocks that winds through a Joshua Tree forest.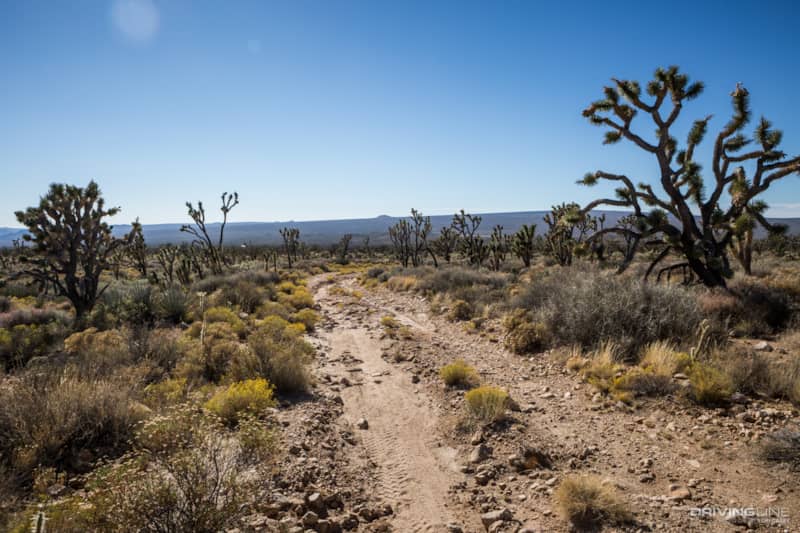 In 2.5 miles, we reached Dawson Camp. The Death Valley Mine was founded in 1906 by J.L. Bright, and later sold to the Death Valley Milling and Mining Company of Denver. Dawson Camp served as home for the workers of the Death Valley Mine and other mining operations in the Cima area. Dawson was the name of the brothers who owned the Death Valley Milling and Mining Company.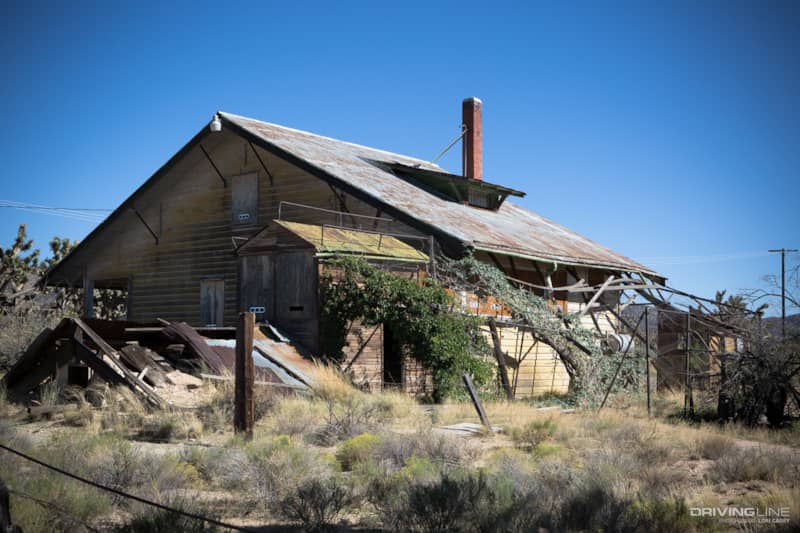 There are many buildings still standing, including a 2-story house with a beautiful large porch and grapevines, a smaller one-story house, several shops and sheds, a structure that appeared to be an underground root cellar and several livestock pens, including a chicken coop.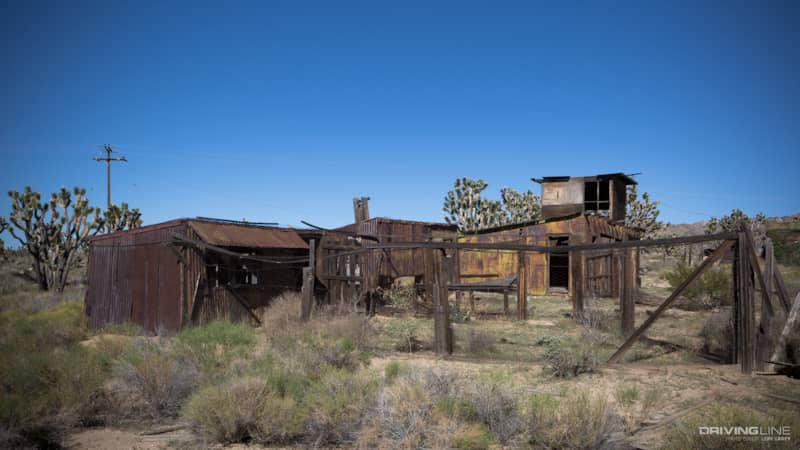 Current Exploration Conditions
We were a bit disappointed to find that the camp has recently been fenced and there are "No Trespassing" signs warning of 24-hour security. We know that it had been open to exploration as recently as last year, as are most historic mining camps in the Preserve. There were signs that some recent restoration work was done. The boarded-up windows in the big house had shiny new animal-proof air vents. Hopefully once the camp is restored it will again be open for exploring, as this is a great piece of history and there is a lot to see.
Vandals have torn down sections of the fence and we can't say we weren't tempted to step over and take a walk through the camp, but what kind of role model would we be if we did? You can still see much of the camp because many of the buildings are right along the fence, but you can no longer explore inside the buildings or get to the mine behind the camp.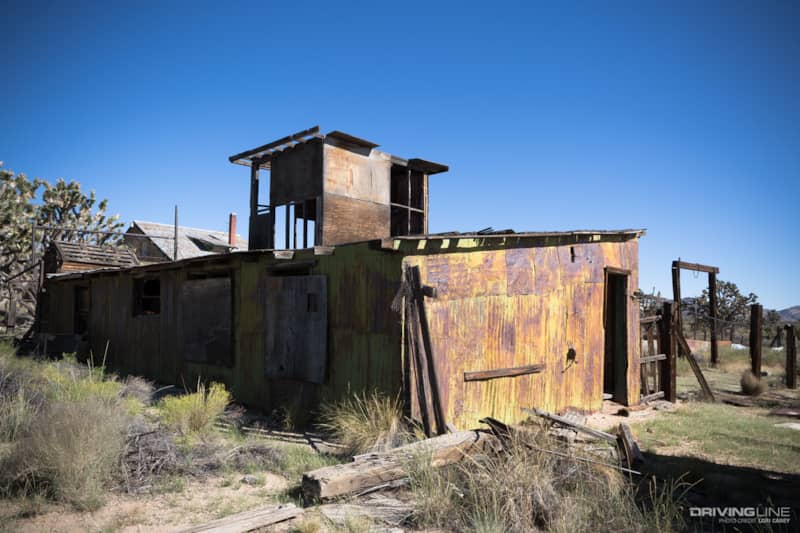 Exploring Beyond Dawson Camp
Most people turn around here and head back to pavement. We were still feeling a little disappointed and were in need of a place to camp for the night, so we decided to continue following the trail to see where it led. The trail past the camp and mine got very rough – erosion from storm damage was extensive, creating deep ruts. In some spots the trail was so narrow we could just squeeze by, in other places we had no choice but to drop one side of the Jeep down into the rut.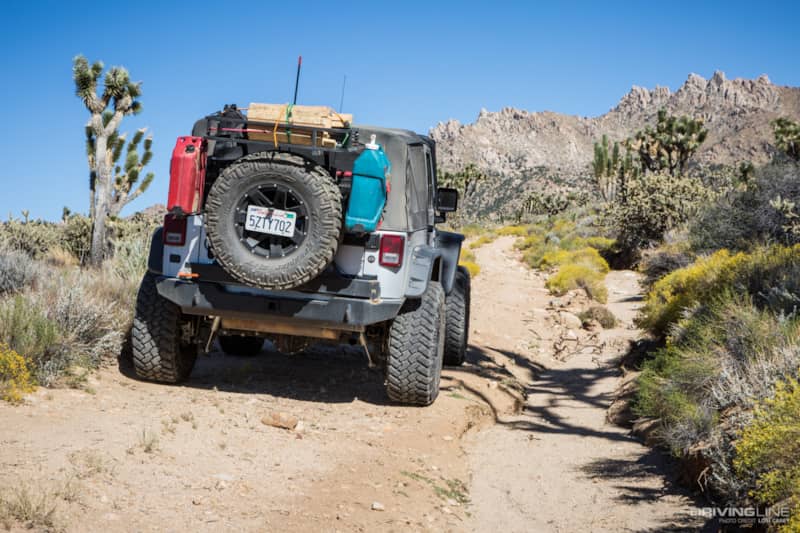 It was slow-going as we climbed steadily uphill, working our way up the mountain to 5,000 feet. It's a gradual climb, but the roughness of the trail and the need to pay close attention kept us at a crawl.
At mile five, we spotted a fire ring and the perfect summer camping spot. There were several large Joshua trees grouped together which provided some welcome shade, a rarity in the desert. Since it was late in the day and we were hungry, we decided to make camp and enjoy a relaxing evening.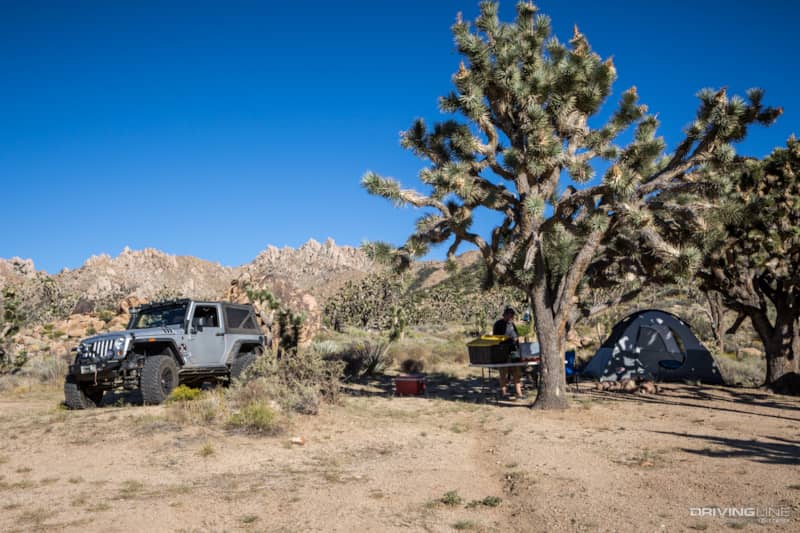 Summer evenings in the desert are beautiful and make risking the heat of the day worthwhile. After some exploring, we settled in to eat dinner while enjoying the view of the valley below.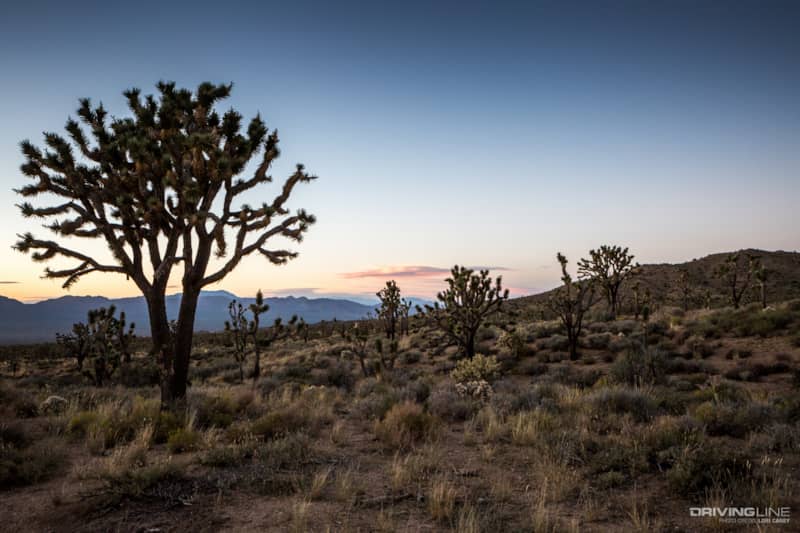 Away from city lights, the Milky Way is breath taking. Leaving the rain fly off our tent enabled us to stare up at the stars all night.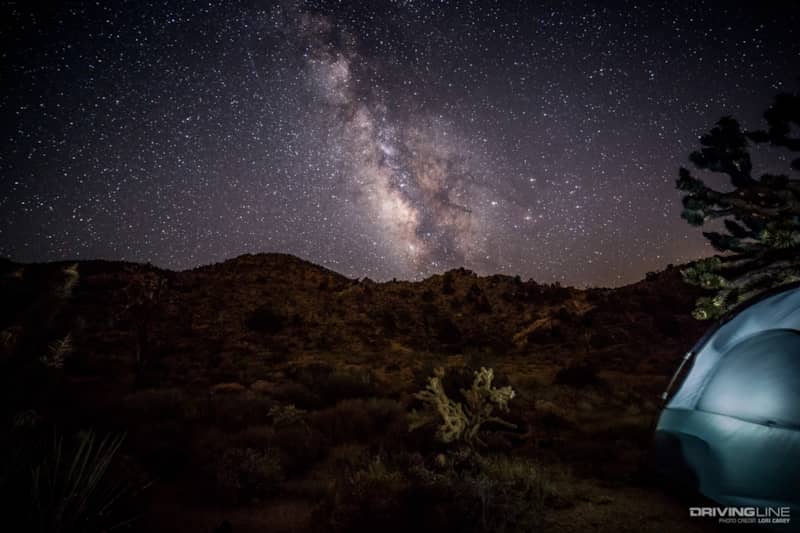 The End of the Trail
Waking before sunrise the next morning, we headed out for a hike and discovered that a little ways past our camp the trail was closed at the base of a steep hill. Given how rough the trail was up to this point, we weren't surprised.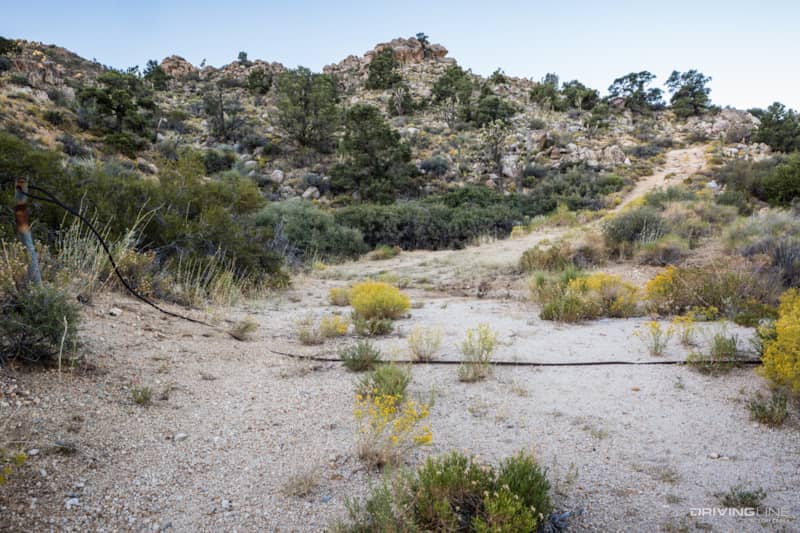 It was obvious that someone had disregarded the closure and drove through anyway, so we decided to hike to the top to see how bad it was. The hill was incredibly steep and eroded, with loose rocks, some tough off-camber sections and a steep drop on the right side. We decided that if the trail were open it would be fun to attempt it, with other vehicles along for safety, but it would be crazy to attempt it solo.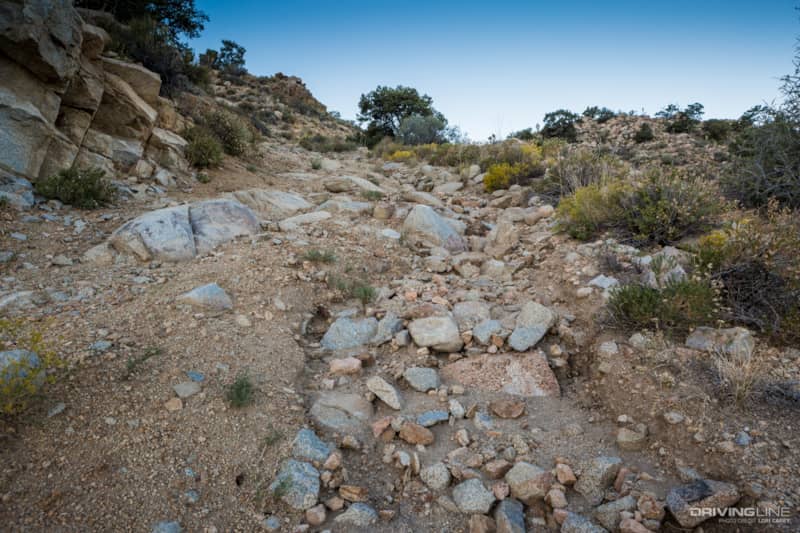 With a campfire breakfast filling our bellies, we took the trail back to pavement. Going back down was much easier than the trip up! Back near Dawson Camp there are some other trails that look interesting on a satellite map, so we'll probably return to this area for more exploring in the future.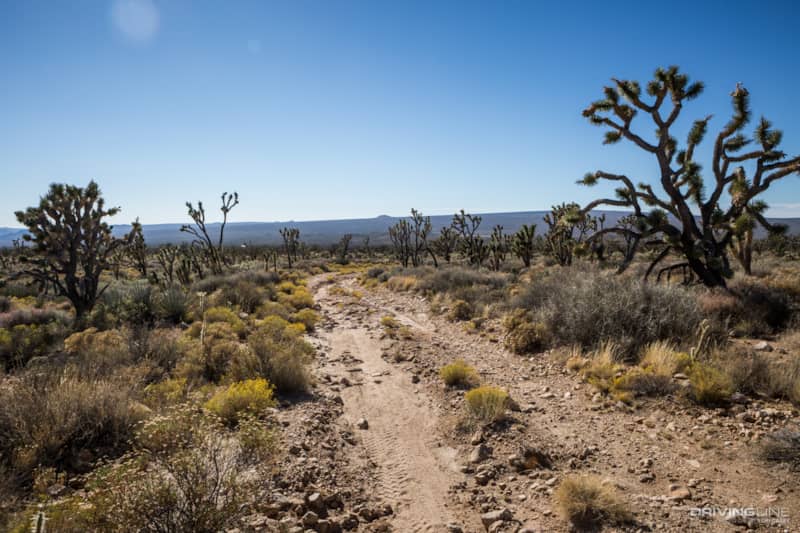 Although we didn't get to adventure into as much of the mine and camp as we were hoping to, this was a fun trail and the campsite was absolutely perfect. You will need high-clearance, good tires and be okay with going 20°+ off-camber to travel past Dawson Camp.
If you have a Magellan TRX7 you can download my track for this trail. Search for "Death Valley Mine" by DustyTrails. My track has waypoints for the Death Valley Mine and Dawson Camp, as well as our great camp spot.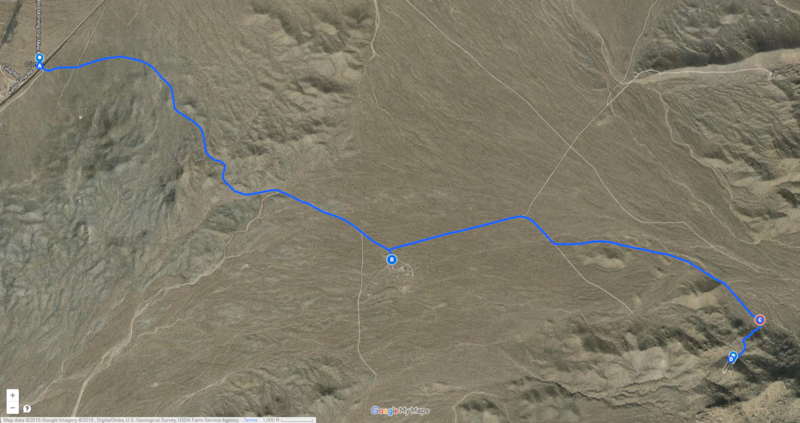 Happy off-road exploring! Read more trail reviews here. Leave a comment below if you've been on this trail, we'd love to hear your experience!