Who Needs a Crossover? Project Scat Pack is a Gear-Bangin', Hemi-Powered Family Car
In 2018 we are fortunate enough to live in a time when cars have never been better, particularly when it comes to American performance machines. Whether it's Ford, Chevrolet or Dodge, the current offerings in the V8, rear wheel drive performance car market are better than ever.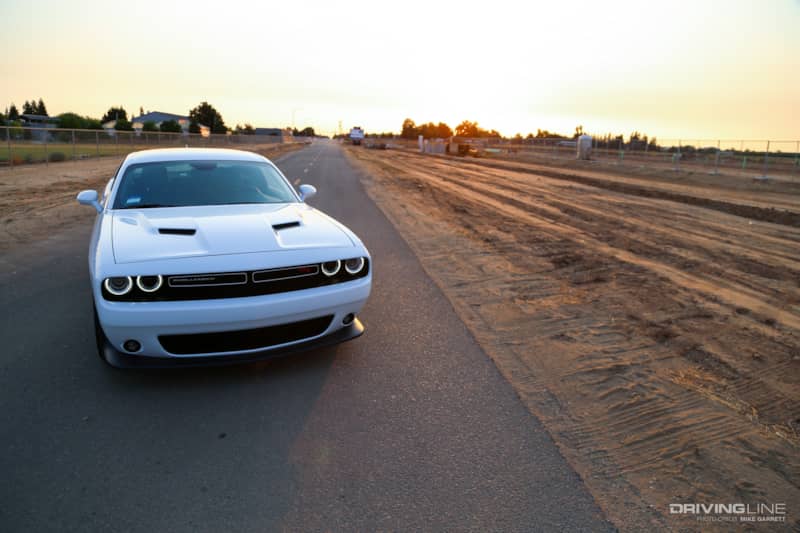 Take the perennial favorites, the Ford Mustang and Chevrolet Camaro. The S550 Mustang and sixth generation Camaro both are as great as they've ever been, with loads of horsepower, refined driving manners and world class handling—all for reasonable prices. Personal preferences aide, it's really hard to find fault with either.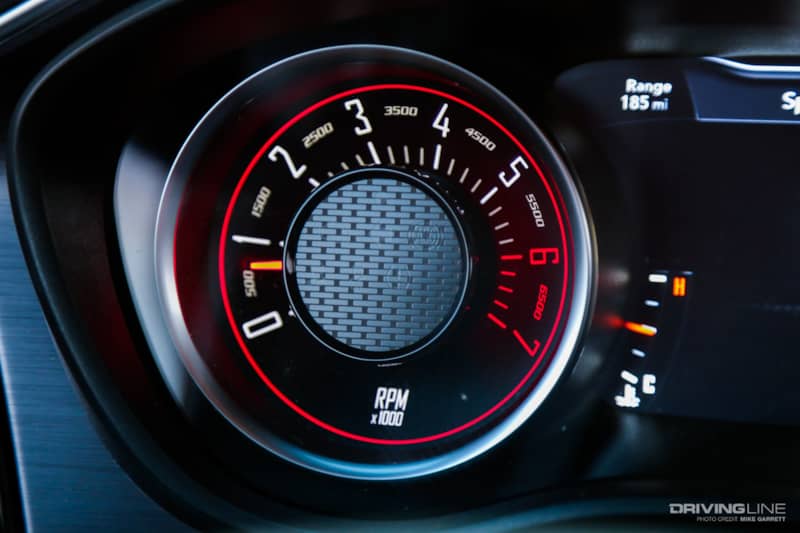 Then there's Dodge. Whether it's the two-door Challenger or the four-door Charger, the current crop of Mopar performance cars have established their own unique identity. While GM and Ford have been relentlessly going at each other's throats with track-honed pony cars, Dodge has directed its focused on the traditional muscle car formula, with lots of Hemi power and tire smoking fun.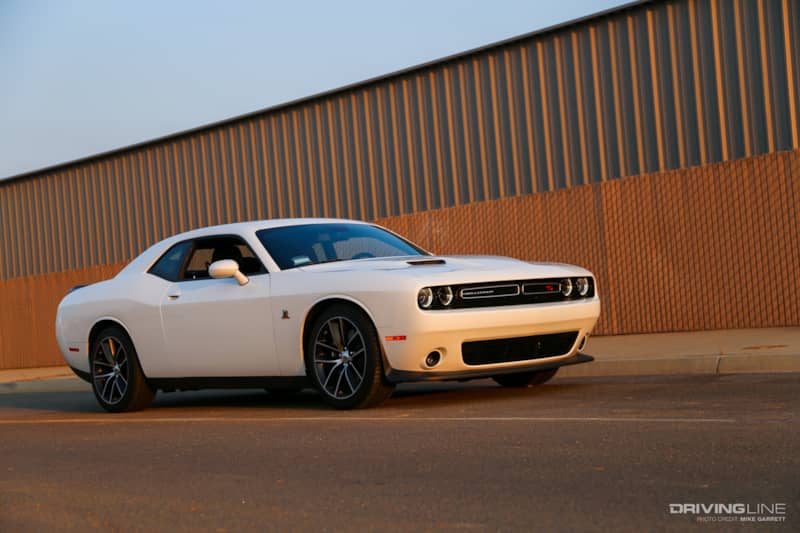 Looking for a Family Car
You really can't go wrong with any of them, but one thing the Dodge offers with its performance cars is much more practical interior layouts and passenger space. For someone without kids to haul or someone just looking for a weekend toy, the Camaro and Mustang are excellent, but they aren't quite ideal family cars.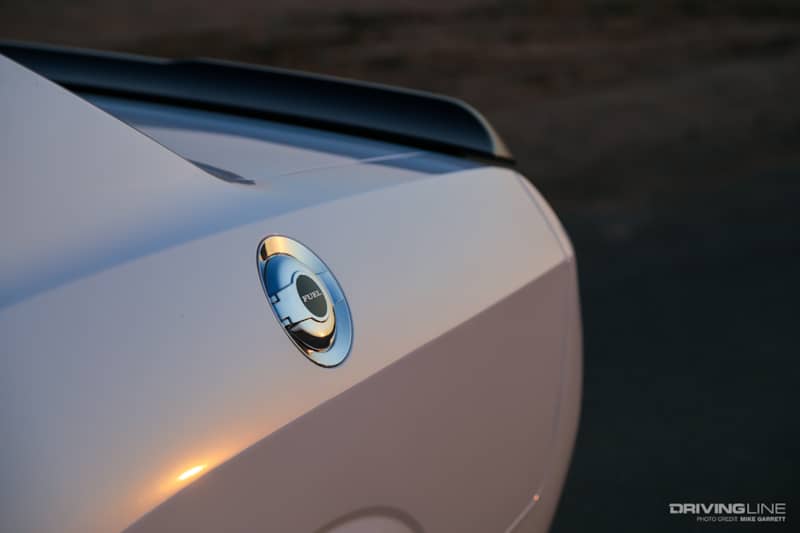 Dodge of course offers the Charger as a roomy four-sedan with a big back seat and a variety of V8 engine options. Even the two-door Challenger is surprisingly roomy inside, with a backseat capable of handling full-sized adults and more importantly, bulky child seats. It comes with AC vents for the rear passengers, which is something many sedans and SUVs don't even have.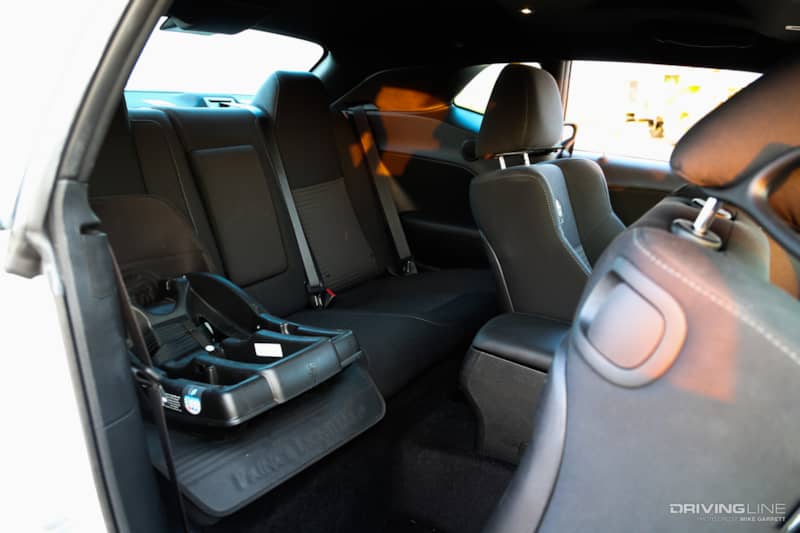 This was one of the biggest selling points for the Challenger when I started looking for a rear-wheel drive car with a manual transmission that could serve as a burly, fun enthusiast machine but could also handle the rigors of dad duty. Naturally, the four-door Charger would have been even better as a family hauler, but sadly, that car is automatic-only.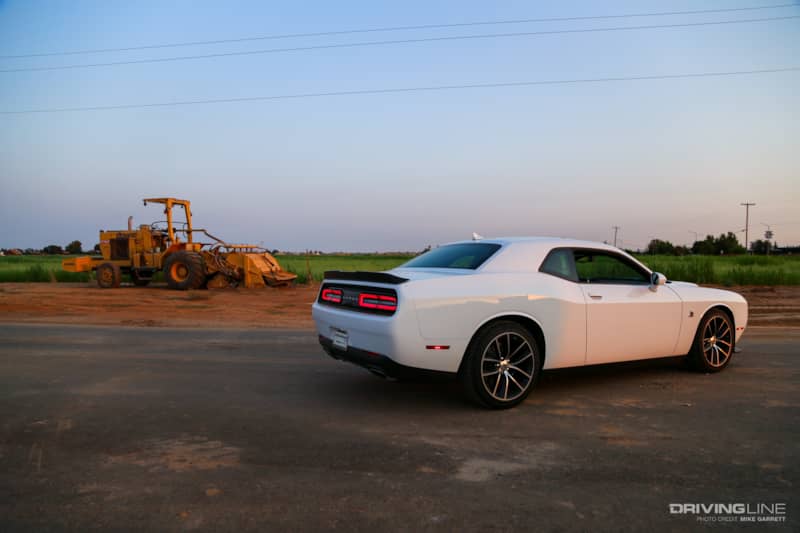 The Sweet Spot Between Want and Need
This is how a 2018 Dodge Challenger R/T 392 Scat Pack made its way my the garage. While the 707hp Hellcat is an absolute beast of a car, the 485hp, naturally aspirated 6.4L cars are the sweet spot of the Challenger lineup. Their MSRPs are substantially lower than the Hellcats, and that's before you factor any of the common rebates and discounts.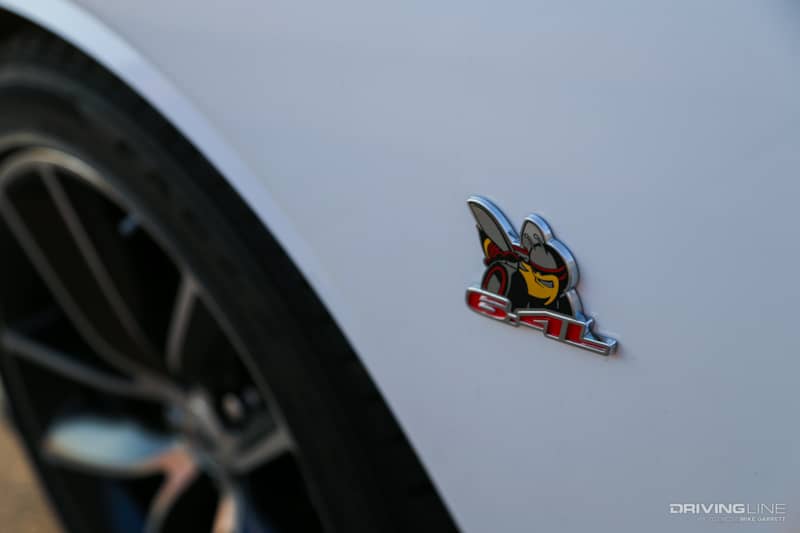 This particular car is a low option R/T Scat Pack with Alpine audio as the only add-on, but even in base form these cars come quite well equipped. Inside there's the convenience of Apple CarPlay and Android Auto, a back up camera with parking sensors and plenty of the other amenities that modern cars spoil us with.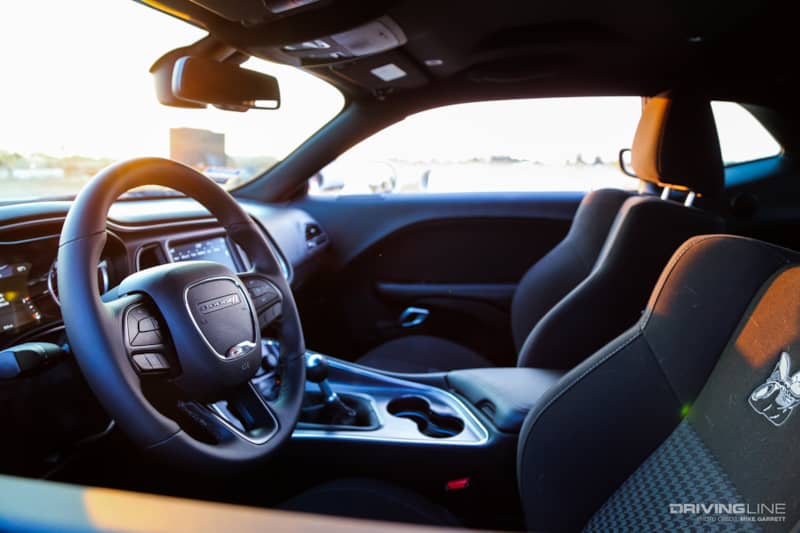 It's the mechanical goodies that impress most, starting first and foremost with the 6.4L Gen III SRT Hemi under the hood. While the Challenger and it's LX platform underpinnings weigh more than rivals from Ford and Chevrolet, the mountain of torque and 485 ultra accessible horsepower help put it right on par with the competition in terms of raw acceleration.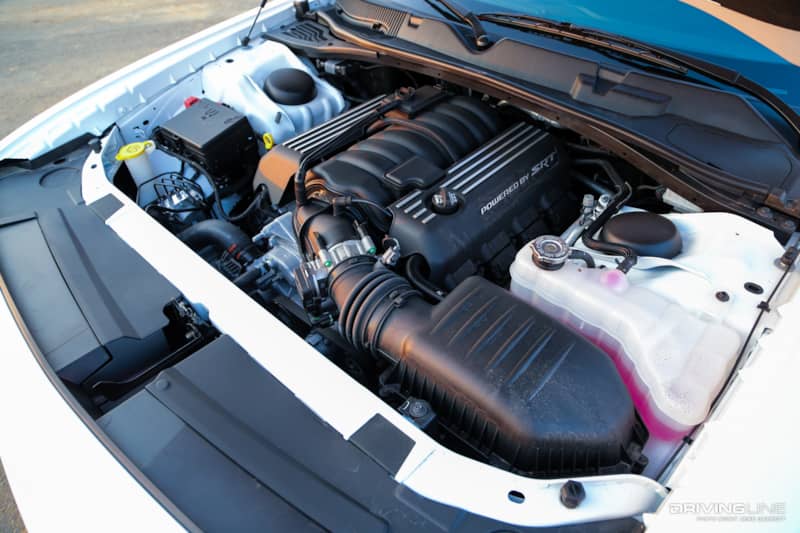 Breathing through a standard active exhaust system, the big V8 puts a massive smile on your face every time you fire it up. Better yet, my 16-month-old son let's out a hilarious giggle every time he hears it rumble to life. You gotta get them started early!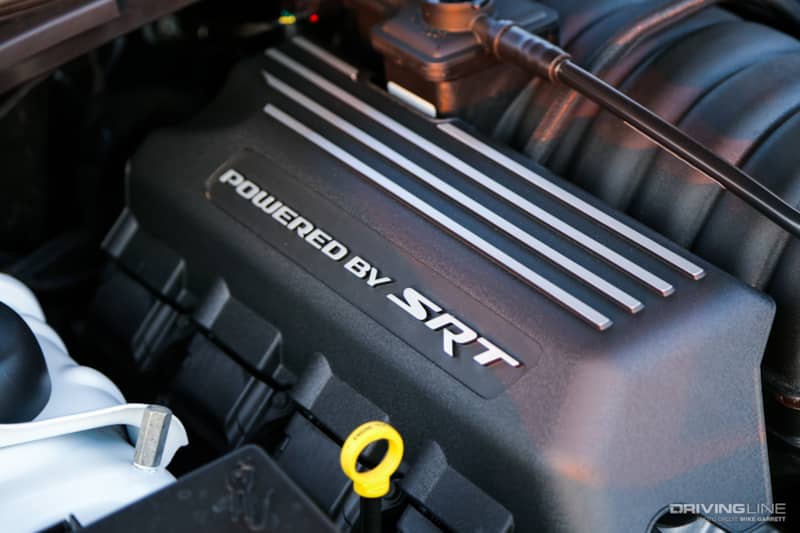 Then of course there's the Tremec TR6060 six-speed transmission, which adds a whole layer of fun on top of the things. Prior to getting the Challenger, I test drove a Charger 392 with the more common ZF eight-speed automatic, and while it's a fine gearbox, you just can't beat the satisfaction of rowing your own. Had Dodge offered the Charger with a manual, that would probably be the ultimate combo, but that doesn't appear to be cards.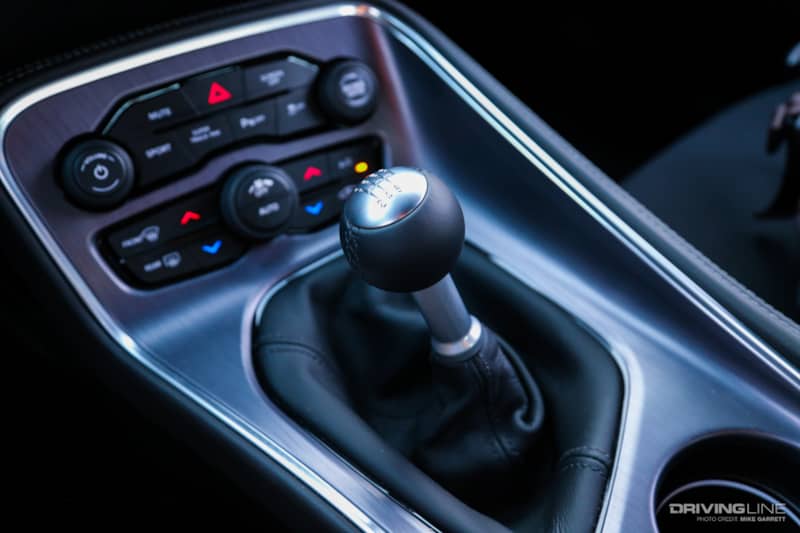 The Scat Pack also includes Bilstein dampers and four-piston Brembo brakes all around. They aren't quite as serious of the adaptive dampers and six-piston Brembos on the SRT models, but they certainly help the car handle and stop quite well for its size.
Fun Without Sacrifice
After a few weeks of ownership, the car has made good on its promise of smoking tires, banging gears and soaking up highway miles with ease—all with the comfort and space that's closer to a family sedan than a pony car. Even the trunk is big enough to swallow my son's stroller and whatever else we may need to bring along with us.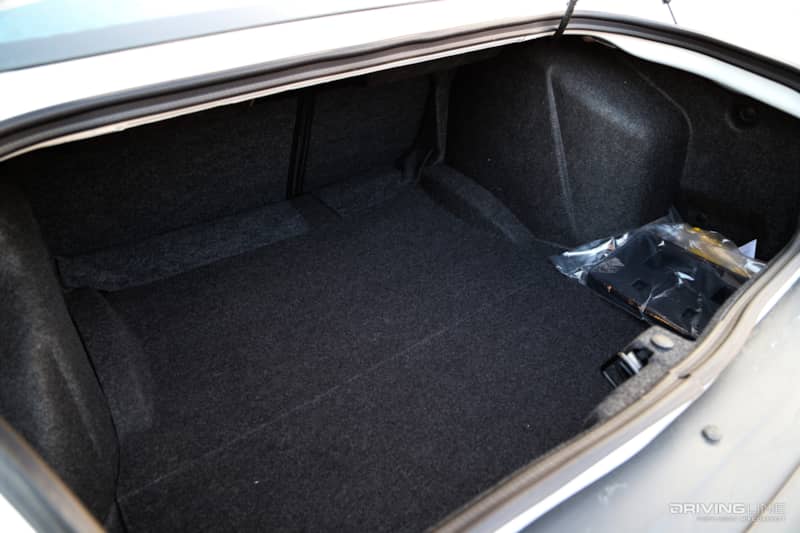 Unlike many brands, Dodge offers a pretty large choice of colors on the Challenger, but being a huge fan of Kowalski's white Challenger in the cult 1971 film Vanishing Point, "White Knuckle" was any easy choice here.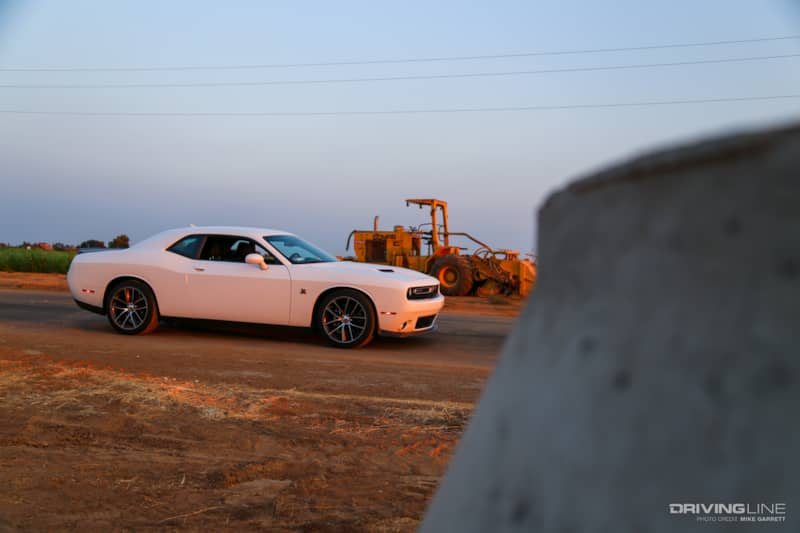 Having a child can often mean having to give up the kind of cars we love, but fortunately, there are plenty of choices out there that can be both fun and doable with the little ones. Sure, the two-door layout on the Challenger requires a little more effort from daddy, but otherwise the Dodge is quite practical for what is.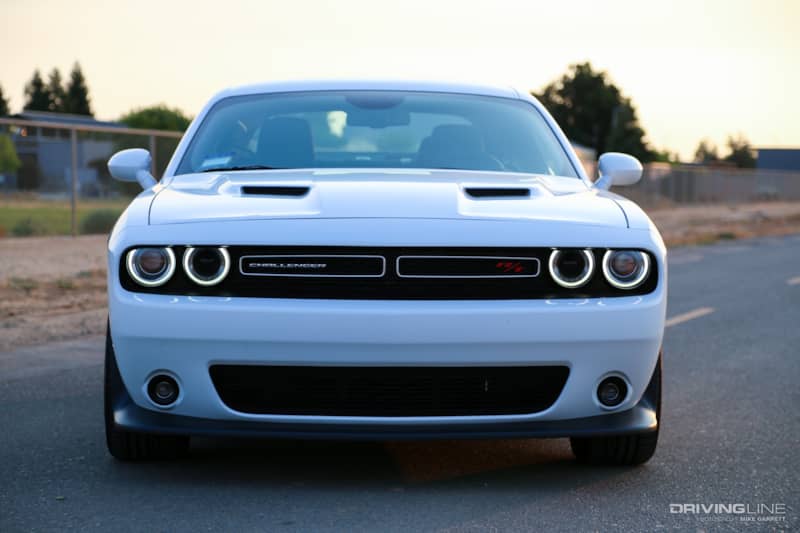 Complimentary Project Car
In my case, the Challenger is the perfect compliment to my 2017 Golf GTI that also delivers a fun, yet completely different kind of driving experience while still being friendly for family use. The plan for now is for dad to drive the Challenger and mom use the VW as her daily commuter. Because who needs one of those crossovers that everyone is buying these days?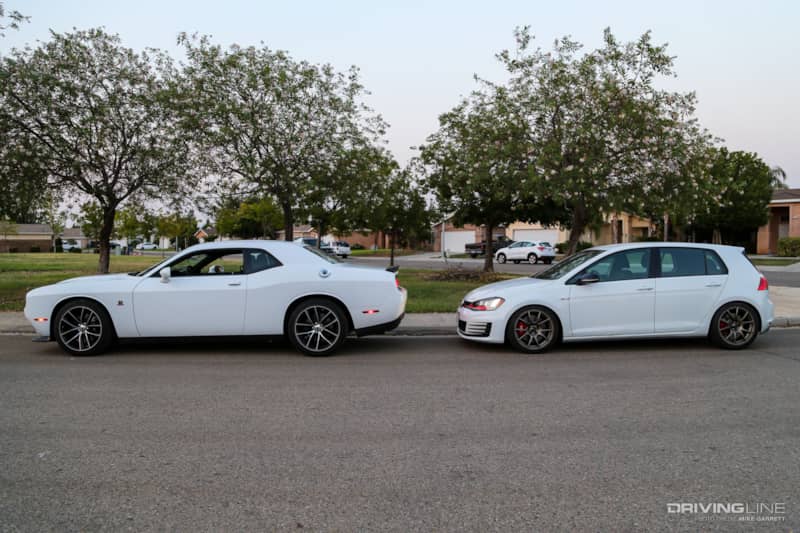 So what's next for the Challenger? While the R/T Scat Pack is great value off the showroom floor, there's always room for improvement in both the performance and aesthetics departments. It's certainly not lacking in terms of power, so the powertrain will likely stay mostly stock, or close to it.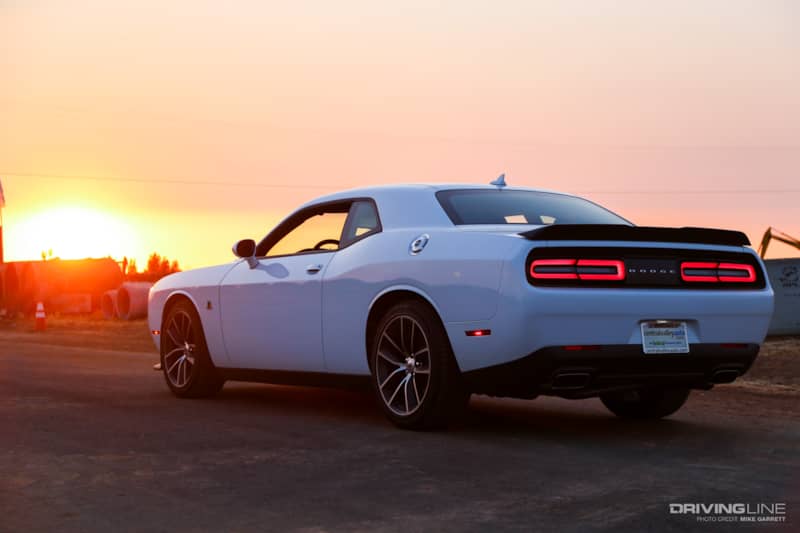 Wheels and tires, however, are one place where there's lots of room to upgrade. The factory-equipped 245 width all season tires are great for burnouts, but not necessarily for spirited driving, so wider, grippier rubber is going to be a must, along with some appropriate wheels.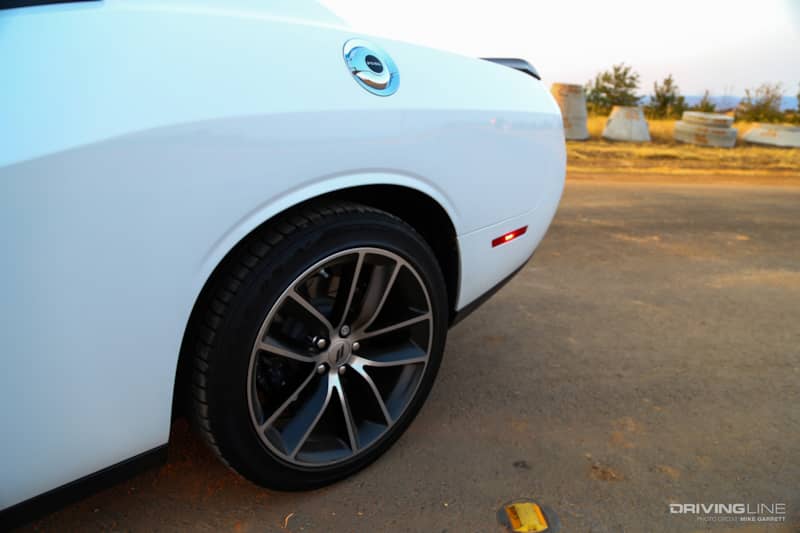 Having recently delved into autocross and track days in the GTI, I'm also interested in seeing how this thing does in those environments. Sure it probably won't ever have the elite handling of a 1LE Camaro or GT350 Mustang, but there's plenty of suspension and chassis work that can be done to improve its reflexes—and learning to hustle the big machine around the corners could prove to be an enjoyable challenge.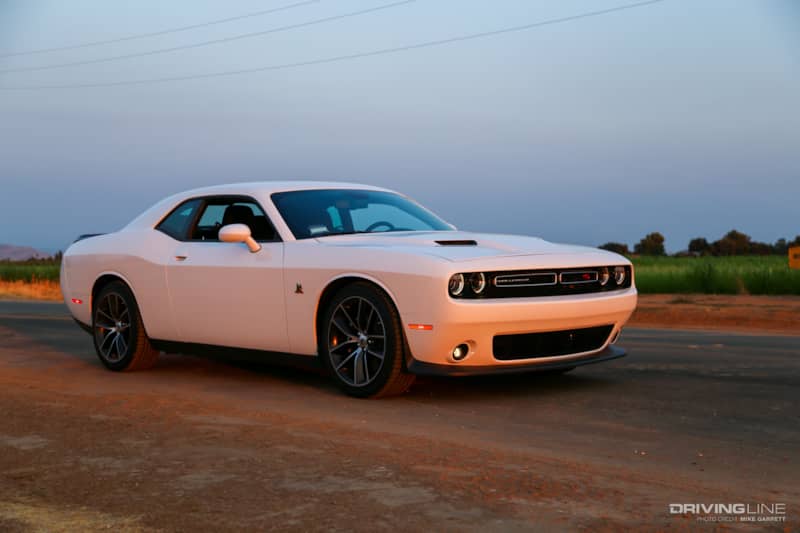 Most of all, after having seat time in both the Camaro and Mustang and then having lived with the Scat Pack for a few weeks now, I've realized that the Challenger may truly be the last traditional American muscle car, now that Camaro and Mustang have shifted more toward the sports car side of things.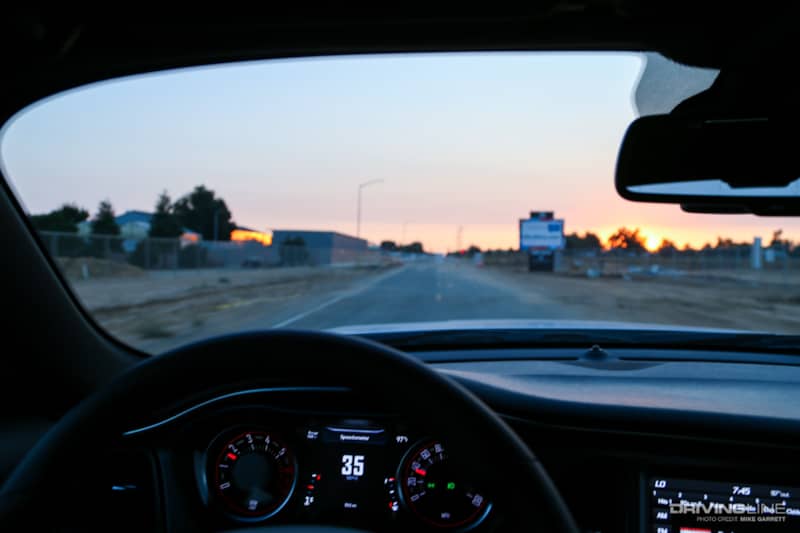 Sure, it may be a heavy, aging platform that lacks the sophistication of Ford and GM's latest performance machines, but the big Dodge makes up for it with a familiar, easy to live with interior, a fun-loving personality and a whole bunch muscle car soul. Now it's time for some Hemi-powered adventures!
Want to know if the Scat Pack or Redeye is better for you? We took both out onto the track!