Why 100 Years of The Greatest Spectacle in Racing Could Be at Its End
With the 100th running of the Indianapolis 500 happening, a recent conversation has added fuel to the flame already burning in my belly about the future of what was once "The Greatest Spectacle in Racing:"
Will there be a 101st Indy 500?
Over drinks last Friday night with Philippe de Lespinay, I was appalled by his recent experience with IndyCar management. It reinforces my own lament of watching IndyCar and/or CART series slide downhill over the past 20 years. Here's the experience that de Lespinay encountered leading up to this year's 100th Indianapolis 500, indicative of a much larger problem in IndyCar, and what I think needs to happen to return Indy to the world's greatest spectacle in racing.
Philippe de Lespinay may not be a household name for race fans, but his importance to motor racing, particulalrly IndyCar, should not be overlooked. Philippe was an artist/entrepreneur in the early '70s who hand-painted the famed Dan Gurney Eagles in addition to being a champion motorcycle racer in Europe. He went on to form a Vintage IndyCar group together with a handful of other owners/enthusiasts. Mr. de Lespinay has in his possession a 1972 Eagle IndyCar and the game-changing 1961 Cooper Climax.
The Cooper, driven by Sir Jack Brabham in 1961's Indy 500, was the very first rear-engined IndyCar.  It began what would be known as the "rear-engined revolution" at Indy. Jack Brabham, who at the time was the reigning Formula One World Champion, brought the modified F1 works-Cooper to the Speedway in hopes of adding a 500 victory to his already outstanding resume.
Sadly, the car did not win the race but qualified 17th and ran as high as third on race day—finishing ninth having completed all 200 laps. Beyond raising eye-brows, the car successfully sent many teams back to the drawing board to develop what would ultimately become the formula for success in the race. By 1967, as the last single roadster qualified for the 500 in 1966, all IndyCars were rear-engined and remain so today. Both Jack Brabham's decision to race Indy 500, as well as the innovative car he brought, are indicators of what made Indianapolis so great.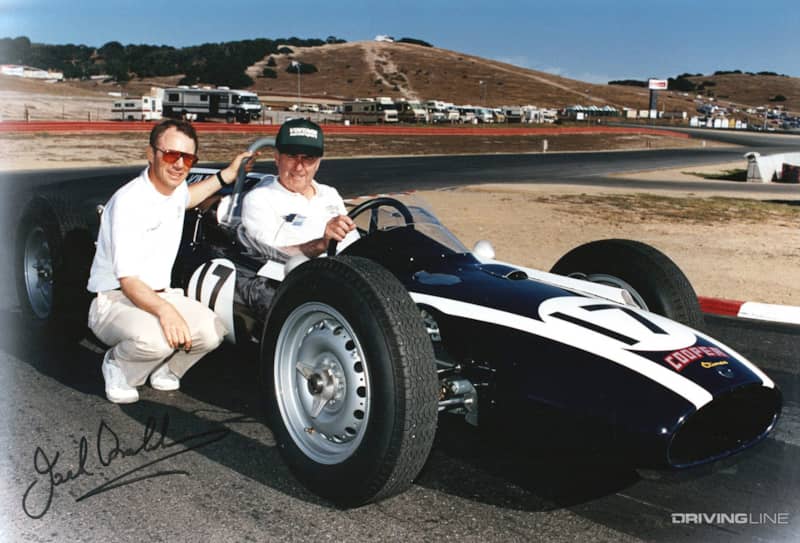 Photo courtesy of Philippe de Lespinay collection. Phillipe reunited Jack Brabham with the Cooper Climax at Mazda Raceway, Laguna Secca, 1991.
Having these cars, plus some other historic racers, invited to the 100th running of the Indianapolis 500 this year is a perfect way to pay homage to the events rich history. Invited by the Speedway, these cars will participate in parade laps during a sold out show of those who are there to "see and be seen" during this magnificent milestone, giving the Memorial Day classic a boost.
With the significance of the 100th anything, you would think organizers would provide an easy path for participation of the legendary cars for such an event. Not Indianapolis Motor Speedway (IMS). Nope. Not a chance. There are many reasons for this. Money being the most critical element—along with the Hullman-George family who hold the purse strings and the over-spending of one Tony George trying to bolster his side of an unnecessary war.
If this car were invited by Lord March to take part in the U.K.'s famous Goodwood "Festival of Speed," transport from all over the world as well as personal expenses are covered. Sure, many car owners can afford to pay their own way, but there is a certain sophistication to the event sponsors, that the car's attendance will benefit, picking up the bill.
In contrast, Phillipe, now age 73, will spend at least $10,000 out-of-pocket for the "honor" of bringing his cars to Indy 500 for the enjoyment of others and the reaffirming of the event's significance – this includes sponsorship dollars deducted, calling in favors from friends, and the ultimate kicker, paying the IMS an entry fee for the car to come after being invited by them! Just as with most mis-managed corporations, proof of a collapse can't help but begin to seep out in any number of unforeseen ways – for IndyCar, this is just one of those proofs.
If the empty stands during Indy 500 qualifying this year are any indication, it is clear that IndyCar racing is no longer the spectacle it once was. For 75 years, the Indy 500 packed crowds into IMS for the better part of May each year—culminating with what many considered the greatest race. 
There was once a reason for the packed stands throughout May:
The activities leading up to the race lasted an entire month.  
There was constant and interesting innovation.  
The racing itself was daredevil exciting.
There were no smartphones or Internet.
More than 50 hopefuls would show up to qualify for the 33 spots on the grid.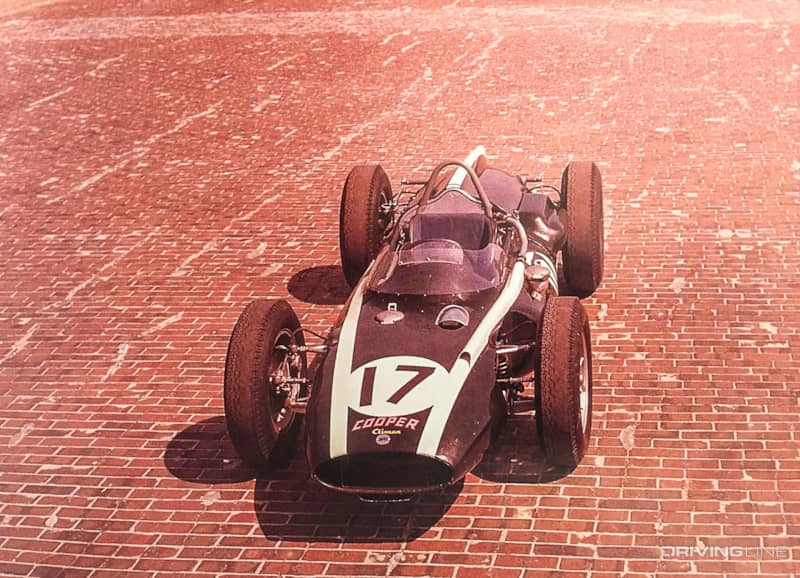 Photo courtesy of the John Cooper collection.
To stand outside of IMS is one of the most breathtaking sights you will ever see. The sheer size of this monument to man's passion for going ever faster is something TV can never duplicate. It is the great tradition, that, let's face it, has perpetuated for 100 races over 105 years. Still referred to as "The Greatest Spectacle in Racing," race day itself remains amongst the largest single sporting events in the world. 
An Indy 500 win was a stellar mark on any racer's resume. While still a great accomplishment, it no longer holds that same prestige. The cars are the same, spec chassis produced by one factory, Dallara. Your engine is either Honda or Chevrolet and your tire must be Firestone. The field is made up of boring rich-kids who probably couldn't get a job outside of running the family business into the ground or mowing their dad's grass at their stately mansions. It has become a dilettante's activity to "sow their oats" in their 20s and early 30s.
The Indy 500 needs genuine support—or while there may still be a 101st 500, there might not be many more to follow. I remember what May 1st used to mean to me every year, and I would like that feeling back.  The anticipation, the excitement...
While I am merely a critical, armchair leaner-in at an IndyCar paddock, I'd like to think that for those of us that love IndyCar's history there is a spirit within us wanting to jump in and repair things. If I were in charge, and clearly I am not, my formula to fix IndyCar would be the following:
 Build a spec "safety capsule" for the driver.
Limit the spec tire size, from any manufacturer, and the amount of fuel beginning on the Friday prior to the race (and of course mandate happy hour participation).
Barring passing a safety inspection – there are no more rules. Innovation rules!
These cars could be diesel, electric, regular combustion, hybrid. Bodies could be anything the best aerodynamicist can dream up.  From there… may the best driver and engineer win. Will the big money teams still clean up? Possibly. But there is always the chance that some egghead in a garage in Davenport has the next great idea and a hero's created.  It's happened before…
Enjoy the race this weekend—I encourage you to start a new tradition of your own!