Why Full-Size Trucks are Trending on the Trail
They say just about everything comes back in fashion sooner or later. It seems as though that time has come for full-size trucks as well. While full-size lifted trucks have never gone out of style, it's been some time since they were championed as trail worthy vehicles. Sure, you'd see the occasional full-size Chevy Blazer or Ford Bronco, but they were far from the norm.
These days, we are seeing more and more full-size pickups hitting the dirt. While new off-road oriented offerings from Ford (Tremor) and Ram (TRX) are aimed to entice buyers with a showroom-ready wheeler, both come with a substantial price tag. Unlike the world of midsized where it's not uncommon to see 30-day-plates on a Jeep Wrangler hitting the trail, most full-size trucks and SUVs we've come across have a little age to them. This makes sense when you consider the original cost of some of these full-size rigs is often double that of a midsized.
From Ford Raptors and Ram Power Wagons to Classic Blazers and converted tow rigs, the full-size landscape is as exciting as it is diverse. In this article, we're focusing on some of the main reasons why full-size is making a comeback on the trail. On our next installment, we'll take a look at some of the more stand-out full-size wheelers we've come across.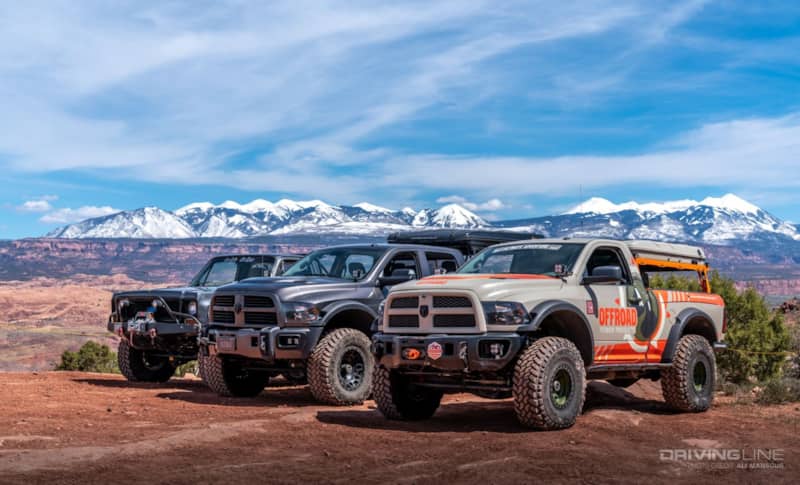 Cost
By a large margin, most full-size trail rigs we've come across are older, not fresh from the dealership. While second-hand vehicles can sometimes feel like a risky purchase, there are plenty of quality pre-owned trucks to be had. Sure, a diesel-powered Super Duty is still going to command serious money, but a used ½-ton or ¾-ton gasser truck can be had for sometimes half the cost of a new midsize pickup.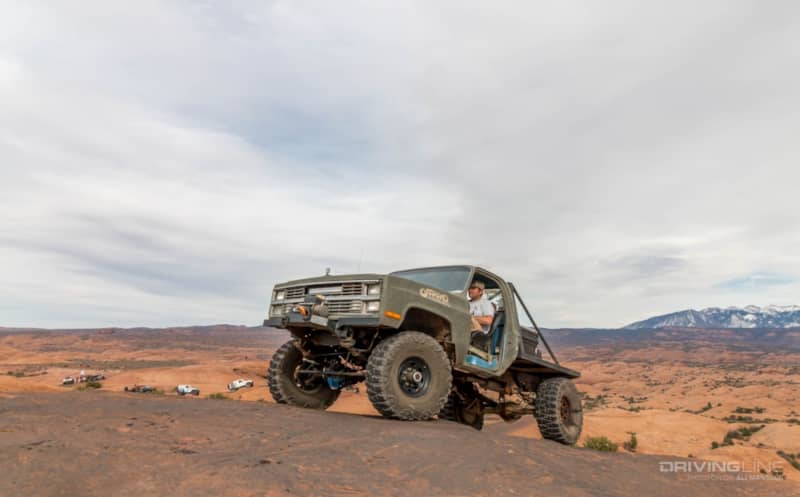 Timeless Style
There's something to be said for the styling of older trucks and SUVs. For those brave enough to wheel anything pre-1980, we salute you. With real stamped steel from front to back, there's no plastic to fade and plenty of room hiding behind the sheetmetal to allow for larger tires to fit with a little trimming. This allure of the look and feel of a classic 4x4 seems to be at an all-time high. While we love seeing old iron twisted up in the rocks, we dread the idea of hunting down replacement panels.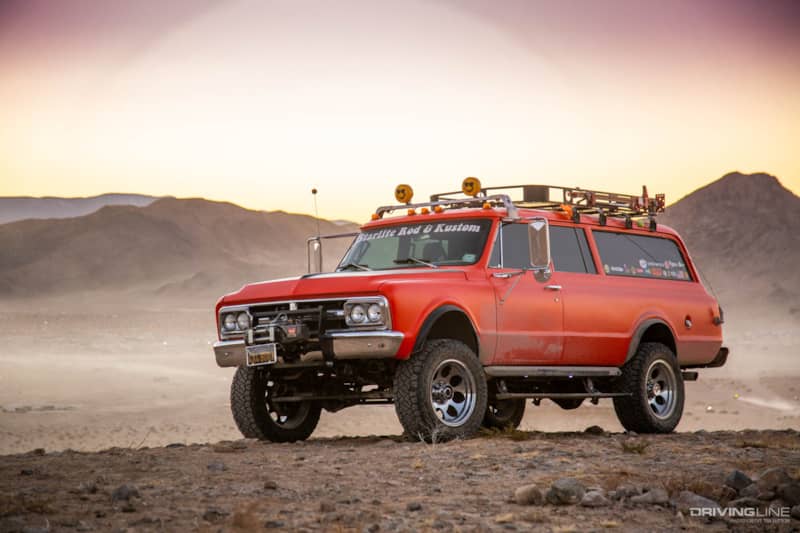 Fewer Nannies
Modern safety advances are fantastic for you and everyone else on the road. That being said, off-road, something as simple as a 10-dollar speed sensor can leave you stranded. The further you rollback the clock in the truck world, the less invasive the electronic nannies will be. This ultimately gives classic full-size trucks an edge up in in reliability. Of course, many full-size wheelers still have to tend with the challenge of an independent front suspension, which leaves plenty to be desired.
Massive Wheelwell Openings
We often joke that 37 is the new 35. With companies such as Nitto Tire now launching massive 42-inch-tall Trail Grapplers, we may soon see 40 become the new 37. The trouble with massive tires is that you need an equally massive wheelwell opening to fit the tires. This is where full-size trucks have a serious advantage. With many late model Super Duty and Ram trucks capable of running as much as a 37-inch-tall tire with minimal lift, it's much easier to muscle on a larger set of treads without installing an over-the-top lift kit. With companies such as AEV and Fab Fours offering cut-out fender systems, you can run 40-inch-tall tires and maintain a low center of gravity that's needed for the trail.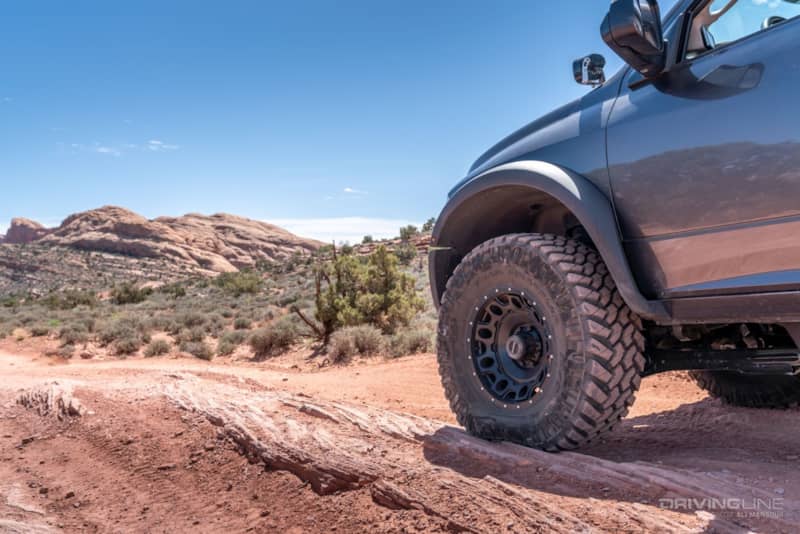 HD Parts Standard
If you look under a heavily modified Jeep Wrangler on the trail, chances are, at least a portion of it's drivetrain will look more akin to a full-size 1-ton than standard ¼-ton. Off-roaders know that in order to run large treads on the trail reliably, you need axles that can handle the load. While Jeeps can have tens of thousands of dollars in axle upgrades, these sought after full-float, 1-ton axles are standard equipment on many of the popular build platforms.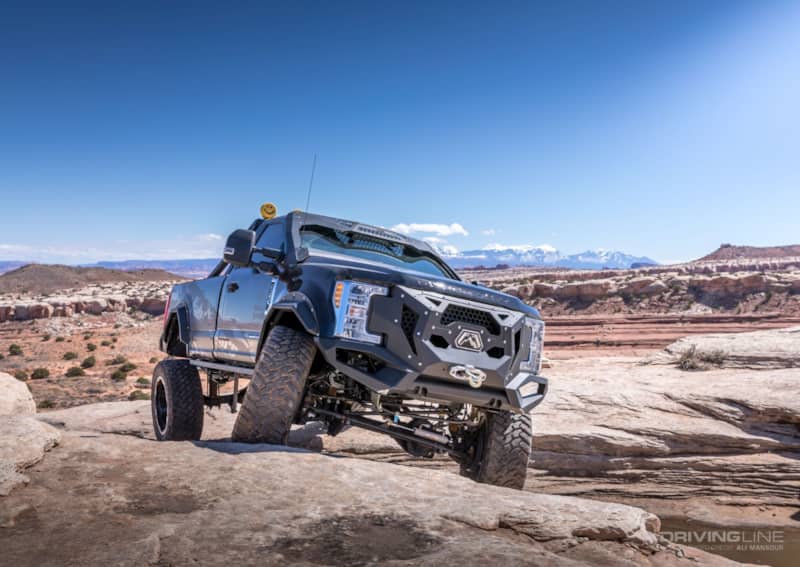 Room
With overlanding remaining as the fastest growing sector of the off-road hobby, it's no surprise that full-size trucks are taking place of the midsized competitors. This comes down to the simple fact that a bigger truck can carry more gear. With many overland trails easily traversed in lightly modified vehicles, the need for a more extreme off-road rig isn't there. Instead, we're seeing more lightly modified full-size platforms that allow for more space not only for trail necessities, but people as well.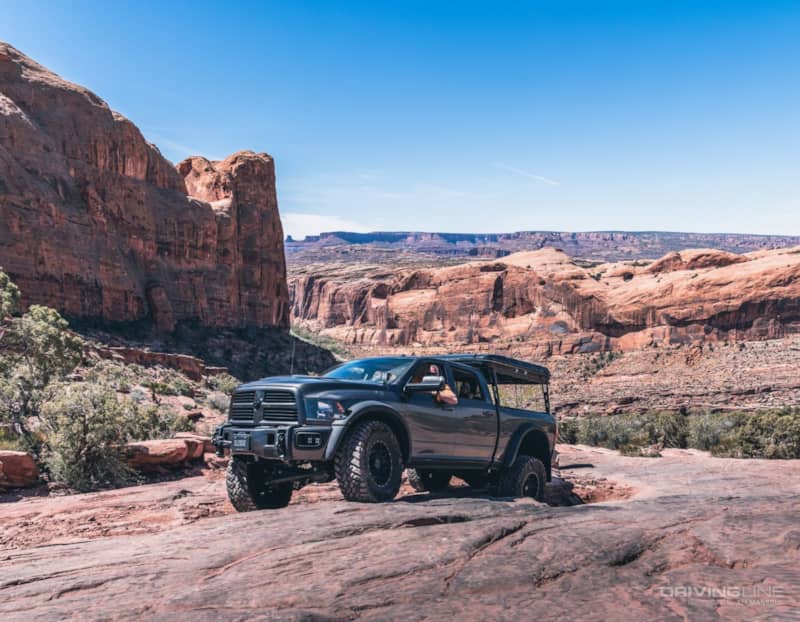 Big Power
From torque-rich diesels to a plethora of V-8s, if you're thirsting for more power, you will have plenty of options. While a diesel adds a significant upfront cost, it does allow many to use their full-size wheelers as daily driven rigs. Be aware that the diesel does have a significant weight penalty and cost of ownership can be much higher. At the end of the day, full-size rigs don't suffer from the same lag in power as most midsized offerings.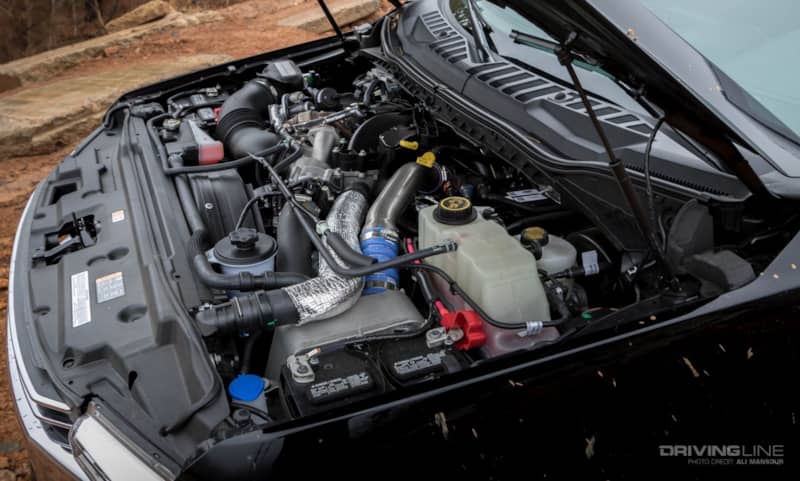 Sizeable Issues
The two biggest challenges for full-size wheeling are size and weight. Piloting an 8,000-pound-plus rig off-road takes some getting used to. It can also make off-road recovery incredibly challenging. Couple that with the fact that they are much wider than what most trails were generally made for and you may find the limits of your rig have less to do with driver skill and more to do with size. With that said, we've seen plenty of full-bodied 4x4s tackle some of the nation's toughest trails.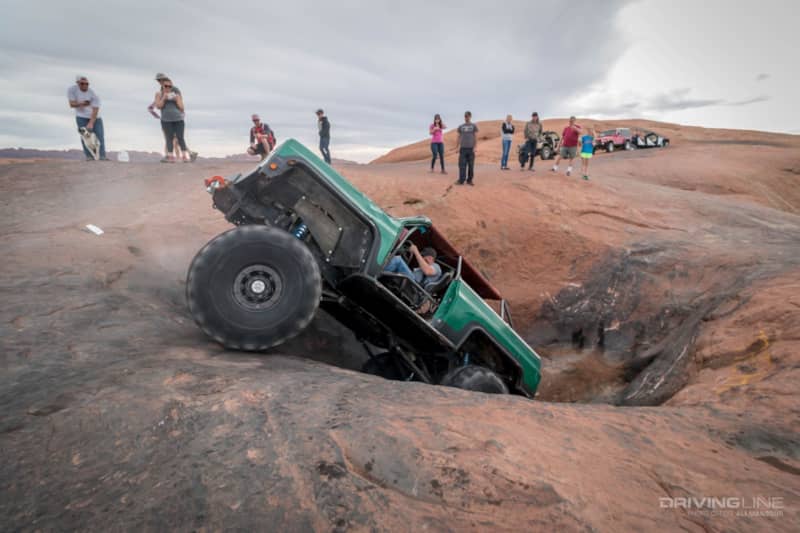 More From

Driving Line
Want to see form meets function with a full-size truck? Check out this Ram!