Why Off-Road Trailers Are All the Rage
Average camping trailers are ill prepared for the off-road adventuring types, but numerous creative builders heard the hobbyist's cries for comfort. Rugged custom-built trailers are becoming more readily available with the rising demand. 
Just as snow began to settle over Northern Michigan, I made a 1,500-mile round trip from my home in Traverse City to Dassel, Minnesota to pick up a brand new custom Escapade Camper. The return trip through Michigan's Upper Peninsula was the ultimate weeklong test run. The new trailer endured driving through sleet and snow, and even kept me from freezing while parked overnight on the frigid Lake Superior shoreline. Off-road campers are a cross between rooftop tents and RV living, bringing together the best of both worlds with several notable perks and few drawbacks. Here are the pros and cons of this trending overland expedition home on wheels.
Pros:
1. Endless Add-On Options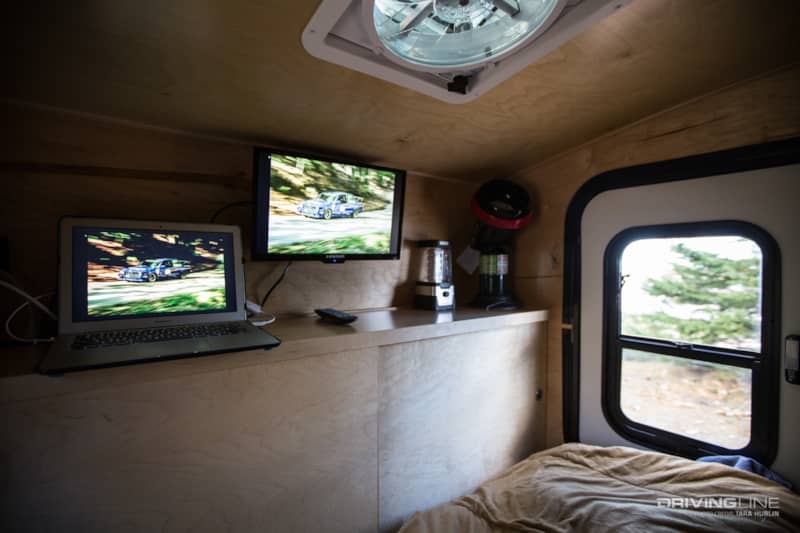 Trailers are easy to customize for an individual's needs. I immediately added solar power for lighting, charging phones and most importantly, powering a laptop because photo editing and writing can't always wait until I get home. Temperatures reached below freezing during my first trip, but a simple propane-powered Little Buddy Heater kept the space heated after running for just 20 minutes. Full A/C and heater units are available for more consistent thermoregulation.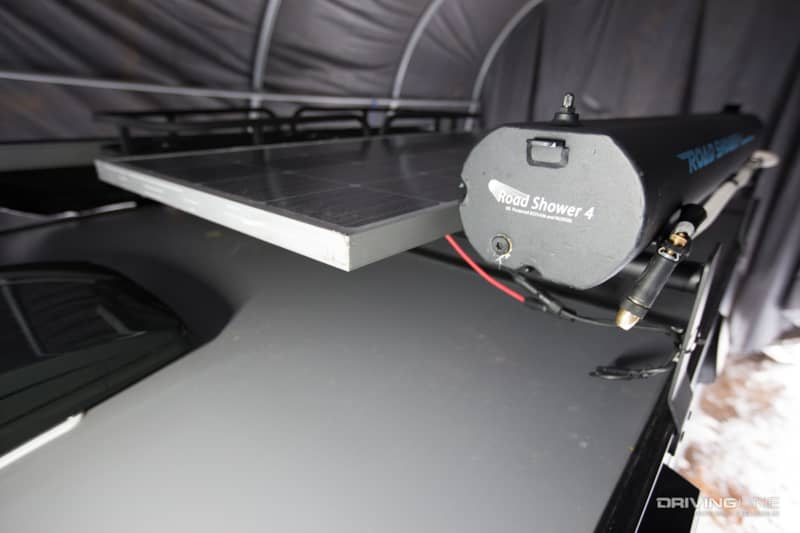 Specific trailer models offer onboard water tanks to carry water in large quantities, or in my case, a simple road shower did the trick. An awning provides a place to sit outside of the trailer protected from rain or intense full sun. A 270-degree wrap-around canopy gives even more space to accommodate a dedicated cooking area. It's a dangerous road to go down as a camper owner, but Google it anyway: the accessory list goes on.
2. Arrive, Set Up and Explore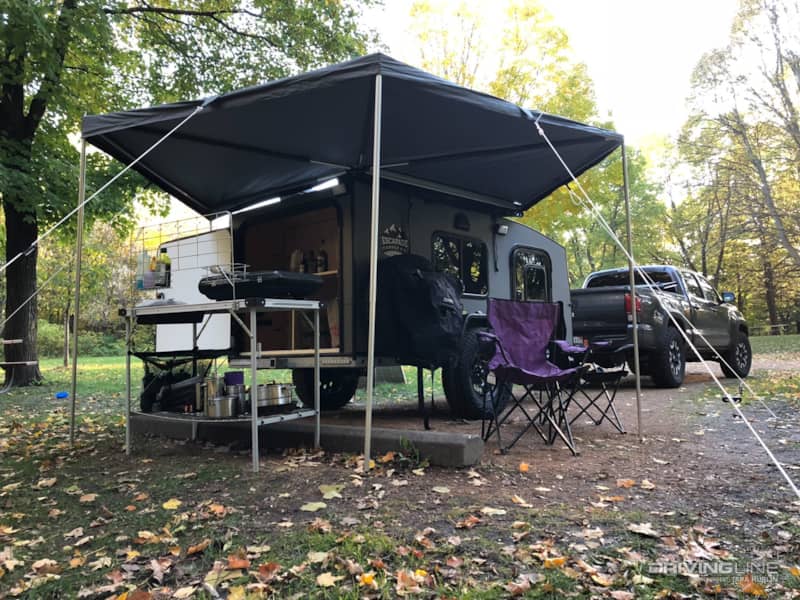 Once you raise a rooftop tent, it's not easy to go wheeling or run errands (imagine that)! The ability to set up camp, lock up and leave is valuable, especially when I'm covering automotive events. If theft is a concern, a heavy-duty coupler lock or wheel chock will ease your worries.
3. Travels Didn't Go as Planned? No Problem!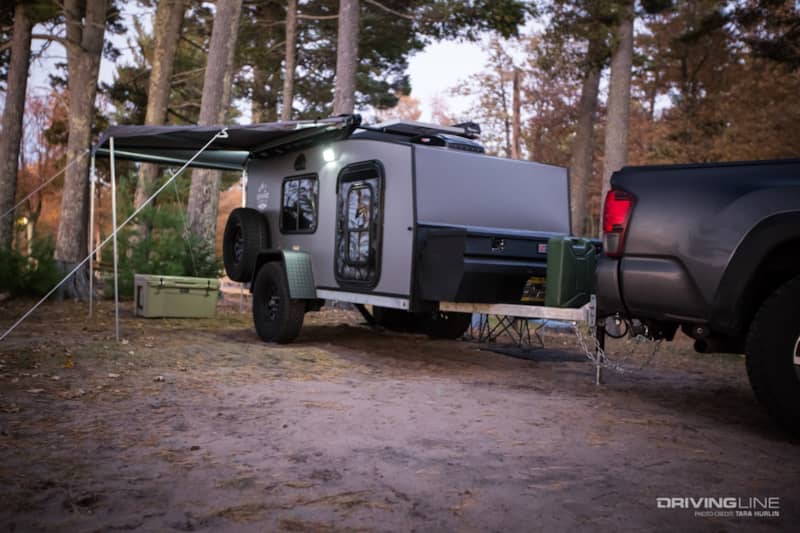 If you end up having to scout for a resting spot in the dark, at least there are no more struggles that entail blindly raising a tent with a flashlight in one hand. Having a camper trailer means that if you end up scouting for a resting spot in the dark, just park, open the doors and relax.
4. Weather Resistance
Waking up to the "drip, drip, drip" on your face from a weak spot in a tent's roof will no longer cause discomfort. Trailer walls provide a barrier that will hold in heat longer than a fabric tent. Sleeping in sticky, moist conditions caused by condensation will be a thing of the past, especially with a roof vent installed, which is an option offered by Escapade Campers that's worth the expense.
5. Three Words: Memory Foam Mattress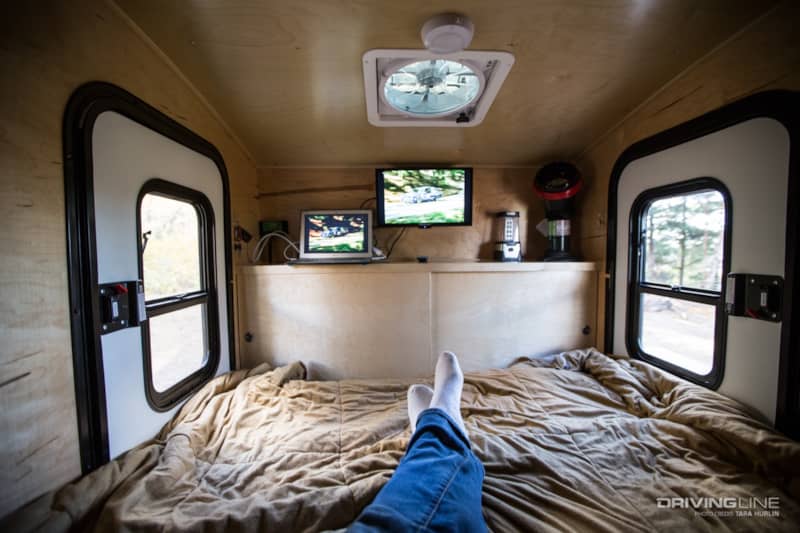 A foldable mattress is versatile in that it will provide a cushy sitting area during the day, then it can be laid back out for a comfortable sleep. Best of all, the entire mattress and mass of blankets and pillows don't have to be packed away before continuing down the road.
6. Impressive Storage Space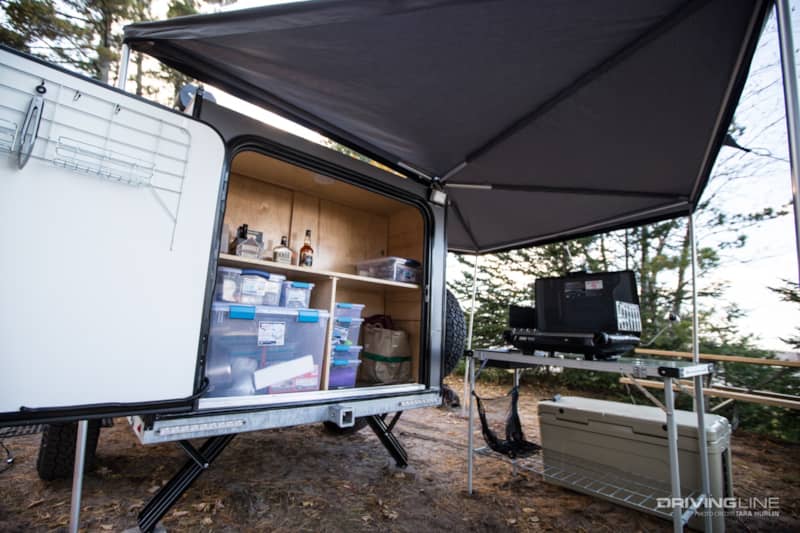 If you stack your storage tubs right, everything can easily be packed away and kept inside the trailer. I keep my entire kitchen in the rear of the trailer, including the sink. I store tools, extra survival supplies and dual batteries in a front-mount toolbox. Some camper models even come with an onboard electric fridge or a pullout drawer for cooler storage at a price.
7. Sleep Soundly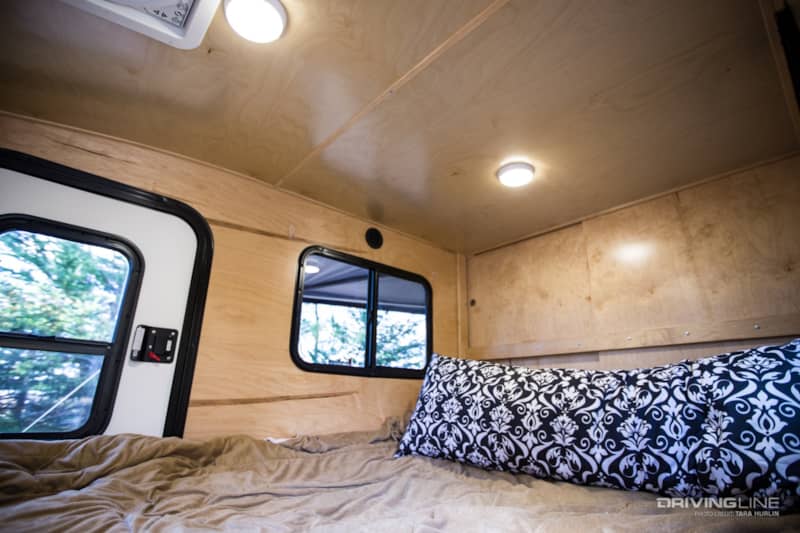 I don't know about you, but I feel a bit safer sleeping in a solid structure away from giant bugs and arachnids rather than presenting myself to predators as a human burrito in a convenient take-out bag (or on a covered serving platter).
8. Get Out There
Depending on the total length of your rig and trailer, maneuverability is still a perk in comparison to RV travel. Most serious off-road trailers are fitted with high-ground clearance axles and tall tires to conquer complex trails. An articulating trailer hitch will make tight, odd-angled turns easier to navigate.
9. Packing Up Is Easy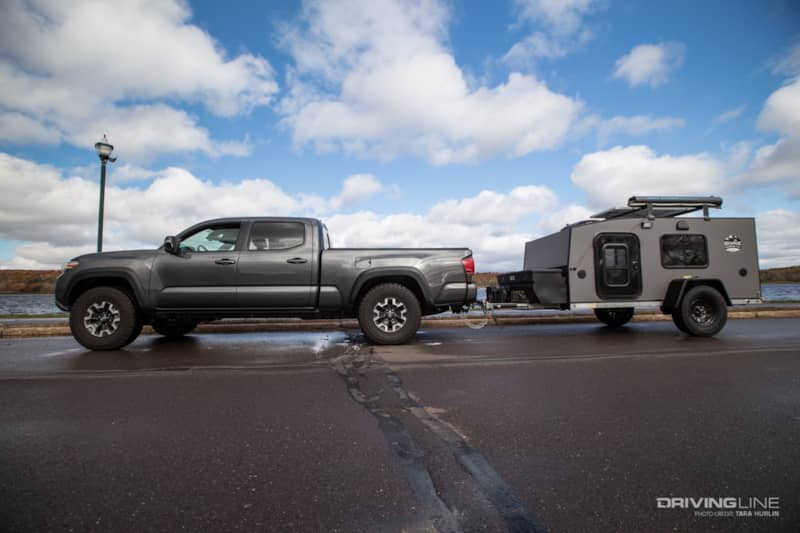 Leave the bedding, secure loose items, lock the doors and windows, hitch it up and go. If you have the sudden urge to get out of dodge, the trailer is already packed. Just gas up and you're on your way.
Cons: 
1. Maneuverability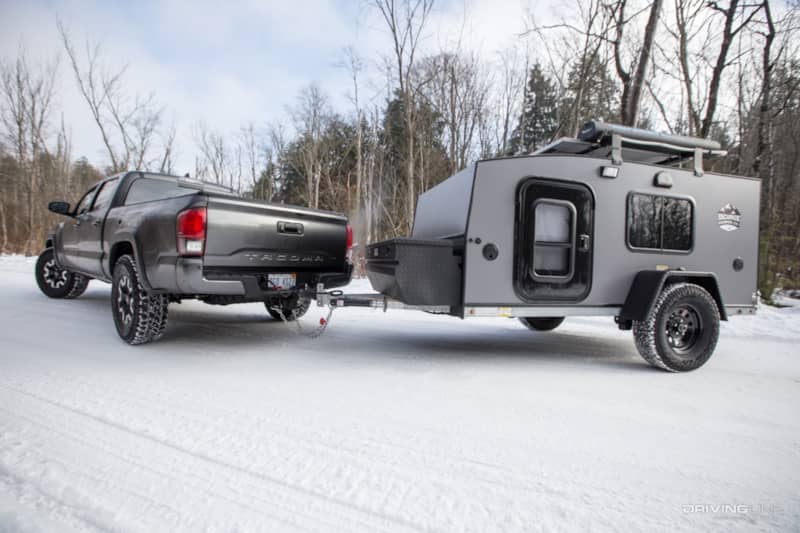 In comparison to a rooftop or ground tent, you'll need to plan a little farther ahead of the trail to accommodate the extra baggage. 
2. Are You Glamping Yet?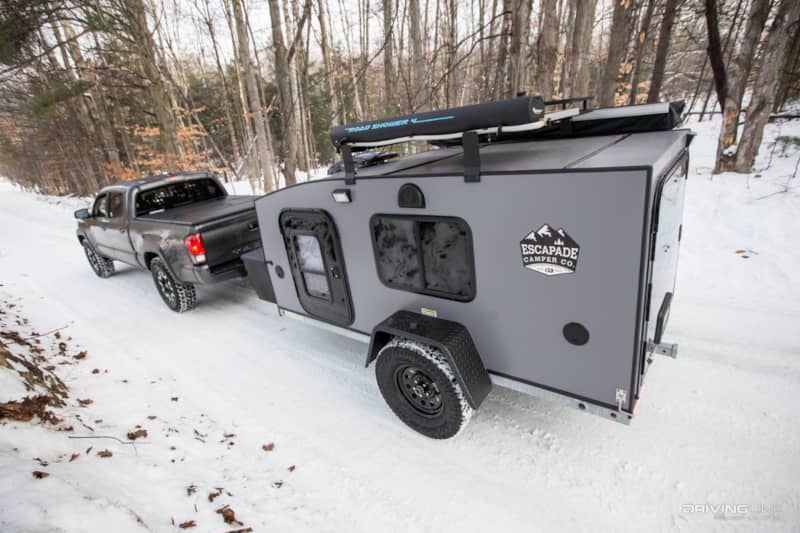 You will still have to go out into unfavorable weather to get into the living quarters from the driver's seat. But if that were a real concern, perhaps an RV would be a better fit for you.
3. Heavier Than a Tent
Weight is always a factor when exploring terrains less traveled. Although this camper is surprisingly light at under 1,000 lbs empty, or 1,300 lbs full if you pack light like me,  you'll still need a vehicle that can reliably tow a trailer.
4. It'll Take Up Space
I bought this oversized box on wheels, now where to store it? Those who have limited storage options at home may not have the space to keep a trailer.
5. How Big Is Your Budget?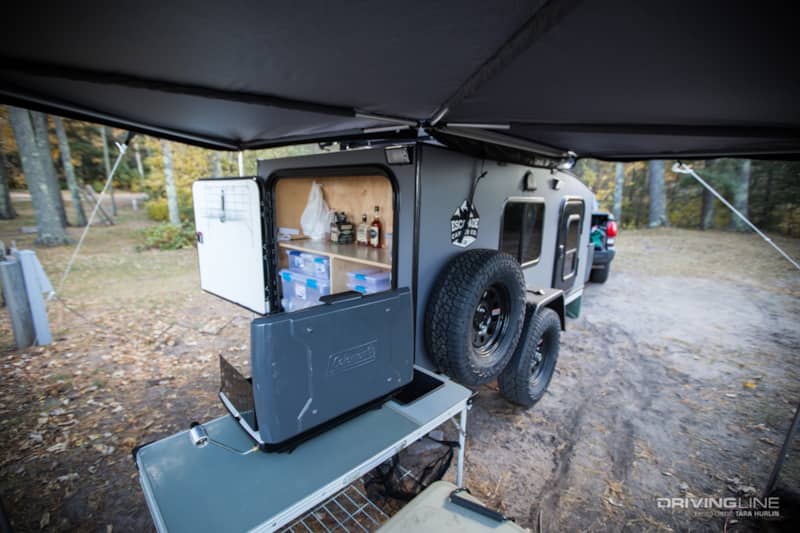 Off-road trailers are on the rise, and the prices show it. Cost varies on the supply and demand in your location and on the features offered, including how rugged you need it to be for the terrain you plan to tackle. Escapade campers start at $5,450 for a smaller 5'x8' trailer without add-ons and can increase to around $12,000 for a 10'x5' trailer with all of the add-ons. For the hardcore glamper, some setups such as the Lotus Caravans demand upwards of $50,000.
Are you more of a rooftop tent person? You need to see our review of PrinSu Design Studio's Toprac!