11 Things to Add to Your Overland Expedition Survival Checklist
There's more to life than being glued to bright screens on various appliances, such as the one you are looking at now. For Overland and Expedition enthusiasts, it's about breaking out of the box and into the great outdoors. Coincidentally, the word about Overlanding caught on over the internet, and more people have been breaking away from the digital highway and venturing down roads less traveled, and that is fine by us. There's a big and wondrous world out there to discover, but before you travel too far, make sure you have everything you need for a safe return.
Here are 11 things to remember when preparing for your next adventure.
1. Tire Care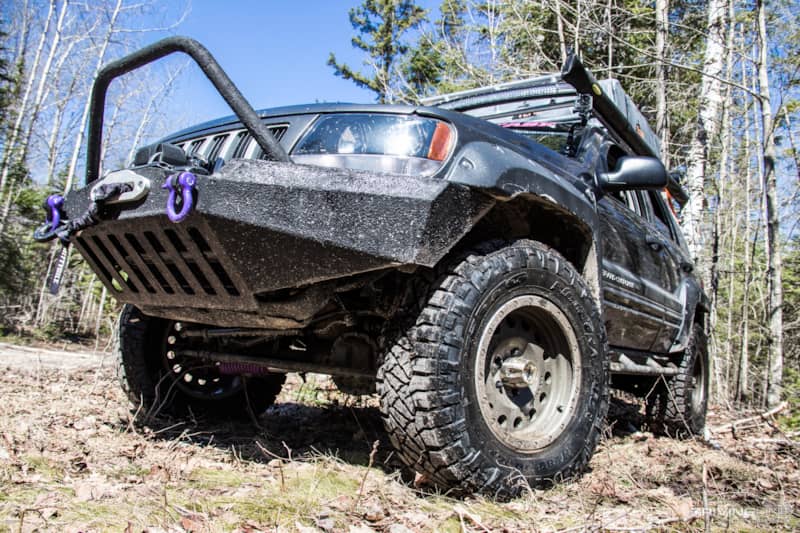 You've invested in the best all-terrain or mud-terrain tires that you could find (or hybrids like these Nitto Ridge Grapplers), but don't forget to carry a good tire kit. Your kit should include a tire gauge, preferably one that reads from 0-60 in 1-pound increments, a quick tire deflator, a plug kit, and if there isn't already one in your vehicle, a tire change kit.
Onboard air compressors are handy for maintaining proper tire pressure according to trail conditions, but they can also re-inflate a damaged tire as many times as needed while you head back towards the pavement. There are many options: Some compressors can be taken along in a bag, while others are installed permanently. The devices that connect to the vehicle battery are the only way to go; those designed to be plugged into a cigarette lighter outlet run painfully slow.
CO2 tanks and engine drive compressors are alternatives, or if you are debating installing a winch, you may want to consider the "Dual Force," a winch and compressor combination from Warn.
2. Vehicle Recovery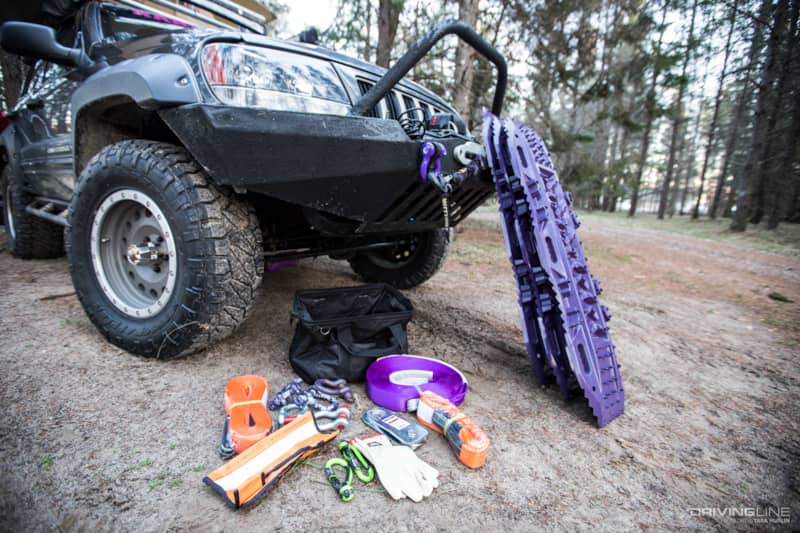 When you hit the trails, learning your vehicle's limits (and your own) is all part of the experience. Queue vehicle recovery preparation. Winches aren't absolutely necessary to explore the great outdoors, and if you travel with a group you may get away with simply installing tow points on your rig's front and rear.
However, if you plan on rolling through rough terrain that's rarely traveled, you owe it to yourself to install a winch. Once you have one, obstacles become fun and challenging rather than worrisome. Warn is known to make some of the best winches in the industry. Other manufacturers include Smittybilt, Mile Marker and Superwinch.
When purchasing a heavy-duty high-pull-rated winch, don't forget to check what is needed from your battery, and make sure that the winch's structure and mounting points will fit your rig. The winch you choose, along with any tow points or accessories, should have a pull line rating that is stronger than one-and-a-half times the gross weight of your vehicle, but if budget is an issue, the ratio stated can be used as a bare minimum.
In preparation for any recovery scenario, every winch owner should also invest in an accessory kit. Kits should include a recovery strap, tree saver, snatch block, heavy-duty work gloves and at least two D-rings, but backups are recommended. Other useful additions include recovery chain, extra shackles and a nice bag to throw it all into. The medium-duty winching accessory kit from Warn is a good start if you don't want to purchase everything separately.
Other recovery items for consideration include a Max multipurpose tool, or if you have space, purchase a shovel, ax and pick separately. For woodland exploration, a machete and a small chainsaw can get you out of a tight spot. A high-lift jack is more versatile and stronger than the weak-jointed jack that came with your vehicle.
Maxtrax ramps, when firmly wedged under your tire in even the deepest mud, allow you to effortlessly grip through obstacles without needing to hook up the winch. If you have enough of them (at least four per rig is recommended), bridges can be built over wheel-eating trenches.
3. In the Toolbox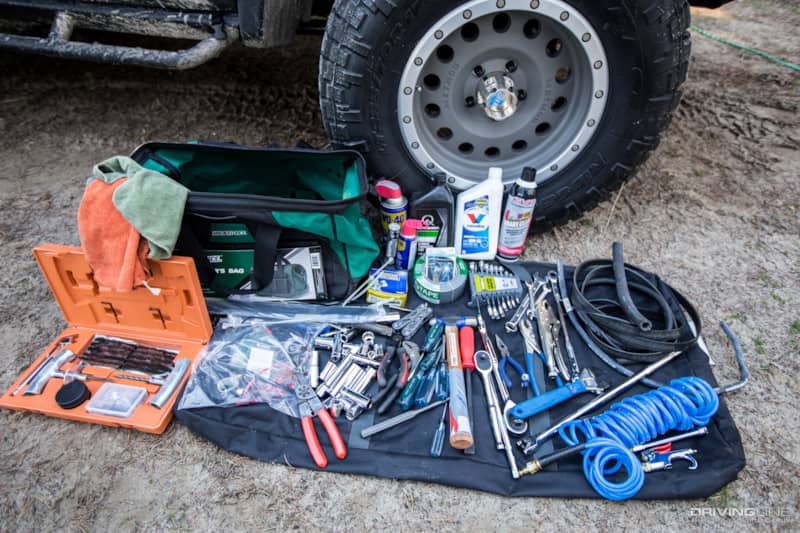 In addition to the usual wrenches, pliers, vise grips and drivers, a Leatherman multi-tool is a perfect all-in-one solution. A Multi-function Swiss Army style tool and various knives, such as a survival knife, will prove useful, as well as a knife sharpener. JB Weld epoxy or QuickSteel is also a necessity: It's strong enough to patch a large hole in a cast-iron differential to get you home, or at least to the nearest shop.
A bottle of block sealer, a tube of ShoeGoop, and containers of Super Glue can also extend the life of your equipment. Don't forget to pack backup engine and gear oils, and of course, a can of WD-40. Numerous sizes and strengths of rope, wire and tape are also a good idea, as are rubber bands, clothes pins and zip ties (the black ones).
4. First Aid Preparation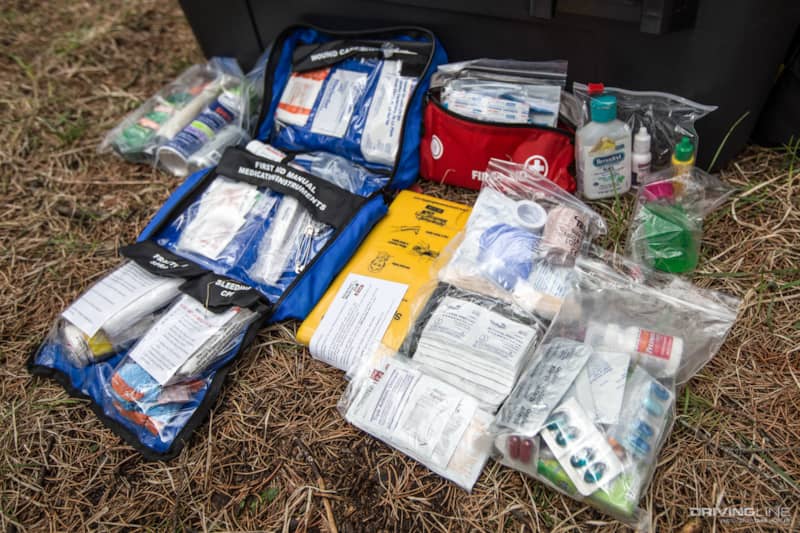 At a minimum, expect to get some bumps, bruises, and bug bites, but cuts and sprains are possible too. While out in the wilderness, safety is a priority, and you can never have too many medical supplies.
A generic first-aid kit should be considered as the bare minimum, but if you plan on camping for a weekend or more, a full medical kit along with a blood stop kit and snake bite kit is the best solution. There is an immense amount of items to suggest — too many to put into paragraph form — so below is an item list to get you started, plus excellent medical and trauma kit videos by Expedition Overland:
Assorted gauze bandages/pads, surgical tape, ace wrap and moleskin (for blisters)
Alcohol pads, anti-bacterial or antiseptic wipes/liquids/creams
Washcloths and bandanas
Vinyl gloves and waterless hand sanitizer
Sunblock
Benadryl, anti-itch and burn cream
Gold-bond powder
Ice pack
Tweezers, safety pins and scissory
Eye wash with eye dropper
Ibuprofen, Acetaminophen and Aspirin
5. Survival of the Fittest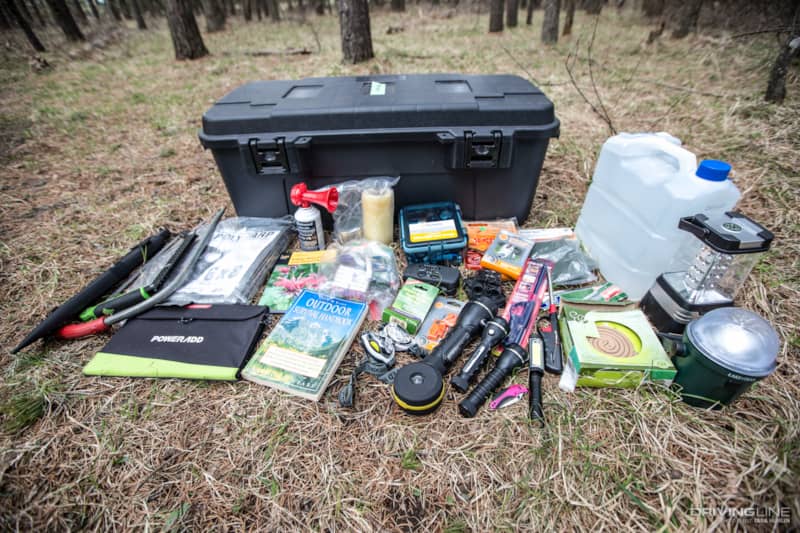 As I'm sure you have discovered by reading through the items mentioned, choosing the correct survival gear and preparing for the unknown can be overwhelming. There's always a nagging worry of forgetting that one thing you may need. Well, keep that list of ideas flowing, because we aren't done yet.
More items for your consideration:
GPS, backup compass, trail/road maps and binoculars
Pocket survival guide and edible plants guide
Portable solar panel/generator and power inverter
High lumen flashlight, crank flashlight (no batteries needed) and headlamp
Extra blankets (mylar and polar fleece are easy to pack), waterproof tarps and bungee cords
Wet fire starter, cotton as fire tinder and magnifying glass, because fire starting is very important
Personal protection (because hungry things may lurk in the woods) and red spray paint (to mark your path in unfamiliar territory)
Rain poncho, extra socks and underwear (kept in zip lock bags to ensure dryness), spare shoes/boots and extra laces
Important phone numbers written down on paper, passport and copies of other important personal information
Extra cash, coins and gold
6. Emergencies Happen
Every vehicle, whether off-road or not, should contain an all-in-one car emergency kit that has a seat belt cutter, car battery jumper cables, glass breaker tip, emergency road flares, an emergency whistle or air horn, a flashlight, reflective triangles, a tire pressure gauge and an oil funnel. Other items for consideration are signal flares, lighters and matches, a signaling mirror, glow sticks, a spare gas can, two-way radios (enough for the whole group), a waterproof weather radio and of course, plenty of extra batteries kept in a waterproof case.
A portable battery jumper will set your mind at ease, and some will even charge your other electronics, just be wary of draining all of the juice. Finally, it's always smart to install an easily accessible fire extinguisher in an off-road rig. A rechargeable ABC-rated 3-pound extinguisher with a gauge and a metal nose is a good choice. Be forewarned that the plastic noses tend to break.
7. Hydration and Sustenance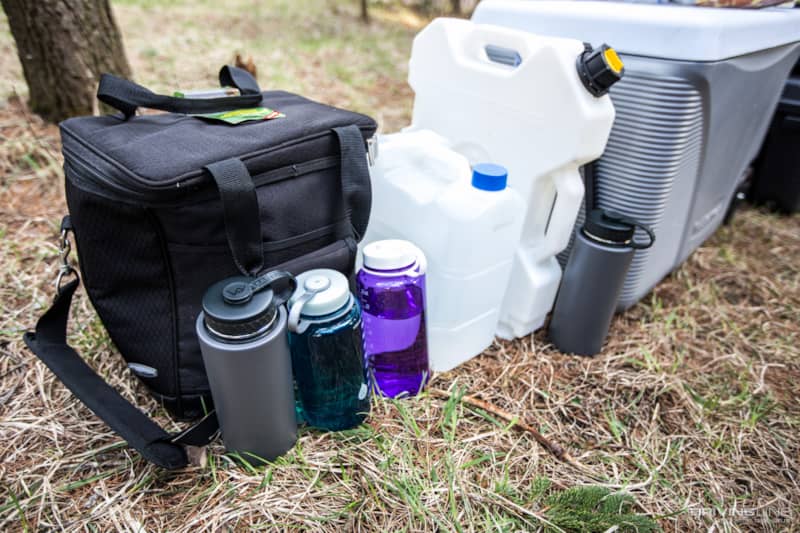 Food and water are what keep the body going strong, and you'll need energy for all that exploration. Even on short off-road trips, you'll want to pack food and water, but where do you store it all?
Coolers are great for cold goods and non-perishables. If space allows, a larger cooler for cold items and a smaller one for dry non-perishables keeps tempting smells out of range from critters. Grizzly, Yeti and Orca are all built to last and keep your perishables (and choice beverages) colder, longer; but for the lighter dry storage items, I saved my dollars and chose a normal, mid-grade cooler from the hardware store. Another even smaller cooler to keep some hydration and munchables up front and within reach is also handy.
Bring enough extra food and water to last a minimum of two days beyond the calculated length of your trip, and include packable MREs (Meals Ready to Eat) in case you have to leave your vehicle behind. When selecting food, chose healthy options that will not perish quickly. Raw fruits and veggies need to be eaten first. Consider various dehydrated fruits, veggies and jerky. Rice, canned beans and hearty soups are a nice filler and a good source of protein.
A convenient way to carry spare water (and gas) on your rig is by mounting Rotopax to your roof rack or spare tire carrier. Jerry cans and Dromedary bags can also be used. There should be a gallon of potable water per occupant, per day, depending on the environment.
Some items to consider:
SOS Ration Bars
Millennium Energy Bars
Mountain House ProPaks
Sugar packets
Homemade grab-bags containing non-perishable items
Water purifier tablets
Water sachets or pouches
Water filter bottle
Water filtration unit or water purifying tablets.
Vitamins
8. Get in the Kitchen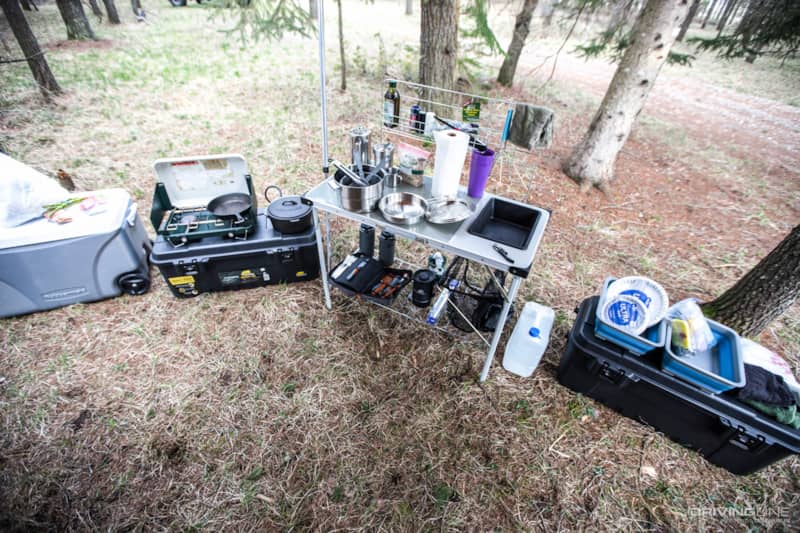 Since we started talking about food and water, we may as well throw some "kitchen" ideas out there. A small, portable camp stove and fuel is a solid place to start. Cast iron pans or a Dutch oven will add a lot of weight but are extremely nice to have. There are also several stainless steel camping pan sets out there, and even a full foldable kitchen table with sink. With a setup like that, you won't just be surviving; you'll be thriving!
Here's more to add to that giant list of yours:
Jet boil for coffee, tea and soups
Small grill or fire pit grate
Cooking/eating utensils, knife set, cutting board, collapsible cups and plates (paper or washable)
Tea bags or ground coffee and a press
Salt, pepper and basic spices
Collapsible tubs for dish washing, eco-friendly soap, cleaners and scrubbers
Thick garbage bags, recycled shopping bags and Trash-a-roo (beware of hungry animals)
Zip lock bags and aluminum foil
Towel or chamois cloth
9. Stay Connected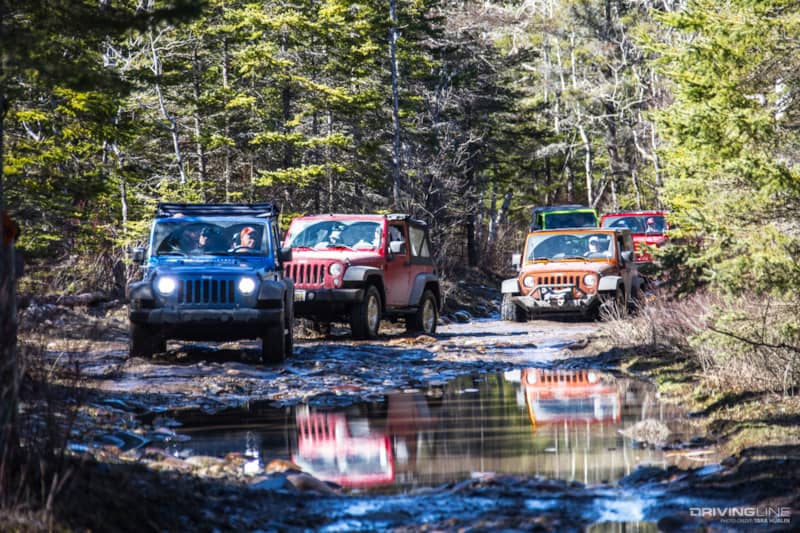 Even if you are overlanding to disconnect from day-to-day life, the further you go, the more important the ability to communicate becomes. It is always recommended to have at least two vehicles available during your journey for recovery, rescue and evacuation purposes. If you insist on going it alone, a land anchor is a good idea to go along with your winch.
For staying in touch on the trails, CB radios are popular. There are many brands and models available, but we went with the Cobra brand. Purchasing a HAM radio (and considering getting licensed to be a HAM radio operator) would give you more access to radio frequencies, which extends your options of communication and will get your farther in an emergency. It's quite easy and inexpensive to obtain a license, and it could save a life.
If you spend a lot of time in the backcountry, a Personal Locator Beacon and Satellite Messenger device, such as the DeLorme in Reach, will keep you connected to a 24-hour search and rescue monitoring service, and it will allow you to send and receive text messages with GPS coordinates from anywhere in the world.
If you have a HAM radio or a PLB, you should never have to leave your vehicle if stranded. A fully loaded off-road rig is much easier to see from the air than a person walking through the wilderness. Lastly but most importantly, before heading out, always tell friends and family where you will be and when you will return, and leave them with contact information for Search And Rescue (SAR).
10. Knowledge Is Power
Overlanding is often done in hostile environments and each Overlander must be completely knowledgeable of safety and emergency procedures. Enrolling in at least one off-road training course offered by a certified trainer from the International 4WD Trainer's Association is recommended. Courses include important topics such as safe off-road driving and recovery techniques, trail etiquette and environmental awareness.
A 72-hour Wilderness First Responder course will teach you how to tend to dislocations, severe cuts, fractures and anaphylactic shock. Find a course near you by visiting the Wilderness Medical Associates International web page. 
11. Are We There Yet?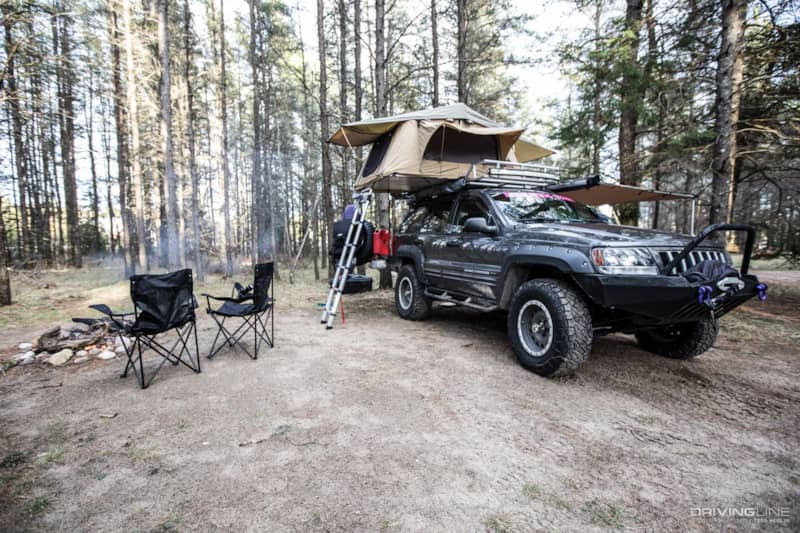 As if all of this isn't overwhelming enough, I did fail to mention: In order to be an explorer, you must also be an expert at Tetris.
Granted, this checklist wasn't for the faint of heart. For those who are just getting their feet wet and are camping locally for a weekend, the bare minimum to take with you is water, food, dry clothing, shelter and first aid, along with some basic items like rain gear, fire starter, cooking utensils, lighting and a few select tools depending on your plans. If you made it all the way through this article you've taken a huge step in preparing yourself to connect with your machine and the universe. What are you waiting for? Pack your gear and get out there!
We can't stress enough how important it is to stay safe when exploring the road less traveled. Learn more about preparing for off-road emergencies.