Why the Ford E Series Van is the Ultimate Overlanding Build Platform
When it comes to a versatile platform, one could argue that the Ford E Series van is king of them all. Coming onto the scene in the 1960s, the Ford Econoline chassis has been used for everything from C Class RV's and Ambulances to basic delivery vans and overlanding explorers. With multiple gas and diesel engine options, along with millions produced over the years, it's no surprise that the E Series continues to thrive on the roadway today. Even though you can still purchase a brand-new E-Series van from Ford today, it's only offered as a cutaway (forward cab and stripped chassis only).
The good news is that the more conventional and popular fourth generation models (1992 to 2014) are plentiful. Even better is that many of these can be picked up on the cheap. In the past, we've shown you some of the most extreme off-road versions of the E-Series (hello, Alpha Van). Here, we're breaking down just why the 4th Gen E Series is a staple in the wildly popular world of off-road vehicle camping (aka overlanding).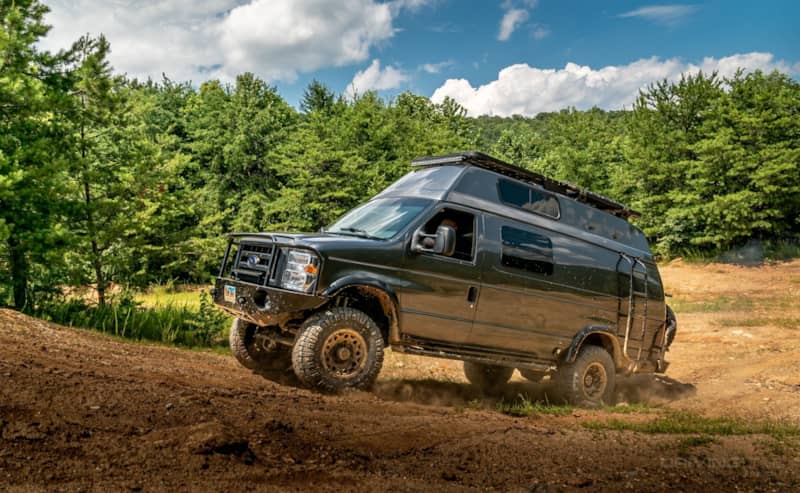 Room for Days
Motorhomes are extremely expensive, costly to maintain, and take up a lot of room. An E Series, on the other hand, is fairly compact and relatively simple to service. With custom interior kits available, along with companies such as Sportsmobile who specialize in interior upfitting, you can have as simple or as refined of an interior as your budget, needs, and/or skillset will allow. Given these vans don't necessarily standout as much as traditional RV, you can often get away with setting up base camp in more places.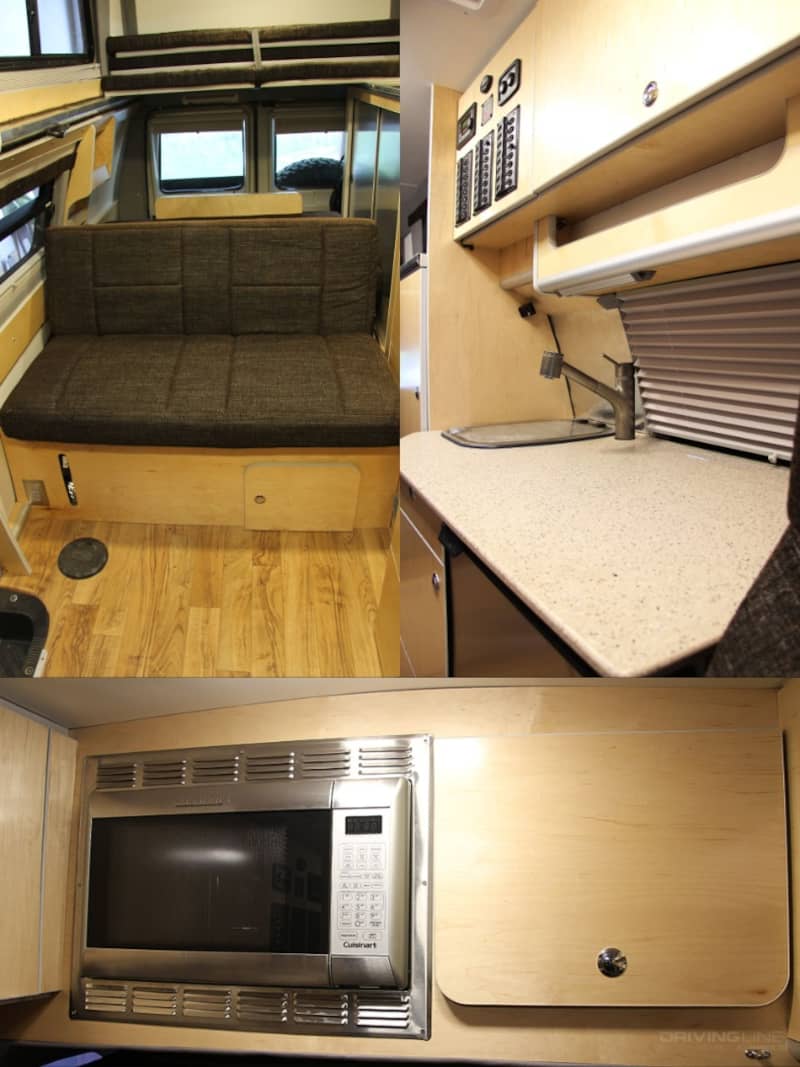 Mass Produced
With millions of these things produced, you're not chasing after some rare collector car that's going to cost you a small fortune. The other advantage of mass production is that there are plenty of parts and pieces floating around. So, repairing and replacing parts won't be overly expensive. Just like the Ford F Series truck line, you'll find various trim and duty levels of the van. The ½-ton E-150 is the most common, followed by the ¾-ton E-250 and 1-ton E-350. The E-350 could be optioned with an extended length, so if you are looking for a longer van, this is your best choice.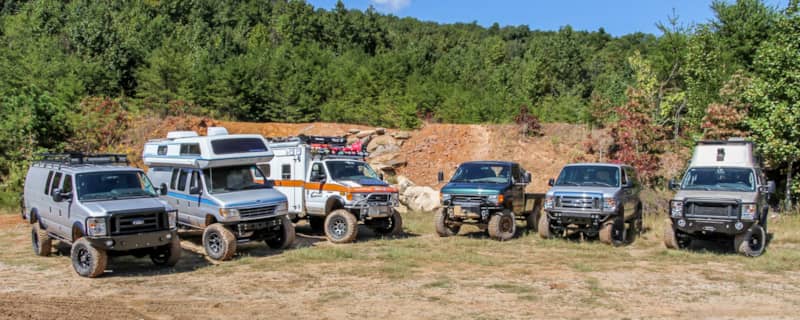 Engine Options
The fourth generation E Series had quite a few engine options over the years. One of the most common is the 5.4L V8. These have a good record for reliability. If you want a little bit more rumble under the hood, we recommend finding a model with the 6.8L V10 model. These will be a little more fuel consuming but will handle any added weight (i.e. interior upgrades, 4x4 conversions, bumpers, and so on) much better than any of the other gasser options. If you are looking for a diesel, you can find a 7.3L and 6.0L from 1992 to 2010.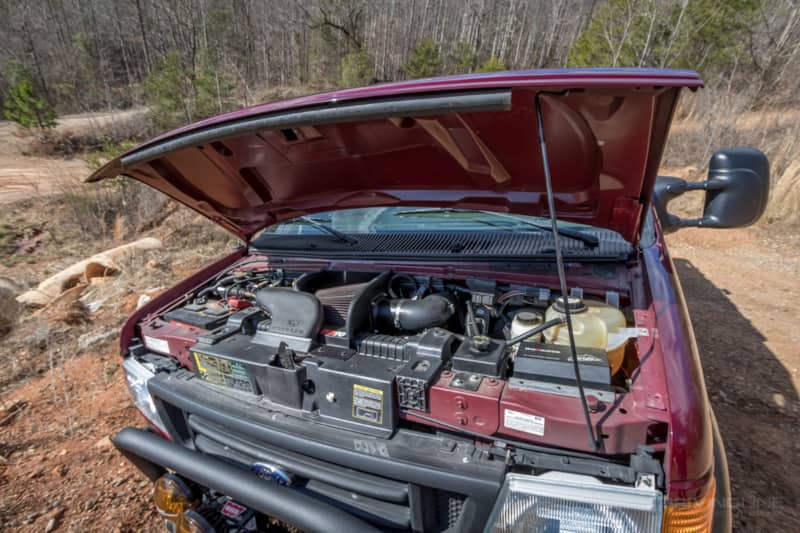 Expandable
There are few vehicles on the road that are designed for you to stand up inside. If you're going to spend time living out of your van, this is something to consider. Thanks to aftermarket companies such as Fiberine, you can raise the roof of your van by up to 34 inches! That's some serious headroom.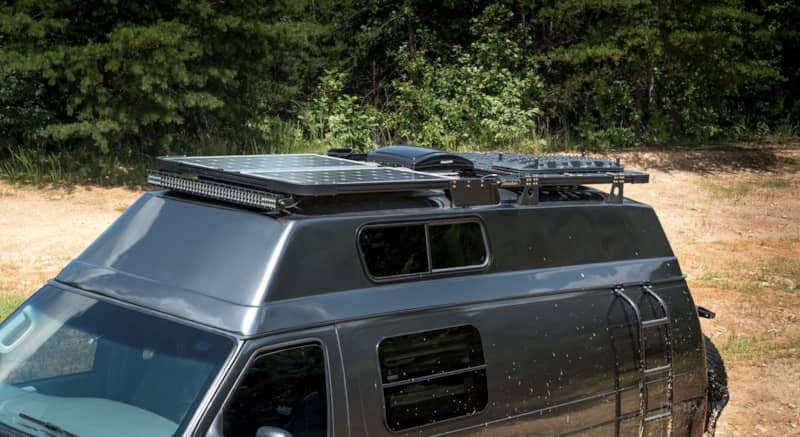 4x4 Conversions
If you want to push the limits of the E-Series van, and go far beyond any regular RV campground, converting the van to four-wheel drive is a must. The leader in this conversion space is Ujoint Offroad. Based out of Fletcher, North Carolina, Ujoint offers complete 4x4 conversion systems that allow you to upfit your van with a high-pinion Dana 60 front axle and Ford Super Duty NV271 transfer case. Their kits also retain ABS and RSC on the van, so safety features are retained. With conversion heights as small as four inches, you can easily transform your van into four-wheel drive without making it impractically tall.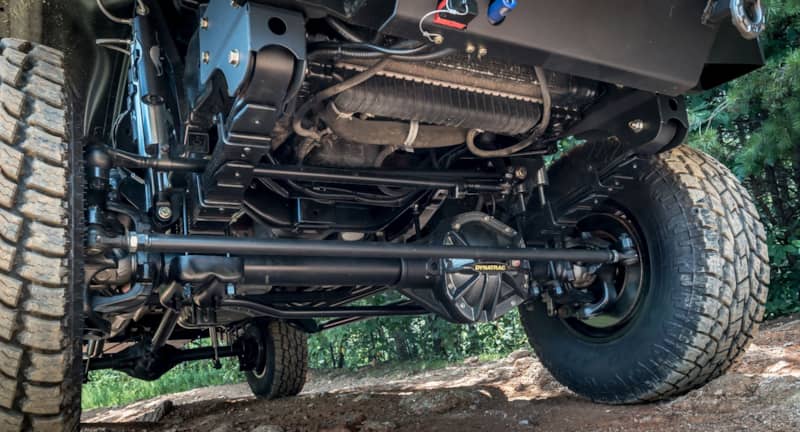 Armor Up
While the aftermarket for the E Series doesn't touch the Jeep Wrangler, that doesn't mean there are not plenty of armor and bumper options. Companies such as Aluminess offer tire carriers, steps, and racks to help with practical needs and off-road protection.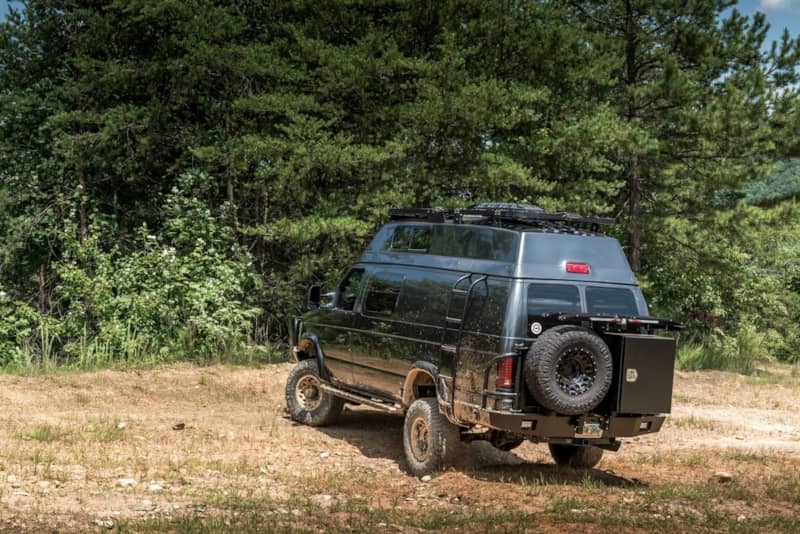 Aluminum Bits
If you are coming from another 4x4 platform to the van side of life, you might be surprised (and happy) to know that weight is a very alive topic in van world. This is why you'll see so many companies opt for aluminum over conventional steel. Here, you're looking at a high-clearance FB003 series bumper from Ujoint Offroad. Like Ujoint's roof rack and various other exterior upgrades, the company's winch-ready bumper is also comprised of aluminum to keep the pounds to a minimum.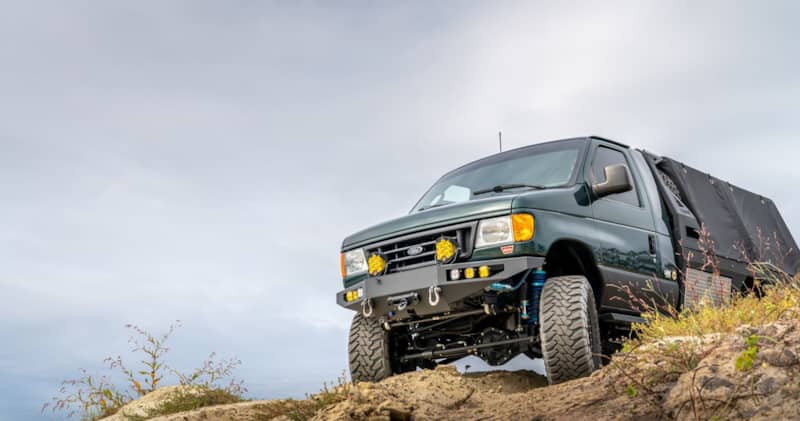 Very Practical
You don't have to go full camper inside. In fact, we've seen many of these E Series builds that double as daily drivers. Given that the rear seats come out fairly easily, you can transform the inside into a makeshift camp or dirt bike hauler fairly quickly.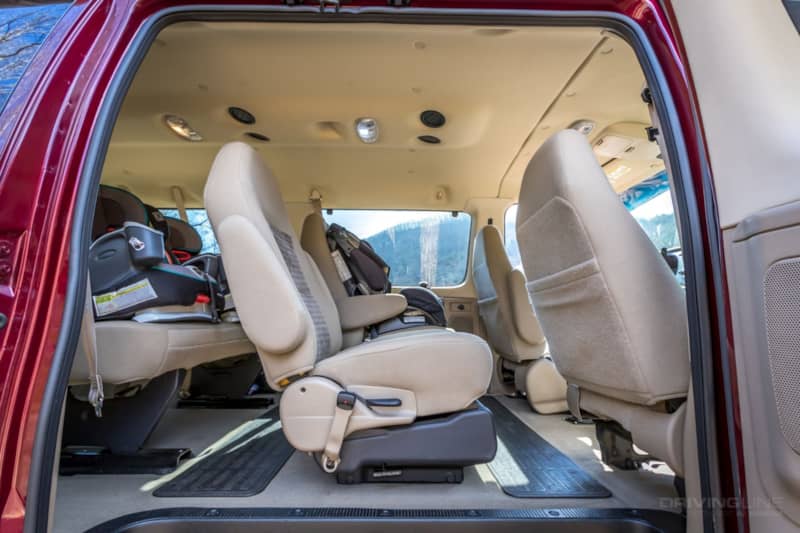 Tires
If you're planning on off-road exploration, you'll want to make sure your tires are up to the task. From the factory, the Ford E Series comes with a highway radial, which is made for just that, Most E-series vans will allow for a 30- to 31-inch-tall without a lift. If you're planning on a four-wheel-drive conversion, you can get up to a 35-inch-tall tire when using a 6-inch lift option from Ujoint Offroad. Be sure to get a tire that is properly load rated and durable for the trail. A poplar option is the Nitto Ridge Grappler as it can be found with an F load ratting, making it perfect for those who've converted their E Series into a makeshift RV. These tires also a great balance of off-road traction and on-road comfort. So, you don't have to settle for one or the other.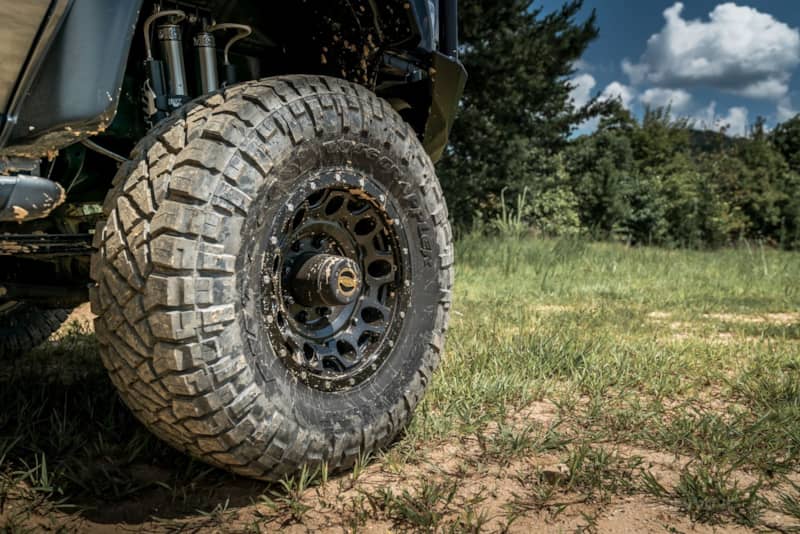 Cutaway
If you want to go radical with your E Series van, you surely can. While this custom aluminum flatbed on Chris Steuber's '02 E-350 is one-off, you can order a brand-new E Series Cutaway and build a custom setup of your liking out back. This is a great option if you are considering grafting on a camper or building a custom box for living out of.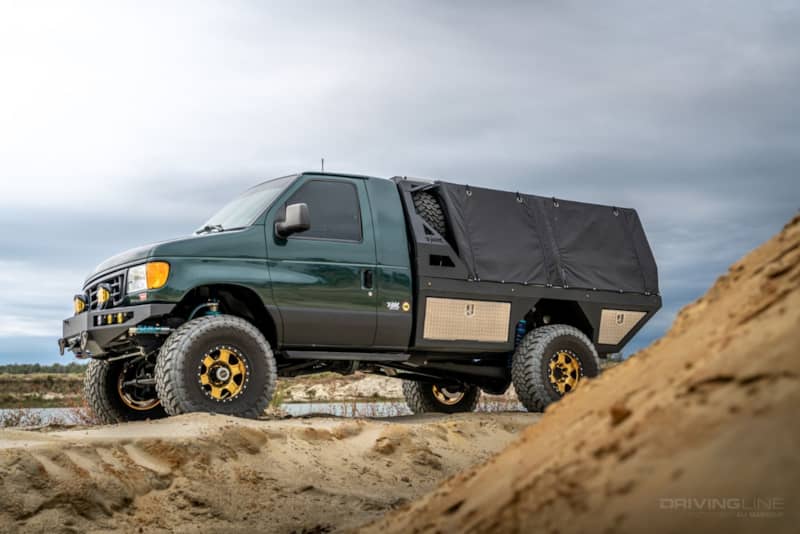 The Ambulance Option
Converted retired ambulances may be our favorite E Series builds. These can be a little harder to find as the ambulance box is often reconditioned, and the cab and chassis discarded. If you can find one, you will be starting off a step ahead in building a camper. These units already have plenty of storage and have a tough box that can handle rugged conditions. Be warned however, these are very heavy.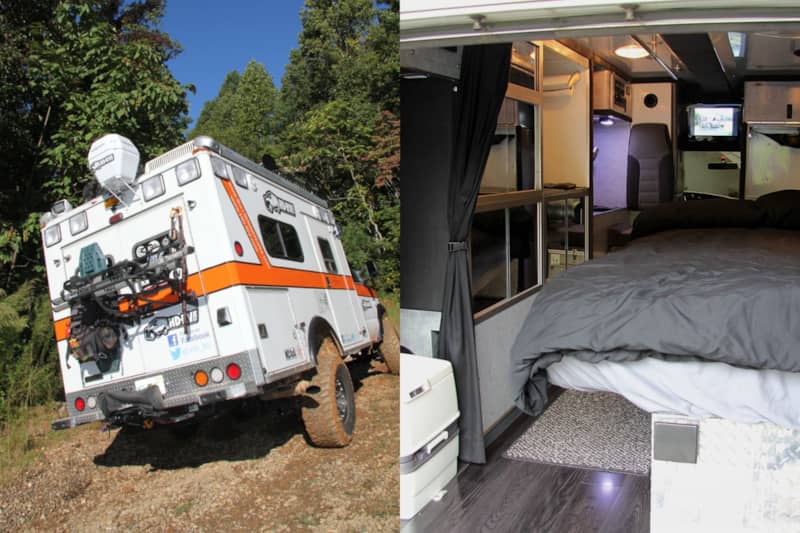 Click here to see the Ultimate Overland Van in Action.