Win This F-150
Do you want a free 2015 Ford F-150 4x4?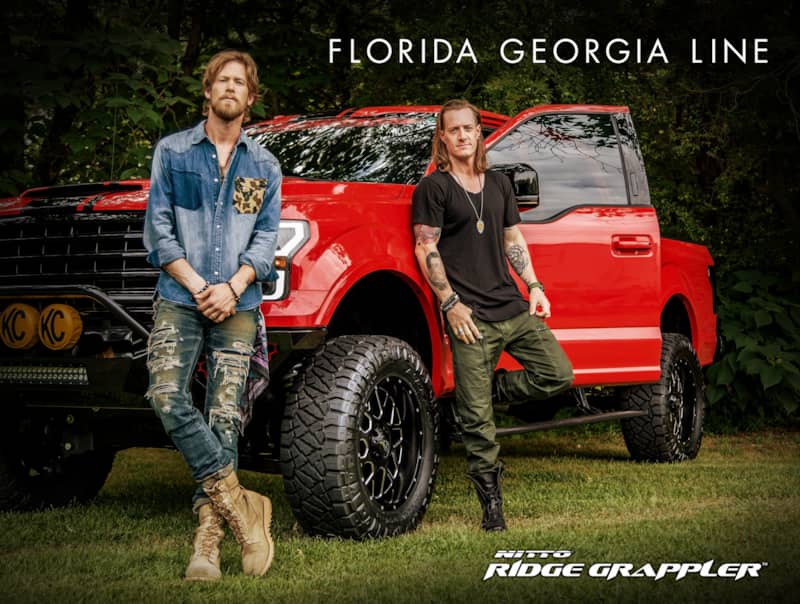 Of course you do!
How about one that's been equipped with Nitto's new 35-inch Ridge Grappler tires, a BDS Suspension lift, and Fab Fours bumpers? Well, you're in luck! Brian Kelley and Tyler Hubbard of country music sensation Florida Georgia Line have teamed up with Nitto Tire to create this custom EcoBoost-powered 2015 F-150 4x4.
This partnership coincides with two monumental happenings.
The first is Florida Georgia Line's summer concert series tour (where you'll actually be able to see the truck!). The second is the launch of Nitto's newest member of the Grappler family, the Ridge Grappler.
While you may be familiar with FGL's chart toping singles like Cruise and H.O.L.Y., the Ridge Grappler is an all-new tire that's making some big noise in the light-truck tire market. Landing somewhere between Nitto's ultimate mud-terrain radial, the Trail Grappler, and their jack-of-all-trades Terra Grappler G2 all-terrain, the Ridge Grappler is a hybrid tire that refuses to be limited by a single category.
So, back to that thing about winning a free truck!
What do you do when you love your fans and enthusiasts that enjoy your products? You say thank you by giving them this one-of-a-kind F-150. To enter the sweepstakes, simply go to the FGL Truck Sweepstakes sign-up page at Nitto Tire.
Be sure to check back at Driving Line soon, as we have the exclusive behind-the-scenes build of the 2015 Ford F-150 Sweepstakes truck.