Winning Strategies, Wild Rides And Cool Parts From The Scheid Diesel Extravaganza
The Scheid Diesel Extravaganza brings hundreds of top-caliber competition vehicles out of the woodwork, attracts dozens of award-winning rides to the show 'n shine and lures nearly 60 trucks to the chassis dyno. To be 100-percent honest, it's impossible to capture all the goings-on that take place at the 2-day Scheid Diesel Extravaganza—but that doesn't mean we can't try! This time, we're going from the pulling track to the drag strip, then heading over to the pits, showing you what we found in the extensive vendor's midway and also sharing a trend we noticed among the various Cummins swaps we encountered. If you're a diesel fanatic, make sure you make your way to the Extravaganza next August and see everything below for yourself.
Truck Pulling Anomalies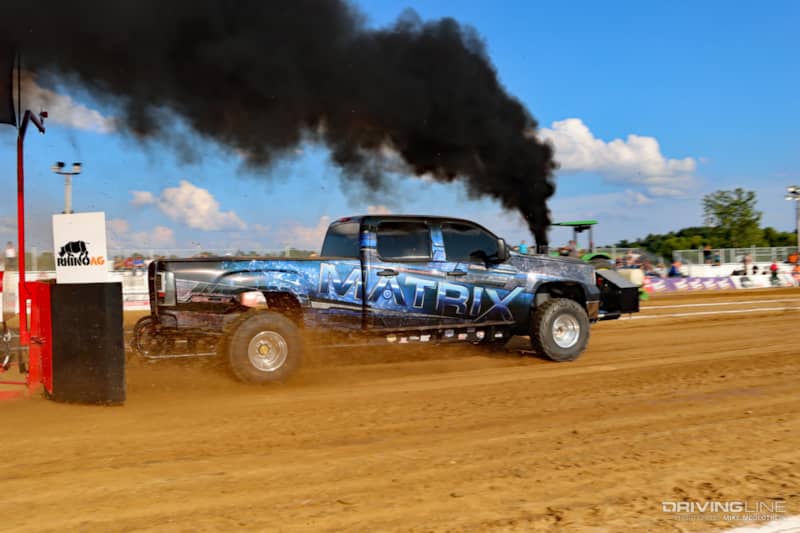 There's no question that the Cummins intended for Ram trucks dominates in diesel truck pulling, and for this exact reason we've seen countless Ford trucks fitted with Cummins power plants over the years. Now, the Cummins is even infiltrating the GM camp, with several Chevrolet and GMC HDs competing at the Extravaganza without a Duramax under the hood. Two such trucks were Travis and Jennifer Pushlar's classic body GMC Sierras. His truck (coined Matrix) is shown here and her GMC (known as Hellfire) are both equipped with common-rail, 6.7L-based Cummins mills from Freedom Racing Engines, along with Nitto Mud Grappler tires. But on top of being Cummins-powered, their GMs make use of Allison transmissions—a major contradiction with what other competitors in the Limited Pro Stock class are running: the nearly indestructible, one-speed reverser transmission.
Single Turbo, 1,300+ HP Common-Rail Cummins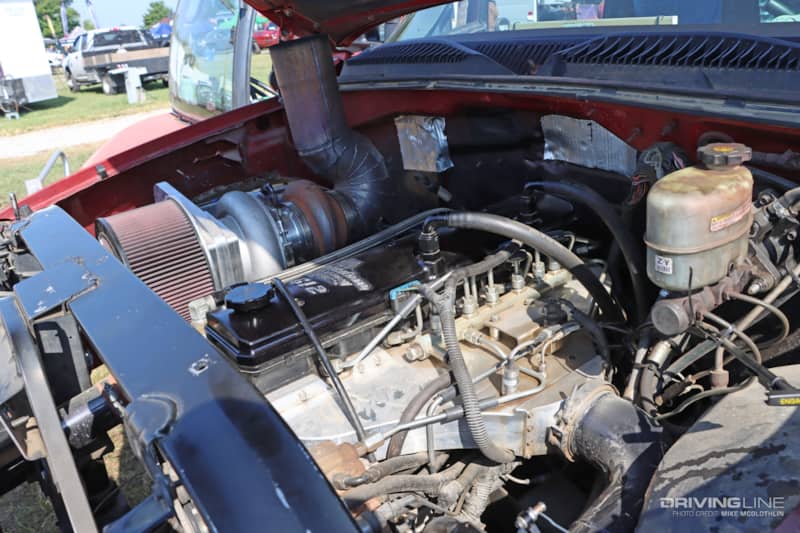 This is the hard-working Cummins under the hood of Jennifer Pushlar's GMC. It was built by Freedom Racing Engines, is fed boost courtesy of a 76mm (3.0-inch) smooth bore Hart's Diesel turbocharger and has enough fuel on tap to make in excess of 1,300 hp. If, like us, you're wondering what the "612" machined into the valve cover means, it refers to the number that was given to Jennifer's favorite cow on her family's upstate New York dairy farm. That's right, Jennifer and her husband traveled all the way from New York to compete at the Scheid Diesel Extravaganza. On Day 1, they both qualified for the nighttime truck pull, where Jennifer moved the sled 329.42 feet (10th Place) and Travis traveled 323.03 feet (15th Place).
Gigantic Exhaust Tips Still Exist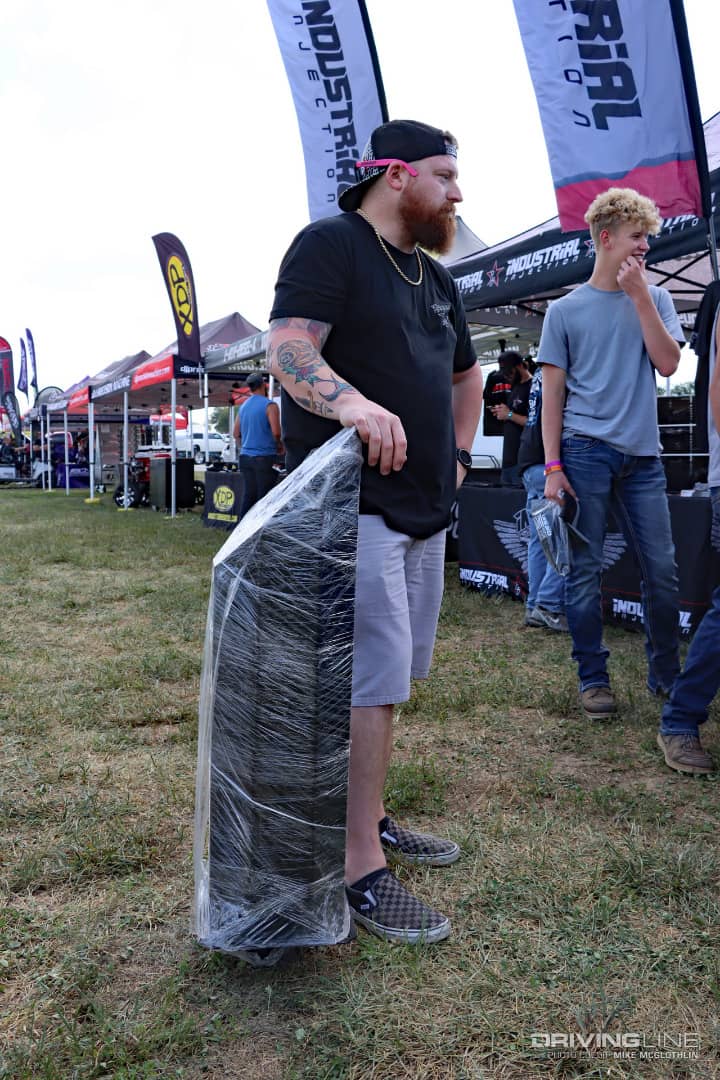 We've touched on gigantic exhaust tips and stacks being a dying trend for diesel pickups in the past, but that doesn't mean the movement is extinct yet. We spotted this Extravaganza attendee carrying a 4-inch into 10-inch octagon tip he'd scored in vendor's row, which we presume was destined for his personal ride. Not lacking in personality and a great sport, the owner had no problem posing for this shot. We only wish we could've seen the finished product bolted in place.
Fun For All On The Drag Strip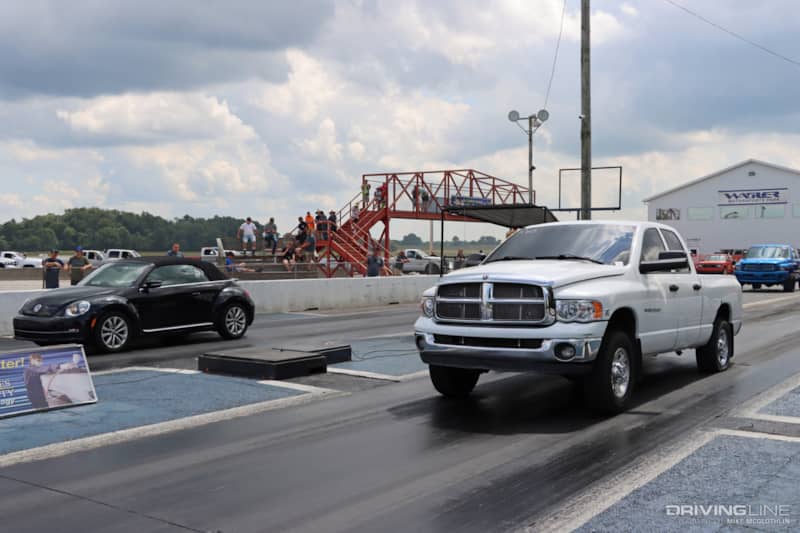 ET Bracket is the ideal class for amateurs or newcomers to the sport of diesel drag racing—and while Daniel Wint wasn't exactly brand-new to lining up at the tree he was racing with the Outlaw Diesel Super Series for the first time. After running test-and-tune during the first day of racing activities, Daniel returned on Saturday to compete in ET Bracket. His daily-driven tow-rig, a third-gen rear-wheel drive Ram with more than 572,000 miles on the clock, ran darn close to its dial-in all day. Daniel even found himself in the quarter finals before his day ended.
Affordable Insurance For Your Fuel Injectors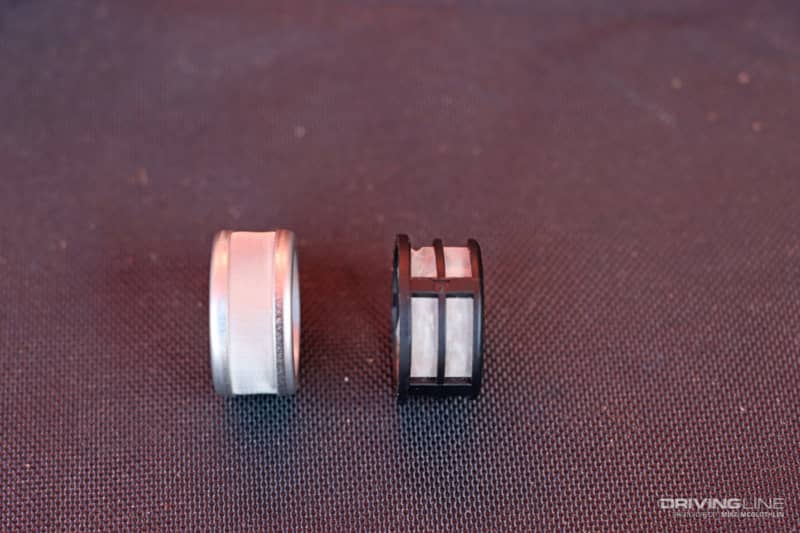 This is the type of inexpensive upgrade that can save you thousands of dollars. Knowing that there is no permanent fix for the inherent design flaws that cause a Bosch CP4.2 high-pressure fuel pump to self-destruct, the fuel system experts at Exergy Performance developed a higher quality screen for the CP4.2's inlet metering valve (also known as the FCA or MPROP). The company's double-rolled, 10-micron screen (left) is much more effective in stopping debris from making it to the fuel injectors than the factory single-rolled, 85-micron version is. If your CP4.2 bites the dust, this tiny little upgrade could keep your fuel injectors alive in this highly common, chain reaction-type of failure.
Close, Close Drag Racing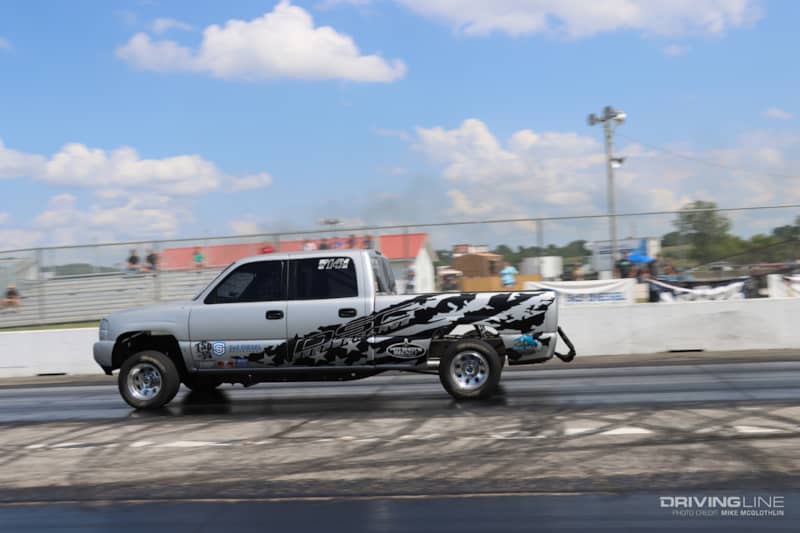 While the heads-up racing in the Pro Street, Pro Mod and Pro Dragster classes at the Scheid Diesel Extravaganza are in a league of their own, the 5.90 Index category is arguably just as entertaining, if not even more so. The launches are violent and the racing is fast and tight, with virtually every driver capable of winning on any given race day. At the Extravaganza, a dozen 5.90 trucks made the call and there was a battle for the top qualifier spot in every round of qualifying. In the second round of qualifying, Dan Zelten's nasty Duramax shown above put a 5.901-second pass on the board at 121 mph. Right after that, driver Travis Trent went 5.92 at 117 mph and would later go on to the final round of eliminations. As for taking the cake, that was achieved by Brett Marcum, who qualified first with a 5.900 right on the money and who would also go on to take the overall win.
Pro Stock Tractors: The Baddest Of The Bad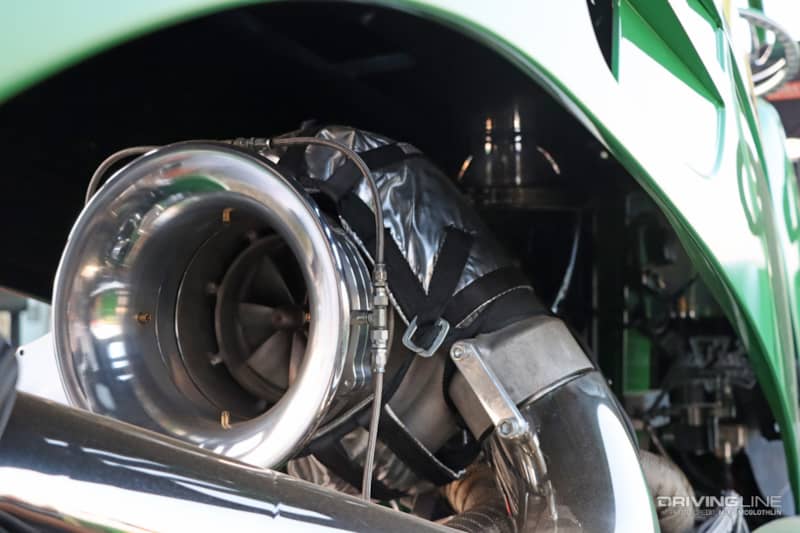 Any time the Pro Stock tractors are in town, it pays to visit the pits for a closer look at what makes these 4,000hp machines tick. Occasionally you can even catch a glimpse of an engine. Trust us, these 680 cubic inch beasts are far from stock and every one of them sports a turbocharger with a compressor wheel that measures 5.5-inches in diameter or more! Notice the brass nozzles protruding into the velocity stack? Those nozzles introduce water pre-turbo to help keep the massive compressor wheel from distorting. At roughly 130-psi of boost things get hot in a hurry, and this tactic works wonders both in terms of turbo longevity and cooling intake temps.
Are 24-Valve Cummins Swaps The New Thing?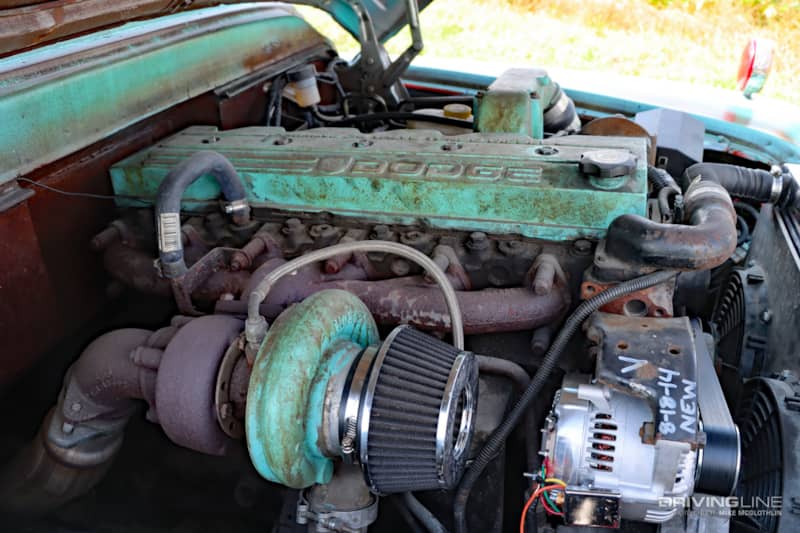 Is the love affair diesel swappers had with the P-pumped 12-valve Cummins over? Not hardly. But the 5.9L that superseded it, the VP44-fueled 24-valve ISB offered in Dodge Rams from '98.5-'02, is noticeably becoming popular with conversion specialists. The driving factor here may be due to cost, with the 12-valve being one of the most coveted and highly sought after swap candidates for years, which naturally increased the going rate for a core engine. Aside from a little more in the way of electronics, the 24-valve Cummins can be integrated nearly as easily as its predecessor and it can also be made to produce good power. The 24-valve shown above was parked in a 1959 Chevrolet Viking.