Diesels In The Dirt At The 2022 Scheid Diesel Extravaganza Truck Pulling Event
On a warm, late-summer weekend in rural Indiana, the only thing hotter than the weather was the action taking place at Wagler Motorsports Park—the new home for the annual Scheid Diesel Extravaganza. For the 26th rendition of the yearly spectacle, we were reminded why this affair is revered as the pinnacle of truck pulling. The Extravaganza plays host to the most competitive truck pulling classes in the country. From the Pro Street Diesel Truck and Limited Pro Stock Diesel Truck categories—both of which require competitors to qualify each day in order to hook that night in the headlining show—to the Pro Stock and Super Stock Diesel Truck classes, this late-August classic is a can't-miss event for everyone who's anyone in truck pulling.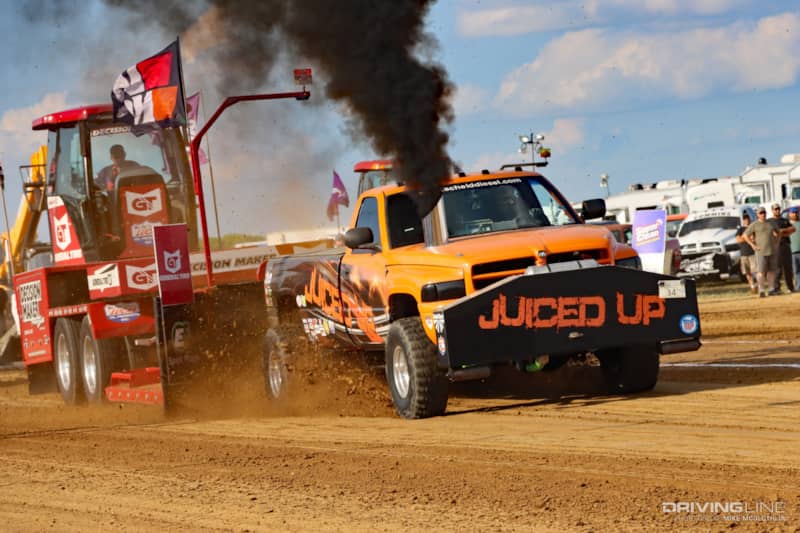 Ford vs. GM vs. Ram, Power Stroke vs. Cummins vs. Duramax, John Deere vs. IH, or whatever your cup of tea may be, the Scheid Diesel Extravaganza has it. For a glimpse at what went down at SDX 2022, keep reading. To see it in person, make sure a trip to Lyons, Indiana is on your schedule next August.
Mud Grappler Mud-Terrain Tires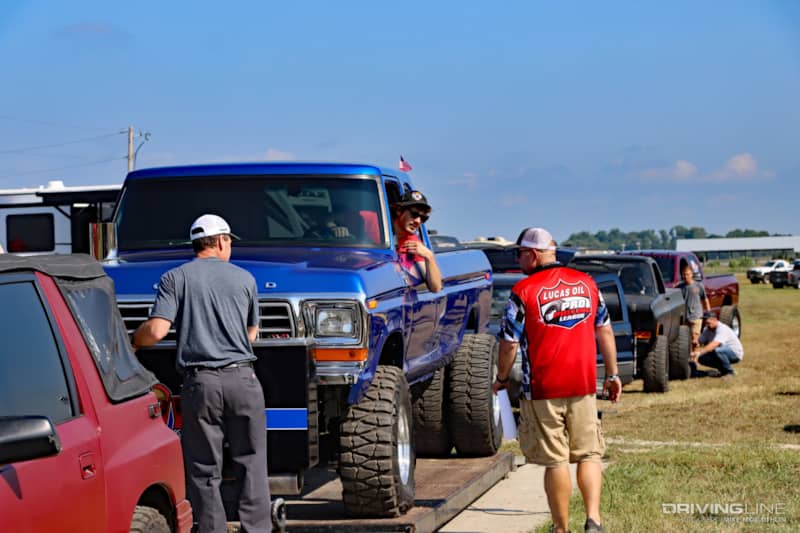 On top of the Dodge vs. GM rivalries raging within classes that require the use of DOT-compliant tires, there was also a battle between Nitto and other brands. It was a Mud Grappler vs. the world kind of weekend, and in some cases competitors used a combination of tires to try to get an edge. In addition to a myriad of things that can make or break a pull, tire pressure is a big factor in a tire's effectiveness. Those who get the combination right (front vs. rear pressure) generally end up out front. In DOT tire diesel truck classes like Limited Pro Stock and Pro Street, a maximum diameter of 35-inches is mandated.
Repeat Second Place Finishes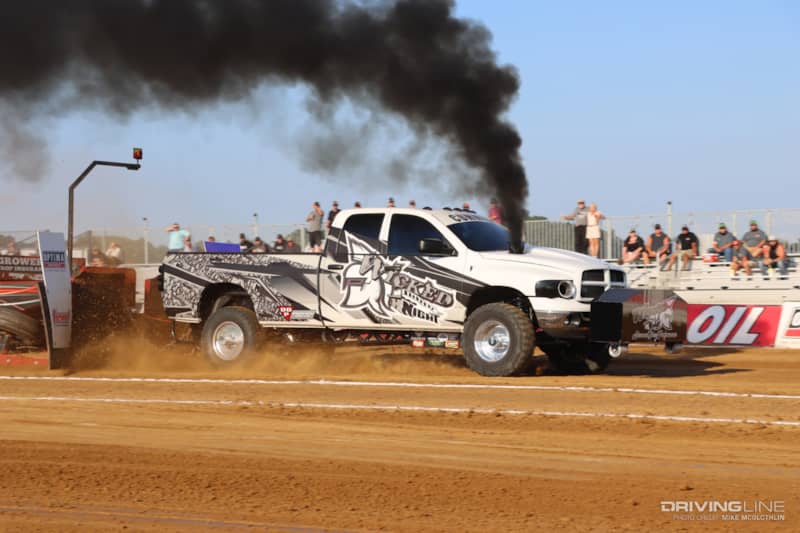 In a game of inches, truck pulling can be both rewarding yet agonizing at the same time. But even though RayJay Rindt would've preferred to win it all, back-to-back Second Place finishes isn't anything to scoff at. Friday evening, Rindt's third-gen Cummins yanked the sled 322.40-feet, one foot behind First Place finisher, Damon Winland. One night later, a 334.95-foot run landed him in second once again, this time less than 6-inches behind First Place finisher, Hank Carlton. In a class where less than 5 feet separated First Place from Sixth Place (half of the field), it's easy to see how evenly matched the trucks in this class are.
The Truck With The Bullseye On Its Back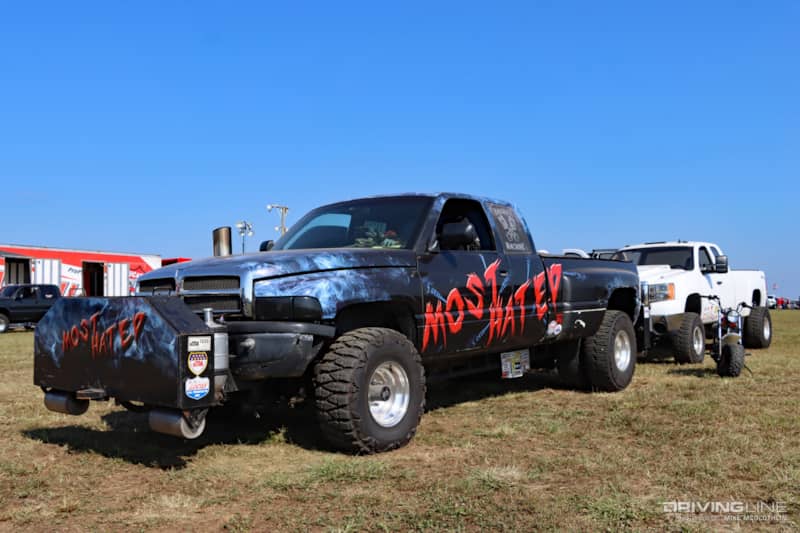 CW Cartmell's Mud Grappler-equipped, second-gen Cummins might be the most aptly named truck in all of truck pulling. For years, his Limited Pro Stock steed has been known for showing up and spoiling the fun for every puller in the class. Just when you think you've built a road and placed your ride way out front, Cartmell backs up to the sled, hooks to it and then proceeds to put 10 feet on you. After sweeping both nights at the 2021 Scheid Diesel Extravaganza, the rest of the Limited Pro Stock field got off light this year, with Cartmell finishing seventh on Friday and fourth on Saturday.
Duramax: The Underdog Engine At SDX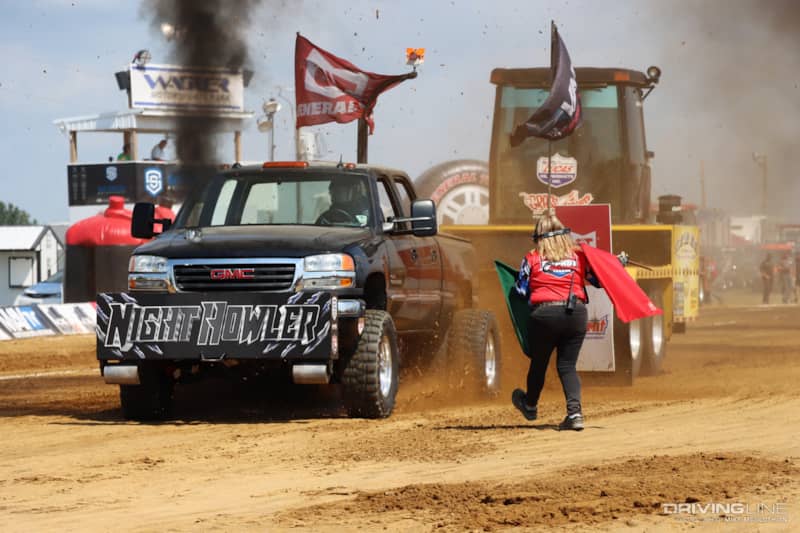 It ain't easy campaigning a Duramax in the Limited Pro Stock field, but somebody's gotta do it! Granted, Matt Loucks isn't alone in sticking it out with GM's 6.6L diesel V8, but any outsider can quickly discern that the truck pulling sport is dominated by Cummins-powered Rams, Fords and even GM's. Even though having to qualify each day in order to compete in the nighttime show lessens the chances of winning at Scheid's even further, some drivers simply can't be denied, and Loucks and his Duramax made the cut during each qualifying session and competed on both nights.
4 Quality Hooks In 2 Days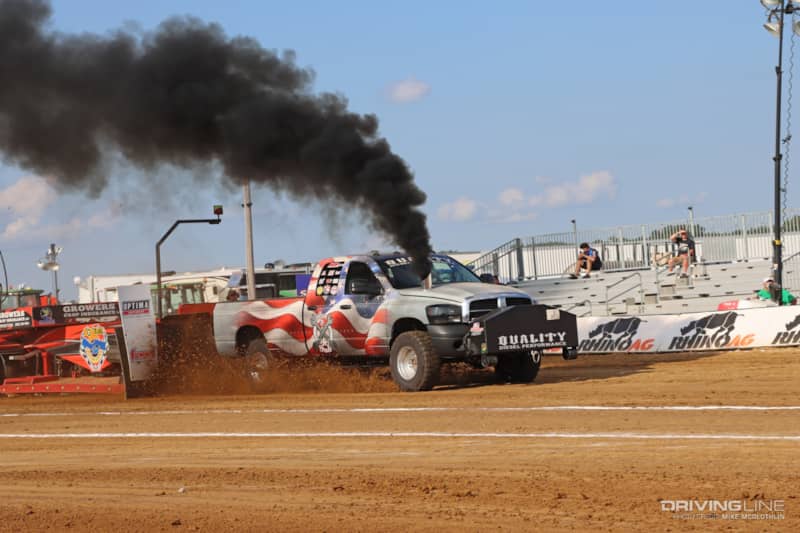 With a strong presence in Limited Pro Stock, it only makes sense that Quality Diesel Performance's Pro Street rig is a tough contender also. Not only did driver Jon Shew get the "Iron Patriot" qualified for the main event each day, but as night fell and the finals began he and the third-gen-bodied Cummins turned in strong efforts in Pro Street. On Friday, Shew would finish 10th in the class with a 312.89-foot hook. Just 24 hours later, he would move up in the standings with a Seventh Place, 328.11-foot pull.
Pro Stock Diesel Trucks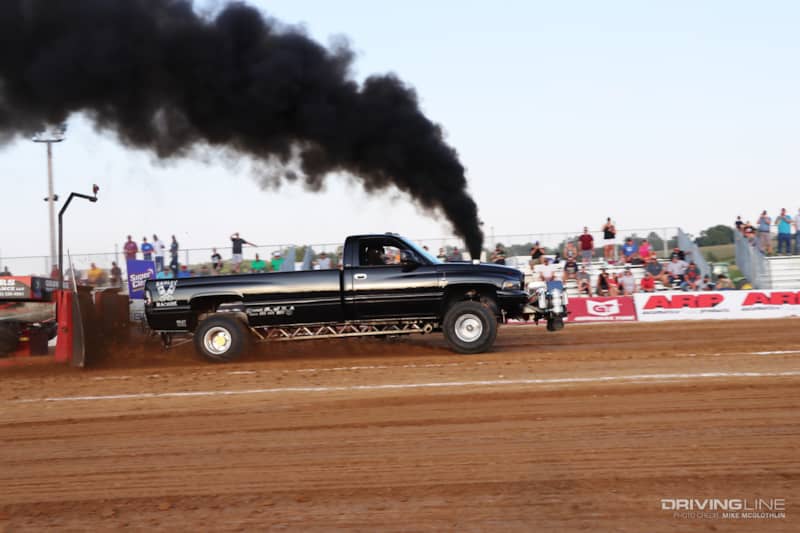 In the cut-tire truck classes, the Pro Stock diesel trucks play second-fiddle to the mega-horsepower Super Stock trucks, but they are no less impressive. Despite adhering to a single turbocharger rule, where a smooth bore 3.6-inch inlet charger is all you can run, the engines that power these beasts still manage to put out somewhere in the neighborhood of 2,000 horsepower. Brian Braunecker's Haisley Machine-built Cummins nearly propelled him to the winner's circle on Friday night. His second-gen Dodge called "Cummin' Atcha" moved the sled 327.33 feet—good enough for Second Place in a class of 22 trucks.
Super Stock Diesel Trucks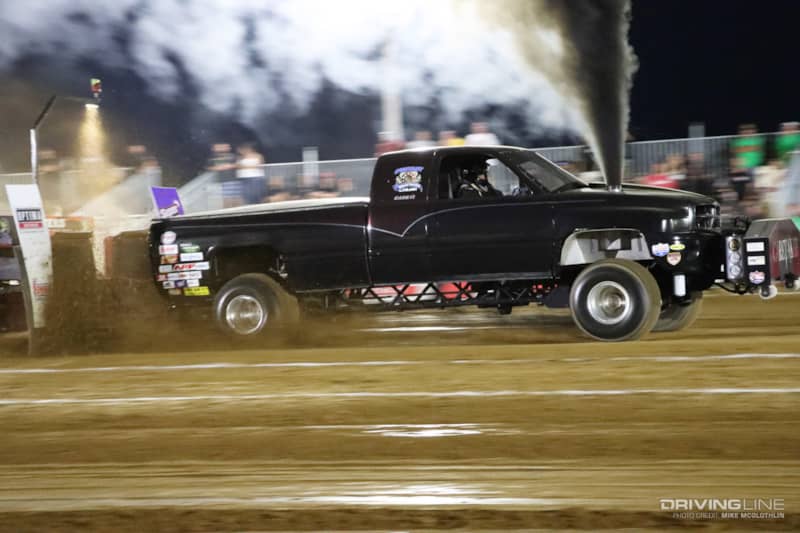 At the top of the diesel truck-pulling heap, you'll find the Super Stocks. Massive compound turbo and two-stage triple-turbo arrangements abound here, as well as Sigma injection pumps and billet-aluminum Cummins engines. So much power is on tap in this category that, on average, drivers don't hit full throttle until half-track (and sometimes not until the 200-foot mark). This is because even with cut tires and four-wheel drive traction is hard to come by with 3,500 hp (or more) in the mix. Above, Chase Eller pilots "Caretaker" to a 327.71-foot, Third Place finish. He would place third on both nights of action at the 2022 Scheid Diesel Extravaganza.
Tractors Were In Town, Too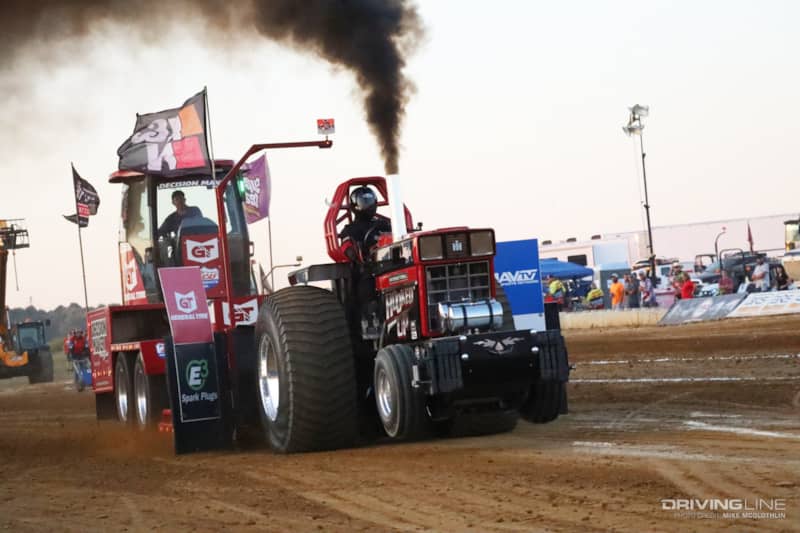 Wheels-up tractors have long been a big attraction at the Scheid Diesel Extravaganza. Above, Brian Barman's "Hooked Up" International is in the midst of covering the 312.8-feet of ground his IH would travel with the sled in tow. In this category, coined Super Farm, tractors are restricted to running a single turbo, but unlike the aforementioned Pro Street, Limited Pro and Pro Stock truck classes a turbocharger with a map width enhancement groove is allowed—so long as the groove is no larger than 0.200-inches and the compressor protrudes into a 3.0-inch bore. Other rules dictate that the engine displace no more than 640 cubic inches and that the tractor itself weighs no more than 9,300 pounds. This is the closest thing to "stock" you'll find on the PPL circuit.
More From

Driving Line
Speaking of Super Stock Diesel Trucks, the infamous "Cummins Killer" earned a Second Place finish at SDX '22. Take a look inside the world's most powerful Duramax diesel engine right 

here

.