Wipe-Out Hill Trail Riding
Moab, Utah, is known for its scenic and challenging off-road trails. Playing host to the Red Rock 4-Wheelers annual Easter Jeep Safari, the town has served as a central meeting point for die-hard 'wheelers for over 50 years. Over the course of the week, there are dozens of official and unofficial trail rides taking place. Looking to spend some quality time in the dirt, we jumped in line for an early morning trip with Nitto Tire on its journey through the Wipe-Out Hill trail last year.
Wipe-Out Hill is most known for the obstacle that it's named after, but there are quite a few scenic overlooks for those looking to stretch their legs. We hiked through the wind tunnels to find this magnificent view.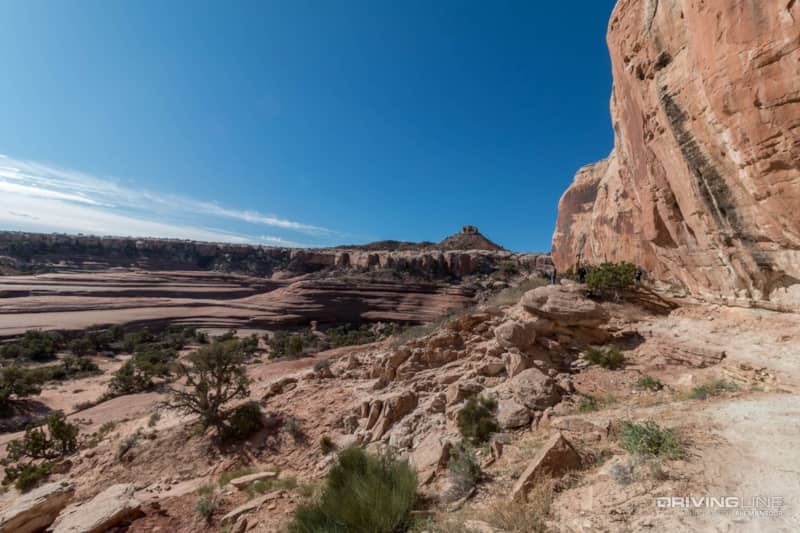 On our trail ride for the day was two-time King of The Hammers champion Loren Healy. While Healy can usually be found ripping up the desert in his famed Red Dragon buggy, he decided to bring the family along on this trail ride in his freshly built 2013 Jeep Wrangler Unlimited.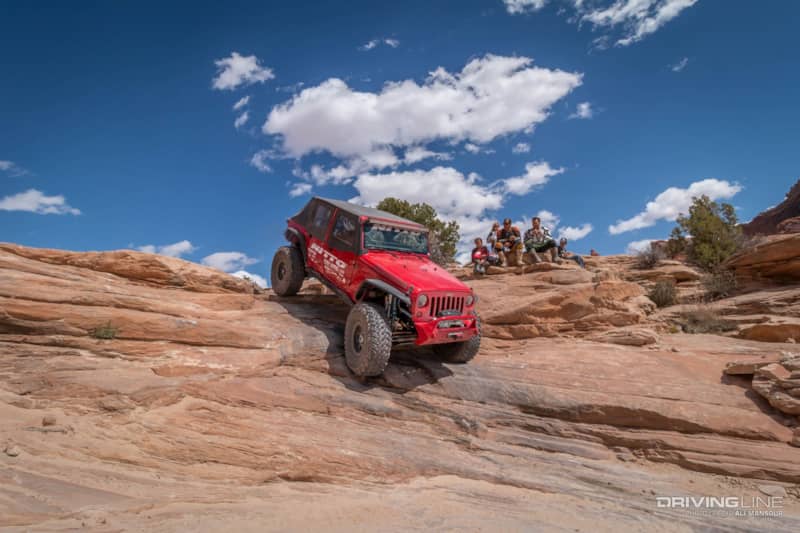 We were not the only ones to haul out a Toyota to a Jeep event! Icon Vehicle Dynamics had its 2016 Toyota Tacoma on the trail, which sported an assortment of the company's latest upgrades. This included the new 17-inch Icon wheels, which were wrapped in a set of 295/70R17 Nitto Trail Grapplers.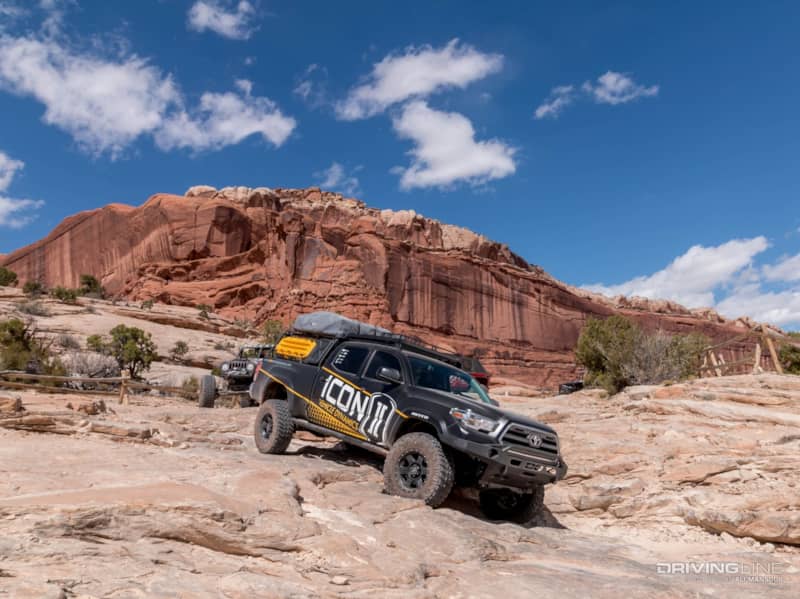 Another well-known off-roader on the trip was Jeepers Jamboree's Bob Sweeney. Sweeney's Jeep Wrangler TJ spends most of its time on the world-famous Rubicon trail, but it looked right at home on the Moab slick rock. Sweeney was running 37-inch-tall Nitto Terra Grappler G2 all-terrains, which seemed to be hooking up especially well in the rocks.
Veteran 'wheeler and Offroad Design owner Stephen Watson crawled the trail with ease. His 1985 K30-based truck is fit with a 6.2L L92 engine plucked from a wrecked Cadillac Escalade.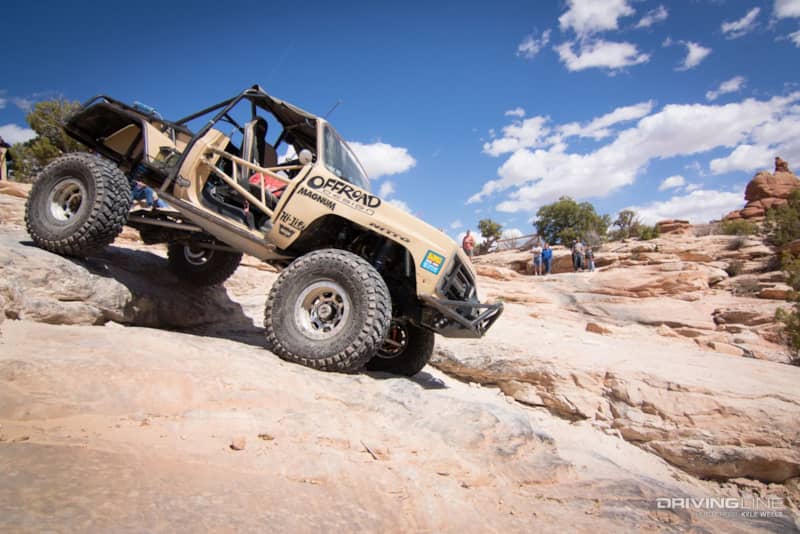 Driving Line off-road editor Ali Mansour even got in the action with his solid-axle 4Runner. His 1998 Toyota served as a base camp and photo rig for the week.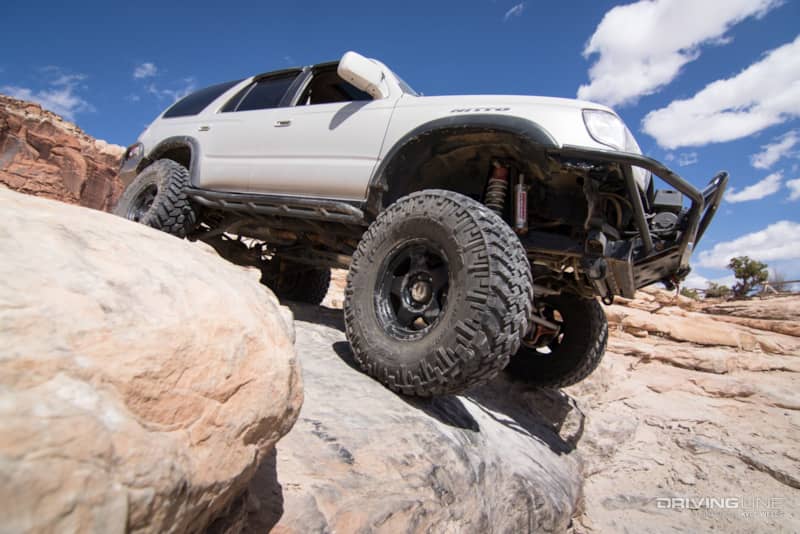 Our friends at Heavy Metal Concepts were along for the ride as well. In-between manning the drone, Spencer Clements piloted his Toyota FJ Cruiser over the rocks like a pro. This is the same video support vehicle that was used to chase the Alcan 5000 not long ago. The Nitto EXO Grapplers are definitely earning their stripes in the rocks and in the snow. How's that for an all-terrain tire?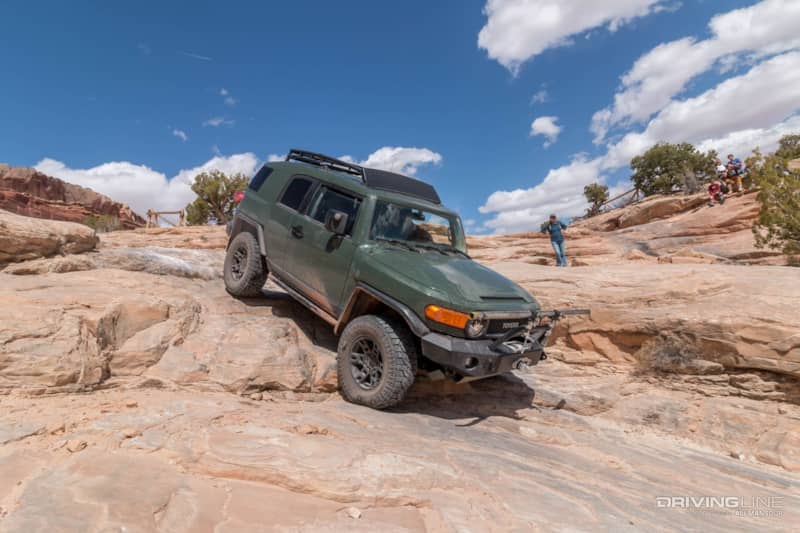 Check out highlights from the trail ride in the video and photo gallery below.