Trail Prep: How to Get Your Jeep Ready for a Cross-Country Adventure
Before any long-distance trip, we carve out a little time to give our vehicle a solid look-over. However, when you factor in that our next adventure will put us on the road for nearly 5,000 miles of on- and off-road driving, our pre-trip ritual becomes a little more thorough. In a little over a week's time, we, like thousands of others, will be making the trek west to Moab, Utah, for the annual Easter Jeep Safari hosted by the Red Rock 4-Wheelers. While many choose to ship or tow their rigs out, ours will be driven.
In fact, this isn't the first time our 2013 Jeep Wrangler Unlimited Rubicon has made the drive to Moab and back. It's one of the reasons we like the JK platform so much as it's just as comfortable and confident on-road as it is off. Given we'll be using this as a mobile office and 'wheeling platform, we have to be a bit clever when it comes to loading up all of our gear. Here, we'll give you some insight into our pre-trip ritual and a few pointers we've learned over the years.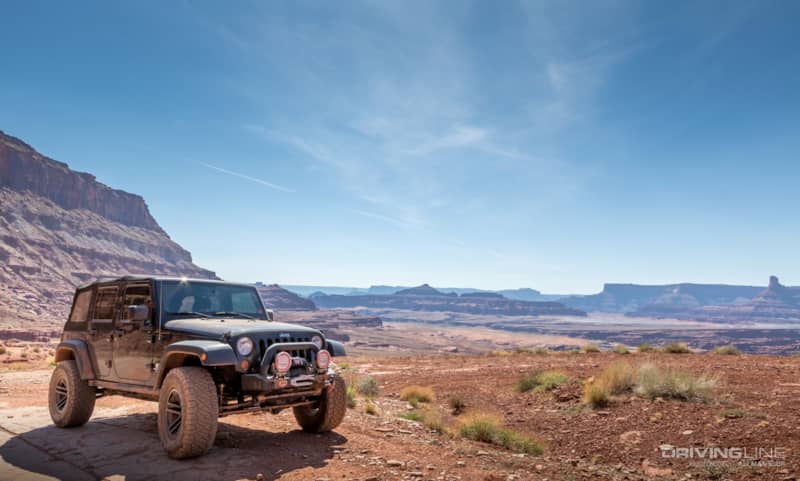 The Jeep
This will be our chariot for the journey. While you can read about many of the upgrades that we've done over years on the site, we'll give you a quick recap. The stock front axlehousing has been swapped out for a much stronger ProRock 44 from Dynatrac. A 2.5-inch JKS Manufacturing suspension provides the lift, while EVO Manufacturing flares help make room for the 37x12.50R17 Nitto Ridge Grapplers. While it's still sporting stock drivelines, the differential gears have been upgraded with a numerically higher set of 5.13s from Nitro Gear.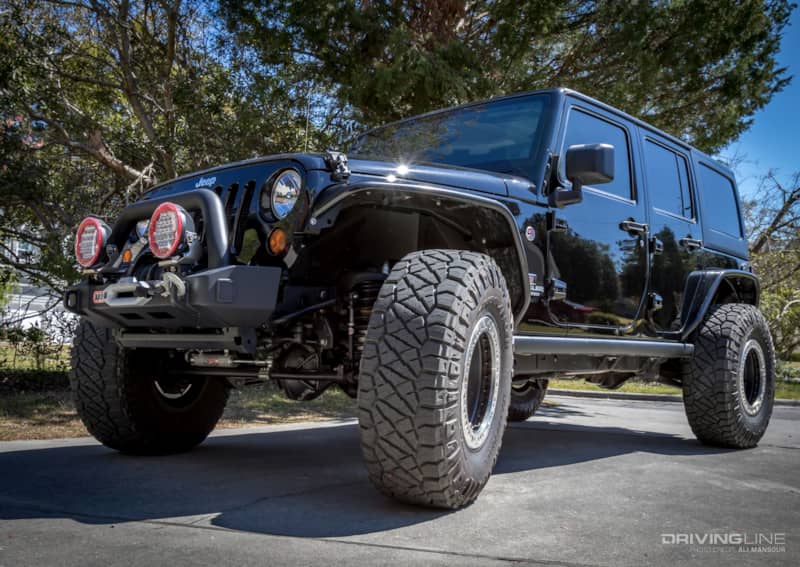 Spares 
We don't run a tire carrier out back, so when we go on long distance trail rides, we have to find a home for our spare. For driving out to Moab, we have it strapped down vertically in the back. This gives us plenty of room for our ARB 37-quart Fridge/Freezer, along with a home for our spare rear driveshaft, tool bag, fluid bin and air compressor bag. It's a tight squeeze, but it completely frees up the rear seats for additional gear.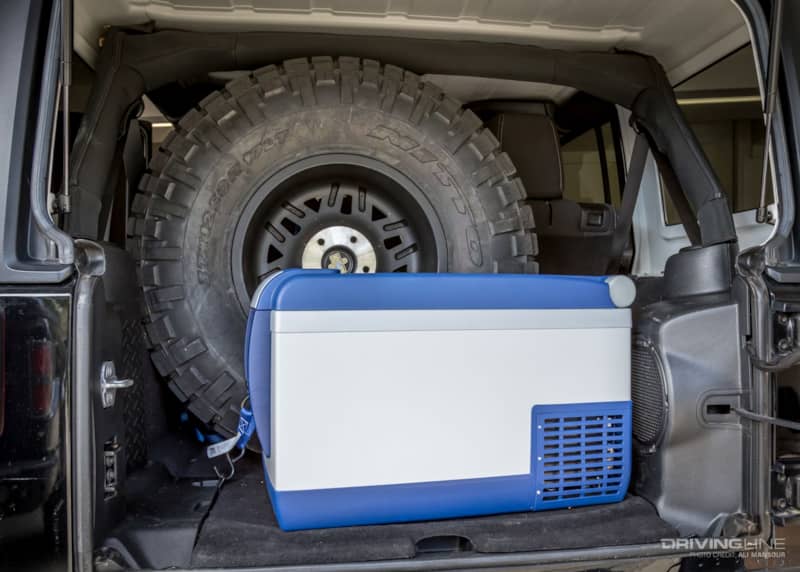 Tools
We carry two sets of tools with us. One is a smaller bag that we categorize as the "get me off the trail bag." The other is a slighter larger collapsible tool set that we call the "fix it so I can make it home bag." While anything can and will happen on the trail, we understand that our two biggest weak links on the Jeep are the rear driveline and stock front axleshafts. Since we have a spare 'shaft onboard, we're fine there. If a universal joint or axleshafts fails, we've brought along a 35 mm axle nut socket, along with the assorted tools needed to yank the brakes and unit bearing off.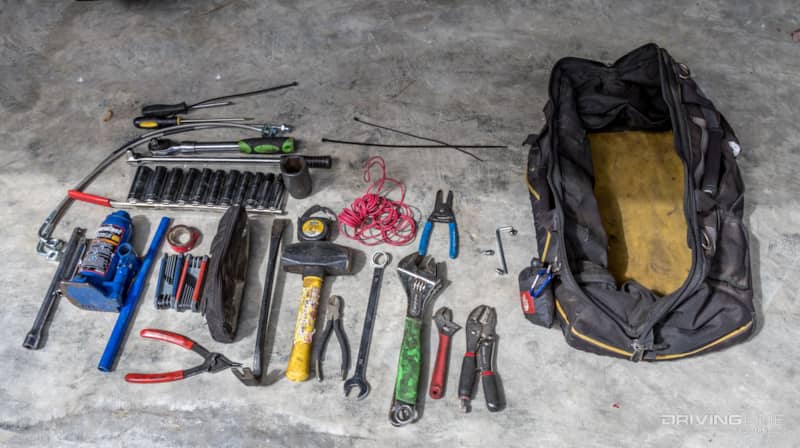 Recovery Gear
Having recovery gear handy is something we've learned you need to do in Moab. There are plenty of scenarios where time matters and you digging through an assortment of piled-on gear to grab a recovery shackle or strap is going to be a problem. We keep a strap, along with two shackles, tucked under the passenger seat. This makes them quickly accessible and safely stowed for the trail.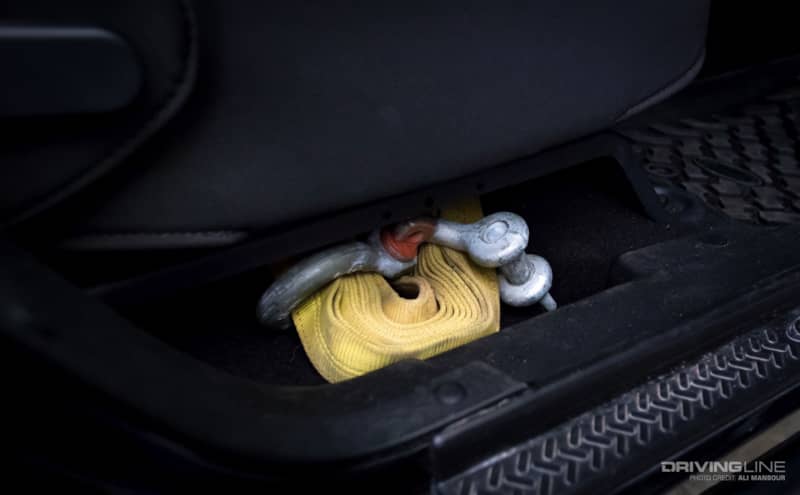 Bolt Check
A few hours in the shop can save you real headache and potential danger on the trail. While it takes a good bit of time, we systematically bolt check our Jeep before any big 'wheeling outing. Once we've established the bolt is tight, we then paint mark it. Now, if it does come loose on the trail, we can quickly identify the problem.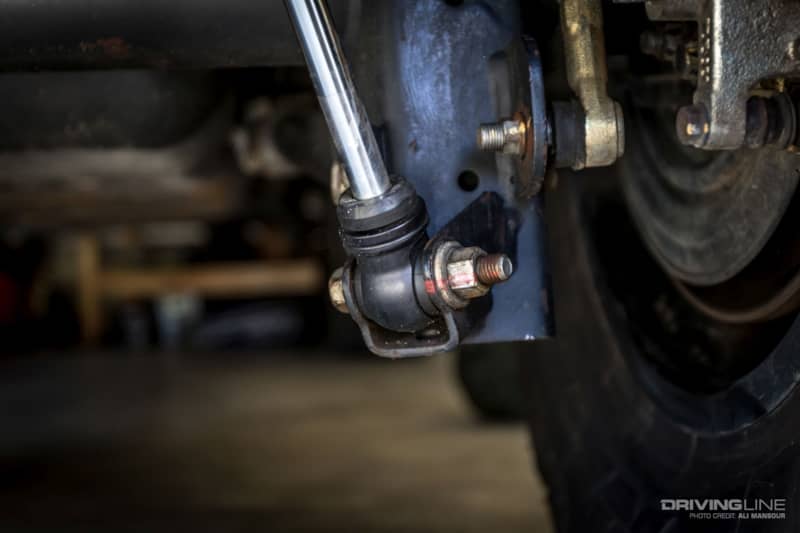 Winch Workout  
We don't need to use our Warn 9.5cti winch on a regular basis, which is why we give it a quick workout before travel. Once we establish that the winch is spooling in and out on power, we free spool the drum and give the line a once-over. Since we're using Warn's Spydura synthetic rope, it's easy to see if there's any frays or damage. After we give it a quick clean, we spool it back up to make sure it won't be difficult to unwind when or if we need to use it.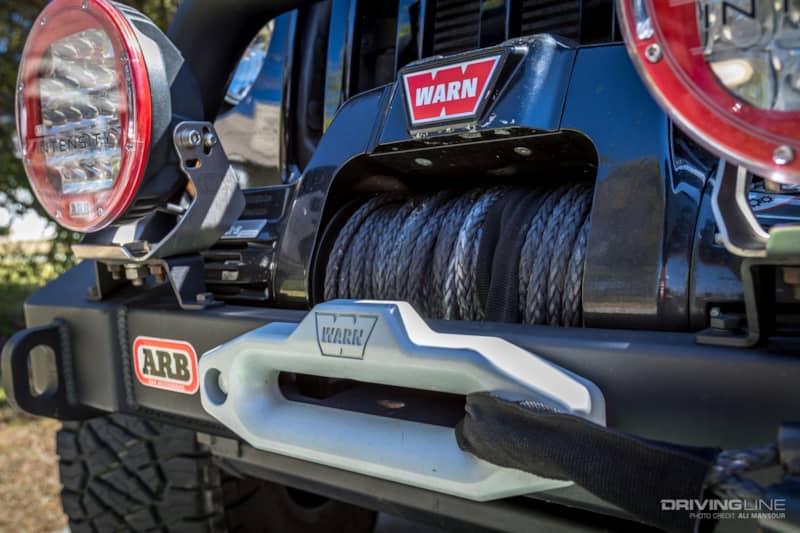 Smart Service  
We were due for an oil change and tire rotation, so that was a quick to-do. What takes a little longer was bolt-checking our KMC Machete beadlocks wheels. Given we will spend most of the week aired into the single-digit territory, the beadlocks will be earning their keep. To make sure everything is tight, we air the tire down completely with it suspended in the air. Once deflated, we make our rounds with a torque wrench set to 22 lb-ft, then inflate the tires to 30 psi.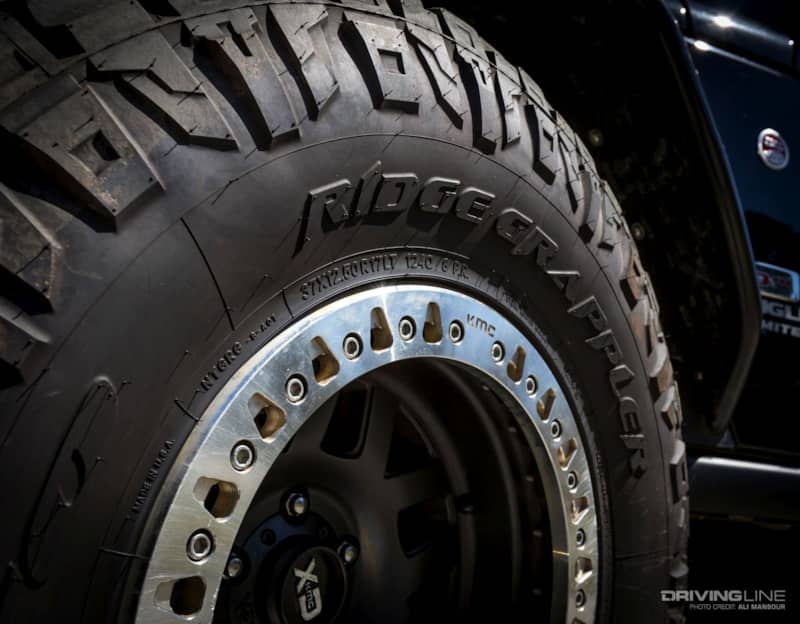 Hose Assist  
In addition to checking all of our fluids, we take extra care to check fluid hoses. Since we have a hydraulic assist steering system from PSC Motorsports, we examine not only the lines closely, but the fittings as well. Just in case we were to damage the cylinder or a line on the trail, we keep a set of caps for the steering box that would allow us to block off the lines going to the ram.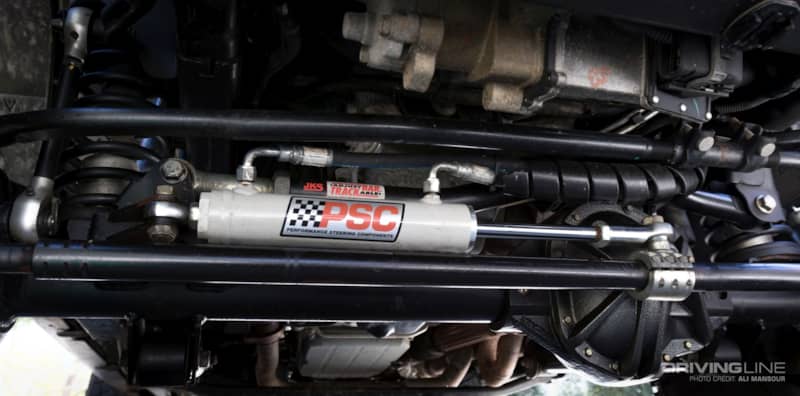 The Road Ahead  
We typically log right at 5,000 miles when we make the round-trip trek from Wilmington, North Carolina. The last time the JK drove out it was on 35-inch-tall Nitto Ridge Grapplers with stock 3.73 differential gears. Now that the Jeep has a much deeper gear ratio and slightly taller tire, we're thinking the mountains shouldn't be as much as a struggle.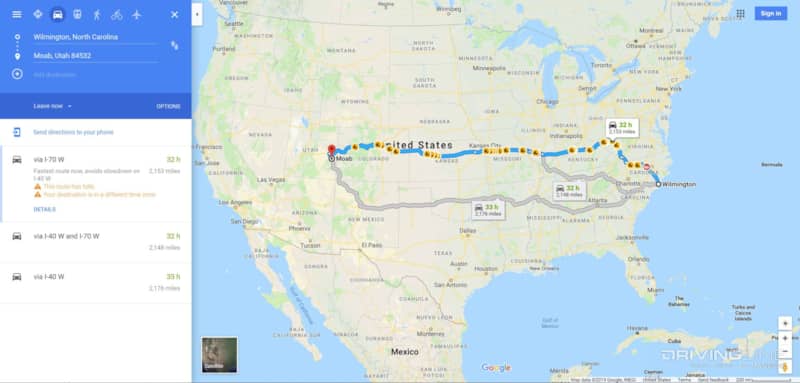 The Mecca  
So, what makes Moab, Utah, so special? It's really a blend of people and place. For April 13-21, 2019, the small town will be taken over by Jeepers from across the country. The traction and obstacles you'll find in Moab make for some incredible wheeling and the scenery is second to none. It's definitely a bucket-list destination for any die-hard off-roader.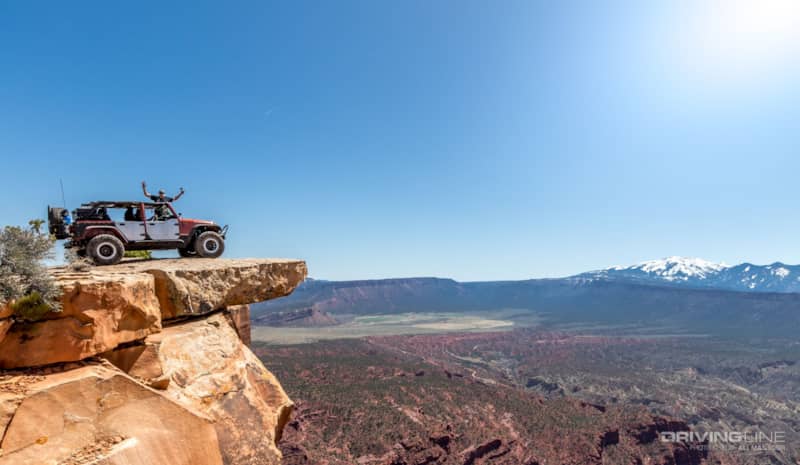 Want more Moab action? Check out this video of one of our favorite trails: Cliffhanger.