1,500 lb-ft Dodge Diesel Double-Take: An Odds-Defying VP44-Fueled Cummins
While the Cummins-powered '98.5-02 Dodge Rams are considered loyal workhorses capable of lugging any load you put behind them, the VP44 injection pump the 24-valve 5.9L came equipped with has always presented a performance obstacle for those seeking higher horsepower. The electronically controlled VP44 lacks enough overall volume and high-rpm fueling capability to compete with the P-pump engines that came before it, or the common-rail power plants that followed it. However, that doesn't mean there aren't a few die-hards willing to defy the odds with their late second-gen trucks—and that's exactly what Caleb Faler is doing.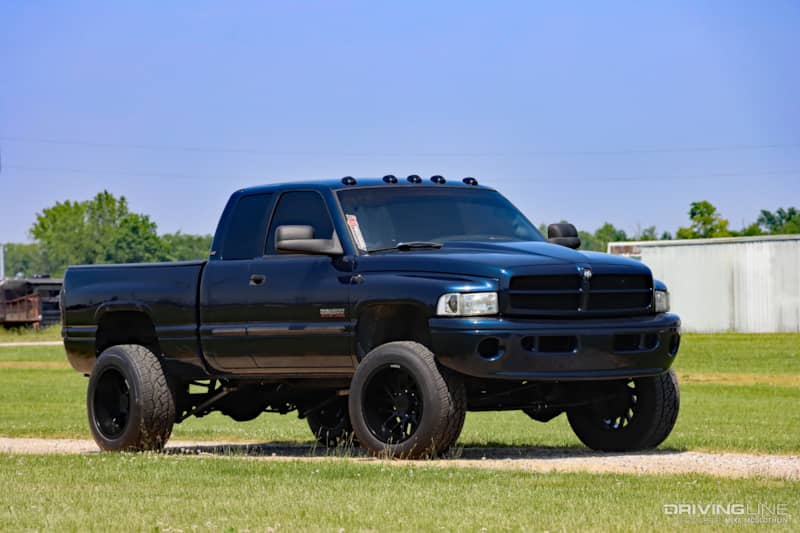 The northwest Indiana native has transformed his '02 ¾-ton Ram into a well-fueled, compound turbocharged index racer he hopes is capable of making 900rwhp and running consistent 7-second eighth-miles. "This is the first truck I've ever torn apart and built myself," he tells us. With help from friends and a host of well-placed mods, Caleb has pieced together a 7.70 Index class contender on a reasonable budget. And not only is his Patriot Blue second-gen proving that the VP44 can be competitive, but it's showcasing just how tough the factory rotating assembly of the 24-valve Cummins is. This is Caleb's story.
Top-End Mods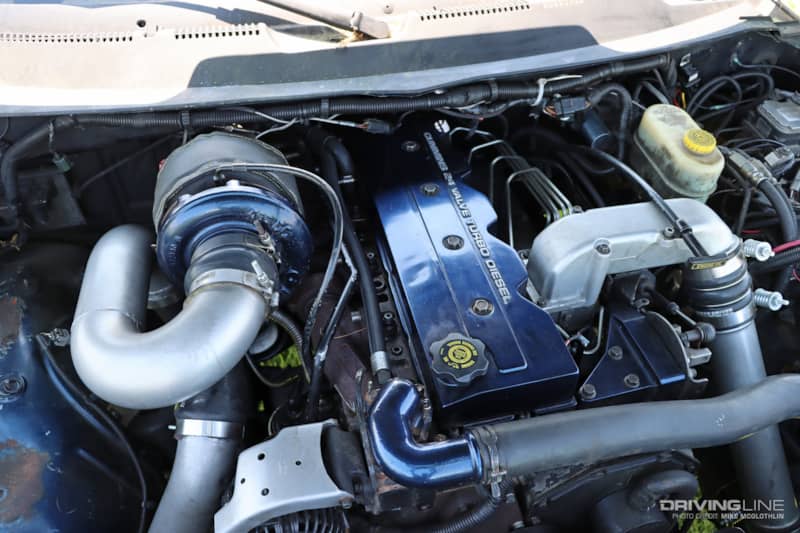 Only in the diesel sphere can you cram 100-psi of boost into an engine and expect it to live. Scratch that. Only with a Cummins can you count on a stock rotating assembly tolerating that kind of abuse. To hold up to the extreme boost, drive and cylinder pressure the 24-valve 5.9L sees, Caleb fire-ringed the head and anchored it to the block with ARP head studs. The head has also been treated to light port work and stiffer, 110-lb valve springs. A set of 7/16-inch pushrods from Hamilton Cams were also added. The crankshaft, rods and pistons are untouched factory pieces, although Caleb tells us that ARP rod bolts will be going in this winter.
Two Stages Of Boost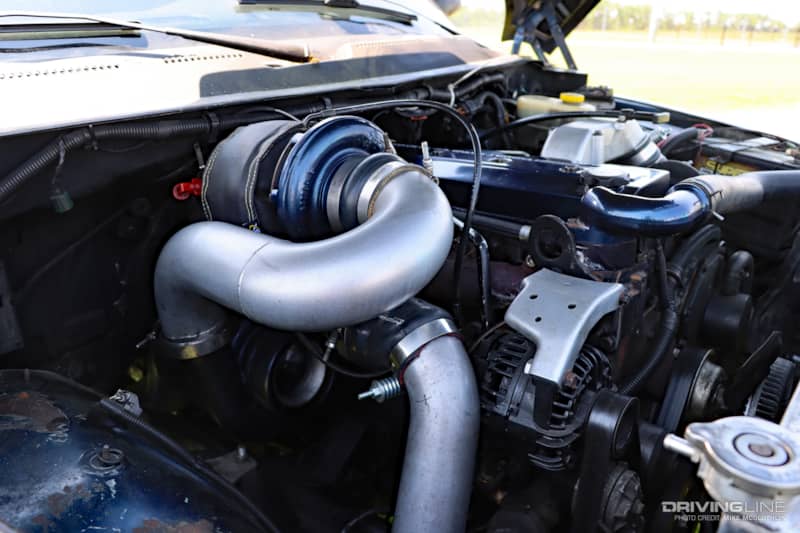 The source of that triple-digit boost number starts here, with an S363 SXE over S480 compound turbo arrangement. The S300 is a T4 unit bolted to an ATS three-piece exhaust manifold and sports a forged milled, 63mm compressor wheel. An S480 with a T6 exhaust housing sits beneath it. Caleb pieced the system together himself using a mix of Stainless Diesel parts such as the downpipe and cold-side pipe, and components from an old Engineered Diesel kit. No wastegate is present in the system but Caleb hasn't ruled out installing one in the future. The chargers send their combined boost through a stock second-gen intercooler.
Stage 2 VP44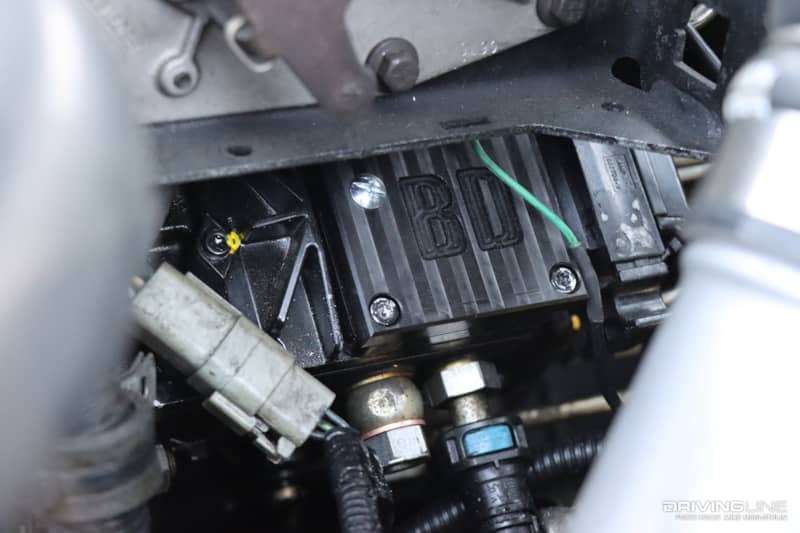 Instead of performing a P-pump conversion, Caleb upgraded to what is arguably the baddest VP44 injection pump on the planet, the Lightning Stage 2 VP44 from Scheid Diesel. The high-flow pump sends fuel through .084 injection lines to a set of 6x13 injectors (6-hole nozzles, each hole measuring 0.013-inches). Tuning comes by way of Quadzilla Power and provides fueling all the way up to 4,000 rpm. Notice the BD stealth cover installed on the top of the VP44 here, which provides a cleaner look, but more importantly a secure, sealed connection for a tapped injection pump wire.
Low-Pressure Fuel Supply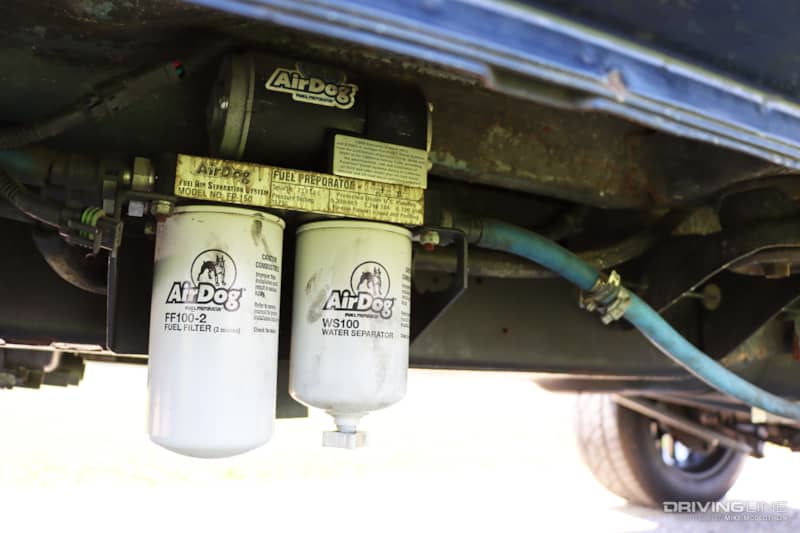 VP44 injection pumps are notorious for failing on account of the lift pump they rely on for fuel supply giving up the ghost first. Knowing that proper fuel volume and supply pressure are vital for the Stage 2 VP44 to live a healthy life, Caleb installed an AirDog lift pump system along the driver side frame rail. The system can flow as much as 165-gph and Caleb keeps supply pressure locked in at 17-psi. The AirDog pulls diesel from the factory tank and sends fuel toward the VP44 through ½-inch diameter hose.
Automatic Transmission Conversion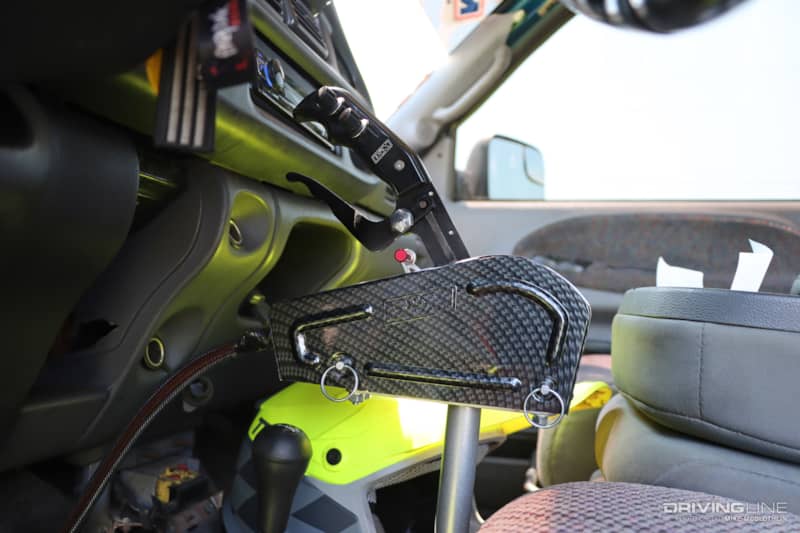 As a high output version of the 24-valve Cummins, Caleb's truck was originally equipped with an NV5600 manual transmission, but jamming gears doesn't really fly in diesel drag racing. So, Caleb pulled the six-speed and swapped everything over to a Chrysler four-speed automatic. The 47/48RE hybrid transmission he runs was built by good friend and fellow VP44 junkie, Stephen O'Neal. It consists of 48RE-intended internals packed into a 47RE case. Billet input, intermediate and output shafts, a 2,400-rpm stall, 17-250 triple disc torque converter from Goerend Transmission and a full manual valve body from Flatout Diesel highlight the automatic transmission's build sheet.
CalTracs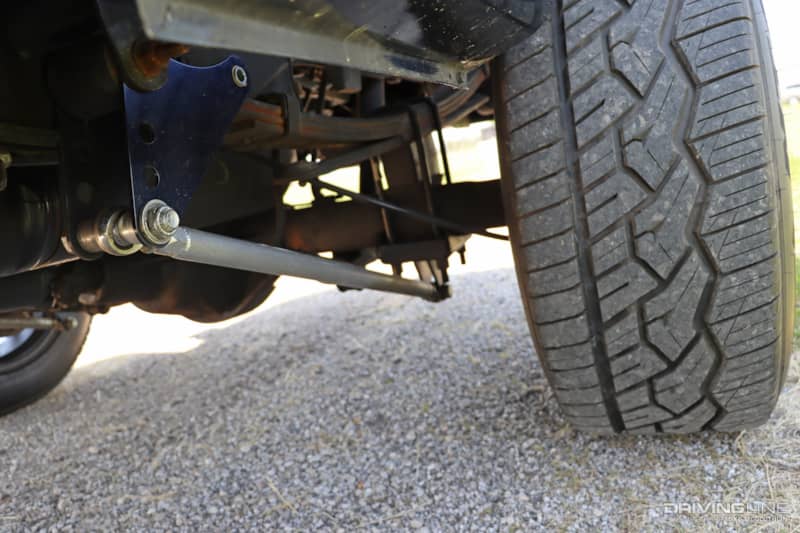 A pair of CalTracs traction bars from Calvert Racing provide both form and function in that they're one of the more subtle and concealable types of traction bars on the market, and they perform their intended job very well. Even in this Ram 2500 application, which likely turns out 1,500 lb-ft of torque, the CalTracs keep the rear Dana 80 from rotating, the pinion angle maintained and the leaf springs from twisting. Beefy rod ends, durable steel mounts and 4130 chromoly links arranged in a compact overall package has long made these bars a popular traction aid.
420V's & 22x12's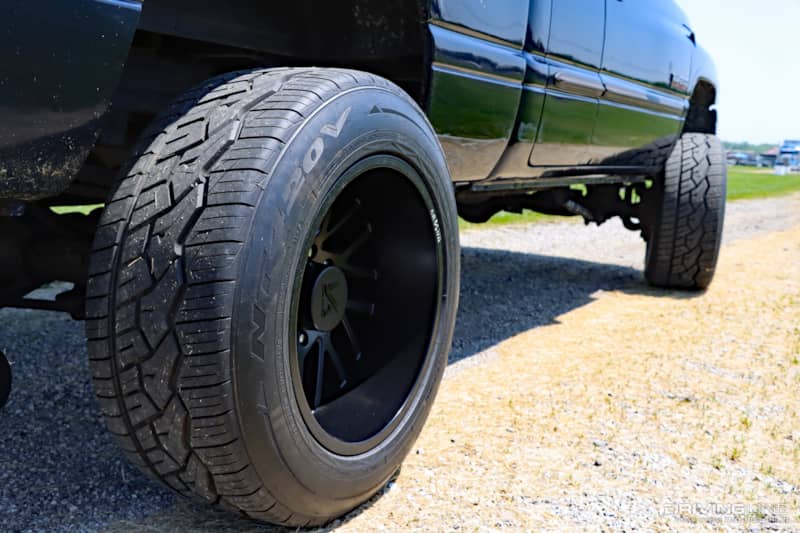 Another link in the traction chain boils down to rubber, and in choosing Nitto's NT420V Caleb chose a tire that was both street and track friendly. However, he didn't exactly buy them… "I actually borrowed them from my brother," he tells us. "But these are the best street tires I've ran so far. They offer great grip and ride really nice." The only area the 420V's lose grip is when they're exposed to boosted four-wheel drive launches on un-prepped surfaces—but that's expected with upward of 1,500 lb-ft of torque on tap right off idle. Caleb's 305/55R20 NT420V's are mounted on 20x12-inch DaVinci wheels from Arkon Off-Road.
Rock-Steady Front-End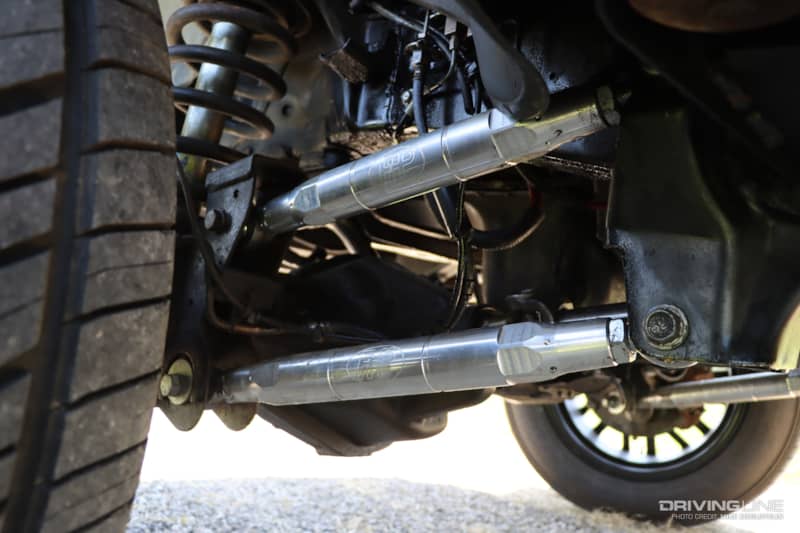 A good launch in Caleb's second-gen entails building 25-psi of boost on the starting line and with the transfer case locked in 4-High. These aftermarket control arms help make leaving the line a smooth, repeatable process. Built by Fullhook Performance, the burly, billet 6061 aluminum control arms feature 7/8-14 Heim joints and double-adjustability for precise tunability. Caleb reports that after adding the Fullhook control arms the truck's torque steer disappeared. They are the final piece in the truck's racing recipe and should bring consistency to those all-important 60-foot times.
More From

Driving Line
The Bosch VP44 gets a bad rap in the diesel industry for premature failure. Learn how you can keep yours alive for the long-haul right here.