10 Ways to Experience Off-Road Trails From Home
If staying at home has you yearning for the great outdoors, Nitto Tire has just released 10 videos and soundtracks from favorite off-road trails throughout California, Utah and Arizona to bring nature to you. The longer we stay at home, the more we want to be in open spaces, so Nitto is helping us out by letting us go off-roading "virtually" from wherever we are.
Join in as Nitto lets you join in on an immersive 360-degree trail excursion with their Trail Grappler Experience 6k videos on their YouTube channel. You'll get the best view in the house atop their Trail Grappler-equipped Toyota 4Runner, which easily tackles the obstacles ahead of it. But our favorite part of the video is getting the sights and sounds of breathtaking off-road landscapes.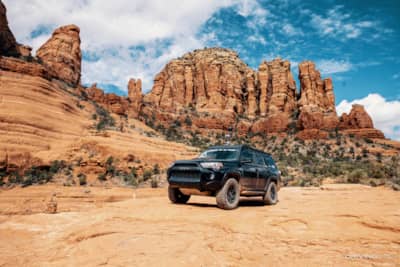 Whether or not you've explored the spaces you'll visit in Trail Grappler Experiences before, the areas near Sedona, Mt. Zion National Park and Southern California are some of our favorite ones to camp, off-road and explore in. Click through to the full playlist or select any of the trails below to jump over and watch. 
Fish Creek + Sandstone Canyon | Borrego Springs, California
Sand Hollow Reservoir Trail | Hurricane, Utah
Willow Creek Trail | Lake Arrowhead, California
Schnebly Hill + Broken Arrow | Sedona, Arizona
Toquerville Falls | La Verkin, Utah
Ultimate Outdoor Soundtracks
For pure audio versions, Nitto has mixed the ultimate soundtrack of the outdoors! From Forest At Dusk to Desert Valley, they bring the senses of these places into your speakers. There are also unique trails soundscapes as well, including Toquerville Falls, Sand Hollow Trail and a river crossing. Catch the full SoundCloud playlist on Nitto Tire's channel.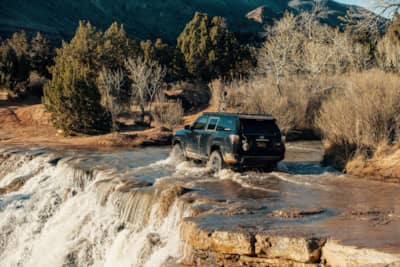 360-Degree Views of the Great Outdoors
For more info on each of these trails, keep reading, and comment below to let us know what place you'd like Nitto and their Trail Grapplers to visit next! 
This is a great trail for beginning off-roaders and overlanders, as it takes you through beautiful desert scenery and unique rock formations with great places to explore and camp. The passage grows narrow toward the end, but nothing that a stock SUV can't fit through.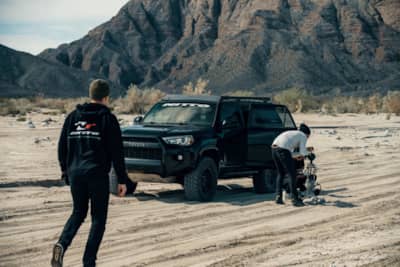 Not far from the recreation opportunities surrounding Sand Hollow Reservoir are numerous OHV trails to enjoy off-road. The area's striking red earth and sage green landscape nicely offset the wide-open skies. Enjoy this one with Nitto at sunset.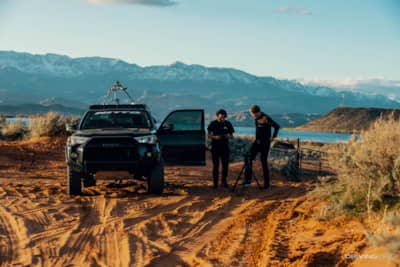 Catch a variety of landscape on Willow Creek trail just outside Lake Arrowhead in the San Bernardino National Forest. While most of the OHV trail is well-maintained, areas can get washed out and flooded, so it's good to be prepared with capable suspension, clearance and mud terrain tires like the Nitto Trail Grappler.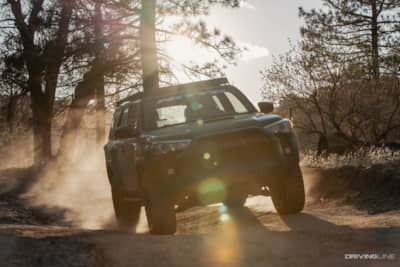 Enjoy the stunning rockscapes that Sedona is known for on Schnebly Hill and Broken Arrow, two popular off-road trails in the area. Some passes are narrow, and the roadway can get rocky, but there are plenty of spots to stop, take in the view and enjoy some hiking while you're there.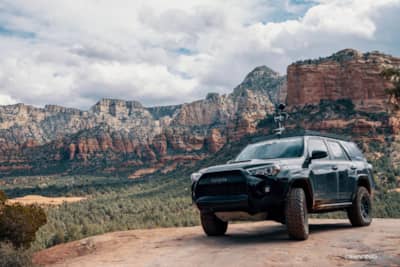 Close to Zion National Park, Toquerville Falls OHV trail will lead you off-road farther into the wilderness and across a cascading waterfall on Verkin creek. Enjoy the sounds of the water while looking around at Utah's beautiful outdoors.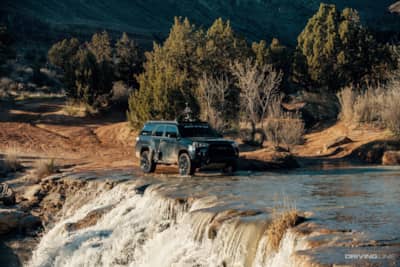 If you're looking for more help in planning your next adventure for when we can all leave homes again, visit Driving Line's extensive off-road trail reviews or watch our On The Trail series to get expert advice on driving through more of our favorite spots.