On the Trail at Queen's Court with Carbon Off Road and Disciple Off Road
Today, OTT hits a trail so fresh it still has that new trail smell. And who better to guide us on it than two of the people who blazed it? Follow along as On the Trail takes on the washes and boulders of Queen's Court trail in Arizona. Or skip along directly to the video itself.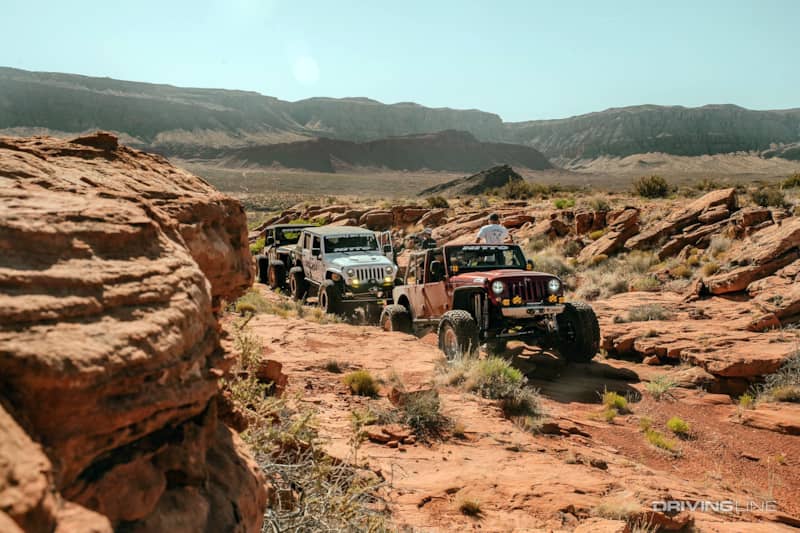 Thriller Queen
Younger than some toddlers, Queen's Court is under five years old. It's a part of Sand Hollow OHV that's rockier than the rest of the larger trail system. That means boulders, rock walls, and all the thrills (and hopefully not spills) that come with.
They Will Rock You
And who better to take on Queen's Court in all its glory than OTT veterans Austin Stobaugh and Courtney Schipper of Carbon Off Road and Jeremy Ricks of Disciple Off Road? If you've seen On the Trail on YouTube, you've probably seen them hard at work exploring trails for us in the videos.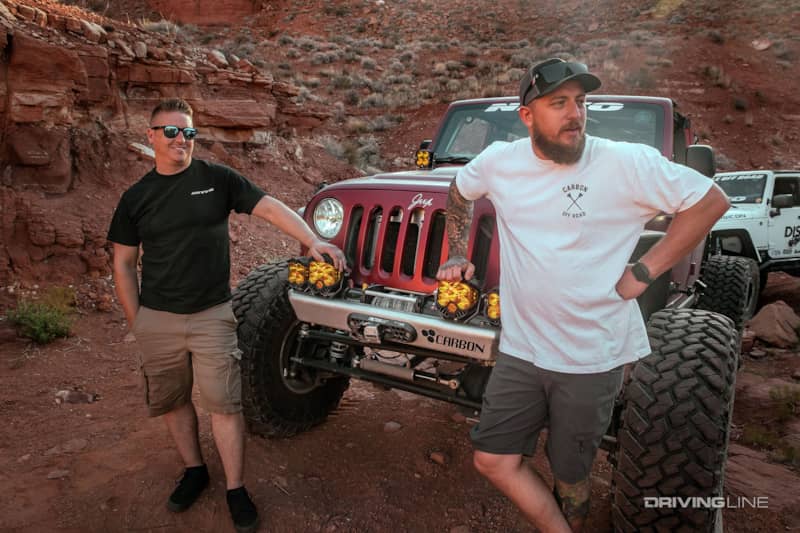 All three brought Jeeps to take on the challenges at Queen's Court. Austin's 2009 JKU Wrangler build runs on a fully custom suspension with custom Carbon Currie axle assemblies. Courtney's stretched 2002 TJ runs Dana 60 axles on both ends. Finally, we have Jeremy's 2014 JKU Rubicon with Evo coilovers and armor plus PSC Hydro assist steering damper. All three rely on Nitto Trail Grapplers for traction duty. "The Trail Grapplers work great out here for this terrain. The tread pattern itself has nice, aggressive lug structure. The way that it works keeps rocks from getting stuck," Austin says in the clip. "It really lends itself to having a lot of traction on the slick rock. It also has the additional tread on the sidewalls so when we're going up some of the new notches in the canyon that extra traction on the sidewall helps keep the tire planted anywhere I want it."
Another One Rides the Dust
Our first obstacle of the day was a little thing dubbed, "The Gatekeeper." It's a straightforward climb over with a good stair step on the passenger side but if you hit it straight on there's a decent chance of getting your belly caught along the way.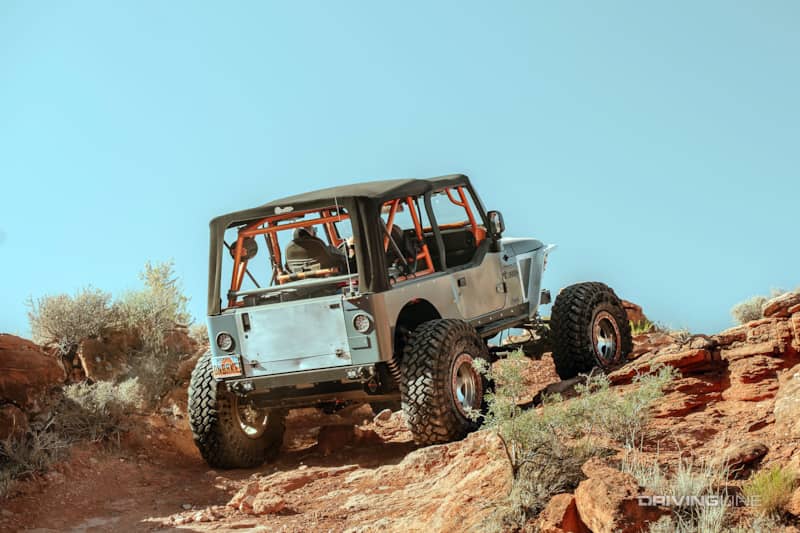 Understanding both the terrain and your own skill level is key to having fun in most wheeling situations but as Jeremy observes in the video, it's pretty important in this terrain and going with friends who've been in the area makes a huge difference. But once you've taken down The Gatekeeper you should be able to take the next one as well, since their on a par with each other. Austin believes Queen's Court is rated an 8 for difficulty but that can vary on a rockier trail like this as weather moves things around from time to time. Not only does that make for a different experience each time you come out, it changes the difficulty in the bargain.
BLM Rhapsody
Most of the trails in Sand Hollow are slick rock but Queen's Court has more boulders which sets it apart from its neighbors. "It's a big change of pace from what we're used to running out here," Courtney told us.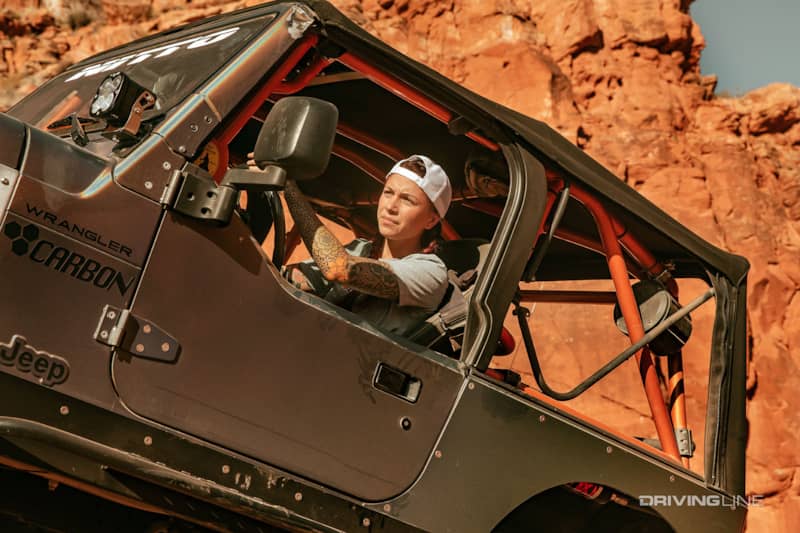 "I feel protective of it... I feel that way about all of our BLM land in open range wheeling areas. As off-roaders we really need to take pride in open BLM land and make sure these areas are going to stay open for generations to come. There are plenty of organizations like Tread Lightly, specifically, that help maintain and keep our public lands open. Obviously, any time we go wheeling we see trash we pick it up. We like to keep the trails cleaner than when we found them. We have to keep our lands clean because if we don't they're going to get shut down and we have no where we can go wheeling that's close by if that happens."
Don't Stop Me Now
"I like that first one," Austin said of The Gatekeeper. "That one changes a lot. The rocks roll and move. That one's constantly changing." The next challenge doesn't change much at all.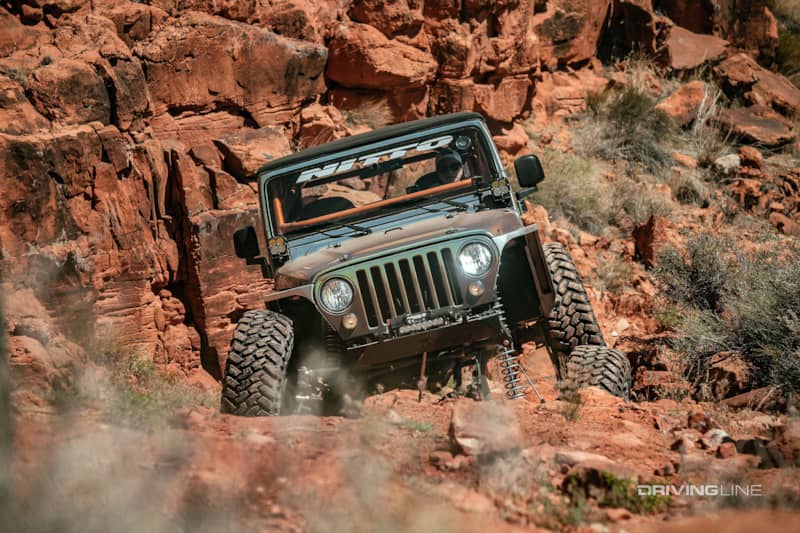 It's a pretty steep rock face with a V-notch in it. He had to back up once, then hit the wall to get up on the ridge above. He guided Courtney and Jeremy up the wall once his own Jeep was sitting pretty atop it.
I Want to Break Free
For as much as Austin loves himself some being out in the dirt, Queen's Court is a bit special to him since he and Courtney helped blaze the actual trail itself about two years ago.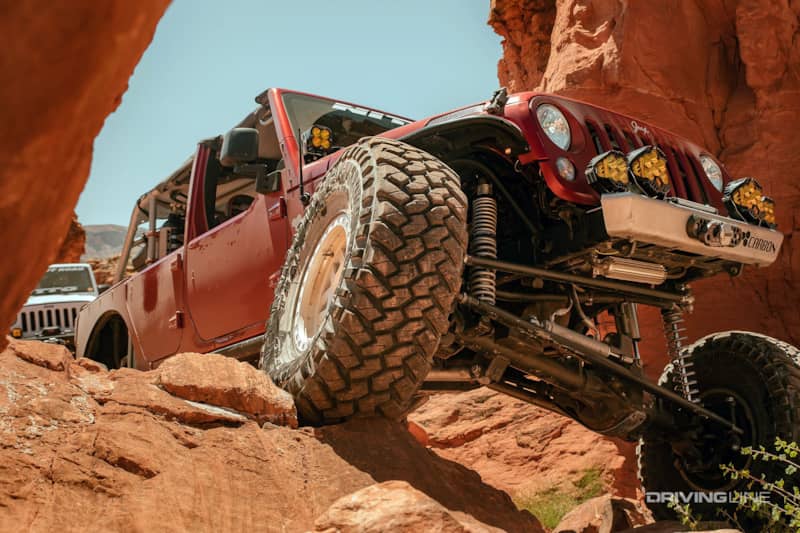 "It's a fun one because it hasn't been super burned in yet so some of the bigger rocks are still where they're supposed to be and it really hasn't been completely ran through... When we break a trail, we take a small group and run the trail making sure that it's passable and getting a feel for what vehicles can do it and that helps us designate a rating to it. But it does go through some steps where we have to work with city and state offices, go over a map where we plot out the course that we're going to run. This all is open BLM land so we are, thankfully, able to fee roam out here as long as we can make a trail that makes sense and doesn't purposely destroy the land, it's all basically fair game. So once we confirm that it is doable, then we start to give out the GPS coordinates, give it a name, and then it becomes an actual trail that's established after that. We rarely wander off just for fun. When we break a trail, there's a reason to it and we designate an area and it's chosen beforehand.
Under Pressure
Arriving at The Ledge, it was time for strategy before the team took it on. Unlike the first two beasts in their path, this one involved climbing down more than climbing up. Having an Atlas transfer case on her rig aided Courtney's Jeep since it let her switch to front-drive, low-range only mode, which really helps in maneuvering off-road.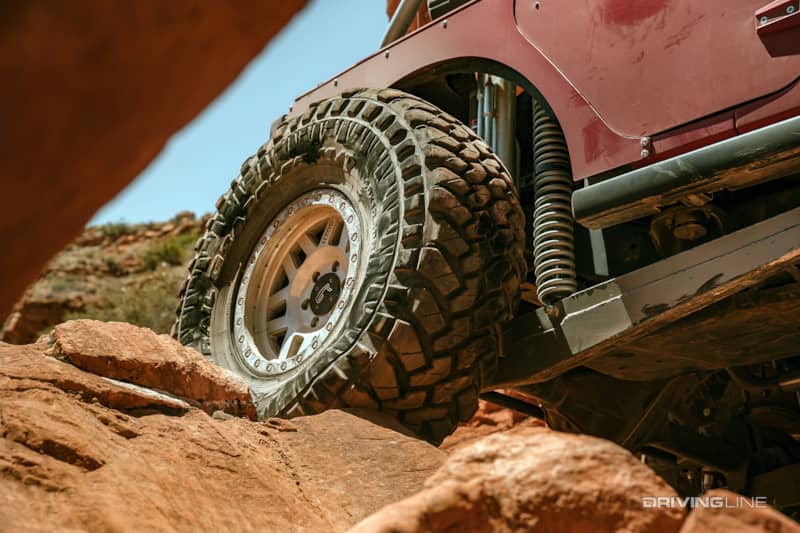 For as good as the Atlas was, there are these other things that a lot more Jeeps and trucks tend to have called, "tires." Watching the video you'll see how all of the Trail Grapplers were aired down to get more gripping with the rocks. Jeremy started running taller tires in Moab recently. They give him better ground clearance which means more confidence in rocky terrain like this. "Going off ledges like that it helps because your tires are hitting ground a little bit faster than they normally would. It's always nice to get more lift out of the bigger tires." Your gearing, suspension, and axle configurations also make a world of difference, too.
A Crazy Little Thing Called Lunch
The rock climbing odyssey continued until the group reached The Slot and broke for lunch. "Getting into a trail like Queen's Court that's rated a seven or an eight," Austin said, "seat time is everything. Really getting in there and feeling out the vehicle, knowing what the vehicle can and can't do.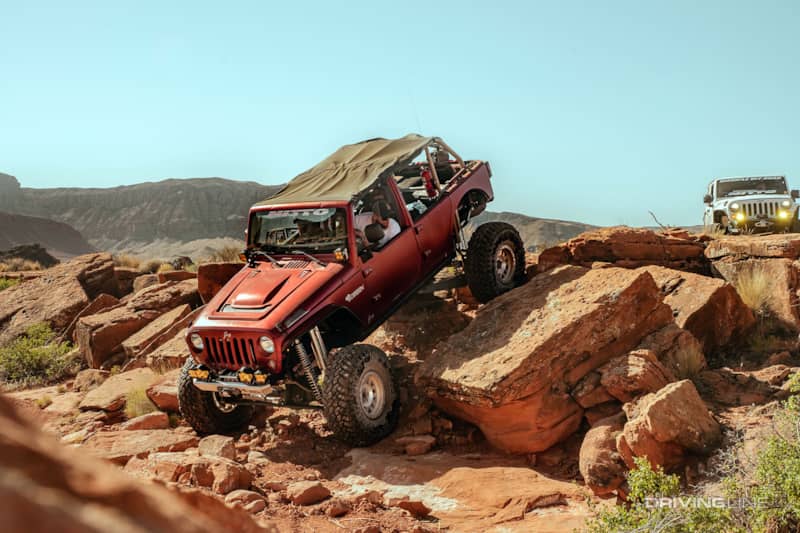 Jeremy's pretty comfortable. I've watched him a couple of times in the mirror. Spots that I know I get really close on articulating or tipping over or just using all my travel I can see that he might float a tire just a couple of inches off the ground I can see he's comfortable, he can walk it, continue moving forward, and always drop down so knowing the limits and feeling the vehicle, understanding what it can and can't do, where those limits are that you're comfortable with. That's how you progress and get into these tougher trails and feel confident to tackle them."
We are the Champions
Having a buddy who knows how to improvise by stacking rocks to get you over a trapped boulder helps, too, as you'll see when you watch the video. Once the last rock was conquered, though, the group made the final run to the plateau where they treated themselves (and their cameras) to a magnificent desert view of red rock formations.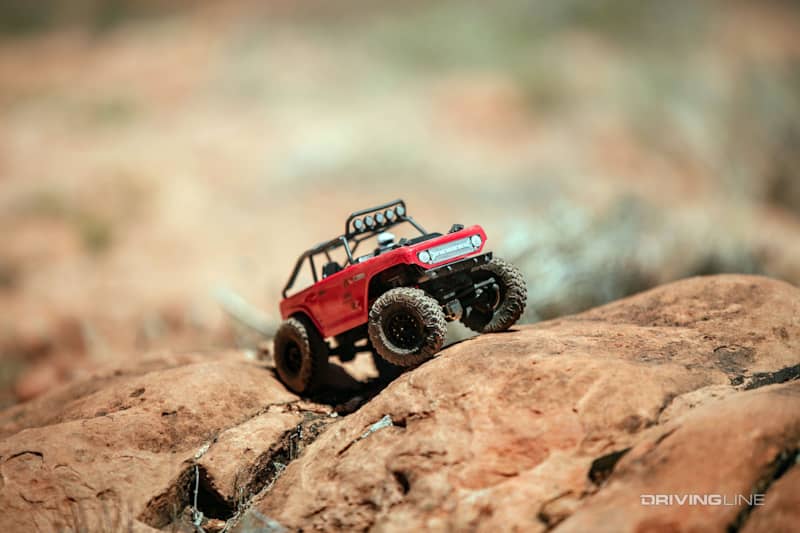 Jeremy was happy he didn't have to bust out a winch line that day and Austin had a few recommendations for Queen's Court, like two to three inches of lift and 35- to 37-inch tires. But the final drive of the day was scaled down in the form of some RC car action. Be sure to subscribe to our YouTube channel so you don't miss out on any of the fun.