The Best of "On the Trail" 2021: 12 Great Off-Road Trails in the U.S.
In 2021, Driving Line and On the Trail covered a wide range of off-roading trails from central Kentucky to So Cal, Utah, and the Pacific Northwest. One of the breakout stars of On the Trail for 2021 was the new Nitto Recon Grappler. The tall all-terrain gripper pairs prominent lugs with an aggressive tread design into a package that's comfy on the road and confidence-inspiring off of it. Part of that is thanks to the interplay of wide and narrow grooves which keeps the road noise down while improving traction. Here's a look back at where we went, what we did, and insights into how you can get the most out of each off-road adventure for yourself.
Red River Gorge
We started 2021 at Red River Gorge in central Kentucky back in January. Like the name says, it's centered around Red River.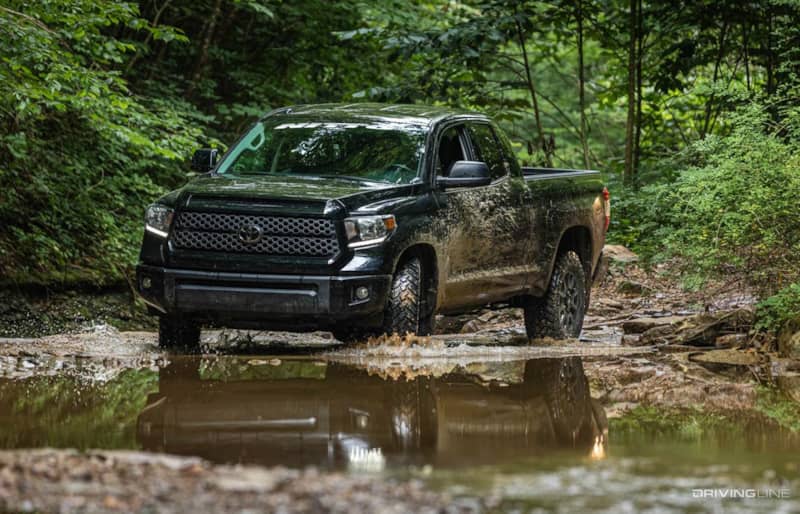 Off-roading is just one of the things you can do there, though. Red River Gorge's sandstone cliffs, waterfalls, natural bridges, and rock shelters make it one of the top rock climbing destinations on the planet. If that's not enough, all of the stone arches should seal the deal to get you out there. Hosts Dario Ventura and pro climber Dru Mack not only tackled its sandstone obstacles by vehicle, they also did so by hand (and foot). Read the recap here.
Odessa and Duran Canyons
From Kentucky we took you way out west to the Odessa and Duran canyons near Barstow, California. If you're local, you probably know Barstow as the big town you pass through on the way from LA to Las Vegas.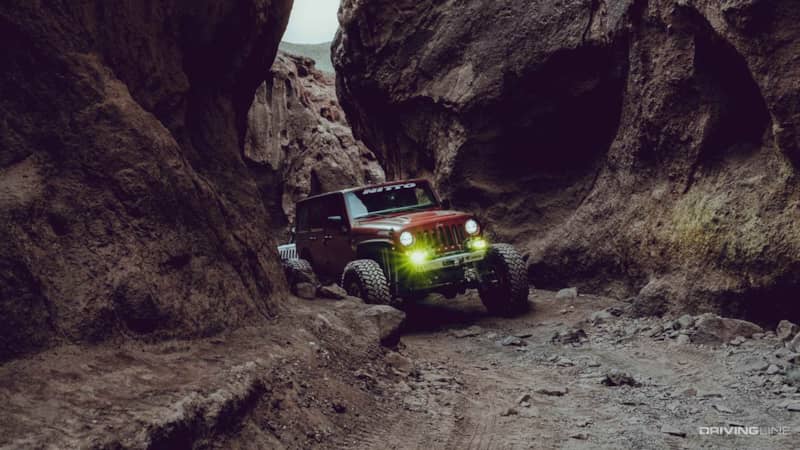 Austin Stobaugh of Carbon Off Road, his fiancee Courtney Shipper, and Jeremy Ricks of Disciple Off Road tackled the canyons together. The area packs not only canyons but also desert race courses as well, giving you some variety from which to choose. Read all about their canyon-carving excursion.
Logandale Trail System
Continuing the trip toward Las Vegas we went to the nearby Logandale Trail System along the way.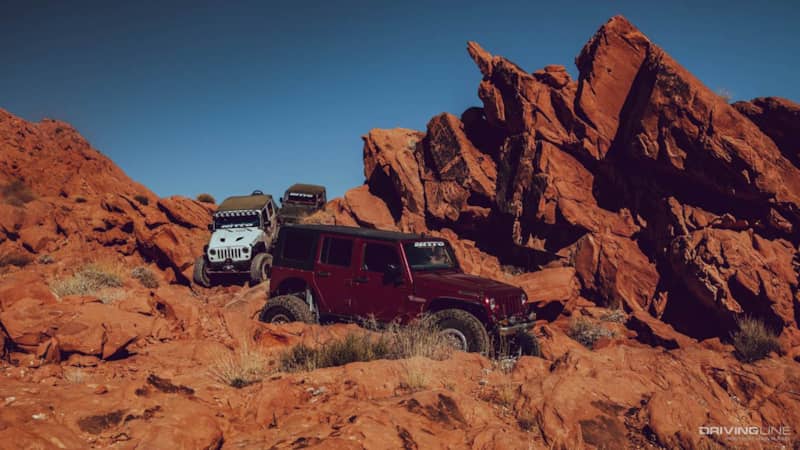 It sits just north of Las Vegas awaiting your off-roading enjoyment. You don't even need burying a mob snitch as an excuse to go, either. So there's that. Jump to the full story.
Big Bend National Park
April saw On the Trail venturing into Big Bend National Park out in Texas. Not only is it scenic for driving, it's also great for exploring off-road.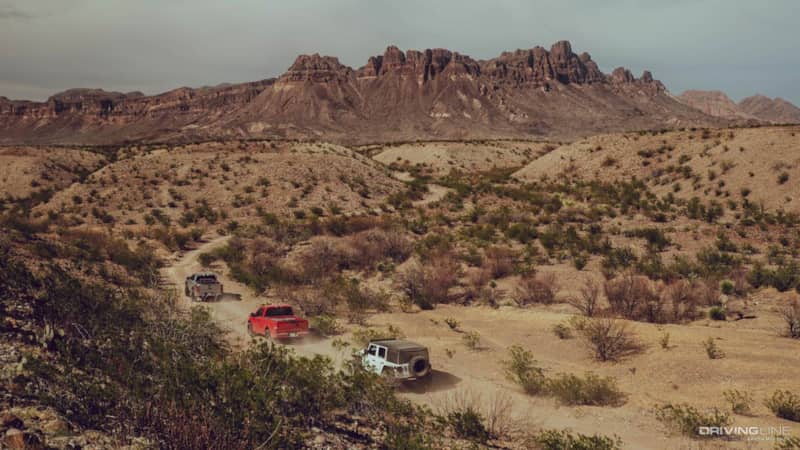 Since many people think of vast, flat deserts when they think of Texas, it doesn't surprise us that the state doesn't hit hard for wheeling enthusiasts to visit for 4WD fun. But this episode of On The Trail proves that there's something for everyone in Big Bend National Park. In this first Big Bend episode we explore River Road, a maintained off-road trail that runs east/west through the park taking you to a number of the park's landmarks and offering spectacular views of the parks' diverse landscape.
Big Bend Part II: Black Gap Trail
It's not exactly a shocker that we couldn't fit all of a Texas trail adventure into one episode of OTT. Everything's bigger in Texas (unless you go to Alaska; that's as big as U.S. gets). There are a lot of fun things to do in Big Bend National Park, so Driving Line went back and tackled one of the best and hardest trails in the park: Black Gap trail.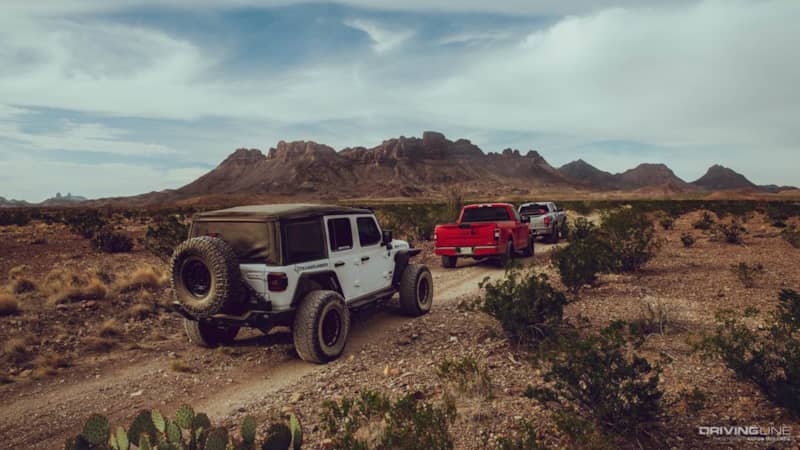 The mountains along the route have a whole lot of history and beauty to uncover, complete with some fun obstacles to conquer. Watch all the fun in the video.
Death Valley's Titus Canyon
In June, On the Trail, Matt Moghaddam (@desertchief) guided Driving Line Pit Crew members Geoff Tumang (@geoff.t) and Johnathan Hume (@J_fordraptor) through the intricacies of Death Valley's Titus Canyon.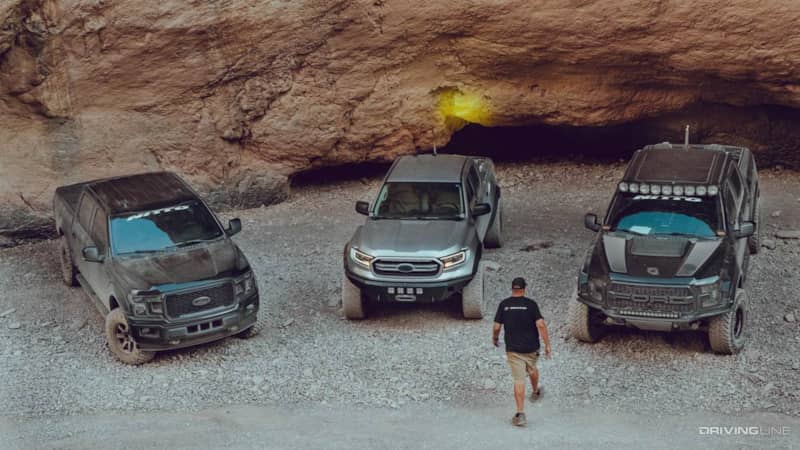 It's a deep, narrow gorge sliced into Death Valley National Park at the junction of southwestern Nevada and southeastern California. Navigate the valley with them virtually.
Lippincott Mine Road
While Lippincott Mine Road isn't a long trail, it more than makes up for that with challenges. Among them hundreds of feet of dropoffs.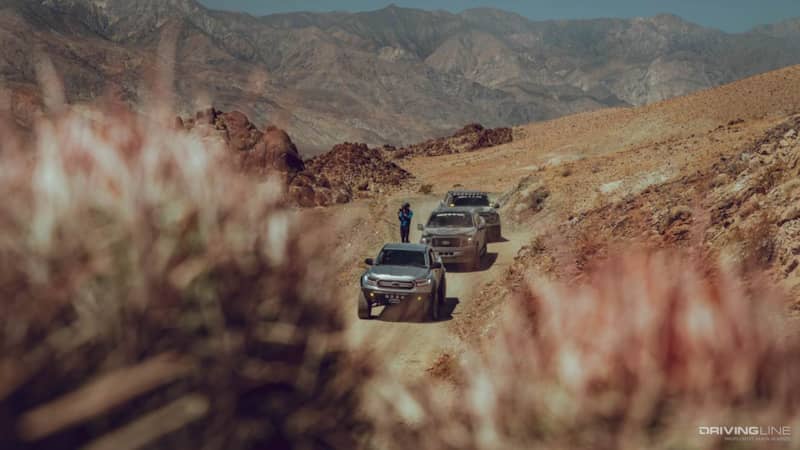 It's not about casual driving but there are pretty thrilling adventure for the right driver in the right vehicle. In this edition of On the Trail, our own party of adventurers tested their mettle against the challenges of Death Valley's Lippincott Mine Road. Jump to read about their exploits.
Cinder Hills OHV
The name says it all. Arizona's Cinder Hills takes its title from the cinder cones and volcanic craters dotting the area like the devil's backyard.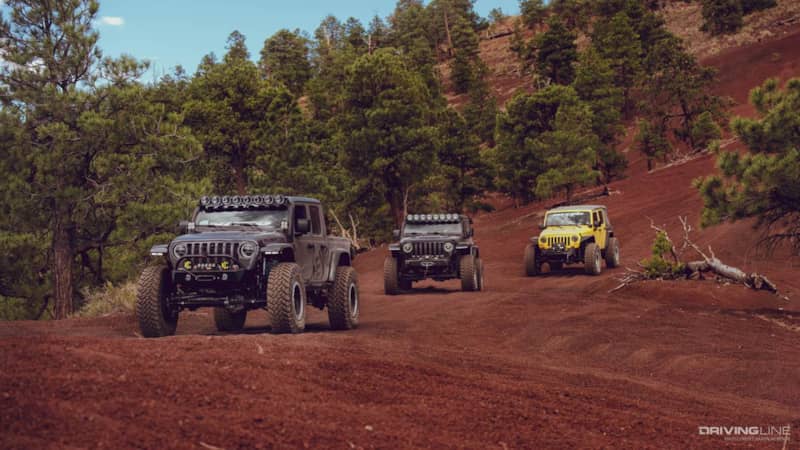 It's also inside a ponderosa pine forest and a pretty unique area for off-roading. Roughly 13,500 acres of the park are designated for off-road use. In general, unrestricted use takes place in areas of lacking or limited vegetation, without archaeological sites, critical wildlife habitat, excessively steep slopes, or visually sensitive areas. Read the full story here.
Hog Canyon OHV Trail System
First off, let's get it clear: no hogs were harmed in the making of this addition of On the Trail. Mel Wade of Evo Manufacturing brought his daughter, Harley Wade, who runs Evo's custom shop, Offroad Evolution, and Driving Line's own Randy Wilcox out to Hog Canyon to take on the blend of sand and rocks that is this scenic and challenging trail system.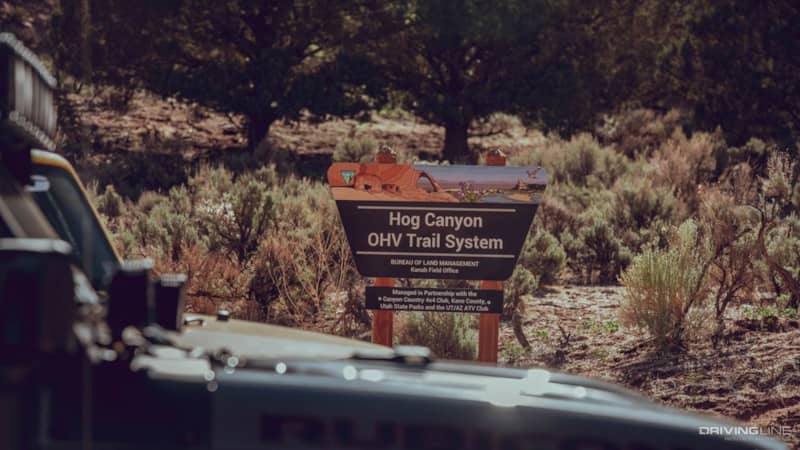 It's a technical off-roading playground with 30 miles of trails winding through spectacular terrain. There's a variety of ways to enjoy the place, for the beginner to the hardcore veteran. Find out all about it in the full story.
Fortune Creek Trail
In October, On the Trail made its way to the Pacific Northwest and Washington's Fortune Creek and Gallagher Lake OHV in the Okanogan-Wenatchee Forest.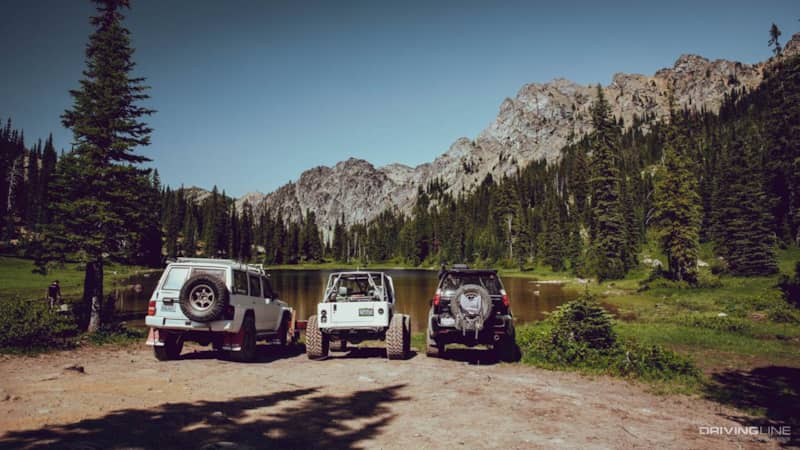 It's a convenient getaway for local off-roaders looking to escape the urban confines of nearby Seattle and explore the scenic Pacific Northwest for a little bit. All it takes is a two hour drive from the city and you're surrounded by picturesque mountains, forest, and lakes as you hit the trail. Hit the recap for more.
Routes of the Naches Trail System
We moved east of Washington's Mount Rainier in November to the Naches Trail System. It's a blend everything from narrow dirt trails to super aggressive rock crawling that's too much for some vehicles (and drivers).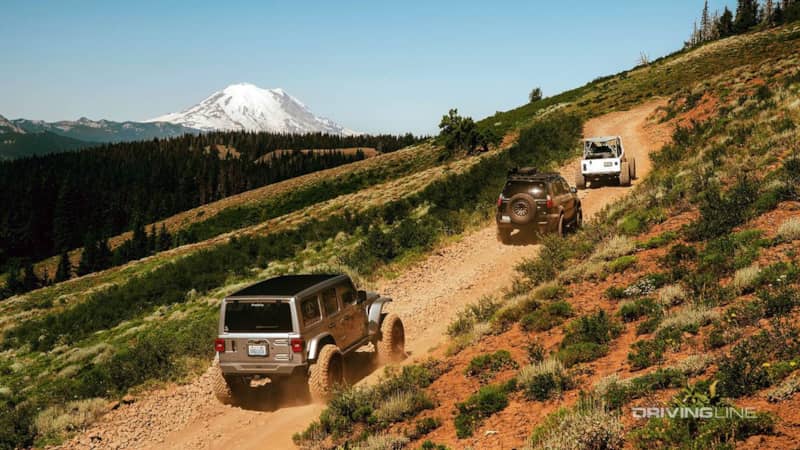 Some of these trails are so narrow that you may have to back around corners to navigate successfully. However, the ridges with their breathtaking scenery and equally pretty trails make the best reward for your efforts. Get to know the trails in the full story.
Wipe-Out Hill Trail
And finally, we ended 2021 at Moab, Utah's Wipe-Out Hill Trail. It was a day of mud slinging and rock tackling sprinkled with rain and hail showers.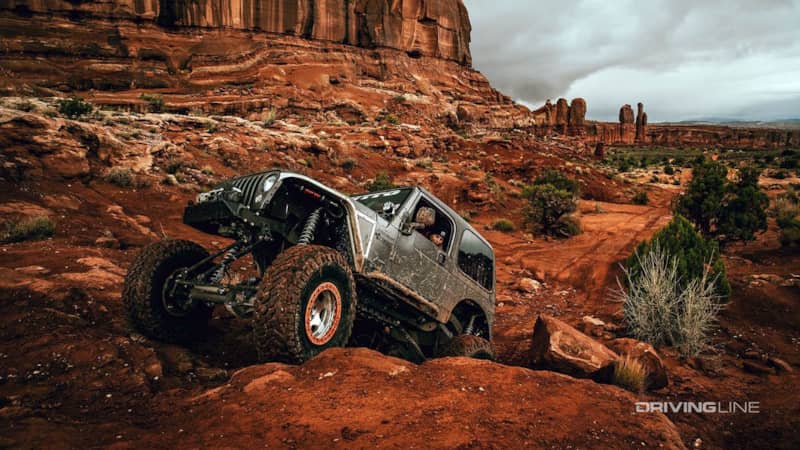 Wipe-Out Hill Trail is a scenic, moderate trail under normal conditions, but the day we went didn't fall into that category. Rainy weather decided it wanted to come play too. Luckily, we had three great Jeeps for the job. And you can experience it yourself without the mud in the story.
Heading into 2022, you can expect more off-road adventures in new places from Driving Line's On the Trail series, both on our website and our YouTube channel. Until then, we hope you enjoy this look back on all the fun we had this year and would love to hear about your experiences out on the trails.