5 Best Crossovers That Won't Bore You To Death Behind The Wheel (For Under $50k)
Crossovers have become the automotive wallpaper of parking lots across the country, having long taken over as the daily driver of choice for buyers who appreciate their mix of practicality, safety, and all-weather capability. Still, there are a subset of buyers who won't slide behind the wheel of anything that threatens to put them to sleep, no matter how useful it might be. Lucky for them, more than a few automakers feel the same way, and have made sure to include a handful of haulers designed to do more than just conquer the commute.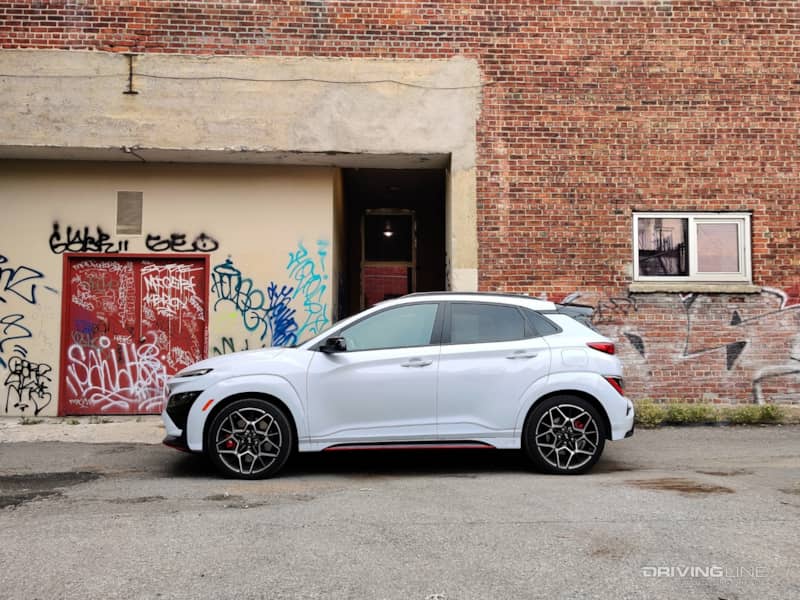 Here's a look at 5 affordable crossovers that guarantee an interesting time out on the road, all while still following through on their day-to-day promise.
2023 Hyundai Ioniq 5 SEL
There aren't many rear-wheel drive crossovers available outside of the luxury set, which helps set the Ioniq 5 apart from other sub-$50k haulers. Of course, there's also the Hyundai's battery pack and electric motor that give it a leg-up on most of its rivals in terms of instant-on torque: the affordable SEL edition boasts 225hp and 258 lb-ft of twist, with the latter arriving the second the pedal is pressed. It's enough to hit 60-mph in just a few ticks over seven seconds, but the Ioniq 5 feels faster thanks to its kick-in-the-pants EV drivetrain.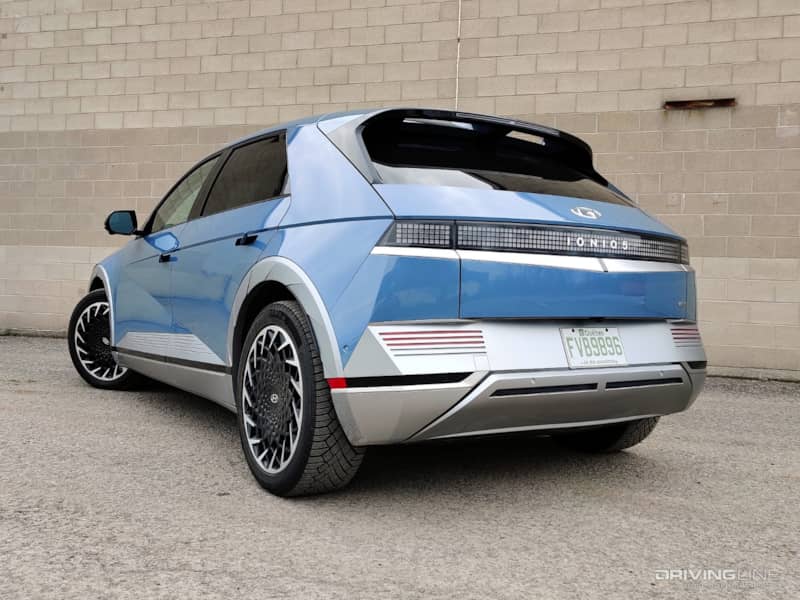 Throw in the Hyundai's fun, balanced driving dynamics and you've got a recipe for a stylish crossover that's gas-free while still keeping things interesting should you take the long way home from work on a Friday afternoon.
2023 Mazda CX-5 Turbo
The Mazda CX-5 pulls off the astonishing trick of fooling drivers into thinking they're behind the wheel of a vehicle costing thousands of dollars more than its $38,000 starting price. Part of this stems from its design, which is forward-looking and upscale inside and out, but its drivetrain and chassis also make a compelling case as to why family-oriented enthusiasts might want to take a look.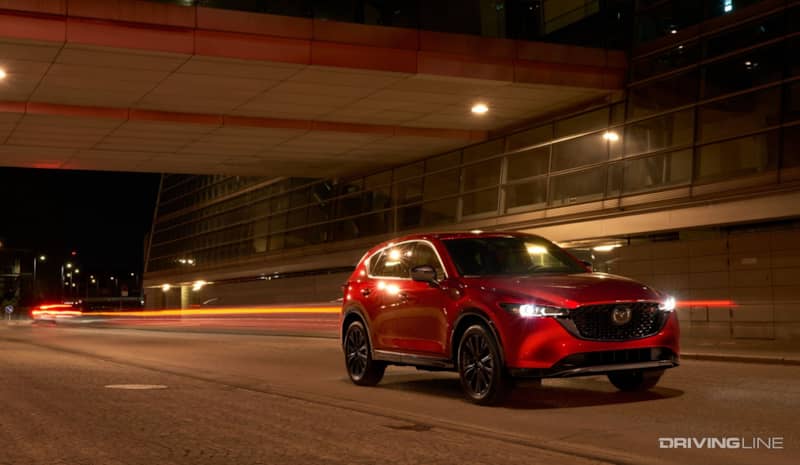 Opting for the Turbo trim introduces a 2.5L, turbocharged four-cylinder engine, which when fed premium fuel is good for 256 hp and 320 lb-ft of torque (with 227 hp and 310 lb-ft available on regular gas). That enough for a 6.2 second sprint to 60 mph, making it one of the quickest compact crossovers on the market. Better yet is the CX-5's road-holding ability, with its all-wheel drive system complementing a well-tuned suspension as it attacks corners with a confidence more often found in similarly-sized sedans.
2023 Genesis GV70 2.5T Select
The lower rungs of the luxury ladder are available for those willing to stick with a base model while satisfying their $50,000 budget cap. While this typically excludes more athletic models, there are a pair of notable exceptions, the first of which being the Genesis GV70.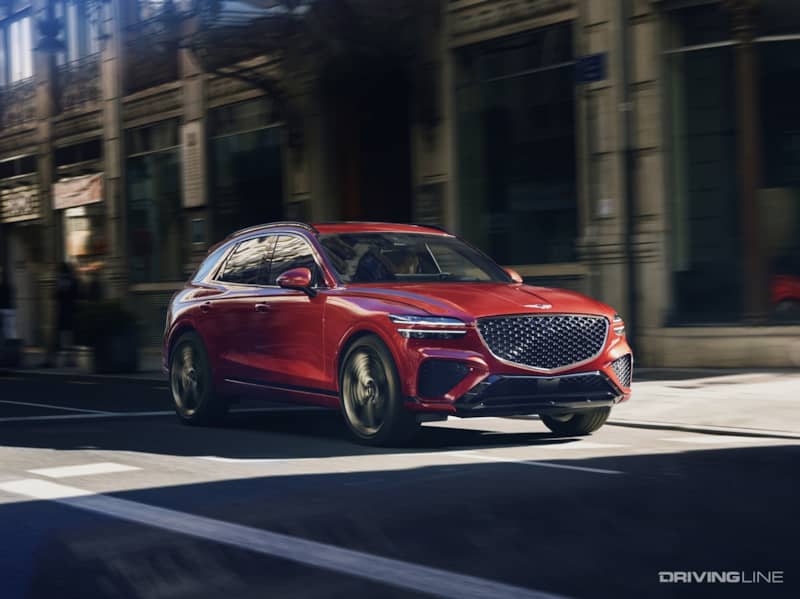 The GV70 2.5T Select trim barely squeezes under our self-imposed limit with its $48,000 price. The Select snags a bunch of comfort gear (including leather seats and a heated steering wheel, which is paired with a 300 hp, 2.5-liter four-cylinder turbo. Also good for 311 lb-ft of torque, this version of the GV70 snaps to 60 mph in a respectable 5.6 seconds, and features an all-wheel drive system that tilts power delivery towards the rear axle when driven aggressively (in order to improve overall feel and handling). Genesis has quietly snuck up on traditional luxo brands and built on the best-driving crossovers in the compact segment, and even its more affordable trim levels deliver on the promises made by its sultry good looks.
2023 BMW X1
Looking for something smaller than the GV70, and with a more recognizable badge? BMW has redesigned its entry-level $40,000 X1 crossover for 2023 with an eye towards improving performance across the board.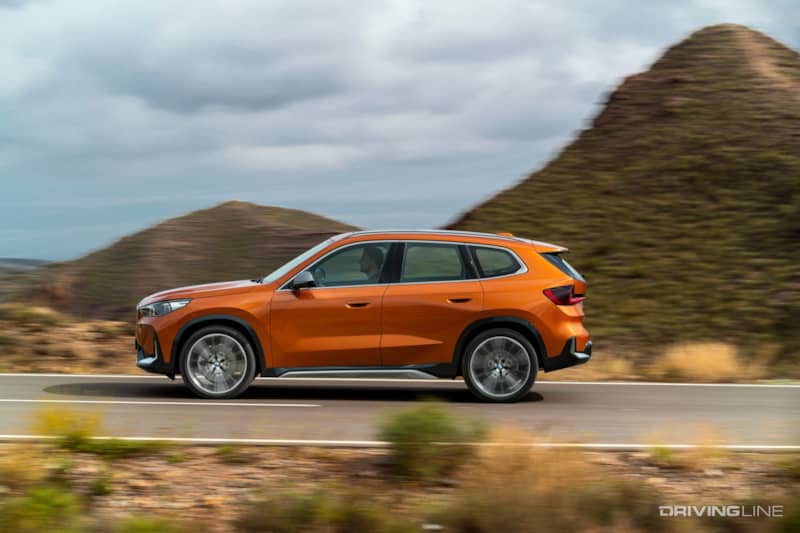 What this means is the banishing of the front-wheel drive trim that used to start out the X1's order sheet in favor of standard all-wheel drive, which comes yoked to a turbocharged 2.0L four-cylinder engine. Rated at 241 hp and 295 lb-ft of torque, it's just a tenth or two quicker in a straight line as compared to the GV70, and it happens to share major aspects of its platform with the Mini hatchback. This should give you a good idea of what goalposts were met by the engineering team charged with tuning the BMW's suspension setup.
2023 Hyundai Kona N
It's tempting to view the Hyundai Kona N as a hot hatch rather than a crossover, especially considering that it comes exclusively with front-wheel drive (and doesn't offer anything resembling off-road ground clearance). That being said, the Kona N maintains the tall roofline of the standard Kona subcompact, and throws in considerable grunt to go along with its aero-friendly body work.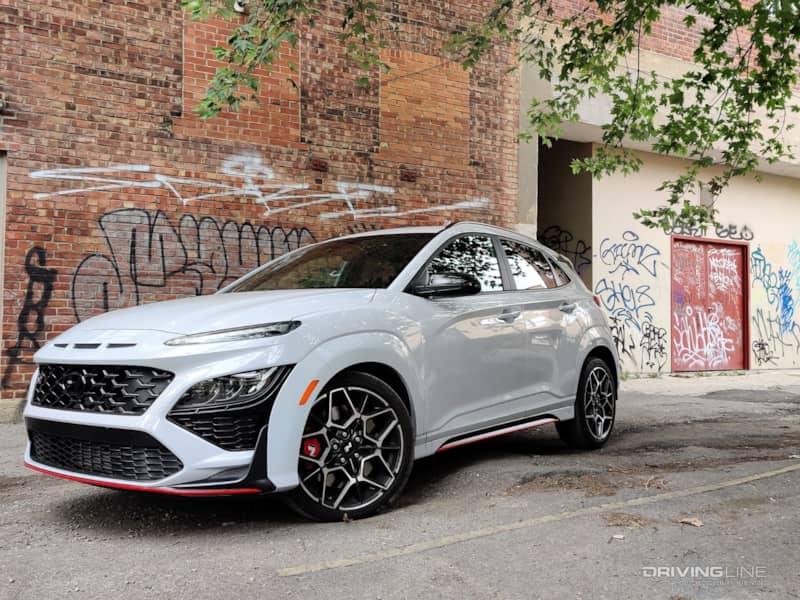 Light the wick on the Kona N and you'll enjoy 276 hp and 289 lb-ft of torque, numbers which threaten to overwhelm the front tires each and every time the Hyundai pulls away from a stop. There's even an overboost button that tags in 10 additional horses for 20 more seconds should you need to win a drag race the Fast and Furious way. Underneath its extroverted skin, the $36,000 Kona N features a surprisingly stiff, but remarkably configurable suspension and steering setup that works hard to keep drivers interested in hunting down the next apex.