5 Ways to Transform Your Eighties Pickup into a Modern Cruiser: 1986 Chevrolet C10 Project
The 1980's represented an interesting time in the American truck market. Stylistically, the trucks moved past the classic look, trading in those '60s and '70s curves for the squarebody angles.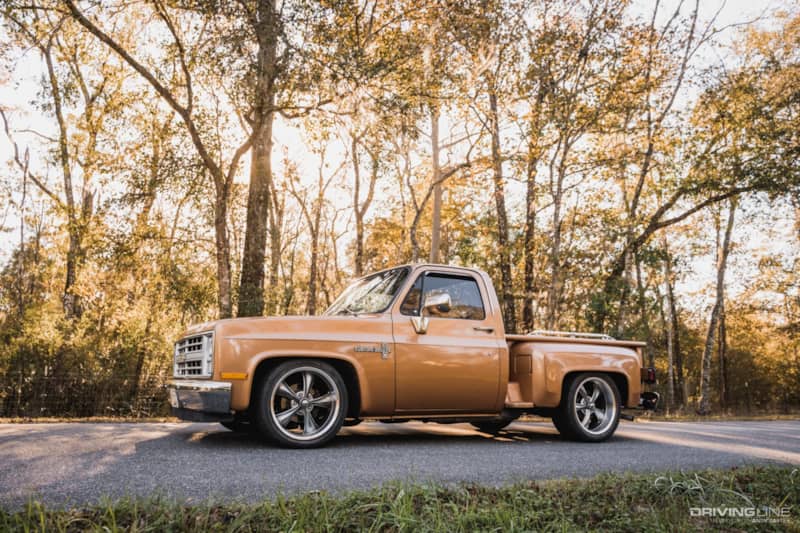 Technologically, however, these trucks had little to show for the increasing modernization of the American automobile. While the '90s saw the advent of the consumer-grade pickup, trucks in the '80s were still very much vehicles intended for work.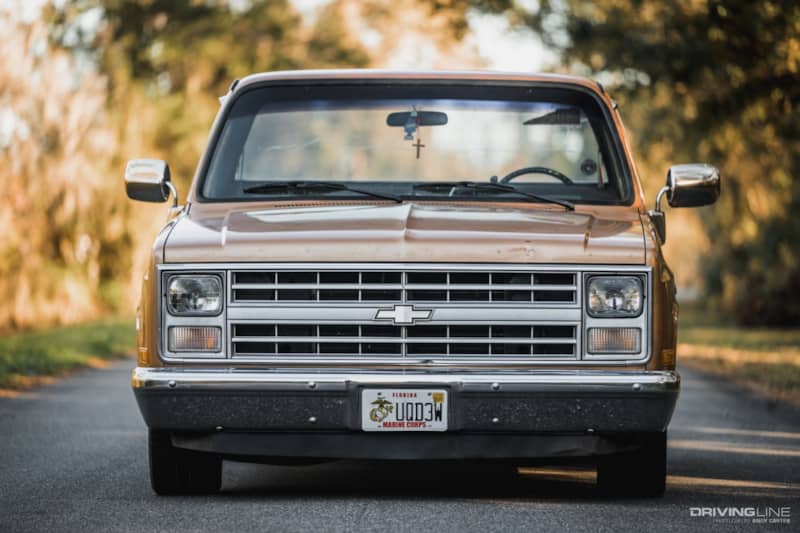 Today Gen-X and Millennials find themselves feeling the nostalgia for their youth, and these trucks once owned by their fathers and grandfathers have found a resurgence in popularity. With a few mods, these old trucks can turn heads at even the most high-brow of automotive gatherings.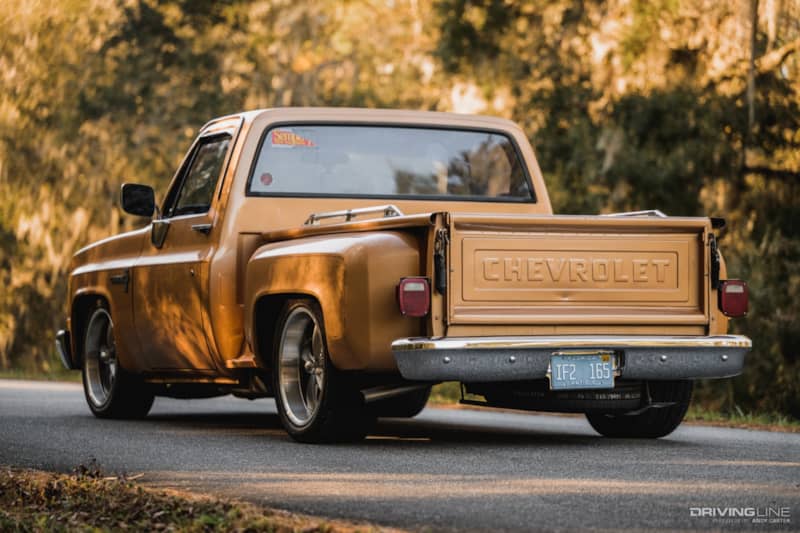 Altitude Adjustment
Originally designed for utility purposes, the last thing on the original designer's minds for these trucks was aesthetics. Lowering an '80s truck is a very popular mod these days, and sets it up for a better stance, and improves the handling of these large, floaty land barges. Jeff Braddock, the owner of this 1986 Chevrolet C10 Stepside, installed a Belltech 705ND 4/6 drop kit to lower his truck to a still practical height.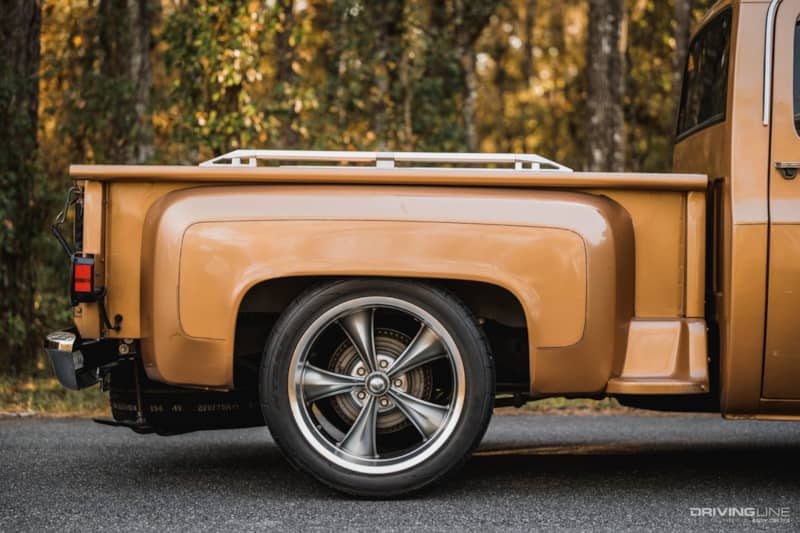 By utilizing an established company, an owner can be sure that the kit includes everything to properly and safely lower the truck. Jeff also installed a set of Nitro Drop 2 shocks to give the truck a better-than-OEM ride quality with added performance, control and comfort.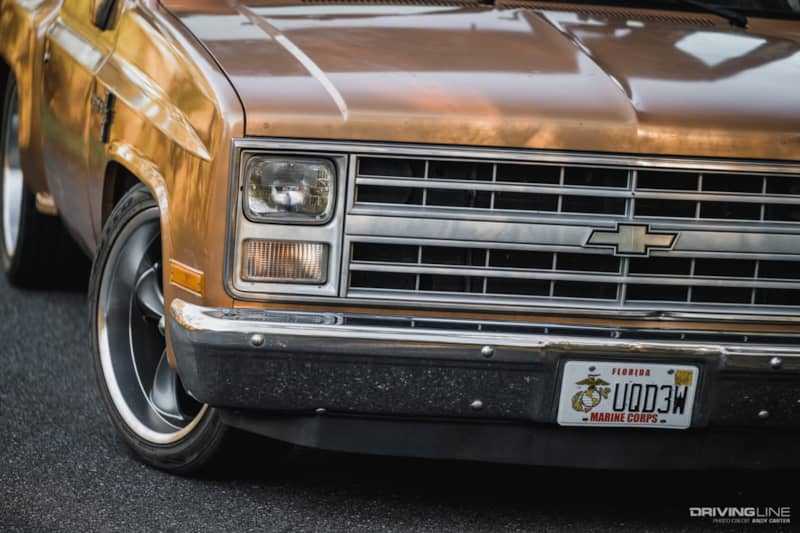 Modern Wheels and Tires
Look back at OEM trucks in the '80s and one of the first exterior opportunities for improvement that will standout is the stock wheel and tire fitment. Long before words like "stance" and "fitment" were tossed around casually by enthusiasts, wheel and tire choices were practical for the purposes of a work truck. Our modern tastes, however, require a setup that fills the big wheel wells better.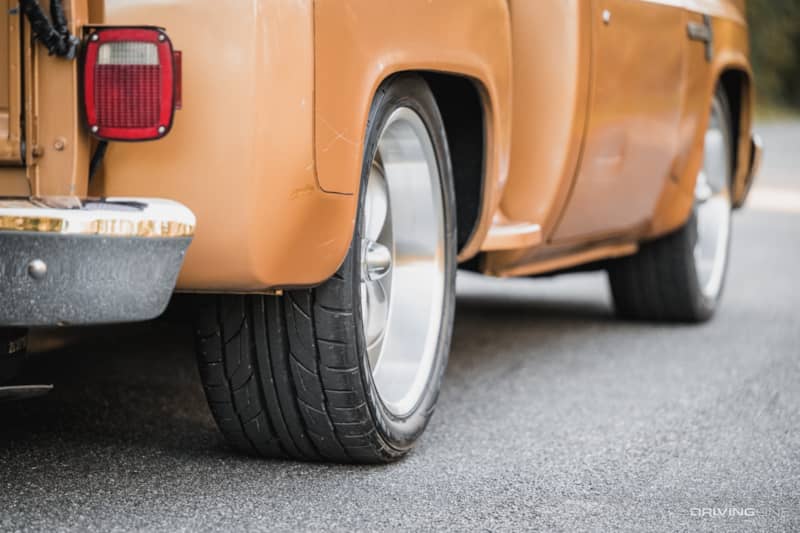 Jeff chose a set of 20x8.5 and 20x10 Ridler 695s to the big Chevy, utilizing a modern interpretation of a classic American wheel design. While 20's will inevitably give an older truck a "pro-touring" vibe, the wheels do not look out of place on a full size truck.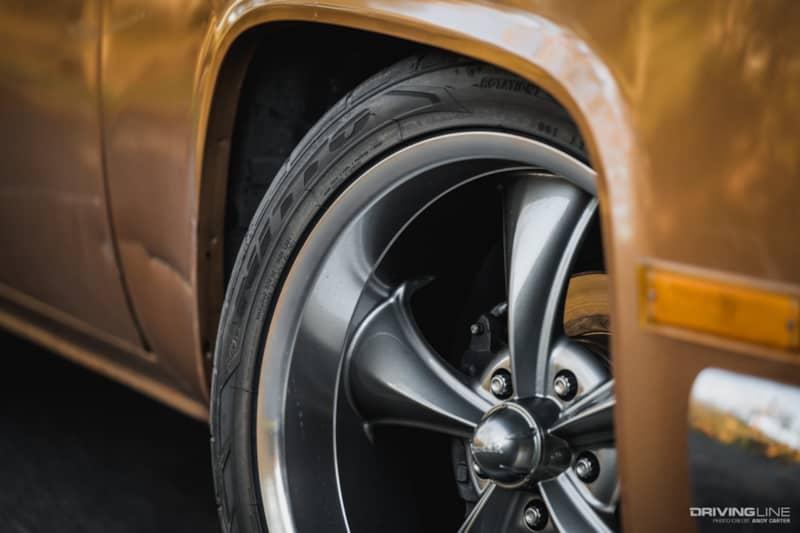 While the temptation for a lowered truck would be to go with a smaller diameter tire, the deceptively small OEM sizes can actually stand to be increased. A pair of 295/40R20 Nitto NT555G2 tires in the rear of Jeff's C10 actually stand a full inch taller than the OEM 225/75R15s. The larger size wheel and tire combo fill the wheel wells much better without sacrificing too much ride height difference.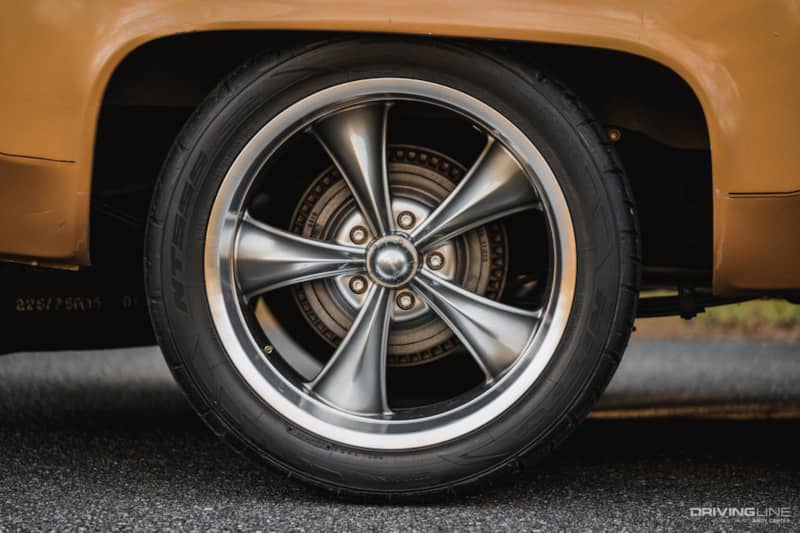 Another advantage of larger than stock wheel diameters is the opportunity to run modern tire designs. A summer ultra high performance tire like the Nitto NT555 G2 will not only handle all the performance needs that a mild street truck will ever need, but will also improve handling in both wet and dry conditions, allowing for better straight-line stability, all while providing more size options for vehicles that benefit from staggered fitments like many '80s pickup trucks.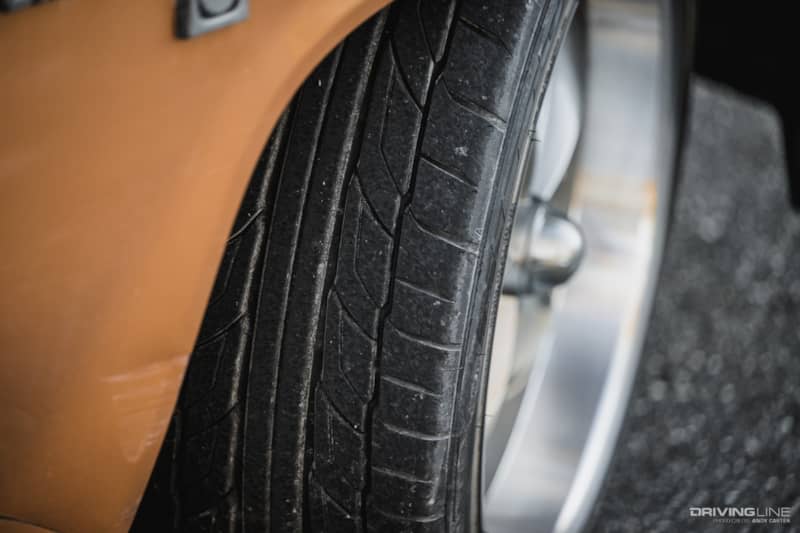 A Fresh Interior
Where the exterior of an '80s truck can be expected, and perhaps blessed, to have a degree of age and patina, the tolerance for a derelict interior is usually lower for most owners. Jeff replaced the worn out old bench seat with an aftermarket bench that includes a flip up armrest and cupholders. A custom leather-covered cup holder unit created by Cupholders by Mike slips into the factory ashtray location and provides some additional space for long cruises.
Next Gen In-Car Entertainment in a Retro Shell
One of the major drawbacks of trying to drive vintage vehicles on any kind of regular basis is the big gap between in-car entertainment technology from then until now. Without even considering the quality of sound, having to fiddle with tape adapters is still as frustrating as you remember during the tech shift in the late '90s and early 2000s. Luckily, brands like Retrosound offer modern Bluetooth-equipped head units that feature impressive fidelity in a period-correct aesthetic.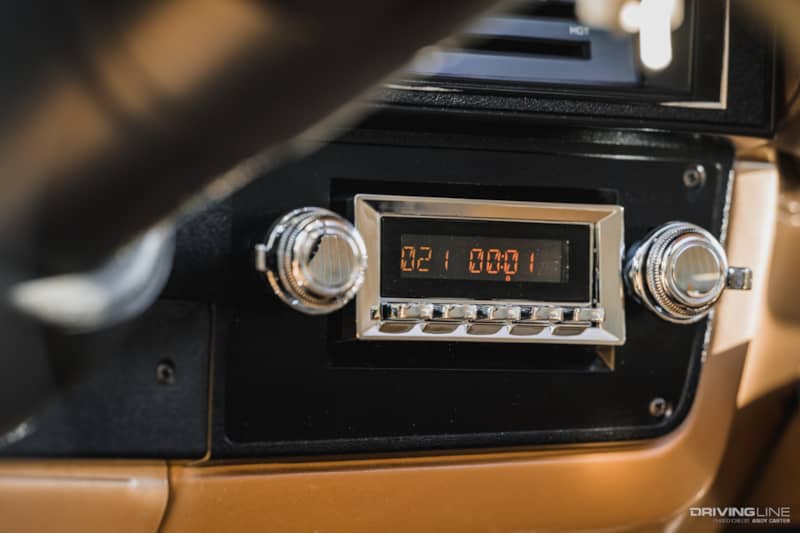 For his truck, Jeff routed a Hermosa M2 head unit through Rockford Fosgate amps and speakers and a JL Audio low profile subwoofer. Kick panel speaker pods from a Cheyenne pickup keep the whole setup looking deceptively factory.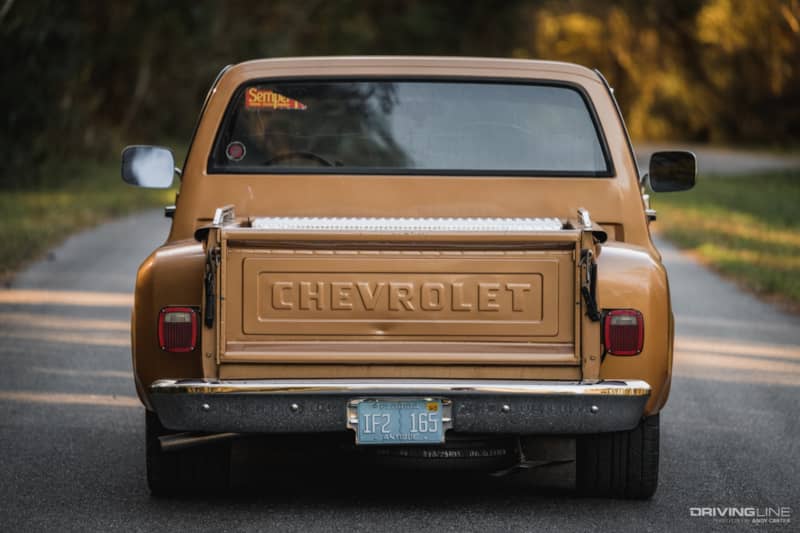 No LS Swap Required
Perhaps surprisingly, Jeff has kept the truck's factory 4.3L V6 for now. Owned by his grandfather and used primarily as a farm truck, the odometer only reads 86k miles. Equipped with a Quadrajet 4 barrel carburetor and a TH400 3 speed automatic transmission, the truck has proved to be reliable enough for weekend cruises.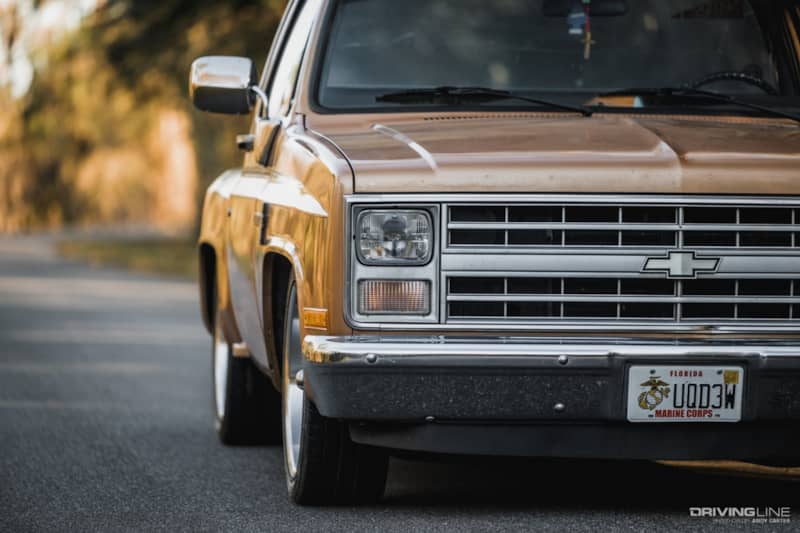 While an LS style engine swap is in the plans, the decision to modernize a vintage truck's powertrain should be a careful one. Besides the cost, one has to decide if the appeal of an '80s pick up truck is tied solely to aesthetics, or the entire driving experience.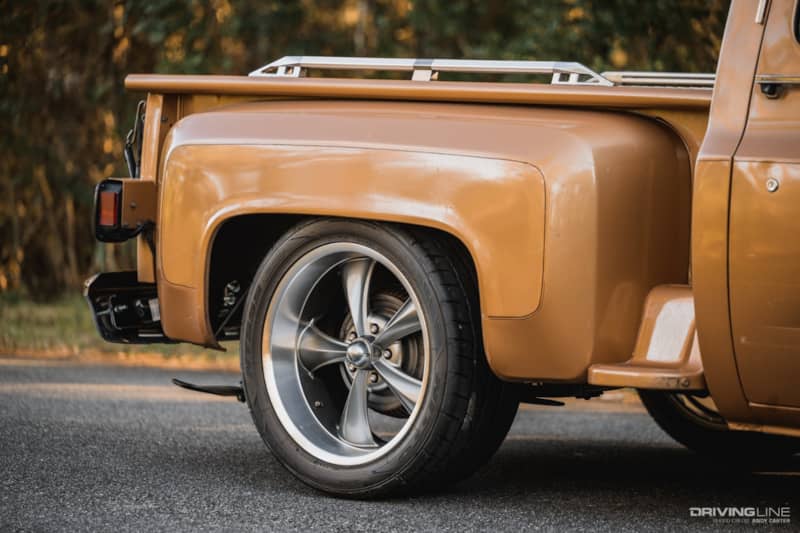 Once you decide to swap in an LS or other modern engine, the sounds, smells, and feel of the truck is altogether different. While the final product will ultimately be more reliable in a modern sense, a budget for an engine swap can go a long way into maintaining or restoring an engine like the 4.3L V6 for occasional use.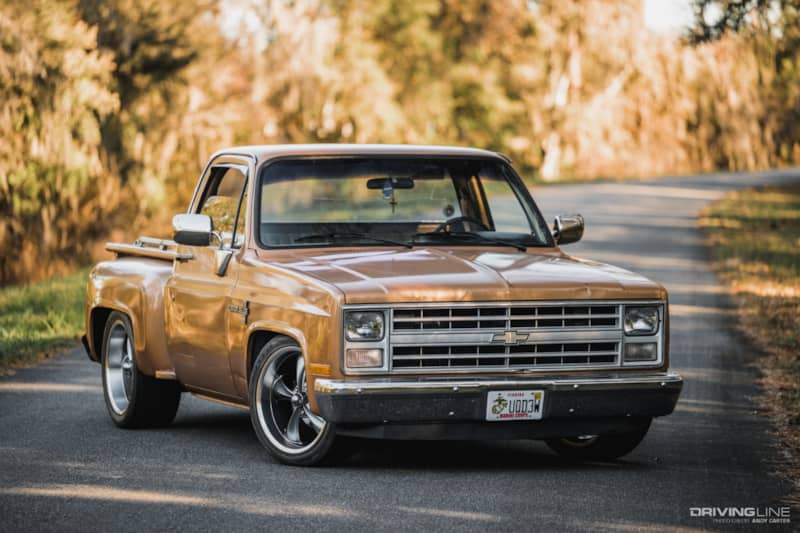 Driving a vintage '80's pickup will ultimately become a sliding scale of preservation or transformation. For a truck with no sentimental value, transforming it into a pro-touring style build of a modern performance vehicle in a '80s wrapper is much easier to stomach.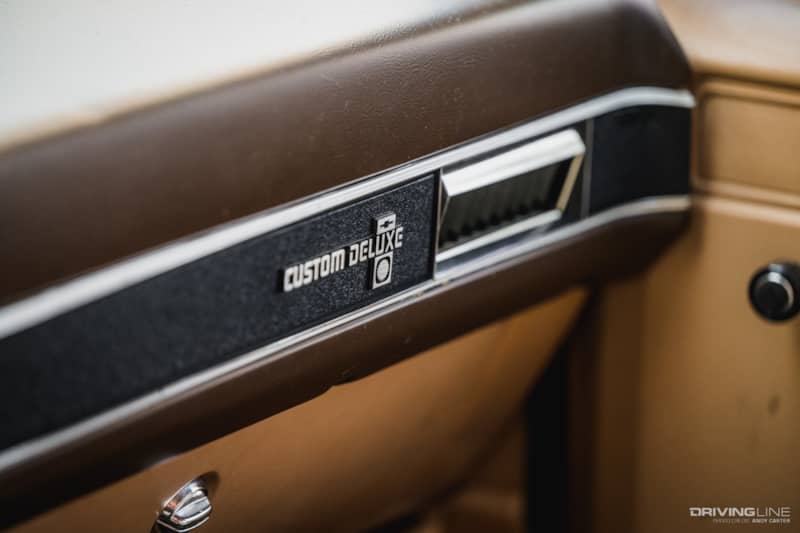 For a truck like Jeff's C10 however, the value of the pickup rests more in the memories rather than the metal. By preserving the aspects of the C10 that most tie it to its sentimental past, but upgrading a few key areas, this '80s pickup truck has become the perfect partner for a summertime cruise.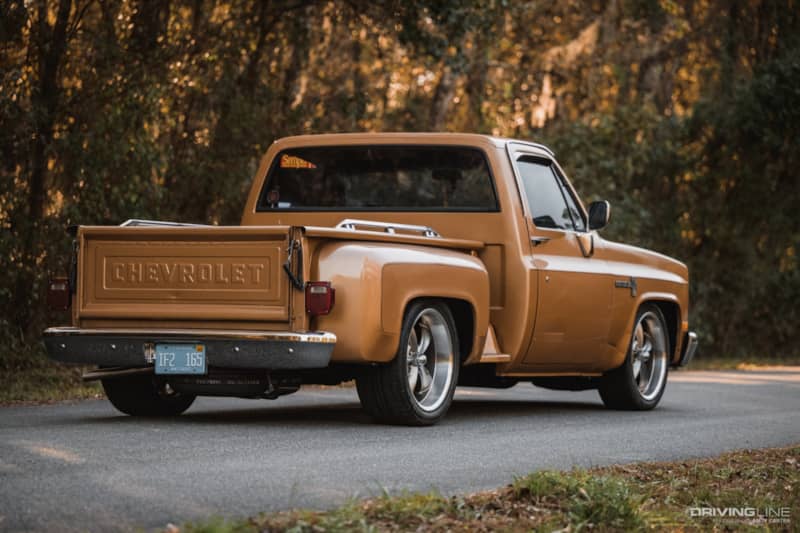 More From

Driving Line
These days it's hip to be square. Here's a gorgeous LS-swapped 1978 C10 for your retro truck fix.