Tom the C-10: A Faithful, Rejuvenated '84 Chevy Truck
Story By Mike Self
Photos By
Commuter vehicles tend to go through a lot. Between stop-and-go rush hour traffic and piling up tons of miles, they usually don't get the privilege of coming home to a nice, climate-controlled garage after a day of hard work. Instead, they see lots of road rash, bug juice, the occasional cracked windshield, brake dust, and empty fast-food wrappers tossed on the floor from those times when you have to get something down your gullet after hours behind the wheel.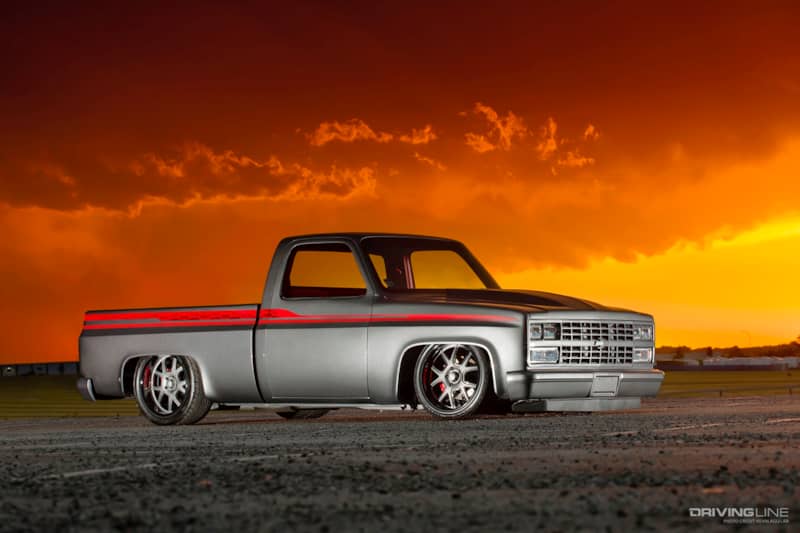 And as much as we really should take proper care of these vehicles, since they faithfully get us where we need to go on a daily basis, routine maintenance can sometimes get behind schedule and occasionally will leave us stranded. Thankfully, those of us who are into the C10 scene tend to be a lot better about it and keep up on the important stuff. Nowadays, if it gets good gas mileage and has A/C, it's worth its weight in gold.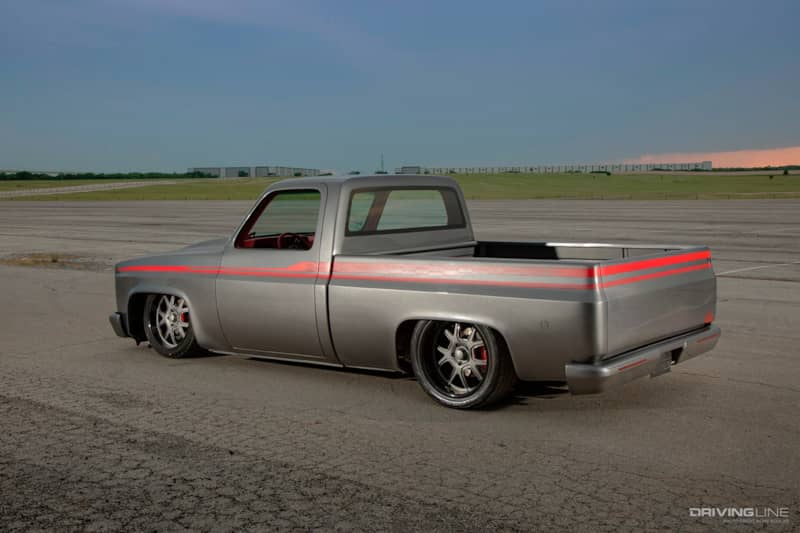 The Commuter Stage
But there was a time when gas prices weren't such a hot issue, and you could fill up a truck like Jamin Jones' '84 Chevy C-10 for a few bucks and enjoy the ride to work or school without staring at the fuel gauge the whole time. And that's exactly what Jamin did while attending Texas Tech University after being a diesel tech in the Navy. The ol' Chevy got him back and forth from school on a daily basis, and just like everyone else that loves these C-10s, Jamin religiously took care of it.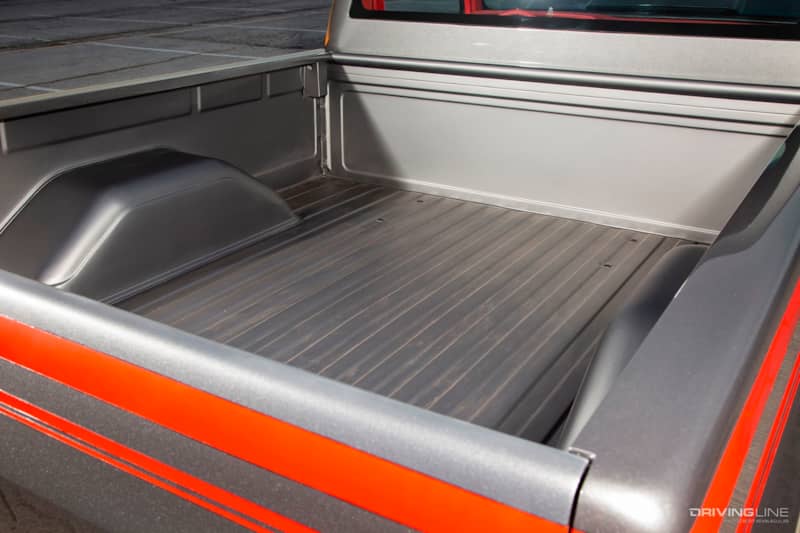 The Makeover
Many years later, Jamin still owns the truck, and recently decided that the truck deserved a makeover by way of some lowering and 20-inch wheels. As you can see, he kind of stayed on course, but he also kind of went crazy with the "extras." It certainly didn't help that he visited Hill's Hot Rods in Lubbock, Texas, where squarebody trucks reign supreme. Jason Hill and his talented crew have specialized in squares since the beginning, so there are always tons of ideas floating around the shop at any given moment!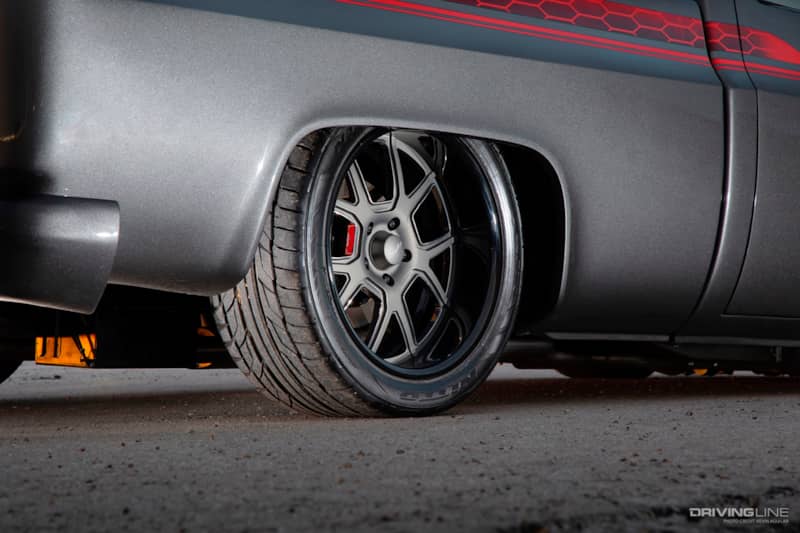 Jamin was quickly convinced that Hill's was the place to handle the work that he wanted done, but as you can see, some of Jason's ideas crept into the build as well. Sure, the truck got its 20s, but they're not just any 20s. Instead, they're some pretty serious 20x8.5 and 20x10-inch Raceline Newports, to be exact, shod in sticky Nitto NT555 G2 ultra high performance tires. This was also prep for some of the others mods that would require elevated gripping capabilities.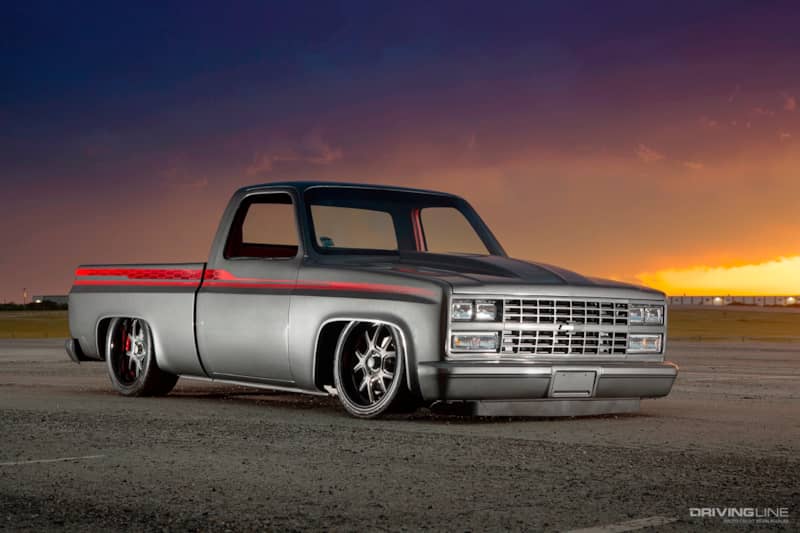 Getting a Bit More Serious
And that lowering job? Well, there's nothing basic about the KP Components front and rear air ride kits, which use Slam Specialties airbags to drop the truck down at the tap of the AccuAir switches.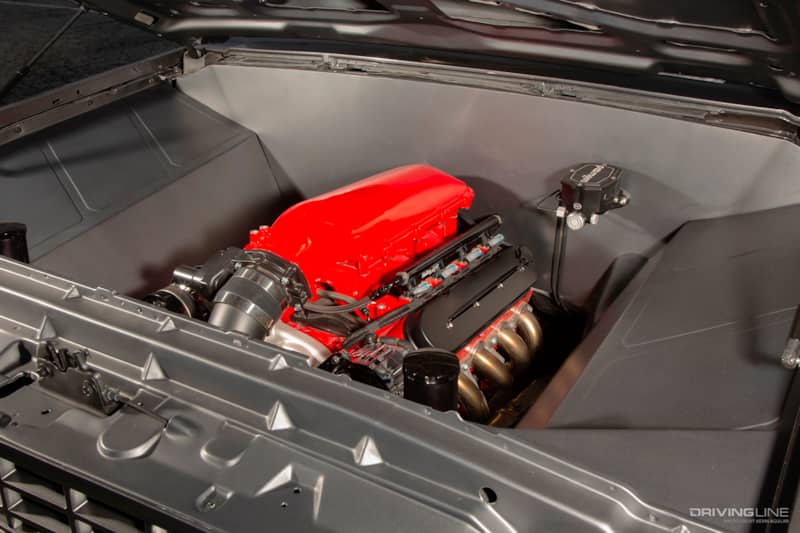 So, what about the more unexpected changes? Whether we're talking about the big Wilwood brakes, the built up 6.2L LS3 engine with Hughes 4L80 transmission, the custom red interior, or the completely shaved body with custom Deep Metallic Graphite/Flat Blood Red paint by Jason Hill, we're sure Jamin was a little surprised himself once he saw the completed truck! 
Forever Tom
The C-10 made its debut at the 2022 Goodguys Lonestar Nationals at the Hill's Hot Rods booth, where it drew tons of attention all weekend long. Oh, and as for the truck's name ("Tom the C-10")? You can blame Jamin's wife Natalie for that one. Jamin was out of town for a bit, so she decided to drive the truck while he was away. One day it wouldn't start, which prompted her to call her father-in-law to help out, mentioning that "Tom" wouldn't start. The truck has been Tom the C-10 ever since!