A History Of The 1973-1987 Chevrolet Square Body Pickup, GM's Longest-Running Classic Truck
After taking a big step towards modernity with its 'Action Line' of full-size C/K pickups built between 1967 and 1972, both Chevrolet and GMC were ready to make a further push towards comfortable, capable trucks that could double as daily drivers or task-focused haulers. Enter the 1973 C/K, a truck that few could predict would echo through the next two decades as one of GM's most popular vehicles.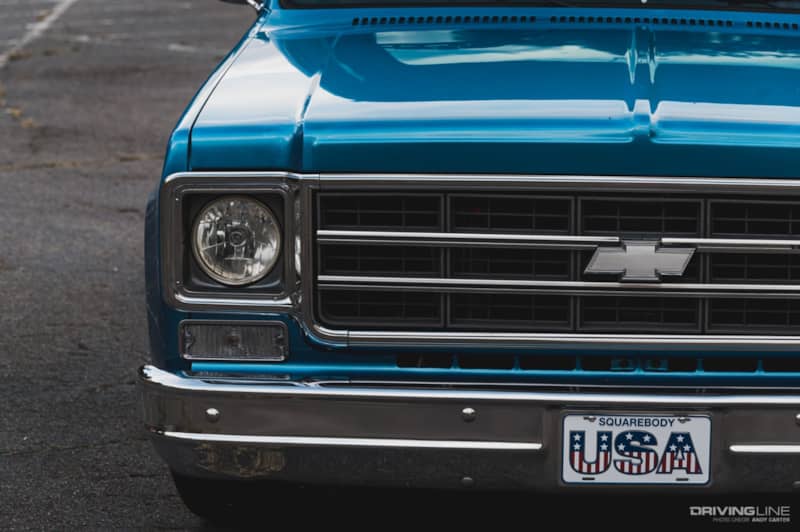 Dubbed the 'square body' by fans (despite General Motors calling it the 'Rounded Line' internally), the rectangular-shaped trucks featured soft corners and a whole lot of street presence. They also introduced technologies and engineering details that were slower to make their way to the Ford and Dodge line-ups that Chevrolet and GMC competed with, helping the square body leap out into an early lead that it took years for its Blue Oval rival to reel in.
Square, But Smooth
There's no question that right off the bat the square body's styling scored points with pickup buyers eager for something new. Rather than the sleek appearance of the pickup it replaced, the 1973 C/K featured broader, bulkier looks that incorporated larger glass, a hood that opens inside the fenders (rather than as a clamshell), and a larger grille.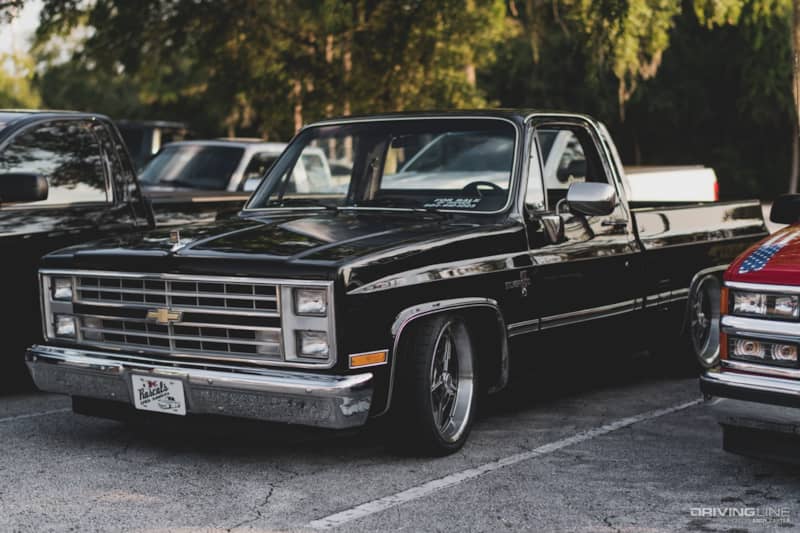 It was a muscular, yet clean, take on the pickup concept, and it helped contribute to roomier cabins with better ventilation and a quieter on-road experience. Suspension components were engineered specifically to absorb rough roads with minimal bounce (with asymmetrical shock placement at the rear and an independent front setup on two-wheel drive models), making use of computerized simulations prior to being cast—a first for GM's pickups. Wheelbases were stretched for all versions of the truck, improving stability and smoothness, and disc brakes were standard on the forward wheels.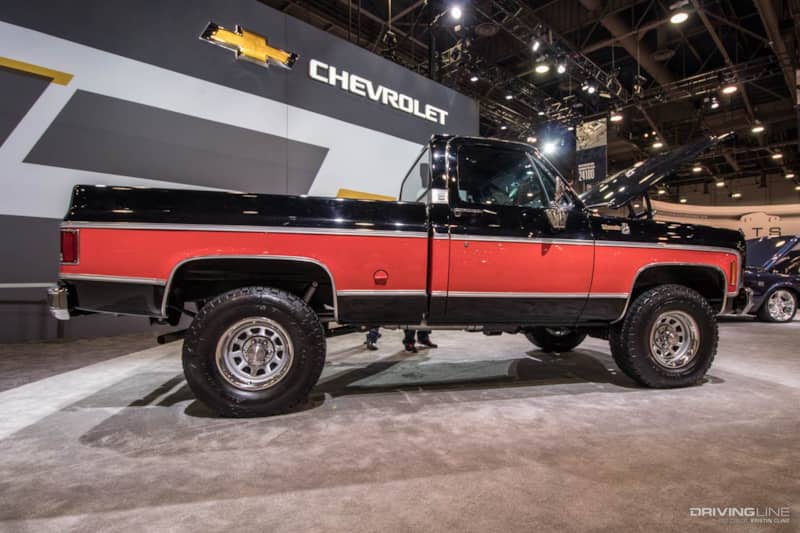 In another new development, aerodynamics were taken into account during the design process (including moving the antenna for the AM/FM radio into the windshield rather than using a stand-alone), and the dashboard was organized so as to make it easy for drivers to interact with, rather than simply providing a an accumulation of gauges and controls as in years past.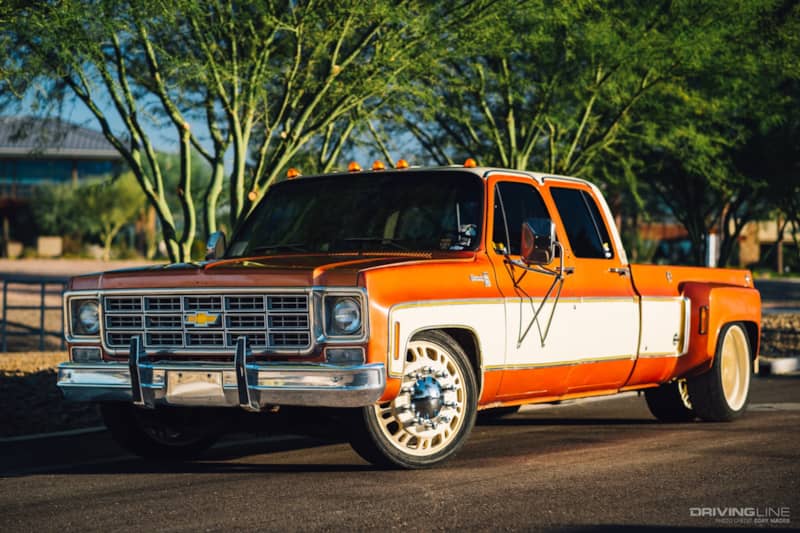 GM also went big when it came to heavy-duty versions of the truck. In addition to the regular cab body style, Chevrolet and GMC introduced a four-door crew cab, as well as a dual-rear wheel model it marketed under the 'Big Dooley' name.
In short, the square body was the first human-centric truck to emerge from General Motors, and the extra effort paid off. Customers quickly realized that it was now easier than ever to use their Chevrolet pickup as both a work tool and a commuter vehicle, opening up brand new markets for the brand among drivers who might not have had space for a second vehicle, or who may have never before considered parking a truck in the driveway. More than a million examples were sold in the first year of production alone.
Big Blocks, Small Blocks, And Sixes
Mechanically, the 1973 C/K square body didn't stray too far from Chevrolet's established playbook. Most trucks featured an inline six-cylinder engine (displacing either 250 cubic inches or 292 cubic inches), with a choice of three V8s ranging from a pair of small blocks (307 cubic inches and 350 cubic inches) up to a 454 cubic inch big block. Power peaked at 230 hp for the 454 (along with 360 lb-ft of torque), but the 350 was good for a respectable 175 hp and 275 lb-ft of twist.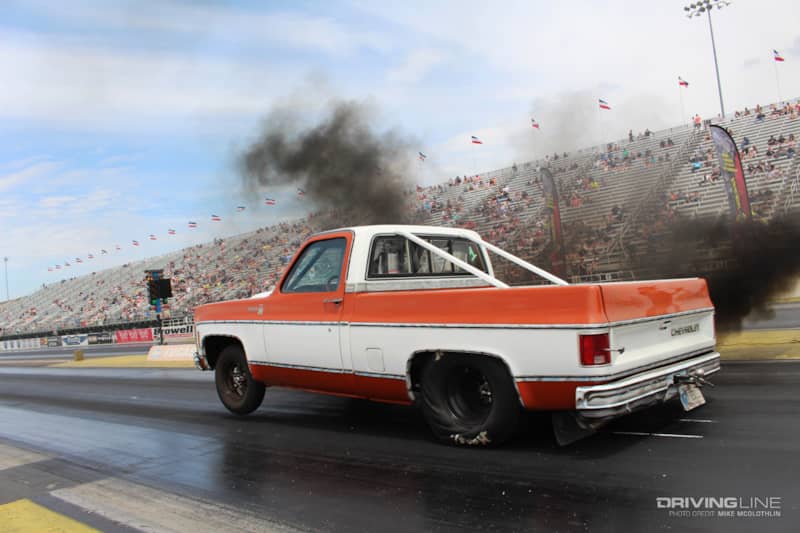 Over the course of the next 10 years, the 307 would be replaced by a 305 cubic inch unit, and a 400 cubic inch motor would also appear on the order sheet. Other notable inclusions? The constant presence of four-wheel drive (both full-time and part-time), as well as the regrettable Oldsmobile diesel V8 that arrived for 1978.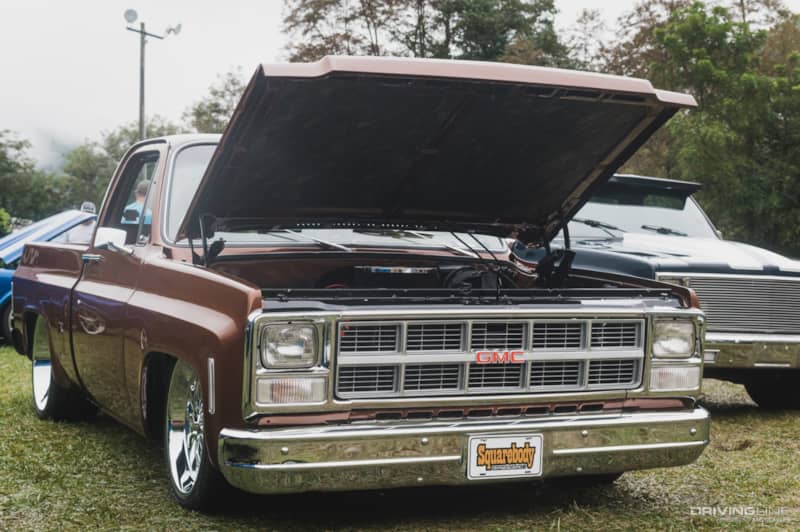 Once the '80s came into view, the engine line-up was simplified, with the 305, the 350, and the 454 serving as the primary V8 choices. A 262 cubic inch V6 (better known as the 4.3L) arrived by the middle of the decade, replacing the long-serving straight-six, and a 6.2L Detroit Diesel V8 hit the order sheet in 1982.
Losing Its Edge
Both Chevrolet and GMC made a number of cosmetic changes to the C/K square body trucks over the course of their extended life-span, but for the most part the updates were minor: moving wiper locations, sloping the hood, adding side markers, and switching from egg-crate to split and two-level grilles (with turn signals eventually hidden alongside a pair of stacked headlights). Many, but not all of these parts are interchangeable between years, with most of the changes taking place from 1981-1987.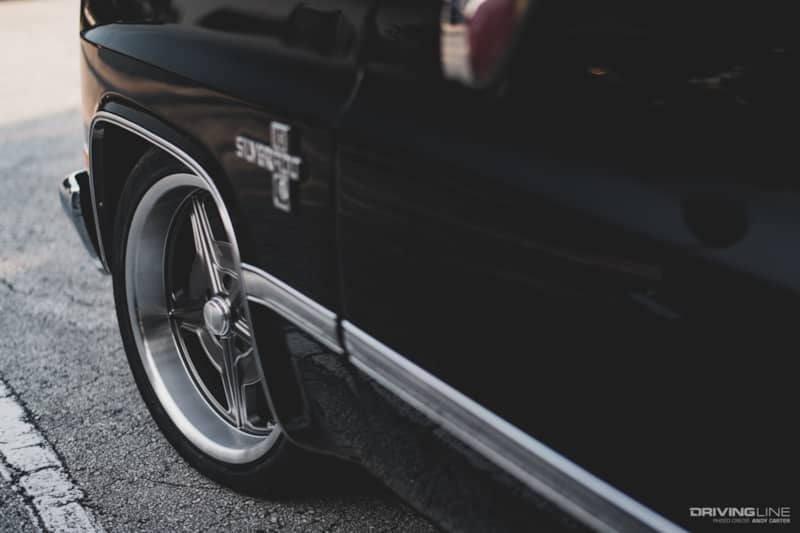 The decision to let the square body largely wither on the vine had consequences for GM. Although still a competent truck, by 1980 the Ford F-Series had caught up with its innovations, having already taken over the top sales spot it still enjoys today.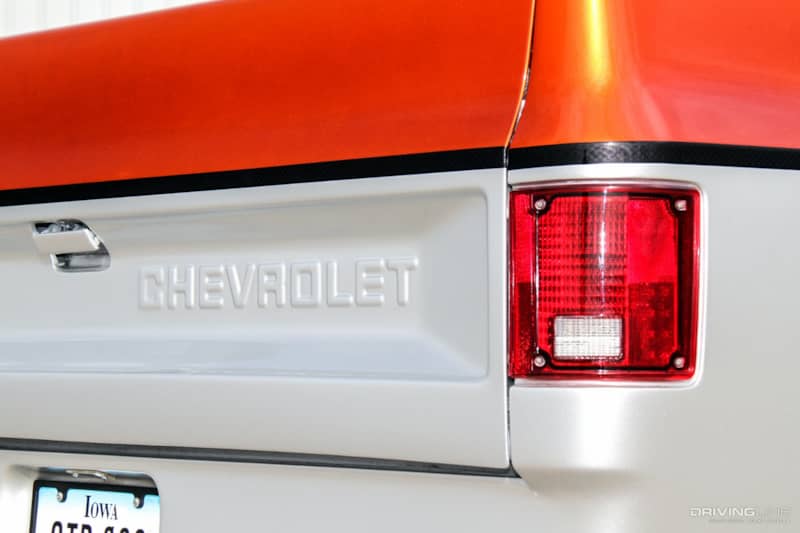 After 1987, the square body C/K was replaced by the fourth-generation version of the truck riding on the new GMT400 platform. It wasn't entirely over for the squares, however: General Motors simply changed the name to R/V and sold them alongside the GMT400. Power was up across the board thanks to the introduction of throttle body fuel injection, but half-tons were taken out of the mix, leaving the R/V to customers seeking a heavy duty three-quarter or full-ton model. By 1990, only the three-quarter ton remained, and after 1991 the square bodies were gone for good.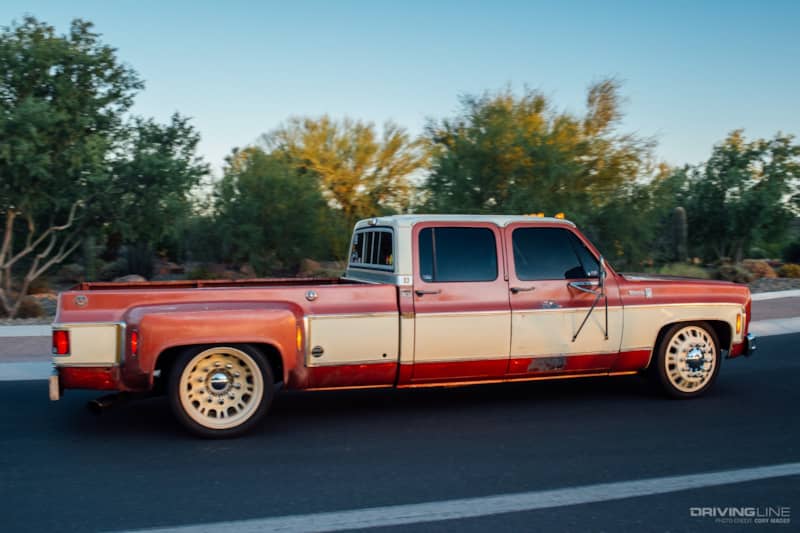 The square body C/K is seen by classic truck fans today as a blank canvas for personal automotive expression. With matching numbers restorations just as common as rugged off-road builds or LS swaps, the simple mechanics and generous, comfortable dimensions of these Chevrolet and GMC pickups make them a popular choice across multiple generations of fans. With millions built, and an entire fleet of Blazer, Jimmy, and Suburban SUVs sitting on the same platform, square body trucks are inexpensive to own and easy to maintain despite dating all the way back to the early 1970s.