700HP Diesel Show-Stopper Pickup
On nothing more than aftermarket tuning, you can have a lot of fun with a 6.4L Power Stroke. With nearly 600rwhp being possible thanks to a healthy common-rail injection system and factory compound turbochargers, few engine platforms can match the out-of-the-box, tuner-only potential a 6.4L has. However, if you want the party to last indefinitely there are several factory shortcomings that, sooner or later, you'll have to address. At that point, each owner has to make the decision to walk away from their '08-'10 Super Duty or dump some serious money into it.
In much the same way that diesel enthusiasts continue to receive the 6.0L Power Stroke, people either love the 6.4L or they hate it. Tom Schuman not only loves his, but he depends on it to take him everywhere. From hooking onto a trailer to hauling a truck-full of friends down to Florida, his late-model Ford is expected to work, play and do everything in between. Like many 6.4L owners, previous repairs forced him to venture inside the engine, but now that all of its weak links have been addressed, he's piling up the miles on his '10 F-250. And not only that, with roughly 700hp on tap he's having a lot of fun doing it.
As an intricate part of his family's business, AAR Forged Wheels in Oberlin, Ohio, it stands to reason that Tom is also into big, shiny wheels. In fact, he even has the ability to forge his own, which is exactly where the 22x14 Super Singles on his Super Duty came from. To accommodate the massive wheels and the Nitto Trail Grapplers that go along with them, Tom's truck also makes use of a host of Flight Fabrication suspension components, including a front air ride system. Follow along for the inside scoop on Tom's one-of-a-kind vermilion red Ford. It's got show, plenty of go and full functionality.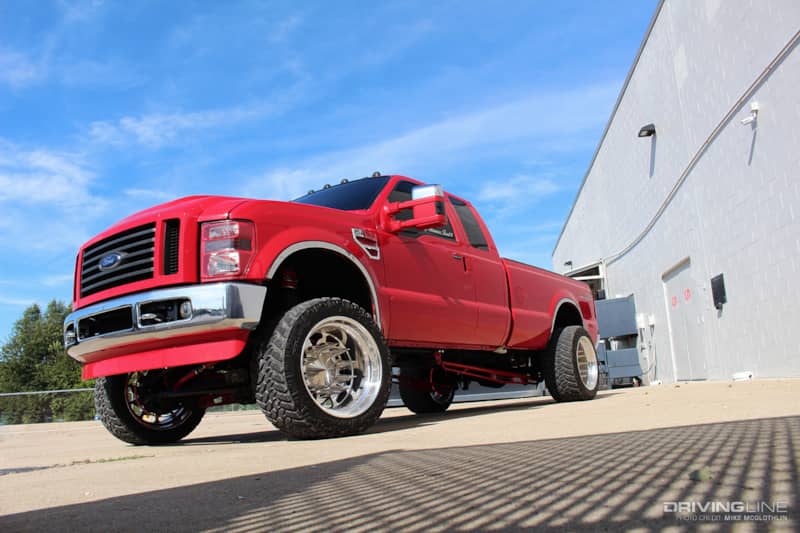 Mild Engine Build
While Tom Schuman has racked up more than 176,000 miles on his daily-driven '10 F-250, the 6.4L Power Stroke has been cracked open in the past on account of blown head gaskets. In prepping the Navistar-built V8 for more horsepower, a set of MaxxForce 7 HD de-lipped pistons were installed, while the cylinder heads were O-ringed, fitted with heavy-duty valve springs, cryo'd rocker arms, treated to a performance valve job and anchored to the resurfaced block by way of ARP head studs. HD push rods and lifters also made it into the build, although a factory camshaft remained.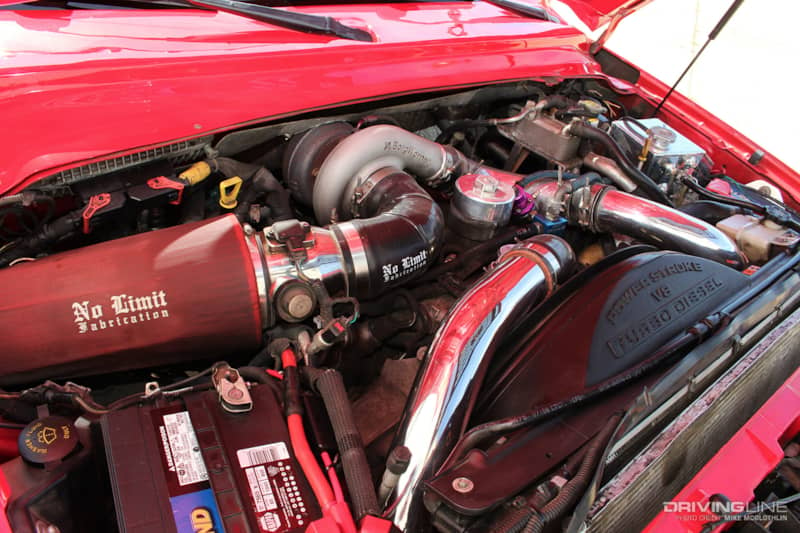 Single Turbo, 70 PSI of Boost
Deviating from the factory-based, compound turbocharger system, Tom scrapped the series sequential setup in order to run a single turbo. While this may seem counterintuitive (after all, aren't two turbos always better than one?), switching to a properly sized single charger on a 6.4L Power Stroke aids engine longevity by dropping the amount of drive pressure the engine sees. And, as has been proven time and again, the 6.4L can make big power with a single in the mix. Installation of a single turbo kit from the late Beech Performance allows Tom to run the popular BorgWarner S369 SX-E, which builds 70 psi of boost under heavy throttle.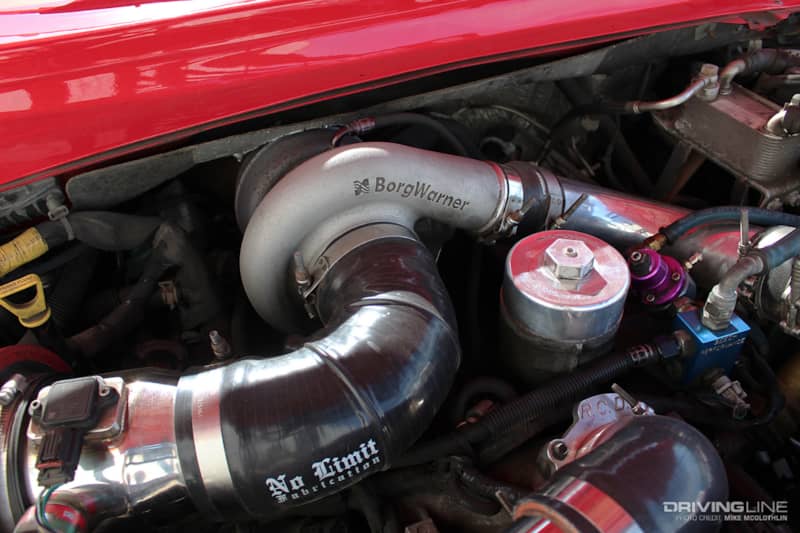 Surprisingly Subtle Fuel System Mods
As if making 590rwhp on the factory high-pressure common-rail fuel system and compound turbo arrangement (with nothing more than custom tuning) isn't impressive enough, the 6.4L's injection system has even more to give if you upgrade turbos. When Tom ditched his compounds in favor of running the high-flowing S369 SX-E as a single, he effectively pushed his truck into 700rwhp territory—a very respectable number for any street-bound pickup. The only fuel system mods he's performed are the additions of a 150-gph FASS low pressure system and a fuel bowl delete from Beech Performance.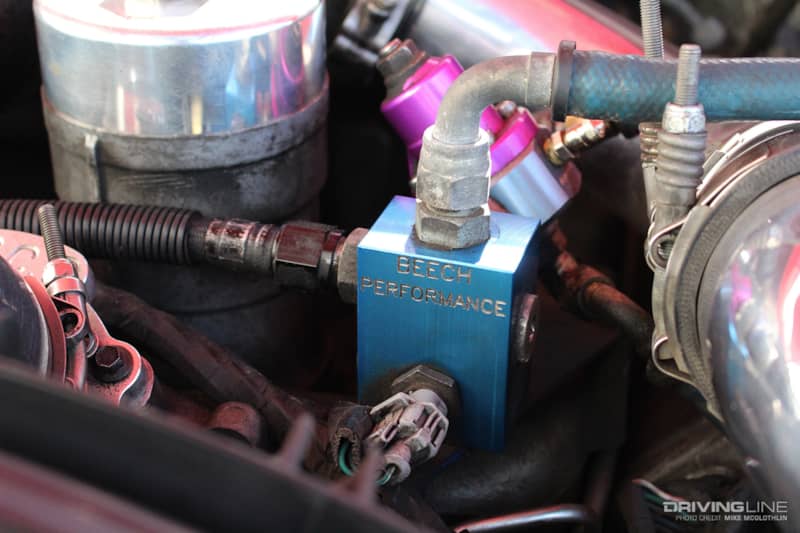 Fortified 5R110
In a lifted, high-horsepower diesel, overbuilding the transmission is never a bad idea—and that's exactly what Tom did. Within the reinforced TorqShift automatic, you'll find a Sun Coast billet flex plate, four-disc high-stall DPC converter, an Aermet 400 input shaft, a new Ford pump, 300M intermediate and output shafts, a billet Low/Reverse hub and Raybestos clutches throughout. A deep pan from Mag Hytec increases ATF capacity and cooling capability.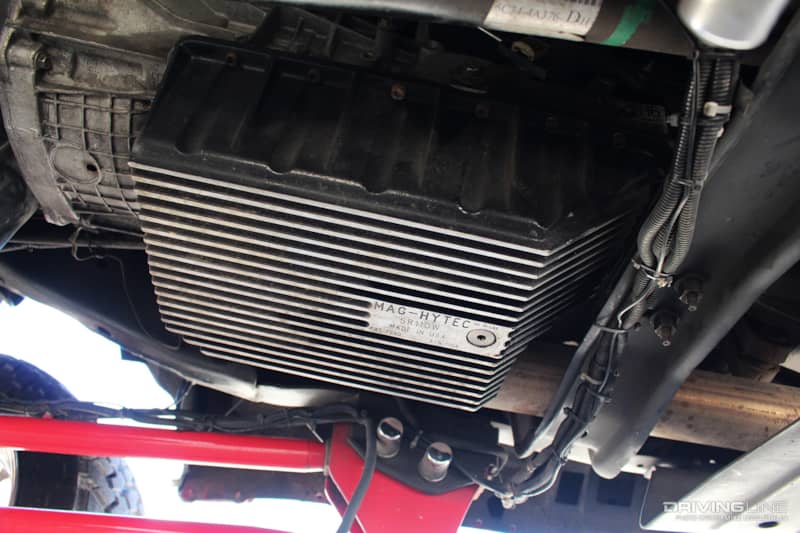 Front Air Ride
Thanks to a front air ride system put together by Flight Fabrications using AccuAir Suspension components, an entire foot of adjustable ride height is at Tom's disposal. Be it remote or WiFi-controlled, the truck's front-end can be made to sit 4 inches lower than factory or 8-inches above its stock ride height. As you're reading this, Tom is close to wrapping up the rear air ride.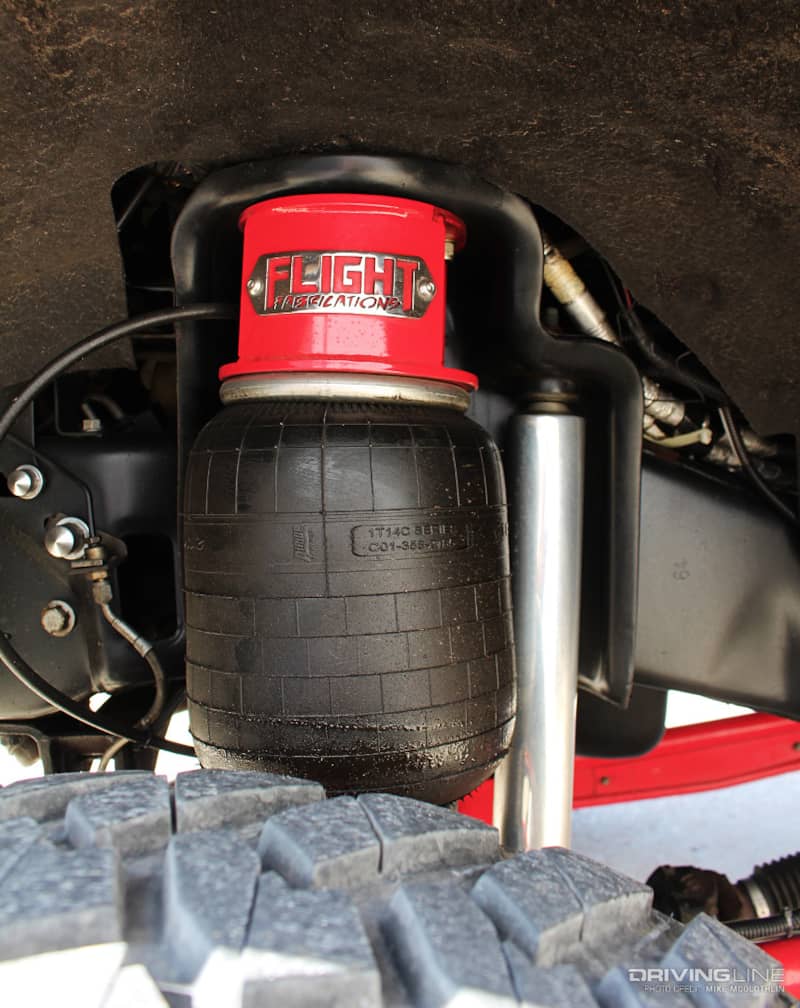 State-of-the-Art Air Tank Technology
Mounted within the receiver hitch, you'll find the dual ENDO-CVT tanks that support the air ride system. Thanks to internally-located Wabco compressors, near-silent operation is the result when the tanks are being refilled. Each tank is also machined from a solid billet of aluminum, which eliminates the need for welds and the possibility of eventual leaks.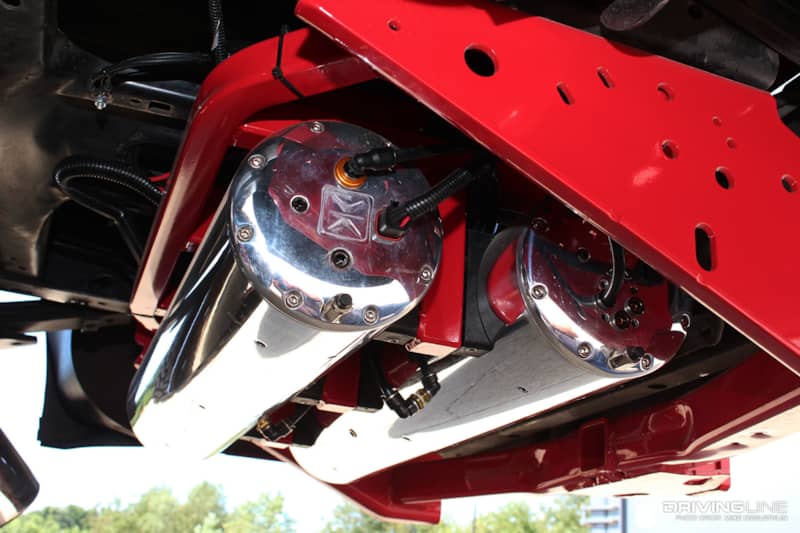 Front Four-Link
Because the factory front radius arm suspension can easily be overcome in high horsepower, four-wheel drive use (often resulting in uncontrolled wheel hop), Tom's Super Duty sports a beefy four-link system. Built by Flight Fabrications and offered as the company's Series II kit, it fits all '05-'16 Fords and maintains positive caster during all suspension travel. For unwanted lateral axle movement, one of Flight Fab's adjustable front track bars is present as well.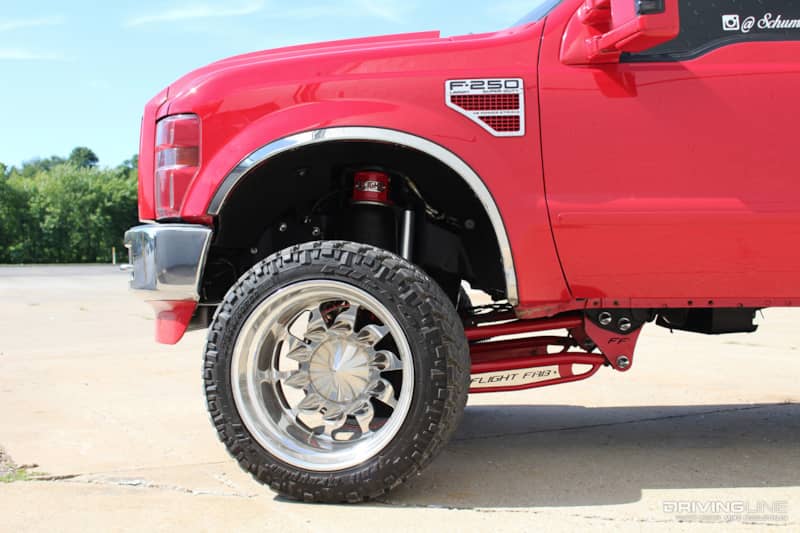 Ladder Bars
Further components plucked straight from the Flight Fabrication catalog are the truck's ladder bar style traction bars. Constructed using 1.75-inch DOM tubing (top), 1-inch DOM tubing (bottom) and greasable Johnny Joints from Currie Enterprises, they make rear axle wrap a non-issue and do so quietly. The Flight bars attach to the rear 10.5 axle and frame via ¼-inch thick bolt-on brackets.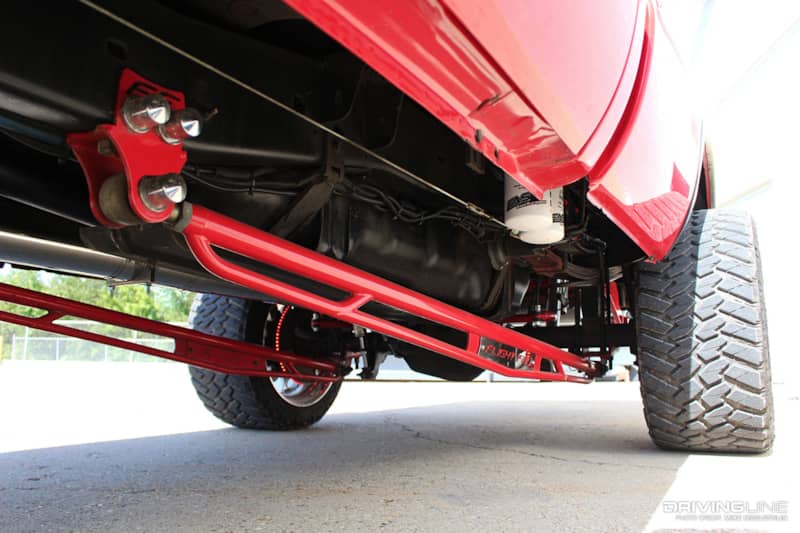 While the big wheel craze is a love-it or hate-it proposition for most diesel enthusiasts, nearly everyone agrees that super singles are badass. Custom cut at AAR Forged Wheels, the forged-aluminum set aboard Tom's F-250 measure 22x14-inches and the 7-inch 6061 aluminum spikes make a beautiful wheel look even better. F-rated, LT355/40R22 Nitto Trail Grapplers give the truck its visual growl, but at the same time can support any trailer Tom needs to hook the truck to.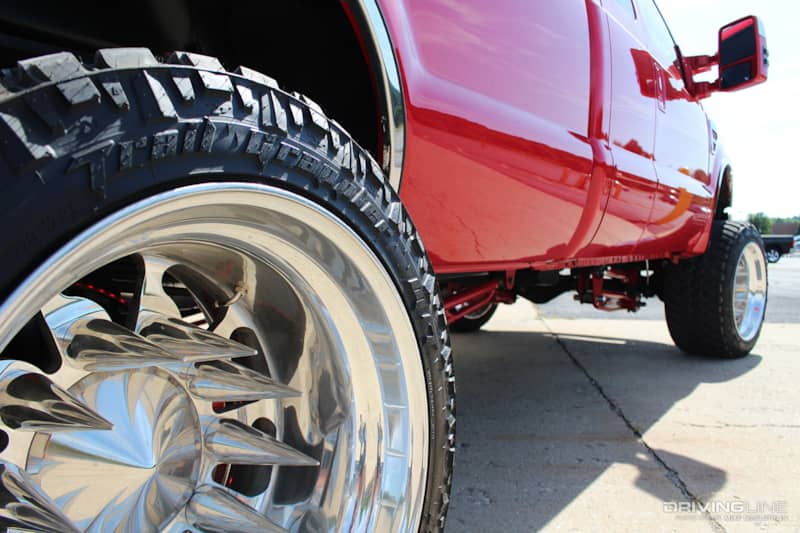 700 HP with Proper Street Etiquette
To get the most out of his parts combination, dial in the built transmission and make 700rwhp 100-percent streetable, Tom elected to have Innovative Diesel tune the truck. As a result of Innovative's PCM and TCM tweaks, the truck runs smooth, clean and strong. Tom watches EGT, boost, coolant and engine oil temp via an old H&S Mini Maxx monitor.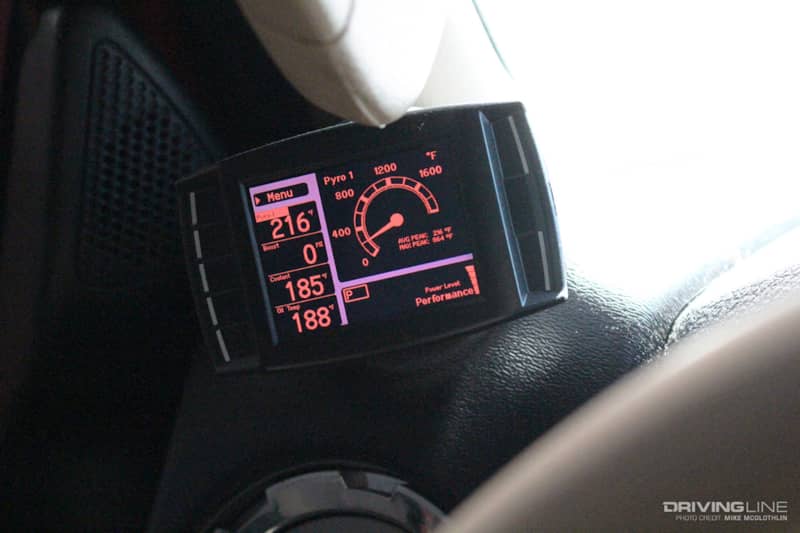 Curious why the 6.4L has developed such a reputation for its pitfalls? Check out the list of factory weak links on the '08-'10 Power Stroke right here.