Unleashing the Ford 6.4L Power Stroke: Double Horsepower with One Modification
Imagine being able to add 300 horsepower to your already-powerful workhorse without busting your knuckles. With the ability to double the factory horsepower with what essentially amounts to a single modification—and then to not only have the engine but the transmission hold up to the added stress—Ford's '08-'10 diesel powertrain is one of the most potent packages ever offered in the history of heavy-duty pickup trucks. A high-volume, high-pressure common-rail injection system coupled with a factory-installed compound turbo arrangement makes the 6.4L Power Stroke V-8 the ultimate diesel hot-rod. To date, its out-of-the-box performance potential is yet to be matched by any other manufacturer.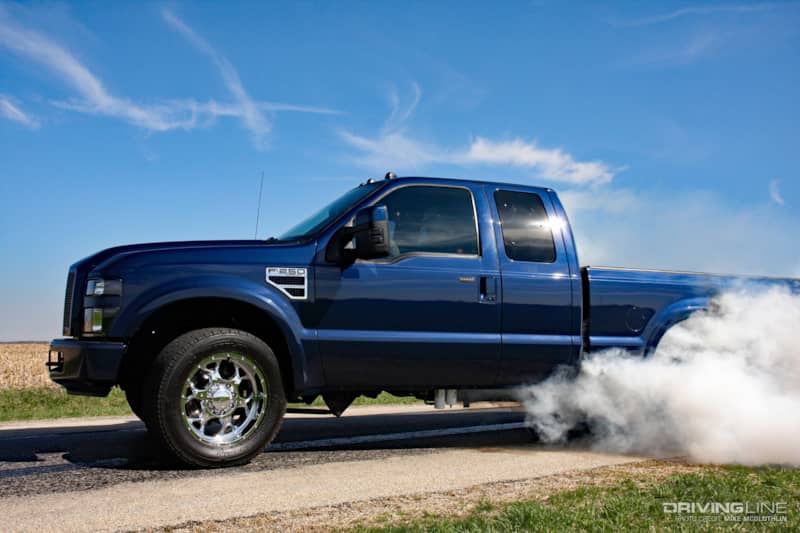 But on top of being capable of handling more than twice the factory horsepower rating, an uncorked 6.4L Power Stroke will yield better fuel economy and significantly improved drivability—all while continuing to afford you the ability to tow virtually anything you need to. We'll show you why this is the case, along with how the factory 5R110W transmission holds up to an 1,100 lb-ft workload, in the paragraphs that follow. Trust us, very few things compare to waking up the sleeping giant that is a diesel-equipped '08-'10 Ford Super Duty.
Fuel, Air And Hard-Parts: An Engine With The Total Package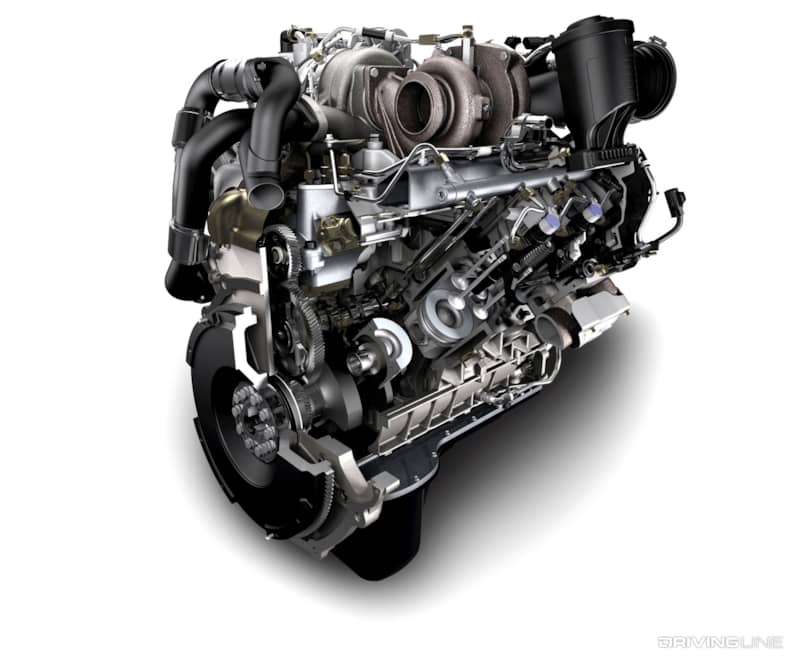 So what makes the 6.4L Power Stroke such a great candidate for making horsepower? It starts with the fact that its injection system is of the high-pressure common-rail variety, and that it is capable of flowing considerably more fuel than the Bosch systems available on the Duramax and Cummins options at the time could. On top of that, the 6.4L is graced with the ultimate gift: a compound turbo arrangement straight from the factory. Then, in addition to the fuel and air advantage the 6.4L has, it boasts the beefiest connecting rods ever offered in a Power Stroke, along with a bed plate anchoring the crankshaft in place.
High-Flow HPFP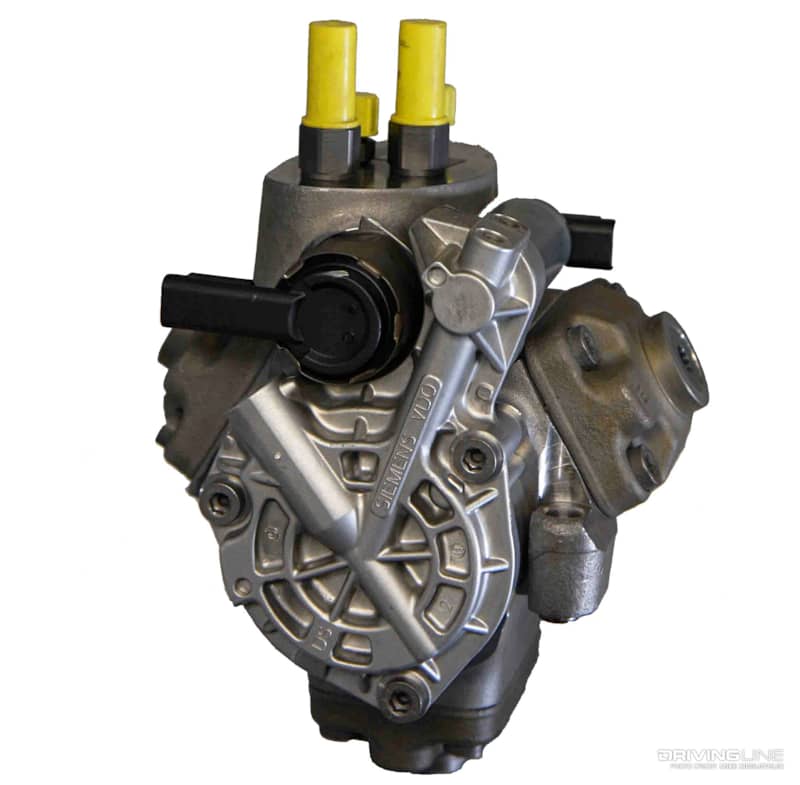 At the heart of the 6.4L Power Stroke's high-flow, common-rail fuel system sits the VDO K16 high-pressure fuel pump (HPFP). Built by Siemens, the K16 is a gear-driven high-pressure fuel pump with its own internal camshaft which drives three pistons, each residing in its own high-pressure chamber. The K16 is capable of producing up to 25,000 psi worth of pressure, which it sends out to the rails and ultimately the fuel injectors. This pump also flows at least 20-percent more fuel than a Bosch CP3, the high-pressure fuel pump that was employed on both GM's LMM Duramax and Ram's 6.7L Cummins during the '08-'10 timeframe.
Fast-Firing Injectors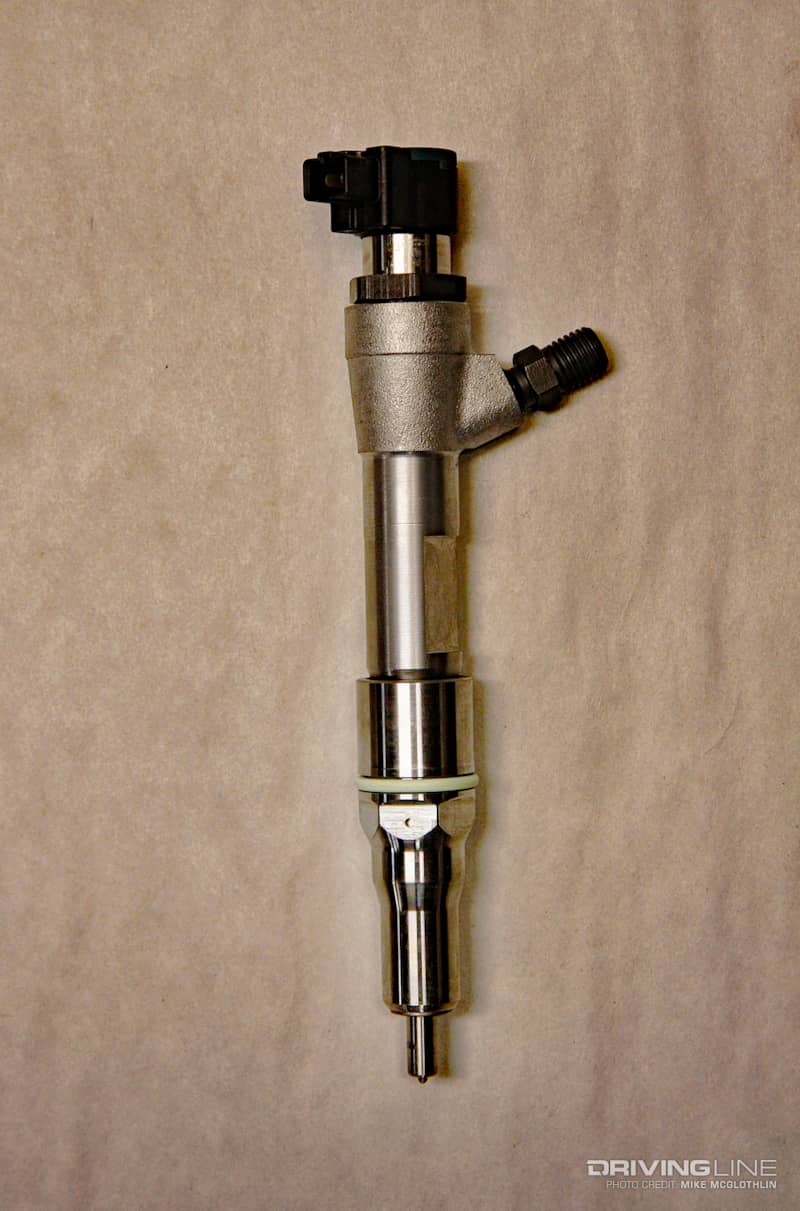 This is a 6.4L Power Stroke fuel injector, and it's where a lot of this engine's horsepower potential exists. Not only can this injector fire quicker than the competition (i.e. the Bosch injectors used in the LMM Duramax and 6.7L Cummins), but it can outflow them, too. Like the K16, they're produced by Siemens, but instead of being the solenoid-equipped type they're piezo electric. Essentially, what all of the above means is that the 6.4L's injector requires very little duration (injector on-time) to make big power (less than 2 milliseconds). And it also means that a smaller nozzle size can be utilized, in comparison to a solenoid style injector, to make similar power.
Strong Factory Lift Pump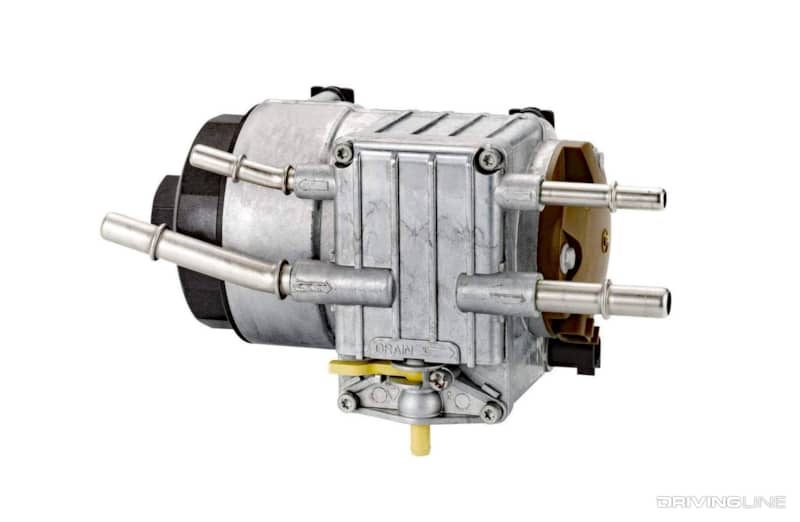 Another OEM item that goes untouched in doubling the horsepower of a 6.4L is the horizontal fuel conditioning module (HFCM). This is where the low-pressure electric fuel pump (lift pump) that feeds 8 to 10-psi to the K16 resides, along with the water separator. It's mounted along the driver side frame rail of '08-'10 Ford Super Duty's. On other platforms, an aftermarket low-pressure lift pump is usually one of the first upgrades that has to be made. This is not the case here. Ford's HFCM can maintain adequate fuel supply pressure to the K16 even when excessive injector duration (on-time) is being commanded.
Compound Turbocharging From The Factory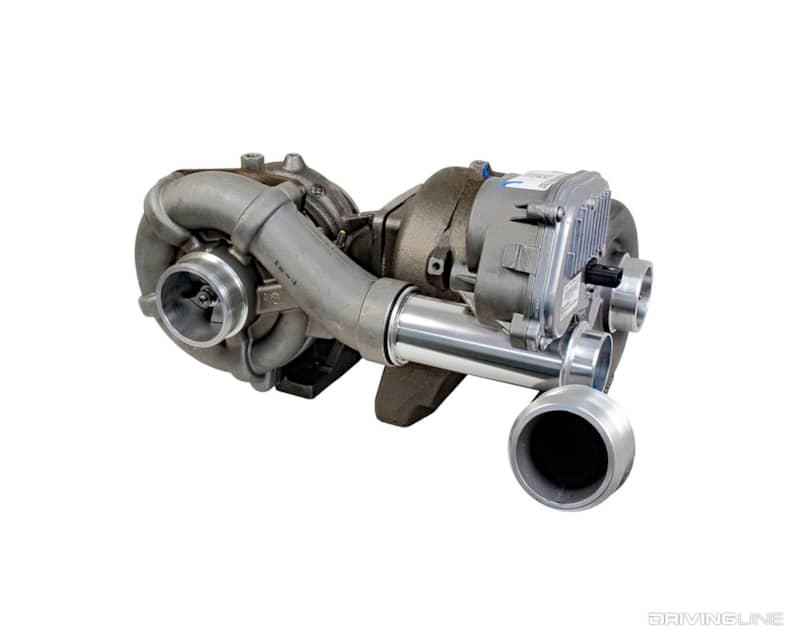 And now for what is arguably the biggest gift of all: an OEM compound turbo setup that's just waiting to be taken advantage of. Manufactured by BorgWarner, the compound (or series sequential turbocharger, as Ford calls it) configuration packages both the low-pressure (atmospheric) unit and the high-pressure charger on top of the engine. The low-pressure turbo (a fixed geometry unit) employs a 65mm (inducer) compressor wheel and a 73.5mm (exducer) turbine wheel, while the high-pressure charger (a variable geometry unit) makes use of a 52.5mm (inducer) compressor and a 62.5mm (exducer) turbine. Combined boost peaks at roughly 40-psi in stock trim. When the 6.4L Power Stroke's horsepower has been doubled, they produce between 50 and 55 psi and remain rock-solid reliable.
Strongest Power Stroke Rods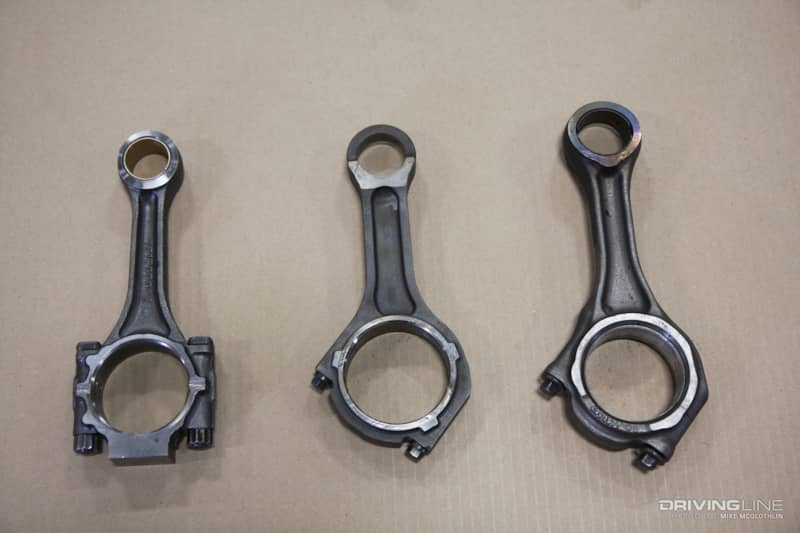 Nothing provides more reassurance in the horsepower game than a set of burly connecting rods, and the factory units used in the 6.4L are the beefiest, thickest beam rods ever offered in a Power Stroke engine. Its powdered metal rods have proven capable of holding up to more than 900rwhp, which is roughly 1,700 to 1,800 lb-ft of torque. In this photo, the 6.4L rod is in the middle. The piece to the left of it is the factory rod out of a 7.3L Power Stroke, while the rod on the right came out of a 6.7L Cummins. As you can see, the 6.4L rod beams are massive in comparison to the 7.3L's, and are even larger than the Cummins'.
Robust Block And Bed Plate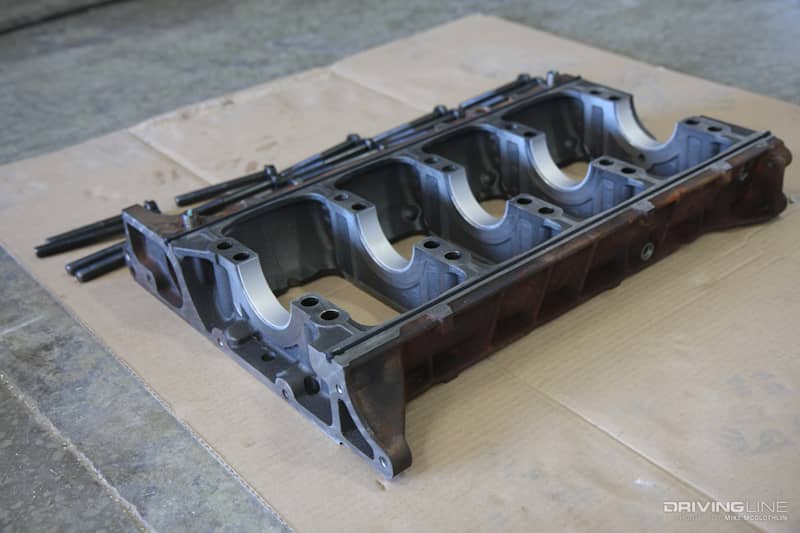 Instead of employing individual main bearing caps, the 6.4L's crankshaft benefits from the ultimate form of security: a bed plate. There is no such thing as main cap walk in a 6.4L engine. This is the kind of exotic part that many competition engine builders upgrade to when piecing together a high-horsepower, big torque application—but the 6.4L comes with it from the factory. Additionally, the block's design is void of water jackets that protrude into its lower section. This means that filling the water jackets isn't a required reinforcement measure when pursuing big power.
16mm Head Bolts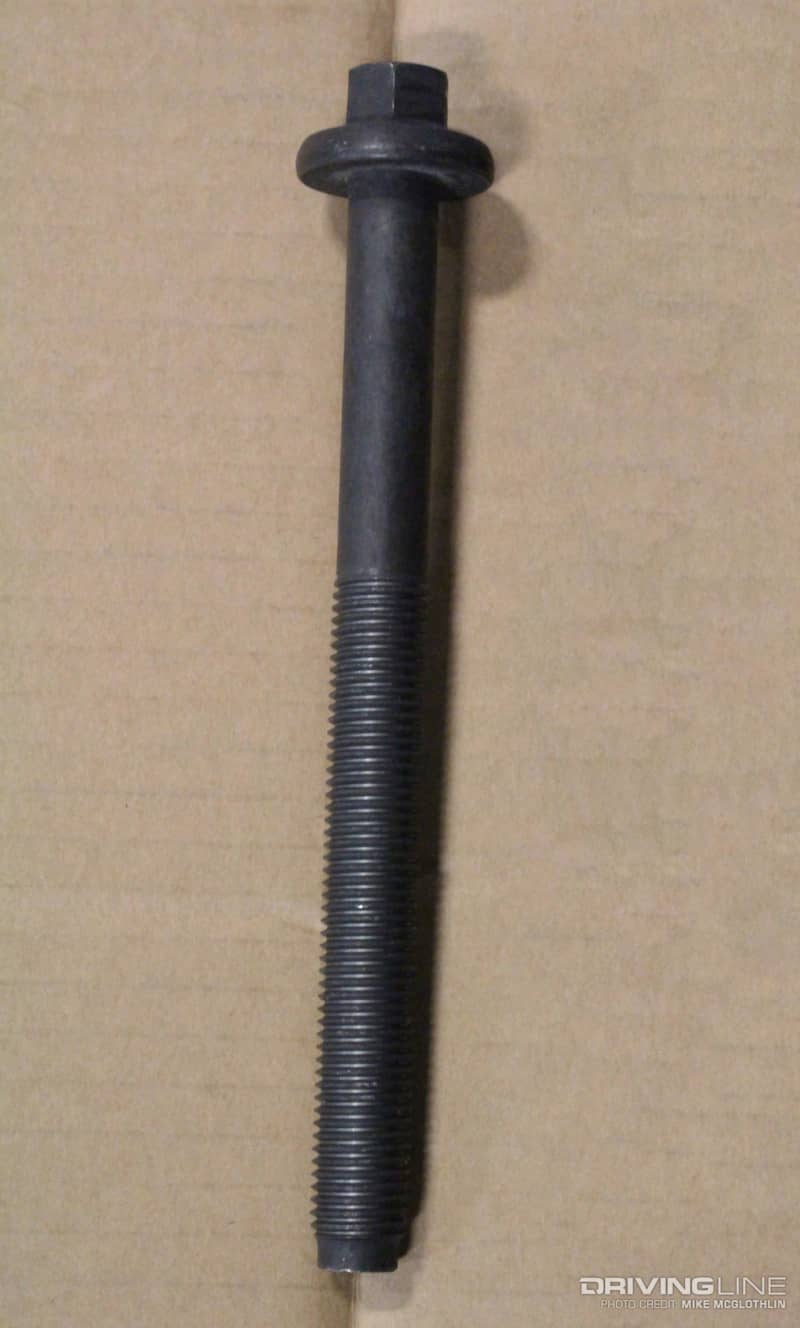 With architecture based on the 6.0L Power Stroke platform that came before it, the 6.4L also relies on just four torque-to-yield head bolts per cylinder (with sharing). However, the fasteners in the 6.4L were upsized, measuring 16mm in diameter vs. the 6.0L's 14mm. This makes a big difference not only in head gasket life but in how much cylinder pressure (i.e. abuse) the 6.4L can withstand before a head gasket issue arises. Full disclosure: these engines aren't' bulletproof. A 6.4L Power Stroke that accumulates 100,000 hard-earned miles at double the factory horsepower level will likely eventually stretch the TTY head bolts enough to lift a head.
A Transmission That Can Take It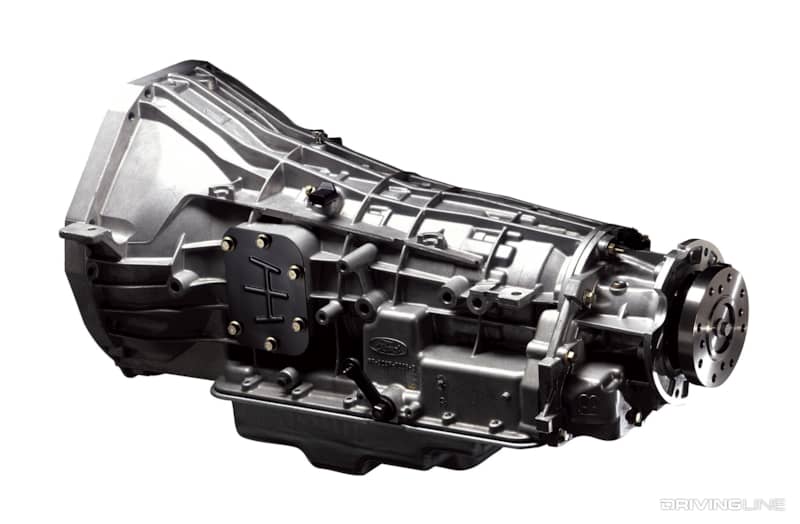 The strong suits of the 6.4L Power Stroke pile up even more when you look at the automatic transmission that came attached to most of them. The five-speed 5R110W TorqShift was introduced for the '03 model year Super Duty's and originally debuted behind the 6.0L, but subtle enhancements for the '08 trucks made it one of the toughest out-of-the-box automatics yet to sit behind a diesel engine. A clutch-to-clutch unit, it is highly efficient and notably more reliable than the band or servo-equipped slushboxes from yesteryear. Its TCM only adds to its efficiency as its adaptive shift strategy technology is constantly monitoring shift points and shift events—and is also perpetually working to optimize them in order to limit heat generation and wear.
A High Threshold For Pain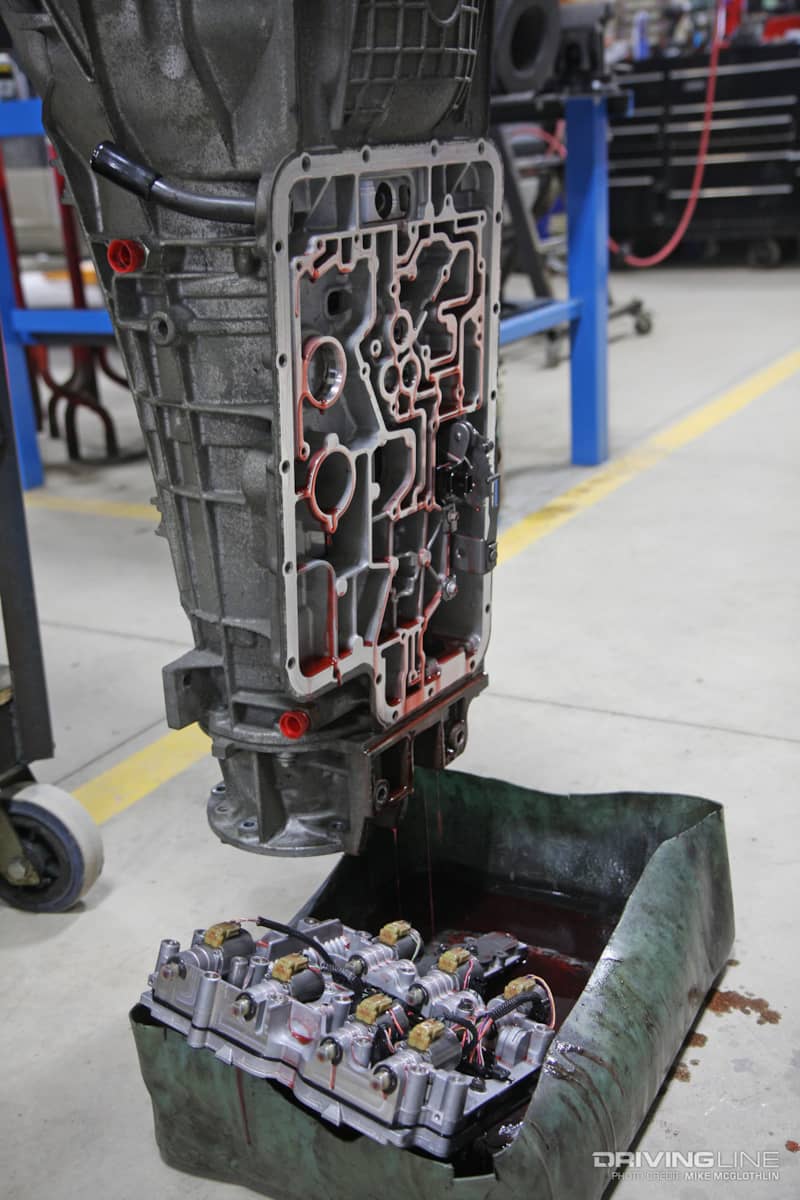 Ford's revised torque converter for '08 model year TorqShift transmissions featured an 8-bolt, triple-disc, lockup unit (vs. 6-bolt previously) that would eventually prove both efficient and highly reliable, even with 1,100 lb-ft of torque being sent through it. Notable hard part updates within the 5R110W included higher pinion count planetaries for improved strength. It's worth mentioning that a stock 5R110W won't live forever at this power level, especially if it sees regular abuse, but a healthy version will tolerate 550 to 590rwhp longer than you think. To date, it's one of the toughest transmissions used in a modern diesel pickup.
"The Mod"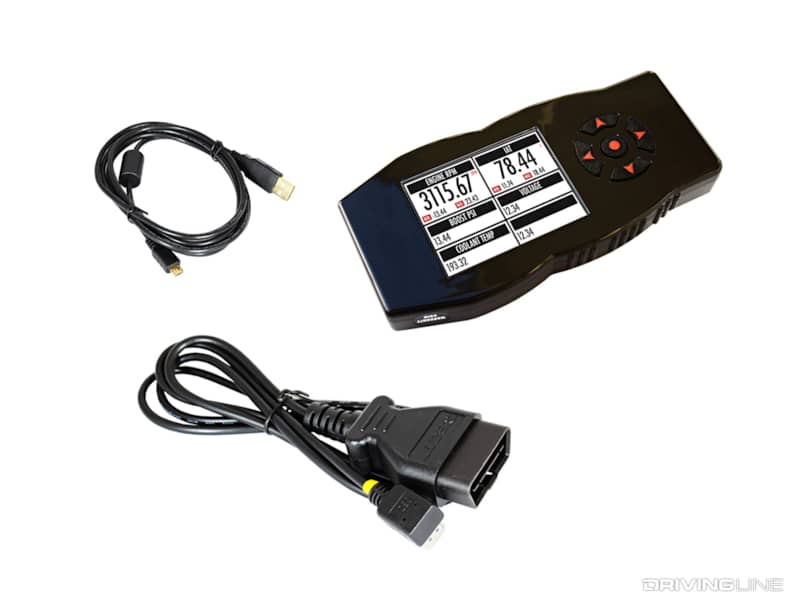 So what's the magic mod that turns a 6.4L Power Stroke loose? In reality there's no wizardry to speak of. All modern, high-pressure common-rail diesel engines are electronically controlled, most notably through the use of a powertrain control module (PCM) or electronic control module (ECM) calling the shots in the injection system. By infiltrating and recalibrating the PCM with specific changes made to key parameters like injection timing and injection duration (once again, injector on-time), more than 300rwhp can be added to the mix. The right calibration can take a 6.4L-powered '08-'10 Super Duty from roughly 280-to-290rwhp stock to 580-to-590rwhp.
Dyno-Proven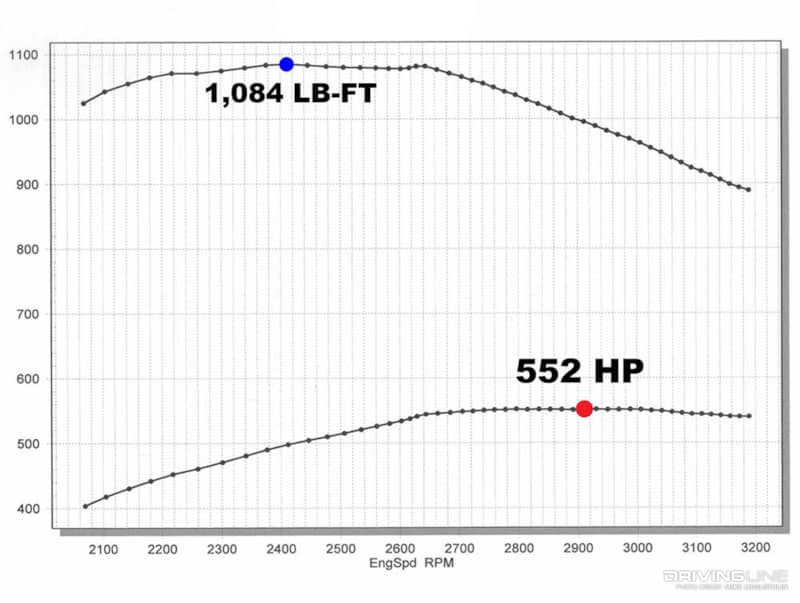 All custom PCM calibrations begin on the chassis dyno, and the numbers shown here were achieved on a tune-only 6.4L-equipped 2008 F-250 (which was strapped to a rather stingy SuperFlow dyno). Prior to the PCM reflash, it made 275rwhp. Ten minutes later, 552rwhp and 1,084 lb-ft of torque was produced. On paper, the increase in power looked good. Out on the street, the truck was an entirely different animal. At the drag strip, and with the transfer case locked in 4-high, the truck stormed through the eighth-mile in 8.07 seconds after cutting a high 1.7-second 60-foot. That 8.07 translates to 12.60s in quarter-mile speak.
More Like 600rwhp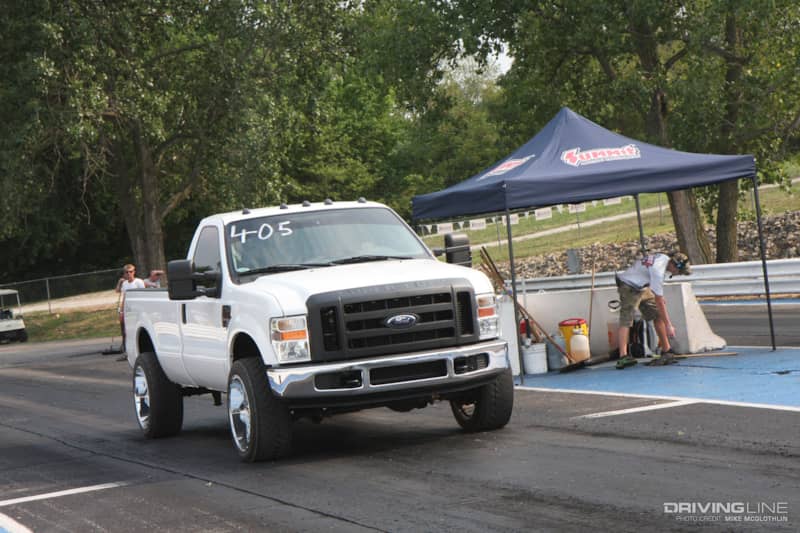 Taking the aforementioned F-250's 7,100-pound race weight and 84.59 mph trap speed into account from its 8.07-second pass at the track, the venerable online Wallace Racing horsepower calculator says 600 hp is making it to the wheels. Not bad for a truck that ran mid 10's (16's in the quarter) prior to receiving a tune. These types of gains (roughly 300rwhp) represent the best bang for the buck in the diesel truck world. One simple change can transform a slouchy, '08-'10 Super Duty work rig into a hot-rod capable of challenging muscle cars at the Friday night test-n-tune.
Taking Things One Step Further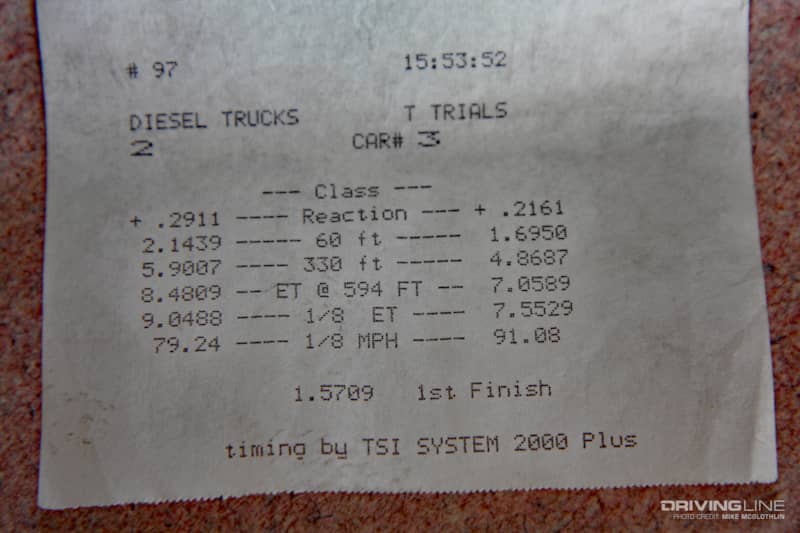 In addition to a 6.4L Power Stroke enjoying a fueling increase, the compound turbo V-8 also responds well to nitrous. How well? The same guinea pig we took to the track (an '08 standard cab, 4x4 F-250) broke into the 7.50s at 91 mph in the eighth-mile. A single shot of nitrous, using an 0.88 jet, is all it took to get it there. That quarter-mile translation converts to 11.80s. Turning once again to the trusty Wallace Racing horsepower calculator, that trap speed equates to more than 700rwhp. How long you can get away with sending 700 hp (and approximately 1,400 lb-ft of torque) through a stock 5R110W is anyone's guess, but we've seen plenty survive the occasional nitrous hit.
Realistic Expectations (+Horsepower Harnessing Mods)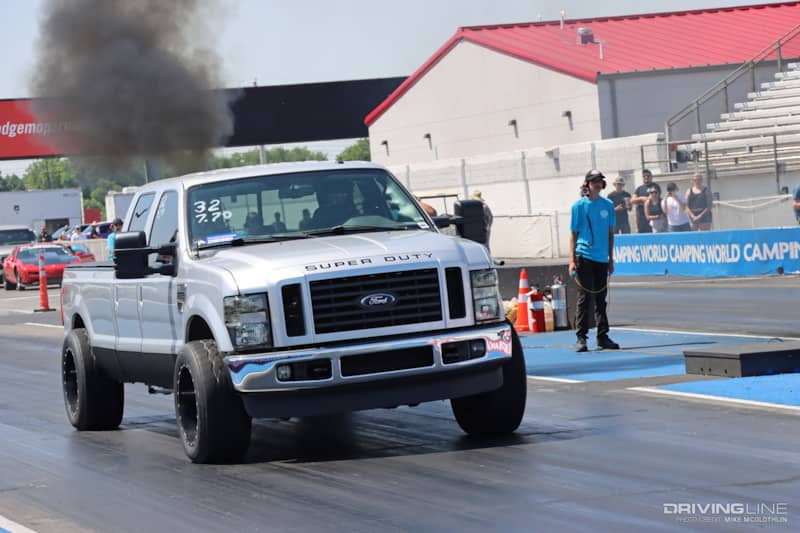 Eleven-second quarter-mile capability isn't a forgone conclusion for all 6.4L owners. After all, most trucks aren't standard cab configurations. For the crew cab, 4x4 '08-'10 F-250 and F-350's of the world—trucks that can easily weigh more than 8,000 pounds—running mid 12's on a hot tune and a shot of nitrous is a more realistic expectation (as are mid-to-low 13's on a tune alone). Fords that experience front axle hop (a common occurrence on '05-later Super Duty's) will benefit from a bolt-on four-link system. And every 6.4L-powered Ford can benefit from a set of quality traction bars to quell rear axle wrap.
Tuned & Towing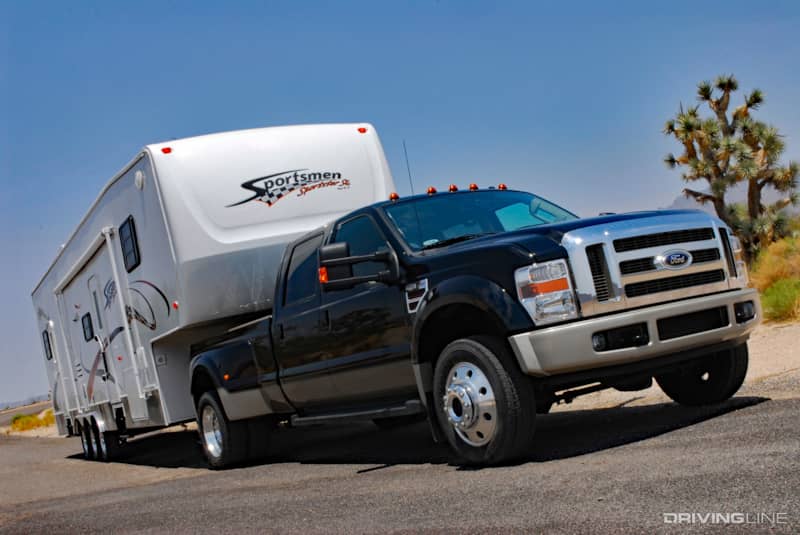 For most 6.4L Power Stroke owners, the fact that their truck is tuned and turning out twice the factory horsepower doesn't stop them from continuing to tow or haul whatever they need to. Loads in excess of 15,000 or even 20,000 pounds aren't uncommon to find behind '08-'10 Fords. The trick is to "drive with your foot," a term many diesel owners live by. As in, leave the truck turned up but watch your gauges—namely exhaust gas temperature (EGT). Keeping heat under 1,250 to 1,300 degrees F is a standard EGT limit for much of the diesel industry and the same peak numbers apply here.
Exceptional Drivability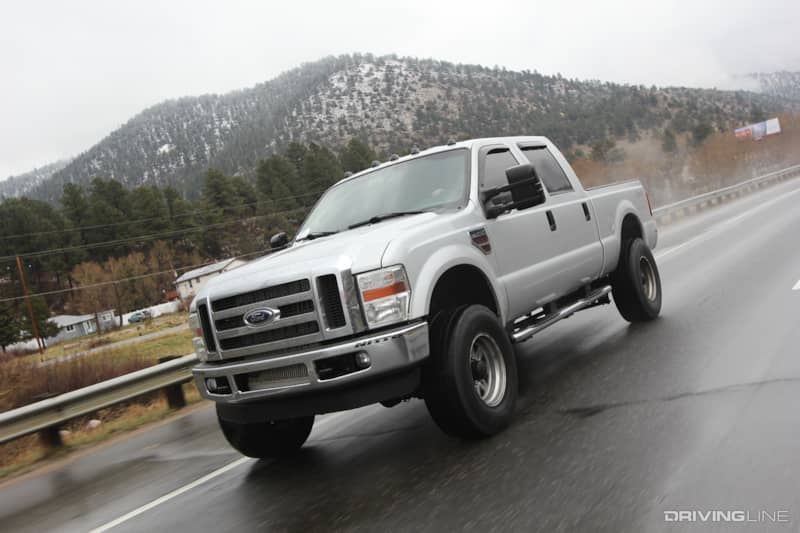 Although 6.4L tuning can add an obscene amount of horsepower to an '08-'10 Ford's bottom line, a hot PCM calibration doesn't render the truck undrivable. On the contrary, the drivability of the truck actually improves (think quicker throttle response, more low-rpm torque to get loads up and moving faster and more usable power being available throughout the rpm range). The factory compound turbo arrangement comes to life quick enough without tuning, but once tuned they light off almost instantaneously. And, if you can keep your foot out of a tuned 6.4L, fuel economy can increase significantly. Some '08-'10 Super Duty's see 19-21 mpg empty.
Squeezing Every Last Drop Of HP Out Of It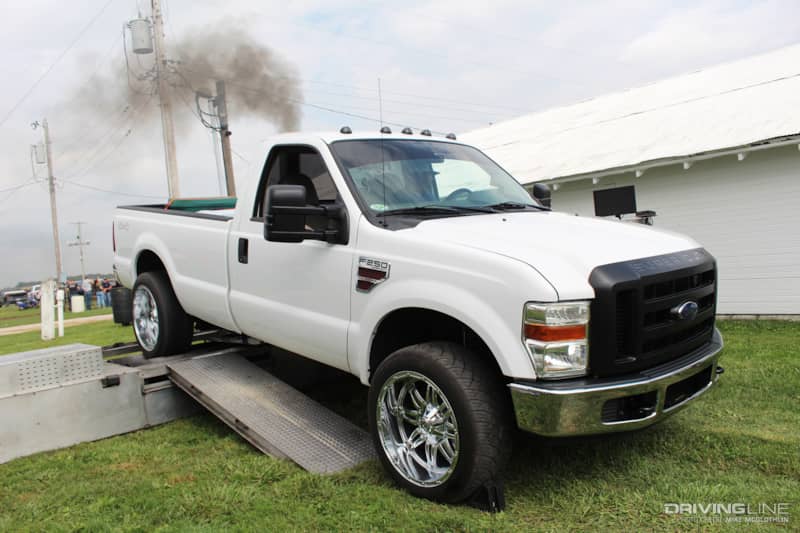 As we've shown so far, a 6.4L-equipped '08-'10 Super Duty can knock on the door of 600rwhp with very little money invested. To get over the hump, there are a pair of cost-effective additions that further capitalize on the 6.4L's factory fuel and turbocharger systems. Ported fuel rails are a cheap and effective bolt-on that help the K16 (HPFP) get more fuel out to the injectors, while a freer flowing aftermarket intake elbow can route just enough additional airflow into the intake manifold to help you squeak past the 600rwhp wall. When both of these mods are combined, another 25 hp is brought to the table.
A Force In Diesel Motorsports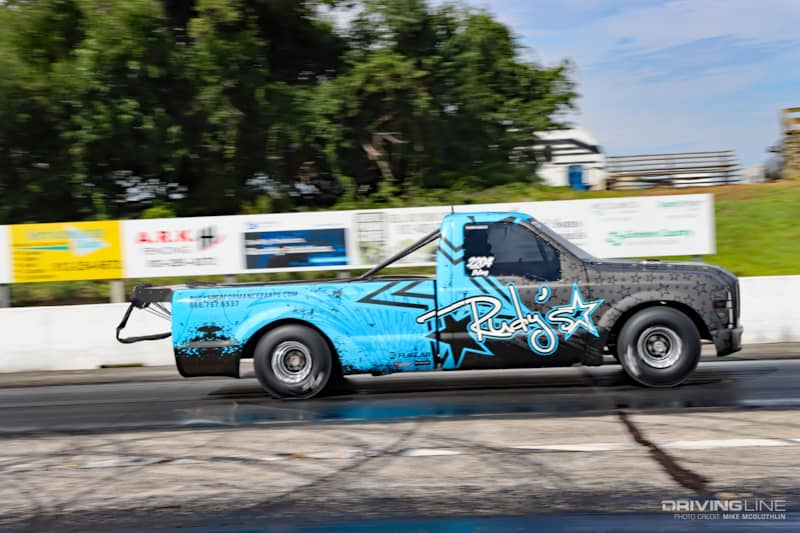 The 6.4L Power Stroke platform made such a believer out of Aaron Rudolf that he built two Pro-level, 6.4L-powered Ford race trucks—both of which compete in the second fastest category in all of diesel drag racing: ODSS Pro Mod. So far, the two-wheel drive, 3,300-pound version driven by Nathannial DeLong has gone 4.51 at 159 mph through the eighth-mile (a Power Stroke record) and the other truck (also driven by DeLong), a 3,900-pound 4x4, has been as quick as 4.62 at 164 mph. We'll note that Rudolf also holds the Power Stroke chassis dyno record of 1,987rwhp and 3,005 lb-ft, which he's owned since 2016.
The Right Engine At The Right Time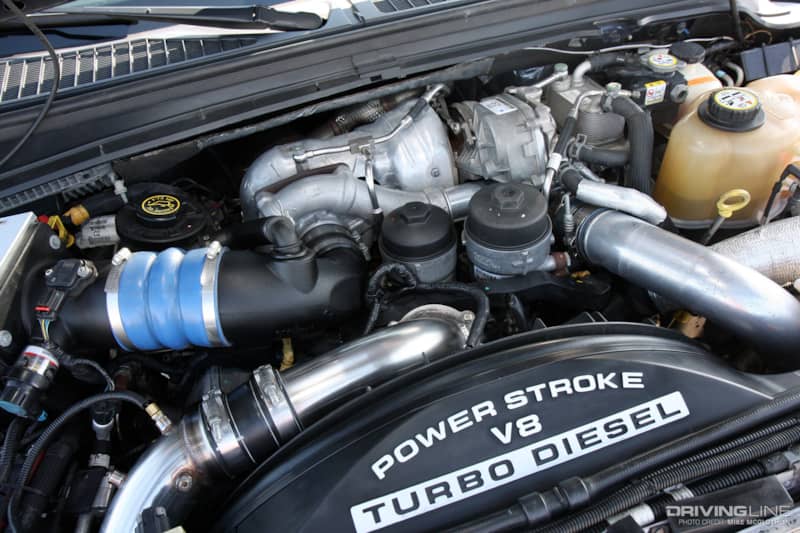 Perhaps the most ironic thing about the 6.4L Power Stroke is that Ford was able to offer an engine like this, with tremendous performance potential, at a time when the diesel emissions crunch was in full-swing. The year 2007 marked the point where OEM's had to meet significantly tighter federal particulate matter (PM) emissions regulations. One of the ways Navistar, who developed the 6.4L for Ford, chose to meet PM requirements was through the use of compound turbocharging. Another means of reducing PM was through the employment of the state-of-the-art high-pressure common-rail injection system sourced from Siemens. The diesel aftermarket, which was growing in leaps and bounds at the time, was able to take these technological gifts and capitalize on them. As a result, the 6.4L Power Stroke will likely go down in history as one of the easiest diesel engine platforms to squeeze big, easy power out of.
More From

Driving Line
While we believe its performance potential may be unmatched, we never said the 6.4L Power Stroke was the perfect diesel engine—and we've chronicled its most notorious failure points here.