Big Stick Energy: Massive Turbo Power in a 2009 Ford F-250 6.4L Power Stroke
When President Theodore Roosevelt first said his now famous line, "Speak softly and carry a big stick," he envisioned a policy of quiet but real power; power that didn't need to flaunt, or antagonize, but rather could rest confidently in its ability to release absolute destruction if the need ever arose.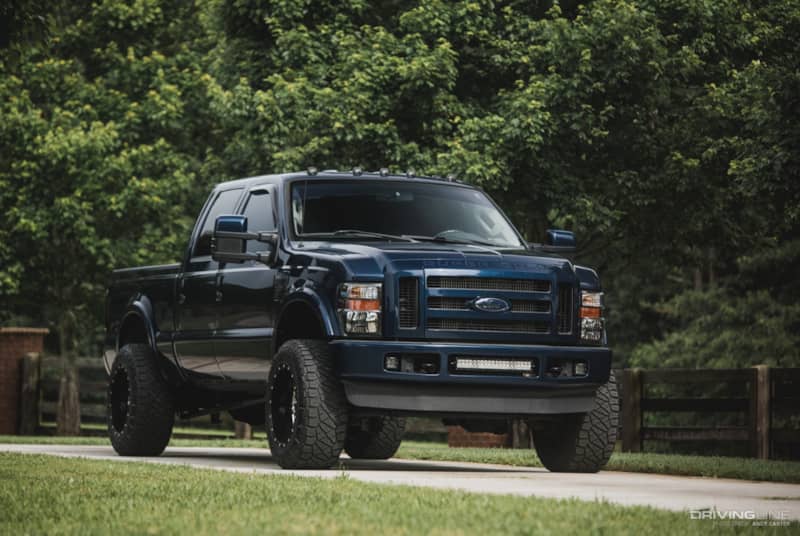 On our visit to photograph Josh Waters' Jeep Wrangler for a feature, we noticed this seemingly stockish 2009 Ford F-250 FX4 seated nicely on Fuel wheels and Nitto Ridge Grappler tires parked nearby. "Just wheels and tires?" we asked. Josh smirked, gave a knowing glance to a friend there with us, and replied "Yeah, pretty much." As enthusiasts, we all know where this story leads, and we didn't leave disappointed.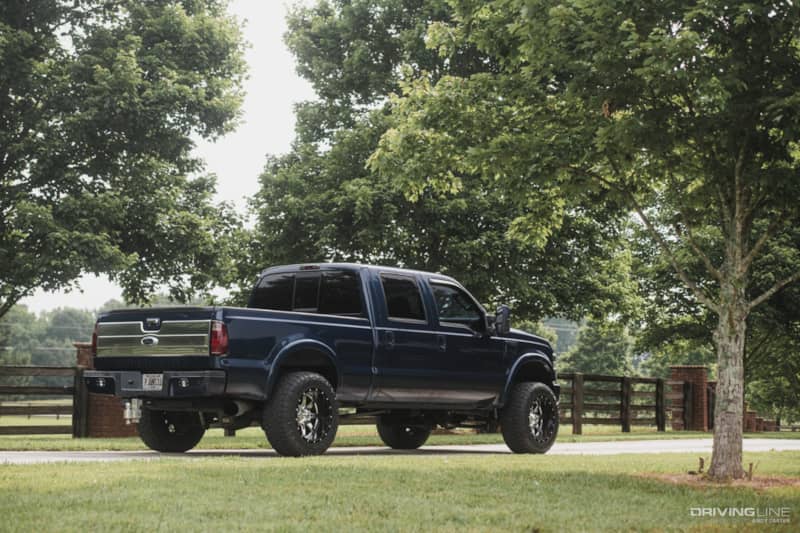 Engine Mods
Tuned by Georgia-based shop Lead Foot Diesel Performance, this Ford F-250 diesel 6.4L Power Stroke V8 currently makes 773 rwhp and 1197 ft-lbs of glorious torque. The engine has been thoroughly built to handle the nearly doubling of power, starting with fly cut, de-lipped, and ceramic coated pistons, O-ringed cylinder heads, upgraded valves, springs, and pushrods.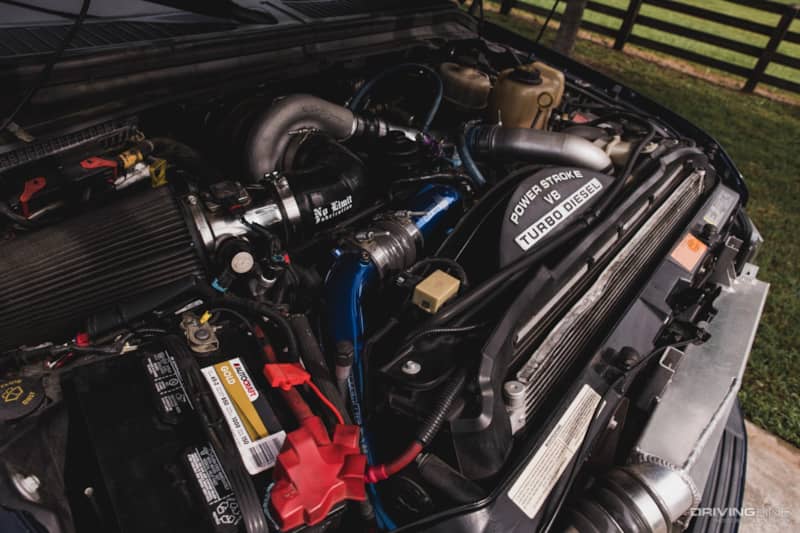 Air comes in from a No Limit intake and into the ODawgs Diesel intake manifold. A massive MPD 369 uses the spent exhaust gases to turn the Power Stroke 6.4L into a monster. A Spearco intercooler keeps things cool, while a MBRP muffler and BD manifolds and up-pipes alert the rest of the world that something is amiss under the reserved navy blue exterior.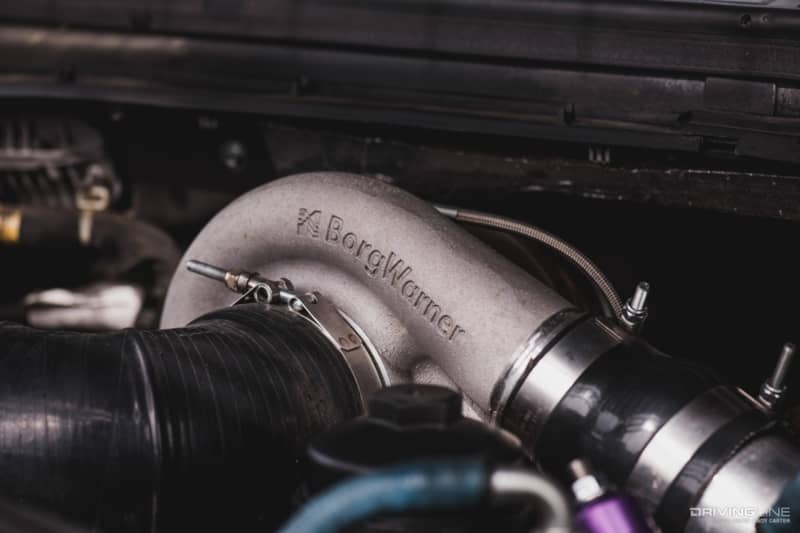 Additional fuel needs are handled by a Fass fuel system, fuel tank sump, and fuel bowl delete. The result is a strong, reliable, system that provides gobs of usable power. The ATS Stage 3 transmission package ensures that the power actually makes it to the ground.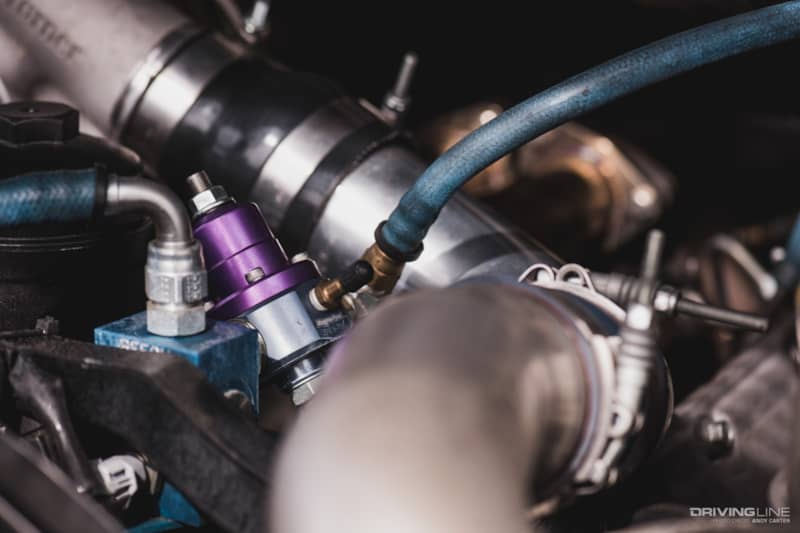 The Right Set of Rollers
Handling nearly 1200 ft-lbs of torque is a lot to ask of any tire, but the 35x12.5x20 Nitto Ridge Grapplers are up to the task. Not only do the tires feature a unique tread pattern, but they've also got the performance to back up their good looks. The 20x12 -44 Fuel Maverick wheels give the truck a little needed shine with the chrome faces. The F-250 sits a little higher above the pavement thanks to a three inch Pro Comp lift. A Flight Fab four link kit was installed to improve the overall handling of the front end by maintaining positive caster throughout the entire travel of suspension.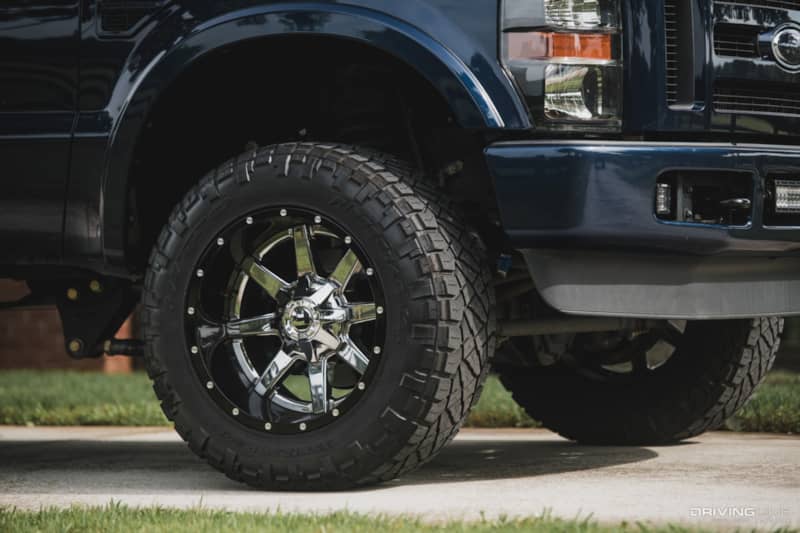 A Restrained Exterior
As we've mentioned, the exterior sits pretty close to how it came from the factory. Painted fender vents with billet inserts add a bit of flair, while a 2015 F-250 Platinum tailgates gives a little detail for the die-hard Ford enthusiasts to enjoy. AMP power running boards were installed for ease of entry when the family needs to tag along.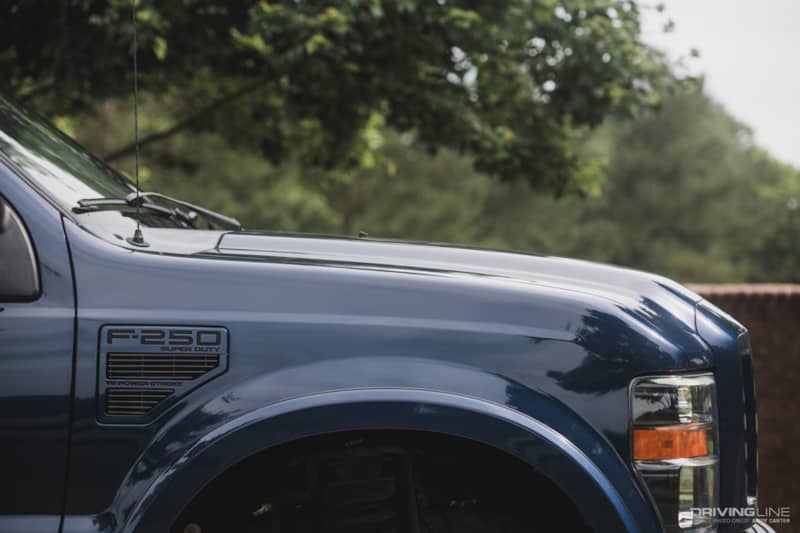 While there's absolutely nothing wrong with big builds with wild paint jobs, crazy lifts, and big power, there's something about restraint that just sits right when the numbers are there to back it up. While Josh's 2009 F-250 isn't a total sleeper, it's got just enough of that big stick energy that Teddy Roosevelt was talking about for diesel fans to sit up and take notice.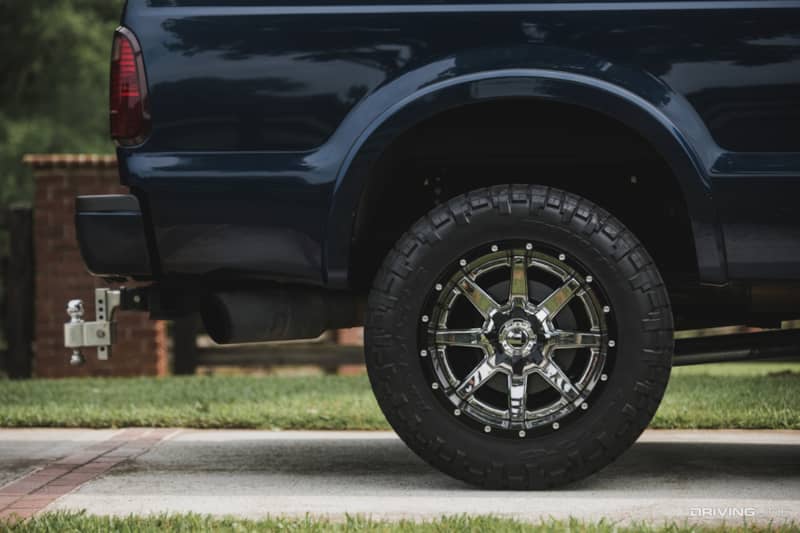 Looking to start your own Power Stroke 6.4L project? Don't miss our comprehensive rundown of Ford's great diesel powerplants.