A Ford Focus RS Fueled By Video Games
It's no secret that the next generation of teenagers have less of a desire to drive than ever before. With options like Uber and Lyft that allow them on-demand rides anywhere they want with a pay-as-you-go model that doesn't require any monthly commitment of overhead like maintenance, gas, and insurance, many teenagers are avoiding vehicle ownership all together. For those who do choose to get their license after turning 16, many are turning to appliance cars like hybrids or compact SUV's, not the muscle cars that riddled the high school parking lots in the '60s and '70s, or the sport compacts like the Honda Civics, Acura Integras, Volkswagen Jettas, Mazda Miatas, Subaru WRX's, or Mitsubishi EVO's that were common in the late '90s and early 2000s. Thankfully, there is still a small margin of teenagers who are still interested in the car tuning culture that started in the '60s and was raging in the post-Fast and the Furious 2000s that many of us claim to be a part of, and the reality is, that small margin of teenagers is largely inspired by the video games they were watching or playing since before they got their license. This Ford Focus RS is an example of those teenagers who are inspired by the video games like Forza and Gran Turismo that are responsible for keeping the car enthusiast alive in the next generation.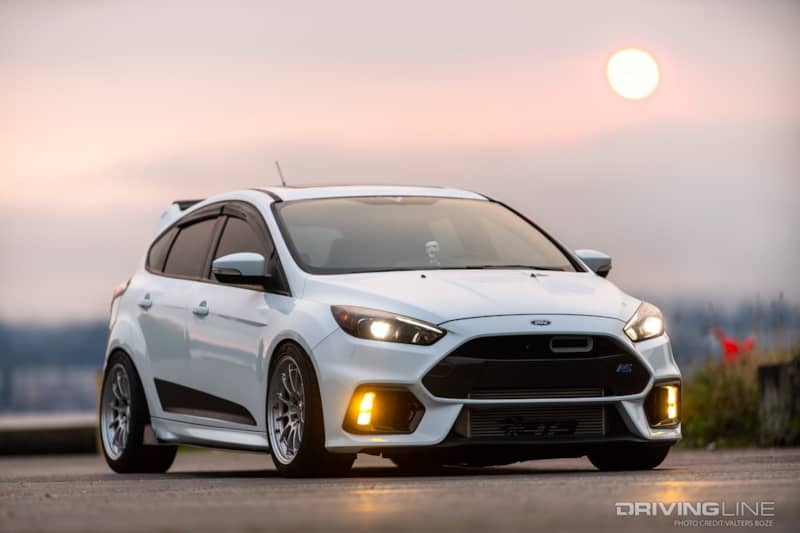 Video Gaming Since Middle School
Jack, who goes by the online persona of JackUltraMotive, admits to getting into gaming as a middle schooler, but quickly gravitated towards racing and car games like Forza, Dirt, and even Grand Theft Auto. Indicative of the digital world that we live in, Jack quickly got online and started playing with friends, which spawned Twitch and YouTube sessions, which started to grow an online following. While many online gamers are known for their superior sim-racing skills, JackUltraMotive and his friends really started to gain traction as they formulated some fun "mini-games" and driving challenges that were both entertaining and easily emulated by followers. Games like Hide 'n Seek or car limbo, recreating famed vehicles or scenes from movies like Fast and Furious or the "Cars" Pixar series, and even Cannonball-esque "road trips" and high speed runs gave Jack and his friends a nearly endless source of content, and allowed him to engage with viewers in a way that was relatable. Many of these fun games and challenges got turned into Youtube videos, and JackUltraMotive's Youtube channel soon started to grow. Jack also attended local car meets and events in the area, slowly crossing over his love of vehicles from the digital world to the analog world.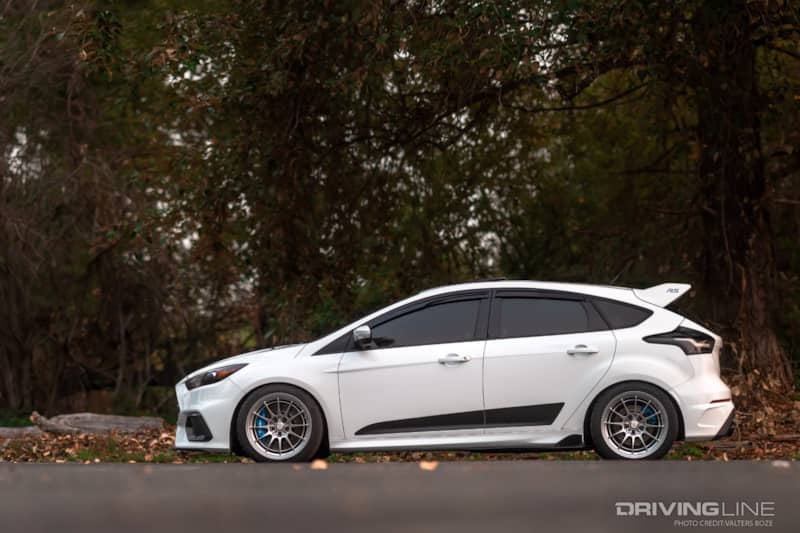 Away from the video game antics he published, JackUltraMotive generally enjoyed cars and car culture, and knew when he turned 16, that he wanted to get a car that would allow him to translate his love of petrol into the real world. As Jack started monetizing his Youtube earnings and the earnings slowly grew from pennies to quarters to dollars, he started to save those earnings for a special occasion. At first, it was just saving for the next X Box game, then it rolled into saving for the next generation of X Box, then eventually, as his 16th birthday neared, it became saving towards a first car. Jack's Youtube revenue started to accelerate, and what initially was a moderate fund for a used car soon became a nice down payment on a newer car. As the holiday season started to come around, the Seattle Auto Show came to town, and Jack and his family set out to see if they could help decide what car Jack would get for his first ride.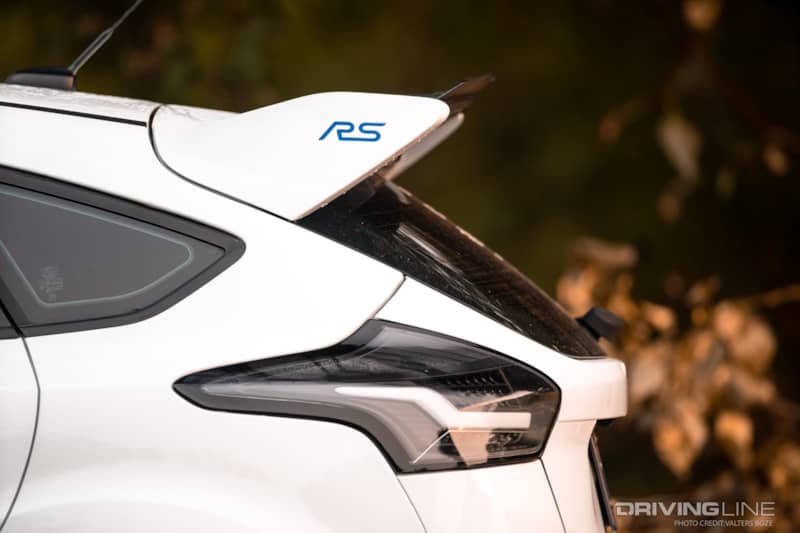 Auto Show Selection Process
The decision of a first car is always a difficult one. Jack wanted something sporty, yet economical. Finding a car with a manual transmission was practically a requirement, which further slimmed the selection. After a bit of market research, a hatchback seemed like a good fit for Jack, with options like the Ford Fiesta, Volkswagen GTI, Honda Civic, and Mazda 3 all fitting the bill. As Jack strolled through the Ford booth at the show, he spotted the Ford Focus ST and made the mistake of sitting in it. While he wasn't old enough to drive yet, Jack started to obsess over it. The more he looked into the car, the better it seemed. The car featured a turbocharged engine that pushed out around 250hp, and had a 6-speed manual transmission that keeps the driver engaged. Jack also liked how stylish the car looked, and Jack's dad liked that the car had good safety ratings and good gas mileage. Jack figured his fate was sealed, and soon his phone and computer desktops both featured Focus ST imagery, and he even started using the car in some of his gaming content.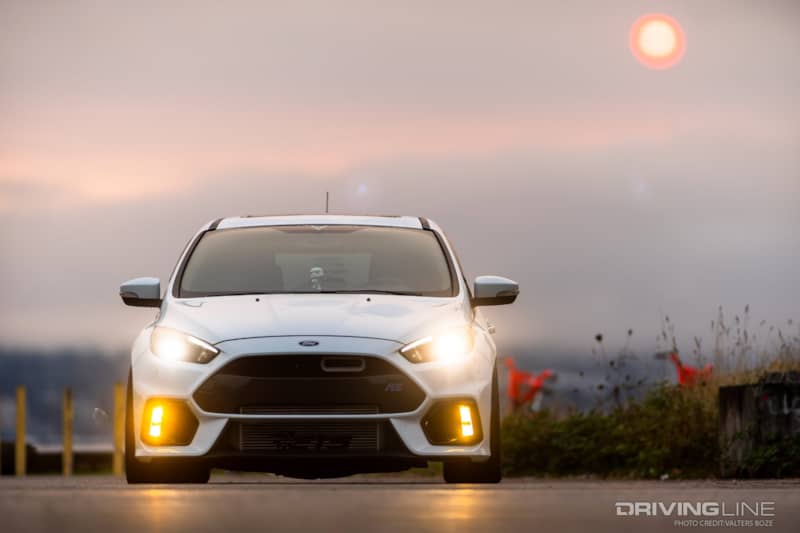 As his 16th birthday became ever closer, the success of Jack's Youtube channel started to expand his vehicle options. Cars like the Subaru WRX STI and Civic Type-R seemed like options, but were still a bit too common for Jack's liking. The months spent staring endlessly at the Ford Focus styling had influenced Jack, and the most premium version of the Focus, the Focus RS, seemed to make sense. The Focus RS was something of an unobtainable dream just a few months later, but the uptick in monetization revenue started to make the Focus RS feel achievable after the uptick of views and engagement on his Youtube channel, particularly around his Forza Horizon 3 content.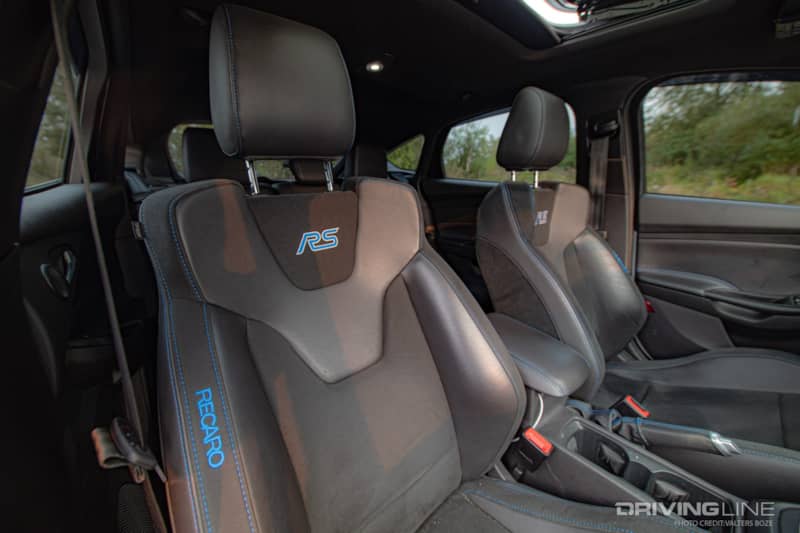 After a visit to a local Ford dealer, the Focus RS decision was set. With 350hp, a 6-speed manual transmission, AWD powertrain configuration, more premium interior materials than several of the other available options, and perhaps most importantly, the stylish hatchback form factor that Jack was desiring, Jack knew that it was the car for him. Jack even upgraded to the RS2 package, which included the leather-trimmed heated Recaro seats, heated steering wheel, and other small interior accoutrements that truly give the vehicle the look and feel of a proper luxury car, and sprang for the forged 19" wheels that were available as an option from Ford. Ironically, the Ford Focus RS was the first manual vehicle that Jack had the opportunity to drive, which meant he didn't feel comfortable driving it home from the dealership until he had more time getting used to the manual gearbox, so dad drove the car home after the purchase.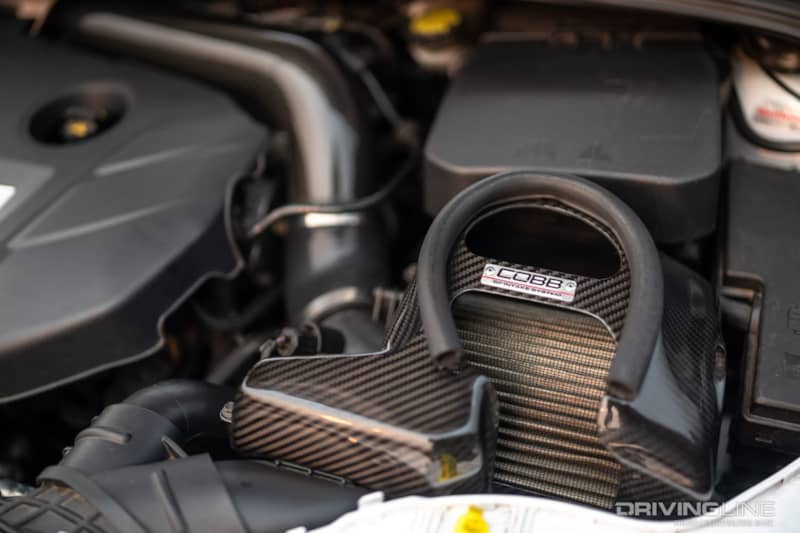 Stock? Who Leaves a Car Stock?
Shortly after the car arrived in Jack's driveway, some mods arrived as well. Jack connected with Armytrix and he was the recipient of one of the first production Focus RS stainless steel exhaust system, which added a bit more throatiness to the already sexy sounding exhaust note. Jack also added the DownForceSolutions side skirts with canards, to help accent the aggressive FocusRS front bumper and rear diffuser. Jack also changed up the front fascia with an Anderson Composites carbon fiber grill, a light tinting on the headlights, yellow tinted fog lights, and Anderson Composites carbon fiber fog light surrounds. Rounding out the external look, Jack and some friends spent a day applying a vinyl camo livery ahead of a car meet that Jack attended. Over the years, Jack has gone through a few different camo liveries, a few of which included some not-so-camouflaging colors like matte purple and fluorescent yellow. The current livery is a much more sedated design, consisting of a small matte black accent along the bottom of each door, and some sponsor logos of partners who have supported him along the way.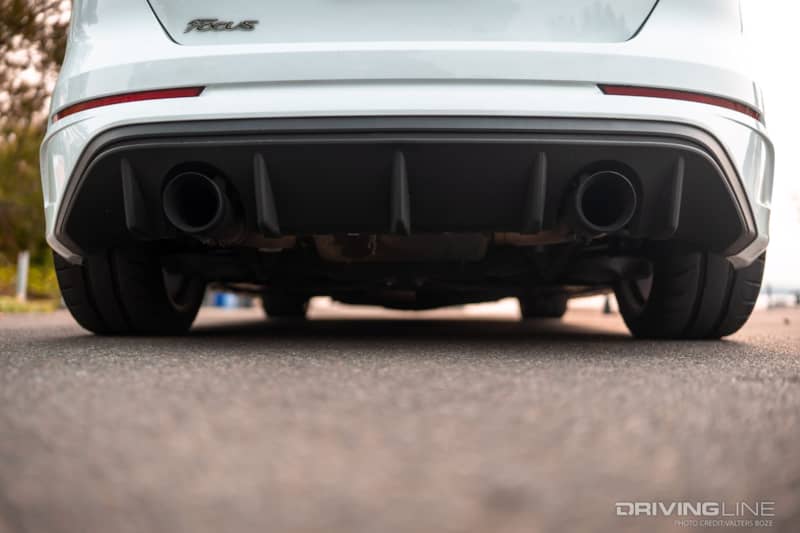 Just over a year ago, Jack had an unfortunate rear ender accident that put the car out of commission for a bit. During that downtime, Jack accrued several power-adder mods, and shortly after the exterior repairs were made (including upgraded Spec D Tuning taillights), did a full slew of power upgrades at the same time. Starting up front, Jack started with a Tech Big Mouth Intake, which takes cold air from the front grill area and funnels it into the air box. Jack replaced the air box with a Cobb Carbon Cold Air intake setup, which features not only a cone filter but a heat shield that works in collaboration with the Velossa Tech Big Mouth setup to keep intake temps down. Once air is sucked into the intake, Jack also upgraded the front mount intercooler to a more efficient ETS Intercooler. Jack also added a Turbosmart Blowoff Valve and a Scorpion Down Pipe, with the whole power setup being tuned through a Cobb Access Port. All together, the FocusRS is now much more responsive, and pulls much harder especially under full throttle.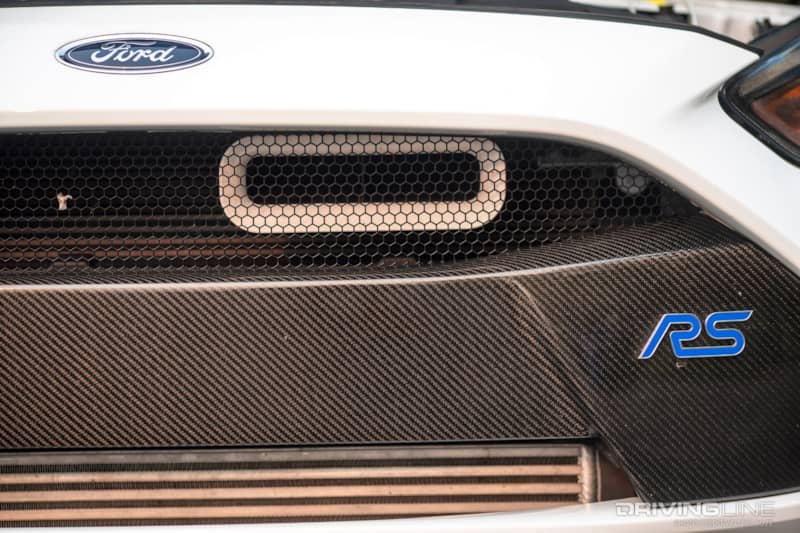 Transferring all that power to the ground also became a priority. Jack went with a set of Whiteline lowering springs to help bring the car down a little closer to the pavement, as well as provide a stiffer ride. The Focus RS had adjustable dampening struts from the factory, so it's not uncommon for Focus RS owners to upgrade the springs to stiffer units. While Jack had a set of Fifteen52 wheels prior to the power upgrade, he decided to change up the wheels alongside his recent newfound horsepower, and went with a set of Enkei NT03 Wheels in 18x9.5" sizing, wrapped in a set of ultra high-performance Nitto 275/35/19 NT05 tires. The Enkei NT03's come in at just under 20 pounds thanks to Enkei's MAT (Most Advanced Technology) that greatly improves the strength of the wheels at a very light weight, while the NT05 tires provide excellent traction for all types of spirited driving, especially for a street legal performance tire.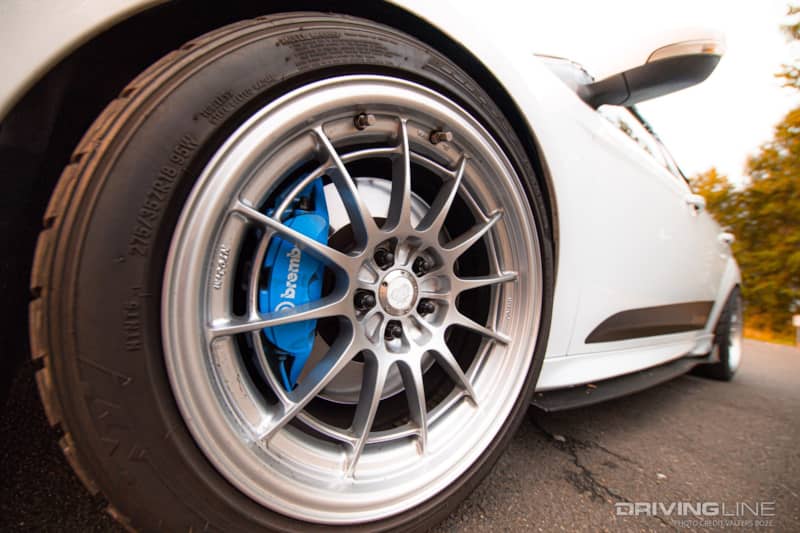 Daily Duty
Over the past three years, the Focus RS has been Jack's daily driver, taking him to and from school and local car events. His Youtube channel has continued to grow, which means the car is far from the only car in his garage. Currently, Jack has a 2004 Nissan 350Z, an R32 Nissan GTR, and an Audi R8, all of which have seen their fair share of modifications. However, Jack has forged a connection with the Ford Focus RS, not just because of the versatility it offers as a fun yet practical daily driver, but also because it was Jack's first car. At some point, Jack says he may try to replace the Focus RS with a new daily, but he currently still enjoys taking his "Storm Trooper" Focus RS out for grocery store convenience store duties, and will always have a nostalgic connection with a car that was initially just a pipe dream until Youtube and video games made it a reality.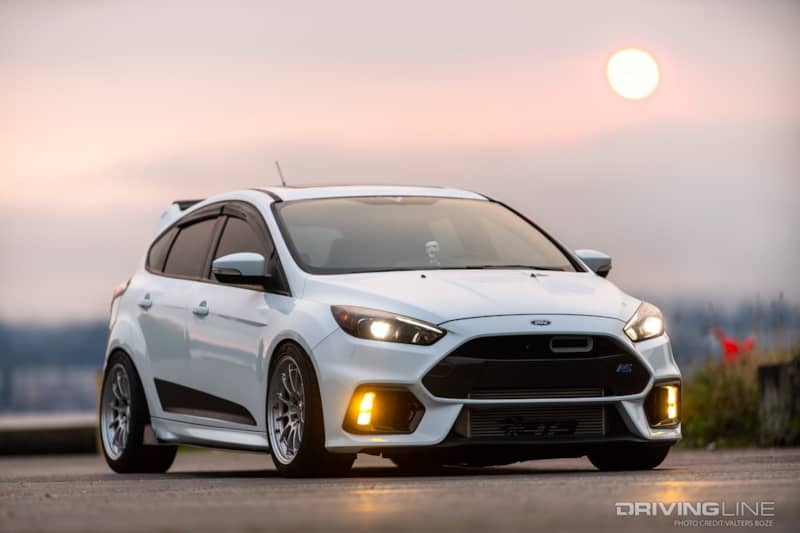 Specs: Jack Ultramotive's 2017 Ford Focus RS
| | |
| --- | --- |
| Hometown: | Issaquah, Washington |
| Engine: | Cobb Carbon Cold Air Intake, Velossa Tech Big Mouth Intake, Turbosmart BOV, ETS Intercooler, Scorpion Down Pipe, Armytrix Exhaust, Cobb Stage 2+ Tune |
| Suspension: | Whiteline lowering springs |
| Wheels & Tires: | Enkei NT03 Wheels 18x9.5" and Nitto 275/35/19 NT05 Tires |
| Exterior: | Tinted front headlights, Yellow tinted foglights, Spec D Tuning Taillights, Anderson Composites CF Grill, DownForceSolutions Side Skirts, Custom black door vinyl accents |