Against All Odds: The 1300HP+ Homebuilt Puller
In the sport of truck pulling, watching a sea of Cummins-powered Dodge Rams storm down the track might seem a bit mundane to a diesel novice. After all, dozens of competitors are essentially campaigning the same setups, albeit with a few of their own tweaks based on past experiences or cumulative knowledge mixed in. From engine to transmission, axles to turbo and fuel system to tire selection, you don't see a lot of deviation in parts recipes from truck to truck. Occasionally however, someone goes rogue within the ranks of competitive truck pulling—and for the Limited Pro Stock class, that someone is Clint Mills of Kennedyville, Maryland.
Instead of running a deck-plated 6.7L Cummins, he's campaigning a stock bore 5.9L. Rather than spending big money on billet-steel rods or a cast replica cylinder head, he's sticking it out with factory-based 12-valve components. And instead of relying on all-terrains to get him down the track, he's dead-set on utilizing Nitto Mud Grapplers. Add in the fact that his wife, an avid truck pull fan, is a survivor of an aggressive form of cancer, and you start to see why Clint's '06 Dodge has been (fittingly) named "Against All Odds."
So how does this anomaly of a truck perform when it's pitted against the best trucks in the nation? How about a fourth place finish out of 49 at the Super Bowl of truck pulling: The Scheid Diesel Extravaganza. For the exclusive, full scoop on how this east coast puller defies conventional truck pulling wisdom, keep scrolling.
1,300+ HP 5.9L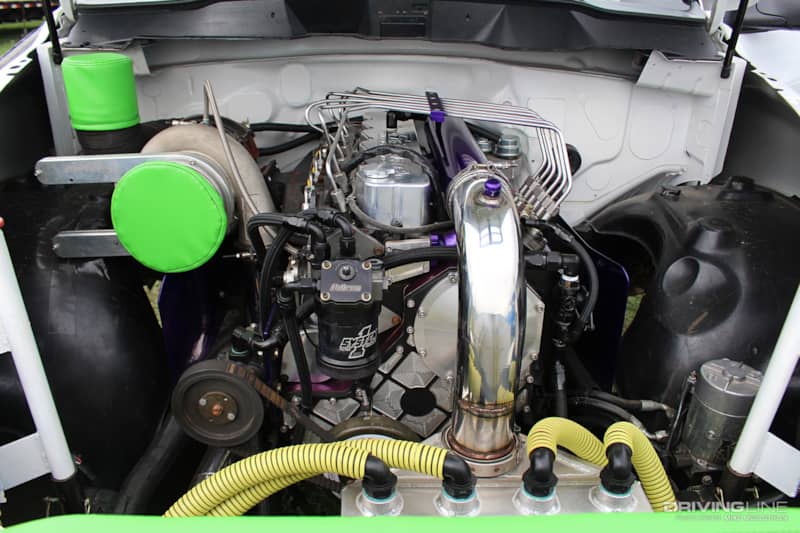 Instead of running a sleeved, stroked and deck-plated 6.7L block like virtually everyone else in truck pulling these days, Clint Mills prefers his East Coast Diesel-built 5.9L Cummins. For optimum structural strength, the cast-iron crankcase utilizes a standard bore and concrete filled water jackets. The OEM-based crankshaft is anchored in place via a Haisley Machine girdle and spins six shot-peened and polished factory 12-valve connecting rods (also from Haisley). Cut and coated, 12:1 compression Ross Racing pistons and an East Coast Diesel-spec'd camshaft round out the key parts found in the bottom end. A competition 12-valve cylinder head, fitted with oversized valves and treated to extensive port work, fastens to the block by way of 14mm ARP studs. The individual runner intake manifold, front cover and one-piece valve cover all came from Keating Machine.
13mm P-Pump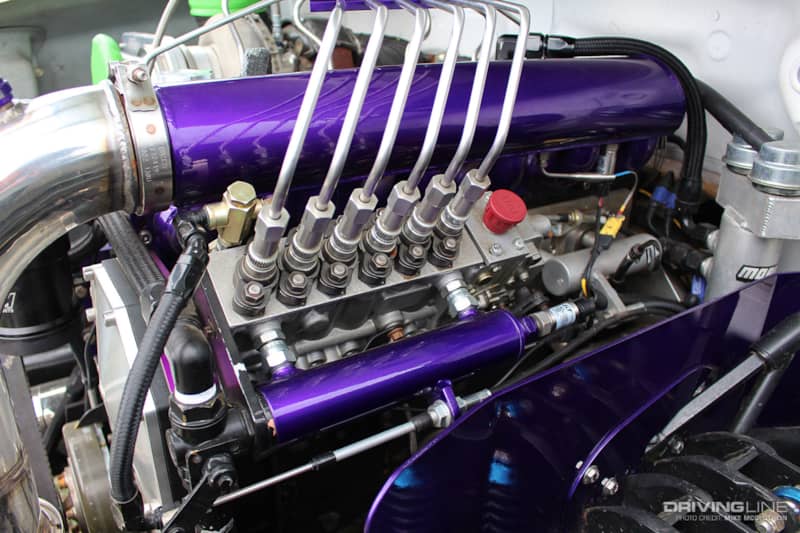 While Clint's Ram is different from the rest of the Limited Pro Stock field in a lot of ways, the P-pump bolted to the side of his Cummins isn't exclusively found on his truck. Built by Columbus Diesel Supply, the Bosch P7100-based injection pump employs 13mm plungers and barrels, a custom grind billet cam and an Ag governor for unlimited fueling at high rpm. In conjunction with a set of triple-feed, billet-bodied injectors equipped with 5x25 nozzles, this pump is a big reason why Clint's 5.9L cranks out more than 1,300hp. The 13mm pump is timed to start injecting fuel some 40 degrees before each piston reaches top dead center.
Smooth Bore Three-Inch Turbo
Because the Limited Pro Stock trucks are limited to running a single, smooth bore turbocharger with a compressor wheel (inducer) no larger than 3.0 inches (76mm) in diameter, picking the right turbo is critical. Siding with a company that has the truck pull turbo market all but wrapped up at the present time, Clint runs the proven 3.0 (3x4) charger from Hart's Diesel. During the course of a pull, the T6 flanged snail produces 60 to 62 psi worth of boost. Drive pressure checks in close to that, which makes for great efficiency and long-term reliability. 
Horsepower Enabler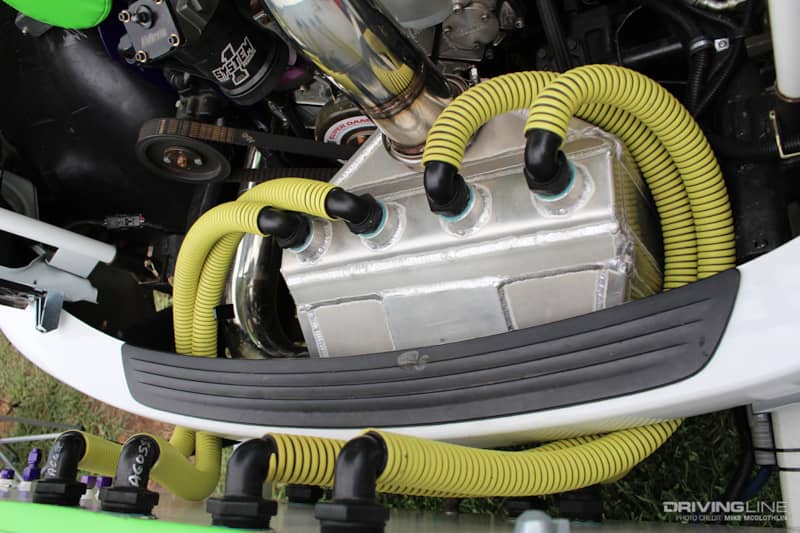 Cooling off compressed intake air is a big part of the horsepower-making puzzle in truck pulling. For packing the coolest, densest oxygen possible into the engine, Clint relies on a water-to-air intercooler to drop intake temps by more than 500 degrees. The water-to-air arrangement makes use of a four-core Chiseled Performance intercooler, an ice box built into the front weight box and three 3,700 gph bilge pumps. Extremely efficient, Clint tells us the water-to-air setup typically drops incoming air temperature from 570 (leaving the turbo) to 60 degrees F (entering the head).
Bomb-Proof Driveline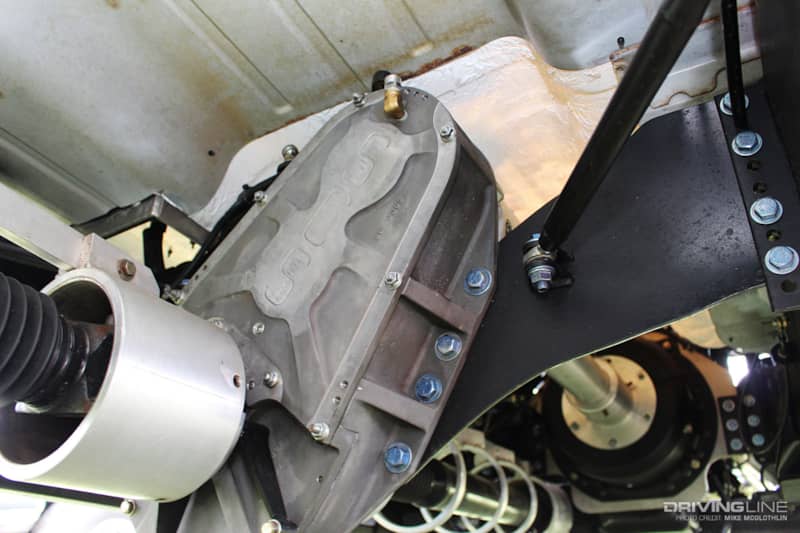 The process of transferring horsepower to all six wheels begins with a four-disc clutch from Kenny's Pulling Parts, which is concealed inside a Browell blowproof bellhousing. From there, a reverser transmission/quick-change transfer case combination from SCS Gearbox routes power to both axles via drive shafts built at Proformance Pros. With fixed gearing in the one-speed reverser and the ring and pinions in both the front and rear axles, Clint's primary means of adjusting the truck's gearing takes place in the SCS transfer case (a.k.a. drop box). Depending on the track, the truck's final drive ratio checks in anywhere between 12.5:1 to 13.3:1.
20,000-Pound Rear Axle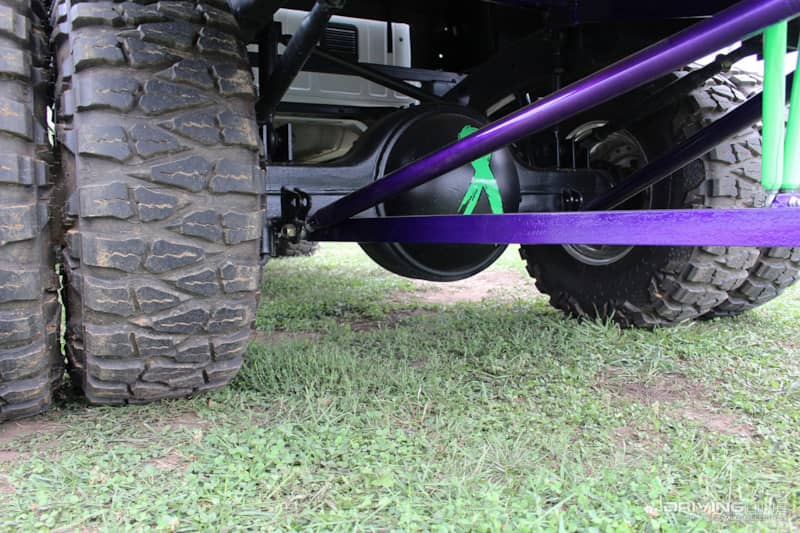 After breaking his fair share of Dana 80s, Clint was ecstatic when a rule change for his class permitted the use of any rear axle. With the Meritor/Rockwell 20-145 being run in the 3,000hp Super Stock class with virtually zero issues, the version in Clint's truck should last forever. The 20-145 shown above has been narrowed, the differential has been fitted with a 4.88 ring and pinion and the spider gears were treated to a welder. Up front, the factory-based AAM 925 solid axle remains, albeit with a Detroit truetrac locker and 4.88 gears.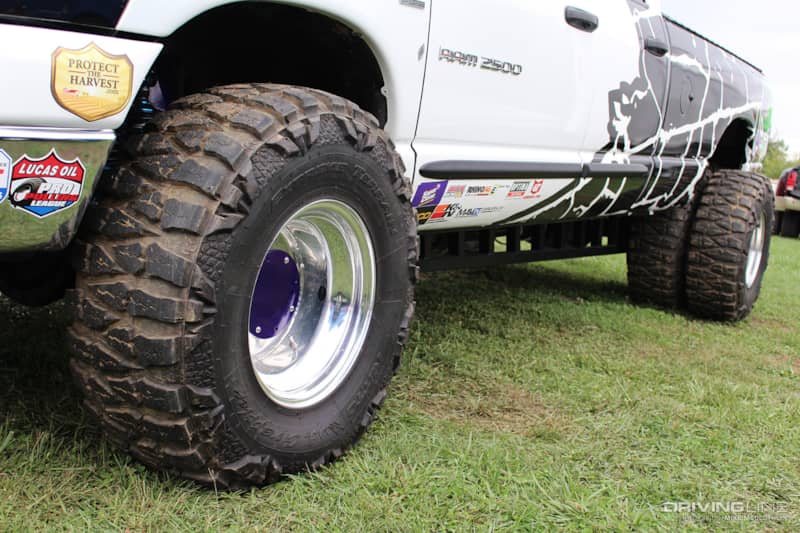 For an aggressive, hard-biting tire, Clint swears by his Nitto Mud Grapplers. Fitted on 16-inch aluminum Real Racing Wheels, the LT315/75R16 E load range Mud Grapplers measure just a smidge under the 35-inch class maximum. For a big footprint up front, Clint runs just 12 psi of air pressure, while the duals out back hold quite a bit more air in order to maintain the truck's hitch height when the weight of the sled transfers forward.
With the Right Gearing, They'll Dig to China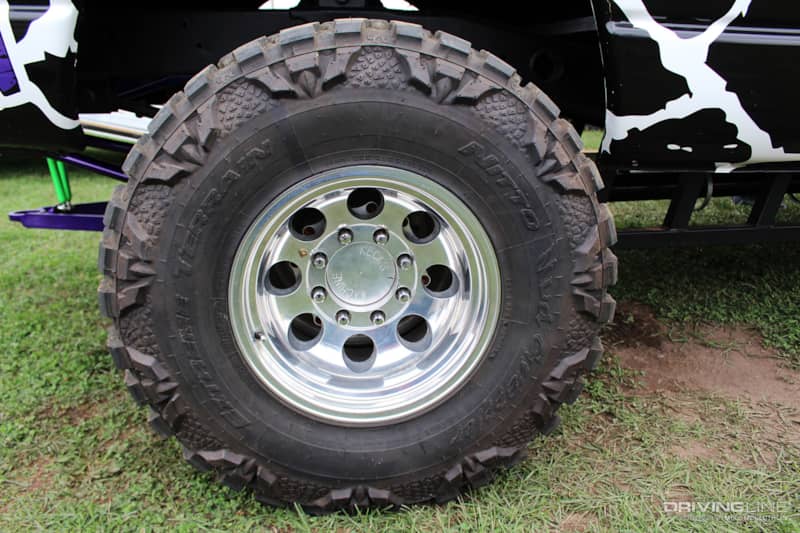 Why does Clint run what is arguably the most aggressive mud terrain on the D.O.T. tire market when nearly everyone else is using all-terrains? Because, as Clint showed thousands of spectators at the 2018 Scheid Diesel Extravaganza, you can do a lot of damage on Mud Grapplers if you get the gearing right. "We've tried the faster gear deal (by way of swapping gears in the SCS drop box), but with these tires biting the way they do, we can get a faster mph with a slower gear by turning the motor a little harder (4,500 to 4,600 rpm)," Clint told us. "They've hooked really good on pretty much every track we've been on," he added.
Stretched Frame, Subframe Added
Originally a short bed four-door, Clint and his crew stretched the truck's frame approximately 20 inches in 2017, added an 8-foot bed and moved the rear axle and bed side slightly forward. The changes brought the ¾-ton Ram's wheelbase to 158 inches, the maximum allowed in the Limited Pro Stock class. Frame reinforcement comes in the form of a subframe constructed of 2x2-inch square tubing, which spans from the rear axle all the way to the front control arm mounts.
Rigid Pulling Hitch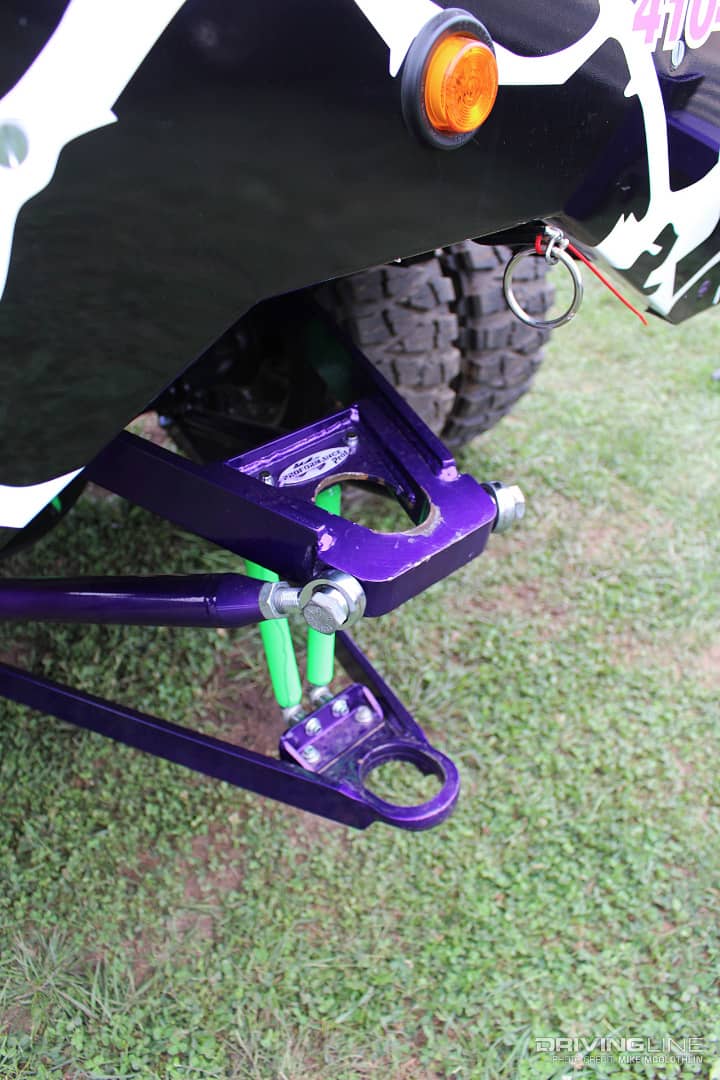 In setting up the truck to pull, Clint obtained a boatload of helpful information from Randy Kleikamp and hard parts from Kleikamp's company, Proformance Pros. Above, you can see the Proformance Pros-sourced, draw bar style hitch employed on Clint's Dodge. The hitch eye measures 1.25-inches thick and the hitch's Pyramid type design and its adjusters ensure the hitch never drops down. In keeping with Limited Pro Stock class rules, the hook point measures exactly 26 inches from the ground.
Fine-Tuned Front Suspension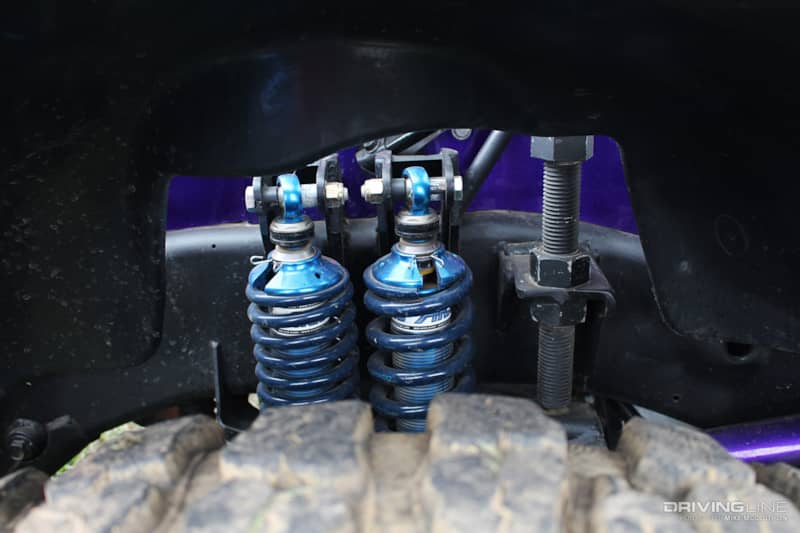 With the truck's rear axle essentially part of the frame, the only area for suspension adjustments to be made exists up front. To fine-tune the front end, AFCO double adjustable coilover shocks from Proformance Pros are utilized in pairs. The AFCOs, complete with special valving specific to truck pulling applications, provide full control over both rebound and compression forces. Thanks to the extensive adjustability they offer, Clint has his Ram's chassis movement dialed in to a tee, which means the truck's front end rarely becomes unsettled during the course of a pull.
Stripped Interior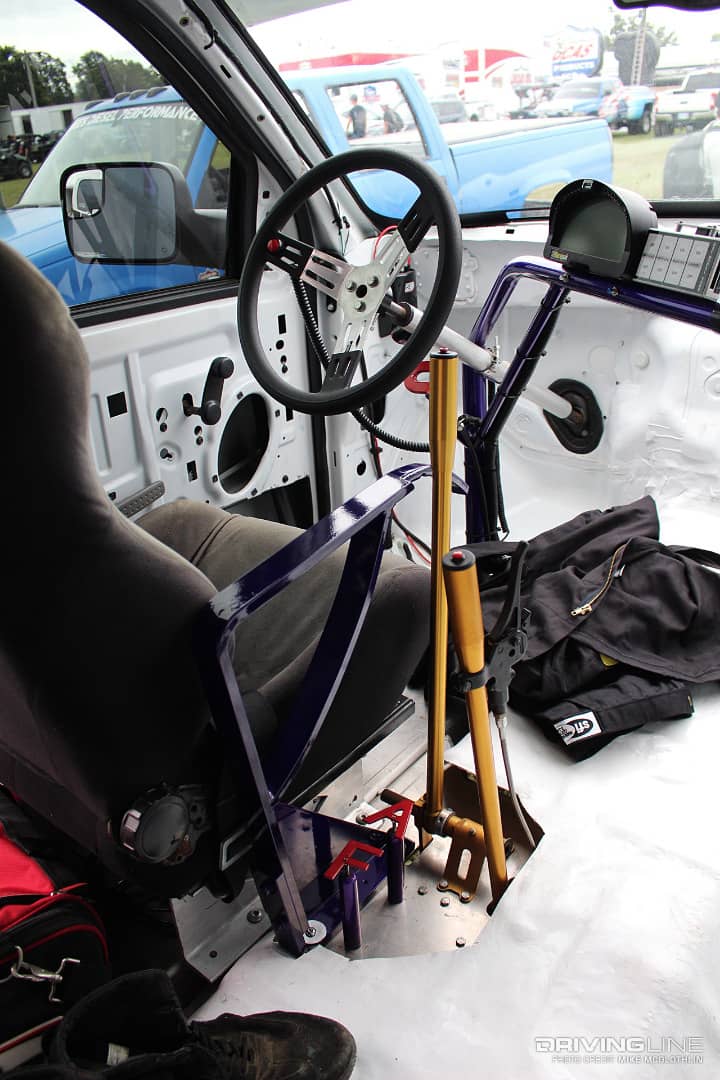 To get the bulk of the truck's weight where it needed to be (forward of the firewall), Clint and his crew removed any and all unnecessary heft from the cab (dash, door panels, seats, etc.). A Racepak data logger is used to record key vitals on the truck, such as boost pressure, drive pressure, ground speed and EGT, for post-hook analysis. The hand throttle and shifter are Proformance Pros' pieces.
Supporting the Effort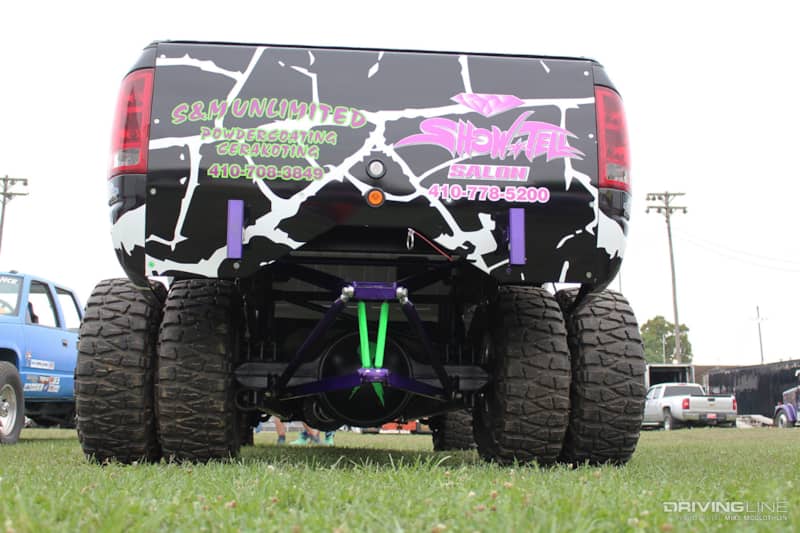 While Clint, his family and his friends all joined forces in building a successful Limited Pro Stock truck, Clint is quick to point out that none of it would've been possible without generous sponsors. All Pro Kustomz, TRM Diesel and Show N Tell Salon played a huge role in the build, while Shore Sign of Chester, Maryland provided the truck's signature wrap and S&M Unlimited provided all the powder coating that makes the third-gen Dodge engine bay, interior and chassis pop.
Success, Validated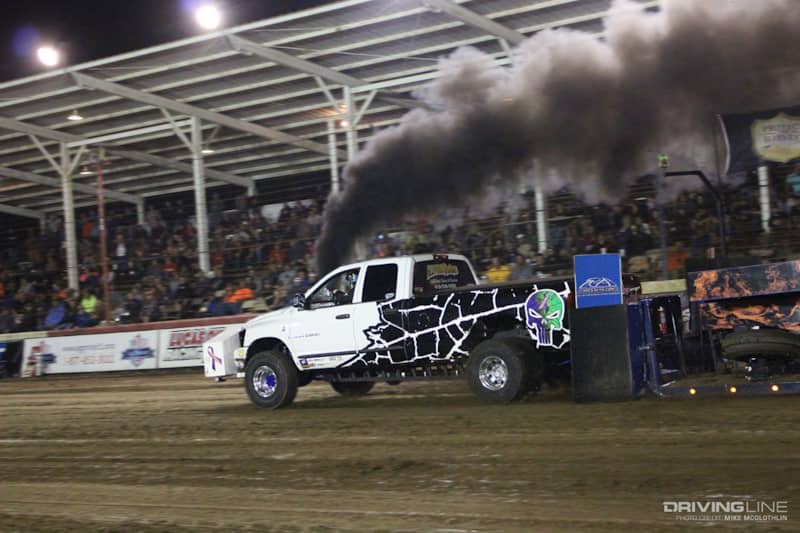 "I always wanted to come to the Scheid Diesel Extravaganza and do well," Clint said. "And I also wanted to see how we stack up against the rest of the trucks in the country." Well, after building up 31 mph worth of ground speed with 40,000 pounds of weight-transferring sled in tow, Clint found out. He finished fourth out of 49 trucks at the 2018 event, which confirmed that the homebuilt Ram can indeed run with the best in the business.
Clint wasn't the only competitor at Scheid to find success on Nittos.