All-Electric Off-Roading, Part 1: Why You Should Go Overlanding in an Electric Vehicle
There is no question that electric and alternative fuel cars and trucks are the future of personal and commercial transportation with every major automotive manufacturer investing heavily in the technology and launching new electrified models, especially the best-selling truck and SUV segment. This is driven both by consumer demand and government mandates to help curb climate change by reducing emissions and advancing technology.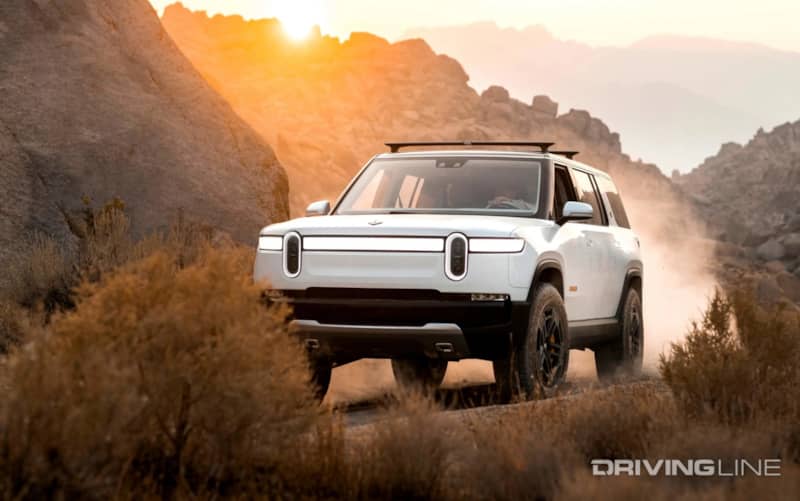 The first questions that many have when it comes to an electric vehicle are how it compares and improves the experience versus its gas equivalent in terms of mileage, performance, and how long it takes to charge back up. All of these help factor into seeing if an electric vehicle fits into your driving habits and lifestyle. But what if your lifestyle includes off-road adventures and weekend overland trips? Can an EV truck or SUV handle and perform off-road? And might they be even more suited for it than what is currently seen out on the trail? Here are some of the advantages of an EV over a traditional gas-powered vehicle when it comes to going off-road. In Part 2 of this series we will balance out this article with some of the potential disadvantages.
Range
Most electric vehicles have mandated mileage ranges comparable to regular vehicles. So it all depends on where you plan to go, what charging stations are on the way, and if you might be able to plug in elsewhere during downtimes. But things change when going off-road. Using more torque requires more juice. Running fridges or charging cameras and phones reduces the watt-hours and overall range capacity of the vehicle.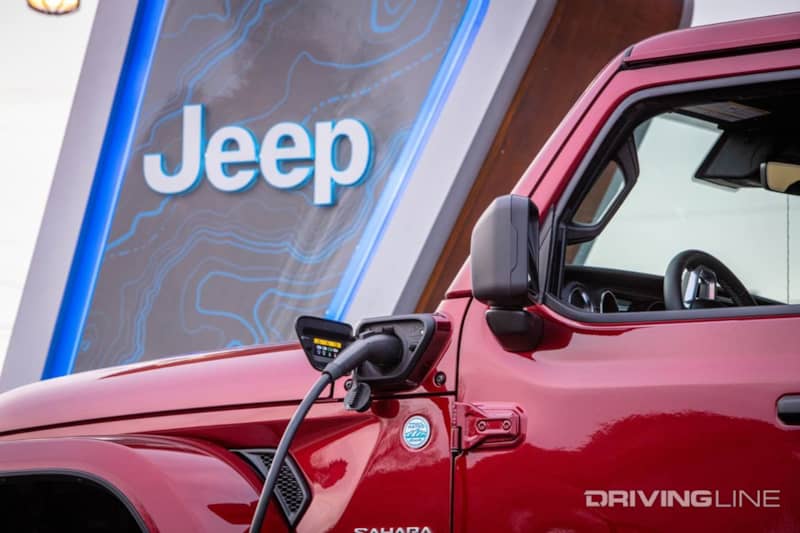 It is always a good idea to carry spare fuel, mount a jerry can or Roto-Pax when heading out on the trail in a combustion based engine powered vehicle. Filling up with enough to get you to your destination means likely never having to use it, but it's always is good to have. But a couple of gallons of gas isn't going to help you recharge an EV. And while you could spend some days with solar panels if you ran out of juice, or carry an extremely long extension cord, there is no real solution for an EV just yet. Off-roading does require more braking, which thanks to regenerative braking, can add some power back into the system but would be about the same eMPG as that fuel jug attached to your ladder would get you.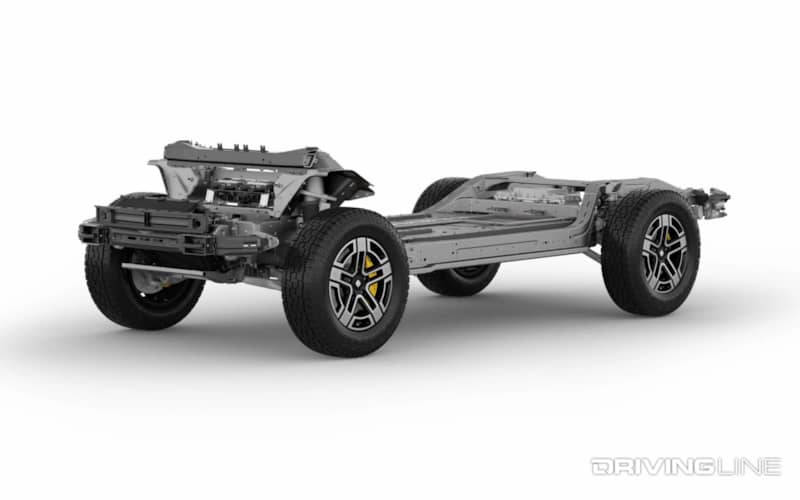 Many manufacturers are building off of a skateboard platform and scaling for size. Larger trucks are able to have similar ranges as cars by balancing the weight with a larger battery capacity. Trucks pretty much by definition should be and are bigger and tougher than cars so size and range kind of go hand and hand.
Planning out your route not just around the time of day, destinations and sights to see but charging stations is a must until more infrastructure is in place to be able to simply charge up before heading out. However, charging stations have recently been showing up at trailheads of places like Moab, Utah. 
Cargo Space
Frunk, say it with me, frunk. Due to the lack of an engine, thanks to having electric motors; EVs can have extra cargo space up front, in the frunk. We have even seen some insulate the frunk and utilize it for their plug-in fridge cooler helping to conserve some power by keeping temps lower.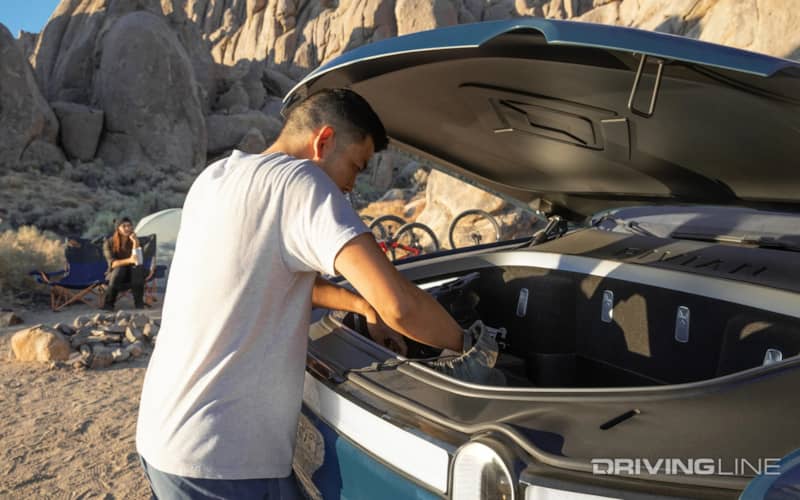 Add on a roof rack, utilize the large bed space, throw some gear inside the cabin, and you have more room than traditional trucks and SUVs. Manufacturers have also been throwing in a few extra compartments like the Rivian's Gear Tunnel in between the bed and the cab (or where that in-between would be).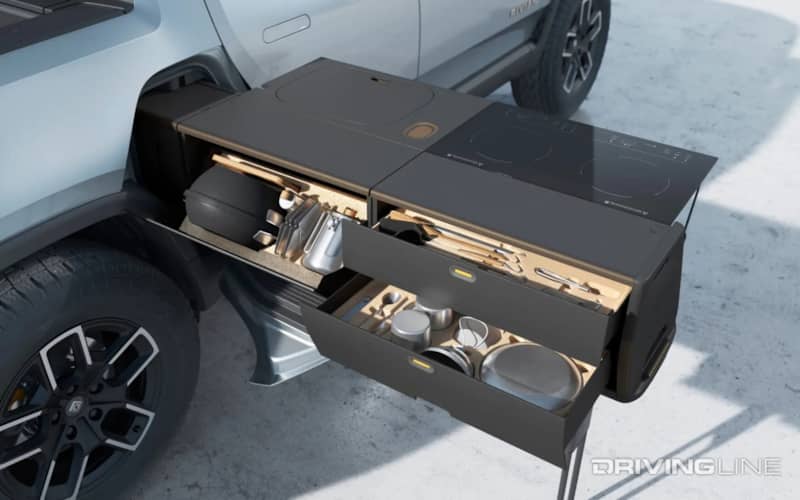 Rivian uses that space to offer a slide-out Camp Kitchen and table freeing up the bed and keeping everything running off the vehicle itself with induction stoves, a sink, water tank, table, drawers, and kitchen equipment. 
Off-Grid Power Generator
Solar generators and battery packs have become musts when out camping and overlanding to recharge phones, electronics, and power your fridge when set up at camp. EVs include multiple USB and AC/DC ports and clearly have more capacity than any portable battery bank so using power when at camp is just a trickle of its capacity.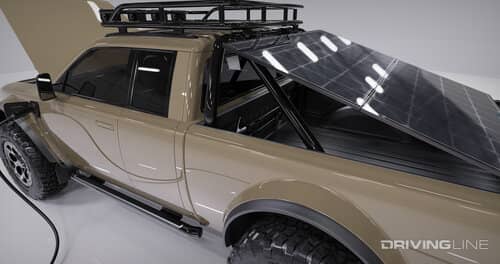 Rooftop tents, ground tents, awning rooms, pods, or a simple hammock are common sleeping accommodations, and several manufacturers are offering these as branded options. Some prefer to sleep inside of their rigs. And being able to run the heater without running an engine itself can essentially give you climate-controlled camping. And with several of the trucks and SUVs featuring panoramic roofs, camping out under the stars can be an entirely different experience.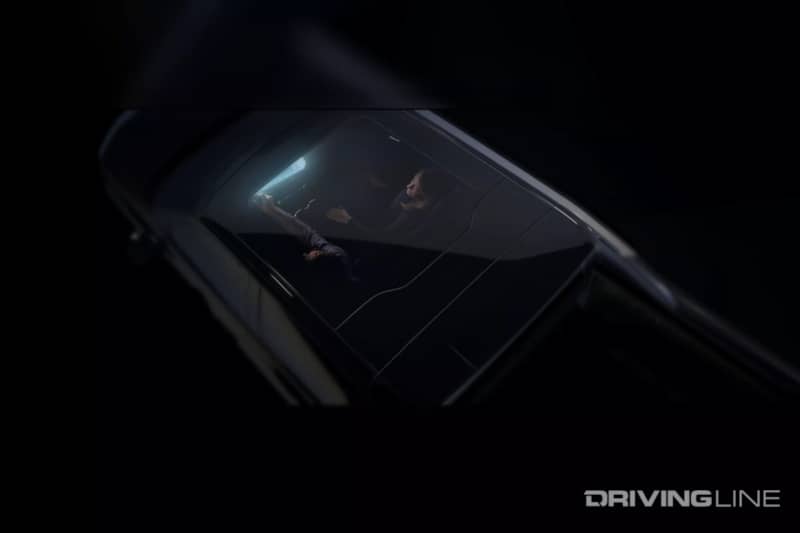 One of the big rules of enjoying nature is to leave nothing behind, take your trash with you and try not to disturb where you've been. Producing less emissions in the places we would want to keep the most undisturbed. And with being super quiet, you might not scare off nearby animals as much. EVs also come equipped with cameras throughout, for example, the new Hummer EV has 18 various cameras that can display what terrain, or animal is ahead of you.
Off-Road Capabilities
The Rivian R1T has been the first truck to hit the streets and trails. And Rivian has designed the truck to include plenty of features for off-road enthusiasts. It is a full-size truck, that has an approach angle of 35.5-degrees, which is much greater than most similar full-size trucks but a few degrees under the time-tested Jeep platform, and matching the popular Tacoma. While water is usually the enemy of electricity, the truck can wade in stream crossings at 3-feet with almost 15 inches of ground clearance and 13 inches of suspension travel. Having smooth undercarriages with no parts really handing down or lower than each other can act as skid plates when off-roading but of course, if something does hit and cause damage to the electrical or battery system, it could be pretty bad.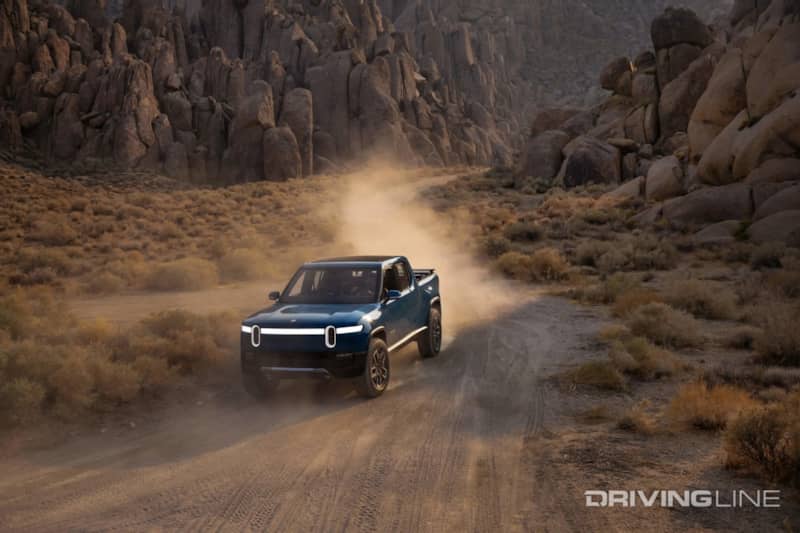 One of the advantages of electric vehicles is being able to fully and simply control the power, torque, and how it is delivered to the wheels when driving. For off-roading that can mean instant torque to any wheel, individually, even at low speeds with the regenerative braking providing an instant drop in power eliminating the need for off-road aids such as lockers, crawl control, and lower gears. 
Performance
The Rivian R1T, Ford F150 Lightning, and GMC Hummer EV show power numbers ranging all the way from 400 to 1,100 horsepower and up to 11,500 ft-lbs of torque, with zero to 60 in approximately 3 seconds. Those numbers are usually only seen in built-up diesel trucks or supercars. So the performance and instant power is there with electric vehicles.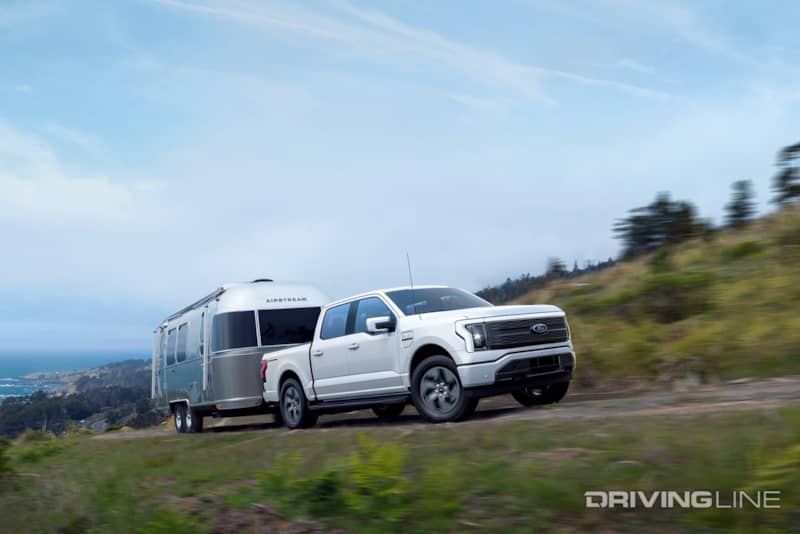 Much like a Tesla has driving settings for more performance, a sport mode, or eco range driving, electric trucks, such as the Rivian models, include off-road modes that go well beyond simple crawl control thanks to the ability to actively manipulate more components. GM is even looking to bring quadrasteer back in the EV Silverados and the Hummer EV. Some of these modes and settings adjust the height of the suspension increasing ground clearance and travel, and can automatically adjust shock dampening and compression on the fly.
But you are limited in the travel and presets of what the factory has set, for now, until the aftermarket starts customizing and offering kits geared towards more extreme off-roading. This is one of the drawbacks when it comes to EVs for the off-road crowd that enjoys outfitting, customizing, and upgrading to suit their needs.