Anatomy of a Pro Mod Diesel Drag Truck
They're light, they're fast and they're multiplying! Meet the Pro Mod diesel class. In the days of old, this field was rather thin at national diesel events. Today, thanks to major strides in diesel technology (namely common-rail injection, better tuning and improved transmission options), the Pro Mod field is growing more and more every year. In fact, it's expanded so much that at any given event there are just as many Pro Mods in attendance as there are Pro Street rigs.
Per Outlaw Diesel Super Series rules, the racing circuit we've been following the most in 2018, Pro Mod vehicles must be full-bodied but no heavier than 4,400 pounds. With no defined weight minimum (the NHRDA minimum is 2,350 pounds), this means you get a variety of lightweight vehicles lining up in the staging lanes. Half-ton pickups, S10s, Dakotas and even pony (Cummins-powered Mustangs) and muscle cars (a '63 and a '66 Nova) all compete in Pro Mod.
All heads-up racing is performed on a .4 Pro Tree, qualifying is based on E.T. and a progressive Pro Ladder system (based on E.T.) is used. Competitors also have to qualify by running quicker than 5.85 in the eighth-mile (9.20 in the quarter). Luckily for spectators, high 4s to low 5s are the norm through the '660—with mid 4s becoming more and more commonplace. With most Pro Mod vehicles representing key players in the diesel industry, race weekend loosely resembles a truck challenge, where a company's reputation is on the line and the drive to win is immense.
So where can you see more of these tire-wrinkling oil-burners in action? Check out our coverage of Rudy's Fall Diesel Jam from the weekend of October 5-6. As the finale in what was nothing less than an eventful racing season, the competition was fierce—and Driving Line was there to cover it. In the meantime, enjoy this walk-around tutorial of some of the quickest and fastest Pro Mods in diesel motorsports.
Cummins, Cummins, Cummins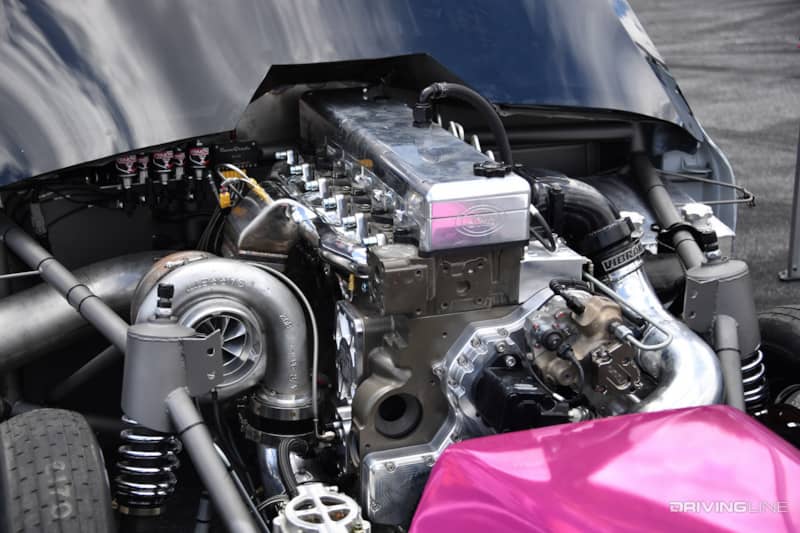 Like most of diesel motorsports, you'll find a Cummins engine in most Pro Mod vehicles. In most applications, the crankcase and cylinder head is solid or filled with concrete, which means there is no cooling system to speak of. These top-tier engines feature aftermarket blocks, billet connecting rods, low compression pistons, high-lift cams and other exotic hard parts designed to help them survive more than 2,000hp and 5,000 rpm. But although the engine of choice is Cummins, a few Power Strokes have entered the fray in recent years and you can't exactly write-off John Fyffe's twin-turbo Duramax-powered '63 Nova.
Keeping It Simple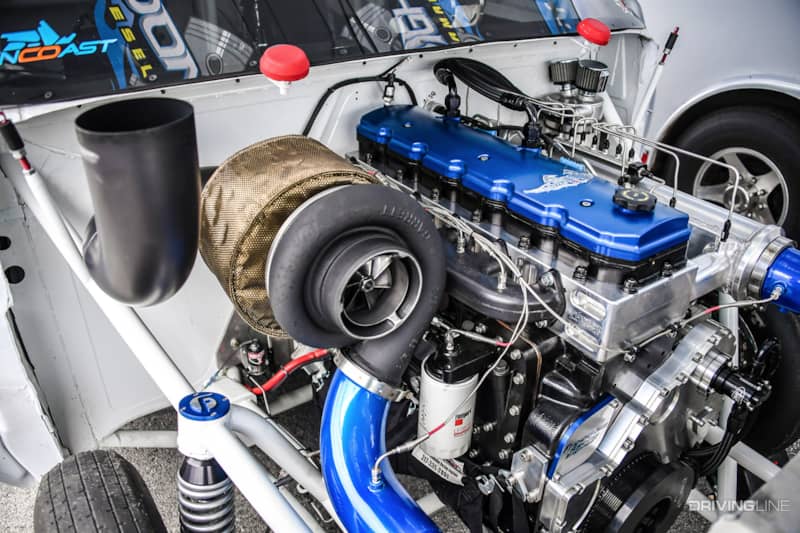 No turbocharger rules exist in Pro Mod. However, in the essence of saving weight and simplifying the power-making combination, many competitors opt to run a single turbocharger—and some even forgo the use of an intercooler. In addition to the weight savings, single turbo (and especially non-intercooled) configurations make things far less complex under the hood. With less intake and exhaust piping, the chances of developing a detrimental boost or drive pressure leak are lower, not to mention that a single charger is less stressful on the engine. Even at 80 psi of boost, the correctly spec'd single turbochargers you see in Pro Mod are still very much in their happy place.
The Right Recipe: Big Single and Nitrous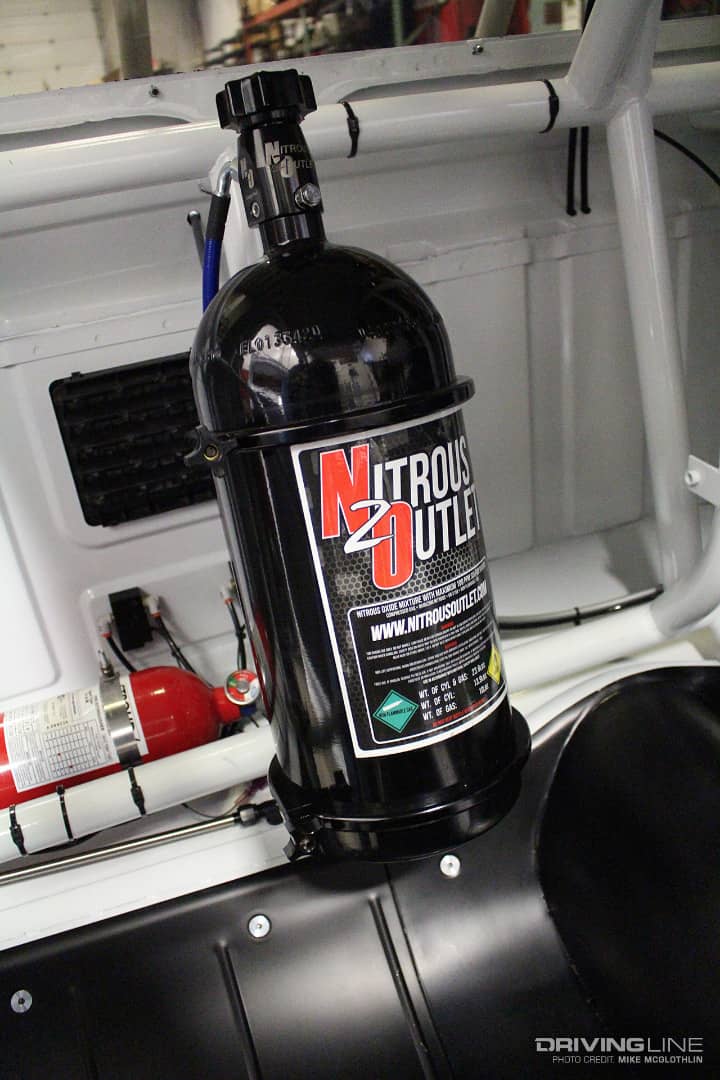 Because so many competitors run single turbocharger setups, nitrous oxide is—in addition to adding horsepower and cooling things down—a big factor in aiding spool up. To bring his 4.3-inch Hart's Diesel turbocharger up to speed on the starting line, Ben Shadday employs a small stage of nitrous dedicated to bringing the massive tractor turbo to life. His other stages of N2O are introduced progressively while heading down track.
Billet Cylinder Heads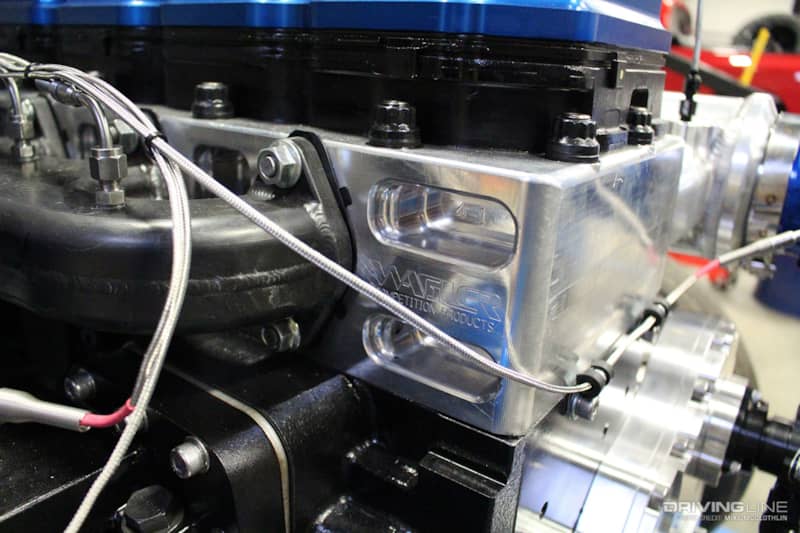 With no cylinder head limitations in place in Pro Mod, everything from worked-over factory heads to aftermarket cast-iron, billet-steel and billet-aluminum units have been utilized. Variations of the billet-aluminum 24-valve head from Wagler Competition Products shown above have been used to get Ben Shadday's Dodge Ram 1500 into the 4.60s and Ryan Milliken's '66 Nova into the 4.50s.
Common-Rail Domination

Unlike the upper echelon of diesel truck pulling, where mechanical injection reigns supreme, electronically-controlled common-rail injection systems rule the roost in Pro Mod. The ability to fine-tune every aspect of the system via an ECU (stand-alone aftermarket or factory-based) has given common-rail the edge in diesel drag racing in recent years. To maintain horsepower-friendly rail pressure, most Cummins-powered vehicles run at least two Bosch CP3-based high-pressure fuel pumps (and injectors that flow at least 300-percent more than stock), while the two Pro Mod 6.4L Power Stroke applications currently on the racing circuit employ twin Siemens K16 pumps and 150-percent over piezoelectric injectors.
P-Pumps: Scarce but Still Present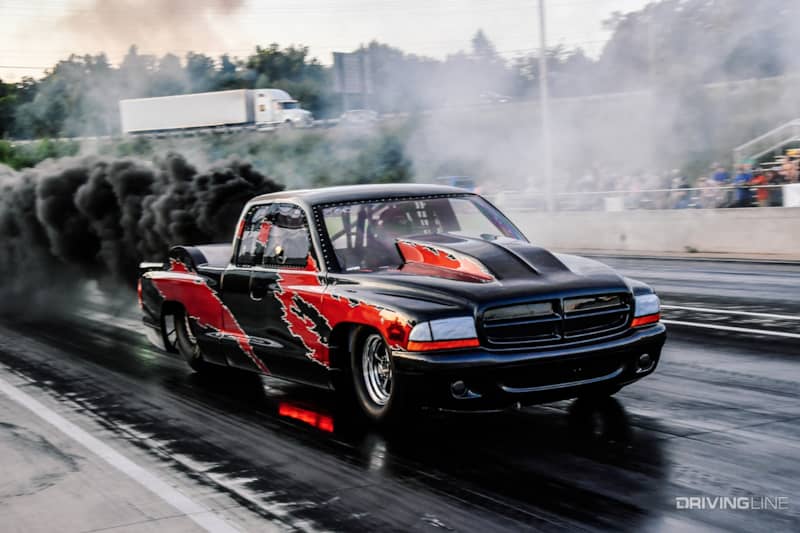 Just because common-rail injection systems have come to dominate the Pro Mod class in recent years doesn't mean other competitors aren't still willing to campaign mechanical injection. This Dodge Dakota driven by Steve Royalty on behalf of Warren County Diesel sports a 12-valve Cummins from Scheid Diesel with a nasty P-pump hanging off the side of it. On top of that, a triple-turbo arrangement shoves 150 psi worth of boost into the billet block'd beast, which is rumored to make at least 2,500hp.
The Time-Tested TH400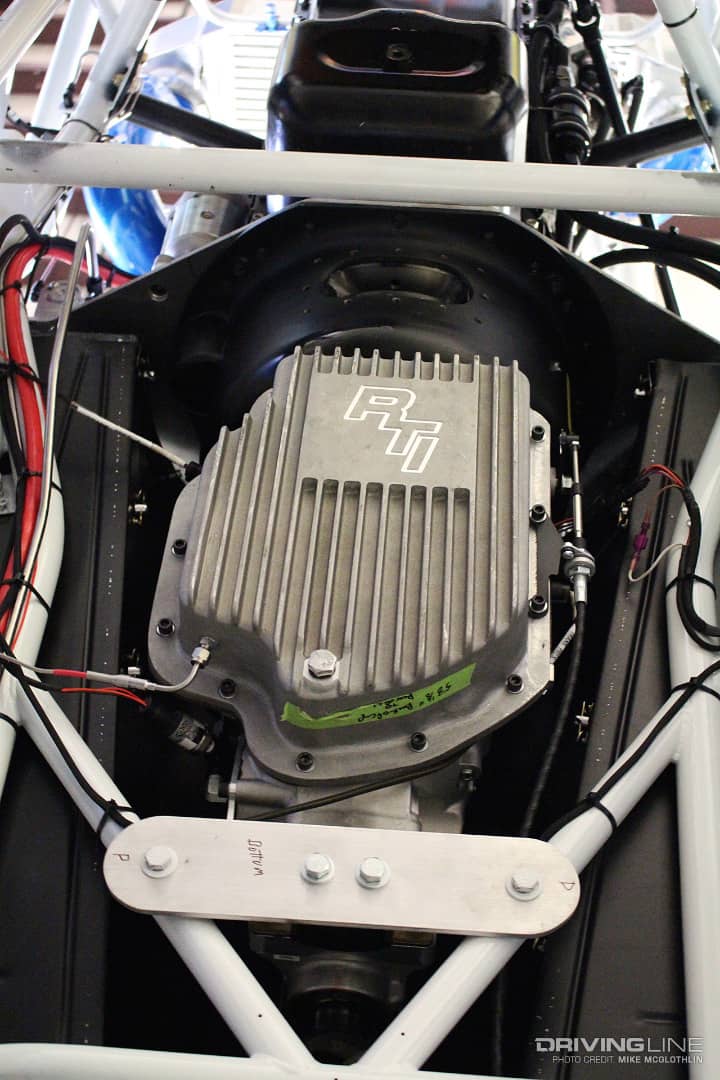 Turning to the proven TH400 was definitely a step in the right direction for the diesel industry. Not only are they lighter than the original transmissions bolted to diesel engines, but they arguably have more R&D behind them than any other automatic transmission ever produced. Not all Pro Mod competitors run a Turbo 400, but all of the top-running trucks in 2018 do. Specifically, the Larson Miller/Firepunk Diesel "Save the Racks" S10, the Ben Shadday/Done Right Diesel Performance Dodge Ram 1500 and the Rawlings Barnes/Rudy's Performance Parts F-250 all benefit from Rossler Transmissions-built TH400s. For power transfer, most TH400 users are also running a lock up torque converter from Neil Chance Racing Converters.
Proven Rear Ends & Four-Link Suspensions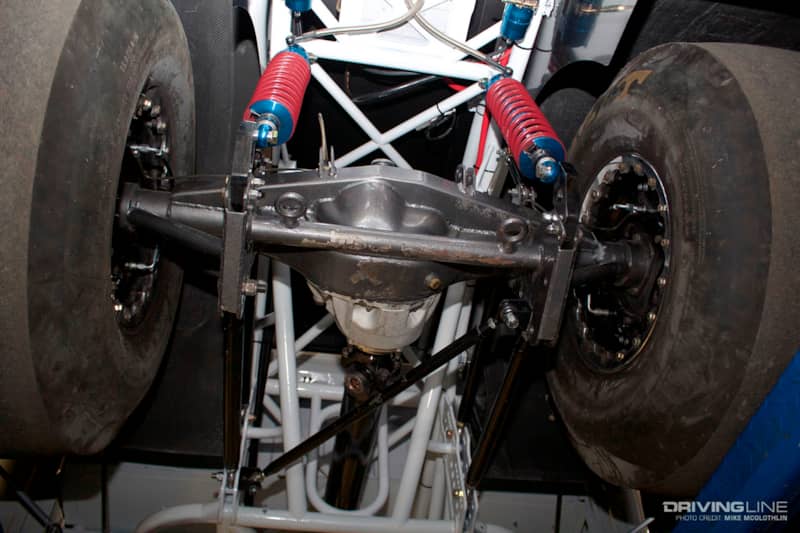 Another time-tested carry-over item from the gas-world is the Ford nine-inch. Above, you're looking at the unit that's parked under Ben Shadday's Dodge, built by Greg Risk Racecraft. Also notice the four-link suspension and adjustable VariShock coil overs from Chris Alston's Chassisworks. Another axle you'll find in Pro Mod is the Mark Williams 11-inch, which is dimensionally similar to a nine-inch but said to be considerably stronger.
Tubbed & Back-Halved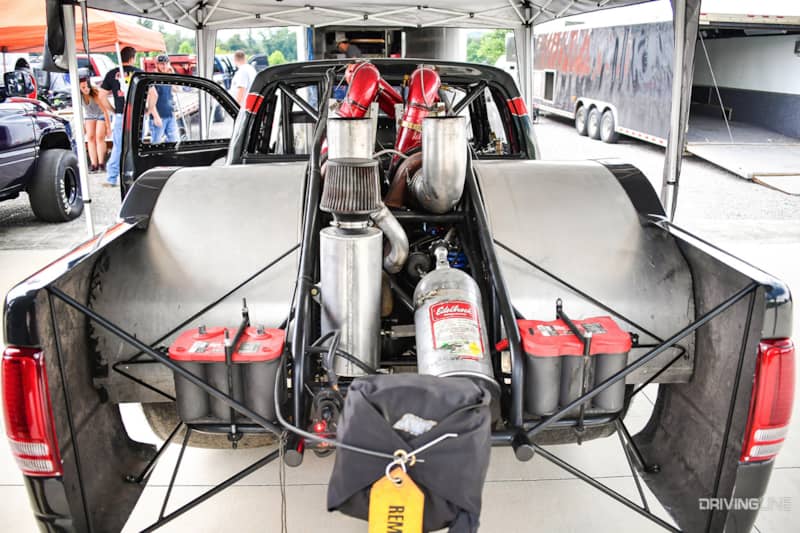 There are no rules on tire size in Pro Mod, so it stands to reason that most vehicles are tubbed and back-halved to accommodate the largest slicks possible. The latest tubbed and back-halved Pro Mod on the scene is the aforementioned P-pumped Dodge Dakota, coined "Climate Change," driven by Steve Royalty. As mentioned, this wild creation sports a triple-turbo arrangement, but as you can see here, the atmosphere chargers are located in the bed. The high-pressure unit resides in the cab.
Chassis Certification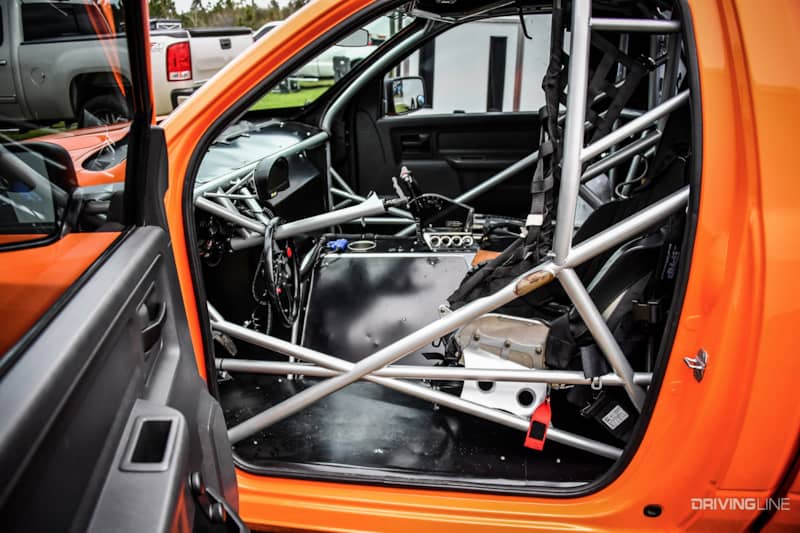 If you wanna go fast, you gotta do it safely. For the Pro Mod class, this means a vehicle weighing a maximum of 3,600 pounds and running quicker than 7.50 in the quarter-mile (approximately 4.50 in the eighth) must meet the 25.3 SFI chassis certification requirements. While only one ODSS competitor has gone quicker than 4.50 in the eighth-mile (and 7.50 in the quarter) so far, most recently built Pro Mod vehicles were put together with this standard in mind. Like the chassis in Michael Dalton's short bed '12 Ram, for instance. While the truck has spent most of its time running low 6s in the eighth-mile so far, he has plenty of room to grow before another chassis certification is in store. The chromoly roll cage in Dalton's Ram (pictured above) was built by Wide Open Design in Murfreesboro, Tennessee.
Fiberglass Diet
Again, the name of the game in Pro Mod (and any form of drag racing for that matter) is the almighty power-to-weight ratio. To lighten things up, many competitors turn to fiberglass front clips, cabs and/or beds. In Ben Shadday's case, the GTS Fiberglass body on his half-ton Ram weighs in at just 130 pounds. Gaining complete access to the engine is a cinch thanks to the removable front clip.
A Commanding Presence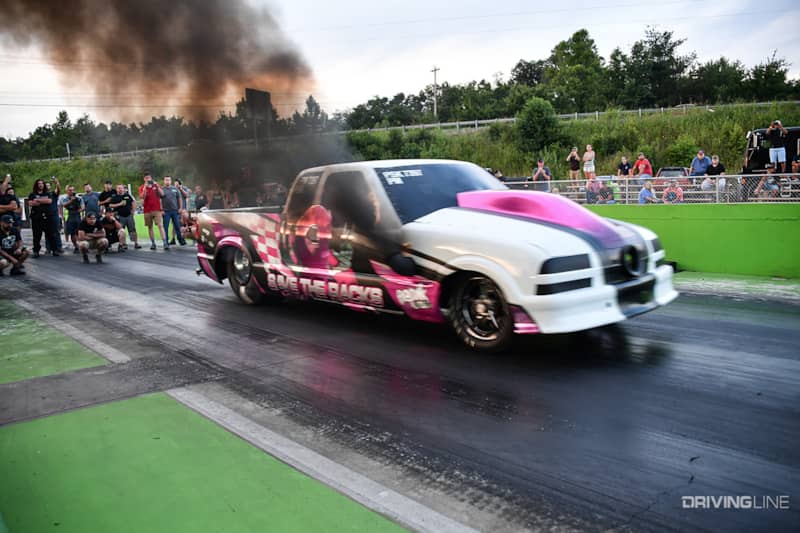 After shaking things up in the Pro Street category with their four-wheel drive '06 Dodge and owning the current ODSS E.T. and trap speed record of 5.002 at 145.81 mph with it, the Firepunk Diesel crew has directed a lot of its attention toward the Pro Mod S10 in 2018. Originally built for Edgar Artecona and currently being piloted by Firepunk's Larson Miller, it has become the vehicle to beat this year. Despite missing the first race of the ODSS season, the truck went 4.77 at race number two and has only gotten quicker since. At the present time (and after running a 4.47 which was too quick for Miller's NHRA licensing at the Hardway Sunshine Showdown), Miller and team Firepunk hold the Pro Mod E.T. and trap speed record: 4.554 at 160.28 mph. During recent quarter-mile testing, in which Miller upgraded from a Class 3 AdvET/TD license to a Class 6 ET license, the Save the Racks S10 went 6.94 at 202 mph.
Cars and Trucks, 4x4 and 2WD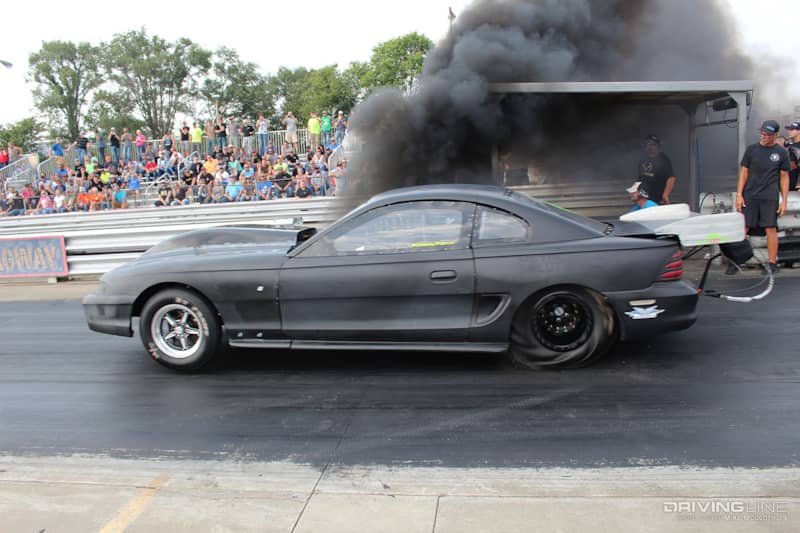 One of two fourth-generation Pro Mod Mustangs in the sport, Daniel Pierce's Cummins-propelled pony car normally carries its front wheels off the ground the first 60 feet of the track, which spans about 1.2 seconds. Originally an Outlaw 10.5 chassis car, it was first graced with a Cummins by Richard Buckley roughly seven years ago. We hope to see more of Pierce's nasty Mustang in 2019.
Contributing photography provided by Amy Gilbert of Stainless Diesel