Anatomy of a Pro Street Diesel Drag Truck
Nothing epitomizes drag racing better than blazing-fast, side-by-side competition—and arguably no other class of vehicles does it better than the Pro Street diesel trucks. In this heads-up field, you'll find the most extreme examples of what a full-bodied diesel pickup can do. Back-halved chassis, triple-digit boost and 2,000hp are all on the menu, while 8-second quarter-miles, 5-second eighths and round-after-round repeatability are essential to winning.
Primarily a Cummins-dominated category, Pro Street has come a long way from the days of old, where 9s were the norm and 8s were considered crazy fast. These days, Pro Street's quickest trucks are capable of running 7s at speeds surpassing 180 mph. In fact, the class's performance is progressing so quickly that vehicles are constantly outgrowing their chassis certifications. At the present time, the most up to date chassis certification makes a 7.99-second pass legal—but one truck has already gone 7.88!
For an up close look at what makes a Pro Street truck tick, keep scrolling. We'll run through the rulebook, highlight its key mandates and also spell out the parts combinations that've catapulted a couple drivers to the front of the class.
With the racing season upon us, you owe it to yourself to check out the Pro Street trucks in person. It's unlike any other form of drag racing you've seen. You can catch them running the Outlaw Diesel Super Series circuit or the NHRDA calendar all summer long.
Weapon of Choice: Multi-Turbo Cummins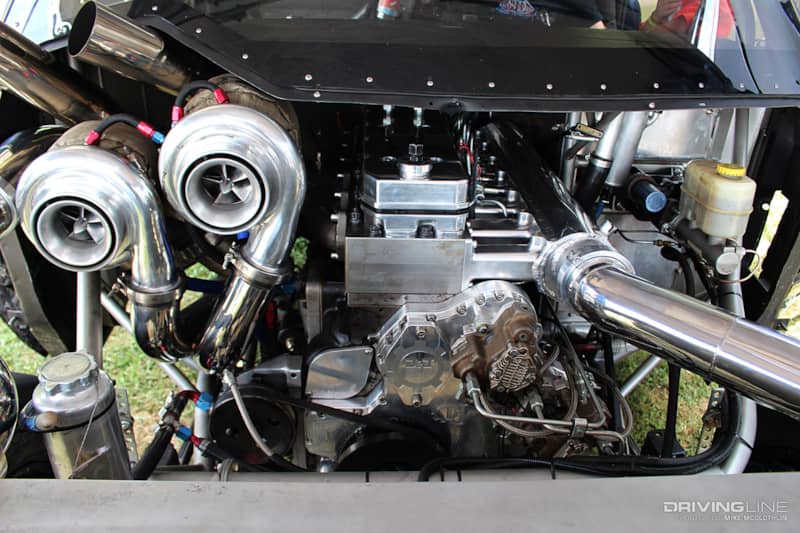 No real engine restrictions exist in Pro Street, as long as the engine is diesel powered. There are no limits on size or amount of injection pumps, or turbochargers—and nitrous is also permitted. While a Duramax or Power Stroke-equipped truck periodically infiltrates the class, Pro Street is for the most part a Cummins-dominated field. Whether it's graced with a big single, compounds or a triple-turbo arrangement, most competitors run 6.7L-based Cummins mills and opt for common-rail injection (the triple-turbo Cummins in Stainless Diesel's Pro Street Dodge is shown above). Per the National Hot Rod Diesel Association (NHRDA), the primary engine rules dictate that an SFI 18.1 harmonic balancer, SFI 29.1 flex plate and SFI 30.1 flex plate shield be run and that antifreeze is prohibited.
4,500 Pounds or More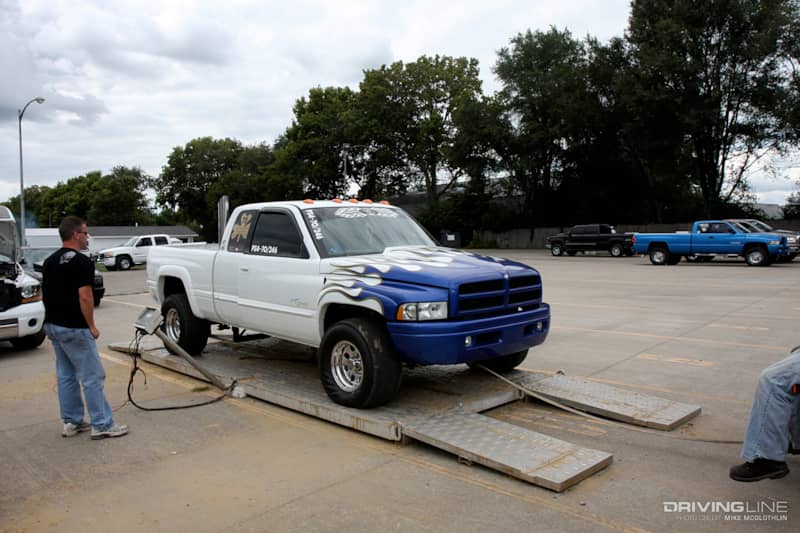 One of the single biggest rules of Pro Street is its 4,500-pound minimum. Up until three or four years ago, it was common for a lot of trucks (many of which were ¾-ton based) to tip the scales between 5,000 and 6,000 pounds. Now, competitors are deliberately building their vehicles with a 4,500-pound target weight in mind. The result is less power being required to go just as fast (or faster) than the Pro Street trucks of yesteryear. The difference between a 6,000-pound truck and a 4,500-pound truck running an 8.50-second quarter-mile is roughly 400rwhp. Being able to use 400 less horsepower to achieve the same elapsed time means considerably less wear and tear is placed on the powertrain.
All Business Out Back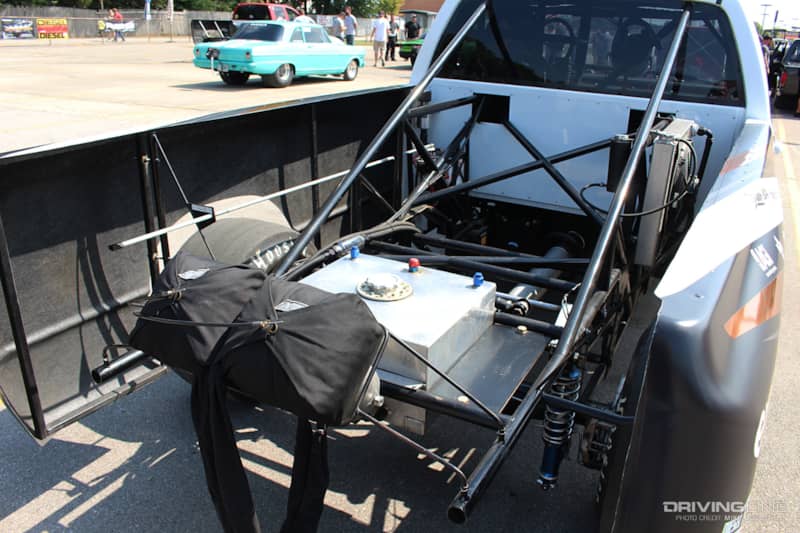 While full tube chassis are illegal in Pro Street, back-halving is permitted and a lot of competitors take advantage of this in order to both save weight and make way for big horsepower. On this particular truck, Lavon Miller's Pro Street '06 Dodge, you can see that its GTS fiberglass bedsides don't incorporate a floor, the factory frame has been replaced (rear of the cab) with 1-5/8-inch chromoly tubing and that the leaf springs have been scrapped in favor of coilover, dual-adjustable Afco shocks, which are employed to fine-tune the performance of the rear suspension.
SFI 25.6 Chassis Certification (and the Current Dilemma)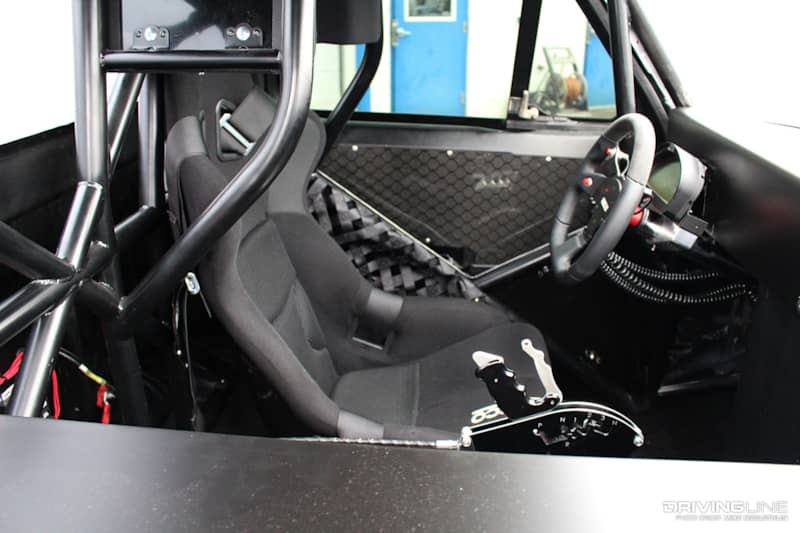 As with any vehicle capable of running 10.99 or quicker in the quarter-mile, a roll cage is mandatory for any Pro Street vehicle. However, with their capacity to run high 7-second quarter-miles at weights between 4,500 and 5,000 pounds, Pro Street diesel trucks have pushed drag racing safety standards into new territory. Even the latest chassis certification (SFI 25.6)—which allows a vehicle weighing as much as 5,000 pounds to legally run as fast as 7.99—has already been breached. The SFI 25.6 chassis spec builds off of existing SFI roll cage designs intended for full-bodied cars, but mandates that larger tubing and additional bracing be added in certain areas. For the time-being, Pro Street trucks are E.T.-limited to 7.99 in the quarter and 5.00 in the eighth—even though we know that at least two trucks are capable of running quicker than that.
Lighter, Stronger Axles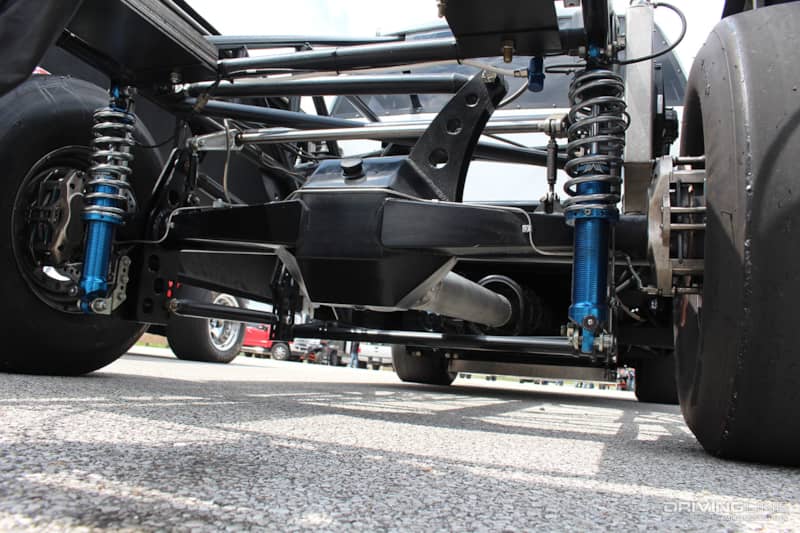 In order to harness massive amounts of torque yet remain on a strict diet, many Pro Street rigs make use of fairly exotic axles. The unit shown here, aboard the aforementioned Lavon Miller's Pro Street Dodge Ram, is an internally-done-up version of a Ford 9-inch with a fabricated differential housing. Looking to shed weight in Pro Street, the 9-inch replaced a massive AAM 1150. As Miller's Dodge is four-wheel drive, a 9-inch is employed up front as well. Different variations of the 9-inch have been used in droves of Pro Street trucks over the years, with great success.
Custom Suspensions & Coilovers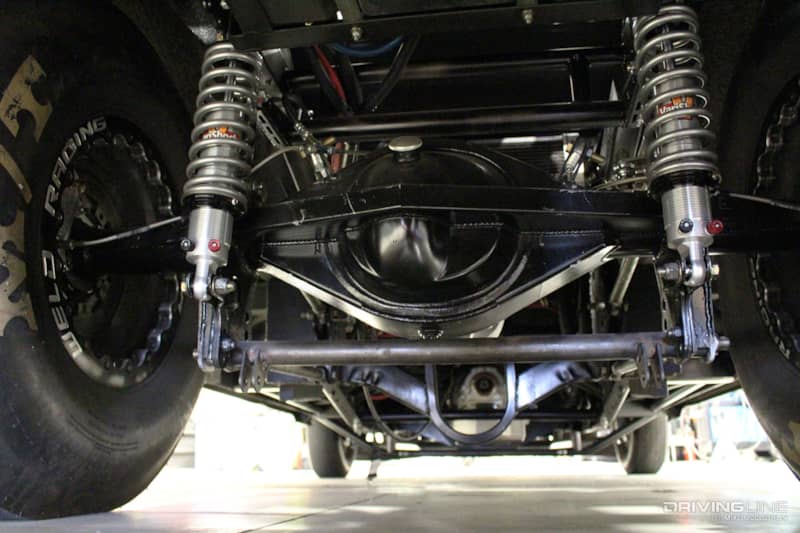 You won't find leaf spring suspension under a Pro Street truck, as they're inherently heavy and aren't as easy to fine-tune for 8-second drag racing. Here, custom setups or four-link configurations dominate the landscape, with adjustable coilover shocks running rampant. To dial in his front and rear suspension exactly the way he wants it, Dustin Jackson makes us of VariShock coilovers from Chris Alston's ChassisWorks on his Pro Street, Cummins-powered '94 Ford Lightning (shown here). Jackson's two-wheel drive F-150 also makes use of a rear four-link and a Pro-Race 9.5 axle from Strange Engineering.
GM TH400 & Chrysler 47/48 Transmissions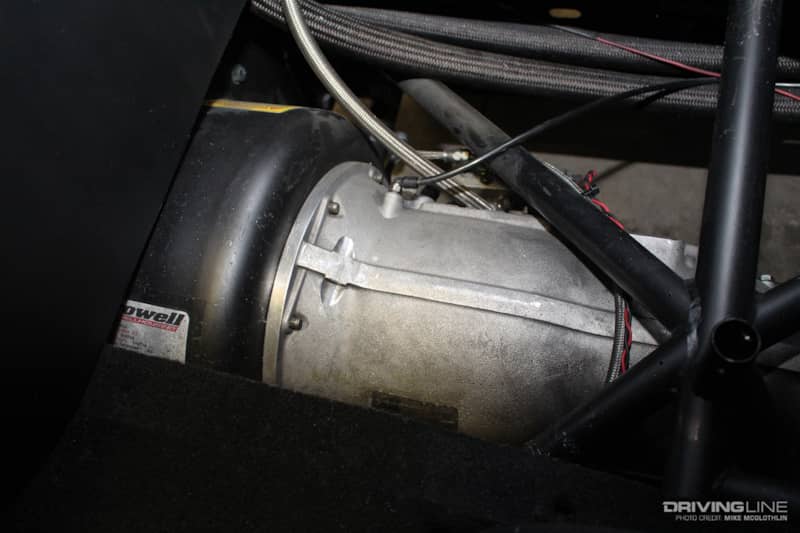 Although factory-based transmissions found in ¾-ton trucks such as the Ford 4R100 and TorqShift, GM/Allison 1000 and Chrysler 47/48 automatics used to be the norm, in recent years the Turbo 400 (TH400) has invaded the top ranks of diesel drag racing—and it's had great success. To be sure, you'll still find a lot of 47/48 four speeds, but proven TH400 builders (most notably Rossler and Sun Coast) have made the classic GM three-speed very attractive to the lightweight diesel drag racer. Transmission regulations in Pro Street dictate that an SFI 4.1 transmission shield is required, along with an SFI 6.1, 6.2 or 6.3 bellhousing. Above, you can see the SFI 6.3 Browell bellhousing Dustin Jackson uses in his 8-second Lightning, as well as the Rossler TH400 it's bolted to. We'll also note that Pro Street rules permit the use of trans brakes, as well as line locks.
Safety Harnesses & Parachutes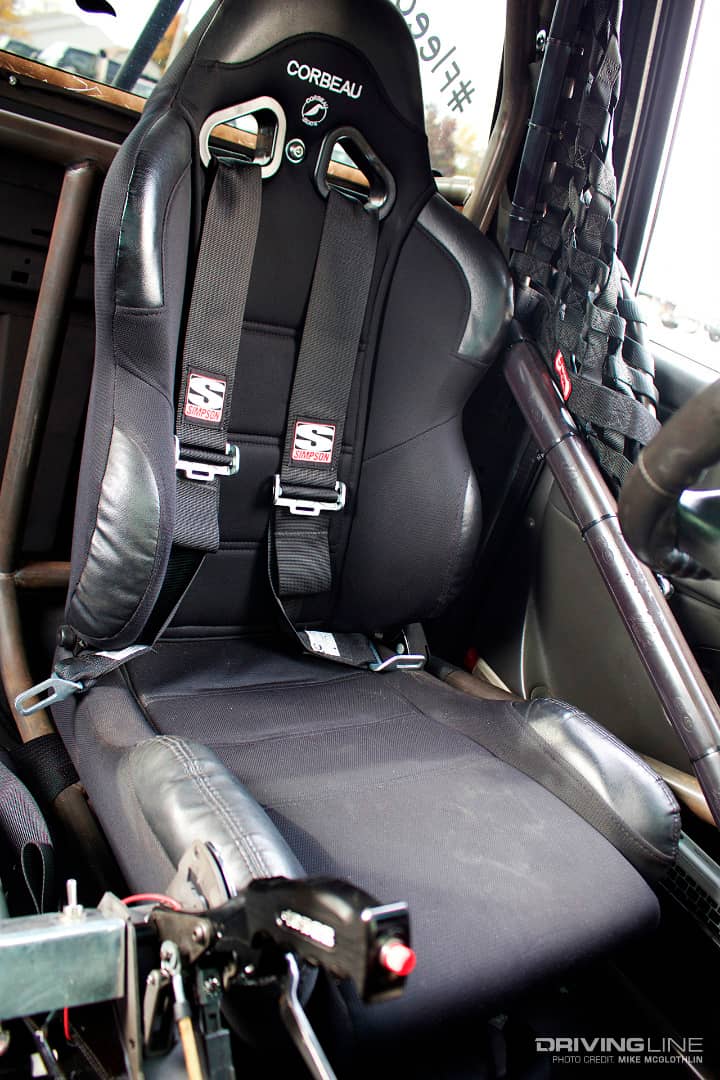 To keep things safe in the cockpit, Pro Street rules mandate that SFI 16.1, 16.5 or 16.6 driver restraints be used. Simpson Performance Products' USA-made racing belts and harnesses are popular, just as they are in many other forms of racing. Another safety measure spells out that any vehicle running faster than 150 mph must be equipped with a parachute. While most Pro Street trucks are well beyond this point through the 1320, it's worth mentioning that some are even approaching mid-140s in the eighth.
Power to the Ground: Lavon Miller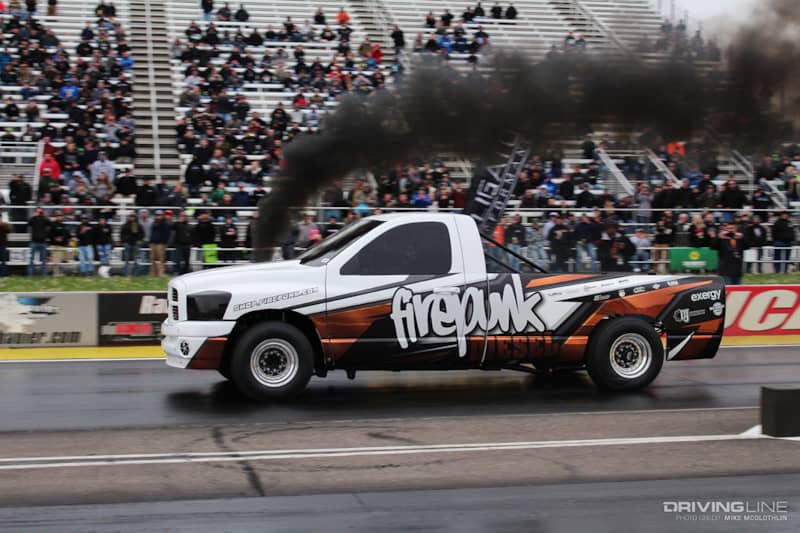 While most Pro Street engines are capable of producing well north of 2,000hp at the crank, the real challenge is applying that power to the ground. Through extensive chassis work, aforementioned Pro Street front-runner Lavon Miller of Firepunk Diesel has been able to send roughly 1,900rwhp to the pavement each time his 4,600-pound Dodge has ventured into the 7s. Thanks to Miller's ability to plant big power consistently, he's won three consecutive Ultimate Callout Challenge titles and the 2016 Outlaw Diesel Super Series Pro Street championship, along with holding the current world record for fastest Pro Street diesel truck: 7.88 at 181 mph.
Consistently Quick: Dustin Jackson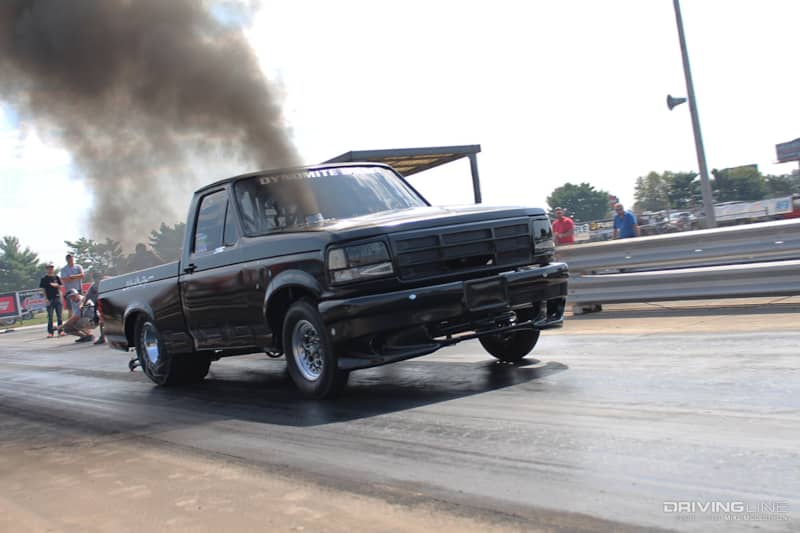 Since acquiring his '94 Lightning in 2015, Dustin Jackson has wasted little time pushing the truck to the top of the Pro Street heap. With Pro Street traditionally dominated by four-wheel drive trucks, his two-wheel drive F-150 has shown everyone that starting with an inherently lighter overall package might just be the way to go. Thanks to a triple-turbo'd, Freedom Racing Engines Cummins under the hood, a Rossler TH400 with Neal Chance converter backing it up and a proven chassis from Fleece Performance Engineering, Jackson's first-gen Lightning runs low 8s in the quarter and low 5s in the eighth like clockwork. A former NHRDA Pro Street champion, Jackson won the ODSS Pro Street crown in 2017 and is currently tied for third place in this year's points chase.
Want to see how Lavon Miller did at this year's Ultimate Callout Challenge? We have full coverage of the drag, dyno, and sled pull!