Any Engine Can Fail, Even Diesels With Incredible Reputations: What to Look Out For
American-born diesels are impressive pieces of hardware. After all, what other automotive engines roll off the assembly line capable of making 30-psi of boost and produce 1,000 lb-ft of torque at 2,000 rpm or less? It's no wonder compression ignition power plants are the overwhelming favorite in ¾-ton and larger trucks, not to mention the fact that they enjoy a sizable aftermarket and a growing presence in motorsports. However, if we know anything as automotive enthusiasts, it's that nothing is certain. Even engines designed to stand up to immense cylinder pressure, turn out 400 to 500 hp around the clock and that are assembled in accordance with the highest levels of quality control can fail.
In the motorsport realm, far fewer things are certain—with even built-to-the-hilt engines sometimes unable to survive the rigors of sled pulling or drag racing. Below, we'll showcase the kinds of extreme horsepower and OEM part failures that prove no diesel engine is bulletproof. Not even the mighty 5.9L and 6.7L Cummins I-6's, the proven, 22-year-old Duramax platform or the venerable 7.3L and 6.7L Power Strokes are immune to catastrophic engine failure.
Low-Mile 6.7L Cummins Overhaul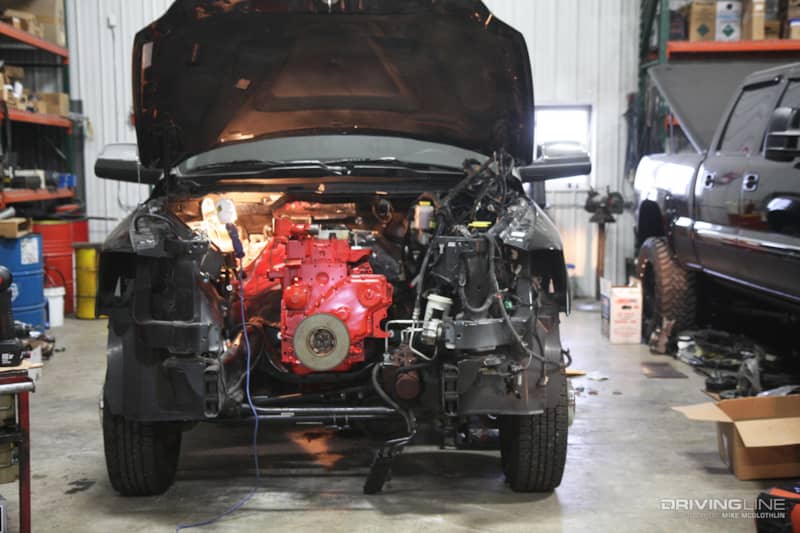 Proper maintenance is a huge part of keeping a diesel alive for the long-haul—and skimping on small items like oil, fuel and air filters can come back to haunt you. In this case, a non-OEM, low-quality oil filter deteriorated, contaminated this 6.7L Cummins' oil system and ended up clogging a piston cooling nozzle. A toasted piston and super-heated (blued) small end of the connecting rod was the result, along with cylinder wall damage. Before the reassembled long-block was placed back in the engine bay, it was hit with a fresh coat of Cummins red paint—an homage to the Signature 600 series Cummins used in Class 8 trucks that was known for its million-mile longevity. Perhaps the owner is superstitious?
7.3L Powdered Metal Rod Failure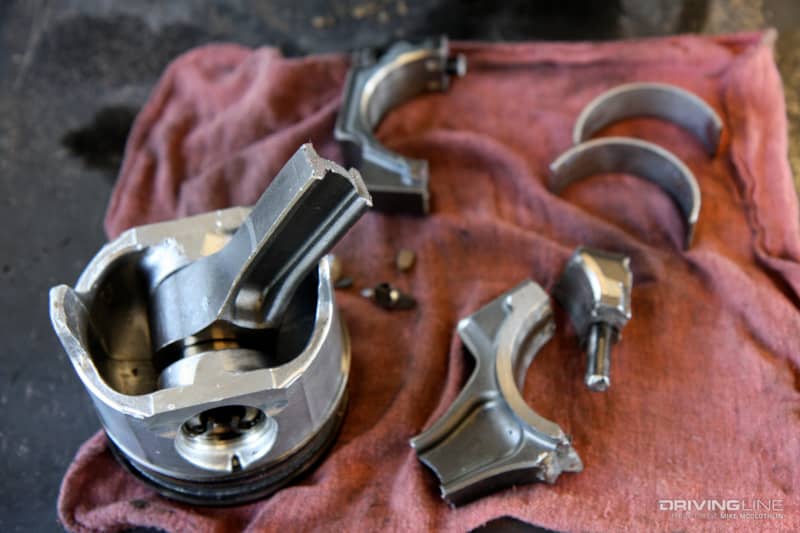 Like the 12-valve 5.9L Cummins, the 7.3L Power Stroke has long-enjoyed a reputation for reliability and always being there when you need it. For the most part that's true, until you push an '01-'03 engine beyond the 400rwhp mark… These engines came equipped with powdered metal connecting rods, which not only proved incapable of handling the kind of horsepower the previous forged-steel units could ('94.5-'00 engines), but they break rather than bend when they fail. This means windowed blocks, destroyed cylinders, damaged crankshafts, and ravaged cylinder heads are par for the course when a powdered metal rod makes its exit. This particular rod had better than 350,000 miles on it, but fewer than 50,000 miles with the engine's newfound power-adders in the mix.
100-Percent Stock 6.4L And Cracked Pistons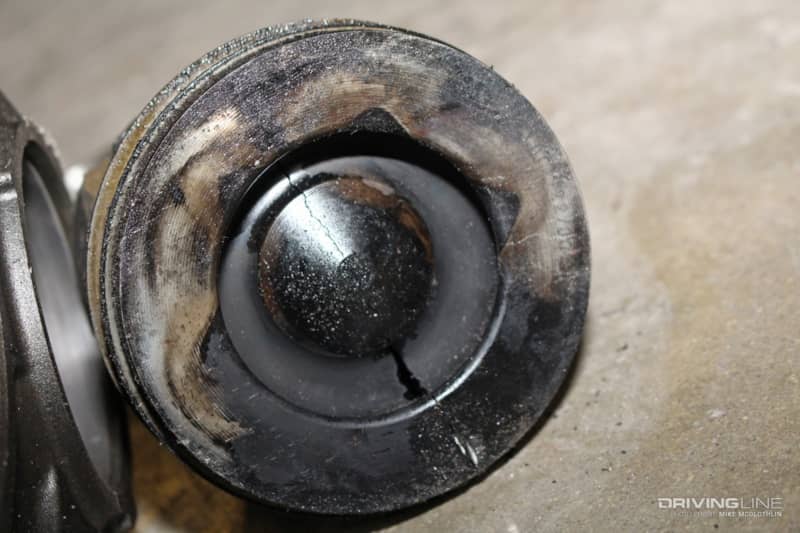 While cracked pistons aren't anything new in the 6.4L Power Stroke world—where the common-rail, compound turbocharged Navistar V-8 is often juiced up to the tune of 600 hp or more—owners of bone-stock '08-'10 Super Dutys are completely dumbfounded when this game-over failure happens to them. Unfortunately, while engines that see excess boost and drive pressure coupled with elevated in-cylinder heat (i.e. modified 6.4Ls) experience cracked pistons all the time, so do completely unmodified, high-mileage 6.4L engines. A lack of meat present in the lip of the fuel bowl is believed to be the weak spot in the cast-aluminum, direct injection pistons, as the crack almost always begins at this point. It then spreads across the length of the piston on center line of the wrist pin.
Game Over: Broken Duramax Crankshafts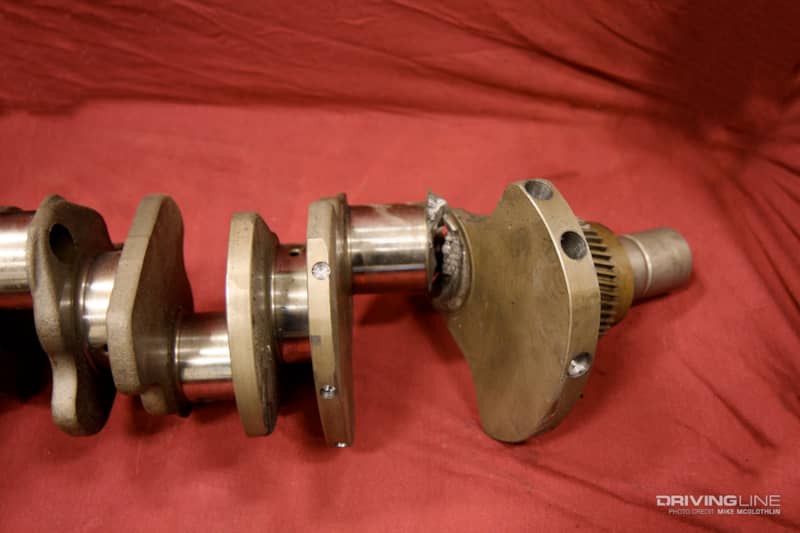 As proof that when anything is pushed to the limit it can fail, we present to you a very common problem in high-horsepower Duramax applications running a factory-based crankshaft. At high rpm and thanks to the large external counterweight, a factory Duramax crankshaft is highly prone to failure at the first rod journal. The front portion of the crank is also subjected to a significant pounding with a standard firing order camshaft in the mix. To remedy this issue, alternate firing order camshafts have been brought to market as well as billet, internally-balanced replacement crankshafts.
The 5.9L Cummins And The Notorious "KDP"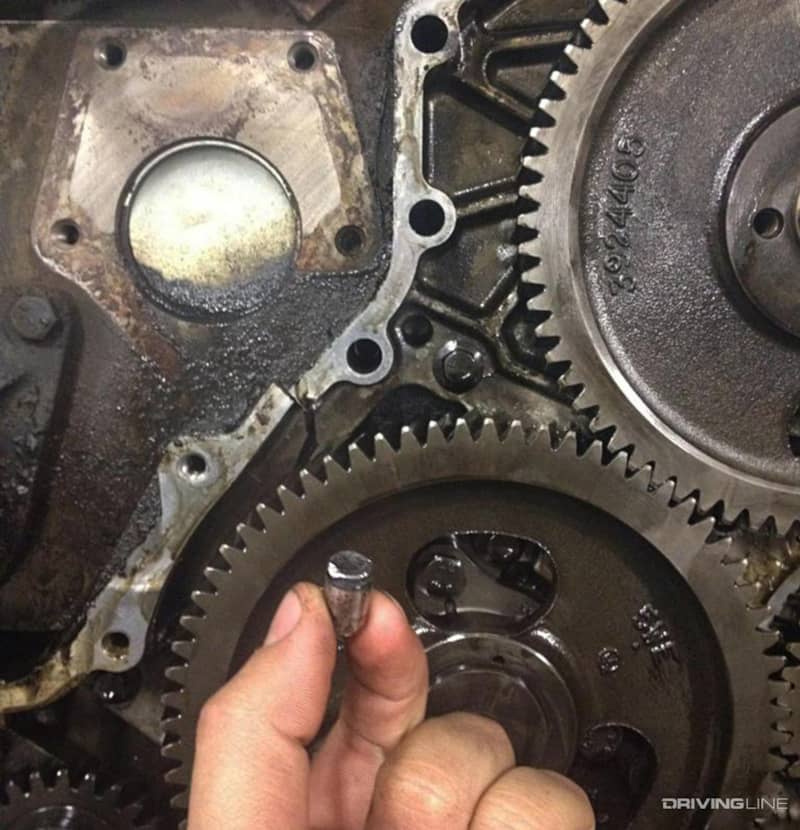 The nightmare that keeps on giving for '89-'02 5.9L Cummins engines is the infamous killer dowel pin (or KDP). On the assembly line, these engines (the VE 5.9L, the P-pumped 5.9L and the 24-valve ISB 5.9L) were fitted with a dowel pin in order to locate the timing gear housing. In time, the dowel pin (which is made of steel) can work itself free from the block, drop into the gear train and destroy the cam gear, injection pump gear and crank gear. With the cam gear wrecked, piston-to-valve contact occurs, the results of which are usually catastrophic. For peace of mind, many 5.9L owners dig into their Cummins and address the KDP by locking it in place via a metal retaining tab.
Oil Pressure Issues In The 6.7L Power Stroke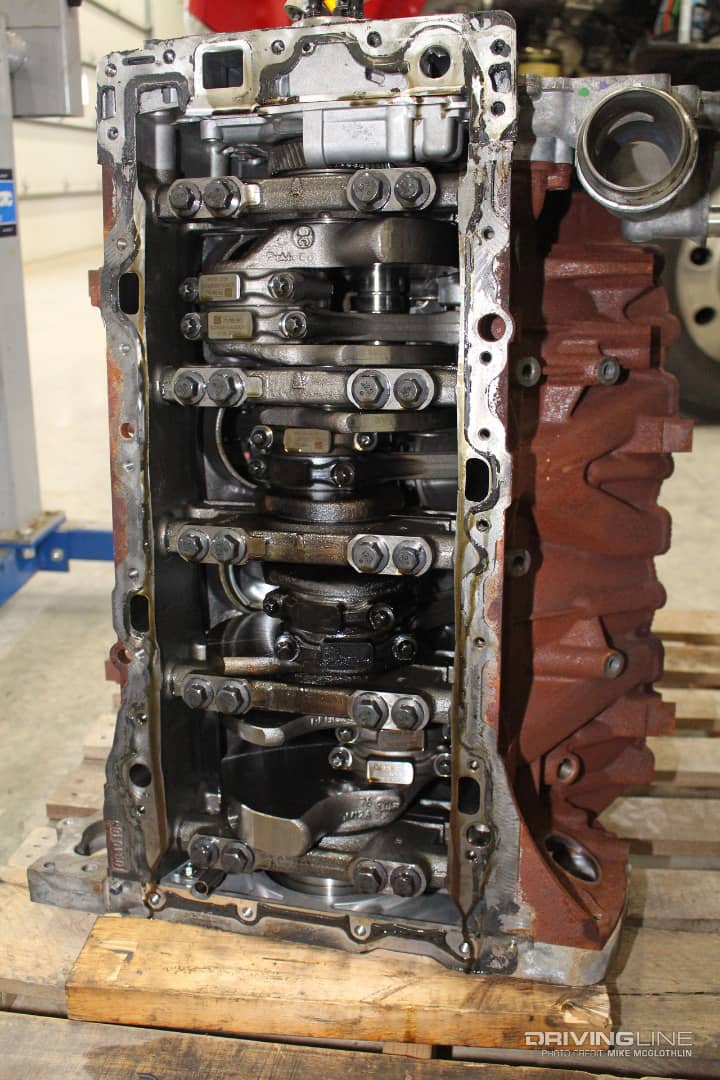 Despite its stellar reputation as compared to its 6.4L and 6.0L predecessors, oil pressure issues plague both stock and modified 6.7L Power Strokes. Inconsistent or (worse) a stuck oil pressure regulator can cost you thousands, which is what happened here. A severe lack of oil pressure under load led to several spun rod bearings in an engine that was powering a 700rwhp '17 Super Duty. To ensure both consistent and higher oil pressure, H&S Motorsports' billet oil pressure regulator is a common upgrade for 6.7L Power Stroke owners.
5.9L Forged Rod Failure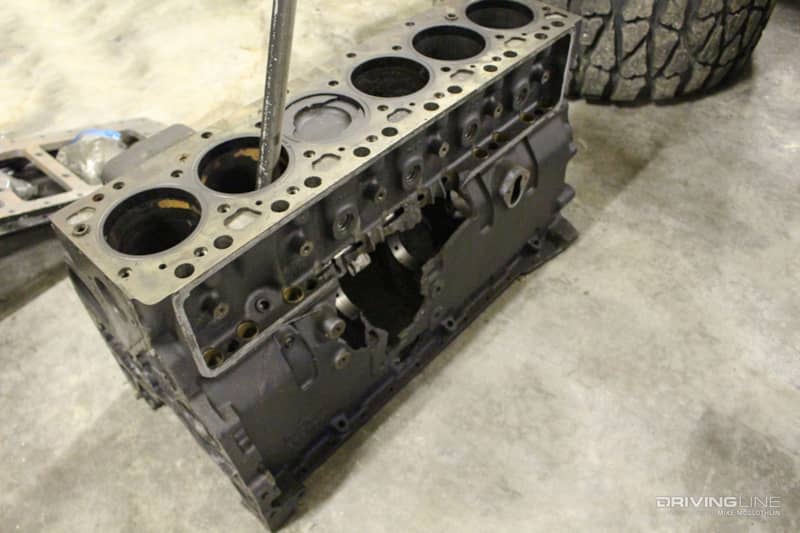 Over the years, the OEM forged-steel, I-beam connecting rods found in '89-'02 5.9L Cummins engines have proven capable of living at 1,400 to 1,500 hp in truck pulling applications. However, one driver's unwillingness to back out of the throttle when rpm dropped below 4,000 rpm during the course of a hook—where torque production and cylinder pressure sky-rocketed—cost him an engine. On its way out the door, the number 3 rod took the camshaft out with it, along with nicking the injection pump.
Play (With Fire) At Your Own Risk!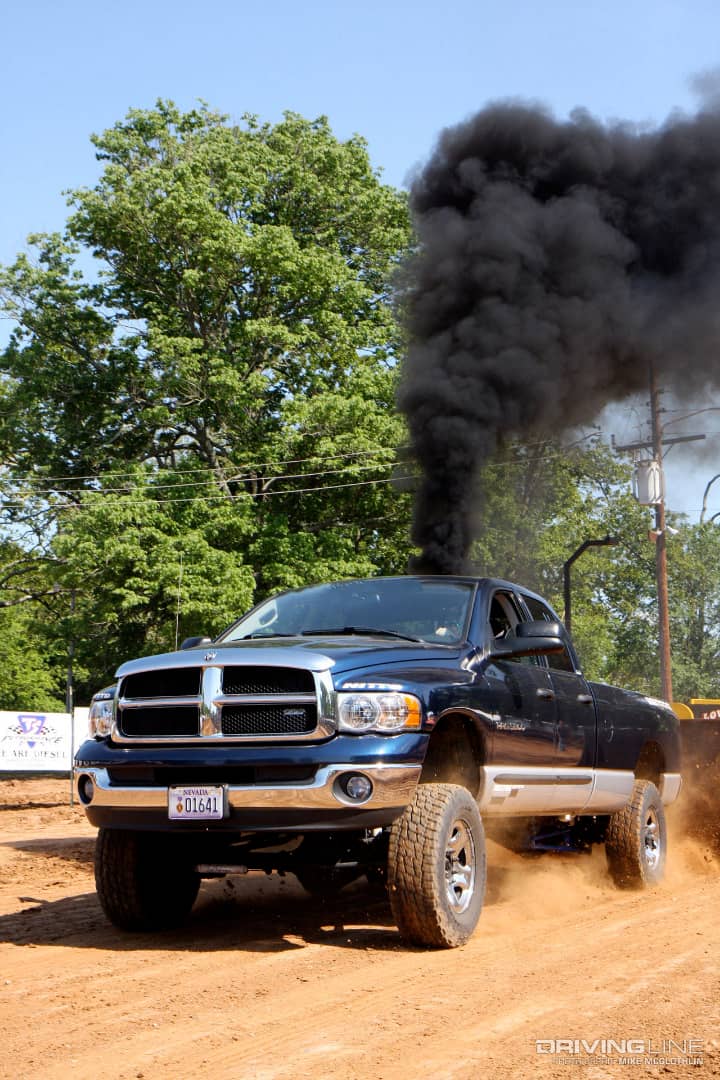 Thanks to their overbuilt nature, some diesel owners develop a false sense of security that their engine will hold up to virtually anything. But, especially in cases where big horsepower and torque is bearing down on a factory short-block, you can only get away with murder so long before the breakage gremlins come calling. In our experience, a truck that's had its horsepower doubled, gets daily driven, tows regularly and competes in sled pulls and/or drag racing will be the first one to find weak links.
More From

Driving Line
Didn't think the coveted Cummins name had any shortcomings? Catch up on the 

5 fatal flaws

 

of the iconic, Indiana-born I-6 right here.