The World Series of Truck Pulling: The 2023 Scheid Diesel Extravaganza
The Scheid Diesel Extravaganza represents one of the longest-standing, all-in-one type of events in diesel motorsports. Dreamt up by the folks at Scheid Diesel, for 27 years this event has brought the heaviest hitters in the sport of truck pulling to town for a two-day melee. The addition of having the Pro Pulling League sanction the pulls, which began roughly a decade ago, only served to heighten the level of competition. Now drivers are competing for more than bragging rights and purse money—most are chasing after a points championship.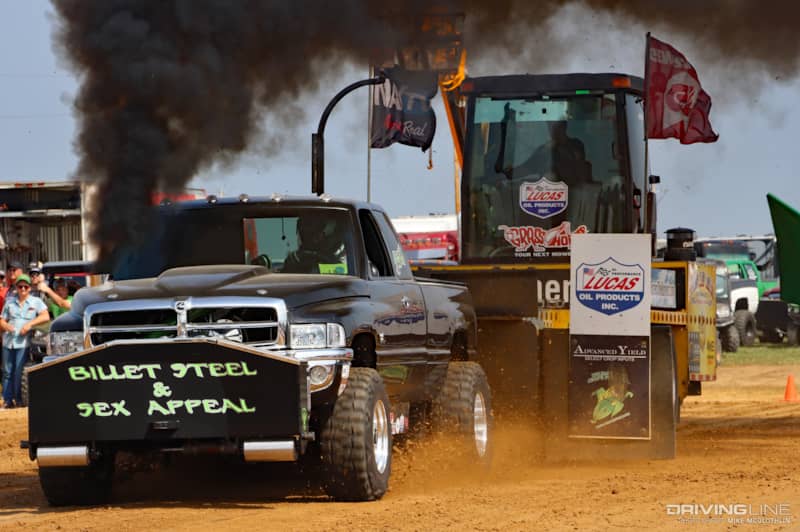 Recently, we made the journey to this classic, end-of-summer show to watch the best of the best battle it out in the dirt. Diesel engines spinning an uncharacteristic 5,000 rpm (or more), plumes of smoke filling the air and aggressive tires digging into hard-packed clay have a way of captivating the sizable crowd that shows up to watch it all happen. For a quarter century-plus, the Scheid Diesel Extravaganza has been every serious truck puller's home come late August. In 2023, we counted 104 entries spread out across 17 states. Something tells us they'll be back next year. We know we will.
Cummins: The Familiar Front-Runners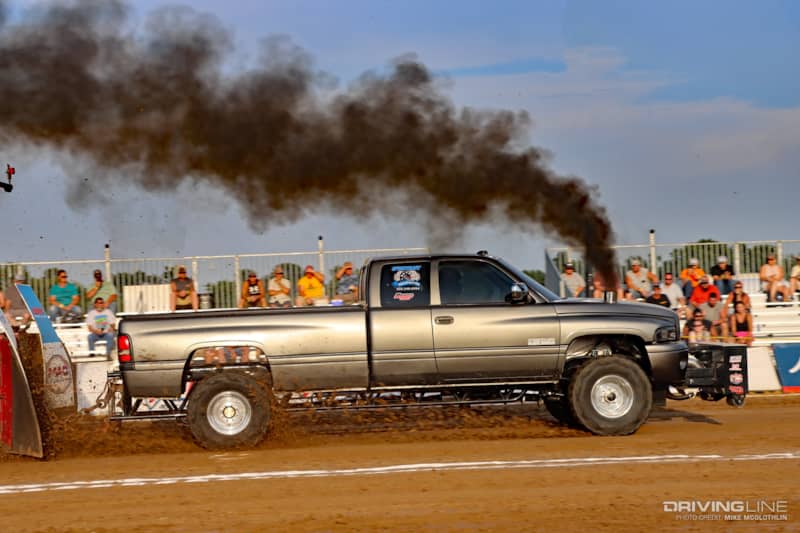 It's hard to pick favorites in truck pulling, but in recent years a lot of folks' money would be well spent by betting on this truck and its driver: the Hill Brother's Dodge piloted by Adam Kincaid. This O'Bryant Diesel-built Cummins lives in the Limited Pro Stock class, a category where dual rear wheels can be run so long as DOT tires are used and where the engine can only run a single turbocharger with a smooth bore, 3.0-inch inducer (76mm). Adam's second-gen earned the number 1 qualifier on Friday, then ended up 12th later that night in the main show.
Duramax: Swooping In For The Win Now & Then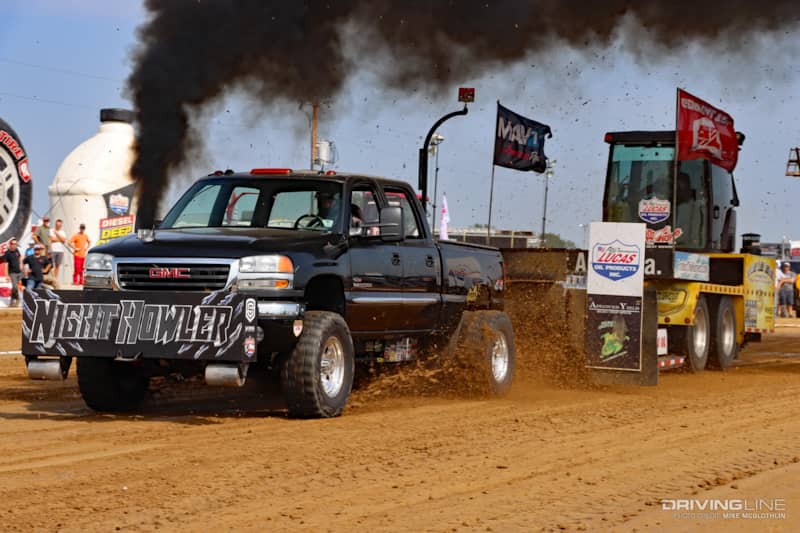 Life isn't easy for a Duramax competing in the Limited Pro Stock category, but Matt Loucks' "Night Howler" GMC seems to find a way to hang tough with the endless Cummins competition. After qualifying seventh on Friday afternoon, Matt and his Mud Grappler-equipped Sierra put up a 324.66-foot, Eighth Place finish that night. The next day, Matt qualified first and then placed 11th in the main show that evening. At the Scheid Diesel Extravaganza, and due to the high turnout of trucks, there are two qualifying sessions (one on each track) held each day for the Limited Pro Stock and Pro Street classes. The top 10 Limited Pro Stock qualifiers from each track make it into the nighttime show, and the top 6 Pro Street trucks from each track qualify to do the same.
Power Stroke: The Perpetual Underdog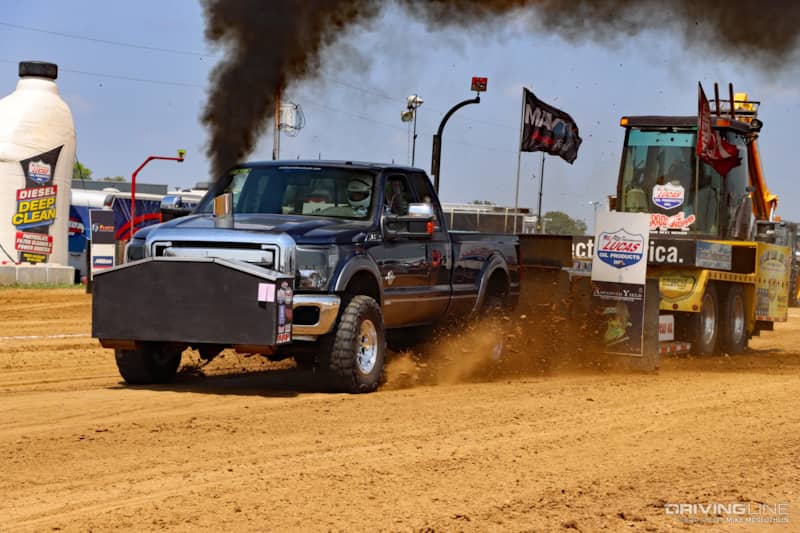 The Ford faithful are often a lonely bunch in diesel truck pulling, but we don't think these strong-willed competitors seem to mind. Josh Graver turned heads at the Extravaganza behind the wheel of this 6.7L Power Stroke-equipped, Pro Street class Super Duty. The Ford V8 under the hood sports some top-notch fab work, much of it necessary to accommodate the high-tech, 2.6-inch smooth bore turbocharger in the valley. And although Josh didn't make the cut to pull in the finals, he did earn the number 9 qualifying spot on Friday afternoon with a mid-pack, 272.57-foot hook.
On The Cusp Of Winning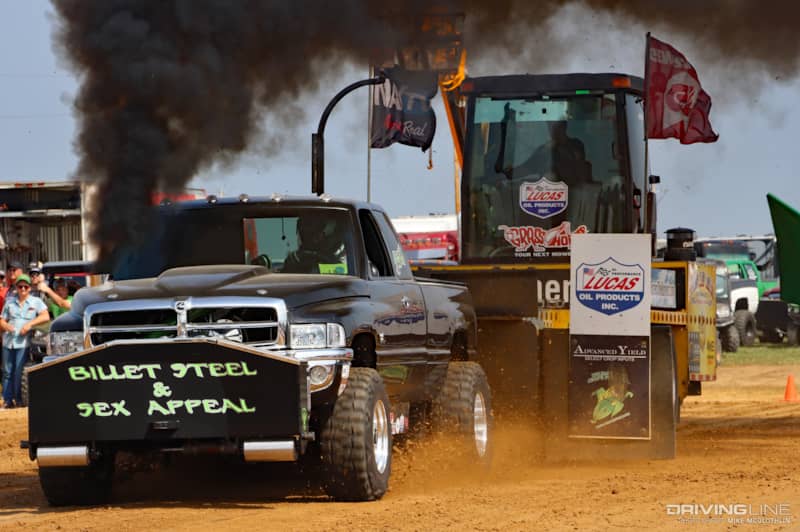 You can always find Jordan Jackson's second-gen Dodge in the thick of things in the Limited Pro Stock class, and the 2023 Scheid Diesel Extravaganza was no different. On Friday, he qualified second and wound up 13th that night (out of 20 trucks), then returned the next day to qualify fifth and come up just shy of the win on Saturday evening. His Saturday night tear down the track brought him within 6-inches of Brian Shew's ("Iron Maiden") 327.5-foot, First Place distance.
A Game Of Inches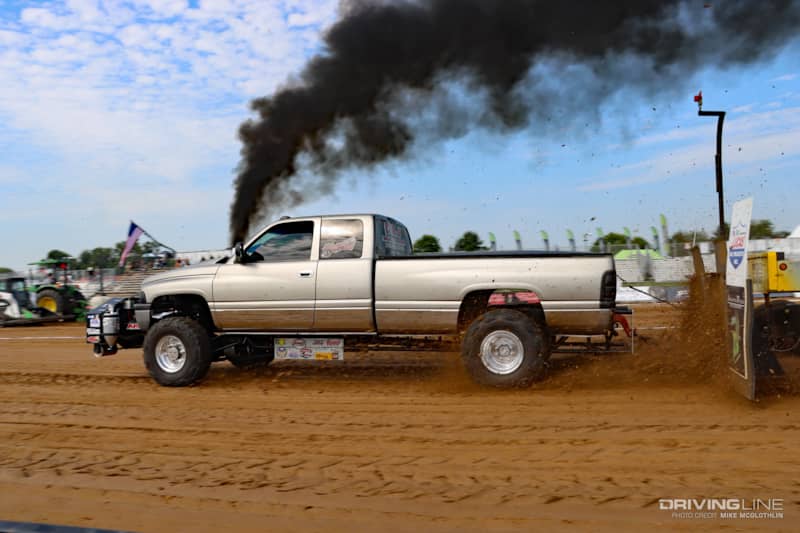 With DOT-approved tires being mandatory in the Limited Pro Stock diesel truck class, it boils down to running either all-terrains or Nitto Mud Grapplers. Calvin Logan runs the latter tire on his second-gen Dodge and they helped him claw his way to the number 1 qualifier spot on Friday. Calvin and his Cummins would put up a valiant effort that night, too, lugging the sled to Sixth Place overall. It's worth noting that things were incredibly close between the Fourth Place and Seventh Place finishers, all of which pulled 326 feet and change. In total, 43 Limited Pro Stock trucks attempted to qualify at this years' Scheid Diesel Extravaganza.
Brand-New Body, Same Proven Recipe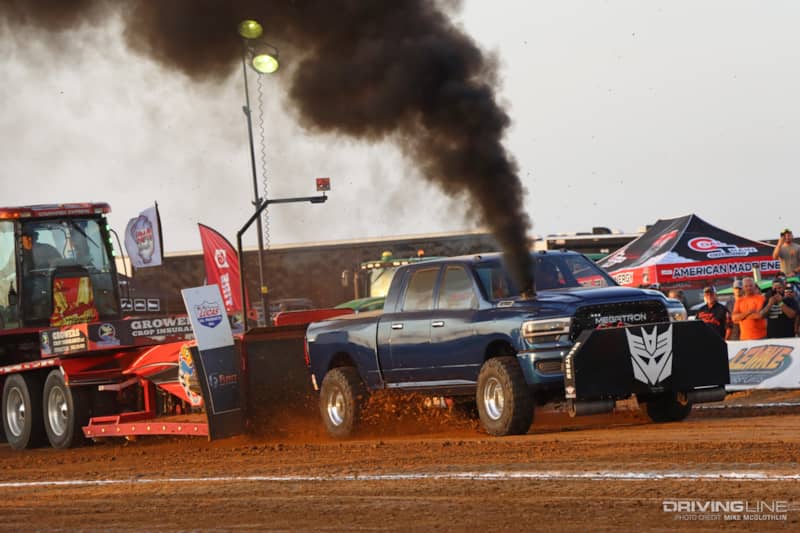 Jason Wayman is no stranger to success in the Limited Pro Stock field. Once one of the few drivers willing to campaign an electronically controlled, common-rail Cummins (rather than a mechanical one), the "Megatron" name has built a strong following over the years. Now sporting a fifth-gen Ram body (a Mega Cab, of course), Jason managed an Eighth-Place qualifier position on Friday and then stormed out to a distance of 324.30 feet that night. Unfortunately, it was a tightly packed field and his hook was the ninth furthest on the evening. On Saturday, Megatron would break during qualifying, ending any chance of Jason competing that night. It's proof of just how unforgiving the sport of truck pulling can be, even for drivers who normally run at the front of the pack.
The Team That Never Quits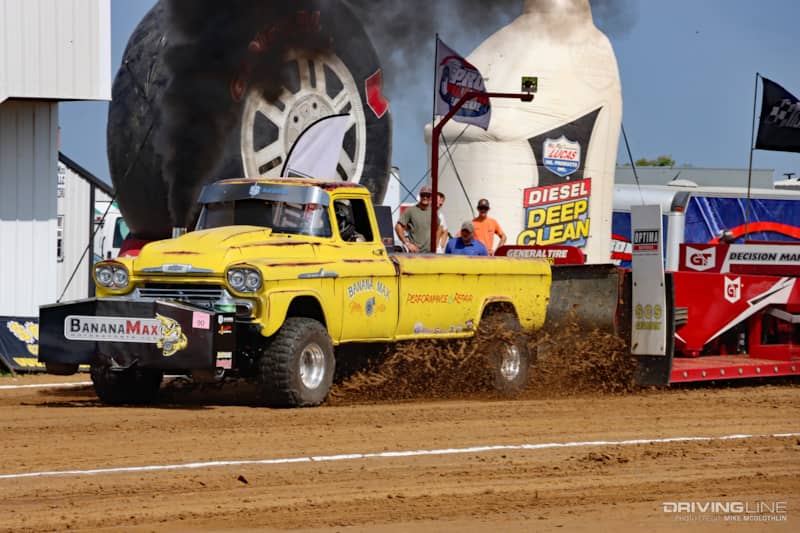 A story of perseverance surrounded Matthew Schaeffer and the Banana Max team at the Extravaganza. First, their Duramax lost an injector (which S&S Diesel Motorsport promptly fixed) and then they failed to qualify in Limited Pro Stock on both days. But instead of loading up and going home, Matthew and crew swapped tires and turbos (a 3.6-inch charger vs. a 3.0-inch unit) and somehow managed to place fourth in the Pro Stock category. It was an awesome way to salvage something from the weekend and is especially impressive given that the Pro Stock field requires roughly 2,000 hp to compete (vs. roughly 1,500-1,600 hp in Limited Pro Stock).
A Stage Fit For The Sport's Most Powerful Trucks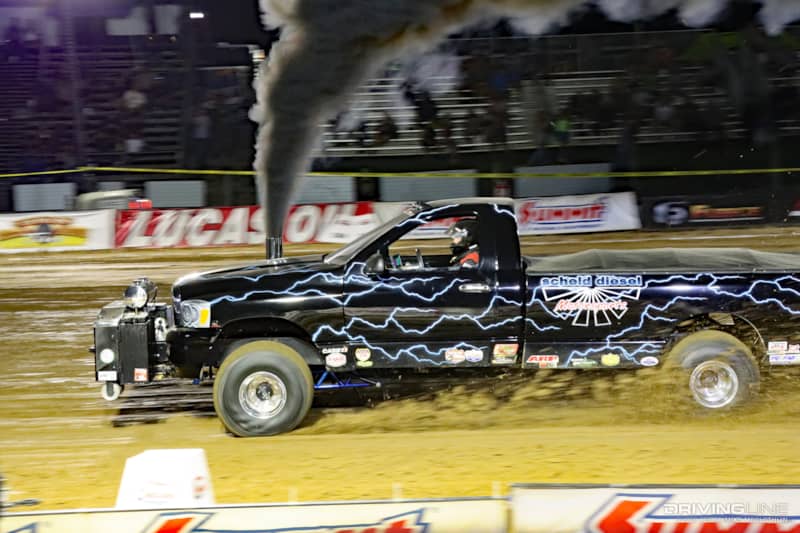 If you really want to watch the dirt fly at a truck pull, stick around for the Super Stock diesel trucks. These four-wheel drive leviathans pack billet engines with massive turbo arrangements (two-stage, triple charger setups are common) and most of them are rumored to turn out more than 3,500 hp. Fittingly, Scheid Diesel runs one of its flagship vehicles in the Super Stock class, a tube-chassis, '09 Ram with a fiberglass body and a triple-turbo, billet-aluminum block Cummins. It's driven by Kent Crowder and he nearly put it in the winner's circle Friday night, pulling 339.22 feet vs. First Place finisher, Nick Gillett's 339.36-foot effort. One night later, Kent returned with another solid performance: 349.38 feet and Third Place overall.
More From

Driving Line
Want to know more about what makes a Super Stock Diesel Truck tick? Look no further.