Back in Time, Part 3: Dodge Releases the 24-Valve Cummins and Ford Squeezes More Out of the 7.3L
Picking up right where we left off, we're traveling back to 1998 for a look at all the back and forth that took place between Ford and Dodge at the turn of the century. After the 7.3L Power Stroke topped the P-pumped 12-valve Cummins' 215hp and 440 lb-ft of torque with its own 225hp and 450 lb-ft rating, Dodge answered midway through the '98 model year with the release of the 24-valve 5.9L ISB. With manufacturers in a race to meet tightening NOx emission standards whilst staying ahead of the competition, the VP44-fueled 24-valve Cummins provided Dodge exactly what it needed to succeed at both. The new Cummins, available starting with '98.5 Rams, belted out 235hp and 460 lb-ft, provided it was ordered with the NV4500 five-speed manual behind it.
Striking back, Ford combined the release of its revamped 7.3L Power Stroke in conjunction with the launch of its brand-new Super Duty truck line in the first quarter of 1998. Now with an intercooler, a wastegated turbocharger, split-shot injectors, higher voltage IDM and an electric fuel pump, Ford's Navistar-built V8 became the first diesel in the pickup segment to reach the 500 lb-ft threshold. However, by January of 2000 Dodge was ready to challenge Ford once more, and after wringing another 10hp and 45 lb-ft of torque out of the ISB, 2001 model year Ram 2500 and 3500s could be ordered with the first high output Cummins ever offered.
Behind the scenes, General Motors and partner Isuzu were in the process of finalizing what would become not only a game-changer and technological marvel in the domestic truck market, but the General's path back to the top: the 6.6L Duramax.
Comparing Hard Facts
| | | | |
| --- | --- | --- | --- |
|   | '98.5 5.9L ISB Cummins | '99 7.3L Power Stroke | '01 5.9L ISB H.O. Cummins |
| Configuration: | I6 | V8 | I6 |
| Displacement: | 359 ci | 444 ci | 359 ci |
| Bore: | 4.02 inches | 4.11 inches | 4.02 inches |
| Stroke: | 4.72 inches | 4.18 inches | 4.72 inches |
| Compression Ratio: | 16.3:1 | 17.5:1 | 17.2:1 |
| Block: | Cast-iron | Cast-iron | Cast-iron |
| Head: | Cast-iron | Cast-iron | Cast-iron |
| Valvetrain: | Overhead valve, four valves per cylinder | Overhead valve, two valves per cylinder | Overhead valve, four valves per cylinder |
| Injection System: | Bosch electronic over mechanical with VP44 | HEUI electronically controlled with high-pressure oil pump | Bosch electronic over mechanical with VP44 |
| Turbocharger: | Holset HX35W ('98.5-'02 manual, '98.5-'00 auto), HY35W ('01-'02 auto) | Garrett TP38 with wastegate | Holset HX35W |
| Intercooler: | Air-to-air | Air-to-air | Air-to-air |
| Horsepower: | 235hp (manual), 215hp (auto) | 235hp | 245hp |
| Torque: | 460 lb-ft (manual), 420 lb-ft (auto) | 500 lb-ft | 505 lb-ft |
5.9L ISB Cummins
Making a Good Design Even Better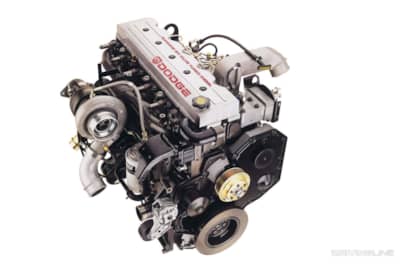 While Cummins didn't reinvent the wheel, so to speak, with the ISB Cummins, it did redesign the cast-iron block for a stronger foundation. Though it would retain the same forged-steel rods as the 6BT, it would see redesigned, lower compression cast-aluminum pistons, a revised camshaft with wider lobes and longer push tubes. For improved lubrication, a more efficient oil pump was employed, which offered an additional 10 psi of oil pressure at any engine speed. The official power rating for the 5.9L ISB was 235hp at 2,700 rpm and 460 lb-ft at 1,600 rpm when optioned with the NV4500 five-speed manual transmission. Engines paired with the 47RE four-speed automatic were de-rated to 215hp at 2,700 rpm and 420 lb-ft at 1,600 rpm.
Twice the Valves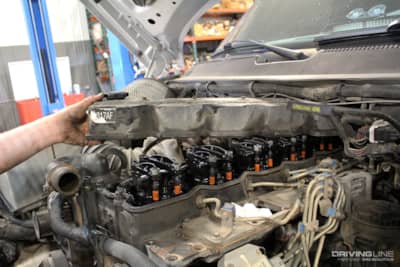 The completely redesigned cast-iron cylinder head featured four overhead valves per cylinder, with two valves activated simultaneously thanks to the use of crossover bridges. The 24-valve head also came with 60-ppi valve springs, six bolts per cylinder, located each injector in the center of its respective cylinder and the thermostat housing mount was cast into the head itself. A one-piece reusable valve cover replaced the six individual, modular covers employed on the 6BT. With the 5.9L Cummins breathing easier thanks to the extra valves, throttle response was much improved.
Different Fuel Bowl Design and Location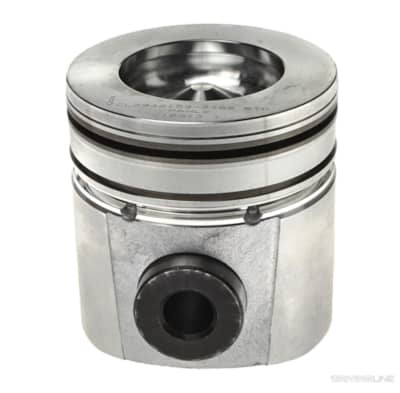 To match the new location of the injectors within the head and optimize emissions, the fuel bowl was centrally positioned and notably larger than what was used on the 12-valve piston. Still cast from aluminum, all pistons featured a ni-resist insert for the top ring for maximum wear and corrosion resistance. The top piston ring location could be moved closer to the top of the piston or lower, depending on the application (remember, Cummins manufactured the 5.9L for many different customers, not just Chrysler). For standard output ISBs used in the Ram truck line, compression checked in at 16.3:1. However, for the high output version released in 2001, compression was bumped up to 17.2:1.
The Multi-Tasking VP44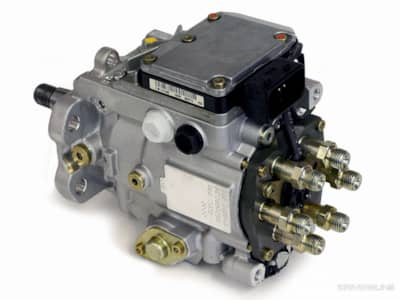 In order to keep pace with ever-tightening emission standards, implementing electronic controls on the Cummins was inevitable. For the 5.9L ISB, the electronically controlled Bosch VP44 was selected for its ability to provide more precise control over fuel delivery, along with 23,200 psi injection pressure capability. The VP44 is a cam-driven, radial piston pump with three internal pumping plungers and is timed to the engine. Using its built-in computer (coined the PSG), it's tasked with varying the injection timing, pressurizing the low-pressure fuel it receives from the lift pump and controlling fuel volume. The injectors it feeds diesel to are still mechanical, but their pop-off pressure is considerably higher than what was found on the 6BT injectors (4,500 psi).
Electric, Engine-Mounted Lift Pump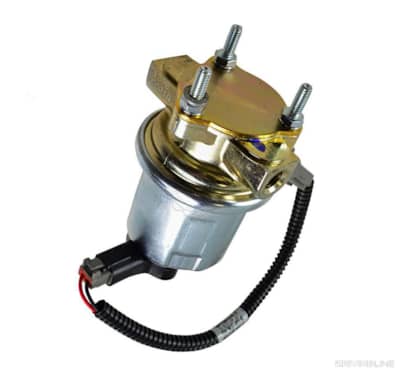 From the factory, an electric Carter lift pump was responsible for supplying fuel to the VP44 injection pump. Mounted on the driver side of the block, over time this lift pump would experience a fairly high failure rate, primarily due to its constant exposure to vibration. Later on, Chrysler's under-warranty fix was to install an in-tank lift pump, which proved more reliable. In the diesel aftermarket, it's common to find a high-volume lift pump mounted along the truck's chassis.
7.3L Power Stroke (2.0)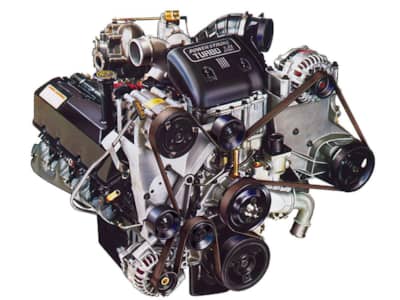 Following the success of the '94.5-'97 Power Stroke, Ford and Navistar made only subtle changes that were geared toward reliability, performance and meeting emissions for the '99 Super Duty. Larger counterweights were employed on the crankshaft, revised cast-aluminum pistons were equipped with a larger intermediate ring width to increase ring tension in the cylinder bore and the camshaft no longer utilized an eccentric lobe to mechanically operate the fuel pump. On the under valve cover harnesses (UVCHs), one nine-pin connector was used (effectively providing electric power to all four cylinders in each bank) in place of the previous dual five-pin connectors. Improving the factory air box, it was reconfigured to house a flat, rectangular filter element. Upon its debut, the '99 7.3L Power Stroke was rated for 235hp at 2,700 rpm and 500 lb-ft at 1,600 rpm.
Split-Shot Injectors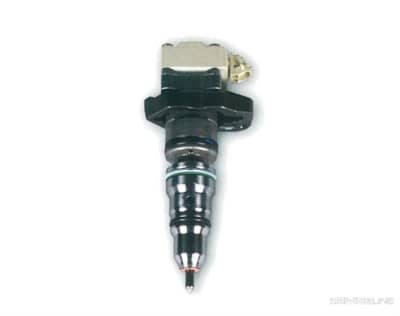 HEUI system enhancements included higher flowing, split-shot injectors. Actually introduced in '96 California model engines, the AB code injectors flow a maximum of 120cc worth of fuel (vs. the 95cc, single shot AA code units used in '94.5-'97 Federal engines). The split-shot injection feature entailed a mechanical pilot event prior to the main, helping to quiet down the engine as well as increase the duration of each combustion event for lower particulate matter production. The combination of the new split-shot injectors, a higher voltage injector drive module and updated PCM calibrating allowed the Super Duty version of the 7.3L make more power while simultaneously running cleaner and quieter.
Electric Lift Pump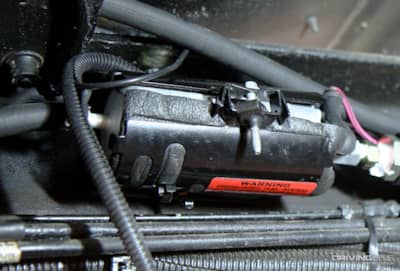 For more consistent fuel supply pressure making its way to the injectors, the cam-driven mechanical lift pump was eliminated from the valley in favor of an electric pump mounted along the frame rail. With the mechanical pump employed on '94.5-'97 engines notorious for sending roughly just 40 psi toward the injectors despite being rated to supply as much as 70 psi, the new electric lift pump (rated for 80 psi) provided them a steady 60 to 65 psi worth of pressure at all times.
Addition of an Intercooler and Wastegate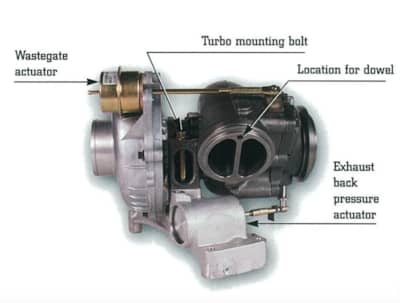 Keeping the engine safe with the added power (and 500 lb-ft) in the mix, a wastegated version of the Garrett TP38 turbocharger and an air-to-air intercooler became part of the 7.3L Power Stroke's package for '99. The turbocharger's wastegate limited boost between 20 and 22 psi while the intercooler drastically lowered intake air temperature and EGT. The turbo still had the EBP valve provision for better cold weather warm up (and most trucks came with it), but now it was optional on engines intended for Super Dutys.
H.O. 5.9L Cummins ISB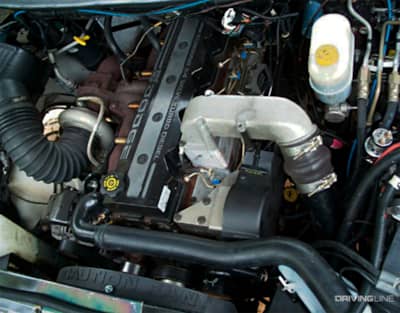 Dodge's last hurrah from the pre-common-rail 5.9L came in early 2000 when it announced a high output version of the 5.9L Cummins would be available starting with '01 model Ram 2500 and 3500s. The H.O. 24-valve sported higher compression, 17.2:1 cast-aluminum pistons, an enhanced ECM calibration, a higher-flowing VP44 injection pump and injectors, and valve seat inserts in the head for added durability. The H.O. version was also equipped with the tough-as-nails HX35 Holset turbo, but could only be had with the NV5600 six-speed manual gearbox option. Its horsepower rating was 245hp at 2,700 rpm, while torque checked in 5 lb-ft ahead of Ford at 505 lb-ft at 1,600 rpm.
While it was one heck of a workhorse, the 24-valve 5.9L ISB arguably had more shortcomings than any other Cummins offered in the Dodge Ram line. Find out its most crippling flaws here.