Old-School Vs. New-Age: How To Pick The Perfect Diesel Drag Truck
Diesel drag racers have a decision to make when choosing a suitable drag racing platform these days: new or old? For the most populated racing categories (namely the entry-level ET Bracket and 7.70 Index fields), it used to be a toss-up but, as time marches on, more and more drivers are deciding to campaign newer, electronically controlled diesels. Despite a late-model truck's higher initial cost to obtain, the repeatability, horsepower potential and stronger transmissions they come with seem to do most of the convincing. Add in the fact that aftermarket support is at an all-time high for newer diesel trucks and it becomes even clearer why drag racers are starting with new trucks as opposed to transforming older ones.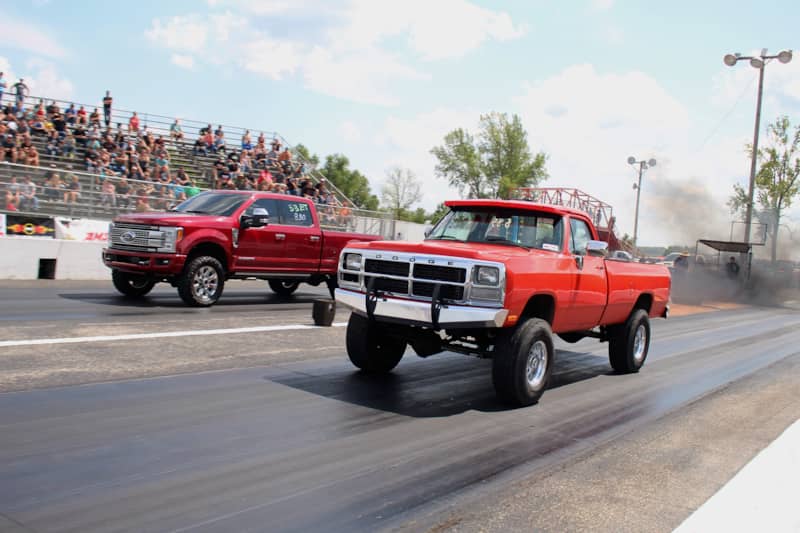 However, it's not as cut-and-dried as one might think. Older diesels—like the mechanically injected 12-valve Cummins, for example, as well as the trucks these engines came in—continue to have their place. The dinosaur engines of old feature simplistic, tractor-like fuel injection technology and the wrappers they came in were considerably lighter than the heavy-duty trucks offered today—all of which factors into a successful drag racing program (i.e. low complexity and light weight). This time, we're making a case for both new and old platforms, along with elaborating on why the newer models now seem to have the competitive edge.
Electronically Controlled, High-Pressure Common-Rail Injection (Advantage New)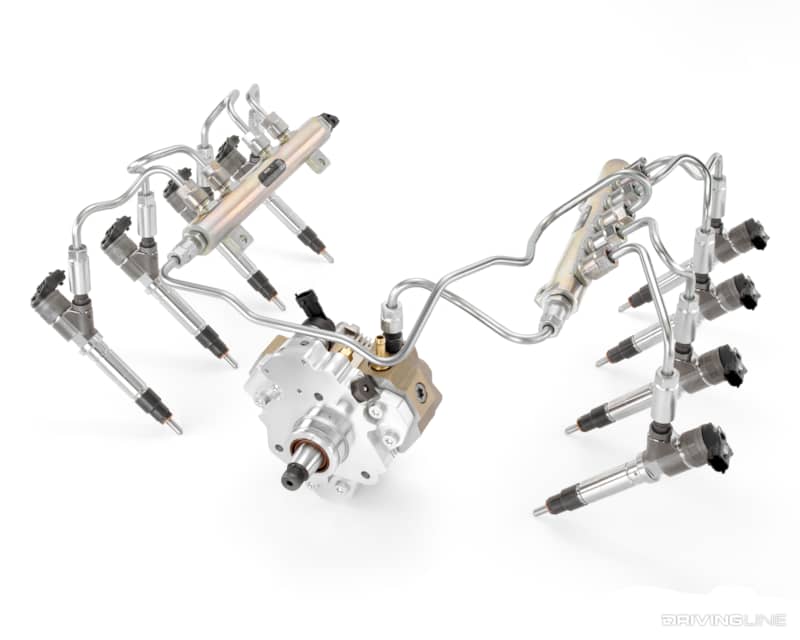 When electronically controlled diesels were introduced in the 1990s, it was a game-changer in terms of emissions and drivability. However, the biggest step forward came when the Bosch high-pressure common-rail system hit the scene. This system—which consisted of solenoid-actuated fuel injectors and the revered CP3 high pressure fuel pump (HPFP)—was initially employed on GM's 6.6L Duramax in '01, followed by the 5.9L Cummins in Dodge Rams in '03, and brought precise control over injection timing and fuel quantity. Twenty years later, these same components are still being used in diesel drag racing.
Controlling Variables (Advantage New)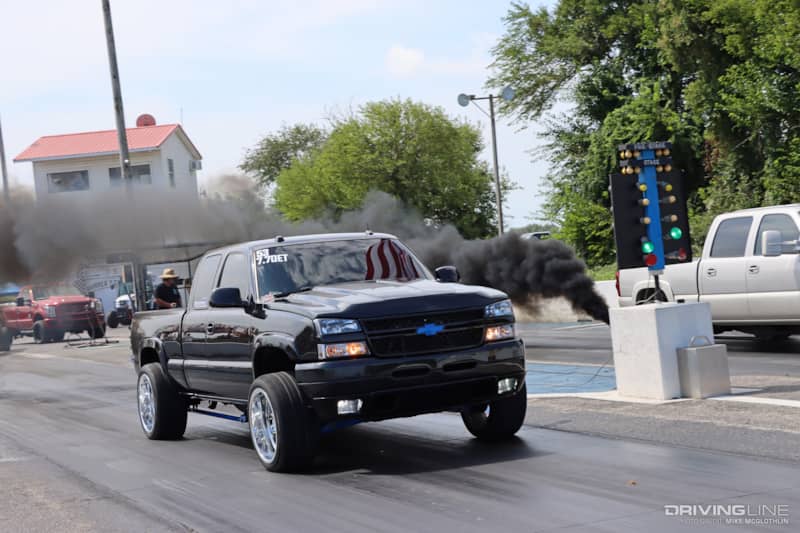 Combined with smart, quick-reacting ECM's and highly refined ECM calibrations (made possible thanks to various aftermarket software options), Bosch's high-pressure common-rail system can be fine-tuned to maximize its potential in virtually any racing application. Precise control over the injection system means more consistent launches, more repeatable 60-foots and the capability to progressively ramp up or vary timing and fuel quantity (sometimes even multiple times in the first 60 feet) in order to maintain traction. In the end, repeatability and consistency are the keys to going rounds in drag racing—which is how you win championships.
Single Pump & Single Turbo Setups (Advantage New)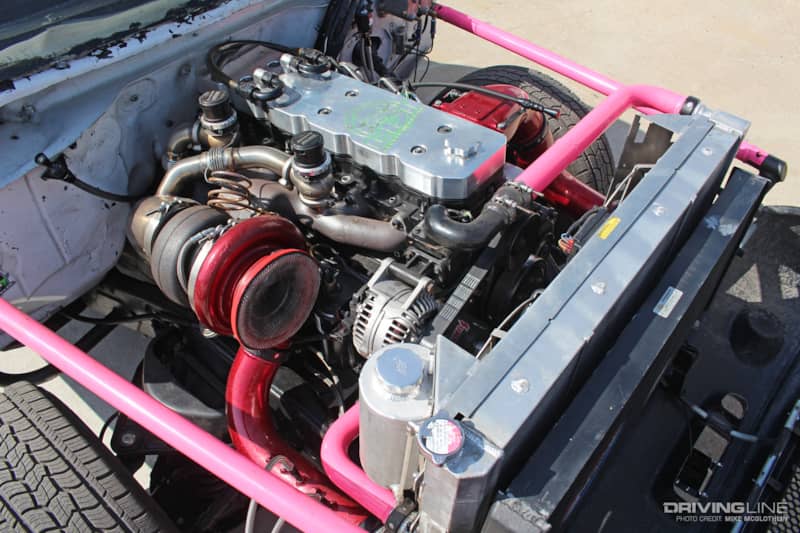 As common-rail injection technology progressed in the aftermarket, drag racers no longer had to run multiple high pressure fuel pumps to meet their horsepower goals. Today, a single CP3 pump stroked to 14mm (vs. 8.2mm stock) can support 1,500 hp, which not only saves a drag racer money but also simplifies his or her overall engine combination. Similarly, many competitors choose to run a big single turbocharger as opposed to the compound arrangements that were all the rage in years past. Some of the big single turbo trend stems from higher flowing, 4-valve cylinder heads and larger displacement engines now being available, which makes it easier to drive those big chargers.
Stronger Transmissions (Advantage New)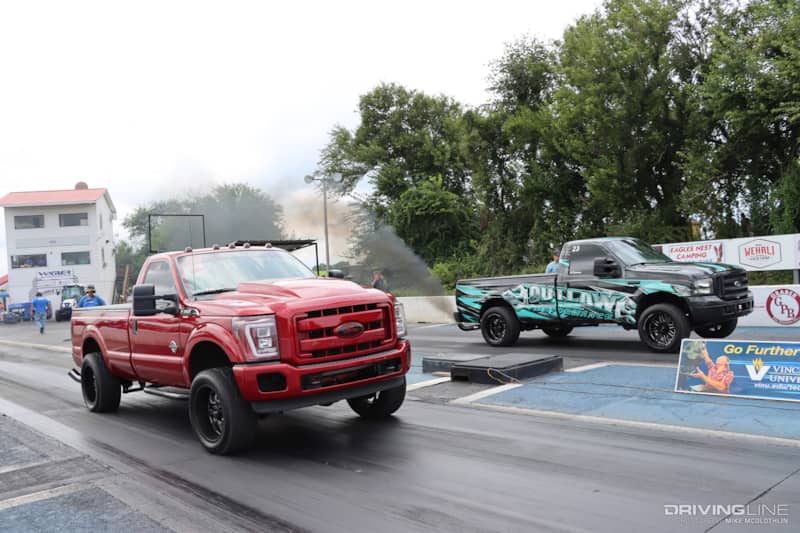 Another piece of the puzzle that makes a newer diesel truck the popular choice in drag racing boils down to modern automatic transmission technology. By taking advantage of these electronically controlled transmissions' use of a TCM (transmission control module), their shifts points, shift strategy, line pressure and lock up events can all be fine-tuned to get maximum power to the ground and also be very reliable while doing it. This applies to Ford's TorqShift transmissions, GM's Allison and even Ram's 68RFE. To be sure, that doesn't mean they don't break—but thanks to being designed to handle 1,000 lb-ft or more right out of the box they have a much higher threshold for pain than the slushboxes of yesteryear.
Cheaper (Initially) And Still Competitive (Advantage Old)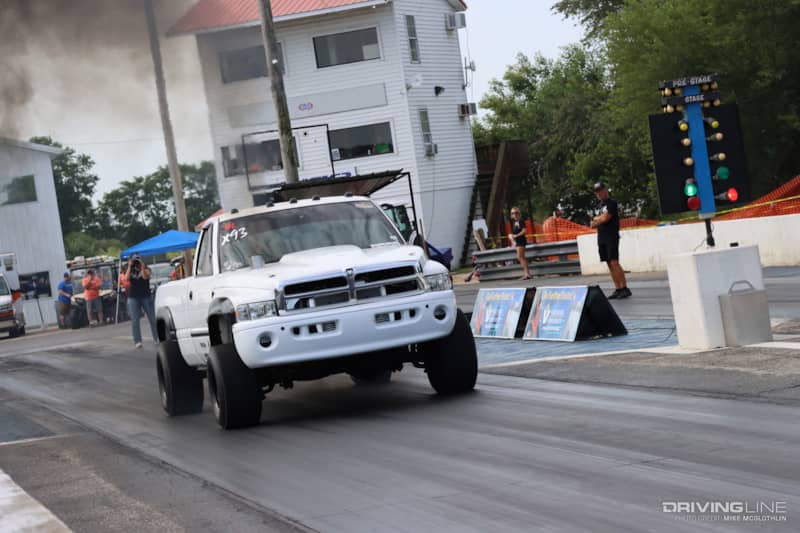 Despite everything a modern diesel truck has going for it, nothing can change the fact that they're expensive to get into—not to mention the fact that old-school diesel technology can still be competitive. The proven, tractor technology aboard a P-pumped 12-valve Cummins will always have great performance potential. Additionally, all of the bugs associated with these fully mechanical engines will only ever have to be worked out with wrenches. There are no computer issues to diagnose and fight, or a case where a simple sensor throws off your entire race program. Just keep in mind that while entry-level costs are lower with an older diesel, racing competitively is rarely done on a tight budget. You'll still need the right combination of parts to wake an aging diesel up and, as we mentioned earlier, the transmission will require mandatory upgrades in order to be reliable while harnessing that extra power. A lot more than that has been done to the truck pictured above, Cody Helms' 5.90 Index, P-pumped second-gen Cummins.
Lighter Race Weight (Advantage Old)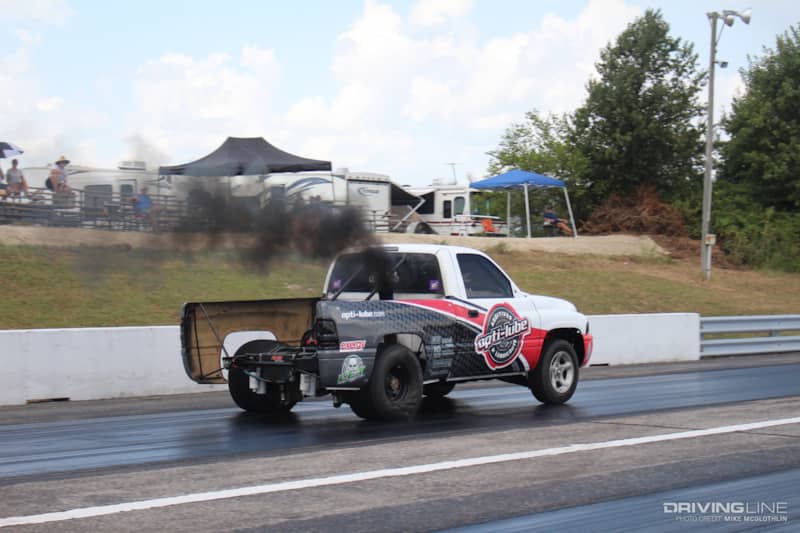 Another benefit of campaigning an older diesel is present in its curb weight. Although it sometimes slips the minds of many diesel enthusiasts, trucks such as the popular '94-'02 Dodge Rams, '94.5-'97 Fords and even '99-'04 Super Duty's, and '01-'10 Chevrolet Silverado and GMC Sierra HD's were considerably lighter than the generations of trucks built after them. This is because as towing and payload ratings increased the Big Three implemented thicker and fully boxed frames to support it. Other required reinforcements entailed heavier-duty (and heavier) suspension systems and bigger, beefier axles.
The Road Often Not Taken: VP44 Second-Gen Cummins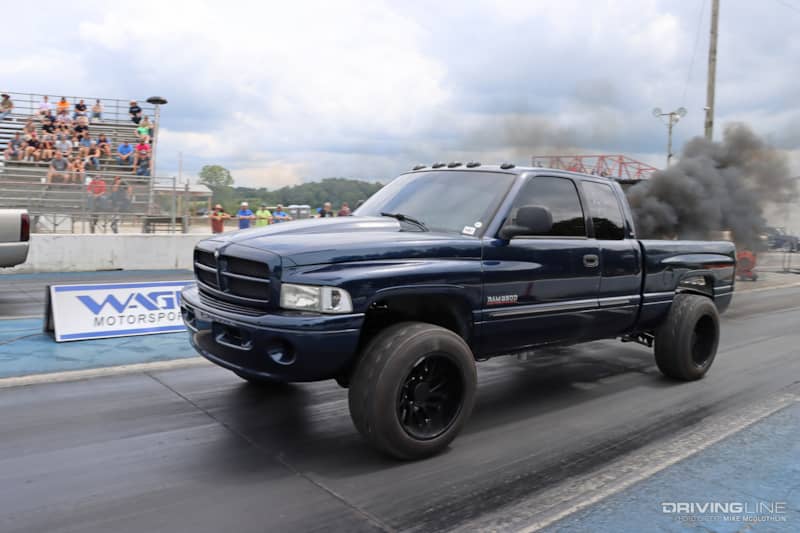 Caleb Faler chose an unlikely (yet not unheard of) workhorse for his drag racing endeavor. It's an '02 Dodge Ram 2500, which came with the VP44-equipped 24-valve Cummins—an engine that bridged the gap between the older mechanical 5.9L that stopped production in '98 and the common-rail 24-valve that began production in '03. The '98.5-'02 ISB 5.9L (as it's also known) has never been the preferred hot-rod engine from the Cummins lineage, but its fueling and rpm shortcomings can be overcome, as Caleb continues to show. Plus, being a second-gen Dodge (not a third-gen and certainly not a hefty fourth-gen) means he started with a much more favorable race weight.
Tires Can Make Or Break Any Diesel At The Drag Strip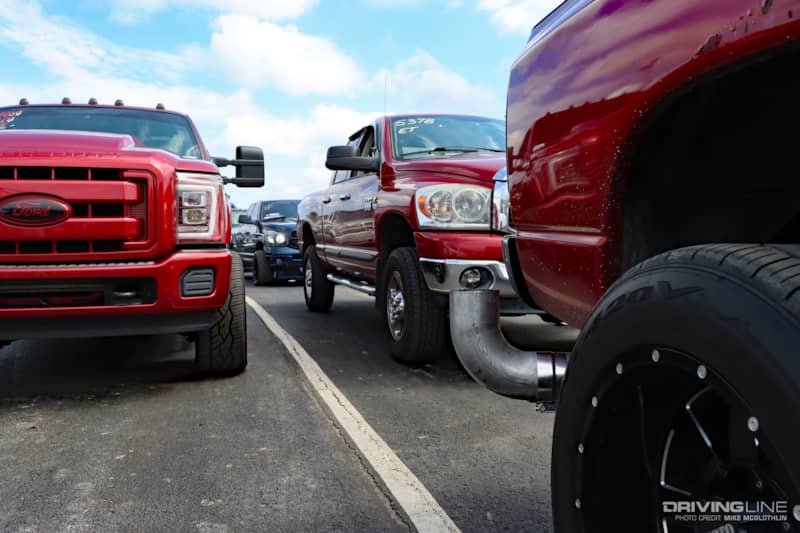 Attend any ODSS race during the summer and you'll find a whole host of late-model trucks competing in the ET Bracket and 7.70 Index categories—and most of them race on the same tires they run out on the street. Here, Nitto's NT420V is represented very well, as is the manufacturer's NT555 RII drag radial and sometimes even a Terra Grappler G2 all-terrain.
More From

Driving Line
Curious how the Nitto NT420V found a happy home in diesel drag racing? Find out here. Hint: it performs as good as it looks!