Breaking Out: A Duramax-Powered '02 Silverado That's Too Fast For Its Class
A little more than a decade ago, Lane Wright went to his first NHRDA race. Now he's here—hooked on drag racing and campaigning an 800hp Duramax. "Well, I used to rodeo back then," the Montana native tells us. "But I knew I couldn't have two expensive hobbies at the same time." Needless to say, diesel drag racing won out and Lane went all-in on his newfound hobby. After owning a handful of Duramax-powered GM HD's, he pulled this '02 Chevrolet Silverado 2500 out of Ohio in 2018 and it's been his eighth-mile annihilator ever since.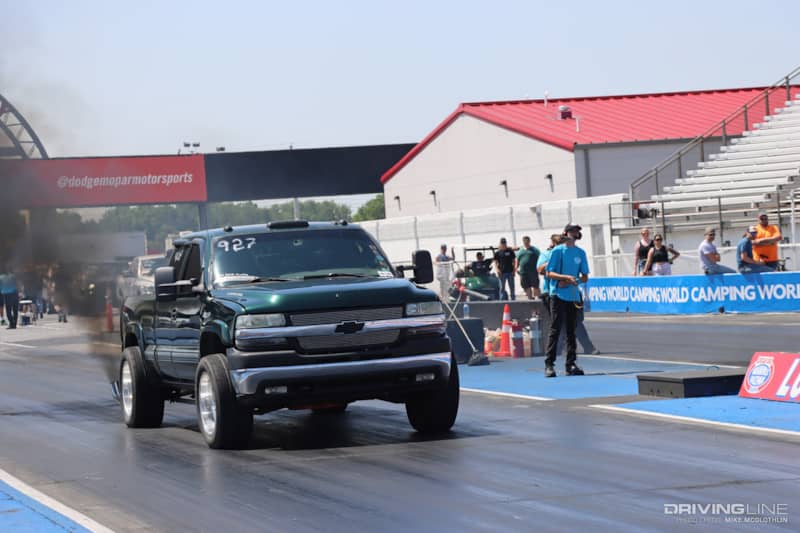 Thanks to a built LB7 Duramax V-8, a fortified Allison 1000 transmission, all the right IFS parts and four Nitto NT555 RII drag radials, Lane's Silverado effortlessly blasts through the '660 in mid-7-second intervals. But therein lies the problem. Slowing the truck down enough to go rounds in 7.70 Index—one of the most popular classes in diesel drag racing—has been Lane's biggest obstacle. However, piloting a vehicle that's "too fast" is often a good problem to have in drag racing. With a bit more fine-tuning of the ECM and further dialing in his launches, it's only a matter of time before Lane can run the number each time down the track.
Below, you'll find one of the most durable 800hp Duramax packages we've come across.
Too Fast—A Good Problem To Have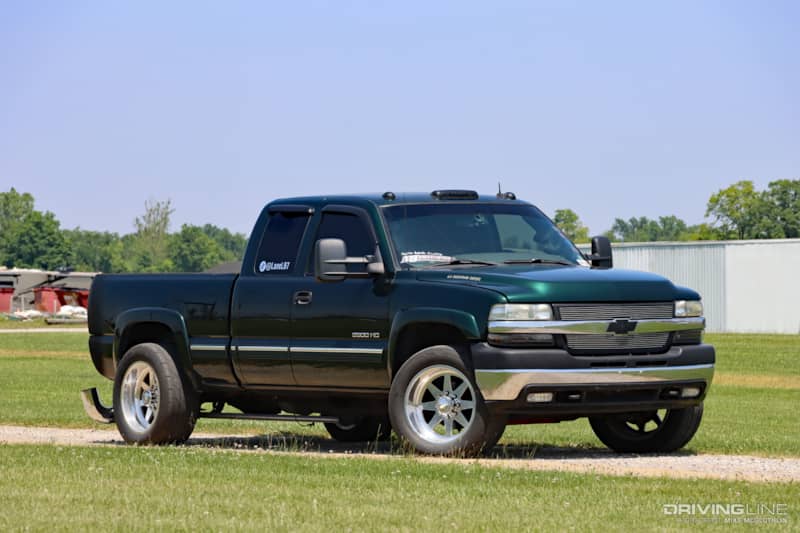 Lane Wright's Woodland Green '02 Chevrolet Silverado 2500 HD represents the fifth Duramax-powered GM he's owned. It also represents the truck he's been most serious about drag racing with. When we bumped into Lane at Lucas Oil Indianapolis Raceway Park he was struggling with the truck. Not to go faster, but to slow it down enough so as not to break out of the 7.70 dial-in written on his window. No matter what he did, the nasty Bow Tie just seemed to prefer 7.50s. Turns out, the truck has been 7.20s. That's low 11's in quarter-mile speak—not bad for a vehicle that tips the scales at just under 6,900 pounds…
A Duramax Built To Last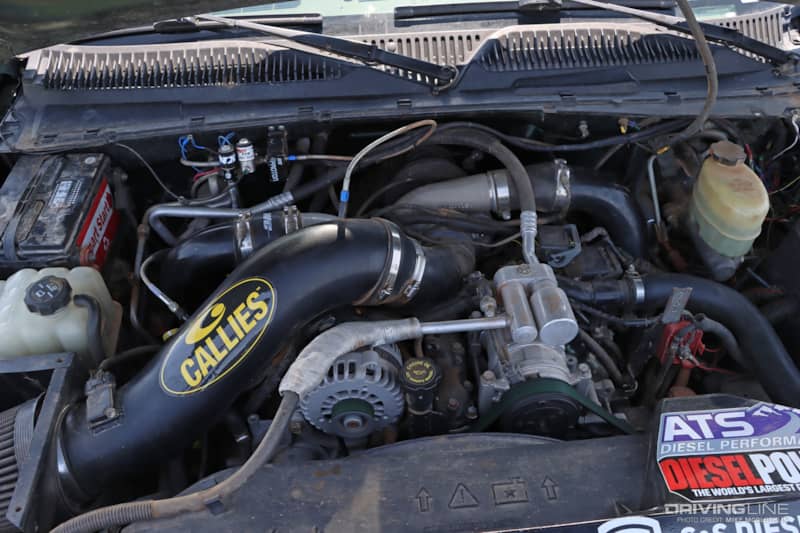 With a broken crank and cracked pistons in his past, Lane pulled out all the stops with his current engine. Pieced together by All In Truck Performance of Seminole, Texas, the LB7 Duramax sports a Callies crankshaft, Carrillo connecting rods and Fingers oval bowl cast-aluminum LB7 pistons. The factory aluminum cylinder heads have been fitted with stiffer valve springs sourced from Hamilton Cams and anchor to the block by way of ARP2000 head studs. The only other valvetrain-related upgrade was the addition of chromoly pushrods.
The Biggest S300 'Borg Makes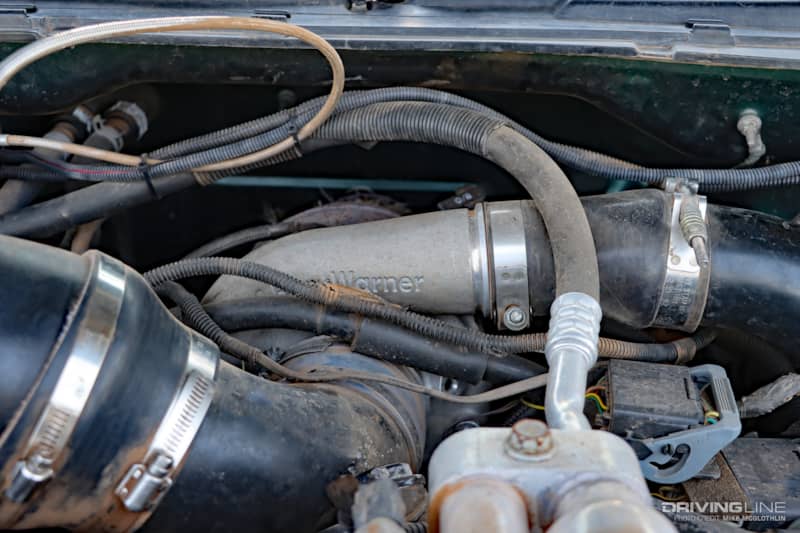 High flow yet quick spool up describes the turbo sitting in the Duramax's lifter valley. It's a BorgWarner S372 SXE, which moves air like a larger S400 frame unit but that acts like an S300 in terms of drivability. The 72mm, T4 charger forces 55 psi of boost through a Banks intercooler at full tilt and matches the engine's injector and CP3 setup very well. Of course, 800 ponies can only suffice a horsepower junkie for so long. Lane tells us that he has plans to upgrade to an S400 in the near future, most likely an S475.
S&S And FASS Fueled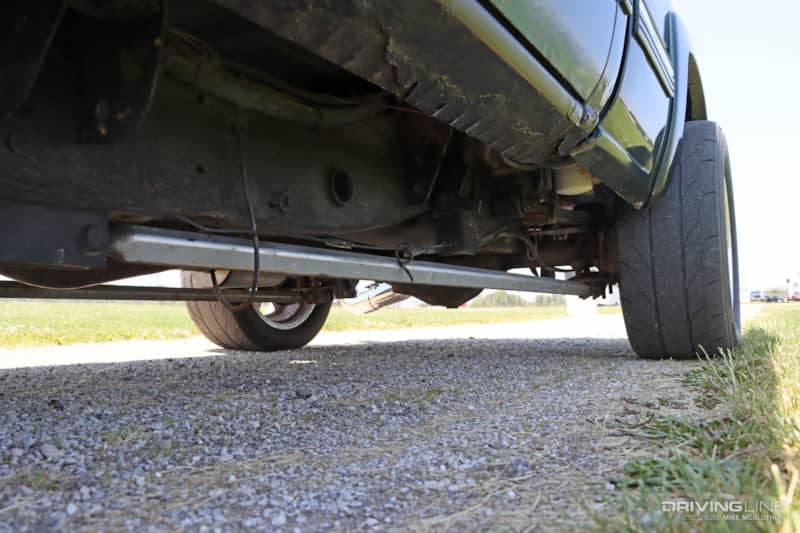 Back where the truck's driver side traction bar mounts to the rear axle, you'll find the low-pressure fuel system that supplies the high-pressure common-rail system (note the white, spin-on filter). A 165-gph FASS system pulls diesel from the factory tank and sends it to a 10mm CP3 from S&S Diesel Motorsport. From there, the stroked high-pressure fuel pump passes fuel into the rails and ultimately a set of 60-percent over injectors (also from S&S). The fuel system (and the rest of the engine) is fine-tuned via EFI Live. On the chassis dyno, the truck made a strong 796rwhp along with 1,440 lb-ft of torque.
Bottle-Fed
Yes, Lane's Duramax is nitrous-fed in addition to being highly-fueled. And yes, Lane has a sense of humor about it. We can think of a few one-liners for Lane's other bottles: Around the Bottle with 'Gap Daniels, Spray Responsibly, Beat the Heat, A little bit of honey…a whole lot of gap. You get the idea… A second bottle, which replaces this one after it's been depleted, reads "Gap Sauce: Not Responsible For Hurt Feelings." On a more serious note, the introduction of nitrous brings more than 100 additional ponies to the party.
A Built Allison And All Kinds Of Cooling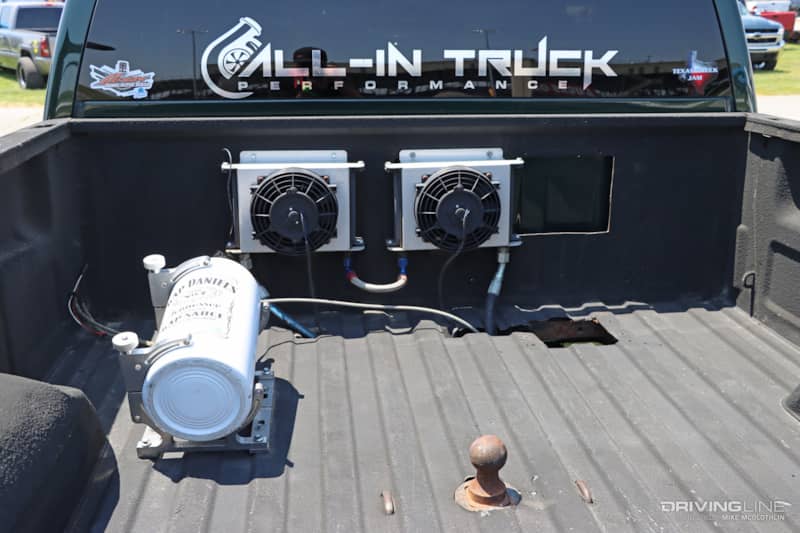 Like the engine, Lane's Silverado isn't sporting its first built Allison. The first transmission checked out soon after he started launching in second gear at the track, prompting the reinforced Allison he currently campaigns. Assembled by his friends at All In Truck Performance, it rocks a J model triple-disc torque converter from Goerend Transmission, billet shafts and ample cooling. The dual Derale Performance heat exchangers shown here combine with an oversized PPE cooler in the factory location to keep the transmission cool at all times. Why so many cooling provisions? Because Lane likes to double-class the truck (i.e. race the 7.70 Index and the ET Bracket categories). According to him, four back-to-back passes can be run before ATF temp touches 205 degrees.
The Flight Deck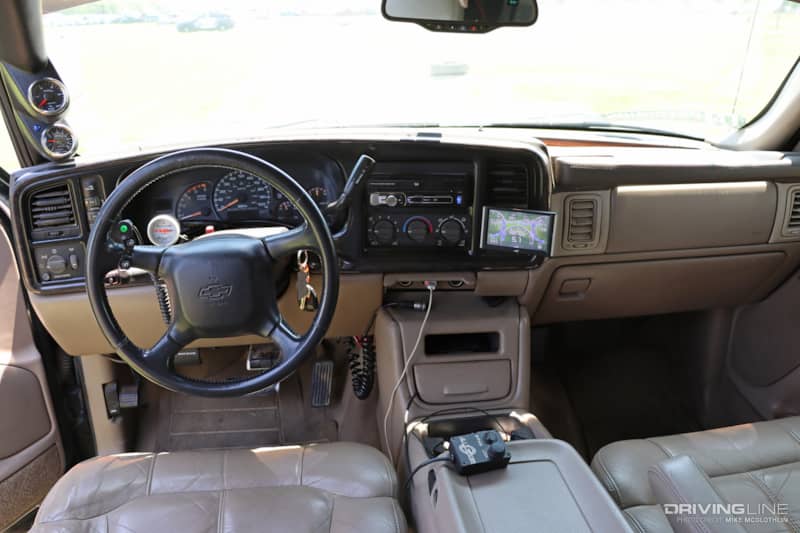 Believe it or not, this was Lane's office for a period of time. As an oilfield worker, long hours on extremely hot days are par for the course—and the LB7's ice-cold A/C never let him down. Now, most of his time spent here calls for either staging or racing the truck. As Lane moves into the beams, the transmission is in second gear and the transfer case is locked in 4-Hi. Going by feel and sound rather than a preset engine speed or boost number, Lane launches the truck. He cuts low 1.7-second 60-foots and waits until 30-mph before locking the converter by way of the Fleece Performance Engineering AlliLocker you see on the center console.
The Watchlist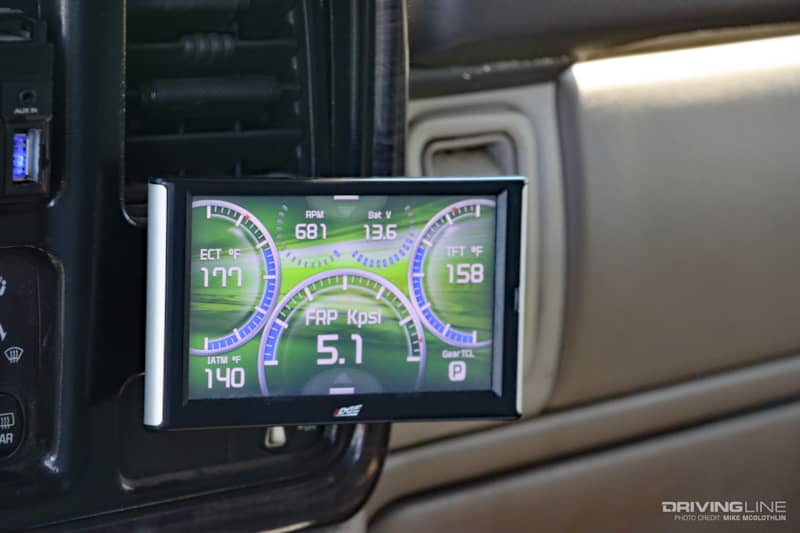 Although the truck's ECM is fine-tuned via EFI Live software, Lane relies on an Edge Products' CTS3 Insight monitor to keep tabs on a host of powertrain vitals. Among the parameters displayed on the touch screen are fuel rail pressure, transmission temperature and coolant temp. Not that Lane watches any of these numbers while he's traveling down the track, but the ability to log them and review the data post-race is highly beneficial. Over on the A-pillar, a pair of Optix TM series analog gauges from DiPricol provide boost pressure (up to 100-psi) and EGT readings (0-2,000 degrees F).
A Triple Nickel At Every Corner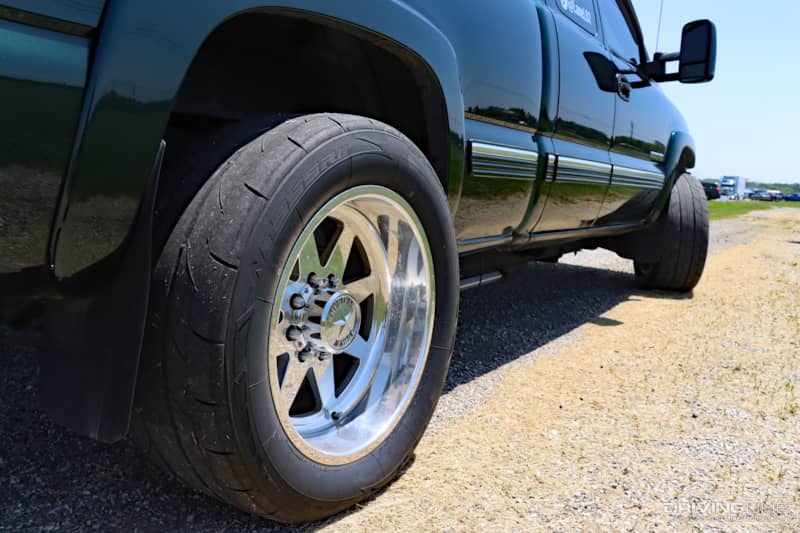 Unlike a lot of other 7.70 Index and ET Bracket diesel drag racers, which typically stick with all season or all-terrain tires, Lane decided to give drag radials a try on his Silverado. His DOT-approved tread of choice is Nitto's NT555 RII. Thanks to that decision, Lane never has to worry about breaking traction. Instead, he can focus more on slowing his Duramax down in order to keep from breaking out. "The 555 RIIs are a great tire for drag racing," he tells us. "They handle bad track prep (or street surfaces) much better, too." The 305/50R20 NT555 RII tires on his ¾-ton Chevrolet measure 32.05 inches in diameter and 12.44-inches wide. They're mounted on 20x10-inch Independence wheels from American Force.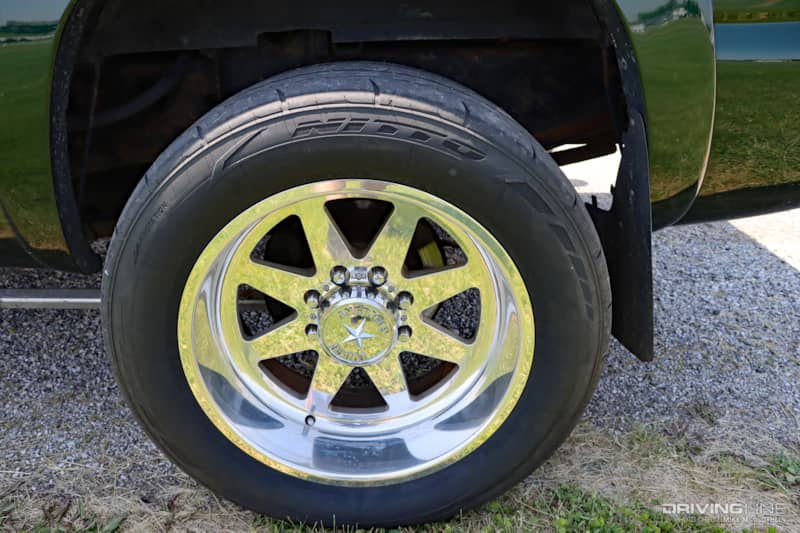 More From

Driving Line
Not sure what an LB7 Duramax is? It's the O.G. of GM's 6.6L diesel V-8 lineage and you can read all about it here.