Battle Of The Boosted Half-Tons: 3.5L EcoBoost vs. 3.0L Duramax
In the days of old, heavy towing was reserved for the ¾-ton and larger pickups on the road. But with ever-improving chassis, suspension and powertrain technology being brought to market, today's half-ton class is easily up to the challenge of moving 10,000 pounds or more. Just take a look around the next time you're on the interstate at the height of camping season. Loads of RV'ers are now using half-tons to get their spacious tow-behind campers where they need to be. At the top of the half-ton towing heap, you'll find Ford's F-150 and Chevrolet's Silverado 1500. These workhorses can be configured to tow as much as 14,000 pounds and 13,300 pounds, respectively.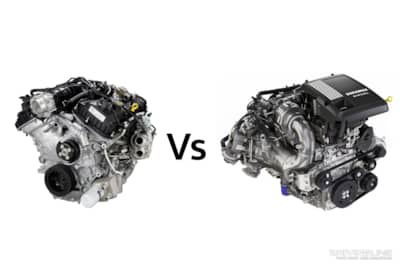 But which engine is best-suited for maximum towing duty? For Ford's best-selling F-150, it's the unofficial darling of the pickup world: the 3.5L EcoBoost. Over at Chevrolet, a Bow Tie fitted with the 6.2L gasoline V-8 can handle the 13,300-pound workload—but so can the 3.0L Duramax diesel I-6 now that improved engine cooling, a heavier duty suspension and a bigger rear differential has been made available. Needless to say, it's time to pit the EcoBoost-powered F-150 against the Duramax-propelled Silverado 1500. V-6 vs. I-6. Twin-turbo vs. single turbo. Gas vs. diesel. Can the avant-garde, all-aluminum diesel hold a candle to the almighty EcoBoost?
3.5L EcoBoost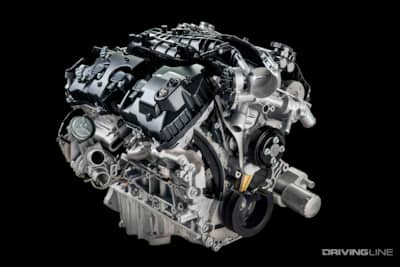 GM's 6.2L and especially Ram's Hemi get a lot of attention, but Ford's 3.5L EcoBoost is the unwritten star of the domestic half-ton engine segment. The 60-degree, DOHC V-6 turned out 400 hp at 6,000 rpm and 500 lb-ft of torque at 3,100 rpm in standard form for the 2021 model year. The EcoBoost also continues to be comprised of an aluminum block and heads, utilizes 10.5:1 compression, employs variable camshaft timing, possesses a 3.64-inch bore, a 3.41-inch stroke and features sequential multi-port direct fuel injection.
3.0L Duramax (LM2)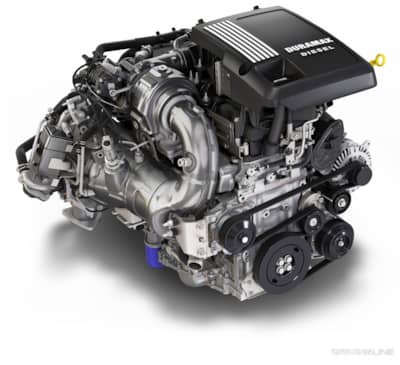 They don't come much torquier than an inline-six diesel, but GM's 3.0L Duramax is much more than an old-fashioned stump puller. The DOHC I-6 oil-burner features an aluminum block and head, a block stiffener, ductile iron cylinder liners (think Class 8 engines), water-to-air intercooling, an electronically variable intake manifold and an ultra-high pressure common-rail injection system. It boasts a 3.30-inch bore, a 3.54-inch stroke, features 15.0:1 compression and produces 277 hp at 3,750 rpm and 460 lb-ft of torque from 1,500 rpm to 3,000 rpm.
Twin-Turbo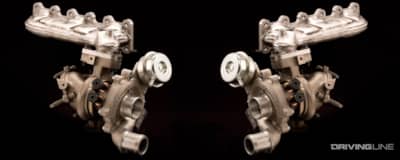 The term twin-turbos gets thrown around quite a bit and is often incorrectly used to describe compound turbo arrangements. However, the 3.5L EcoBoost uses it in the truest sense of the term. Also known as parallel turbocharging, a twin-turbo configuration utilizes two identical turbochargers, one feeding each bank on a V engine. On the 3.5L EcoBoost, a BorgWarner K03 fixed geometry turbocharger dwells at the back of each exhaust manifold. The turbos feature a water-cooled center cartridge, electronically activated wastegates and they combine for up to 15 to 16 psi of boost, which is forced through an air-to-air intercooler.
Single Turbo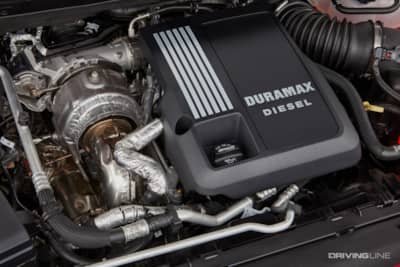 Single turbocharged, the 3.0L Duramax doesn't exactly sound as snazzy as the twin-turbo 3.5L EcoBoost, but believe us the turbo aboard this diesel is impressive. Its variable geometry turbine functionality is electronically actuated and controlled for precise, lightning-quick operation, which facilitates fast throttle response and is a big reason why 95-percent of the engine's peak torque number is available at 1,250 rpm. The VGT also sports a ball bearing center cartridge (rather than using journal bearings) to further aid turbo responsiveness but also to aid durability. It can produce up to 29 psi of boost right off the showroom floor. In addition, the turbo is supported by the most efficient form of charge air cooling, a water-to-air intercooler, which is packaged atop the engine.
Direct And Sequential Multi-port Fuel Injection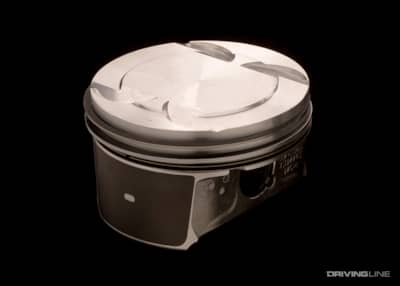 One key difference between the 3.5L EcoBoost and its multi-port fuel injection gasoline counterparts is its use of high-pressure direct injection. Using direct and sequential multi-port fuel injection, maximum fuel rail pressure can reach 2,150 psi (pressurized courtesy of a cam-driven, mechanical fuel pump). Ignition is carried out via coil-on-plug and the piston shown above is what handles the flame front and the bulk of the EcoBoost's cylinder pressure. They're made from cast-aluminum and feature shallow valve pockets for a bit of high-rpm insurance. Stout powdered forged steel connecting rods link them to the engine's forged steel crankshaft.
Direct Injection And High-Pressure Common-Rail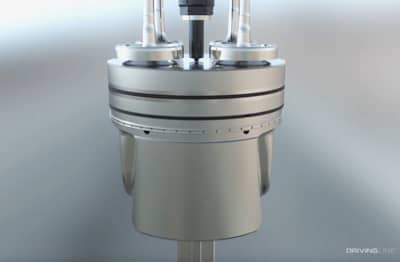 Direct injection is also present on the 3.0L Duramax, but its high-pressure common-rail fuel system produces injection pressure as high as 36,250 psi. Hypereutectic cast-aluminum pistons (chosen for their heat-resistance and tight tolerances) are employed to stand up to the high cylinder pressures experienced when an engine produces big torque at low rpm. This is also why the I-6 Duramax is equipped with forged steel connecting rods. Denso 9-hole nozzle, solenoid-style injectors and a twin-piston high-pressure fuel pump sum up the common-rail system and help make for very clean emissions. Speaking of emissions, while we've not heard any emissions control-related horror stories yet, the night is still young for the 3.0L Duramax. EGR, DEF, DOC and DPF-related failures (and their accommodating components) may begin to surface as we move into the third year of the LM2 being out in the wild.
F-150: 14,000 LBS Of Towing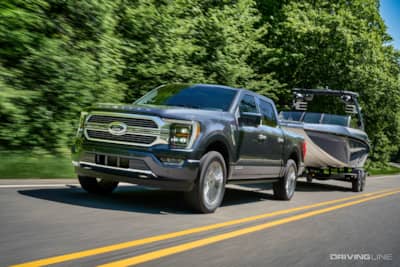 To put the 3.5L EcoBoost to the ultimate test and get Ford's best-in-class, 14,000-pound towing capacity, you'll have to either order a SuperCab 4x2 model with an 8-foot bed or a SuperCrew 4x2. Either option will also have to be fitted with the manufacturer's Max Trailer Tow Package. While the 400hp, 500 lb-ft 3.5L EcoBoost won't struggle at max GCWR, the real question boils down to fuel economy. Gasoline power plants are known to take a much bigger hit in fuel economy when weight is brought into the equation.
The EcoBoost will certainly win all acceleration tests over the Duramax, but how low will mpg dip and what kind of range can be expected?
Silverado 1500: 13,300 LBS Of Towing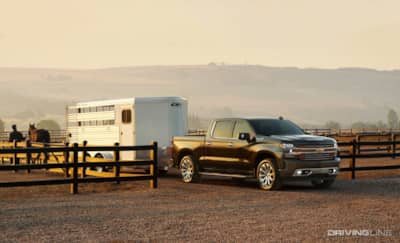 Per the recent cooling system, rear differential and suspension enhancements GM made available on Duramax-equipped '22 Chevrolet Silverado 1500's, its max tow rating is on the same playing field as the 6.2L V-8. In order to get your hands on 13,300 pounds worth of trailer towing capacity, a Double Cab 4x2 model with a standard bed (6-feet 7-inches) will have to be configured, along with being ordered with GM's Max Tow Package. Again, the 3.0L Duramax will never compete with the 3.5L EcoBoost in terms of acceleration, but it might perform better when being worked at max GCWR. After all, the LM2 Duramax kicks out 95-percent of its available torque output beginning at 1,250 rpm and sustains peak torque (460 lb-ft) from 1,500 to 3,000 rpm. The low-rpm, luggable nature of the 3.0L inline-six Duramax will also make it the hands-down winner in any fuel economy comparison, especially when towing.
More From

Driving Line
It's no secret that Ford sells a TON of EcoBoost F-150's. 

Here

's the secret behind this engine's monumental sales figures.