Enhanced Looks, Capability and Performance: Popular, Effective Additions That Make A Late-Model Super Duty The Perfect Truck
Sales figures don't lie. And when it comes to the ¾-ton and larger truck segment Ford owns more than its fair share of the pie. But owners of late-model Super Dutys aren't usually interested in rocking a bone-stock truck, at least not for very long. Whether its purpose is for daily driving duties, hauling tools to the job site or towing a 15,000-pound trailer around, the average '17-newer Ford almost always receives a mod that improves its appearance, functionality or performance. And sometimes it's all three.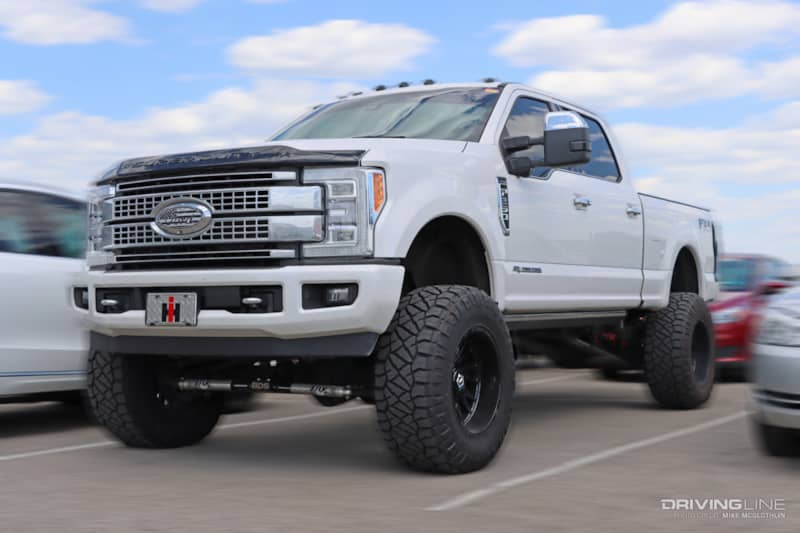 For heightened stance and rugged looks, suspension lifts and 20-inch (or larger) wheels regularly get the nod. For enhanced capability, aggressive tires and traction bars become part of the equation—with bigger wheel and tire combinations also calling for a steering stabilizer. For improved looks and visibility, customized headlights are extremely common, while electric-powered running boards (factory or aftermarket) are present on thousands of trucks. Then come the power and drivability enhancements, with triple-digit horsepower gains possible on select 6.7L Power Stroke models.
From looks to performance to improved capability, the following parts represent some of the hottest picks for '17-newer Super Dutys.
BDS Lift & Fox Shocks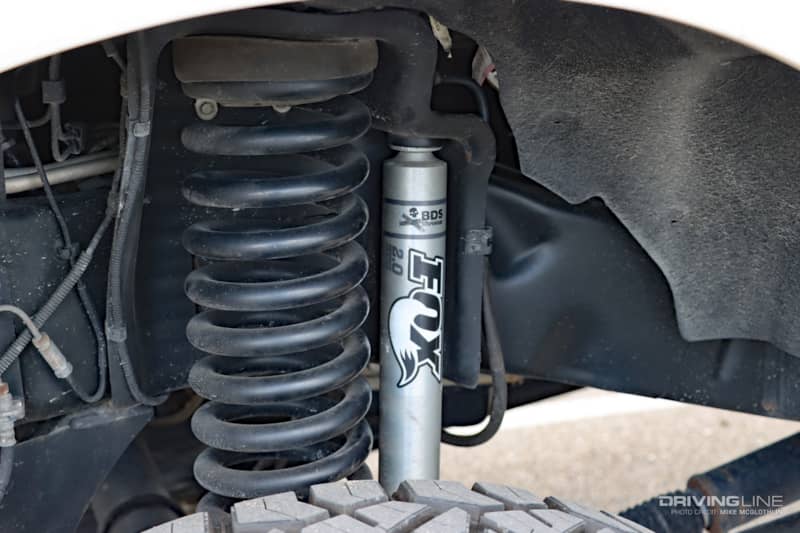 The process of stuffing taller, wider tires underneath a '17-newer Super Duty begins with a lift. A 6-inch radius arm lift kit from BDS Suspension is shown, which comes complete with ProRide, diesel-specific coil springs (gas coil springs are also available) and Fox 2.0 IFP performance gas shocks that combine to maintain the smooth factory ride. A forged drop pitman arm and heavy-duty track bar relocation bracket are supplied for the correct steering angles and to re-center the front axle. Front bump stop extensions are also included to limit the amount of suspension compression, as are sway bar drop brackets in order to obtain the correct sway bar positioning. Brake line relocation brackets and a precision-machined transfer case indexing ring are included as well, the indexing ring's purpose being to optimize the operating angle of the front driveline.
38-Inch Ridge Grapplers & 20-Inch Fuel Wheels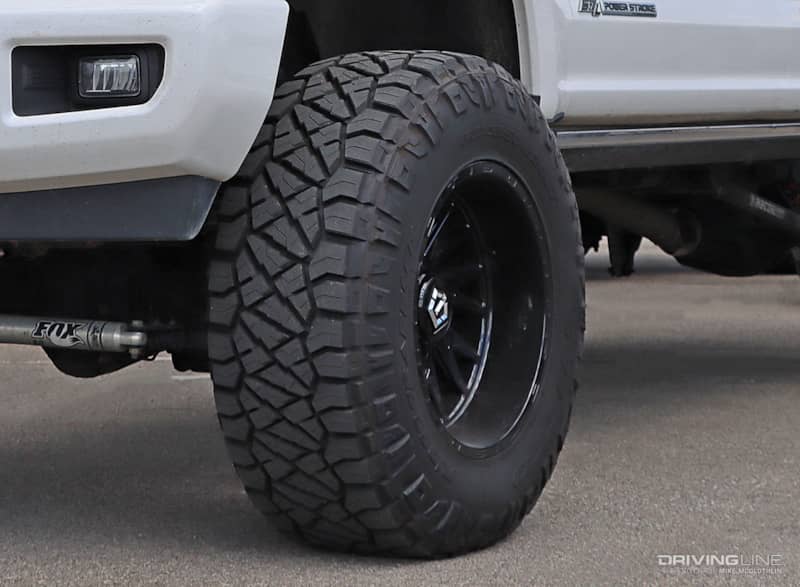 With appropriate breathing room for bigger tires, road and trail-worthy tread can be added—which in the case of this crew cab F-250 is a set of 38-inch Nitto Ridge Grapplers. Not only do the 38x13.50R20LT hybrid terrains excel off road while behaving on the pavement, they also boast an E load range and a heavy-duty 128Q load index. At 65-psi of inflation, each Ridge Grappler can carry 3,970 pounds. From a tire standpoint, the truck is even more capable of hauling and towing heavy loads than it was when it left the factory. Matte black, 20x10-inch wheels from Fuel Offroad help complete the truck's aggressive look.
BDS Dual Steering Stabilizer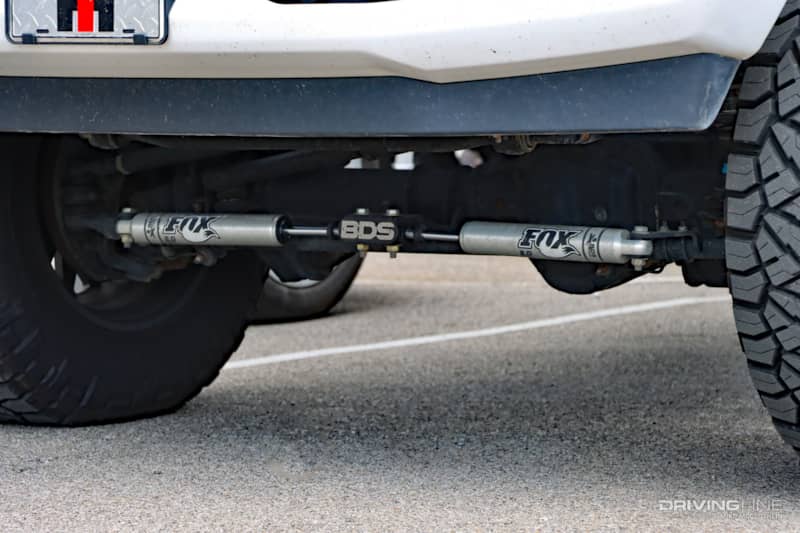 Larger, heavier tires call for a steering stabilizer and BDS's dual steering stabilizer is a popular bolt-on for damping the kinds of front-end forces that can lead to death wobble. Steering predictability and less driver fatigue are other key reasons a lifted truck needs a dual shock steering stabilizer. BDS's NX2 series unit incorporates Fox 2.0 IFP shocks, vehicle-specific valving for optimum control and its hydraulic stabilizer cylinders feature a brushed stainless appearance and a durable top clear coat.
Spring-Loaded Traction Bars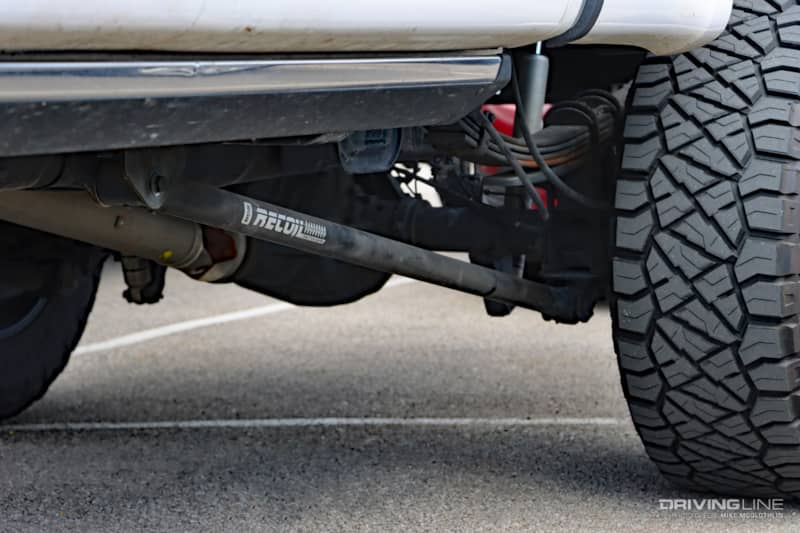 Axle wrap is a major concern with today's 1,000 lb-ft diesel trucks—and that's before you potentially add another 200 to 300 lb-ft with a programmer. Even in factory form, under load the axle can rotate the opposite direction the wheels are turning and the leaf springs can twist into an S shape. BDS Suspension's Recoil traction bars, which feature dual internal and fully-adjustable compression springs, allow you to fine-tune your rear axle control. They mount courtesy of ¼-inch thick, bolt-on steel brackets at the frame while the axle brackets install using a set of supplied U-bolts. Both ends of the traction bars are greaseable and serviceable.
Amp Research Steps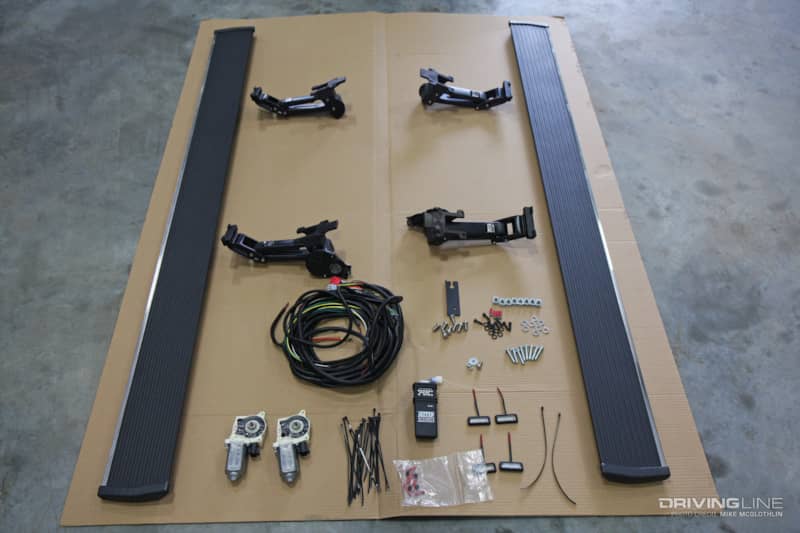 If you just added 6-to-8-inches of lift and 38-inch tires to your late-model Ford, you're probably going to need help climbing up into the cab. And if you overlooked, opted out of or couldn't order factory power steps with your Super Duty's specific trim level, the aftermarket PowerStep running boards from Amp Research are the solution you need. The electric-powered, automatic running boards instantly extend when you open a door and quickly retract once the door is closed. Low-profile LED lighting is also integrated into each step for improved visibility, while a durable, anodized black finish holds up to wear and exposure to the elements.
The Performance Edge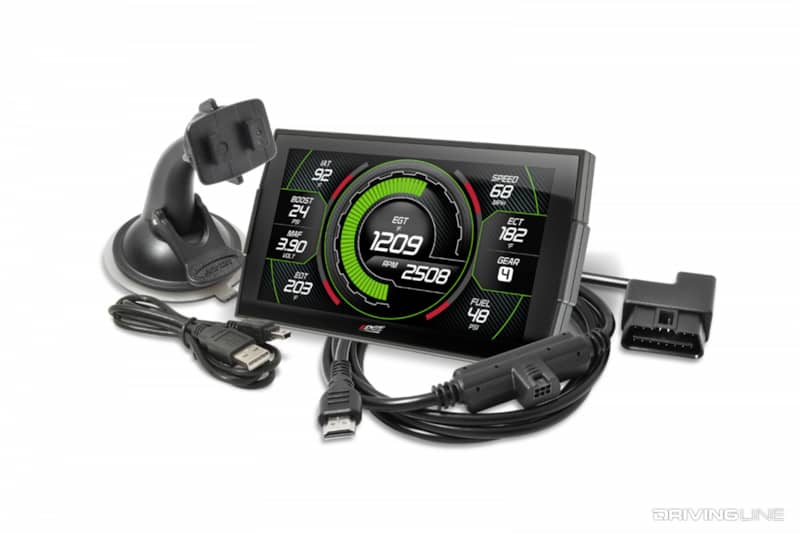 For owners of '17-'19 Super Duty's, not only is the Insight CTS3 monitor from Edge Products a hot-ticket item for keeping an eye on the powertrain's vitals, but when combined with the company's Evolution programming you can glean an extra 115rwhp out of the 6.7L Power Stroke. The CARB-compliant, emissions-friendly tuning is 50-state legal and, in addition to the aforementioned 115hp gain, can add as much as 220 lb-ft of torque to your Super Duty's bottom line. The Insight CTS3 monitor allows you to monitor key vitals such as boost, rail pressure, transmission temp, battery voltage, coolant and oil temp, EGT with the appropriate add-on accessory and virtually any other parameter you can think of.
Banks Pedal Monster
One easy, quick mod that's proven a big hit with 6.7L Power Stroke owners comes from Banks Power. The company's Pedal Monster takes the laggy factory accelerator feel out of the equation but also allows you to fine-tune its responsiveness. By adjusting the City, Sport or Track modes the Pedal Monster comes with (each mode having 10 different levels of refinement), you can custom-tailor your truck's drivability to your liking and preferences for any given situation. Plug-and-play, emissions-friendly and controllable through your iPhone or Android, the Pedal Monster is a bargain at $295.
Custom LED Headlights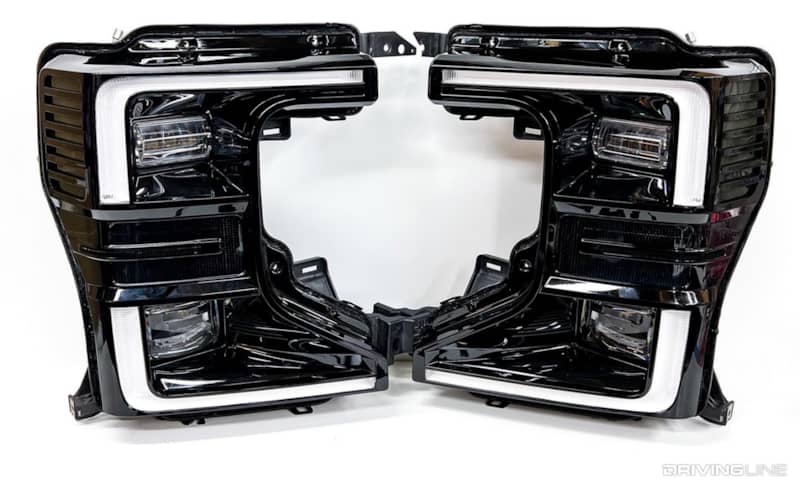 Because the performance and cosmetic appeal of the factory headlights can always be improved upon, customized headlights are huge in the '17-present Super Duty segment. One high-quality name in this area is DC Customs, a company that properly splits, cleans and reseals its OEM-based headlights (never cutting the lenses off of them). Above, a set of DC Customs' modified units have each been equipped with a tinted turn signal, a smoked reflector and blade from Klearz PA and an Agate Black paint-to-match touch. If you're looking to change the face of your late-model F-250, F-350 or F-450 this will certainly get the job done.
Ever wondered why Ford's Super Duty always seems to be a step ahead of the game? Read up on the Super Duty's rich history starting here.
More From

Driving Line
Ever wondered why Ford's Super Duty always seems to be a step ahead of the game? Read up on the Super Duty's rich history starting 

here

.