Ultimate Callout Challenge 2022: Drag Racing At Lucas Oil Indianapolis Raceway Park
The Ultimate Callout Challenge may have truly outdone itself this year. At the top of the event's breakthroughs were the first 4-second eighth-mile passes made by full-size diesel trucks. You read that right, 4,400-pound (or heavier) diesels stormed through the '660 in under 5 seconds, and not just one but three vehicles completed the feat! What's more is that another seven trucks ran mid 5's or better. The slowest elapsed time at U.C.C. 2022 (if you can even call it that) was a 7.13-second eighth-mile—and the truck that did it was suffering from transmission issues at the time… Without a doubt, Lucas Oil Indianapolis Raceway Park was the scene of the best drag racing we've seen at this one-of-a-kind affair, and you can find all the highlights of the drag portion of U.C.C. 2022 below.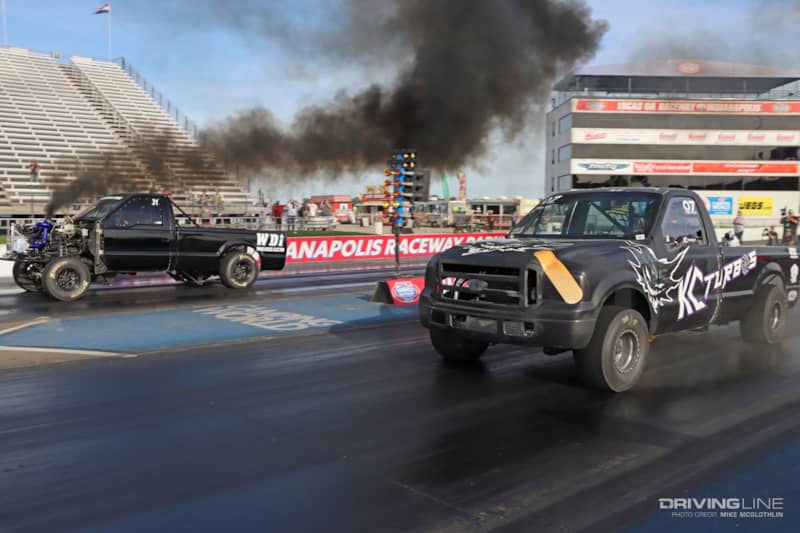 Derek Rose: 4.73-Second Eighth-Mile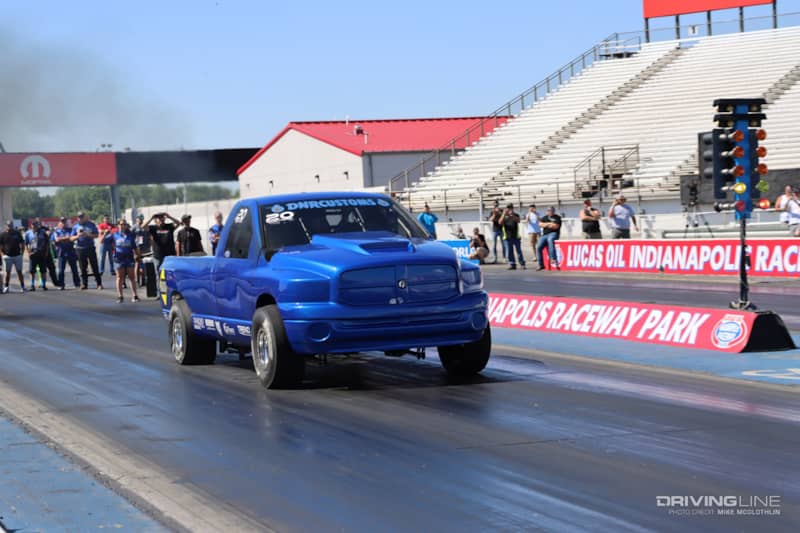 Absent from the Ultimate Callout Challenge since winning it all in 2019, DNR Customs' Derek Rose showed up in Indy this year ready to make a second run at it. This time, he brought a brand-new engine to the table: a billet-aluminum block Cummins from Freedom Racing Engines. Needless to say, he was the heavy favorite to take home the trophy and he wasted no time delivering on those expectations on Day 1, drag race day. After putting up a 4.76-second eighth-mile pass, Rose followed it with an incredible 4.73 at 158 mph. His passes in the 4.70s would not be equaled and Rose ended the first day of festivities in First Place.
Justin Zeigler: 4.99-Second Eighth-Mile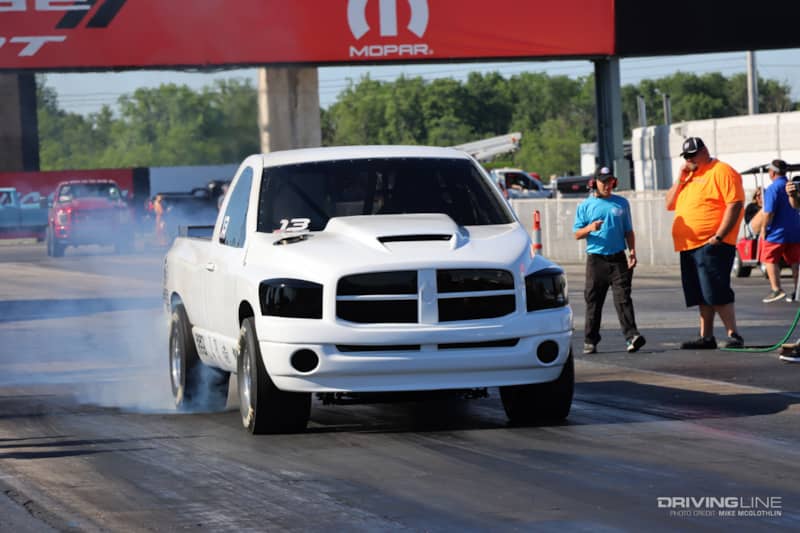 Returning champion, Justin Zeigler, brought a new ride to this year's U.C.C.—and it proved to be a whole new ballgame for he and his team. Simply put, the truck is an animal. On what was essentially a brand-new, untested build, his '06 Ram 2500 ran a 4.99-second eighth-mile at 148 mph. But with a D&J Enforcer Cummins under the hood and a pair of tractor turbos, the truck's 4.99 was only scratching the surface of what the truck was capable of producing. What it did on the chassis dyno the following day rocked the world. Think boost levels approaching 200-psi and more than 3,000rwhp… Stay tuned for that in our next U.C.C. recap article.
Tony & Tyler Burkhard: 4.96-Second Eighth-Mile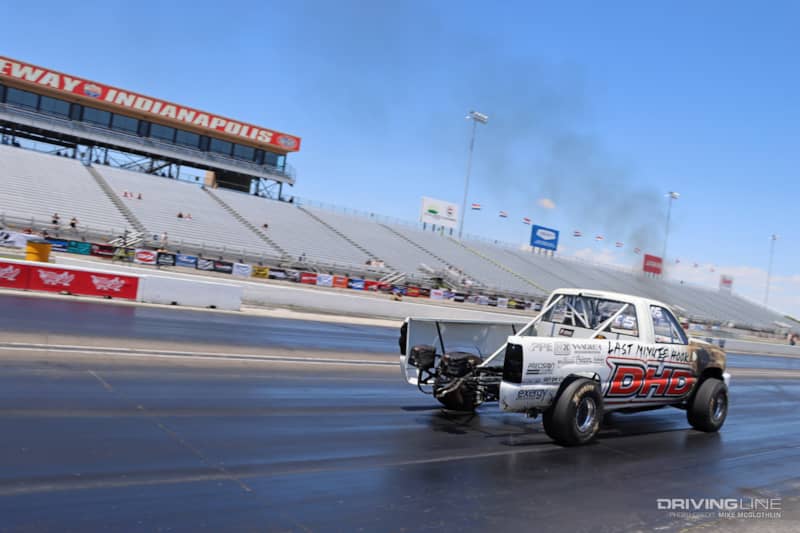 Father and son team, along with the entire DHD crew from Harbor Beach, Michigan, lived up to the hype and then some. Not only did they campaign their Duramax-powered '06 Silverado in U.C.C. and the Outlaw Diesel Revenge event (which was also going on the same weekend), but they broke into the 4's for the first time. The Burkhard's 4.96-second blast set a new 4x4 Duramax record while simultaneously earning them Second Place points for the drag race event at U.C.C. This is the same Bow Tie that was engulfed in flames and experienced a run away at U.C.C. 2019. It wears the charred front clip like a badge of honor.
Josh McCormack: Perseverance Yields An Eventual 5.60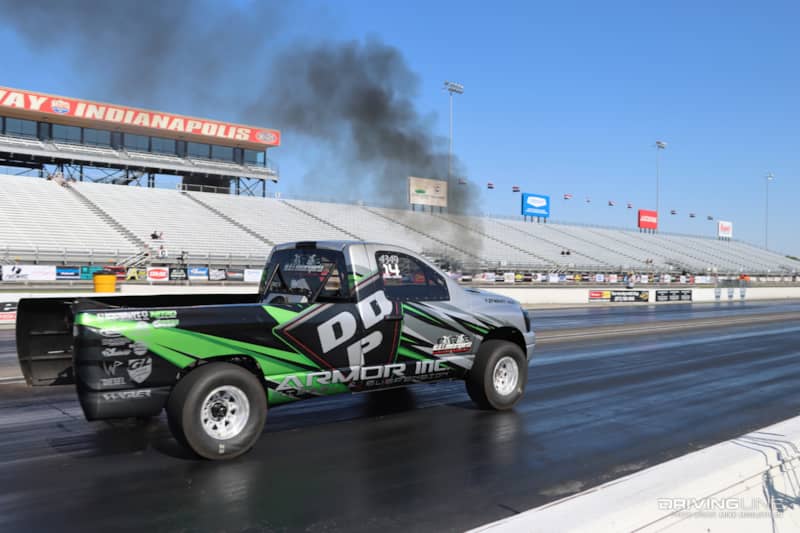 Transmission troubles plagued Josh McCormack's day at the drag strip. Shifting issues traced back to debris present in the transmission's valve body were followed with PCS controller problems and low fluid, all of which made for a tough day of competition. But despite all of that, McCormack was eventually able to put together a 5.60-second pass, good enough for ninth best on the day. In the ultimate show of sportsmanship, McCormack even loaned his spare Cummins power plant to fellow competitor Robby Garcia in order to keep him in the event.
A Two-fer Event, Once Again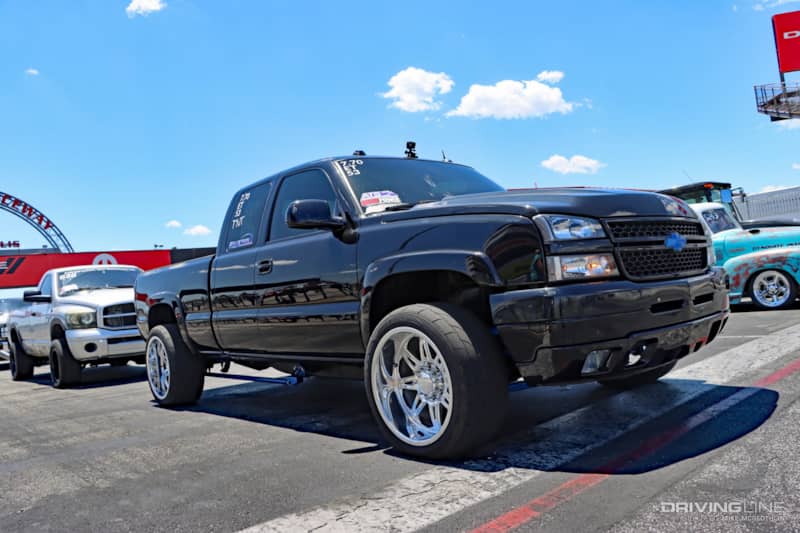 Conducted alongside the Outlaw Diesel Super Series' Outlaw Diesel Revenge event, the two-in-one, UCC/ODR combination welcomed racers from all walks of life the weekend of June 3-5. Here, Nick Morris and his potent, Nitto NT555 RII-equipped Duramax Silverado prepare to run the number—in this case a 7.70-second pass within the 7.70 Index class. Always around in the later rounds of racing, Nick made it to the semifinals before being eliminated. He won the 7.70 Index points chase in 2021 and currently sits fifth in the standings.
Turba Tom: 5.45-Second Eighth-Mile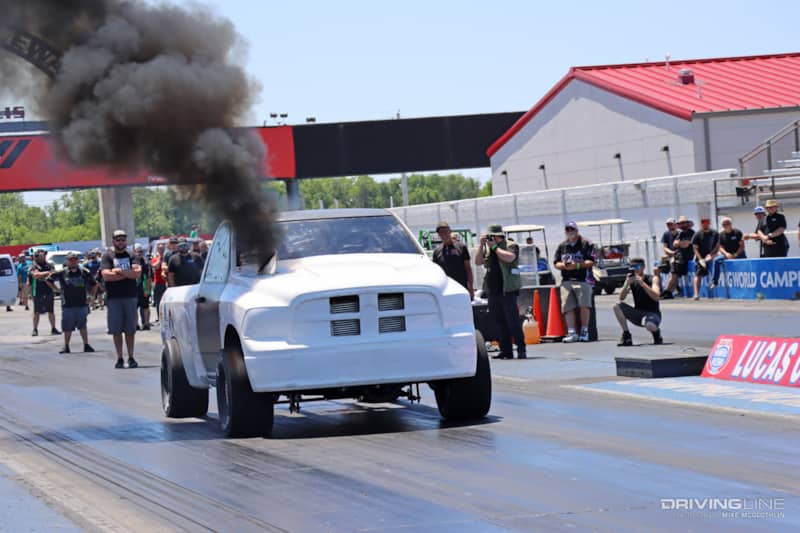 "Turba Tom" Borrell ran similarly to the way he did in 2021. Unfortunately, with the field picking up the pace as a whole in 2022 his 5.45-second pass landed him in Fourth Place on Day 1 vs. the Third Place he achieved last year. Built in a two-car garage at his home in Pennsylvania, Tom continues to prove that the little guy can compete on the big stage. To help him run side by side with the big dogs, Tom works with some of the best names in the diesel industry, including Freedom Racing Engines, Hardway Performance, Muldoon's Performance Transmissions, Santjer Performance Development and AirDog.
Chris Patterson: 5.48-Second Eighth-Mile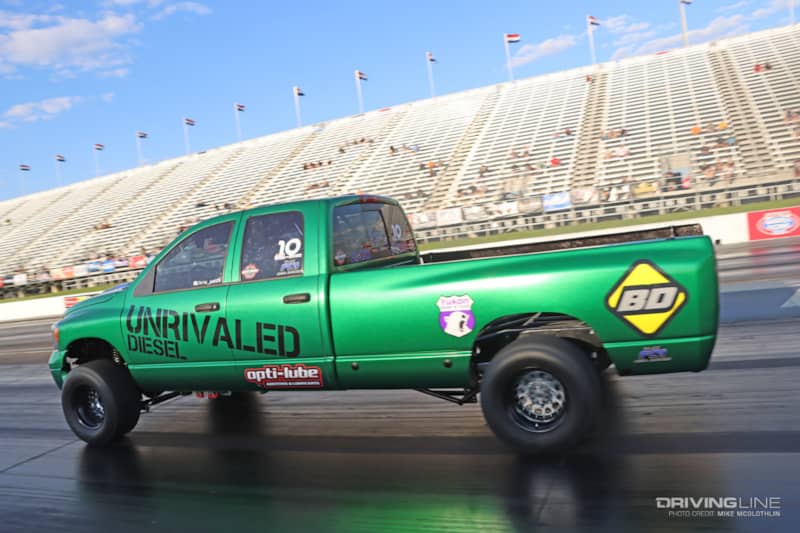 This privateer truck was put together by Chris Patterson of Unrivaled Diesel in Weatherford, Texas. Well-versed in transmissions and engines, Chris built the cast-iron block Cummins and the 48RE transmission that reside in his '07 Dodge Ram 3500. Having cleared 3,089rwhp aboard the dyno at the All Truck Challenge back in the fall of 2021, expectations were high (to say the least) for this truck at U.C.C. 2022—but the dyno competition was reserved for Day 2. On Day 1, Chris's four-door, long bed Dodge all but matched its best pass through the '660 to date (a 5.46), going 5.48 at nearly 137 mph. Pretty impressive for a hefty, 5,500-pound truck.
Charlie Fish: 5.56-Second Eighth-Mile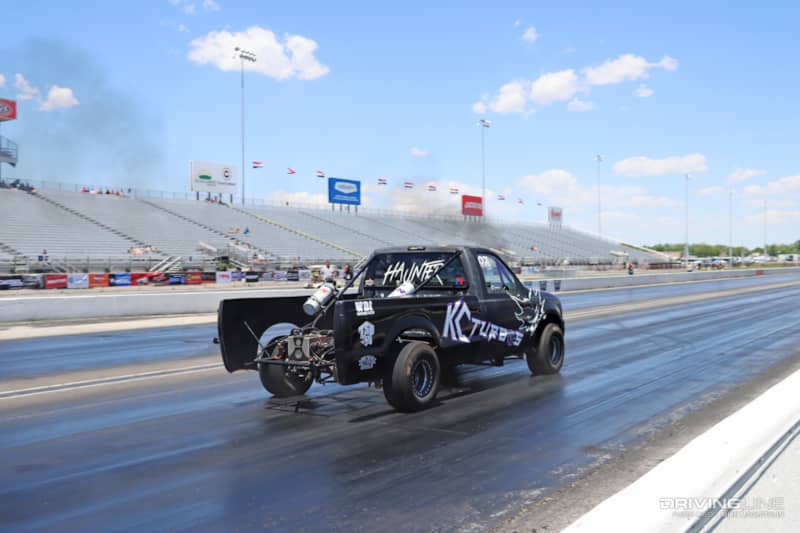 The largest nitrous backfire possibly ever recorded forced Charlie Fish and the KC Turbos crew to replace the front clip, intercooler, windshield, dash, turbo piping and even the engine on this Super Duty less than a week before it was scheduled to compete in Indy. Somehow, some way, Fish made it all the way from his Arizona headquarters with a drivable truck and put up a 5.56-second eighth-mile E.T. at U.C.C. Although it wouldn't count toward his U.C.C. points, his 6.0L Power Stroke-powered Super Duty would also turn in an even more impressive 5.39-second effort at 127 mph later on in the weekend.
More From

Driving Line
As proof that 4-second eighth-miles were in the forecast for U.C.C. 2022, look no further than 

this

 

prediction party we put together back in April.