King of The Hammers 101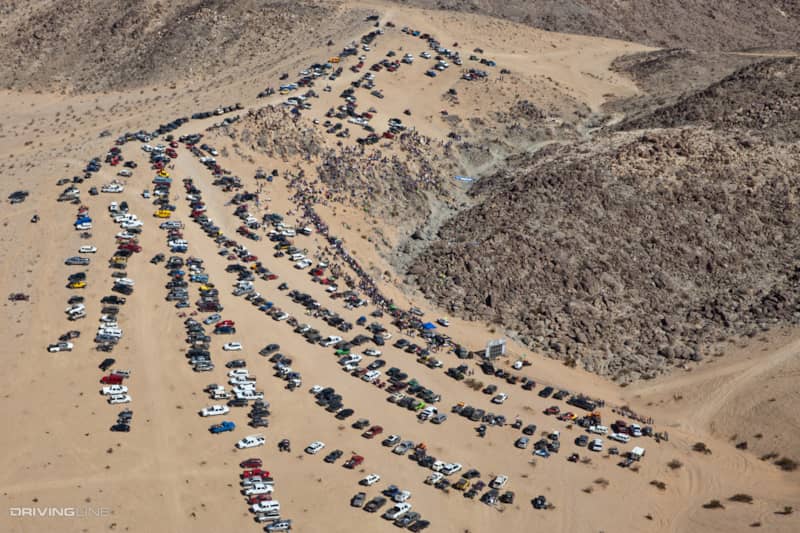 If you're an off-road gearhead, you have likely heard of King of the Hammers (KOH). You know, that Baja-meets-Burning Man race that takes place every February in the desert of Southern California. Now in its tenth year, KOH keeps getting bigger and better each and every time, and the normally empty Means Dry Lakebed in Johnson Valley fills with over 30,000 people during the race. But don't worry, there's plenty of room for more people, so we highly recommend making plans on coming out to see what King of the Hammers is all about firsthand.
What It's All About
What started out as a beer bet between friends for the organizers on a single day has now turned into a full week of festivities, culminating on Friday with the aptly dubbed Nitto King of the Hammers. Considered one of the biggest off-road races in the world, it's also one of the most difficult. Sure, Dakar and the Baja 1000 are no walks in the park, but consider that in 2015 only 17 of 129 competitors finished KOH within the 14-hour time limit. You would think that this would hurt the popularity of the event, but the opposite is true. Vehicle rules are minimal to allow for innovation in this constantly evolving motorsport, making engine placement, tire size and suspension configuration wide open in the premiere 4400 class.
Attending King of the Hammers is free, but you are encouraged to make a $20 donation to keeping Johnson Valley open to motorized recreation. Doing so will get you a wristband that you can use to access in the inner workings of Hammertown, where you can see all of the newest off-road parts from a myriad of vendors, walk through the pits or check out the action on the Jumbotron. A strong word of caution: bring cash, because there are no ATMs in Hammertown. There is cell service, albeit spotty, so see it as an opportunity to detox digitally and turn your phone off. In case you do need to make a call, have someone point out directions to the "cellphone bush".
Day By Day, Play By Play
KLiM King of the Motos (Sunday)
Just as KOH mixes rockcrawlers and desert racers, King of the Motos has entrants from motocross, trials and enduro disciplines competing against each other on one course. In 2015 the race was divided into a 27-mile lap in the morning followed by a three-hour grand prix in the afternoon. Our favorite part of the moto race is when the land rush starts; you won't want to miss them.
Vision X East vs West Shootout (Monday)
This event is arguably as entertaining at KOH itself, and can take credit for why so many people show up early to Hammertown. On Monday night, rigs ranging from homebuilt crawlers to Southern rock bouncers compete for the fastest time up Backdoor, a trail that contains a ten-foot-tall ledge in the middle of it. There are stadium lights and announcers with thousands of people lining each side of the trail, cheering and heckling the drivers.
Qualifying (Tuesday)
Rather than determining starting order at random, a short course near Hammertown is used to put the fastest vehicles up front on race day. The course contains all of the elements of KOH, except in a smaller package. Live streaming of the biggest names takes place during the "Power Hour", but the best seat in the house is right next to the qualifying course.
Polaris UTV Race (Wednesday)
The average Ultra4 car uses 40-inch tires. But the average UTV uses 29-inch tires, and they race on many of the same trails! Few finish each year, but these are the closest vehicles to stock that you'll find racing at KOH. Mitch Guthrie Jr. has dominated the UTV race nearly every year; will 2016 be the same?
Smittybilt Every Man Challenge, aka "EMC" (Thursday)
The EMC contains three classes: the Rubicon Express Modified Class (4500), the Pro Comp Stock Class (4600) and the Legends Class (4800). Legends is the fastest growing class in KOH, with close competition at every race. Each class has specific rules to ensure a level playing field, making the EMC a true driver's race.
Nitto King of the Hammers (Friday)
When the main race takes place, your best bet at following the action is at Backdoor or Chocolate Thunder, which typically has a Jumbotron on location. Hammertown is also a great place to see your favorite teams pass through the short course area and make pit stops, also outfitted with a Jumbotron. If you venture further out to watch the race, be aware of your surroundings and remember to stay back at least 150 feet from the racecourse.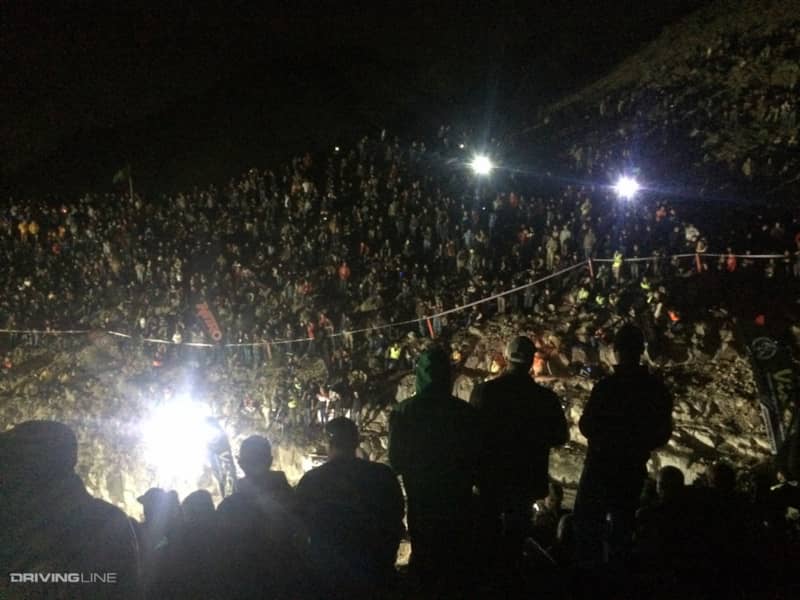 Much like KOH itself, the East vs West Shootout started with a bunch of friends racing up Backdoor. Now, it is a huge event in its own right, with lights, announcers and a legitimate timing system. Last year Alabama's Bobby Tanner set the fast time in his rockbouncer Screamin' Blue. Will the South rise again this year?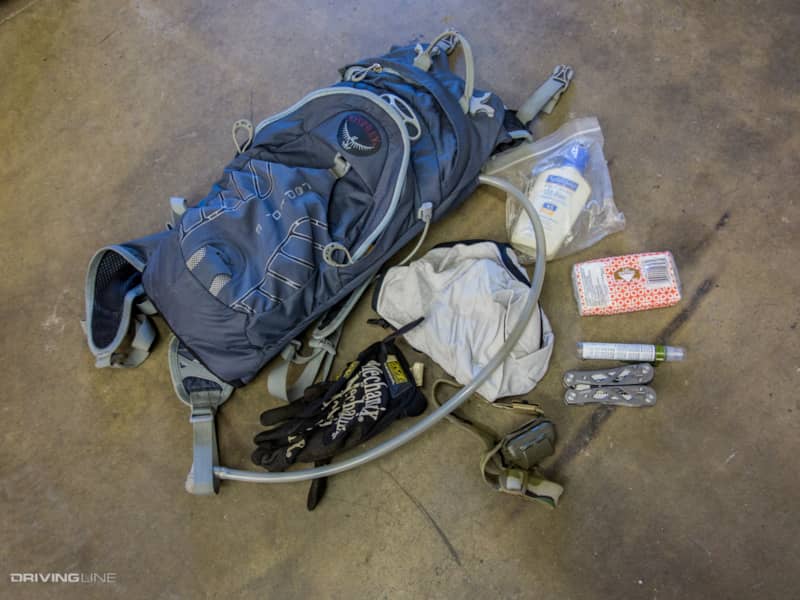 Just because it's winter doesn't mean you don't need to drink water. The desert can dry you out in a hurry, so we recommend carrying a water bladder with you. This also gives you a place to put your hat, sunscreen, chapstick and other small items that you will want to keep with you at all times.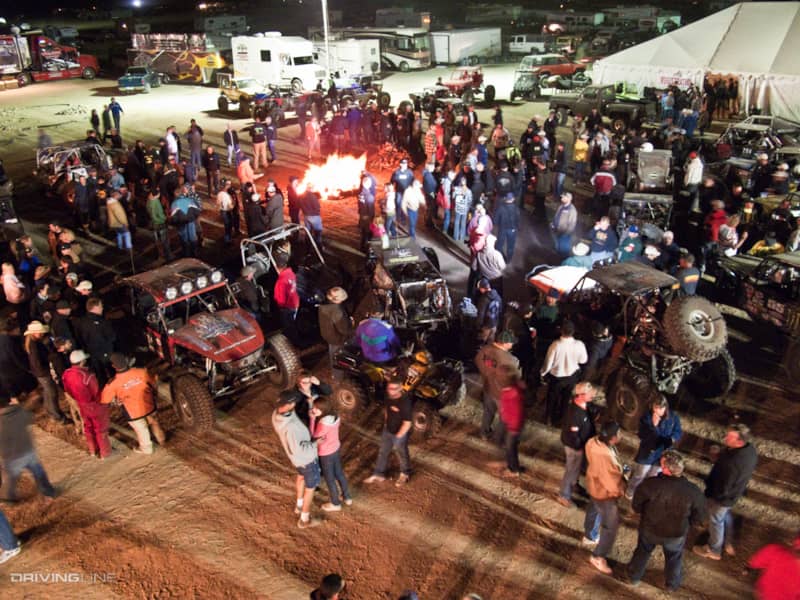 There is a community fire every night at Hammertown. It's a great place to gather with friends and/or make new ones. There is firewood for sale on the lakebed, which can be useful if you're coming from out of state, as California does not allow wood to be brought in from other states.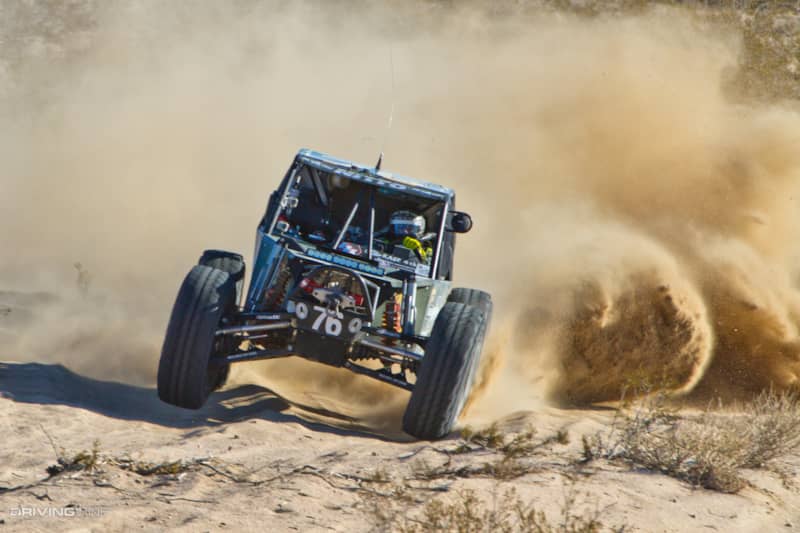 The KOH course typically has a long desert loop followed by technical rockcrawling, which allows the fast drivers to get to the front of the field before entering narrow canyons that often only have one line through them.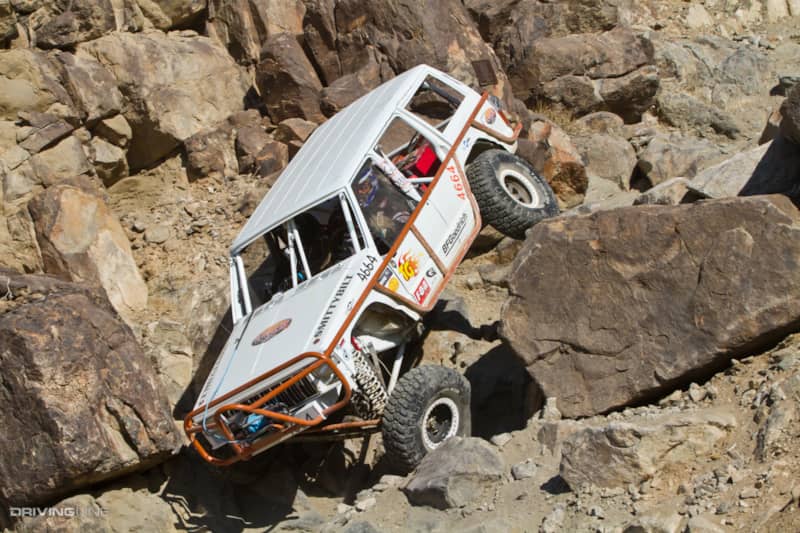 The Every Man Challenge requires competitors to have DOT approved tires that are a maximum of 37-inches tall (35 for the Stock Class). Despite this limitation, the EMC course is tougher than KOH courses of a few years past. That's how fast this motorsport is progressing.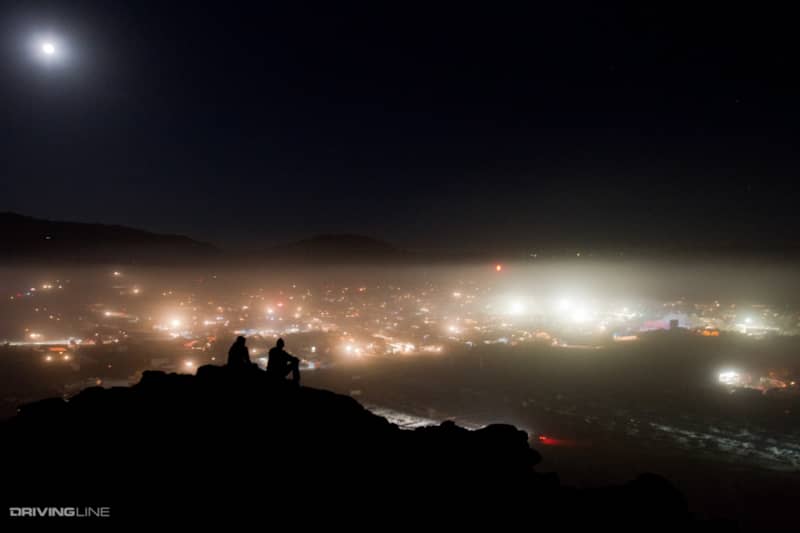 The typically empty Means Dry Lakebed swells to more than 30,000 people during KOH. Still, you don't need to go very far out of Hammertown to escape the madness and enjoy the stillness of the desert.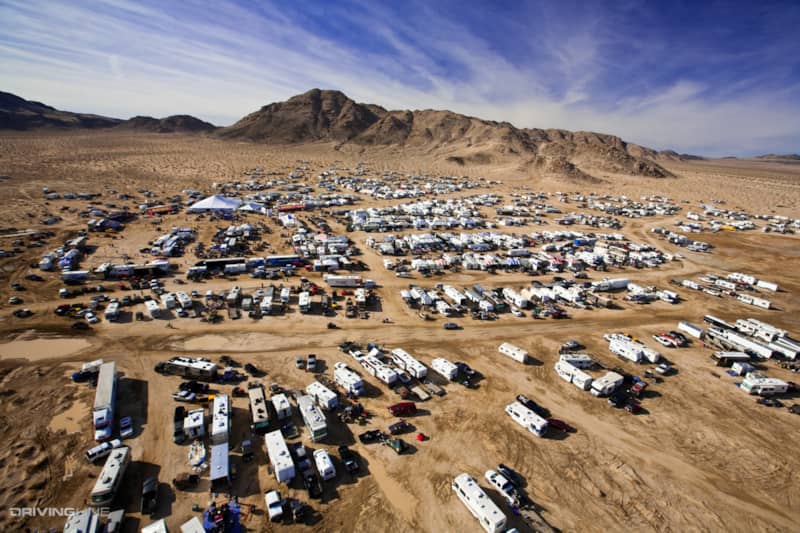 This photo was taken in 2010, when Hammertown was a first come, first serve affair. Now it's much more organized, with assigned spaces for race teams and vendors. Beyond the gates of Hammertown, the desert is still a free for all. Some camp close to the activity, while others choose to stay further away where there is more space.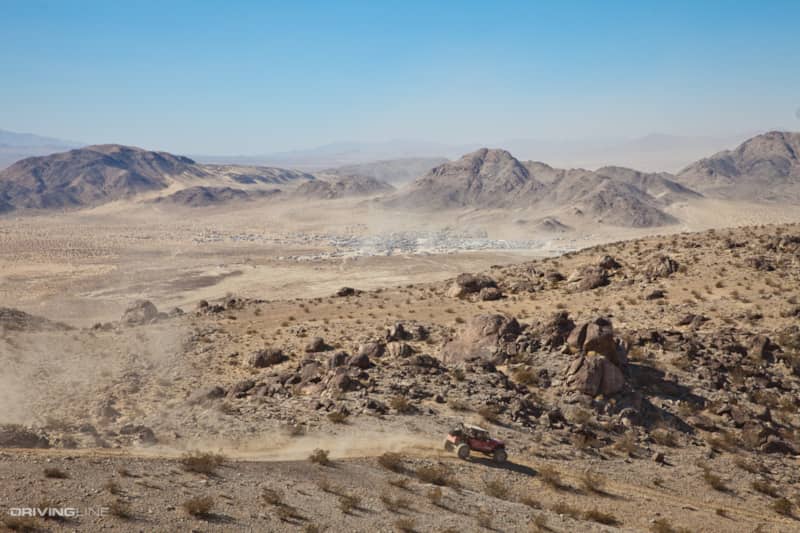 Johnson Valley is the largest OHV area in the United States, comprising of more than 96,000 acres with elevations range from 2,300 feet to 4,600 feet. This is the only place in the world that could host an event like King of the Hammers.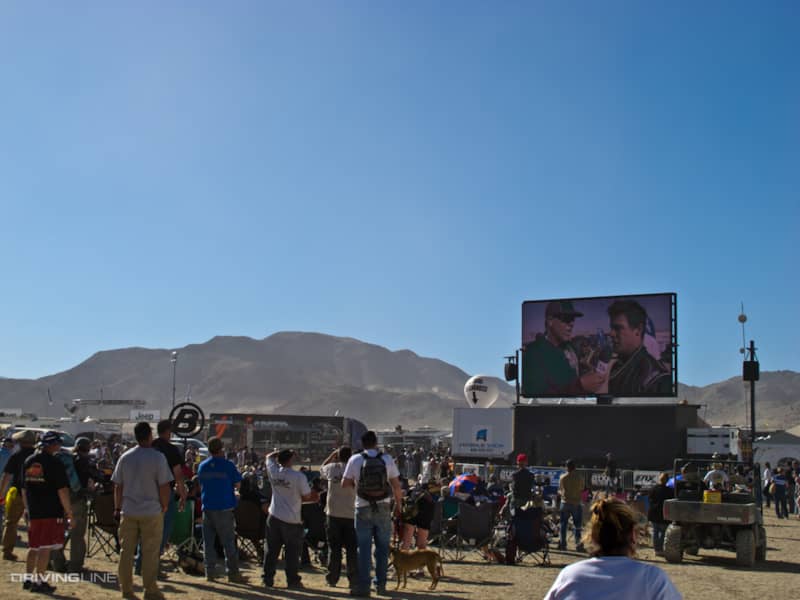 A Jumbotron located in the main camp with a live feed and commentary on race day make it one of the best places to watch the action from. In the past a second Jumbotron could also be found at Chocolate Thunder.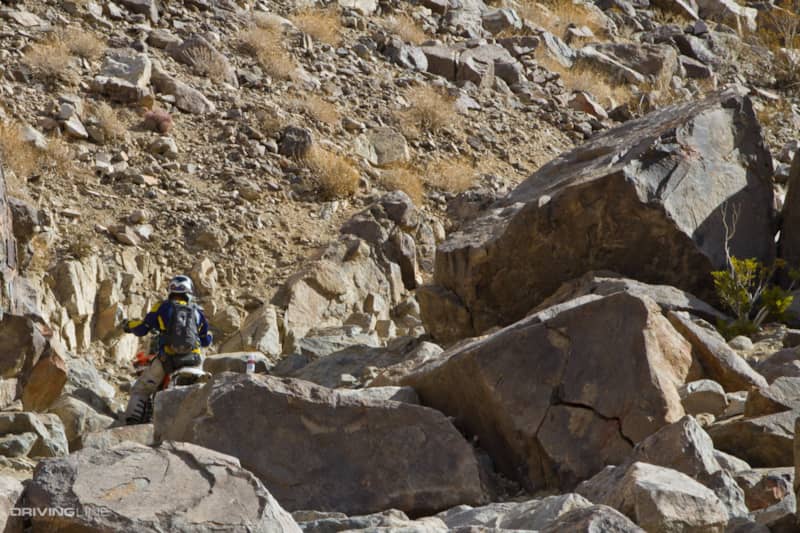 Can you spot the motorcycle rider? His size relative to the rocks gives you an idea of how difficult these trails are to traverse, regardless of whether you are going up or down the canyon.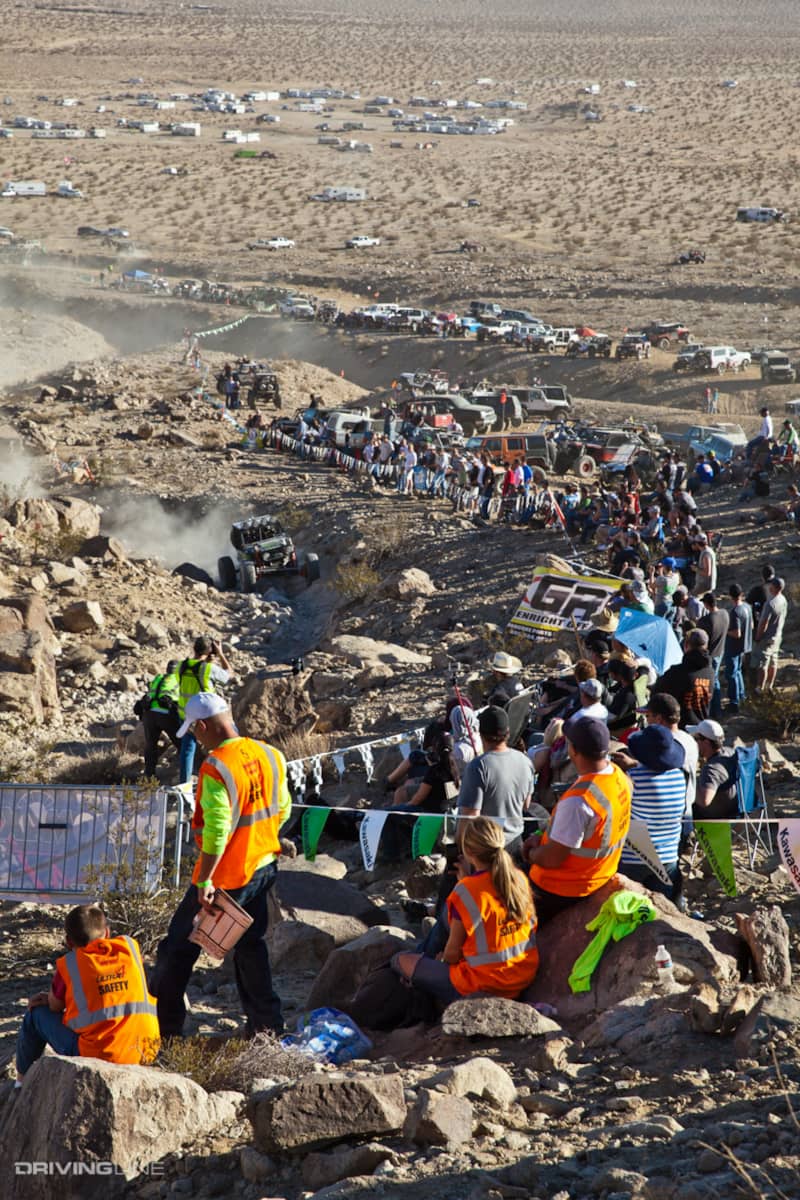 Qualifying is used to determine starting position. There are also a few lucky participants who qualify for KOH through the Last Chance Qualifier if they are fast enough. This is how Loren Healy first got into the King of the Hammers, and he went on to win the race!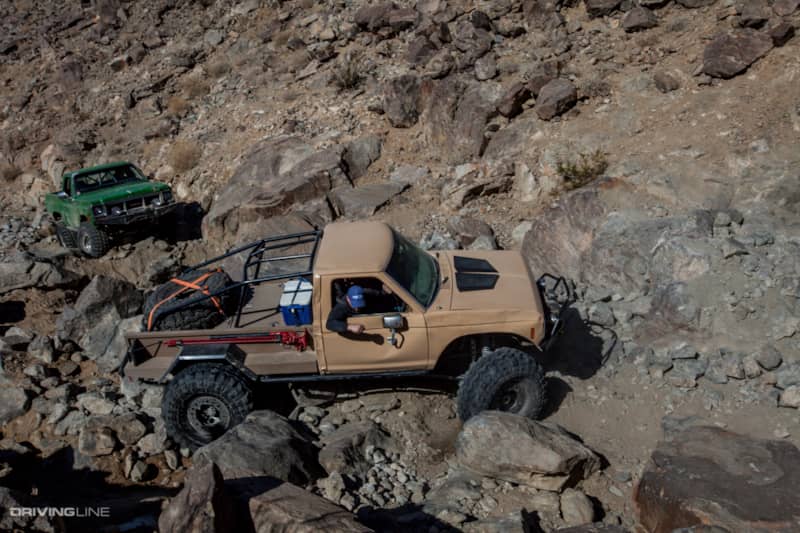 As more activities are added to KOH week, it becomes more difficult for recreational wheelers to access the trails, particularly with many teams prerunning the course. If you do bring your rockcrawler, be courteous to others and remember that there are many more trails than those used for the race.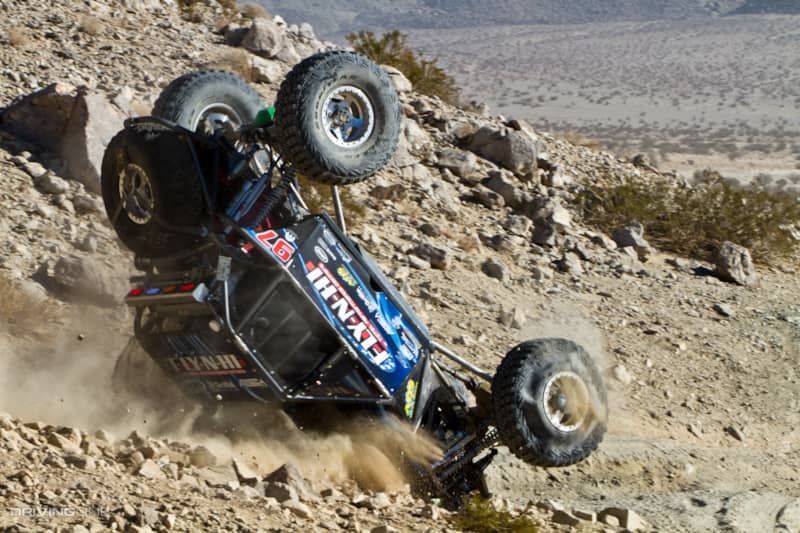 Carnage is not uncommon at KOH. Safety requirements such as helmets, five point harnesses and window nets ensure racer safety though. Since spectators don't benefit from these same safety devices, remember to stand back at least 150 feet from the course in order to ensure your safety.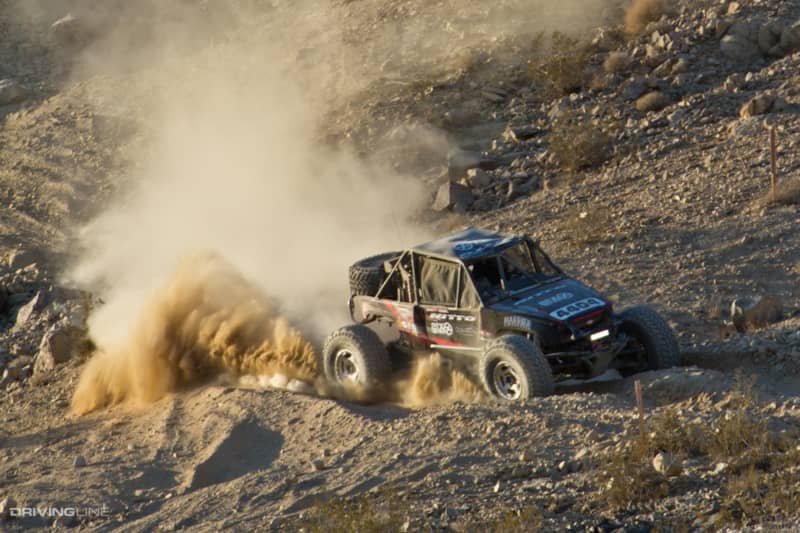 Ultra4 cars are built to be as low as possible for increased stability, but still need enough ground clearance to successfully navigate through huge boulders. There doesn't seem to be one surefire formula for success, which makes the racing that much more interesting.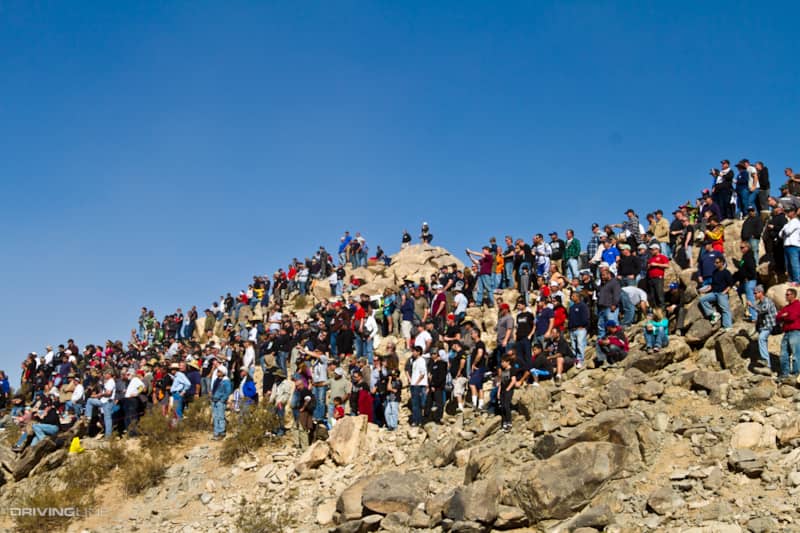 Once you have found a good spot to watch the race, you won't want to leave. This is why we recommend bringing water, snacks, sunscreen and your camera (and backup charging supplies) with you before leaving camp.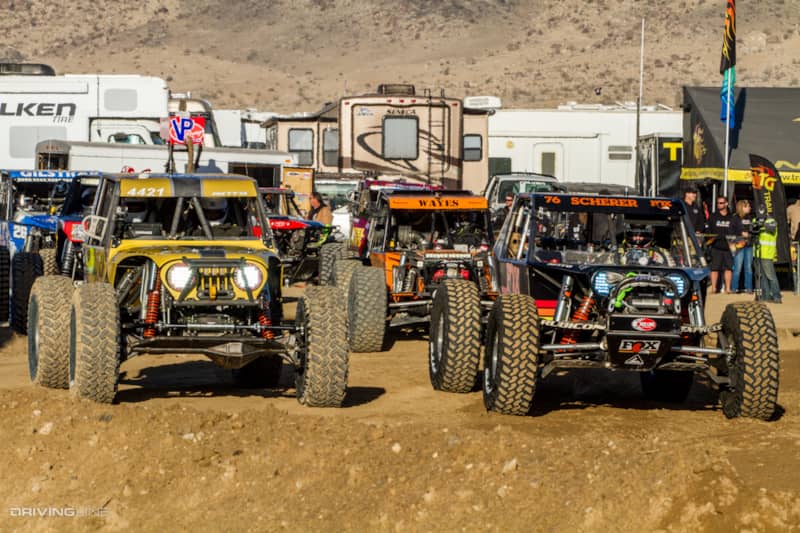 Vehicles leave the starting line two at a time in 30-second intervals at KOH. As a result, the first vehicle across the finish line is not always the fastest based on adjusted time. There are advantages to starting up front though, including less dust in the desert and less traffic in the rocks.
There are street signs in Hammertown to help you find your way around, which can be cross-referenced to a map, where each vendor and team has an "address". CartoTracks even has a cool app that will allow you to download a map and show your position on it using your smartphone.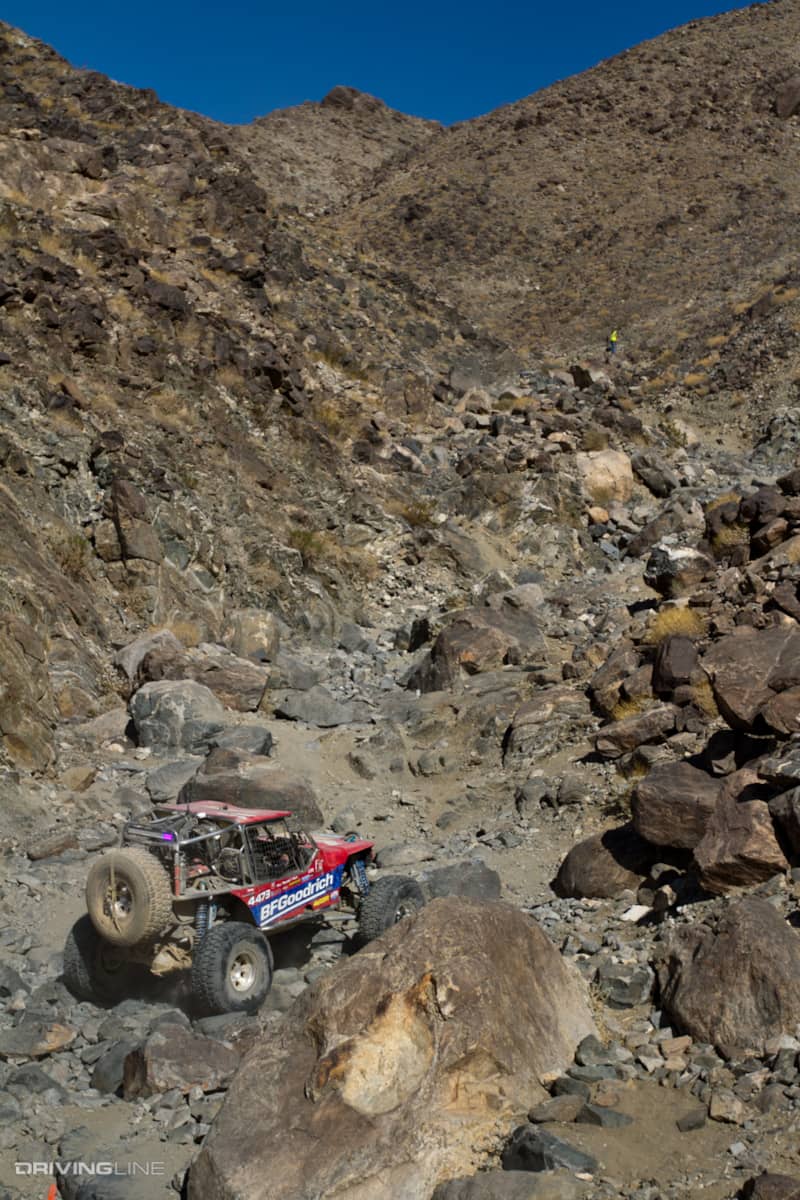 Do you see a trail here? Wrecking Ball is the type of trail that would take most off-roaders all day to complete. At King of the Hammers, the competitors run it twice, in addition to several of the other infamous Hammers trails.
(Photos: Harry Wagner)
Want to see more 2016 King of the Hammers action? No problem; check all our frequent updates by CLICKING HERE!