Budget Diesel Mods: '07.5-'17 Cummins
Building on what common-rail injection made possible on the 5.9L Cummins, the 6.7L version is (arguably) better in every possible way. First and foremost, thanks to the added displacement of the 6.7L Cummins, '07.5 and newer Rams can turn out huge torque numbers and spool larger turbochargers. In fact, with the stock injectors still in the mix you can run an S400 framed turbo without any ill side-effects (lag, heat or surging). Second, the fuel rail, fuel rail feed lines, injector lines and crossover tubes are all larger on the 6.7L. Finally, the 6.7L mill's injection system produces more pressure than what was observed on the 5.9L.
But, while the 6.7L Cummins benefits from injection system improvements and an obvious displacement advantage over the 5.9L, the old "weak transmission" drumbeat continues with the '07.5-present Rams. The 68RFE six-speed Chrysler automatic is rarely up to the task of harnessing increased horsepower and torque. Luckily, aftermarket tuning of the transmission control module (TCM) is available, which helps prolong the life of a stock 68RFE, considerably. However, for those looking to make big power with the 6.7L Cummins, there is no getting around the fact that you'll have to spend big bucks on a transmission solution. Whether you choose to build the 68RFE ($8,000), convert to a built 48RE ($11,000) or swap in a six-speed manual ($6,000), you're looking at an expensive proposition.
All transmission woes aside, the 6.7L Cummins is the current platform of choice in diesel motorsports. From truck pulling to drag racing to dyno competitions, the 6.7L dominates the performance landscape. Below, we'll get started with the mods that the stock 68RFE will let you get away with, followed by a sound 550 to 600rwhp recipe and an all-out, 700rwhp parts combination.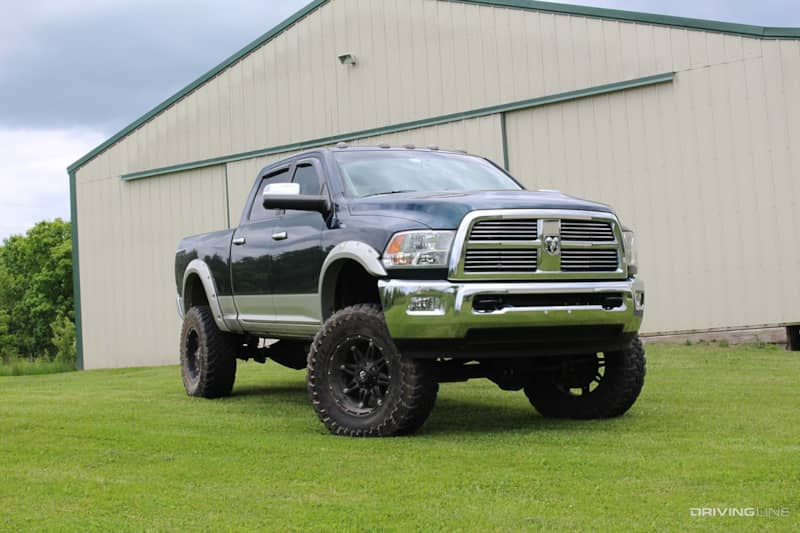 Things to Keep in Mind:
Beyond simple bolt-ons—and due to the common-rail injection system—these trucks can be fairly expensive to upgrade.
Like all Cummins-powered Dodge Rams, automatic transmission versions will need to be upgraded from the get-go if plans for big power are on the table.
The average life span of common-rail injectors is approximately 200,000 miles, so if you just bought a high-miler, don't be surprised if they need to be replaced.
More than 80 percent of all heavy-duty Ram trucks sold are equipped with automatic transmissions. As such, all budgets have been configured with an assumption that your truck is equipped with the 68RFE automatic.
Owners of manual transmission trucks can save themselves a lot of money by not having to build up the 68RFE automatic, but a reputable dual disc clutch should be installed at higher power levels.
Each budget assumes you're starting new, with a bone-stock truck.
Most of the items listed in these budgets are things that you and a buddy (or novice mechanic) could install in a weekend. As such, the labor to have these parts installed has purposely been excluded.
Due to slight changes in third and fourth generation Ram trucks, pricing on parts and tuning can vary. Typically, model years are broken down into three sections: '07.5-'09, '10-'12 and '13-'17.
$2,100–$2,300 Budget (450–500rwhp)
EFI Live with TCM Tuning: $989-$1,200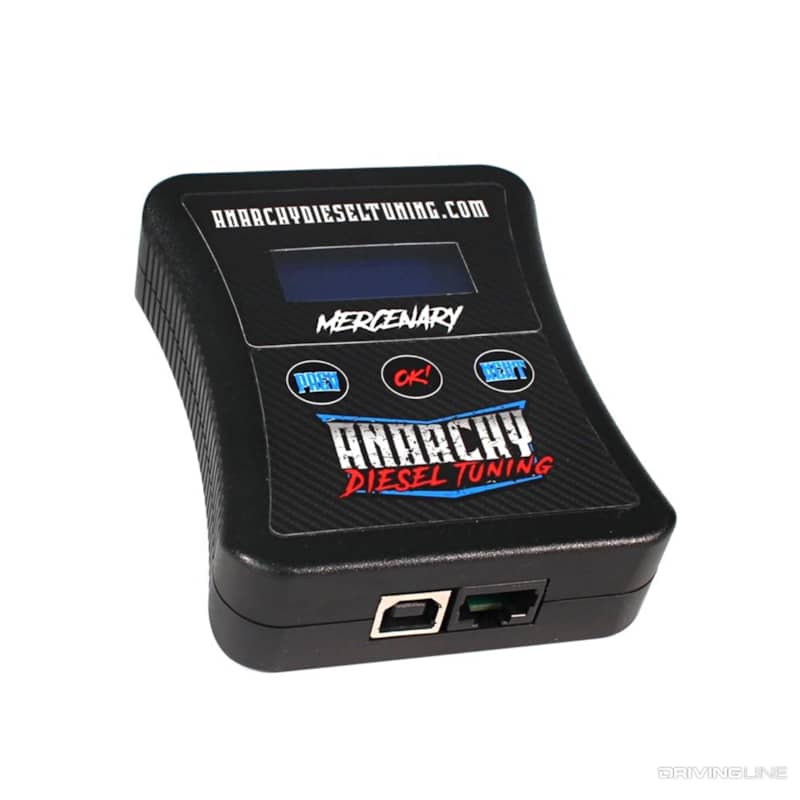 For utmost reliability, drivability and performance, there is no substitute for EFI Live tuning. EFI Live-based programming from a reputable tuner can yield as much as 175 extra horsepower at the wheels. Thanks to many aftermarket companies also offering TCM tuning (which adds roughly $250 to $300 to the cost of ECM tuning), the 68RFE automatic transmission can be kept alive in the 500rwhp, 1,000 lb-ft range.
Edge Insight CTS2: $680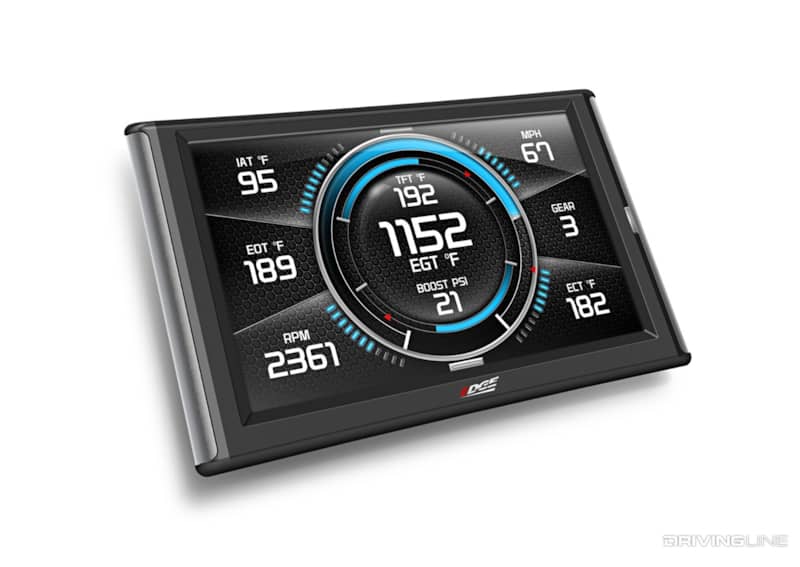 The Insight CTS2 from Edge Products is the most popular product in the industry for monitoring your truck's powertrain. Its 5-inch color touch screen allows you to view as many as nine parameters at once. To keep an eye on boost and EGT you will have to install the optional EGT and boost sensor kits (included in the price shown above). We will note that you can save a couple hundred bucks by installing a set of boost, transmission temp and pyrometer analog gauges along the A-pillar.
5-Inch Exhaust System: $420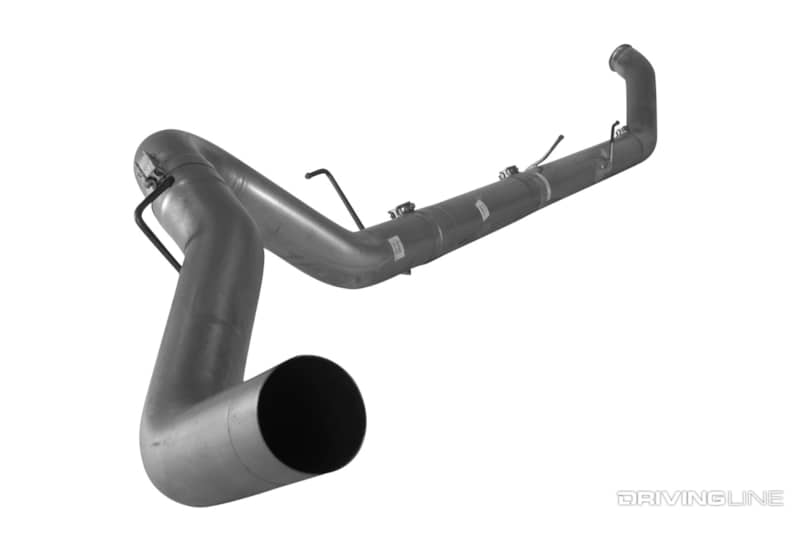 A 5-inch diameter, turbo-back exhaust system will allow the 6.7L Cummins to breathe a bit better and will also help cool EGT. A basic, aluminized system void of a muffler or exhaust tip can be had for a little more than $400, while a bare-bones stainless steel version can be had for approximately $530.
$19,500–$19,800 Budget (650–700rwhp)
60-Percent Over Injectors: $3,300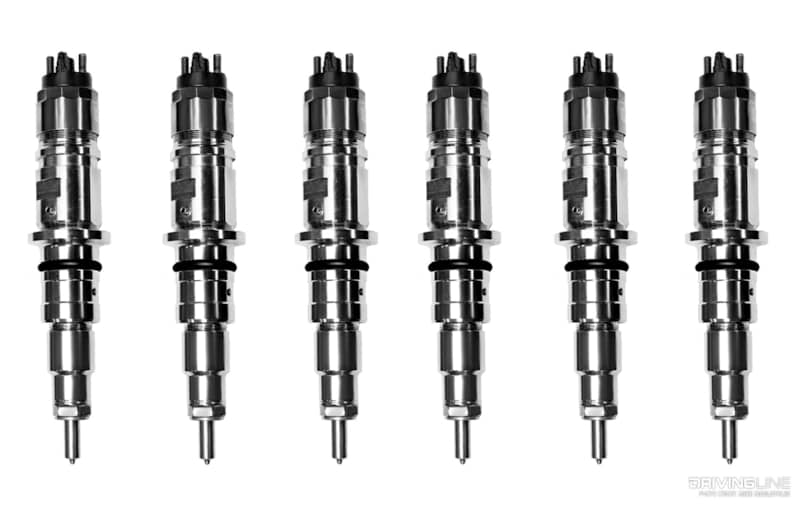 Also known as a 120hp injector, these units are equipped with 60-percent over nozzles. While a set of smaller (50hp) injectors can get a 6.7L Cummins into the 650rwhp range, it takes max effort tuning to get there, which means added power comes at the expense of the engine seeing more heat. By using a larger injector to get to this power point, the tuning can be left conservative and the engine will see a lot less stress.
PPE Dual Fueler Kit: $2,000
After adding larger injectors, the factory Bosch CP3 injection pump won't have the capacity to adequately support them. Therefore, a modified CP3 (often referred to as a "stroker" pump) or a second injection pump is required. Being that the price of a typical stroker CP3 (10mm) matches the cost of Pacific Performance Engineering's dual fueler kit ($2,000), for us it's a no-brainer to go with dual pumps. With two CP3s working together (one is supplied with this kit), the workload of producing injection pressure is shared. In addition to being easier on the pumps themselves, two stock displacement CP3s can support well north of 1,000rwhp—meaning this is likely the last injection pump upgrade you'll ever have to make.
Aftermarket Fuel Supply System: $739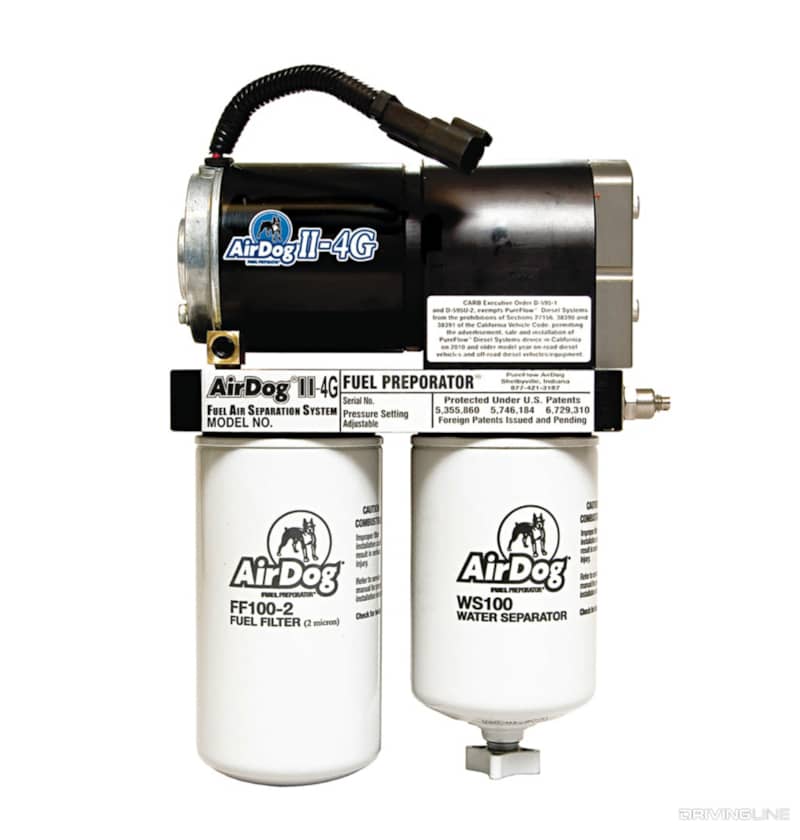 With a second CP3 feeding the injectors and larger injectors in the engine, a low-pressure fuel supply system that can keep up is mandatory. An AirDog II system with a 165 gph flow rating will have no problem maintaining 15-17 psi worth of supply pressure for the CP3s and is known to support as much as 800rwhp.
Second-Gen Turbo Kit with S400: $3,000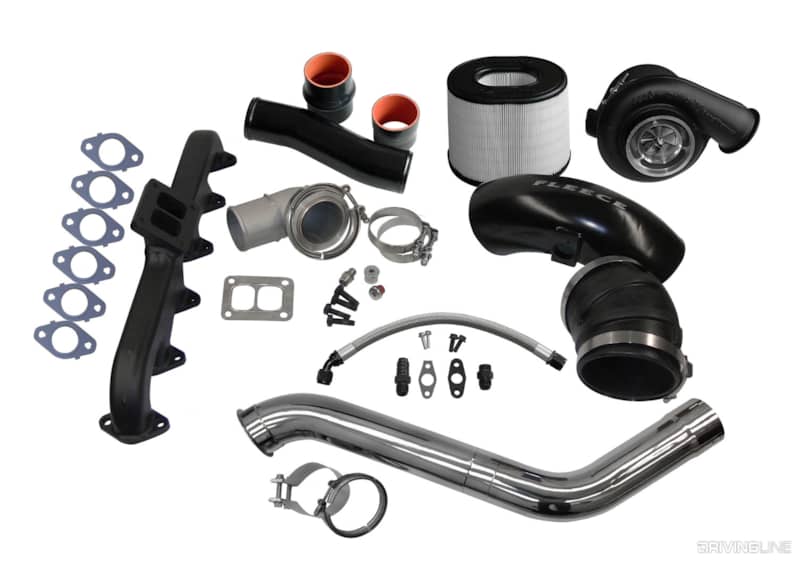 A second-gen style turbo system that incorporates a BorgWarner S400 is the perfect fit for a 6.7L Cummins. Even with stock injectors, the engine can spool an S400 framed charger sufficiently, thanks to its displacement bump over the 5.9L. Kits like these (available from companies such as Fleece Performance Engineering, Stainless Diesel and Industrial Injection) facilitate the use of a more efficient exhaust manifold (the style used on the '94-'02 5.9L Cummins) and allow a higher-flowing turbo to be utilized (i.e. an S400). When combined with the aforementioned 60-percent over injectors, everything from a S463 to an S472 can provide exceptional drivability throughout the rpm range.
ARP Head Studs: $415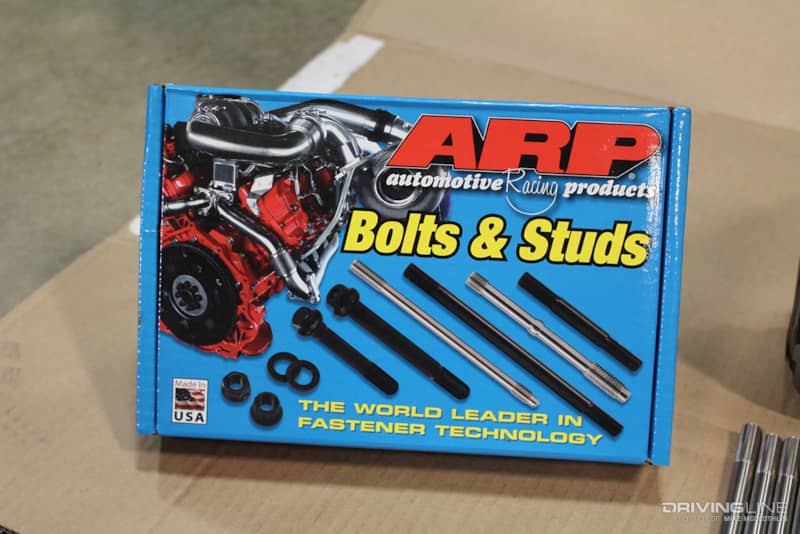 Due to the 6.7L Cummins' ability to produce higher cylinder pressure (i.e. torque) than its 5.9L predecessor, head studs should be included in any plans for higher horsepower. When venturing beyond this point, an O-ringed or fire-ringed head and Custom Age 625+ studs should be considered to make sure the head doesn't budge.
Built 68RFE: $8,000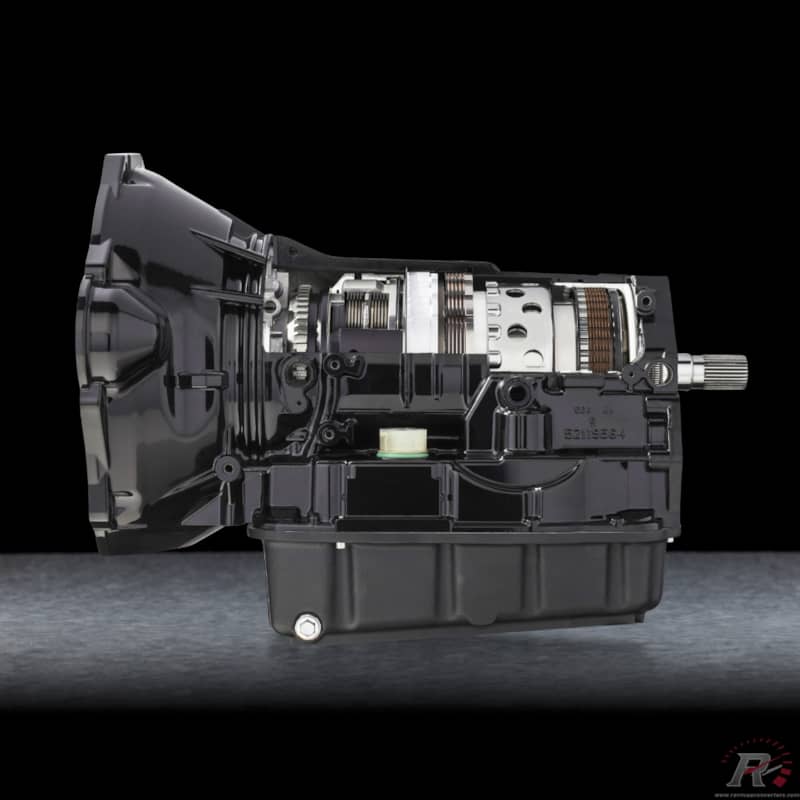 At this power level, cracking open the 68RFE automatic and reinforcing it isn't a suggestion, it's a requirement. If you daily drive or tow with your truck, go with a built 68RFE and spot-on TCM tuning. If you want to use your truck as a hot-rod, invest in a 48RE swap. If you don't mind shifting your own gears, a G56 or NV5600 manual might be your thing. Surprisingly, a built 68RFE is still not as reliable as you would think. While some live at higher power (we'll note that we've always heard good things about the units built by RevMax Converters, shown above), many others don't seem to—and the parts are expensive when they break. You should always drive sensibly with a 68RFE in the mix (stock or built) and avoid aggressive, boosted four-wheel drive launches.
EFI Live with TCM Tuning (Mentioned Above): $989-$1,200
Edge Insight CTS2 (Mentioned Above): $680
5-Inch Exhaust System (Mentioned Above): $420
$20,700–$21,000 Budget (700–800rwhp)
100-Percent Over Injectors: $3,900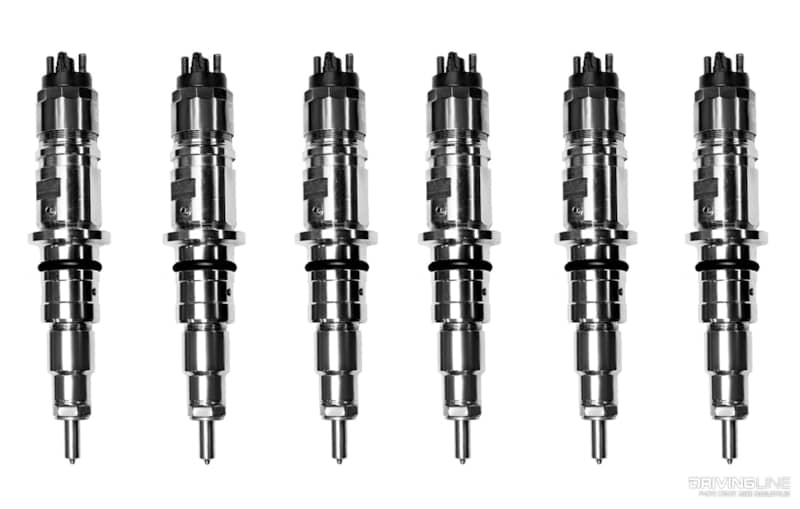 Based on the same premise as the 60-percent over injectors we recommended in the 650-700rwhp budget, it pays to go with an injector that can exceed your power goal rather than one that barely meets it. Additional fueling from big injectors can always be dialed back via ECM tuning. A set of 100-percent over injectors can be used to make 1,000rwhp (or more) or be fine-tuned to make a street-friendly, daily drivable, yet race-worthy, 700 to 800rwhp (as is the case here).
Second-Gen Turbo Kit with S472 or S475: $3,600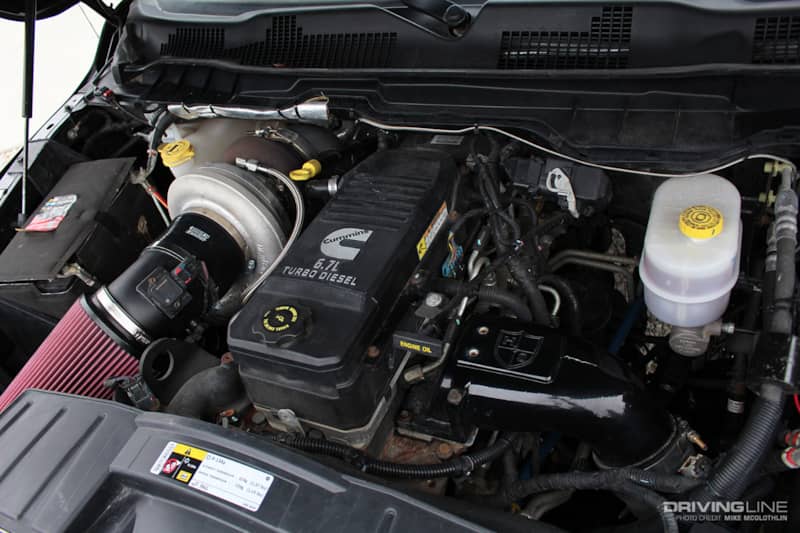 Adding a 72mm or 75mm S400 in conjunction with a second-gen style turbo system can easily produce 700 to 800rwhp, along with being well-mannered and completely drivable on the street. The key at this power level is keeping the built 68RFE alive (manual transmission owners, you're $6,000 ahead at this point, needing only a dual disc clutch upgrade…namely a DDC3600G from South Bend).
PPE Dual Fueler Kit (Mentioned Above): $2,000
Aftermarket Fuel Supply System (Mentioned Above): $739
ARP Head Studs (Mentioned Above): $415
Built 68RFE (Mentioned Above): $8,000
EFI Live with TCM Tuning (Mentioned Above): $989-$1,200
Edge Insight CTS2 (Mentioned Above): $680
5-Inch Exhaust System (Mentioned Above): $420