Budget Diesel Mods: LLY Duramax
In terms of performance potential, the LLY Duramax offers more of the same, but it also brings with it a few advancements that separate it from the LB7. First, its injectors use a different design and are externally accessible (not located under the valve covers). Second, a higher-flowing and variable geometry turbocharger—the Garrett GT3788VA—is used to feed the engine. The revised common-rail injectors eliminate what proved to be the Achilles Heel of the LB7 and the VVT turbo provides an improvement in drivability throughout the entire rpm range. However, as is the case with each generation Duramax, the LLY still has its quirks. Primarily due to airflow restrictions (and the fact that the LLY came with the smallest radiator of any Duramax-powered truck), the '04.5-'05 GMs are notorious for overheating.
But don't be discouraged! Most of the LLY's excessive heat issues can be resolved fairly easily. Trust us, this engine can dish out just as much horsepower as any other Duramax. In the power recipes listed below, we'll show you how to integrate affordable weak-link fixes into your performance game plan. Starting with a $2,000 budget and working our way up, the following hand-picked parts combinations are specifically designed to allow you to not only improve the power of your LLY, but enjoy the added power for the long haul.
Stay tuned. We'll show you the best way to modify the highly-desired LBZ next.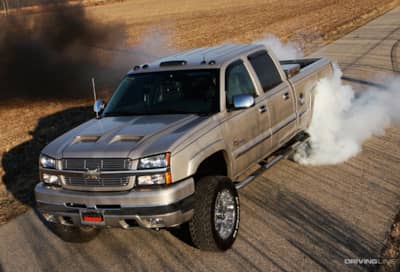 Things to Keep in Mind:
Beyond simple bolt-ons—and due to the common-rail injection system—chasing horsepower with these trucks can be fairly expensive.
Like all Duramax-powered GMs, automatic transmission versions will need to be upgraded early on in the modification process, namely if you plan to go much further than 400rwhp.
The LLY engine is known to run warmer than others, so be prepared to add a few preventative items in order to combat this, especially if you plan to do any heavy towing.
At any power level beyond 600rwhp, the LLY's connecting rods are at risk of bending.
Owners of manual transmission trucks can save themselves a lot of money by not having to build up the Allison automatic ($12,000 vs. $17,000 for a 640rwhp setup), just make sure you go with a reputable dual disc clutch to handle the power.
Each budget assumes you're starting new, with a bone-stock truck.
Most of the items listed in these budgets are things that you and a buddy or novice mechanic can install in a weekend (with the exception of the transmission build and EFI Live tuning). As such, the labor to have these parts installed has purposely been excluded.
$2,000 Budget (425–450rwhp)
EFI Live with TCM Tuning: $1,000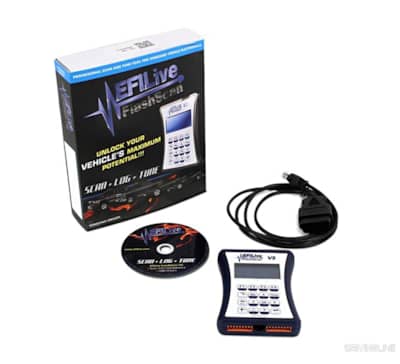 Precise ECM tuning via EFI Live not only adds considerable power to these trucks, but finely-cultivated calibrations can also improve drivability, fuel efficiency and even reliability. However—and just as is the case with the LB7-powered GMs—while the common-rail injection system and stock turbocharger can support as much as 530rwhp with EFI Live tuning, the stock Allison transmission won't last (especially the five-speed version used in '01-'05 trucks). For this reason, most aftermarket tuners offer "stock transmission" calibrations, which produce less peak horsepower and torque than "built transmission" tuning files.
4-Inch Exhaust System: $260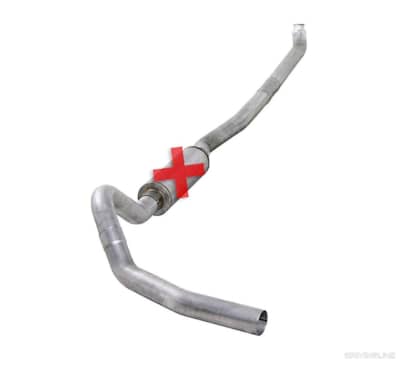 Most of the exhaust systems you'll find for the LLY Duramax can also be used on the LB7 ('01-'04), LBZ ('06-'07) and even the LMM ('07.5-'10). The 4-inch diameter, downpipe-back, aluminized exhaust system (shown) from Diamond Eye Performance is one such system. It will run you $250 to $270, depending on where you purchase it.
Edge Insight CTS2 Monitor with EGT Starter Kit: $550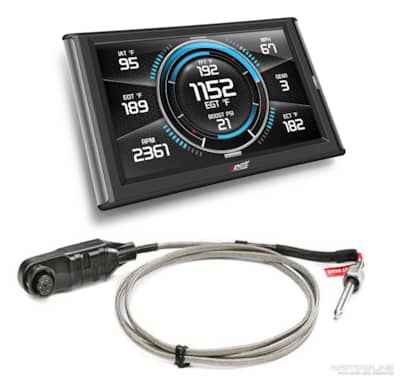 While installing analog gauges along the A-pillar will save you a few bucks (roughly $100), Edge Products' Insight CTS2 monitor allows you to view every parameter the ECM keeps track of. This includes keeping tabs on key vitals such as rail pressure, boost and transmission, coolant and engine oil temperature. The price listed above includes Edge's optional expandable EGT probe kit, which is highly recommended any time you're running performance-oriented tuning.
Turbo Inlet Manifold: $195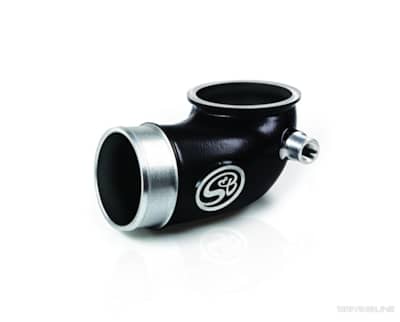 From the factory, the LLY came with a highly restrictive turbo inlet manifold (also known as the turbo mouthpiece or air intake elbow), which in turn made the turbocharger work harder to build sufficient boost. Replacing the stock unit with S&B Filters' high-flow turbo inlet manifold solves most of the LLY's overheating problems.
$9,200 Budget (500–530rwhp)
Built Allison 1000 Transmission: $6,000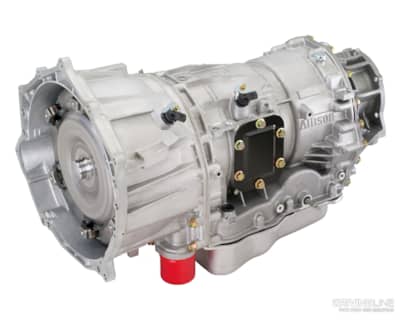 Reinforcing the five-speed Allison 1000 is mandatory if you need your truck to send 500hp and 1,000 lb-ft or more to the pavement on a regular basis. Most Allison builds entail a triple-disc torque converter, upgraded clutches, improved clutch count in areas that require it, new frictions, steels, a performance-oriented valve body with fresh solenoids, a modified pump and all new bearings and seals. As for ZF-6-equipped (manual transmission) trucks, all you'll need is a clutch upgrade such as the 650hp rated street dual disc from South Bend ($1,200).
Aftermarket Fuel Supply System: $624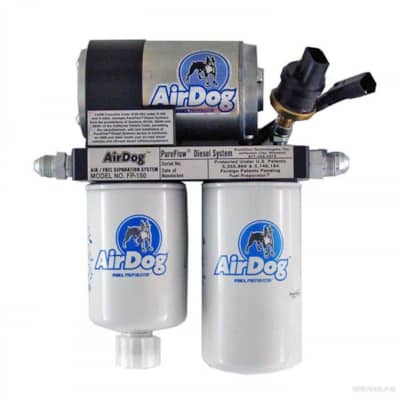 Just like the LB7-powered trucks, the LLY-powered versions came without a lift pump. Instead, the CP3 injection pump relies on its internal suction valve to pull fuel from the tank. Beyond the stock power level, a lift pump is always a wise supporting modification to add. The all-inclusive, AirDog system pictured above flows 150 gph at 8 to 10 psi and supports up to 800rwhp.
EFI Live with TCM Tuning: $1,100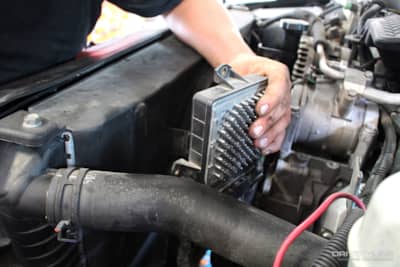 With a built Allison bolted behind the LLY, your tuner has free reign to unleash another 50 to 80rwhp via custom EFI Live tuning. In addition to dialing in the ECM, make sure you opt for TCM (transmission control module) tuning. Not only does TCM tuning aid transmission longevity, but it also helps optimize the truck's shift-strategy for utmost efficiency.
3-Inch Downpipe: $130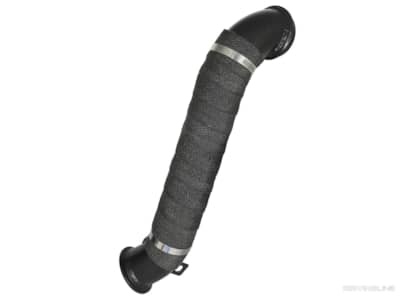 Replacing the restrictive factory downpipe is always good for freeing up a few ponies and cooling down EGT. It's also a great mod to do while your transmission is removed. The 3-inch diameter, mandrel bent steel downpipe from aFe Power features a CNC machined V-band inlet and outlet and comes wrapped in high-temp thermal tape.
Cold Air Intake: $299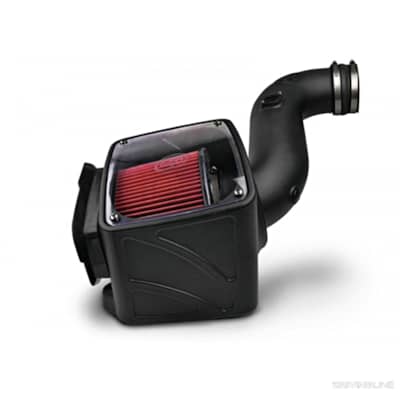 Now that you've improved exhaust flow courtesy of a 3-inch downpipe and 4-inch downpipe-back system, it's time to open up the air side of the equation. The high quality systems from S&B Filters ease serviceability, match or exceed the factory filtration standard and offer an oiled air filter option that's reusable.
4-Inch Exhaust System (Mentioned Above): $260
Edge Insight CTS2 Monitor with EGT Starter Kit (Mentioned Above): $550
Turbo Inlet Manifold (Mentioned Above): $195
$17,200 Budget (610–640rwhp)
63mm VNT Cheetah: $2,400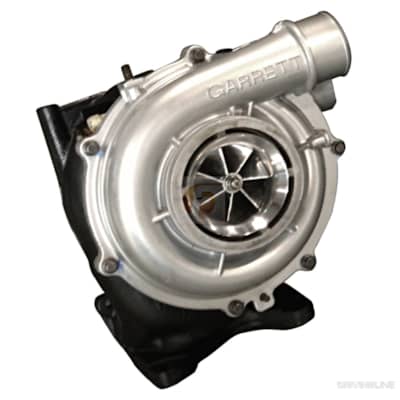 Fleece Performance Engineering's Cheetah turbocharger line is well established in the diesel aftermarket and its 63mm VNT version is a stock-appearing, direct drop-in charger that's perfect for the enthusiast that both tows and competes. Key highlights include a forged milled wheel (FMW) compressor wheel with a 63mm inducer, 360-degree thrust bearing assembly and a high-flow turbine wheel. The 63mm VNT Cheetah provides stock-like spool up yet can support as much as 650rwhp.
Y-Bridge Kit with 3-Inch Driver Side Intercooler Pipe: $954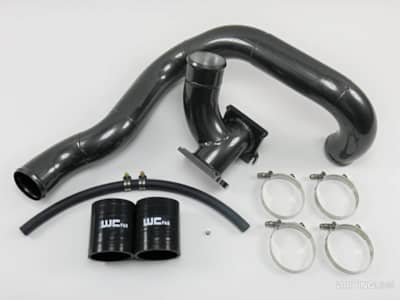 Because the factory two-piece Y-bridge is known to be restrictive, leak and even blow apart under high boost pressure, upgrading to a larger, 3-inch diameter, single piece version is ideal—especially with a higher flowing turbo in the mix. The high-quality Y-bridge systems built by Wehrli Custom Fabrication are arguably the best in the industry and can add as much as 20 to 30rwhp to stock injector trucks.
30-Percent Over Injectors: $3,730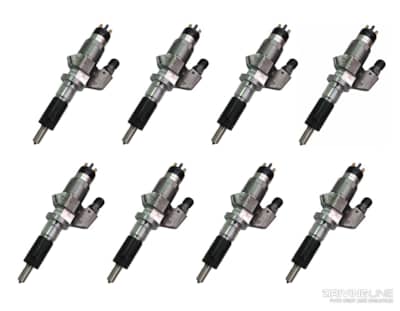 Just as we recommended in our LB7 power recipes, opt for a set of flow-tested and balanced injectors with 30-percent larger nozzles. The stock CP3 injection pump won't allow you to realize the full potential of these injectors, but with sound custom tuning and the combination of parts listed above, they can get you into the 610 to 640rwhp range. A set of 30-percent over injectors is the perfect upgrade for the LLY owner that doesn't want to take a chance on bending a connecting rod—or that isn't quite ready to build an engine.
External Oil Cooler: $715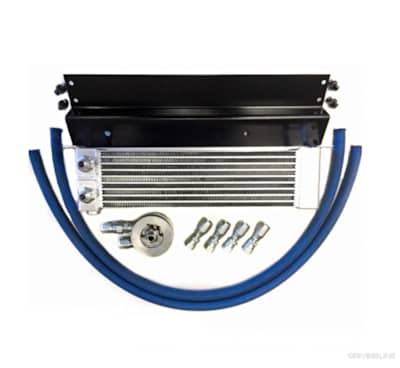 If you plan to tow heavy with your modified LLY, you'll want to make sure the cooling system has no chance of overheating. The best way to accomplish this is to add an external oil cooler. By adding extra cooling capacity to the oil side of things, engine oil won't become super-heated, you won't see a worrisome dive in oil pressure and catastrophic engine failures can wholly be avoided. The Cross Diesel Performance (CDP) External Oil Cooler system pictured is available from the Dmax Store, utilizes all -12 AN fittings, comes with heavy-duty ¾-inch hydraulic hoses and is known to drop operating temperatures by more than 20 degrees.
4-Inch Exhaust System (Mentioned Above): $260
Edge Insight CTS2 Monitor with EGT Starter Kit (Mentioned Above): $550
Turbo Inlet Manifold (Mentioned Above): $195
Built Allison 1000 Transmission

 (Mentioned Above)

: $6,000
Aftermarket Fuel Supply System

 (Mentioned Above)

: $624
EFI Live with TCM Tuning

 (Mentioned Above)

: $1,100
3-Inch Downpipe

 (Mentioned Above)

: $130
Cold Air Intake

 (Mentioned Above)

: $299