Cummins Crazy: A 1947 Cab Over Engine GMC Packing A P-pumped 12-Valve
The trend of repowering classic cab over engine (COE) trucks may be on the rise these days, but few, if any, are being built like this. In no-expense-spared fashion, this '47 GMC COE was brought back to life using a combination of original sheet-metal, a late-model powertrain and custom-built components that blend right in with a vehicle of this vintage. The original frame and cab have been retained, but the built-from-scratch flatbed was finished with cab-matching patina paint. A 5.9L Cummins was shoehorned under the cab and the venerable NV4500 transmission is parked behind it. Full air-ride, semi wheels milled down to 22-inchers along with a restored interior (complete with A/C and a digital instrument cluster) sum up what was an extensive and highly time-consuming project.
Greg Noble, the owner of the '47 GMC, isn't necessarily a diesel nut, but with a lifetime wrapped up in construction and farming he's familiar with the power, durability and versatility of compression ignition—and he's especially aware of the Cummins name. As an avid collector of classic cars, two-cylinder John Deere tractors and Harley Davidson motorcycles, Greg decided he needed to add a 1940s era COE to the fleet. And after enlisting the help of nearby businesses, Cale Kern Hot Rods and Southern Indiana Diesel Service, the project got underway in 2020. Now, on any given fair weather day, you can find Greg's COE out roaming the Hoosier state countryside, possibly even with a gooseneck trailer in tow. We caught up with him this summer for the grand tour of his beyond-unique cabover creation.
The Cab Went Untouched, The Rest Was Fair Game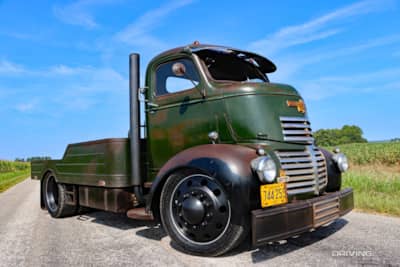 A proponent of original paint, Greg wanted the 75-year-old cab's patina left alone. He got his wish but the original front bumper had to be modified to accommodate the 28-inch wide intercooler that sits behind it, which wouldn't fit in front of the 5.9L Cummins. After leaving the 5.9L's turbo via 4-inch piping, the exhaust expands into the 5-inch stack you see here. To get the full aging effect he was after, Cale Kern of Cale Kern Hot Rods dyed the exhaust stack (which is made of 304 stainless steel) instead of painting it. The box behind the passenger side of the cab just below the bed is used to store the onboard air compressor and batteries (a matching box on the opposite side serves as the fuel tank). The bed steps were added more or less to fill space. More on the bed in a bit.
Snug As A Bug…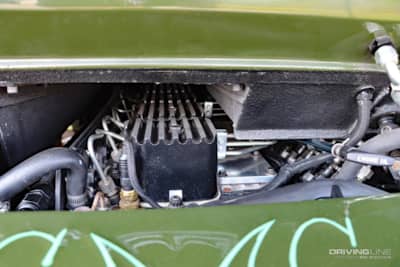 To say the 5.9L 12-valve Cummins is a snug fit in the COE would be an understatement. According to builder Cale Kerns "It took some real long hours to get the Cummins in there." The engine itself was sourced from Scheid Diesel and makes use of ARP fasteners throughout (rod bolts, main studs, head studs), along with a Scheid cam and fire-ringed cylinder head. Scheid-built 5x0.013 injectors and a fuel-friendly P7100 capable of supporting 4,500-rpm handle the B-series engine's fueling needs while an S362 BorgWarner turbocharger bolted to a T4 Steed Speed exhaust manifold builds boost.
A Common Cummins Transmission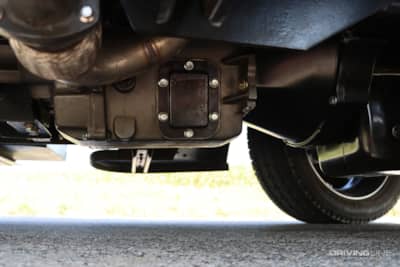 For a tried and true transmission option, the NV4500 five-speed got the nod. However, integrating the ¾-ton Ram-derived manual transmission wasn't as straightforward as you might think, given the limited real estate with the GMC's cab. The shifter had to be turned around and even then still just clears the back of the cab. The venerable five-speed has been treated to a 1-3/8-inch diameter input shaft upgrade as well as a Valair quiet street dual disc clutch.
Four-Link And Air Ride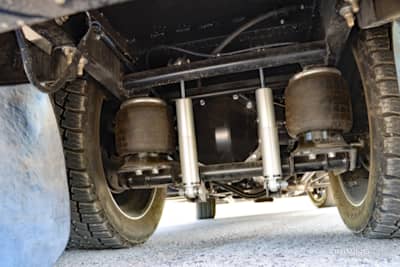 The factory frame was retained, but the rear rails were C-notched and the 14-bolt axle was narrowed significantly. An HD four-link system from Ridetech, which is designed for springless suspension truck applications, provides the mounting points for the Firestone air springs. Ridetech shock absorbers are used front and rear and key front-end talking points include C30 spindles, custom lower control arms and the rack and pinion out of a Dodge Sprinter.
Custom, Patina-Matched Flatbed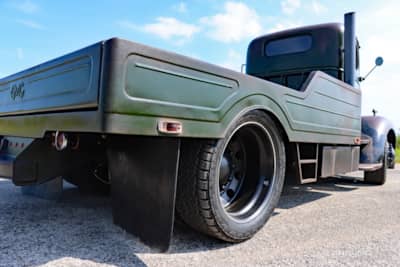 When Greg first obtained the COE it was fitted with a dump bed, which was done away with in favor of a design he and Cale Kern came up with. Following Kern's sketch to a T, the custom flatbed was made from 14-gauge steel but with 1/8-inch thick steel plate decking. It integrates a gooseneck hitch, boasts a fully-functional tailgate and, perhaps most importantly, offers an original, patina'd look. The uncanny patina matching of the bed with the cab was performed by Jerome Borris, who worked his famous "patina potion" wizardry on the 7-foot wide piece.
22-inch Alcoas And Terra Grappler G2s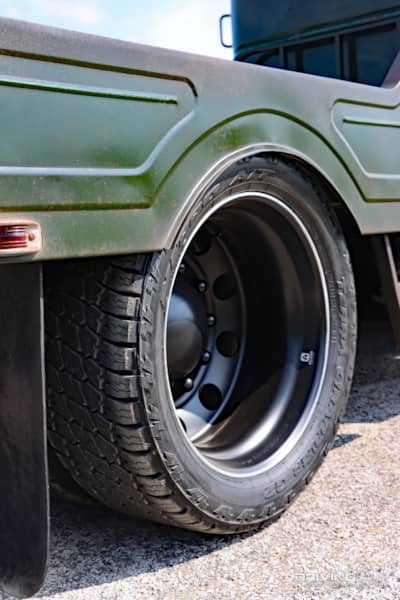 Semi wheels have been all the rage for years on diesel pickups, but not just any Class 8 wheel will do. The 22.5-inch wheels are milled down to 22s, and the 22x8.25-inch Dura-Black Alcoas aboard Greg's COE complete the classic farm truck (if not slightly sinister) look of the truck. They were obtained through Indiana-based Dually King Industries. Four 33x12.50R22 Nitto Terra Grappler G2 tires are present out back. The all-terrains provide more than ample load stability when Greg's '47 is lugging a trailer around.
Dura Grapplers And Plenty Of Clearance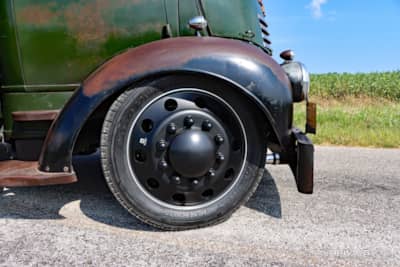 Up front, the 22-inch forged-aluminum Alcoa wheels are fitted with 285/50R22 Dura Grappler tires. The 33-inch diameter, 11.5-inch wide, E load range Nitto highway terrains fit perfectly and don't rub even with the air springs void of air. In fact, the truck's suspension was specifically designed to allow it to be limped home in the event of an air spring or air spring system failure.
A Well-Executed Interior
One look at the interior and it's like going back in time. Nothing in the cab has been altered in a way that ruins what was there from the factory. Yet at the same time, some modern-age, highly welcomed creature comforts have been added. Among them is a Vintage Air A/C system, a custom Dakota Digital gauge system, controls for the Ridetech system and air-ride for both seats. Another local automotive expert, Bryan Barlow of Interiors By Ed, handled the recovering of the seats (of which the driver side is original), the dash and added the carpeting on the floorboards.
More From

Driving Line
Ready to read about the Cummins-powered rat-rod you never thought you'd see? Check out Cory Wheat's homegrown '65 Ford F-600 build right 

here

.