Dodge//SRT Adds "Blacked Out" Octane Edition to 2019 Dodge Charger SRT Hellcat Lineup
The 2019 Dodge Charger SRT Hellcat is already the quickest and most powerful production sedan on the planet with its 707hp, supercharged 6.2L HEMI V8. Steering wheel-mounted shift paddles keep the driver's hands on the wheel as it transitions between gears with its eight-speed automatic TorqueFlite transmission.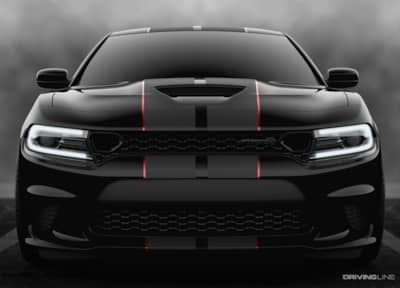 New for this year, it features a performance grille with a pair of aerodynamically designed inlets to channel cool air to the engine compartment. Launch Assist tasks wheels sensors to monitor wheel hop to prevent driveline-damaging wheel hop and retain traction. Line Lock engages only the front brakes to hold the car in place to spin the rear tires to warm them up and clean off any debris before racing. Plus, there's an "After-Run Chiller" that continues to cool the supercharger/charge air cooler after the engine is turned off.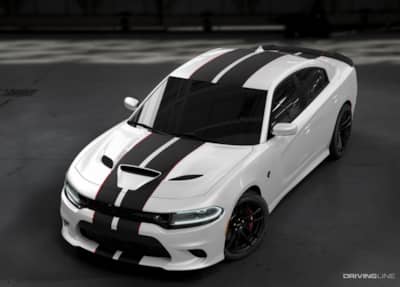 To top all that off, now they are offering the blacked-out Octane edition which is a unique combination of equipment and trim, including some features not previously available on MOPAR's hottest four-door. Available in either Pitch Black or White Knuckle exterior paint, two full-length satin black center stripes with Octane Red pinstripes on the outer edges grace the entire top length of the car. Expect complete black exterior badging, including the grille, decklid and fender badges. Four performance oriented 20x9.5-inch forged aluminum-forged Cross Brace wheels in low-gloss black are included (similar to the wheels on the Challenger Scat Pack 1320), which include knurled bead seats that reduce the tire slip created by hard launches. Big brakes ride behind each wheel hub with Brembo six-piston front calipers and four-piston units in the rear.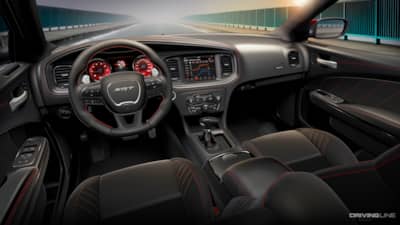 They didn't forget to improve the look of the interior, too. The Octane Edition has SRT performance seats with Houndstooth inserts and official SRT Hellcat badging with red stitching. In fact, red stitching is featured throughout the cabin and complements the red seat belts and gloss black interior accents.
Special edition muscle car packages are always popular, and we expect MOPAR fans will love the 2019 Charger Hellcat Octane edition.