Driver Battles: Nissan 350Z vs Honda Civic EK Hatchback
No, you read the title right. This edition of Driver Battles pitted a 2005 Nissan 350Z against a 1998 Honda Civic EK Hatchback. Not only that, the Z is boosted. But bear with us; we promise we're not ringing in the new year with a one-sided beat-down on a poor Civic Hatchback. We have more class than that. Just barely, but we do have it. (Click here to watch the video)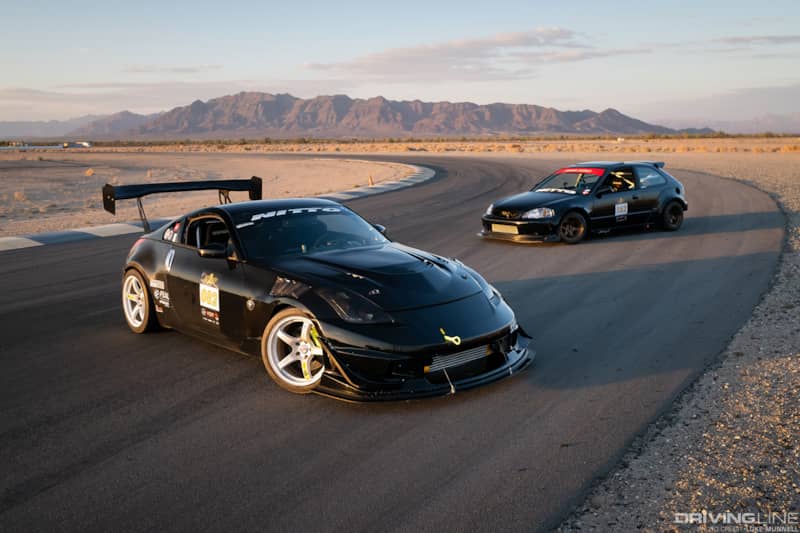 Taking to the horsepower battleground that is Chuckwalla Raceway, Jorge Torres and David Cortes brought their respective rides to duke it out. Driver Battles uses the Time Attack format wherein victory goes to the best overall lap time for the day. It lets both drivers open up the throttle without the cars going wheel-to-wheel. It's just you, your car, and the track.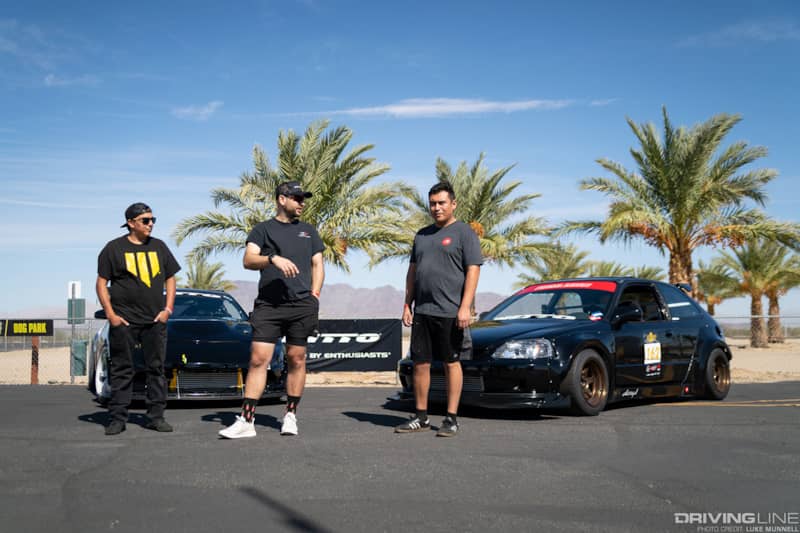 Big Tires. Big Aero. Big Power.
Jorge Torres drove his 2005 Nissan 350Z out to Chuckwalla for the day's festivities. Weighing in at 3300 lbs, it's actually heavier than David's Honda Civic.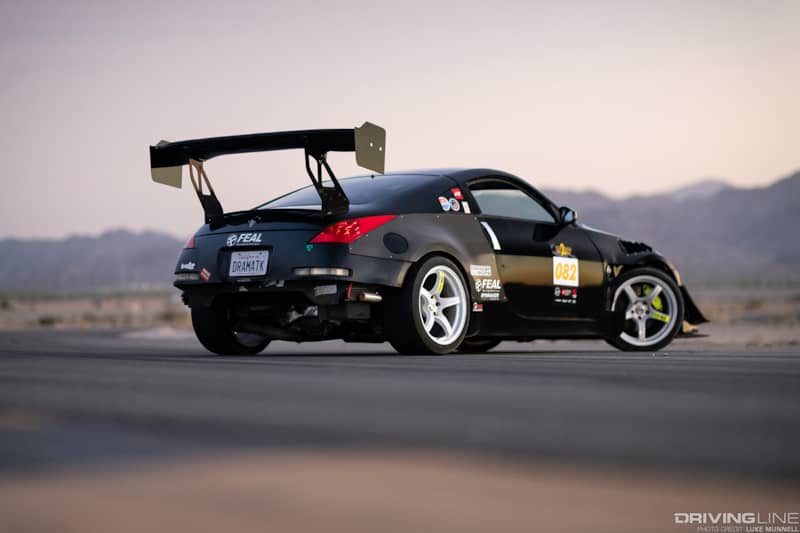 But it also brings some heavy advantages to the fight. More power, for one thing. He's running the stock block in it but it's had some work done. Namely, a Vortech Supercharger, Deatschwerks 600cc fuel injectors, and Nismo exhaust. It's also UpRev tuned for 91 octane fuel. All of that adds up to a car that makes 420hp and 360 lbs-ft of torque. Feal coilover suspension and that rear wing should also make for greater handling on the track, too. And finally, he's sending all of that power to the pavement via Nitto NT01 275/35 R18 rubber on Rays Nismo 57CR wheels. He'll have plenty of traction and on a terrific tire to get the job done.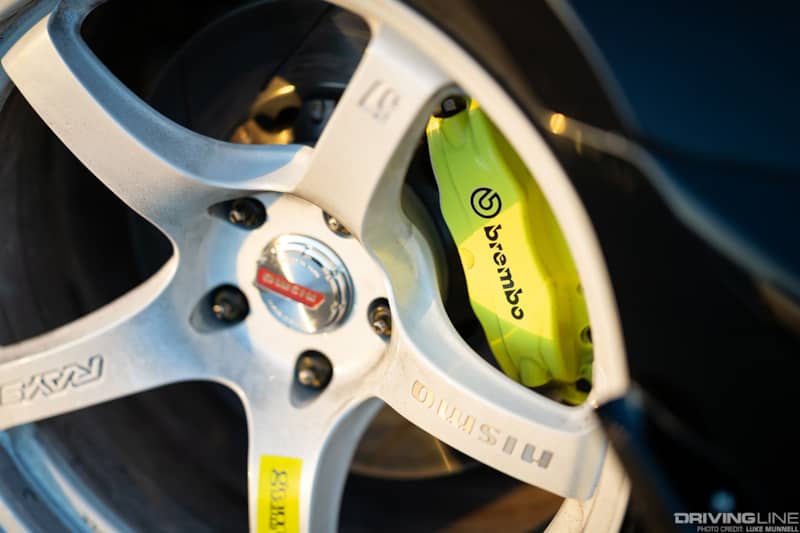 Light and Nimble
Oh, did we mention that the Hatchback is a wide body and that it's also boosted as well? It's also a lot lighter than the Z, which should help its case a lot, too.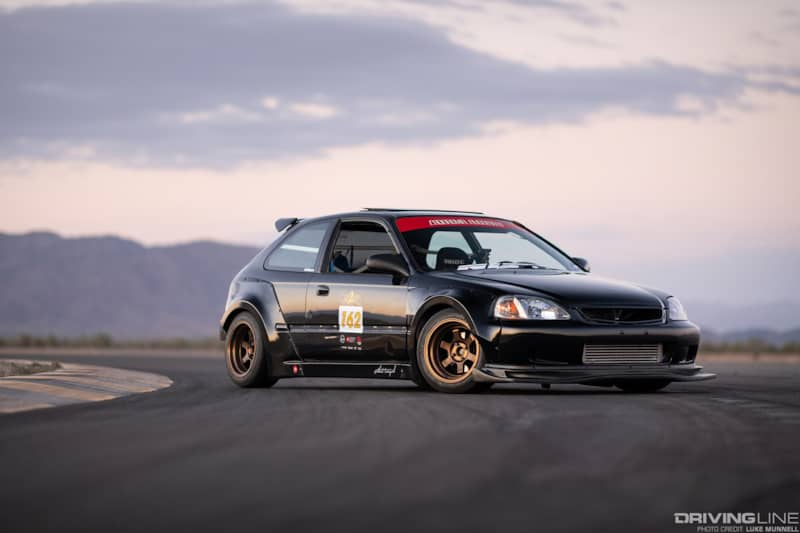 Weighing a much svelter 2600 lbs, it's 700 lbs lighter than its opponent. But it also makes a lot less power: 250 hp and 250 lbs-ft of torque, so he's great to go in the power-to-weight ratio department. Powered by a stock B20 engine, David's Civic also runs a Greddy turbo kit and 440 RC injectors, regulated by a Hondata S300 module plugged into the stock ECU. A Type R LSD differential gets the power out to the wheels and their Nitto NT01 225/45 R17 tires. Like his opponent, David swapped his car over to an aftermarket coilover suspension. In his case, he went with a Riaction setup.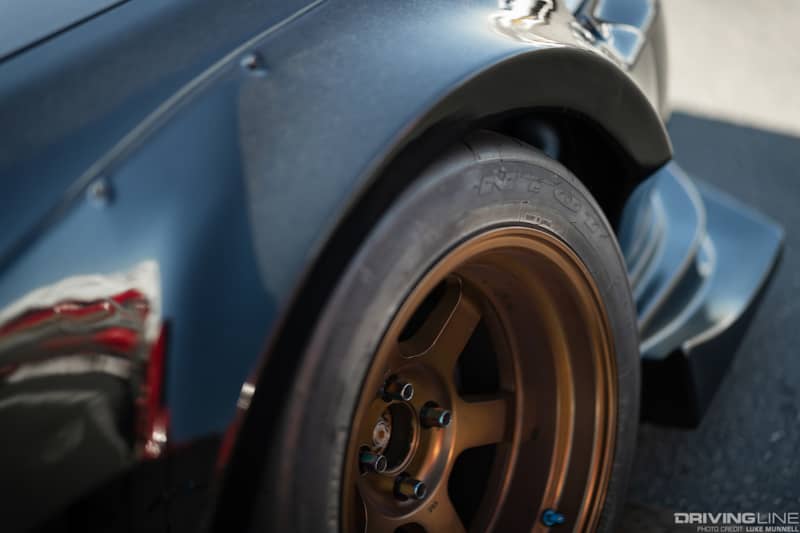 Where the Rubber Meets the Road
Or in this case, the track. Both drivers had run their respective rides at Chuckwalla before (Jorge three times, David once) so they had some familiarity with it going into the Time Attack. They were also no strangers to the Nitto NT01s: "I've driven on it plenty," Jorge says. "I'm definitely comfortable with that tire. It's consistent and I definitely always feel safe with it." For David, this is second time using the NT01: "The first time was also the first time I ever tracked the car. They're very good, very grippy tires, very predictable."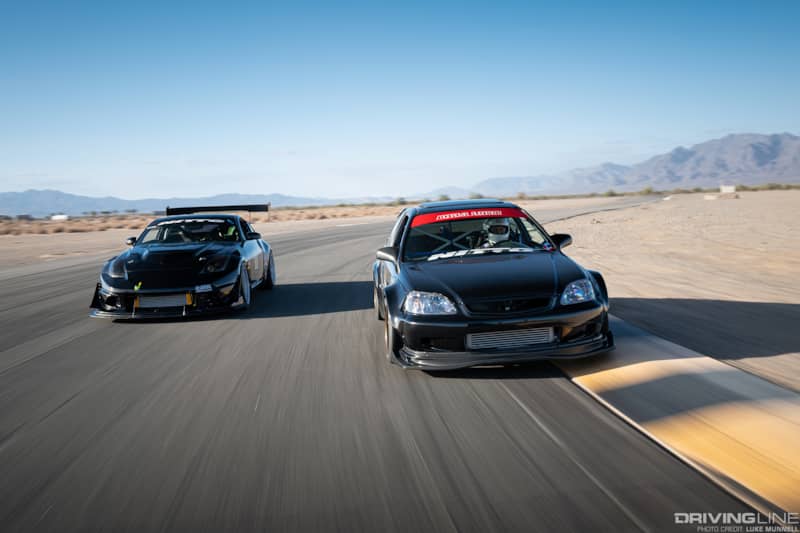 Those traits are exactly what you want in a format like our Time Attack, too. It's not a few quick laps at the track. We give our contestants the whole day to cut loose and make the best lap time that they can. Having a grippy tire that doesn't slow down as you speed up makes a big difference. And true to form, the NT01 tires held up terrifically throughout the day for both drivers, inspiring confidence in the process. In fact, David's times got better the more he drove on them. But if you want to know who came out on top, you'll have to watch this edition of Driver Battles for yourself.