BMW E36 M3 vs NC Mazda Miata | Driver Battles Time Attack
Driver Battles: you call us out, we call you out. Or, as Mike Sabounchi dubs it in this month's Time Attack video, "everyone's favorite internet debate show." We love it. Y'all talk up a good game in the comments, then we get you to play out that game where it counts: at the track. Just like in this Time Attack clash at Chuckwalla Raceway between Frankie Ho's NC Mazda Miata and Bailey Woods' BMW E36 M3. While that sounds like a lop-sided duel, factors like power to weight ratio, tire size, aero vs non-aero, and the drivers themselves make for a much more level playing field, as you'll see in the results when you watch the video.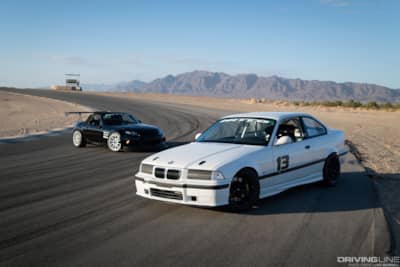 And in This Corner...
Frankie Ho's 2013 Miata club model makes 182 horsepower. Obviously it's had some work done to make it much more competitive or we wouldn't be having this conversation.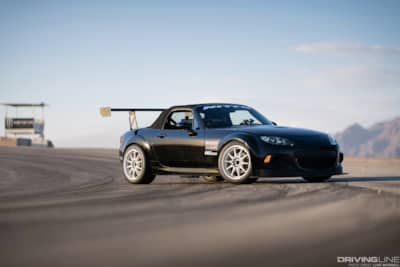 To that end he's swapped in a 2.5 liter Ford Fusion Duratec I-4 engine, two-way Eibach coilovers, BC403 cams, PPE exhaust, Moto East intake, Ecutek reflash, RX8 rear sway bar, OS Giken limited slip differential, Porterfield race pads, and, of course, the Racebred aero you see here. "I'm basically running his whole catalog," Frankie told us.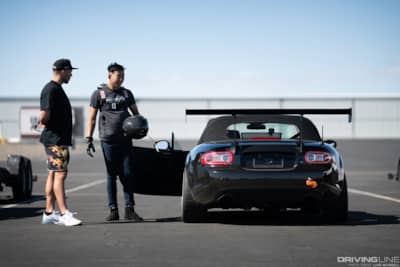 He's running it on Volks Racing CE28N wheels with Nitto NT01 255/40/17 rubber on them. His Miata doesn't make all that much power but the aero and the lightness of the car mitigate that. You can bet he'll be running with the gas wide open all day and not so much on the braking.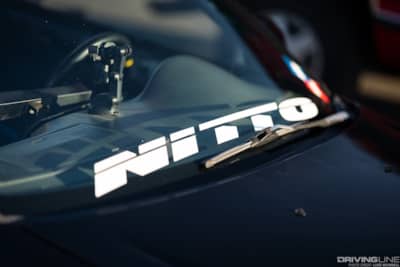 Fighting Weight
Not to be outdone, Bailey Woods' 1996 BMW E36 M3 runs at a fighting weight close to Frankie's Miata. Unlike the Miata, this Beemer's seen more chassis development than engine work.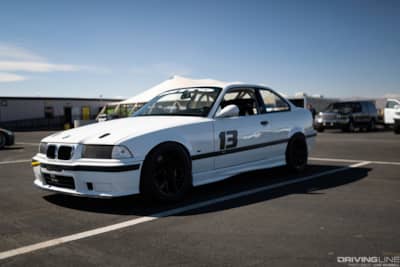 Bailey's also stripped down as much weight as he could; it's a lot of fun at the track but if you're looking for a cup holder, you're in the wrong car. Its S52 powerplant carries an aFe intake, CSF radiator, and AA software package but not much more beyond that.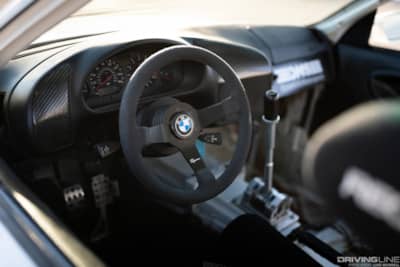 It also packs a JBR twin race clutch and flywheel, full solid mounts and bushings, Eibach two-way suspension and swaybars, AP Racing big brake kit with PFC 11 pads, and Titan7 TS5 wheels. Just like Frankie, he's also running on Nitto NT01 tires. He picked it up a few years ago because it was more attainable than an E46 and as he's developed the car, it's developed him as a driver.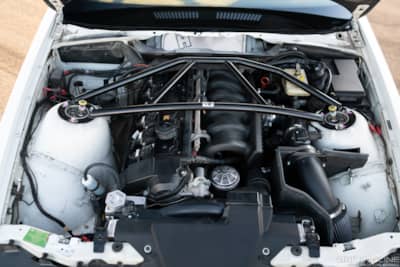 Both of the day's racers have plenty of experience with their cars at Chuckwalla. That should make for a very close battle. If you're not familiar with how Time Attack works, it breaks down like this. Both drivers run their cars individually for the best lap time for the entire day. It's not wheel-to-wheel; we want everyone as safe as possible.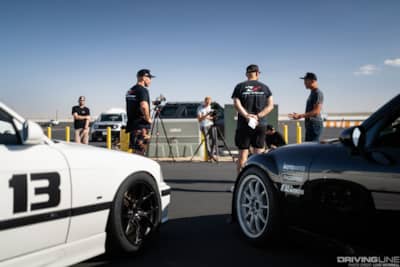 Nitto NT01 Newbies
It wasn't Frankie's first rodeo but it was his first time using a set of Nitto NT01's, though. He loved how consistent they were throughout the day: "They talk to you at the limit," he said. "Like, this is the first time I'm not doing a Time Attack style where I go three laps, come back in. I'm out there for a full session. They're lasting like a good ten laps and they're all within a good time range." Bailey, too, was also new to the NT01: "Go out, put down ten laps, and it's super consistent. The nice thing is, I checked my pressure once this morning and haven't had to touch them since. Some tires are so finicky that you mess with the pressure all day and every time you go to a corner it's a different experience, and so it's nice to arrive the same every time."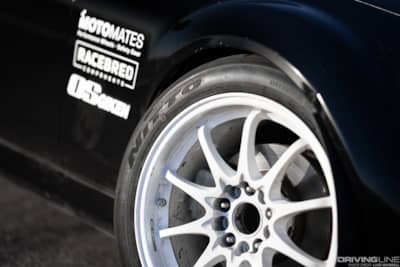 After the first morning session and shooting some video, it was back to round two. Both drivers took to the track and knocked down some terrific lap times. The NT01's held their grip throughout the day and were perfect for this sort of test-and-tune racing. "I beat it up all day, I checked the pressures once, and didn't touch them again. It was consistent and it was nice to come out here and focus on driving and not worry about the setup so much."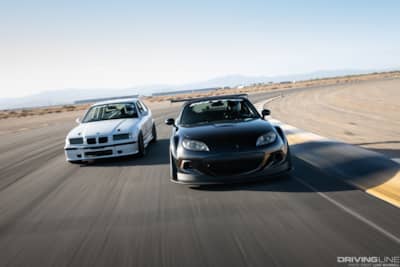 It was a very close battle (even with Frankie running his Miata's two-ways on the wrong compression setting). In fact, both drivers made suspension corrections later in the day. Did it help? Of course. But if you want to find out how much and who emerged victorious, you'll have to watch the video here and see for yourself.