Finding Adventure: Celebrating Wanderlust With an Overlanding 4Runner
Story By Isaac Marchionna
We stare out the window during our daily routines and dream of adventure. Not meant to be trapped by complacency, we yearn to explore and challenge ourselves. If we're lucky, for a few days a month or a few weeks a year, we break that cycle of obligation and commitment to live outside of our comfort zones. That desire to peer over the horizon is at the heart of wanderlust. An overland-style vehicle is the physical manifestation of that feeling; it's the daily reminder to keep exploring.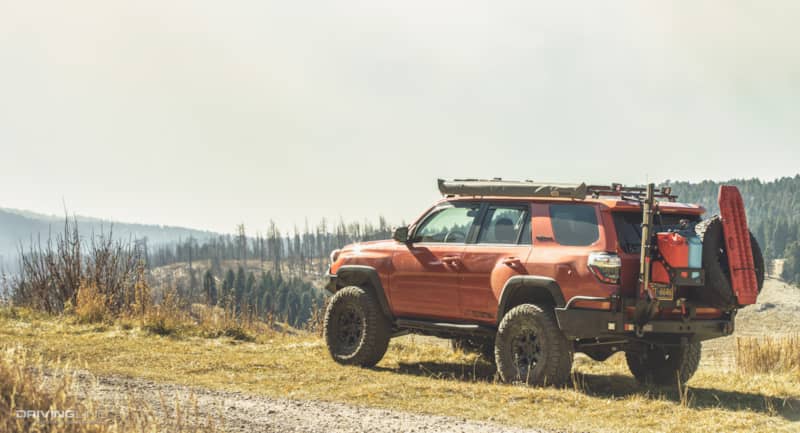 As with any other custom vehicle build, my overlanding '15 Toyota 4Runner TRD Pro is a personal expression rooted in aspiration. An overland vehicle — and the act of overlanding — speaks to that core longing of wanting to explore our surroundings and going where our heart takes us. This feeling of wanderlust is in all of us, to a certain degree, but it's more an obsession to some. Each overland build is incredibly personal, down to the smallest detail. Every adventure out provides feedback on what worked and what didn't, and you return home with the urge to continue improving and evolving your build to make it that much better for the next adventure.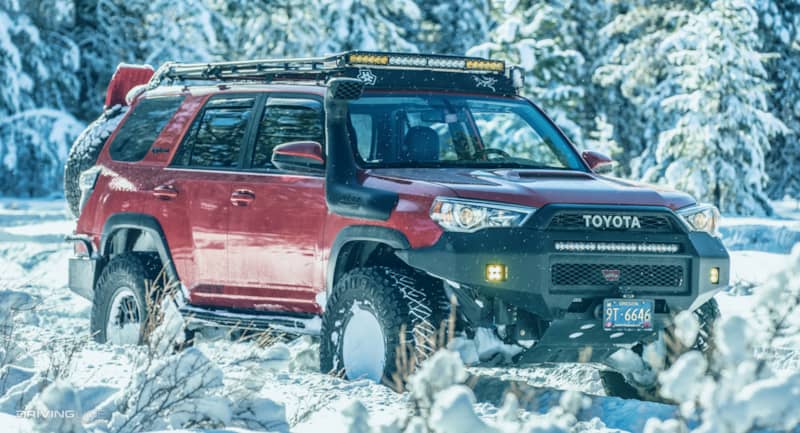 The "build" is constantly evolving. It all started with a spark that inspires the build in the first place. The spark that started my build of the TRD was a combining of the personal with the professional: build a vehicle that can haul camera gear into remote and spectacular places. That initially included a roof rack, additional lighting and sliders. Everything worked great until I looked at the vehicle and realized it had to be recoverable on the trail, so a winch was added. Then the truck looked low, so bigger tires and a lift were next. From there, it kept spiraling: The interior was removed to add a cargo system, fridge, armor, bumpers, and systems on top of systems.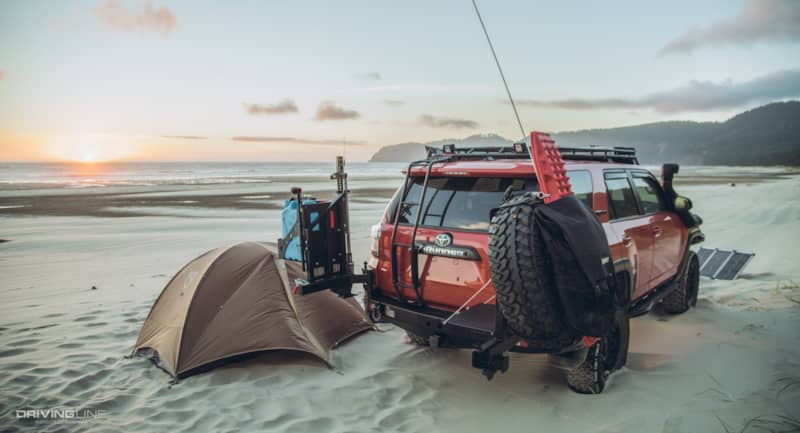 Drive it, camp it, break it, fix it, improve it and do it all again. During this process, I've learned some crucial lessons that could be useful if an overland-capable vehicle is in your future.
1. Choose the Right Tires
So much of overlanding is cross-country road trips with some off-roading mixed in. Tires are your connection to the road and trail. They get you off the shale mountain while rocks do their best to stop you and keep you firmly planted during the worst weather conditions. How you choose tires requires knowing your vehicle and the balance of situations you will find yourself in with it. In our hearts, we like to think of overlanding as an off-road adventure, but the reality is it may take many thousands of miles of paved driving before we finally hit dirt. Initially, I used 33-inch Nitto Trail Grapplers and moved up in size to 35s when I switched to the newer Ridge Grapplers.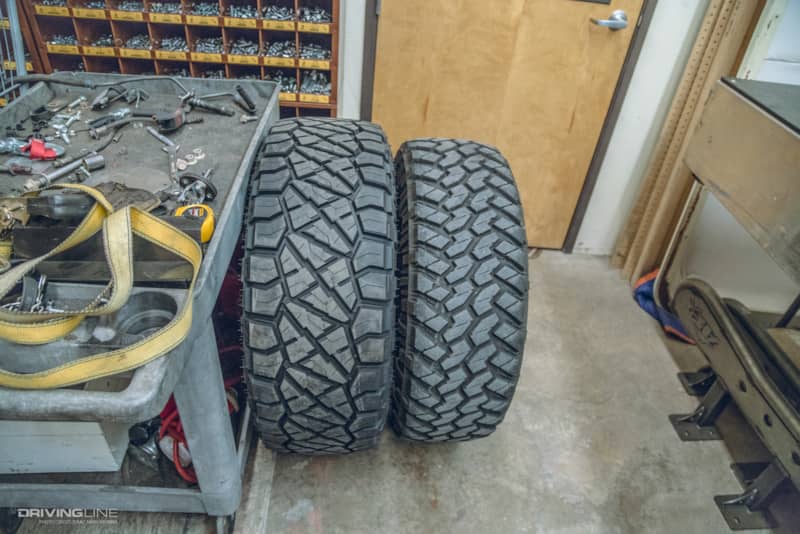 While the Trail Grapplers were excellent, they were more specifically for heavy off-road use, and my 4Runner is my daily driver. The Ridge Grapplers have shown to be extremely capable off-road while being quieter, smoother, lighter and balanced to handle different weather conditions.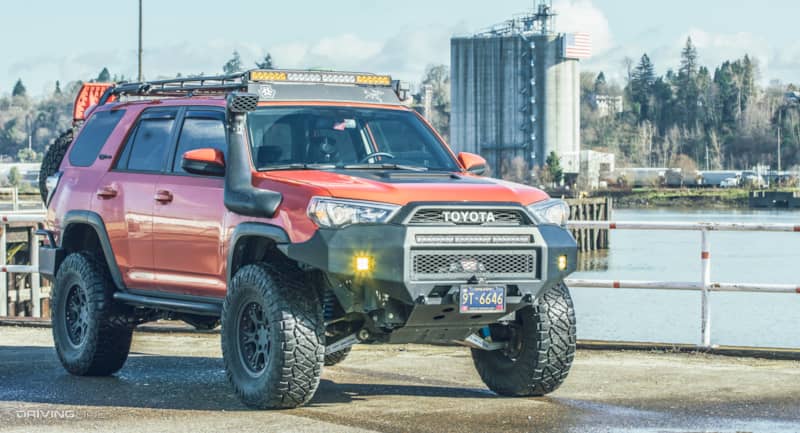 The Ridge Grapplers are paired with Hutchinson Rock Monsters beadlock rims, adding security and protection when airing down tires to extremely low pressures. The results I've gotten so far have been wonderful, with slightly better gas mileage and a level of comfort that is remarkable in a vehicle of this sort.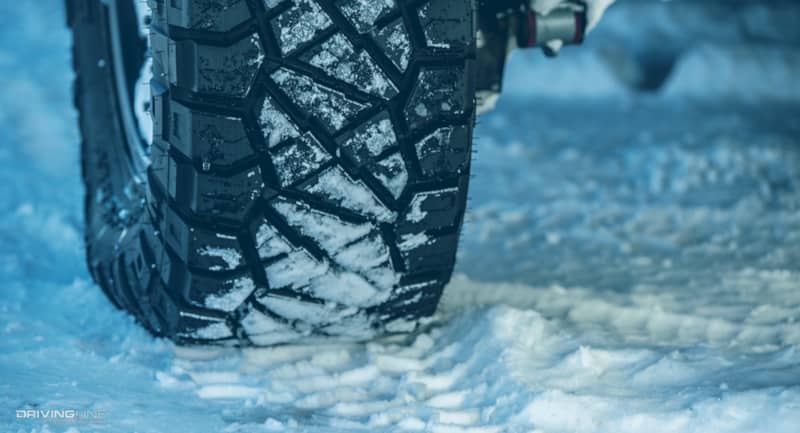 2. Be Smart on Suspension Setup
I wanted to balance comfort with capability in the suspension. Suspension setups on regular trucks are one thing, but it's totally different for a vehicle that's carrying almost an extra ton of equipment. To get the most comfort and capability with all that weight, it meant stepping up to a +2 Long Travel kit, King Shocks and Total Chaos Fabrication suspension components.
Because anything worth doing is worth overdoing, the truck sits on King 2.5 coilovers with reservoirs and King triple bypasses. In the rear are King extended travel shocks with adjustable reservoirs in conjunction with a Currie Antirock setup, allowing for a copious amount of rear travel while still maintaining tame on-road performance. This system keeps the vehicle smooth on rough terrain and planted firmly when the vehicle could get tippy.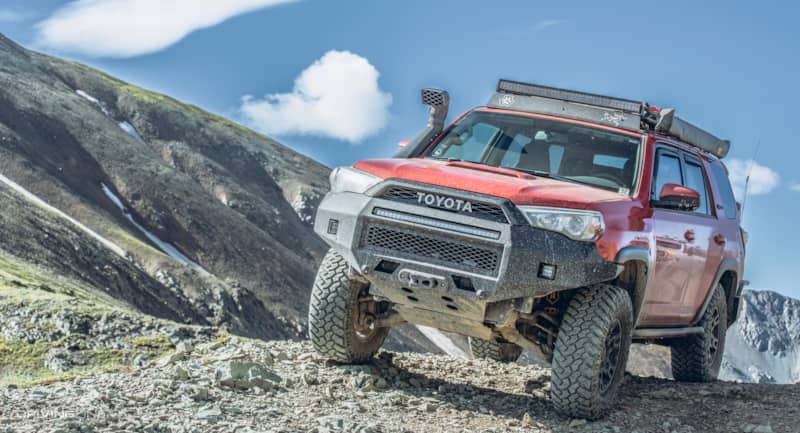 When it became clear that the weight I'd added meant transitioning to a different class of suspension components, I reached out to Walt Wagner of Tactical Application Vehicles; Walt is particularly adept at building what he refers to as "expedition long travel." The core concept is building vehicles that are heavy by necessity — armored up, roof top tents, cargo systems, and so on — and as a result, require a special touch to know how to build systems to a vehicle in spite of that weight handicap.
3. Getting to Where You Wander
You don't need to bring everything for every situation, but you need to consider self-recovery and armoring up the tender bits. With that in mind, the 4Runner is completely armored up, front to back, with a Pelfreybilt aluminum front bumper. Inside of that is a WARN Zeon 10-S Platinum winch mounted with a Factor 55 fairlead and link system. In the back is a CBI Offroad dual-swing arm rear bumper. I chose this one carefully, as the rear bumper is not only the piece that typically gets beat up on trails the most but serves as a platform for working on camera gear and vehicle repairs; it's also being the mounting point for the fullsize spare tire, fuel cans, high-lift jack and radio masts.
The undercarriage is a combination of ARB and RCI Off-road skidplates. As extensively tough as 4Runners are by design, one poorly placed rock or misplaced bit of bravado can turn a weekend adventure into a costly repair. Of course, you've also got to see where you're going, so a full complement of bright LEDs was added and light bars from Baja Designs have been mounted in the front and rear bumpers as well as on the Gobi roof rack. These serve as a safety system to provide illumination down dirt roads, mountain trails or even under the vehicle to spot against rocky threats.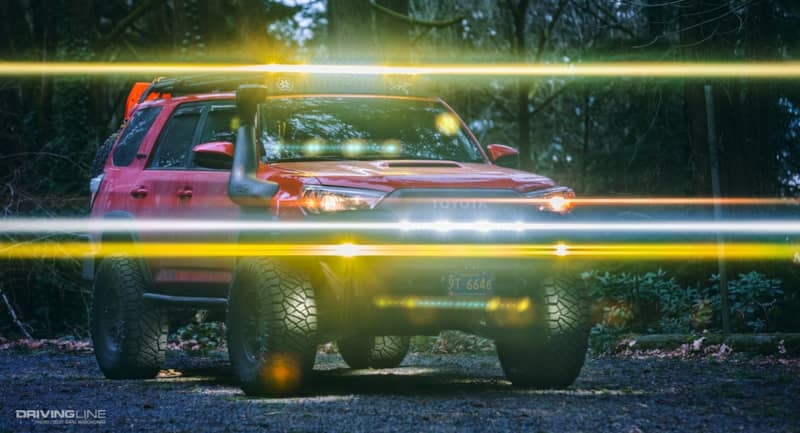 4. Packing for the Journey
Organization is one of the most overlooked elements of a build; overlanders carry everything they need to live, meaning a lot of small and heavy things. Load management and organization play into safety as well as comfort. Being able to access that one tool to make a fast repair can be the difference between an inconvenience and a big problem.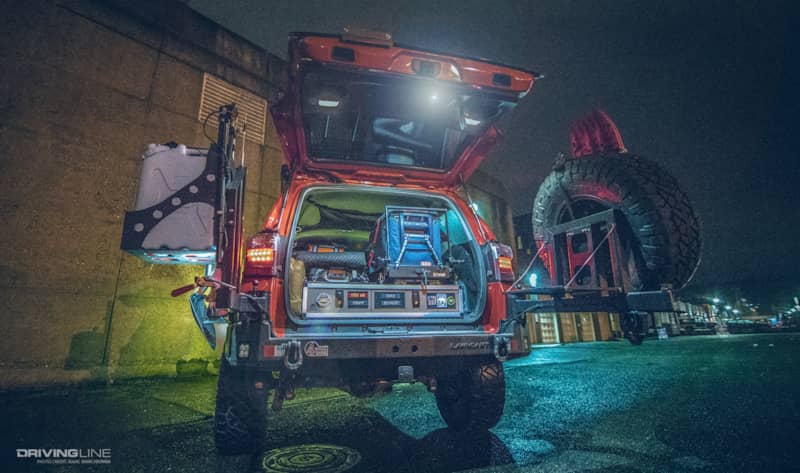 A custom Goose Gear cargo system provides organization for the 4Runner, keeping recovery gear, tools and general vehicle supplies easily accessible while remaining securely tucked away when the vehicle is off-camber or barreling down washboard trails. On top of the cargo platform sits an ARB 50-quart fridge on a drop slider from Tembo Tusk. The vehicle has a complement of HAM and CB radios, satellite communication, medical gear, fire extinguishers and other general gear for staying in touch and safe out on the trail.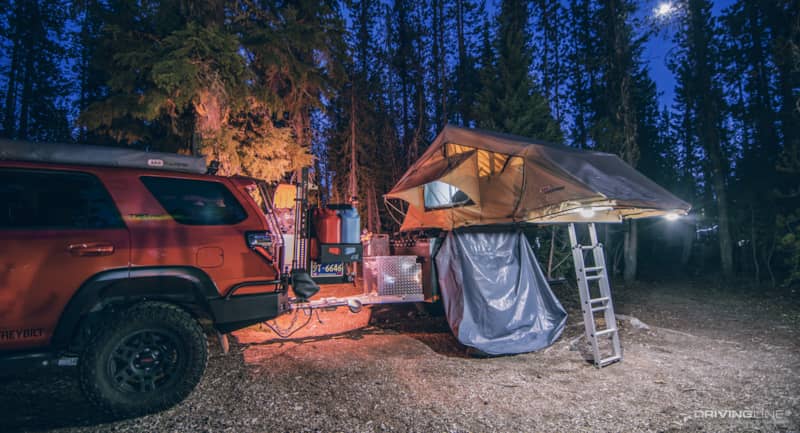 5. Going Further
Along with overlanding comes a vast and varied community of enthusiasts. This community inspires you to travel and modify, and you make trips and modifications that inspire others in turn. It's a great feedback loop of inspiration, and people make notes on other builds to spot something that might solve a problem they haven't been able to put into words yet.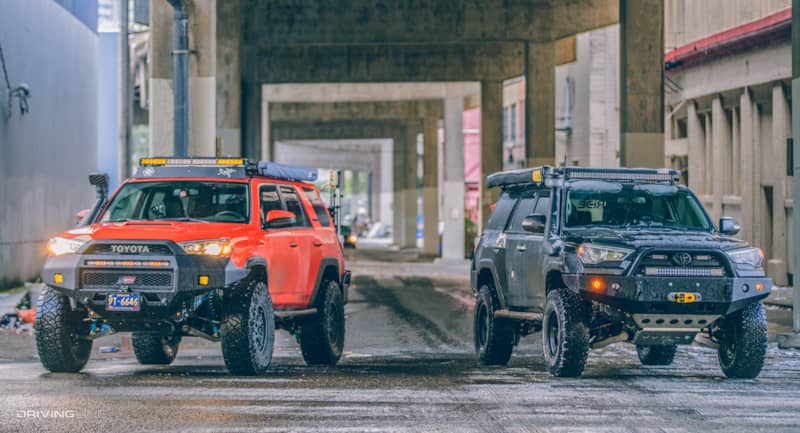 Overlanding has taught me to not let fear of the unknown keep me from taking steps forward. It's given me the fortitude to leave on a trip without a specific plan, itinerary or even knowing where I'll stop to sleep for the night. Previous travels build a reservoir of solved problems and skill sets gained, giving me an ever-increasing pool of confidence to journey into the unfamiliar.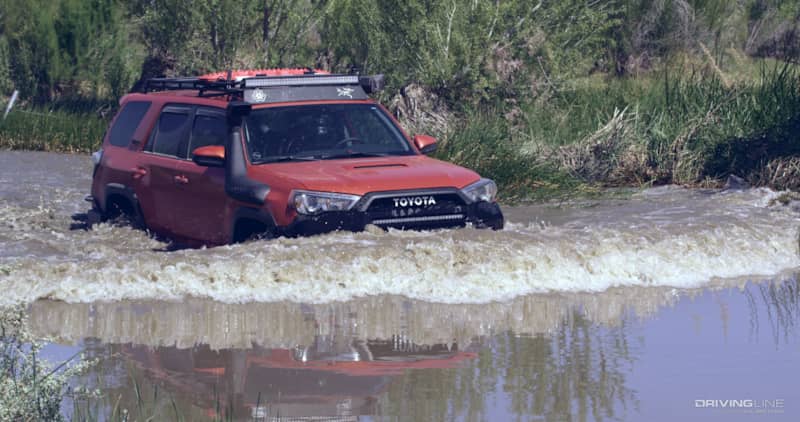 You never lose respect for the challenge, but each trip — whether it's a 2,000-mile weekender on a whim, trekking up a lonely 13,000-foot mountain pass or coming down a precarious mount-cliff trail — becomes another notch in your belt and adds character to what could have been a dull weekend.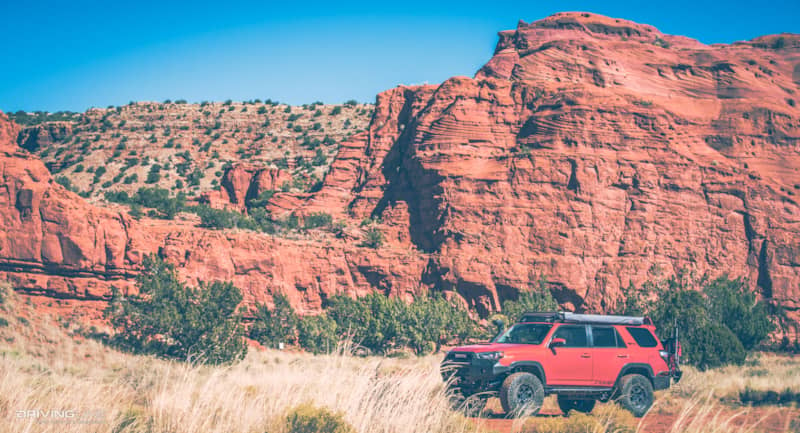 This build, and so many others like it, aren't about speed or handling — they're physical manifestations of wanderlust. They weren't made to do mundane things or go down well-trodden paths — they inspire us to find new places for ourselves or unearth forgotten ones.