Ford Maverick XL Hybrid Long Term Review
In March of last year, we took delivery of our 2022 Ford Maverick XL Hybrid. Since then, we've made some changes, gone on multiple adventures, and experienced a few surprises. While purchasing a first-year vehicle sometimes feels like a bit of a gamble, the allure of an incredibly fuel-efficient compact truck has made the Maverick one of the most sought-after new vehicles on the market. However, the question still remains, is this truck truly worth all of the hype?
To weigh in on this debate, we are diving into what we've learned living behind the wheel of this pickup as we close in on nearly a year of ownership.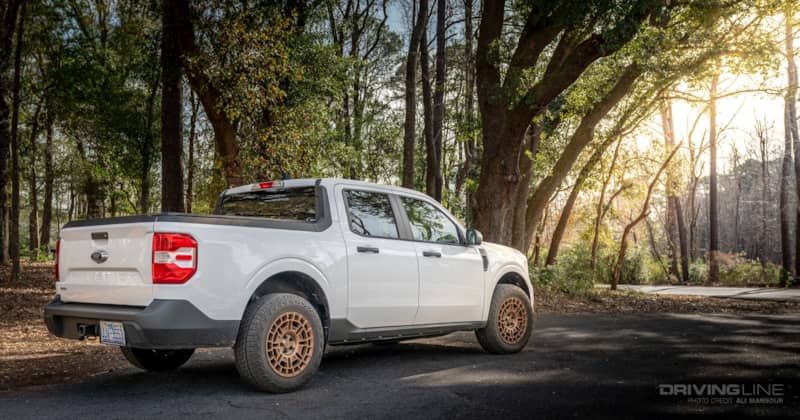 Fuel Economy
When we did our initial video review on the truck, so many people in the comments seemed surprised that we were only averaging around a touch over 38 miles per gallon. This average has remained mostly the same with one exception—interstate driving. As we on more long-distance adventures, we are finding that sustained speeds above 70 mph take this truck's fuel milage down to 28 mpg. That's a good bit less than the EPA rated 33 mpg.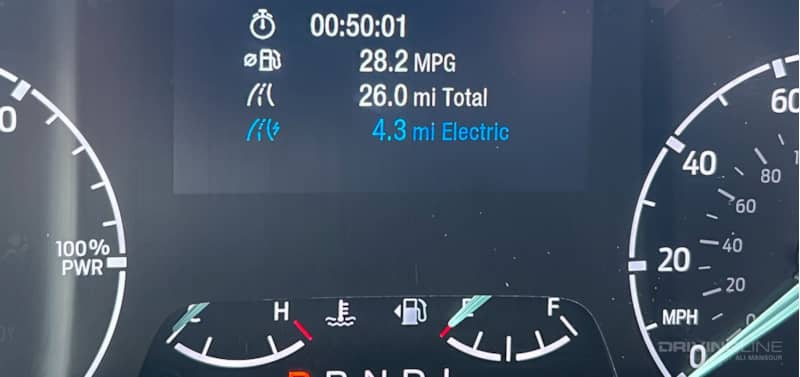 Bike Hauler
For those looking to haul bed toys, we will say that it works well at handling a fullsize dirt bike. We often swap around from a Black Widow hitch carrier to simply loading the bike in the bed. As we've stated before, the rear suspension is definitely on the soft size. Although, even with our YZ250FX and bed full of gear, it never puts the truck so nose-high that it's an issue.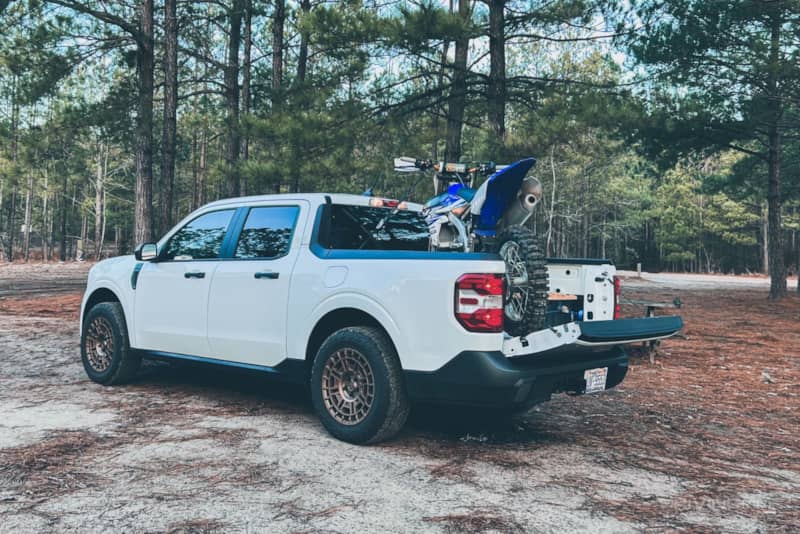 Good Grappling
Most of the places we haul our bikes to require a bit of off-road driving. This consists mostly of either gravel or very sandy soil. It's one of the main reasons why we upgraded the stock tires with a set of Nitto Nomad Grapplers. These tires continue to impress and remain extremely quiet. Unlike other all-terrain tires that are designed for Light Trucks, the Nomad is actually built with lightweight platforms like the Maverick in mind. This makes it not only lighter than an LT tire, but ride much smoother.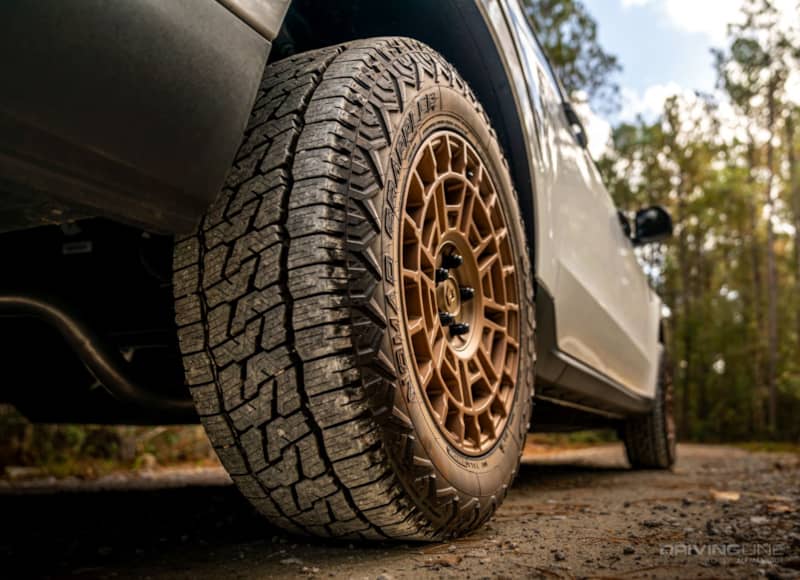 Interior Issues
The more time we spend behind the wheel, the more we appreciate the front seat. It's surprisingly comfortable and supportive. The radio is still terrible however, and we have noticed a few extra rattles inside from when we first got the truck. It's not bad enough for a dealership visit. But, the noise is enough that we feel as though a clip or tab somewhere is probably no longer doing its job.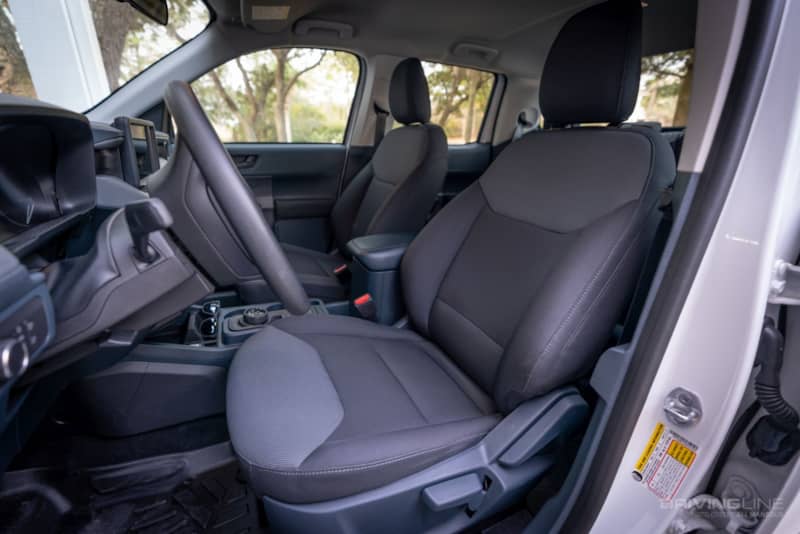 Bed Bits
Just a few days into our Maverick journey, we installed a Rough Country bed cover. Despite it being an inexpensive cover, we've been happy with the overall quality, sealing features, and functionality of the tri-fold design. The bed itself has taken a good bit of abuse and is starting to look a bit rough. The cheap solution is to drop in a bed mat. The better, but more expensive, solution is to get a spray-in liner. There's a chance we will end up doing both. For now, we'll probably just wait until the paint looks a little worse. It's just a truck bed after all.
Overlanding
We frequently get asked about taking this truck off-road or building it up as an overlander. While you can read more about our overlanding thoughts on this truck HERE, it's worth mentioning a few things. Putting the truck in sport mode with the traction control off will give you the most freedom in terms of cutting the truck loose. However, it's rarely necessary to go through the trouble. If you are just driving gravel backroads looking for a place to camp in a national park, this truck will work OK. However, we recommend starting with the non-hybrid AWD model if overlanding is your ultimate goal as there are currently just a few too many shortcomings with the hybrid model.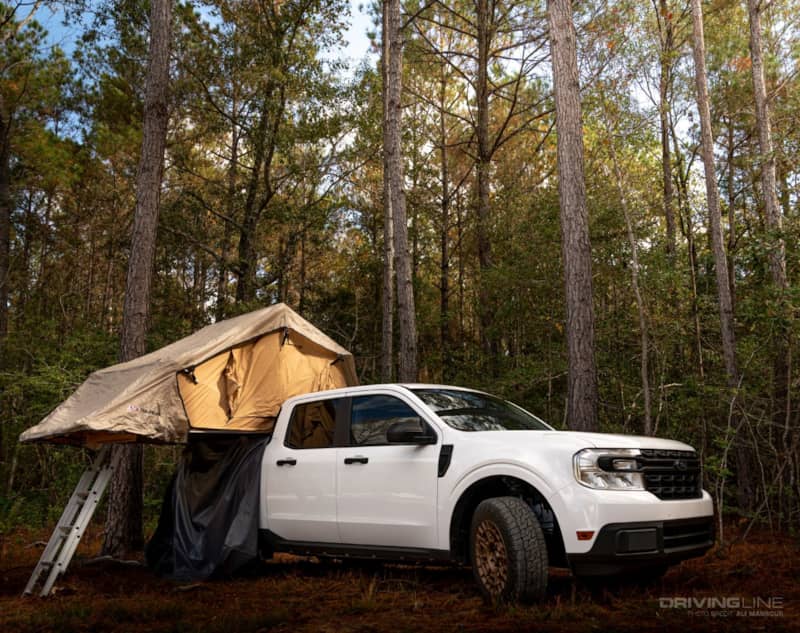 Service
The only basic service we've needed to do so far is rotate the tires and change the oil. Both of which we did with ease in our home garage. It's worth noting that the 2.5L takes 5.5 quarts of fully synthetic 0w-20, which makes for a costly oil change.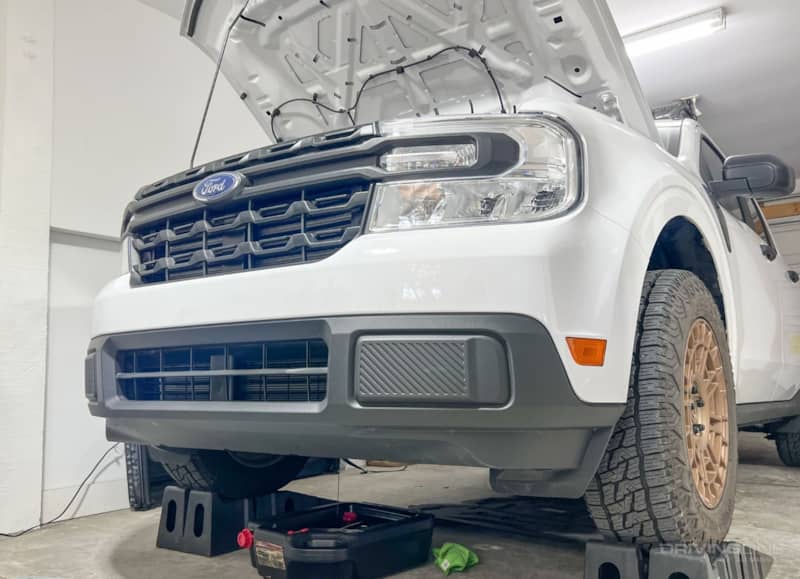 Belt Sensors
One safety feature that's handy if you want to make sure your kiddos are buckled up is the belt monitor. It comes on every time you start up the vehicle. When it senses there is a passenger present, a green check mark will appear when they are buckled. The issue we've found is that from time to time, it doesn't always realize the passenger has left the vehicle. So, school drop offs are sometimes followed by a belt warning icon. Turning the vehicle off and back on has been the only way we've gotten this to quickly reset.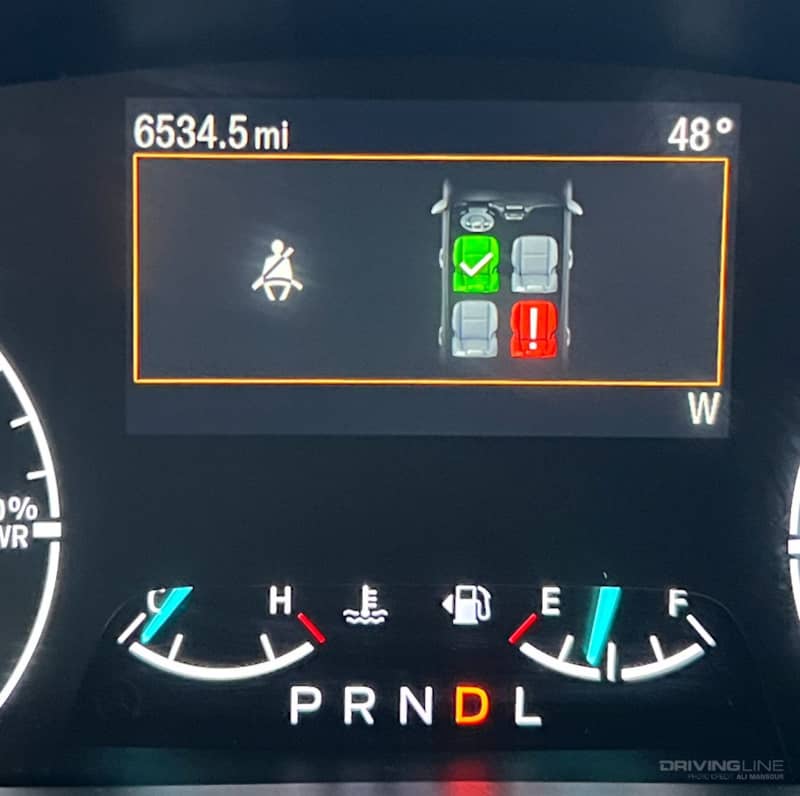 Smart Liners
When we first purchased the truck, we couldn't find a set of floor liners to fit the entire vehicle. Even stock the truck didn't come with a rear set, which we thought was odd. Finally, the aftermarket has caught up. We picked up these Smartliners from Amazon for $120. They have been holding up great so far and are much easier to clean that the stock carpet.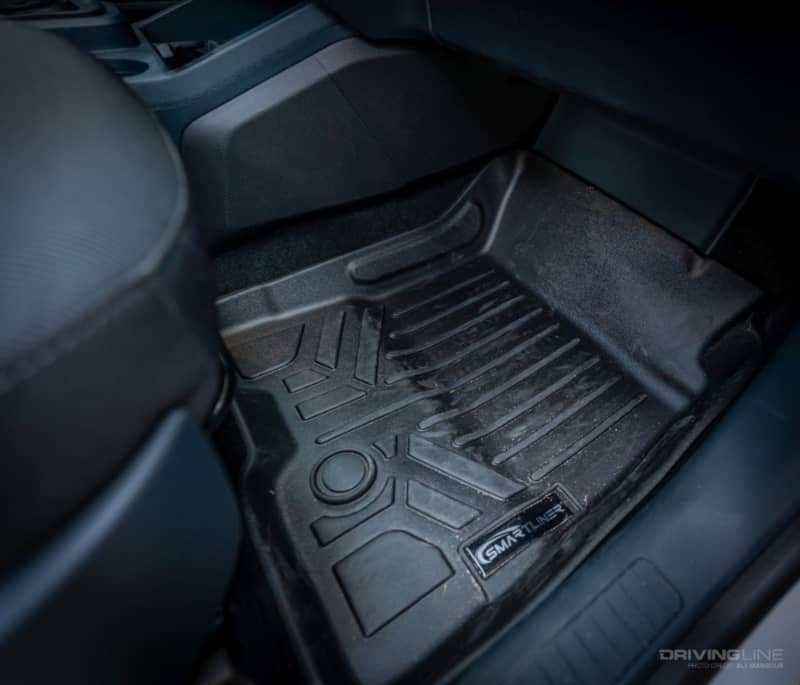 Brakes
Ford captures what would otherwise be wasted energy from braking in the hybrid model. This helps to recharge the vehicle but feels extremely clunky at low speeds. We've driven other hybrid vehicles from Honda and Toyota with similar systems and both feel more refined over the Maverick. We're hoping this is something that can be sorted out with a software update or at the very least with future models.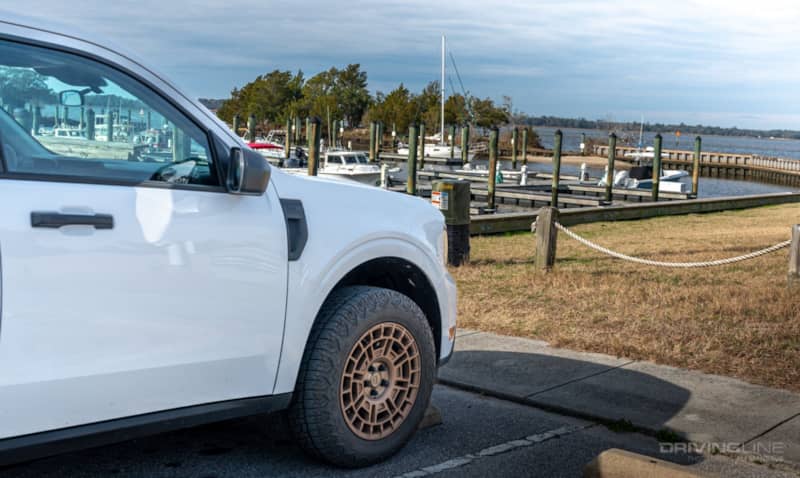 Moving Forward
Despite all of our nitpicking, we truly do think this is a great truck. With an out-the-door price of a touch over 22k, it's an unbelievable value in today's market. The bronze 767 Pangea wheels from Gear Off-Road and 235/65R17 Nomad Grapplers have been the only major upgrade the truck has received and something we truly felt it needed changed over stock. We still like the idea of swapping out the rear springs for air bags. However, for what we use the truck for primarily, we don't think it's currently worth investing in. We still wish this truck came with cruise control (something that's now standard on the 2023 XL) and we may try to add that on eventually. Overall, for our family of four, it's been a great vehicle and hopefully it will continue to be so.