Four Wheel Campers: Serious Digs for Serious Overlanders
There's no other feeling like it. Arriving at some far-off, wilderness destination, devoid of civilization for miles in any given direction, equipped with nothing more than what you can fit in the bed of your truck. While the idea is nothing new, truck camping has been refined over the years as technology has advanced us into a new age of recreation. At the forefront of this innovation is a company that has been there all-along, from the very first days of serious off-road camping: Four Wheel Campers.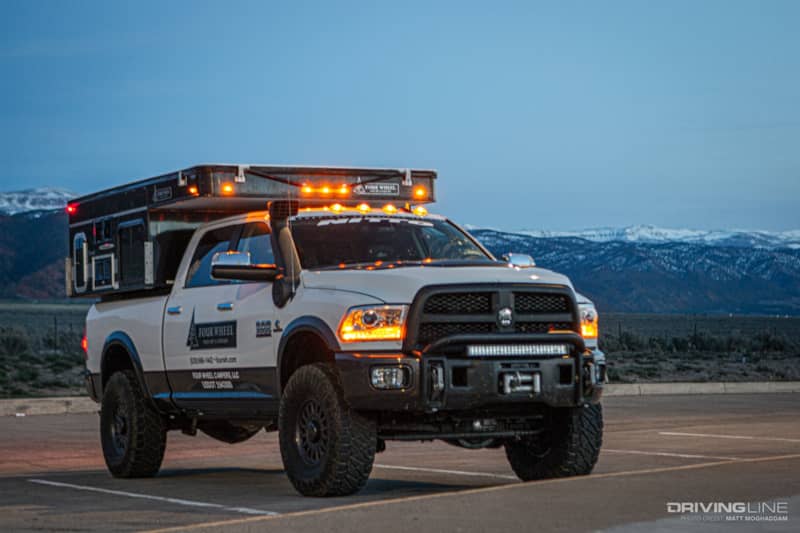 From the Beginning
Since 1972, Four Wheel Campers (FWC) has been manufacturing pop-up truck campers to fit a wide range of trucks and SUVs. But the secret to their sauce has always been their ability to produce a product that can handle the hardcore abuse of off-road travel. Currently, FWC offers five slide-in models, and three flatbed models, available for trucks and beds of all sizes from compact to heavy duty. Each slide-in model has several floorplans to choose from, leaving it to the customer to decide which best suits their needs. Their incredibly useful website allows prospective buyers to build out their camper, leaving every element of customization to the customer. The site even provides the physical weight of every option and a total weight of the package—something extremely useful and necessary for anyone who is serious about their off-road travels.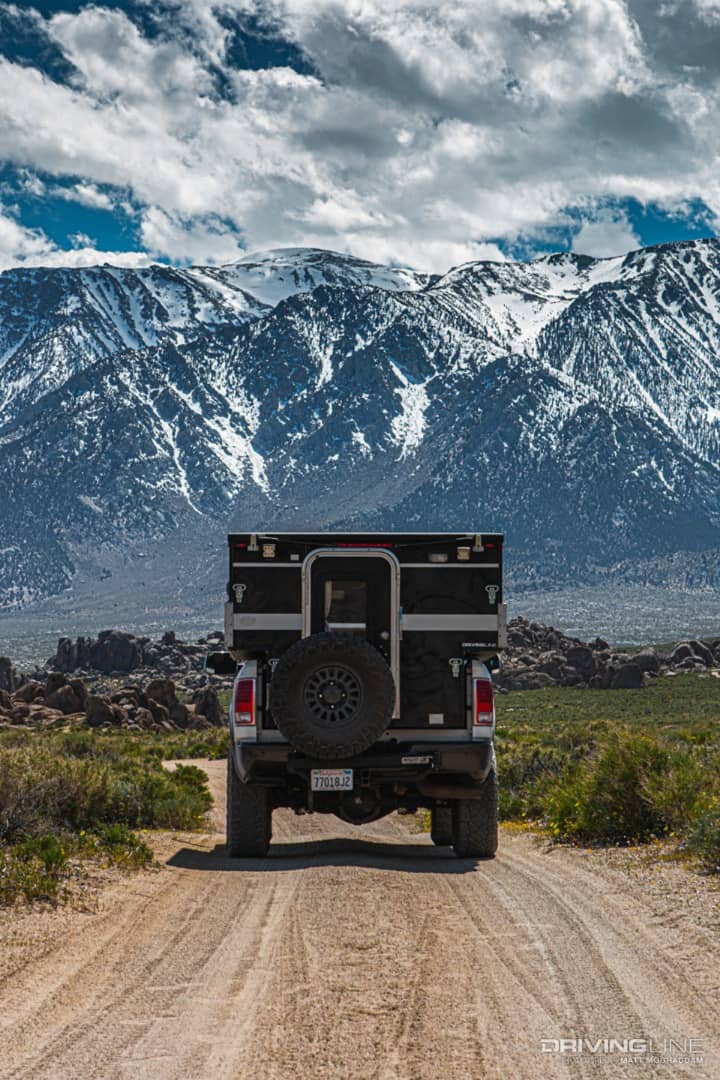 Last month, we were invited to FWC's headquarters just outside Sacramento, California and got a full tour of their manufacturing facility, where every last component of these campers is built and assembled. After the tour, we were handed the keys to FWC's premier show vehicle, a 2016 RAM 3500 built by AEV (American Expedition Vehicles), featuring a Hawk model 6.5-foot bed pop-up camper in black aluminum. We wanted to see what it was really like to live out of one of their campers for a week while traveling the Southwest United States, and this was the perfect opportunity.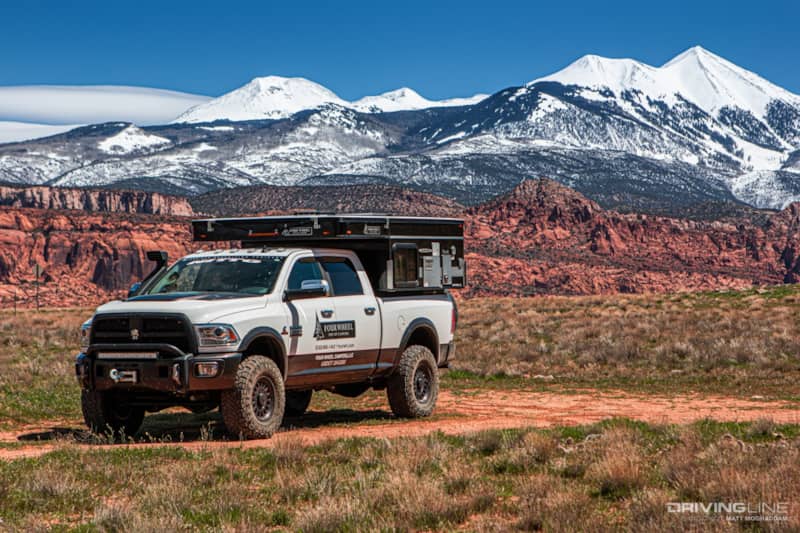 The Truck
But first, let's talk about the truck itself. AEV is an aftermarket vehicle builder, known for their Jeep and RAM conversions. The Prospector model is based on a 4WD RAM 3500 with a 6.7L Cummins, in the crew cab, short-bed variety. The truck is set on taller suspension with Bilstein shocks, features a heavy duty steel front bumper with a Warn winch, LED light bar, heat reduction hood, snorkel and many more options. Keeping the Prospector rolling is a set of AEV offset-correct wheels wrapped in 37-inch Nitto Ridge Grapplers, including a full-size spare. Front and rear ARB air lockers were installed to keep all four tires moving together. Because this truck was meant to travel long distances both on the highway and in the dirt, the Ridge Grappler was the obvious choice for a smooth, comfortable ride without sacrificing any off-road performance.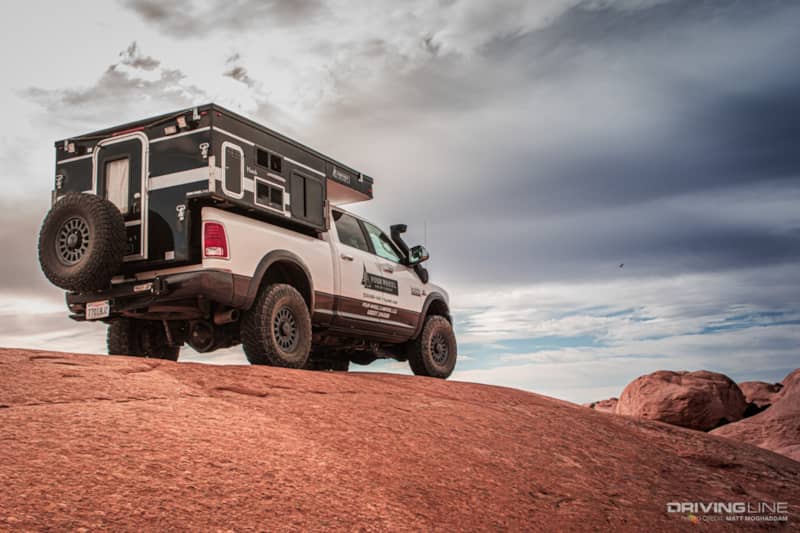 The Camper
While there's no doubt this RAM is a formidable off-road machine, capable of everything from rocks to sand to mud and snow, it doesn't make much of an overland vehicle on its own. In the bed of the truck is a Four Wheel Campers Hawk model pop-up camper, designed for a 6.5-foot bed. The camper really catches your eye, thanks to FWC's smooth black aluminum paneling with silver accent. Walking around the camper, you can easily see a few details that make it a dirt-worthy camper. LED lighting all around, including flood lights and floor lights, let you see and be seen at night. Sealed propane tank storage containers keep dust and rain out. An outdoor shower, water fill and drain plugs allow for easy access. A full aluminum frame and paneling is lightweight, yet incredibly strong. Adjustable turnbuckles, cleverly hidden in the bed and accessible from the inside, keep the camper in place even on the roughest trails.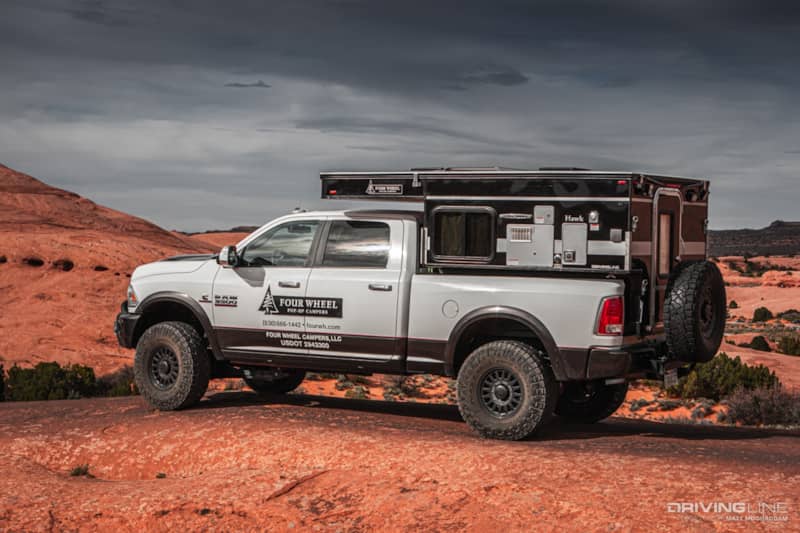 On the inside of this camper, you can find an ergonomic floor plan, consisting of a sleeping platform for two adults, a front dinette (which can be converted to an additional sleeping platform), two counter tops, Dometic brand sink and two-burner stove, large fridge/freezer, heater, two overhead vents and more storage cabinets than you can fill. Most remarkably, all of the above fits in the 6.5 foot bed, and you still don't feel crammed in it. We found the camper had plenty of headroom when opened up (6 feet and 6 inches). The sleeping platform even slides out to the first cabinet, nearly doubling the amount of space up there.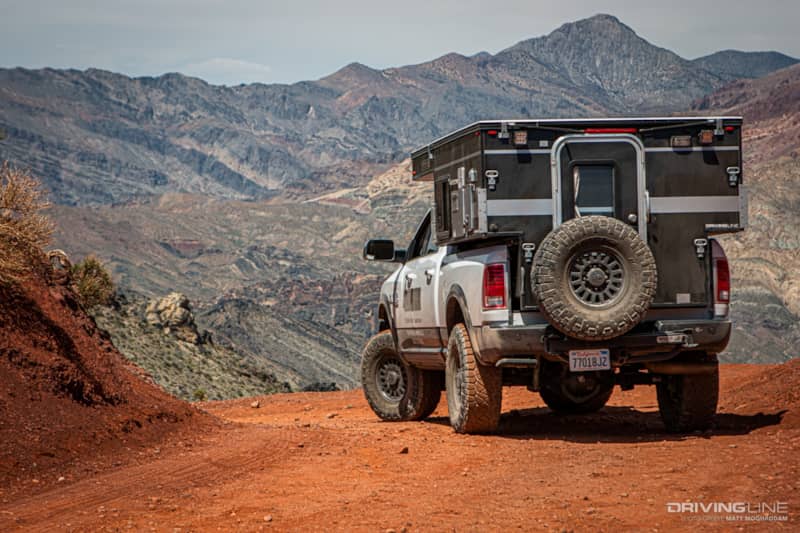 The Specs
Let's lay down some of the specifications before getting into our thoughts on the camper. At a base model dry weight of just 1100 pounds, the camper is extremely lightweight for how sturdy it feels. Both while driving and staying in the camper, you could feel how solid it really is. But more importantly, it's what you don't feel that's the most important in an off-road rig. Unlike other pop-up campers we've driven around with it off-road, we barely felt the Four Wheel Campers Hawk model behind us even on heavy inclines, declines and side-to-side movement in the dirt. The camper holds 20 gallons of fresh water, which we found to be plenty for a week's travel, unless you plan on showering every day.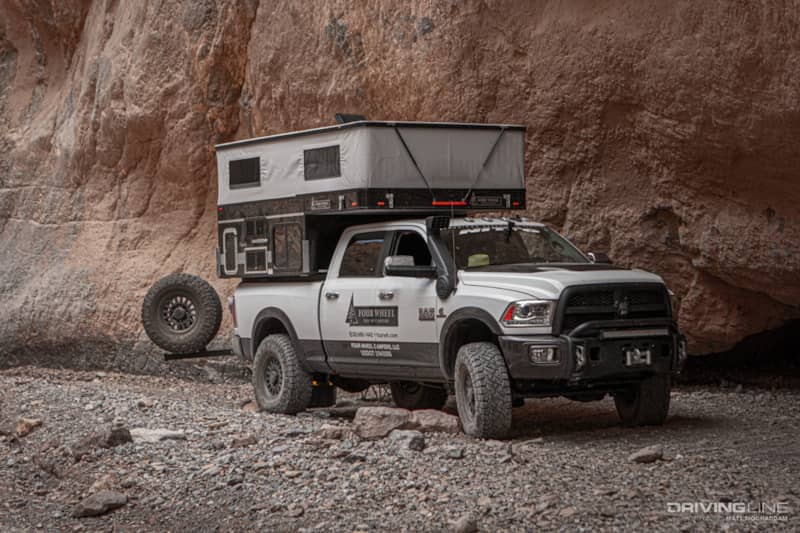 The Test
We took this truck and camper combo from Sacramento to Moab, Utah, then down to Lake Powell, and on to Death Valley, California before returning home to SoCal. We totaled nearly 4000 miles, most of which was highway, but still a significant portion of the trip was on dirt. Our off-road travels spanned from graded fire roads to rock obstacles such as Baby Lion's Back in Moab. Whether we were moving fast across lake beds or slow over the rocks, the truck and camper handled the abuse with ease. It almost seemed too easy to off-road and camp out of this setup. Although the winch and lockers were readily available, we couldn't see ourselves getting into enough of a bind anywhere with this truck to really need it, especially in the beautiful, dry weather we had that week.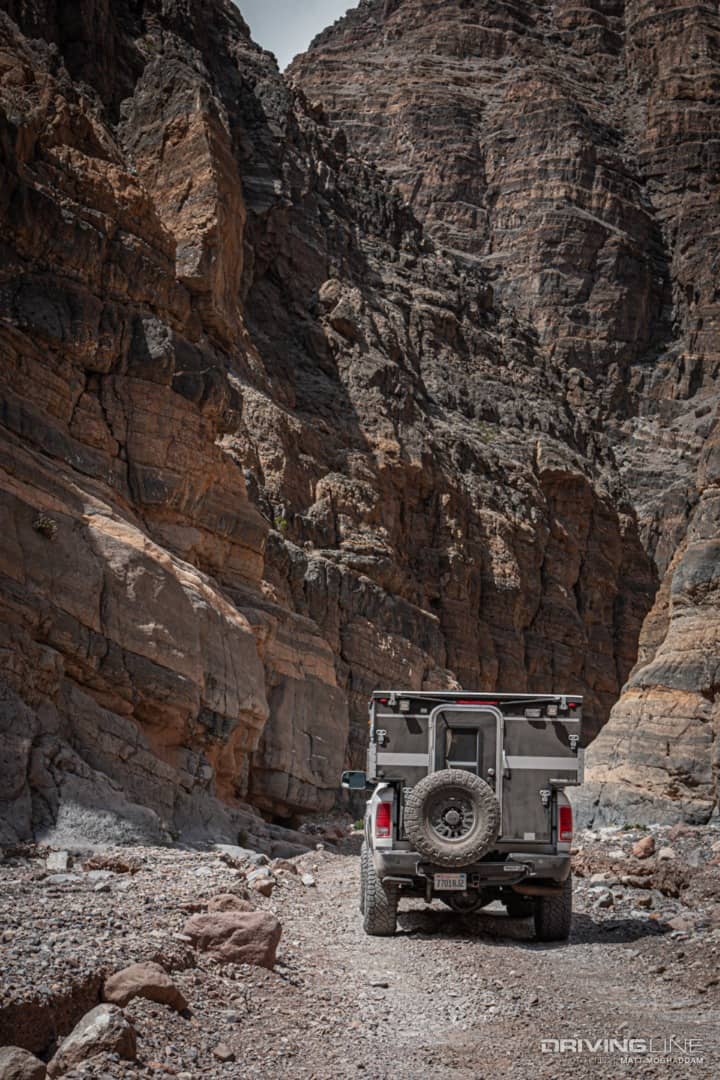 The Verdict
After spending a week in one, we can say with confidence, these campers truly are remarkable. When it comes to designing and manufacturing camping solutions for off-road vehicles, there's usually compromise; whether it's weight, durability, space, ease of use, simplicity or cost. But Four Wheel Campers has found a way to meet the strictest demands of the modern overlander, all the while walking the very fine line between function and form the same way it always has, since 1972.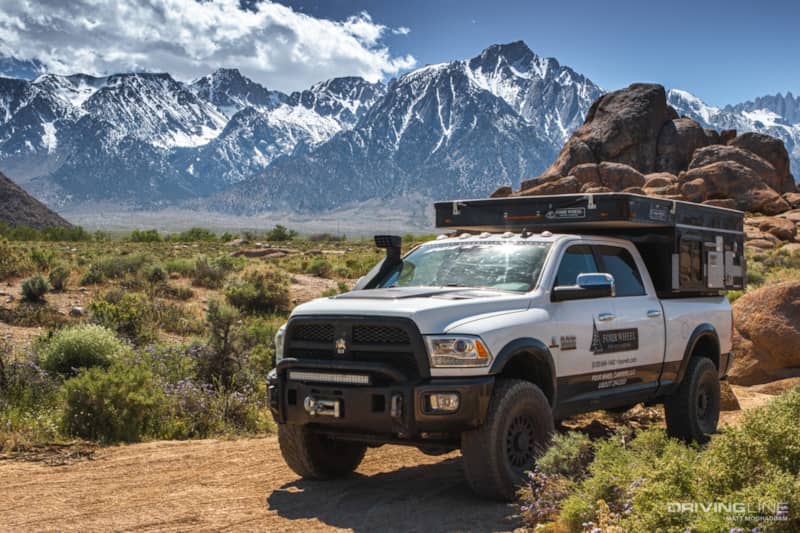 While everyone's definition of overlanding may be different, if your goal is to comfortably spend extended periods of time off the grid in a rig that you're confident in, there's no better option than a well-outfitted 4x4 truck with a Four Wheel Camper in the bed. But don't take our word for it. Just ask the thousands of FWC customers who are traveling all across the globe in theirs. We can't wait to try out one of their flatbed models, which just sounds like the perfect rig to get us down to the tip of Baja and back. Road trip anyone?