History Of The 2010-2018 HD Rams: Fresh Body Style, New Suspension Options, Best-In-Class Towing
In the midst of the Great Recession, and despite working through Chapter 11 bankruptcy, Chrysler pushed through the release of its redesigned half-tons, followed by its HD Rams for the '10 model year. Despite the severity of the situation, and the subsequent reorganization of the automaker, it proved a homerun for the brand. The fourth-generation Ram HDs flaunted a more aerodynamic body, a grille which had grown even larger and that was now tilted slightly forward, redesigned headlamps, bigger front bumpers and wheel arches, and quieter interiors filled with significantly improved materials and technologies.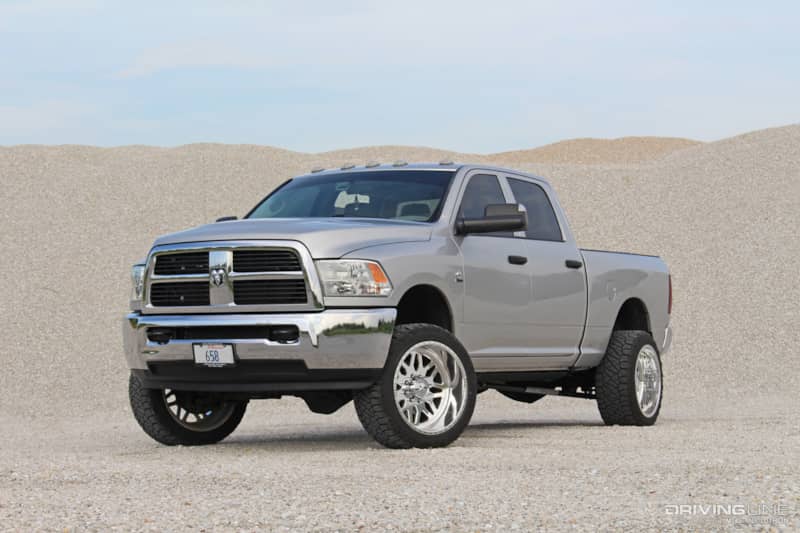 The brawny 6.7L Cummins was carried over from the third-gen trucks, but in 2011 was offered in high output form for the first time (800 lb-ft of torque vs. 650 lb-ft). A stronger frame for '13 earned Ram best-in-class towing honors in both the ¾-ton and 1-ton categories, and the commercial-grade, six-speed Aisin AS69RC automatic transmission debuted. In 2014, new front and rear suspension options were introduced along with the 410hp 6.4L Hemi gasoline V8. After that, Ram continued to push its Cummins-powered 3500 models to new heights—primarily in the form of a 39,100-pound GCWR and laying claim to the first diesel engine in the segment to turn out 900 lb-ft of torque.
6.7L Cummins: From 650 LB-FT To 930 LB-FT
Although the 6.7L Cummins didn't blast onto the scene in '07 as a segment leader in horsepower or torque (350 hp and 650 lb-ft), the design of the new I-6 diesel had plenty more left to give. One year into fourth-gen Ram production, an available (high output) 800 lb-ft torque rating was released, and it was available so long as it was paired with the 68RFE automatic transmission. The G56 (shown above) remained available through the '18 model year, with Ram having offered a class-exclusive manual transmission option since 2011. However, the 6.7L Cummins' torque rating was lower in the G56 combination, topping out at 660 lb-ft beginning in 2013.
Aisin AS69RC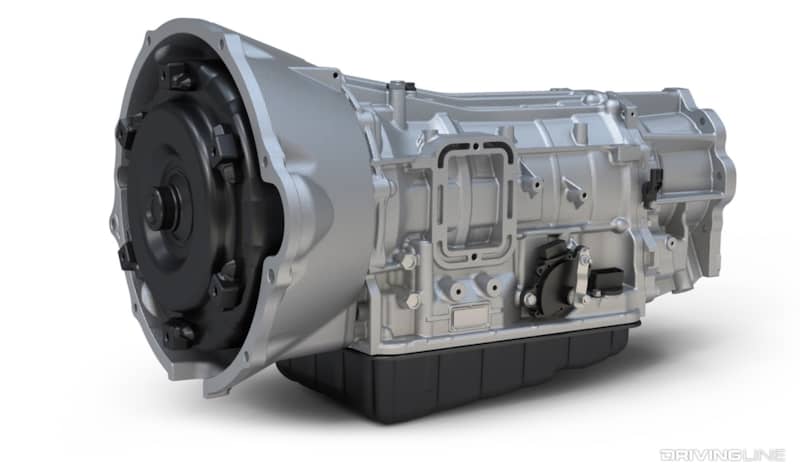 Fully aware of the torque input limits of the 68RFE automatic, Chrysler turned to the Aisin AS69RC—a variant of the AS68RC that had debuted in its 4500/5500 chassis cab trucks in 2008—in order to handle further torque increases from the 6.7L Cummins. Equipped with a 12.2-inch diameter torque converter, an input shaft with a 1.06-inch diameter and a 1.68-inch output shaft (vs. 1.61-inch on the 6R140 Ford TorqShift), the AS69RC proved heavy-duty enough to handle the Cummins' 850 lb-ft rating in '13, its 865 lb-ft rating in '15, the 900 lb-ft rating in '16 and the 930 lb-ft rating for '18. Even today, this is the only transmission available for high output versions of the 6.7L Cummins, which is limited to 3500 models only.
6.4L Hemi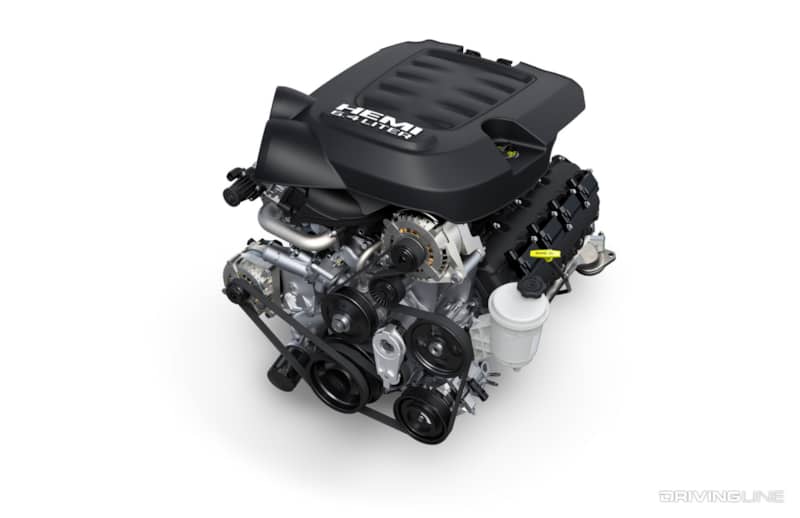 Breaking away from the 5.7L Hemi V8 in its half-ton trucks, Ram brought the 6.4L Hemi to '14 model year 2500 and 3500s. The 392ci, 90-degree V8 featured a 4.09-inch bore, a 3.72-inch stroke, and a 10.0:1 compression ratio. Its 2-valve, cast-aluminum heads incorporated 16 spark plugs (two per cylinder) for optimum fuel efficiency and emissions adherence. The larger Hemi also produced more power: 410 hp at 5,600 rpm and 429 lb-ft of torque at 4,000 rpm. It could be mated to either the 66RFE automatic transmission, the G56 manual or the Aisin AS69RC.
RamBox Cargo System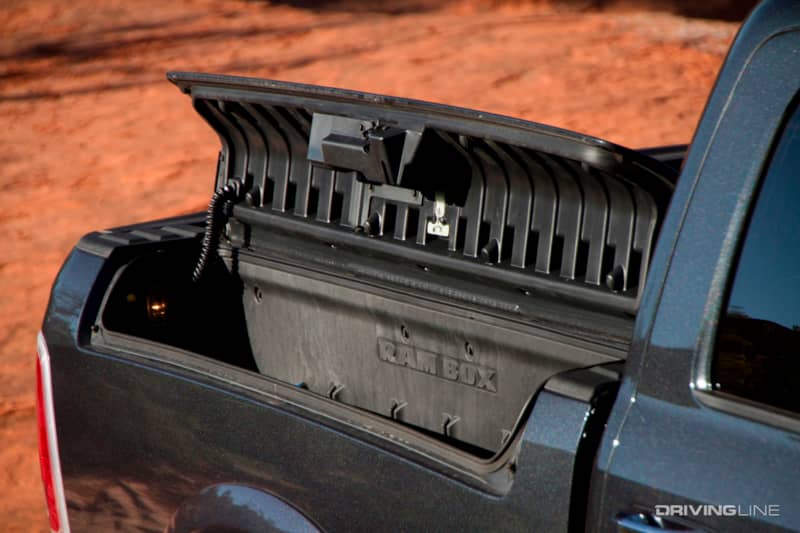 In 2011, the RamBox cargo system that'd been available on 1500 models since '09 became an option for Ram 2500 buyers. For 2012 the cargo storage system was extended to cover models with 6-foot, 4-inch beds. This development, with each compartment being as wide as the wheel well, was praised for its innovative and efficient use of what is otherwise wasted bed space. The lockable, weatherproof, illuminated and drainable storage bins provided a safe place for truck owners to keep tools and other valuables.
Stronger Frame & Axles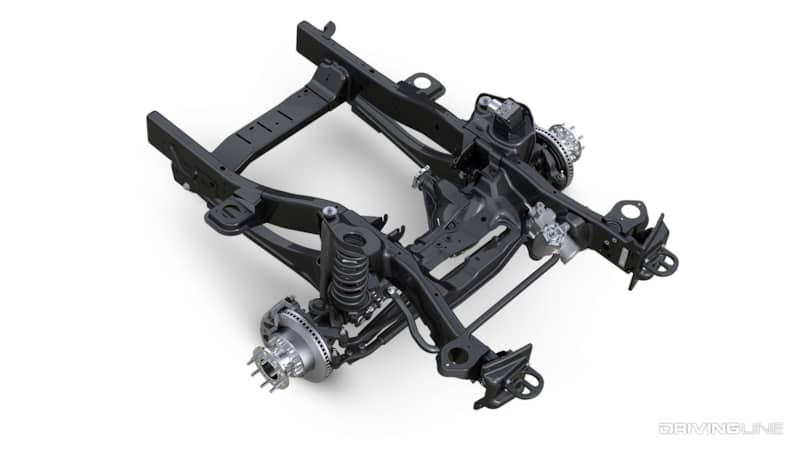 Along with the body style change in '10, a revamped frame could be found underneath fourth-gen Ram HDs. It featured a hydroformed front frame structure, wider main rails, fully boxed rear rails and eight beefy crossmembers. The frame was designed to be the primary absorber of any impacts, deflecting the energy from the driver and front passenger. Fluid-filled body mounts (i.e. hydra mounts) were also employed to help eliminate the vibrations of the suspension and frame. A whole new frame, introduced in 2013, was made from 50 KSI steel and integrated a rear frame structural crossmember that helped to increase towing capability. That same year, an 11.8-inch ring gear rear axle was introduced for high output model 3500s, along with an available front gross axle weight rating (GAWR) of 6,000 pounds.
Industry-Exclusive Suspension Systems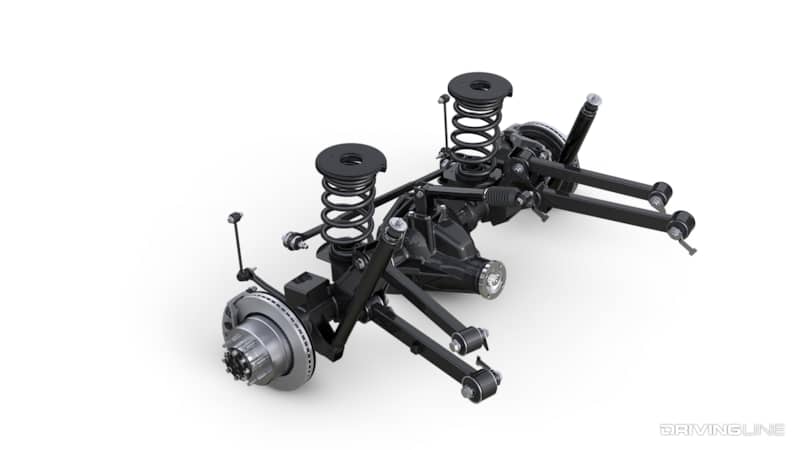 There is no question that Ram's products grew bolder once it became a stand-alone brand, and what further evidence do you need other than what its engineers did in 2014? That model year, a class-exclusive, five-link coil spring rear suspension was offered on 2500 models (shown) while an available Auto-Level rear air suspension system debuted for 2500 and 3500 models. And those changes were introduced after the 3500 received a new three-link front suspension with radius arms and a reconfigured Hotchkiss leaf spring suspension system in '13—along with electronic stability control (ESC) coming standard on all 2500 and 3500 Rams that year.
Big Time Towing Figures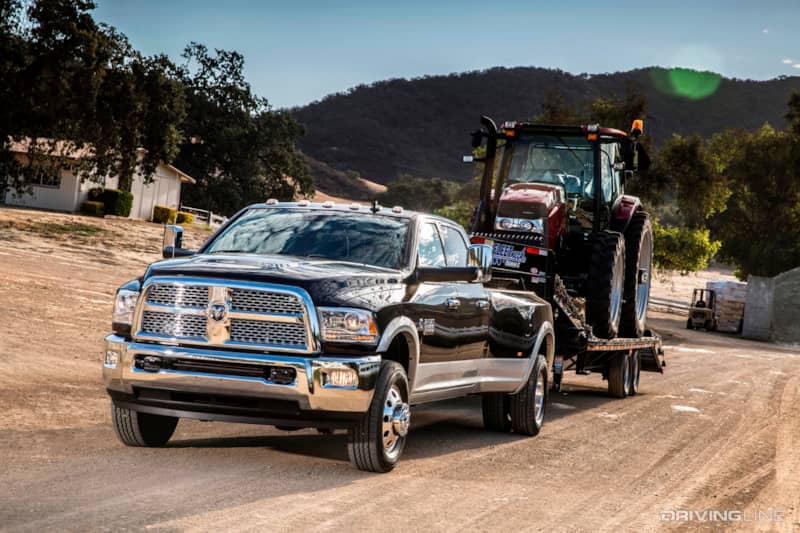 It doesn't get any more "tow beast" than a 4x2 regular cab 3500, and Ram's '10 and '11 versions didn't disappoint, hovering around the 25,000-pound GCWR mark. A maximum loaded trailer weight rating of 22,750 pounds (and a GCWR of 30,100 pounds) showed up in '12, but some very big news was on the horizon. As far as "king of the hill" towing numbers are concerned, '13 marked the year Ram shocked the world, with a properly-equipped Cummins-powered 3500 being capable of handily out-towing Ford's F-450. Its 37,600-pound GCWR (vs. Ford's 33,000-pound figure) coincided with the release of the Aisin AS69RC and best-in-class torque offered up by the high output 6.7L Cummins (850 lb-ft). By '16, and in conjunction with a 900 lb-ft Cummins option, Ram boasted a 39,100-pound GCWR.
Tremendous Payload Potential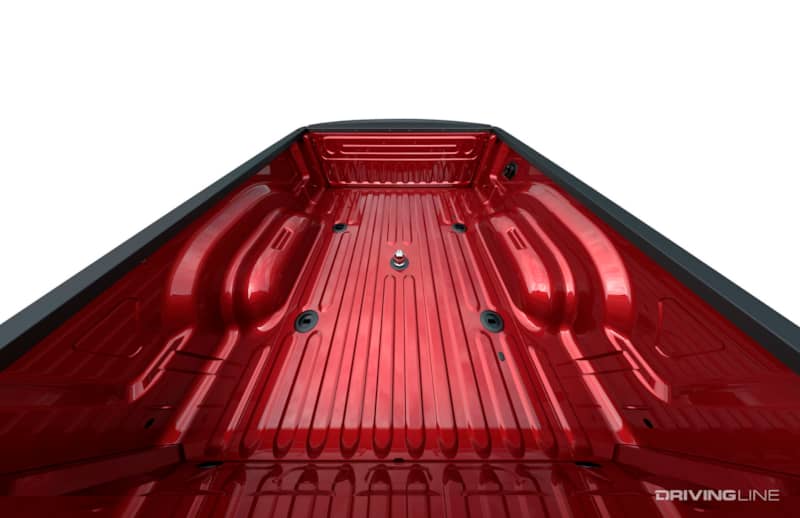 Thanks to the suspension and axle changes Ram made from '10 to '15, the maximum payload rating for a 4x2 regular cab 3500 grew from 5,130 pounds to an incredible 7,390 pounds. That's equivalent to hauling a 4x2 regular cab 3500 in the bed. The fourth-generation Ram HDs might've been built to ride more comfortably and run quieter than ever before, but at their core they were developed to do one thing: own work.